READ THE OTHER CARAVAN LIFE DIARIES MONTHLY RECAPS HERE.
July was the 6th month of our big Australian road trip and had us covering more ground than any other month thusfar. We made our way from Alice Springs up to Darwin, which is a 1500km (15 hour) drive through a whole lot of barren land.
July happens to be smack bang middle of winter in Australia, and let me tell you: the Red Centre does winter a whole lot differently than the Top End does despite both regions being in the same territory. In Alice Springs, we had comfortably warm-ish 22-24C days (upper 60's-low 70'sF) and literally freezing nights; in Darwin, it was 34-35C (93-95F) during the day and 22-24C (72-75F) at night.
That's a pretttttty extreme temperature change we endured, and I'd be lying if I said it was an easy adjustment. It's just so wild that one night we were sleeping with hot water bottles in bed and waking up to see our breath, and then after a couple days of driving we were dripping in sweat at all times during the day.
That's Outback Australia for ya! Land of extremes to say the least.

Buley Rockhole, Litchfield NP.
One of the few positives to the extreme heat was that it forced us out of the caravan and prompted us to set up an outdoor living space. We kind of fell out of the habit of setting up our awning and outdoor table with the wind and rain we got in the south, and plus it's way too easy to get comfy with our table and benches inside.
But once it got too hot to be inside the caravan at all during the day, we started setting up the awning with everything beneath it. I didn't realize how much I needed this outdoor space! We've got the table, our comfy chairs, our fans, sometimes even my hammock – it's the best! And depending on where the sun is, we can even work on laptops under the awning.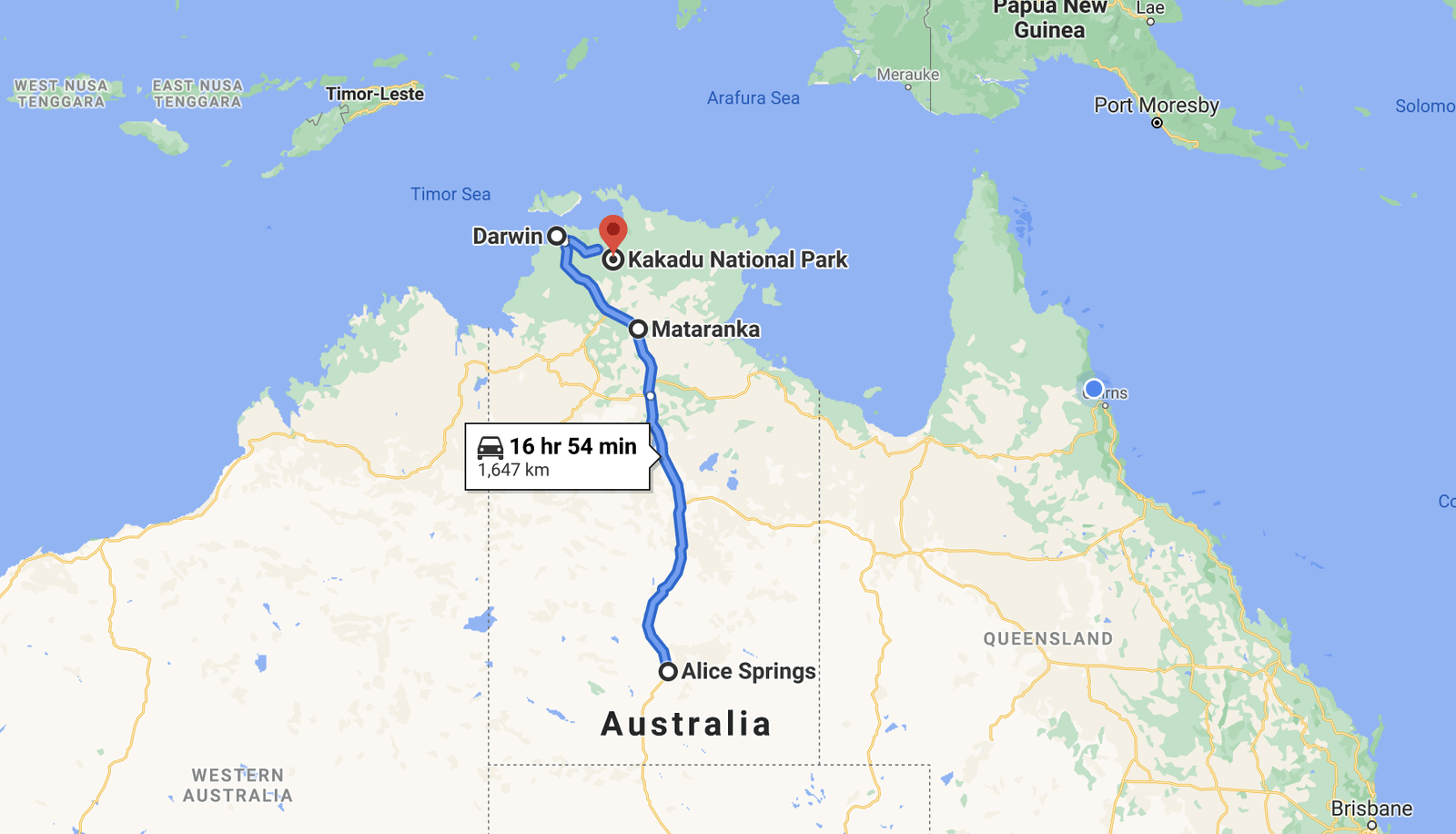 Where We Went This Month
TRAVEL BY STATE: 31 days in NT
ACCOMMODATION COSTS: AU$934 on campsites + AU$84 on Airbnb = AU$1018 total
Jul 1-3: Alice Springs
By July, we were more than ready to start heading north after staying put in Alice Springs for a few weeks. But the COVID monster struck again and sent Alice into a snap 3-day lockdown, which meant we had to stay where we were camping for a little while longer.
Nothing of note happened during these few days, and thankfully lockdown didn't get extended so we left town pretty much as soon as it ended. To Darwin we go!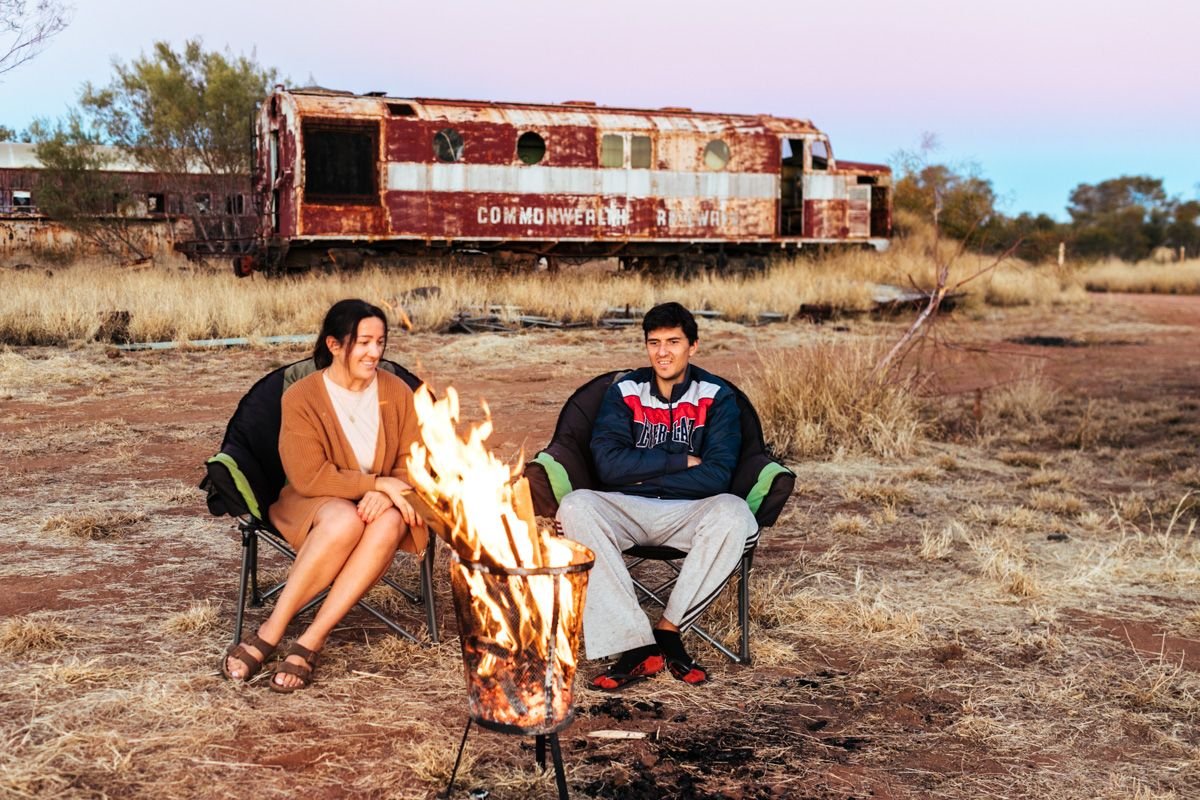 July 3-5: Alice Springs to Mataranka
I am very much about traveling slowly, but the thing about the Outback is that much of it is void of noteworthy attractions and daily essentials like groceries and fuel. It doesn't really make sense to linger in parts where there isn't much to see and there isn't anywhere to stock up on food.
The 1000+km (668mi) drive from Alice Springs to Mataranka is one such stretch, so we sped through it in two days. These were long, hot days of driving that ended with us pulling into a free roadside camp (either in a gravel pit or at a rest area). We didn't bother unhitching the caravan, which saved us time and allowed us to get an earlier start on the next day's drive. And we pretty much only stopped to fill up on gas every couple hours (we tend to go through one whole tank in 3-3.5 hours towing the caravan!).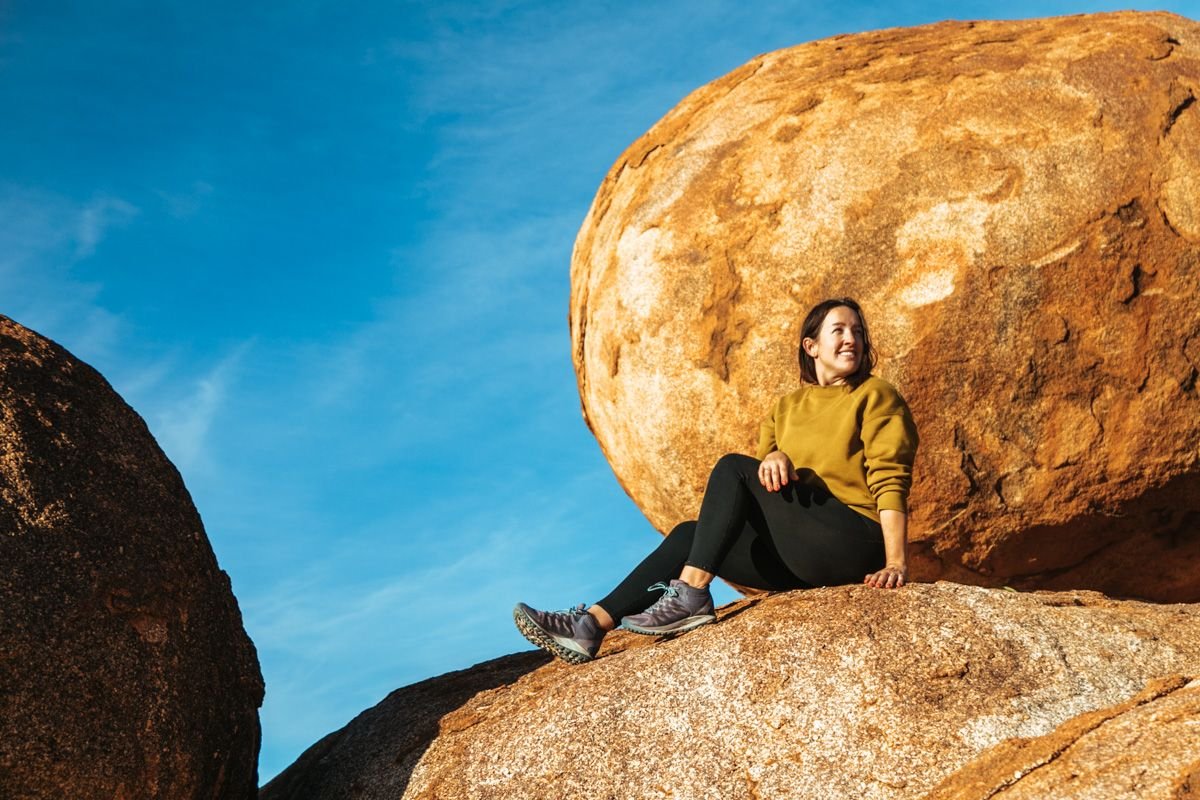 The ONE thing I really wanted to check out on this drive was the Devils Marbles, which we reached late afternoon on the first day. The marbles are essentially hundreds of boulders strewn across a plot of land, many of which are uniquely shaped and very photogenic.
Would I go out of my way to see the Devils Marbles (i.e. drive 3.5 hours from Alice and 3.5 hours back to just to see them)? Probably not. However, if you're doing the drive from Alice Springs to Darwin, it's one of the best stops along the way.
Other stops worth mentioning, but not worth me lingering because I'm not too interested in aliens or drinking: Wycliffe Well (the UFO capital of Australia) and the Daly Waters Pub (an iconic old roadhouse).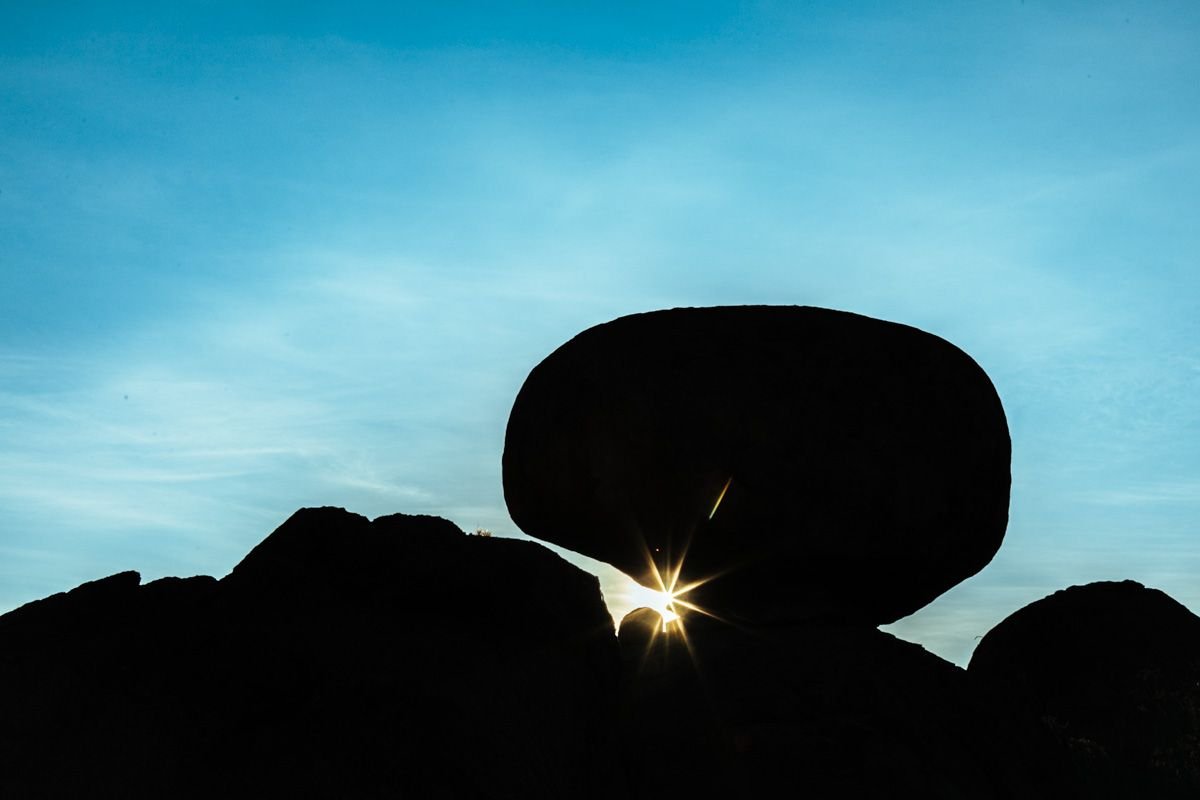 July 5-10: Elsey National Park
Our first major stop this month: Elsey National Park! More specifically, the thermal pools at Mataranka and Bitter Springs.
Mataranka's the place more people have heard of, but we opted instead to stay at nearby Bitter Springs Cabins & Camping. Both are known for their natural hot springs nestled amidst the palms.
And whoa, this is when the heat really hit us. I think it was more because the front of our caravan was in direct sun all day and we hadn't yet bought fans to use, but good lord did it feel sweltering hot (in reality, it was upper-20's C / lower-80's F). It did feel so nice to ditch the layers and be able to walk around in a t-shirt and shorts well into the evening, though, which is something we really hadn't been able to do at all before on this trip!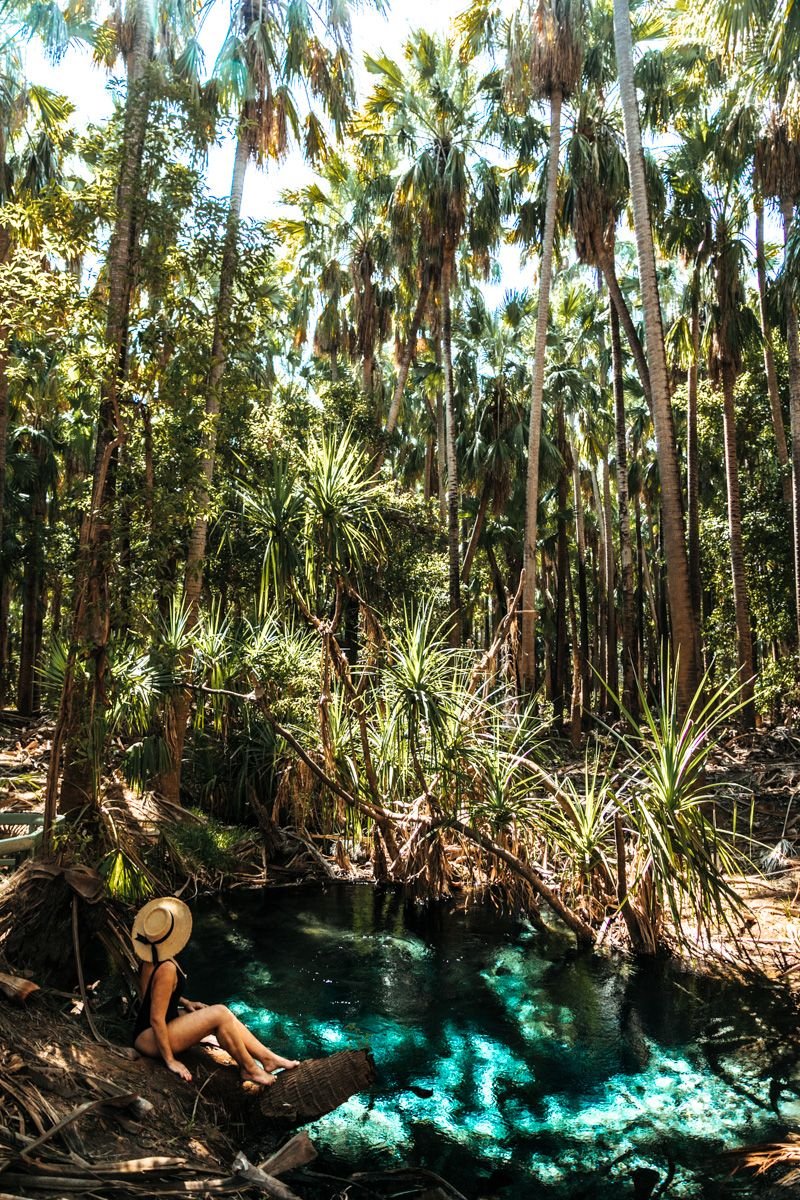 We had 5 days in Elsey NP, which we spent working and soaking in the hot springs.
The Mataranka Thermal Pool is more famous/popular, but to be honest I didn't really love it. It felt man-made and touristy and the water was lukewarm. I was actually much more amused by Rainbow Springs, the little pool along the boardwalk leading to it. If you visit around midday, the water is the most vibrant electric blue color – it's stunning! Coupled with the tall palms surrounding it, this spot is such a gem. Shame you can't swim in it!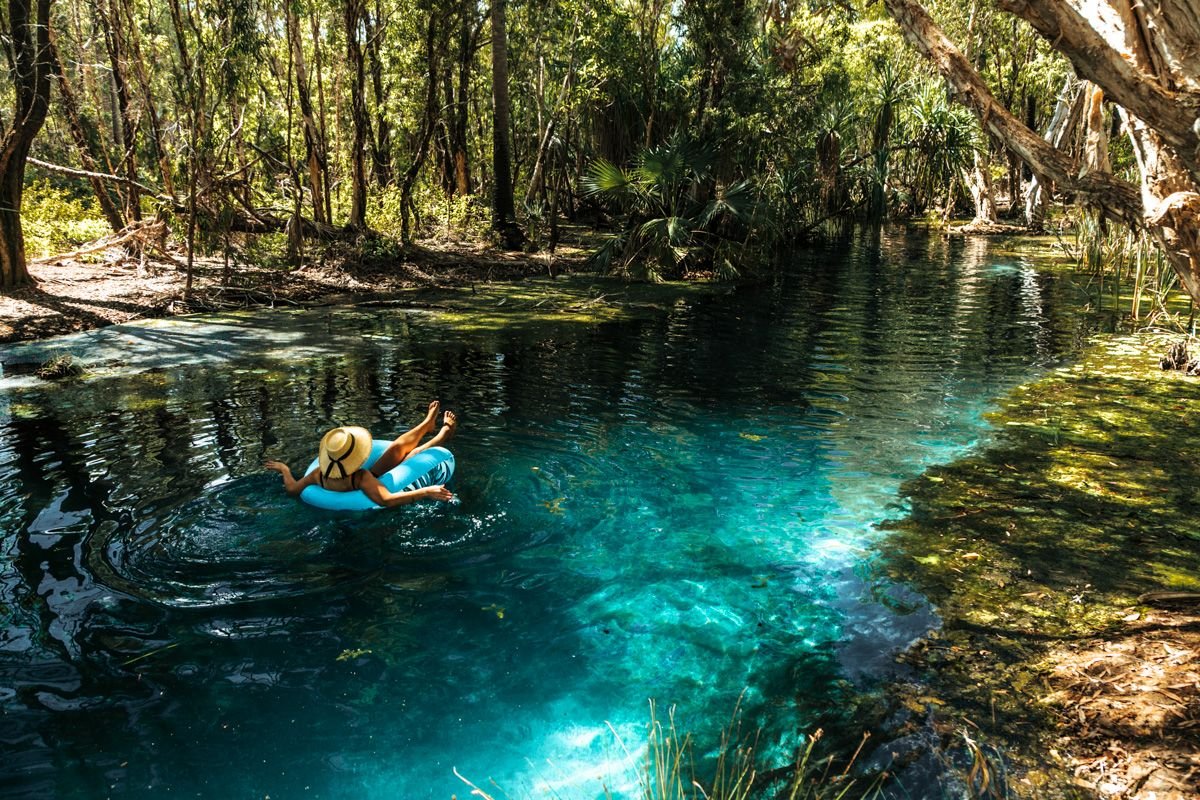 Bitter Springs is a million times better than Mataranka IMO. It's so great because instead of being a small, crowded, and stagnant pool, it's a river you can float down and truly relax in. There's a light current that carries you, and then at the end you can get out, walk back, and float down it again. Definitely a place for your floatie or noodle (we had our floaties, but the Bitter Springs campground hires out noodles if you need 'em).
July 10-16: Darwin
Next, we stuck our flag in the top of Australia – Darwin!
If we thought Mataranka was hot, my goodness Darwin was a whole other level. Most days were around 34-35C (93-95F) – and this is WINTER, mind you! I knew to expect temps like this, but it took some time for my body to adjust to it.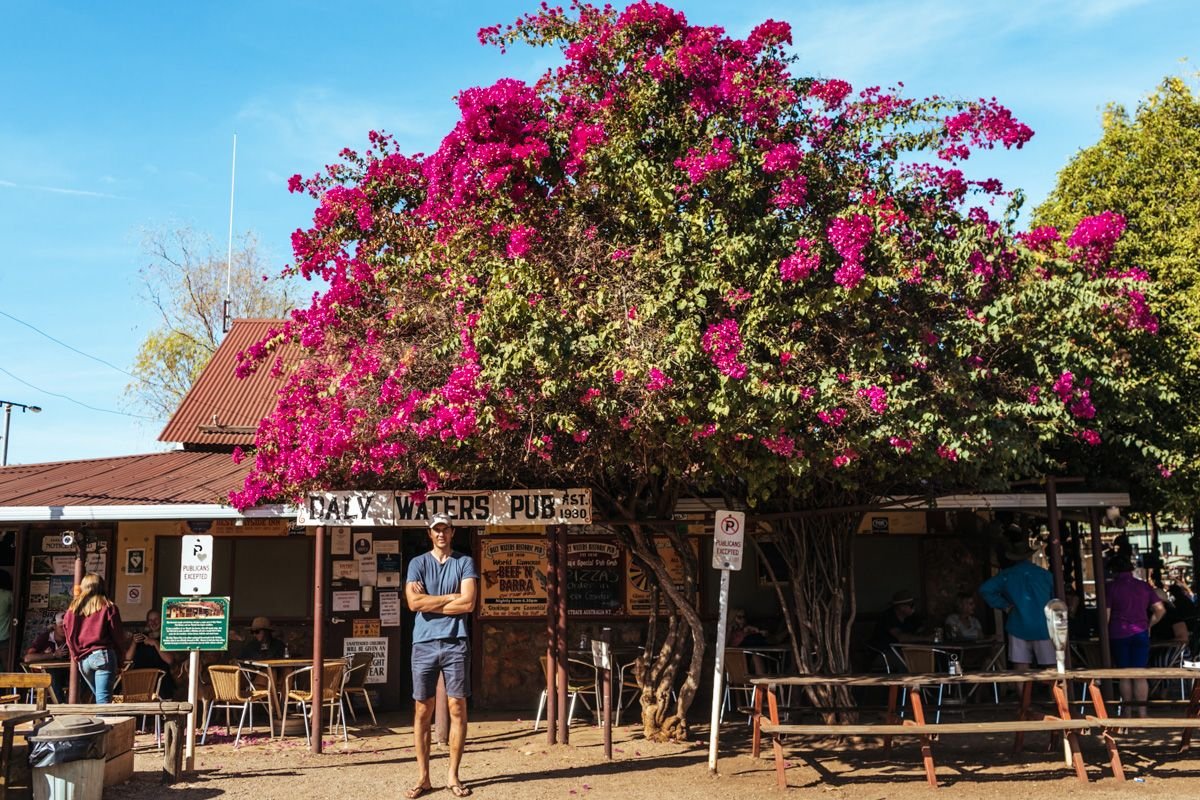 Thankfully, we had an Airbnb for our first stint in Darwin, in the suburb of Moil. I don't think we could have picked a more ideal base because everything we needed was a 5 minute drive from the house, and the city center was only 10 minutes away (though we never ventured there).
I loved the setup for this Airbnb: we essentially had the whole downstairs to ourselves, which was the space below the house (houses up here tend to be raised well off the ground to avoid damage from the wet season flooding). So we had a bedroom, a private bathroom with a tub, and a bunch of outdoor/under-house space in which to cook, work, and dine. SO ideal! I'd have considered living here for several weeks if it wasn't fully booked out. Sadly we only had the 4 days.
Unbeknownst to us, we'd end up stuck in Darwin for an additional two days – not only stuck in Darwin, but stuck in the car park where we'd left our caravan because the exit out onto the street was too steep for us to clear with our low clearance caravan. More deets on this sh*tshow in the 'Worst Bits' section below!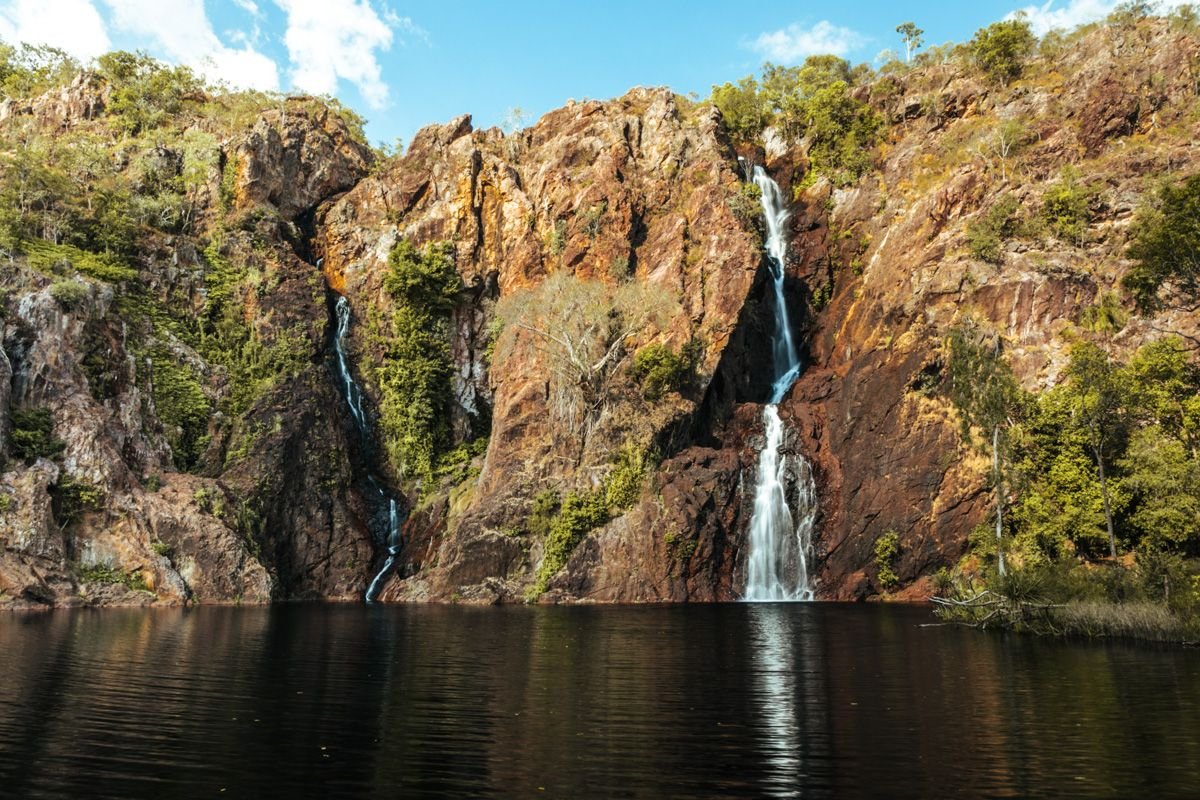 Wangi Falls, Litchfield NP.
July 16-26: Kakadu National Park
Even before this big Australian road trip, I'd already seen so much of the country including all of the "main" or "must do" attractions – except for one.
Kakadu has eluded me for all of these years, mostly because you need a 4WD to see the best spots and it's pretty pricey to hire one. So you better believe I made sure we bought a 4WD vehicle for this road trip specifically for Kakadu.
And oh my sweet lord, did Kakadu impress the hell out of me. It's definitely going down as one of the best, if not THE best, places we visited in Australia on this road trip. We braved the horrendous 4WD tracks to reach Jim Jim Falls, Maguk Falls, and Motor Car Falls (only one of which was actually flowing). We toured all of the aboriginal rock art and watched multiple sunsets at Ubirr and Nourlangie. We took a sunset cruise on the Yellow Water billabong and spotted dozens of crocodiles. Every day was an adventure, and every sight was just magical. More gushing words in the "Best Bits" section below!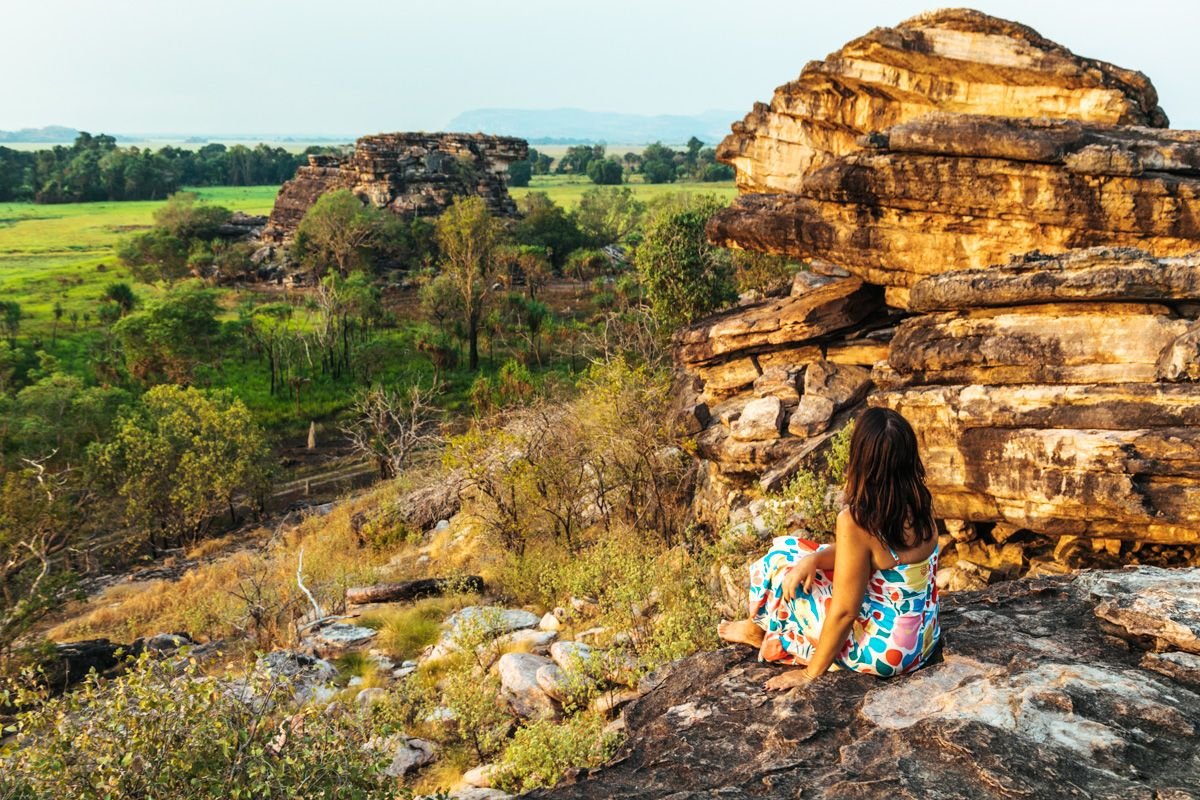 We stayed at Kakadu Lodge Caravan Park in Jabiru, the main township in Kakadu. Very convenient for grocery shopping and working (as the only place in the park with reliable phone reception), but a lengthy drive from most attractions. I got to hang my hammock here and lay in it most mornings until about 9am, when the heat started creeping in for the day.
Kakadu was even hotter than Darwin, if you can believe it! 36-38C (97-100F) every day, we basically sat under our awning with fans blasting all day and our bodies covered in sweat at all times. Thankfully our caravan park had a pool to cool off in, which we jumped in pretty much every day we weren't off tackling 4WD tracks.
Oh, and the cafe at the Marrawuddi art gallery in Jabiru serves coffee TO DIE for. I was shocked to find such amazing flat whites in such a remote place! Definitely was not expecting it, but was very happy to give them my money on a near-daily basis.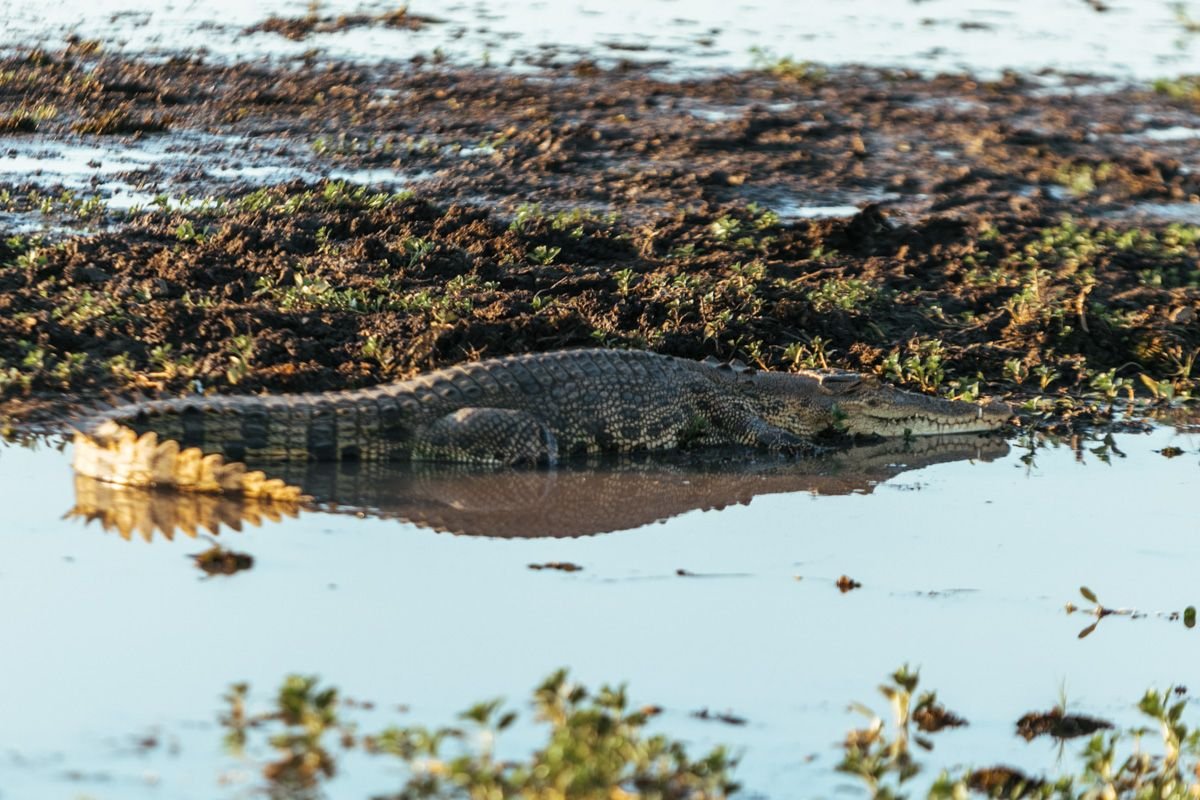 July 26-31: Darwin
We returned to Darwin at the end of the month for our second stint in the Northern Territory capital city. This time, we stayed at a Hipcamp property close to Palmerston, at Knuckey Lagoon (~15min from the Darwin city center). It seemed to be directly under a flight path, so we had a lot of plane noise to contend with – but you know I love tracking planes, so it was fun to get to do that again!
CLICK TO GET $10 OFF YOUR FIRST HIPCAMP BOOKING
Most days I spent working at a cafe, followed by the Palmerston library. I didn't get to sample coffee from enough cafes to make a call on which serves the best coffee in Darwin, but Besser Brew Bar is definitely up there and is easily one of the best I've had on this entire trip.
We didn't do too much while in Darwin, save for a couple of sunset picnics. One night we ordered pizza from Cucina Sotte Le Stelle, essentially a pizza truck-meets-mobile wood fired oven (HOW?!) and it was SO freaking delicious! We ate it on the waterfront and it was our first time seeing the ocean in 3 months. Felt so good (even though Darwin beaches are more than a little underwhelming).
Another evening, we stopped at the legendary Mindil Beach Sunset Markets, which I was so excited for but ultimately found a bit disappointing. I forgot how much I detest crowds and SLOW-ASS PEOPLE SHUFFLING IN FRONT OF ME. It was just so hot and busy and loud and I wasn't overly impressed by any of the food we bought. Even sunset was somewhat of a dud. It's fine, you gotta have these lackluster experiences sometimes in order to fully appreciate the good ones, right?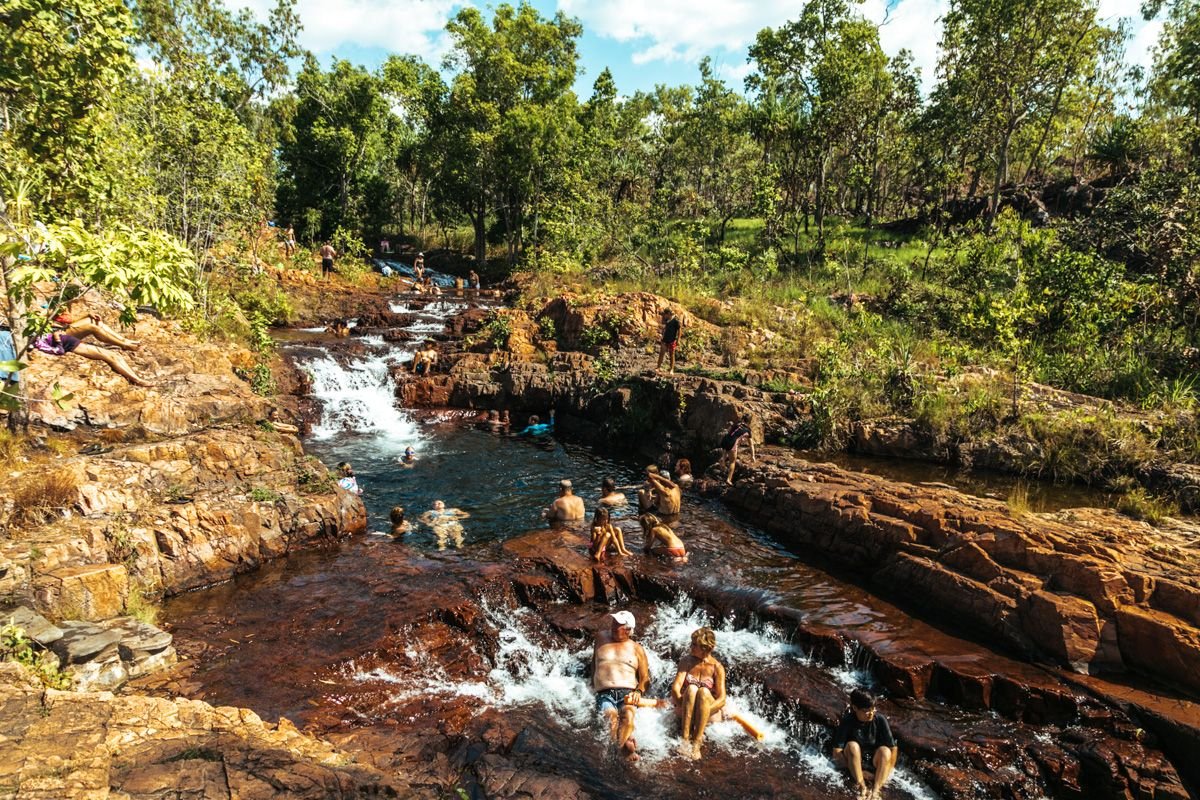 Buley Rockhole, Litchfield NP.
Oh and we did take one day off to visit Litchfield National Park (my third visit there). To be honest, I wasn't overly impressed with it on my first two visits. This time I enjoyed it more, but I still feel like it pales in comparison to Kakadu (despite what many blog posts out there claim!). Litchfield is like a Kakadu-lite, I'd say. They've got a similar look and feel, but Kakadu is much bigger (it's the biggest national park in Australia!). BUT, Litchfield is much closer and easier to reach, so it makes for a very popular day trip which I totally get.
On this trip, we hung out in rock pools at Buley Rockhole, toured a few of the non-accessible falls, and went for a swim at Florence Falls. It was hot, it was wet, it was a good day.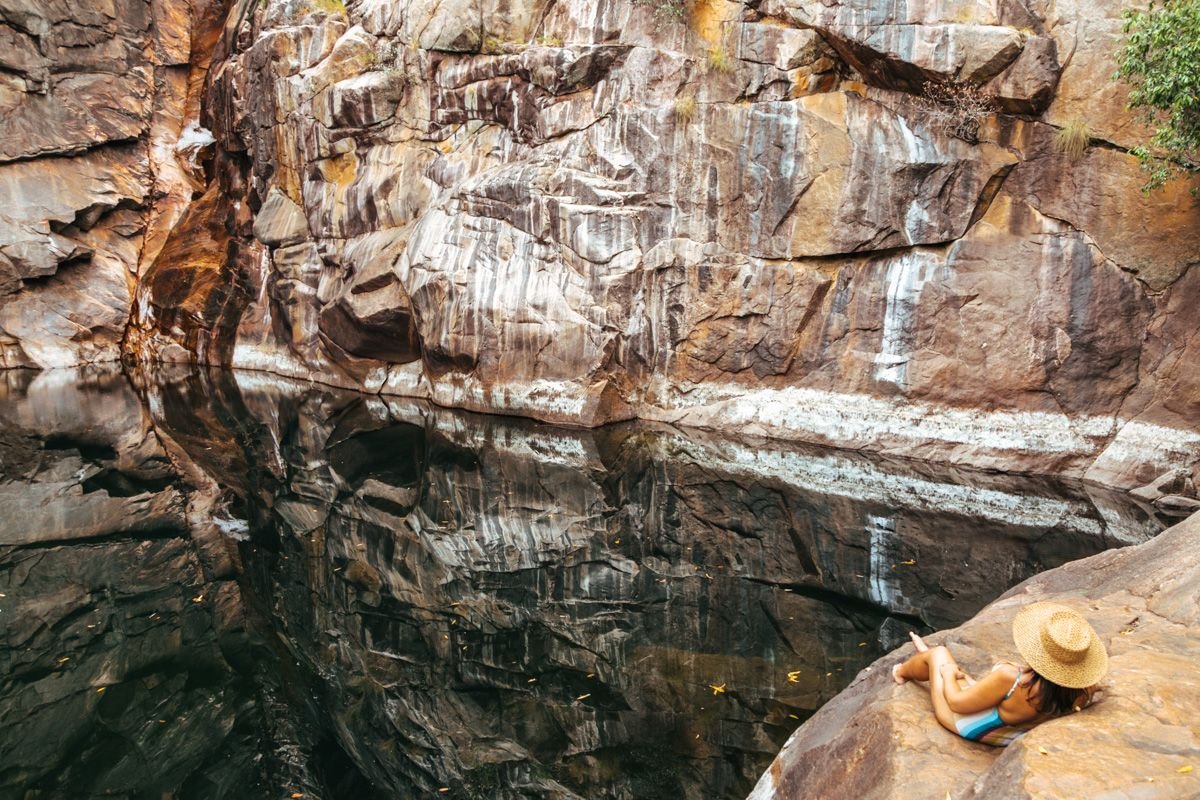 Motor Car Falls, Kakadu NP.
The Best Bits
The Return Of Summer Weather + Tan Skin
Though we had some unbearably hot days once we reached the far north of the Northern Territory, overall I was thrilled to be back in summer weather. I really thrive in warm climates and my god did it feel good to feel the sun on my skin again. You know that sunkissed skin smell? Ugh, I love it.
I'm also pleased to have swapped my pale winter skin for a nice light tan, without even having to sunbathe! Yes, that is how much sun we had to work with. I never burned though, because the sun isn't quite so strong in winter.

Ubirr, Kakadu NP.
Everything At Kakadu
It's been a really long time since I visited someplace new and had my mind completely blown (Greece comes to mind as the last place this happened). Kakadu offered up nonstop rugged adventures and sweaty good times different from anything else I've seen or experienced in Australia.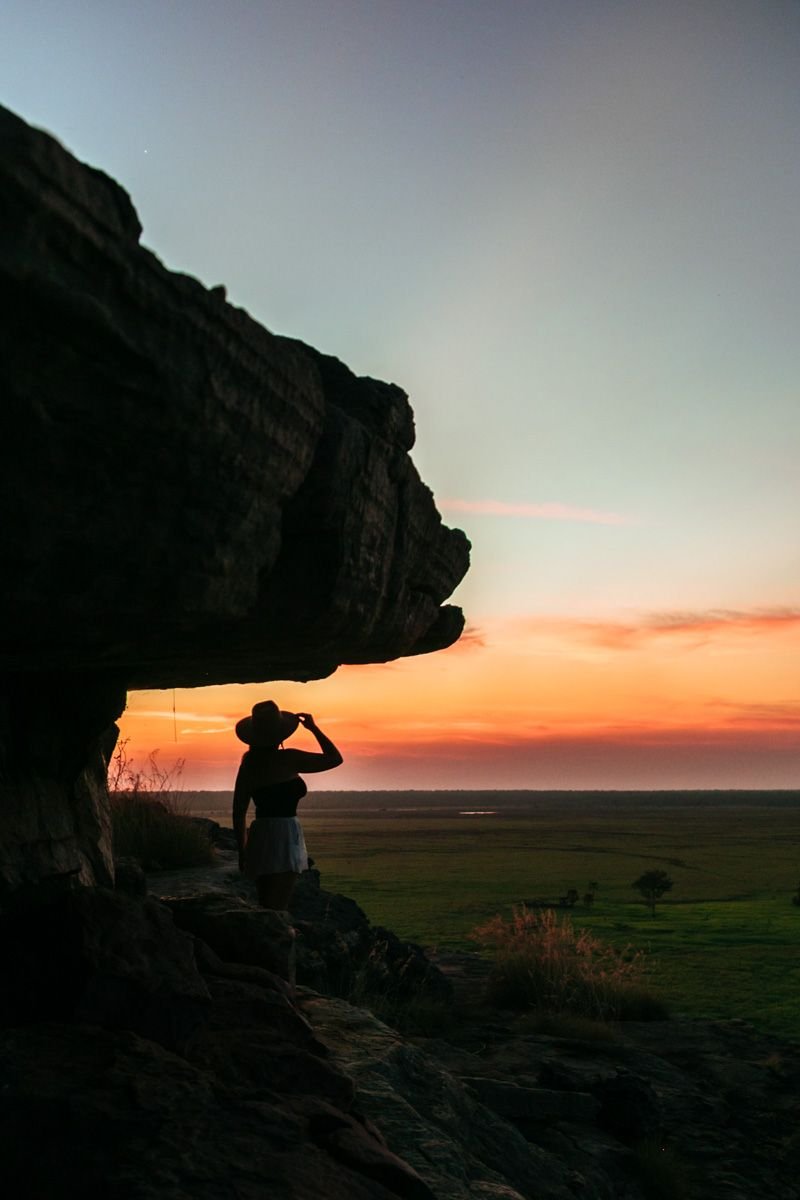 Ubirr, Kakadu NP.
A few highlights in particular:
Sunset from Ubirr, a big rock overlooking the flood plains (which are an electric green color after the wet season, so gorgeous!). Sunsets in general were a highlight at Kakadu; the Top End of Australia is known for its magnificent hazy fireball sunsets, but I found them the absolute best at Kakadu in particular. Even on nights where the sky looked gray, it always managed to do a 180 at the last minute and shock us with such vibrancy. And I mean

always

. What a place!
The Yellow Water Cruise, a sunset boat trip through a billabong where we spotted dozens of crocodiles, a herd of water buffalo, and hundreds (thousands?) of birds. This was SUCH an amazing experience, felt very much like a safari on water.
Jim Jim Falls, Maguk Falls, and Motor Car Falls, all of which required driving on horribly bumpy 4WD tracks. But my god were they all worth it. We had Motor Car Falls allllllllll to ourselves, while Maguk Falls was the most crowded.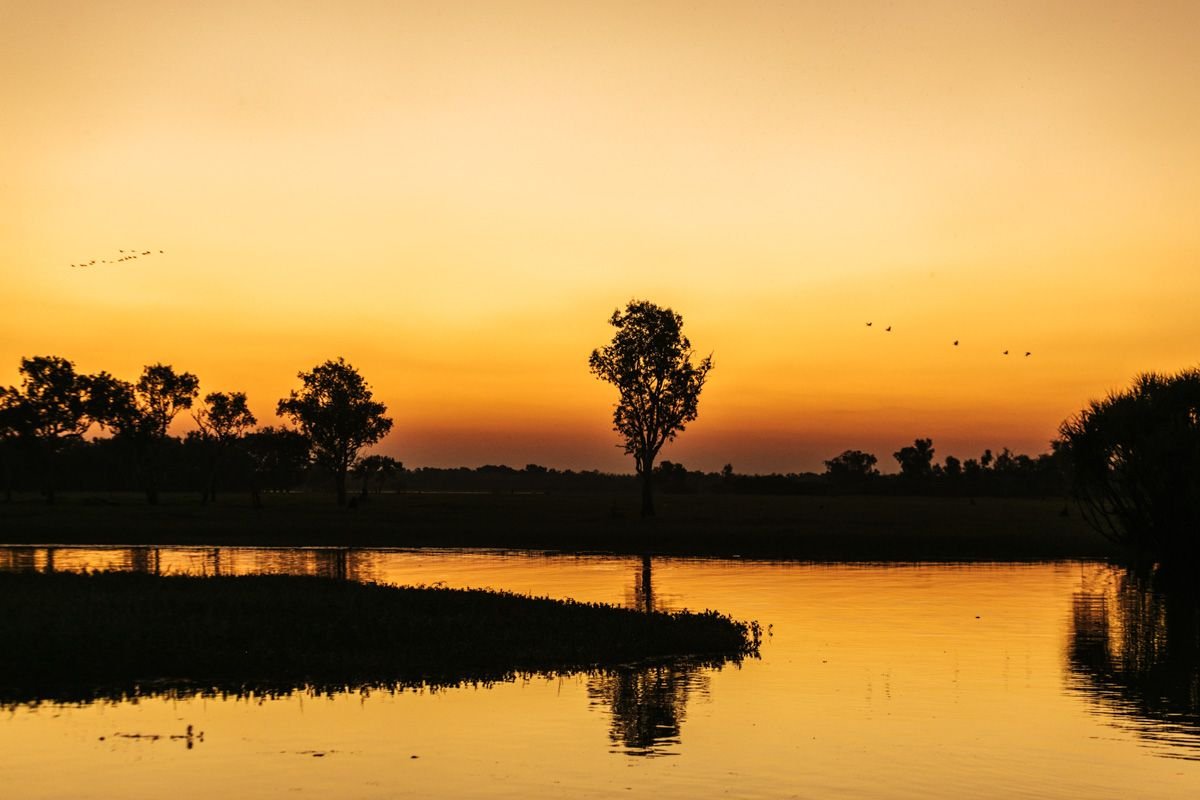 Yellow Water Billabong, Kakadu NP.
The Worst Bits
2 Brutal Days Of Caravan Repairs
Now, this is where things took a turn for the worst. While we were in the Darwin Airbnb, the host suggested we park our caravan in an empty little car park around the corner at the primary school. It ended up being totally safe, we didn't get fined or broken into. And it was pretty convenient because we had a mobile caravan mechanic meet us there to work on fixing the fridge and tail light on the van.
We were all ready to hit the road when we realized that we wouldn't be able to exit the car park with our low clearance van because the entry and exit were both a bit too steep. We've been avoiding stopping at petrol stations that don't have a flat-ish entryway the whole trip for exactly this reason, but I guess we didn't think about it this time because we were sort of rushed in here by the Airbnb host and it was getting dark at the time.
We tried reversing out the way we'd come in, but there were a few cars in the park that were parked in our way, and our Jeep came close to overheating as we wasted all this time trying to maneuver the car and caravan, so we had to turn it off and wait awhile for it to cool down.
It was clear we weren't going anywhere, so we succumbed to staying overnight in the school car park which definitely wasn't allowed, but we were desperate! It was probably the most uncomfortable night ever because we had to keep all shades down so no one would see us in the caravan, but then it was so incredibly hot out so we just lay in bed sweating all night. My one reprieve was running through the sprinklers that came on at night on the school grounds.
The next day, we woke up optimistic that we'd be able to make it out – all we needed was a new hitch, we thought! One that would allow us to raise the caravan up just a little bit more off the ground so we could make it out of the car park on that incline.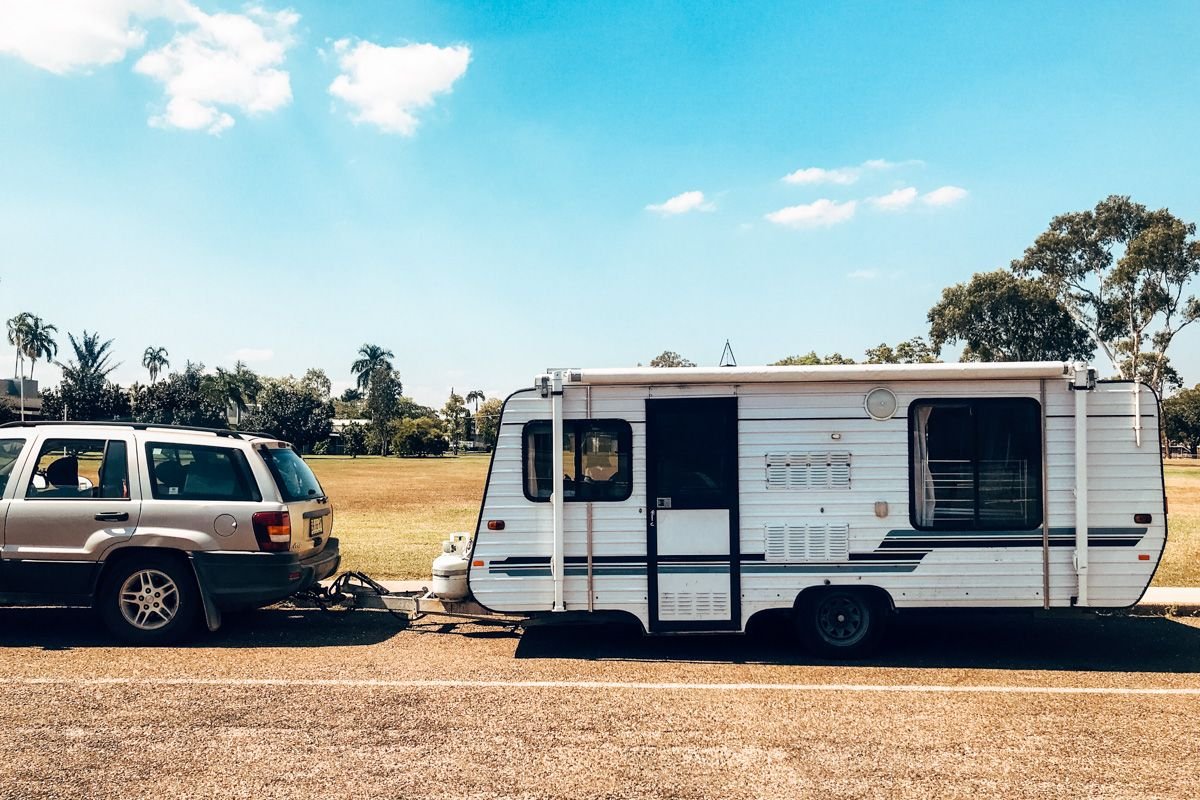 Stuck in a car park.
Except then we realized we needed to get a new tow ball to go with it as well.
And then we needed chain extenders, as the new hitch was a bit longer than our old one, and the chains no longer reached the car.
And then the chain extenders ended up being too long, so we had to go back and get them cut shorter.
And then we couldn't take the extenders off because the heat had expanded the parts inside (which in theory is great, 'cause there's no way they're coming off while you're driving – but was unlucky for us in this case).
And then we couldn't reattach the shorter extenders because of the heat again, so I put them in the freezer for awhile in hopes that they would go back to normal size.
And then we had to track down the owners of the cars parked nearby so we could maneuver out of the car park.
It was the cruelest game of whack-a-mole there ever was and hopefully ever will be. Quick, someone make a comedy show out of this sh*tshow!
We were absolutely ECSTATIC the moment our vehicles cleared the car park exit. It was around sunset and we had no idea where we were even headed, just that we needed to get the hell out of Darwin and distance ourselves from the hellish 2 days we'd just endured. We ended up free camping next to the road on the way to Kakadu, very glamorous as always.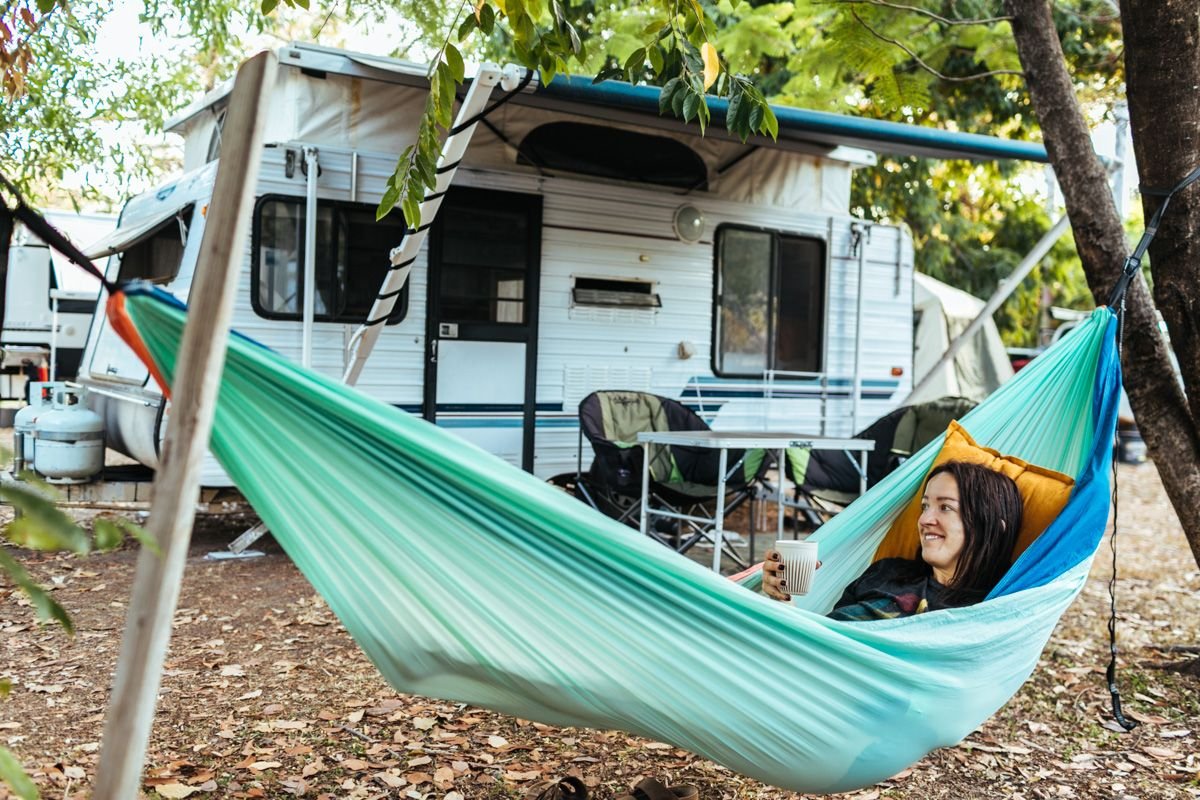 The Heat
So yes, summer weather was a highlight of this month – but also, it was kind of a lowlight.
Part of it was not being used to the hotter temperatures, and another part was not having much reprieve from the heat (aka no air con). Have you ever tried to work in a 100F environment, sitting in a pile of your own sweat? It made working damn near impossible 'cause I was just so uncomfortable. I'd either head to a cafe or library to work indoors, or limit my work time to evenings when it was much cooler out. And forget working out, it was wayyyyy too hot for me to keep up with my at-home workouts apart from the occasional evening yoga.
Thank GOD we bought a couple of fans to make it slightly more bearable to camp and just exist in this heat. Though that meant we also needed to go for powered campsites in order to run them 24/7, which made the pricey Top End caravan parks even pricier (seriously, this part of Australia had the most expensive camping we've encountered yet!). I suspect they jack their prices up to account for all the fancy caravans running air con constantly.
Also, even though we'd just had our caravan fridge fixed and insulated, it still struggled to stay cool in the heat. The freezer worked fine, so what I'd do was I'd freeze our ice blocks and throw them in the fridge during the day to help cool it down, then re-freeze them at night and repeat the next day. Definitely annoying, but it helped a lot.

Jim Jim Falls, Kakadu NP.
Gunlom Falls Being Closed
Ugh I was SO BUMMED when I found out that the famous Gunlom Falls, aka the #1 item remaining on my Aussie bucket list, had closed just before we arrived at Kakadu. Yes, turns out you can decide to close a natural attraction inside of a national park.
In this case, Gunlom Falls was closed by its Traditional Owners (the Aboriginals) due to some squabble they're having with Parks Australia. I've been DYING to visit this natural infinity pool for YEARS, but I guess it wasn't meant to be this time around.

Maguk Falls, Kakadu NP.
What I Read
10. The Flight Attendant – Chris Bohjalian
I always prefer to read the book before seeing the movie (or in this case, TV series), and we all know that murder mysteries are riiiiiight up my alley so this one was an obvious choice. It starts out with a flight attendant waking up in someone else's hotel room after a one night stand, with a dead man next to her in bed. I don't know about you, but that's enough to hook me instantly.
I devoured this book in a couple days and now I need to find a way to stream the show in Australia. Very excited to see Kaley Cuoco as the flight attendant and the actress who plays Shosh from Girls as her lawyer.
11. Influence – Sara Shepard
I didn't know this one was also a murder mystery until I started reading it, but no complaints here. I enjoyed this book more than I thought I would, even though it's about youngsters gallivanting around LA as big-time Instagram influencers (which to me is super cringe in real life, but absolutely fascinating in book form).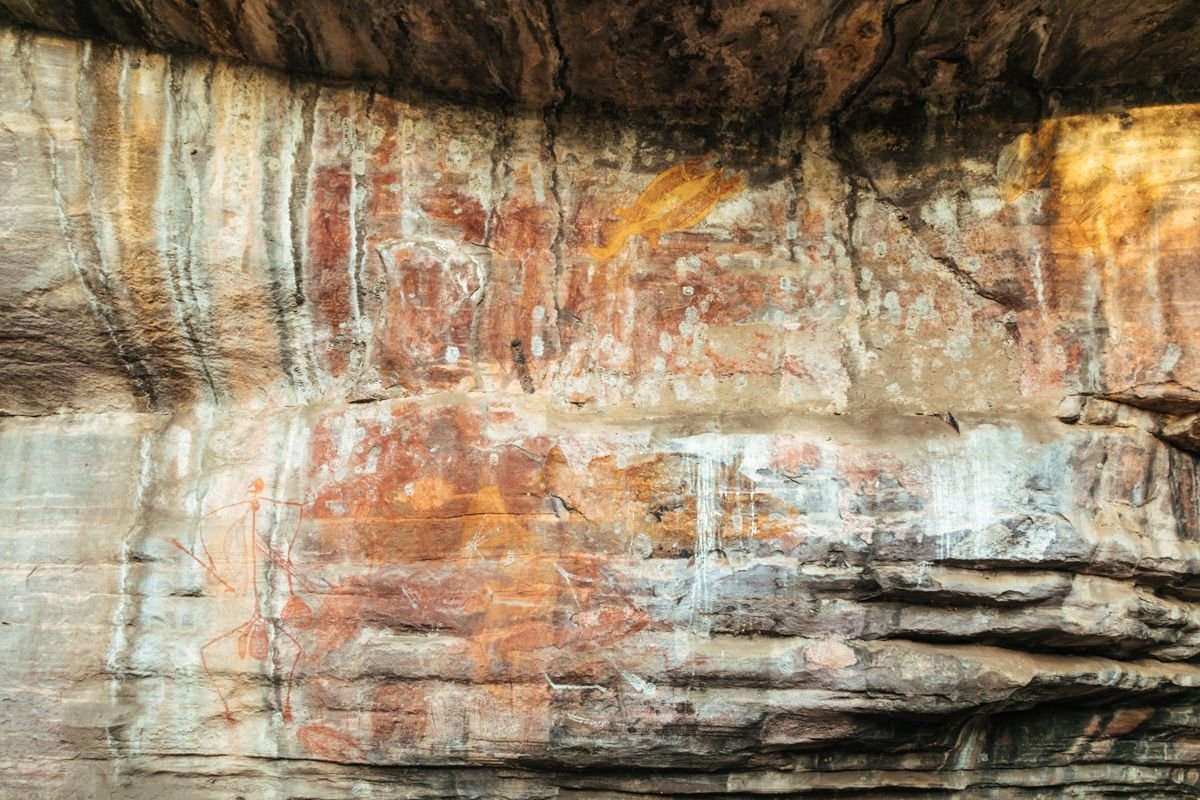 Aboriginal rock art at Ubirr, Kakadu NP.
Things I'm Loving
MATE The Label – Last year I started the process of transitioning my wardrobe from cheap to sustainable. Instead of buying inexpensive, low quality shirts and dresses that rip, fade, or just feel cheaply made, I'm gradually replacing these crap clothes with higher quality pieces that are consciously made – i.e. with minimal impact on the environment, and fair wages/work conditions for those who make them.
MATE is an American brand that sells high quality basics that are actually produced in the US rather than overseas, and everything is organic and made as sustainably as possible. They're very transparent about their production process.
I took advantage of a sale and ordered a couple pieces to try out and holy crap, the difference between their t-shirts and sweatpants and, say, H&M's or Cotton On's, is ASTOUNDING. You really don't know what you're missing til you have it sometimes. I'll never go back to the lower quality, non-sustainable option now that I've seen the light!

Yellow Water Cruise, Kakadu NP.
What's Next?
Next month, we're making the long journey from Darwin to Cairns! We'll spend a good chunk of time in Katherine, then we'll have a lot of driving days to get to Queensland and the east coast.