READ THE OTHER CARAVAN LIFE DIARIES MONTHLY RECAPS HERE.
From the Top End of the Northern Territory to Far North Queensland, I think August may have been our biggest driving month of the whole trip. 3300km (2050mi) in total, from Darwin to Port Douglas. Good lord!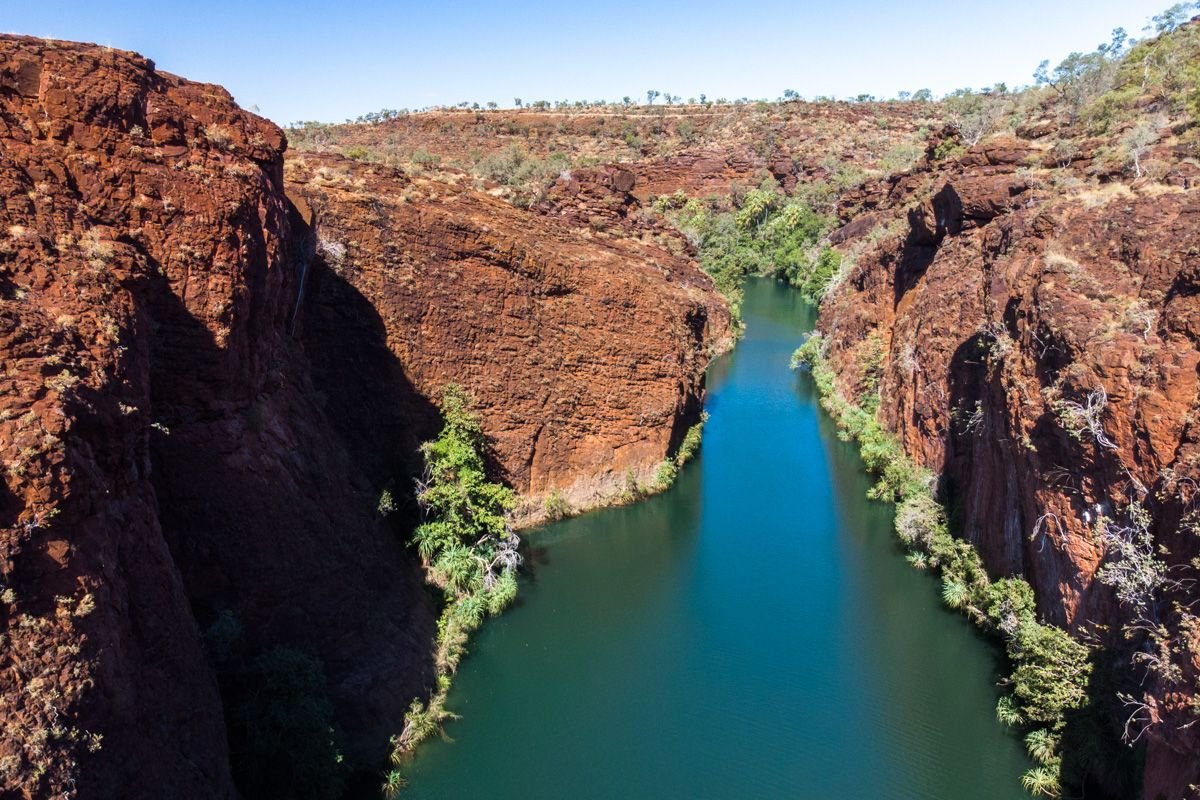 I LOVED exploring the Outback, but I think by August we were very ready to return to the coast and settle down for awhile (y'know, take a break from all the driving and catch up on work and fitness). So rather than take our time with the lengthy drive from Katherine to the east coast, we gunned it so that we'd get there in time for Pete's birthday on the 20th.
Exhilarating yet exhausting is how I would sum it up, and our Outback travels in general.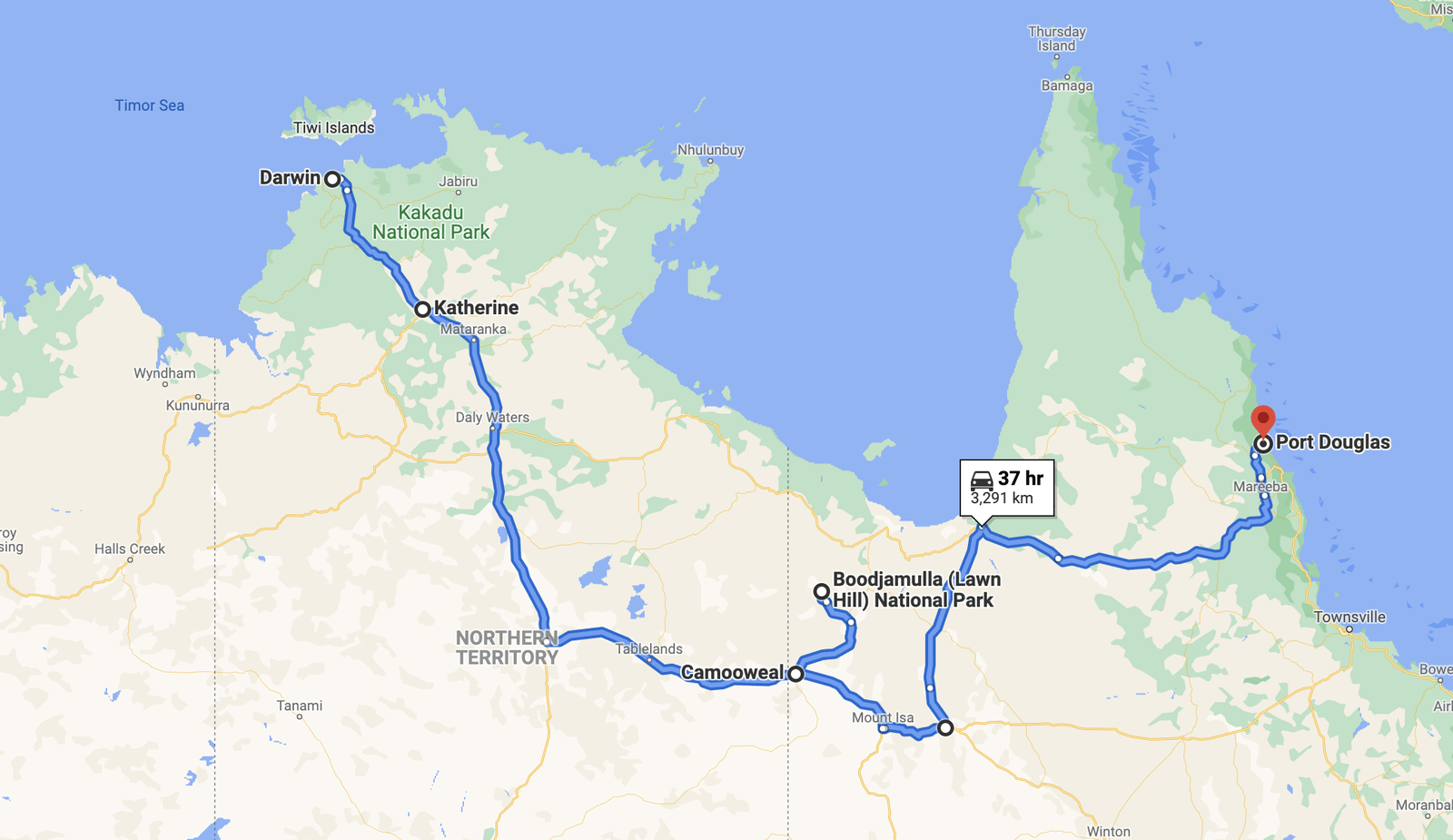 From the Outback to the beach, here's how Month #7 of caravan life turned out:
Where We Went This Month
TRAVEL BY STATE: 11 days in NT + 20 days in QLD
ACCOMMODATION COSTS: AU$961 on campsites
Aug 1-2: Darwin
We started the month off wrapping up our time in Darwin, still camping at the Hipcamp property we booked at Knuckey Lagoon.
Not too much to report here, as it was our last day in town and we mostly spent it working before heading to the Mindil Beach sunset market (more on this below!).
CLICK TO GET $10 OFF YOUR FIRST HIPCAMP BOOKING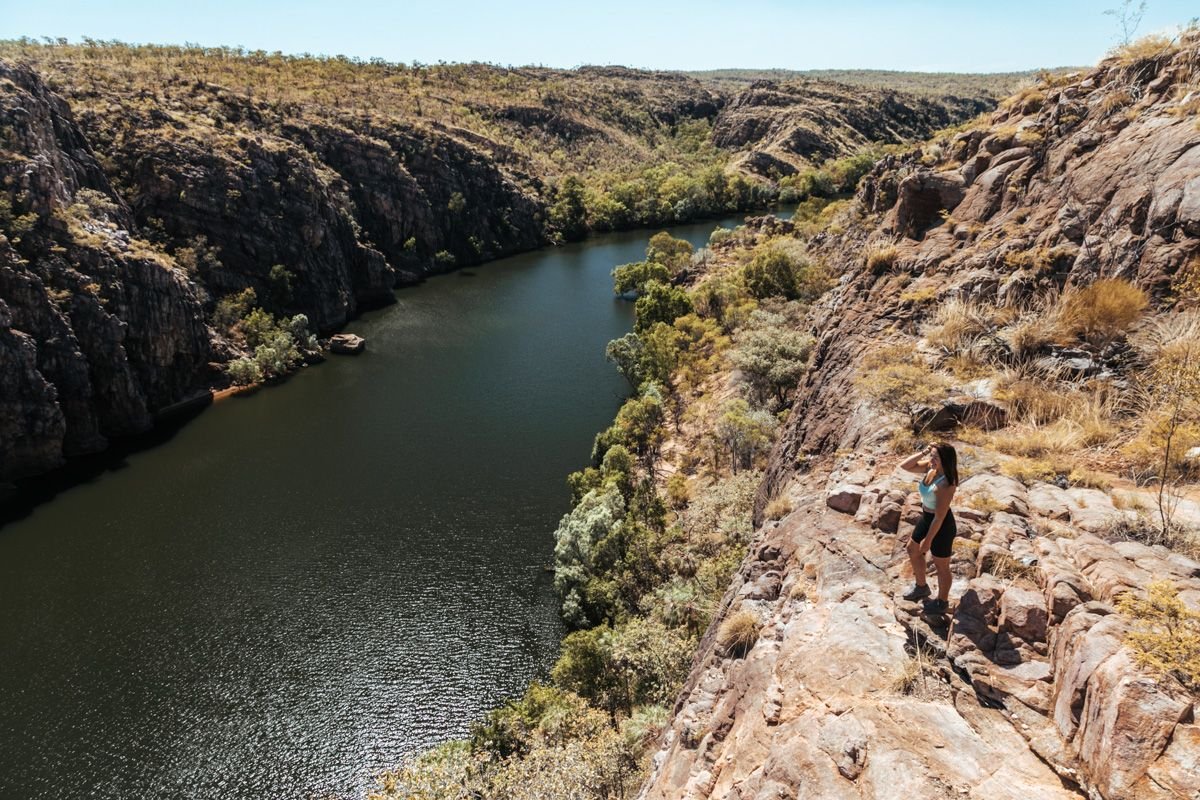 Aug 2-11: Katherine
From Darwin, we started the loooooong drive down and over to Queensland, and of COURSE we had to stop and spend some time in Katherine.
We stayed at Manbulloo Homestead Caravan Park just south of town (actually on the road that leads to the Western Australia border), which was a pretty basic bush camp but did the job. Interestingly, here more than anywhere else we've been, there was a LOT of turnover at campsites – i.e. people seemed to only stay 1 or 2 nights before leaving (often making a racket while packing up early in the morning, ugh). I think a lot of them were in a hurry to cross the WA border before any future lockdowns were to happen.
Which is a shame because there's lots to do in and around Katherine! We alternated between work days in town (usually at the library) and adventure days out of town. We also alternated between two top coffee spots: The Black Russian Caravan Bar and Pop Rocket Cafe. What a luxury to have two amazing cafes nearby without being in a major city! In my faux-professional opinion, Black Russian has the edge when it comes to coffee, and Pop Rocket when it comes to food.
Pop Rocket Cafe happens to be right next to Katherine Hot Springs, a natural thermal pool set in the bush. At this point I was a bit jaded by hot springs (there are lots in the Top End!), so we only visited this one once. None of these springs are actually hot, just warm like a bath that's been sitting for awhile – and they tend to get crowded unless you visit early in the morning.
We spent one day at Katherine Gorge (Nitmiluk National Park), the top thing to do in the area, and I felt like I'd seen the perfect amount of it in that time. I thought I'd want to canoe through the gorge (possibly even do an overnight trip!), but it was just SO freaking hot out and we spotted some crocs in the gorge, so swimming wasn't really an option to cool off.
To my surprise, Edith Falls (Leliyn) was the highlight of my time in Katherine – we loved it so much we visited twice! It's a 30-40min drive north of Katherine and well worth the trek.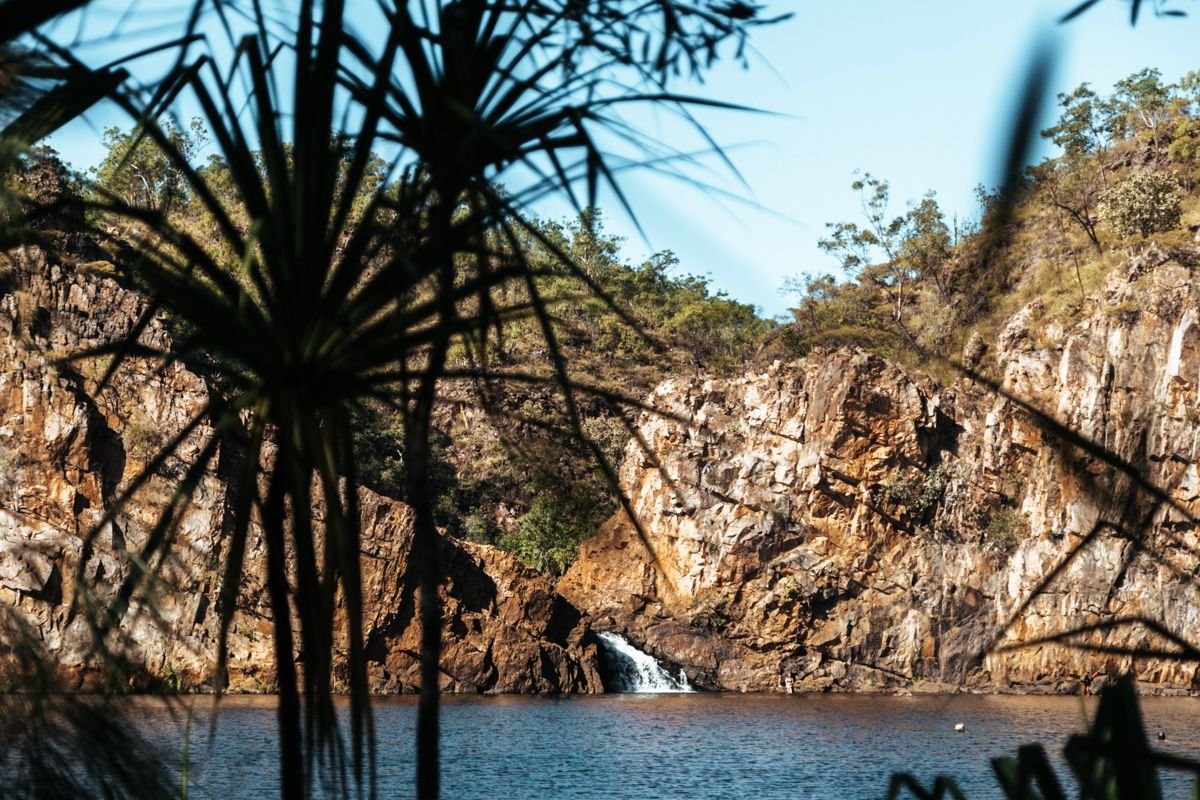 When I visited on a whirlwind tour back in 2006, I was pretty underwhelmed by it; however, that's just because we only went to the main pool. I didn't know, until doing my research for this trip, that there are more pools if you hike up above it! More on Edith Falls and its glorious swimming holes in the Best Bits section below!
Aug 11-13: Katherine to QLD border
Once we left Katherine, we spent two days driving 1100km (700mi) to the Queensland border, staying overnight at a free roadside rest area on the first night. This stretch of road, running east toward Queensland, was crazy-windy in parts!
On the second day, we crossed the state border with absolutely zero fanfare or hassle. All we had to do was apply for a border pass a few days in advance and have it on hand in case anyone wanted to check it. There wasn't any check at the border, likely because there are hardly any COVID cases in the Northern Territory. Going in the opposite direction, there was a border check for Queenslanders looking to drive into the NT though.
Just across the border, the first town we hit in Queensland was Camooweal. We stayed at another free campsite here, along the lake, before heading inland to Lawn Hill.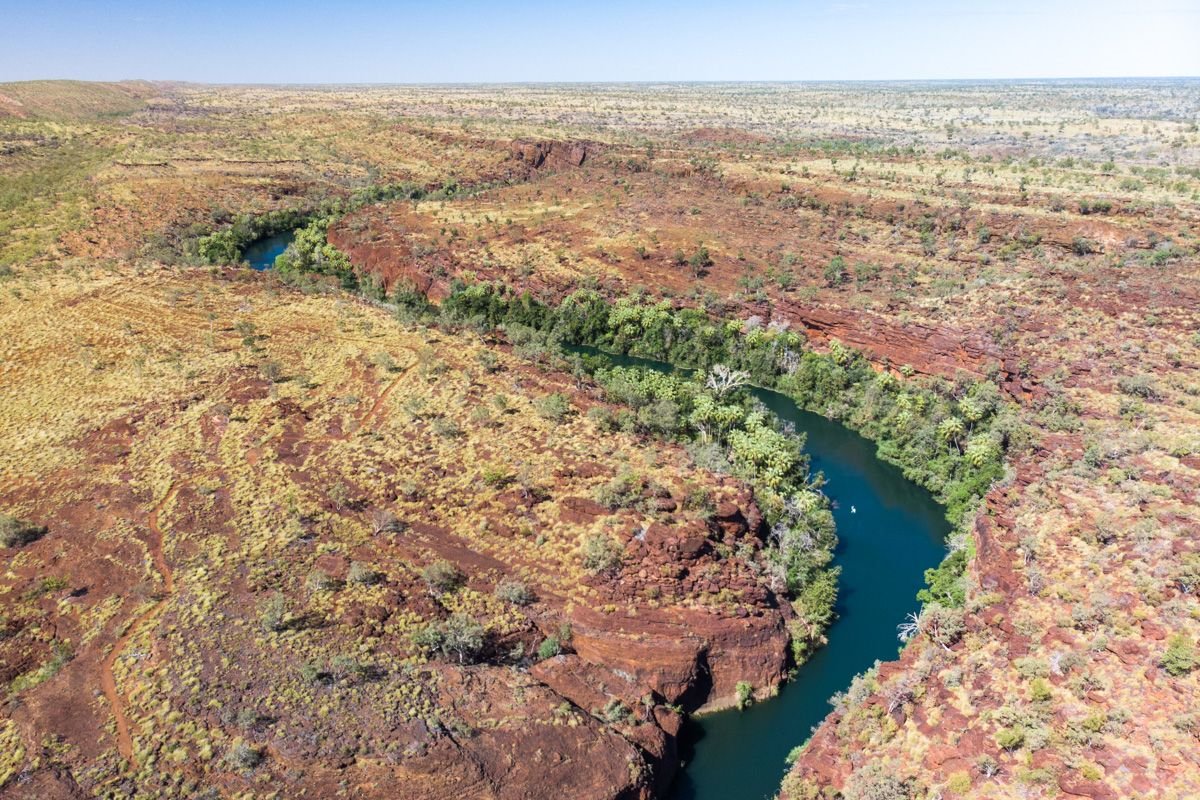 Aug 13-15: Boodjamulla (Lawn Hill) National Park
We bravely (stupidly?) left the caravan set up in Camooweal and set off on the long, harrowing drive to Lawn Hill Gorge (Boodjamulla), which I discovered months ago while perusing Google Maps for things to do in Outback Queensland. More on this driving adventure in The Worst Bits section below!
For now, let's just say the road to Lawn Hill was definitely not somewhere we wanted to take our caravan, and TBH we probably shouldn't have driven our aging 4WD Jeep there either.
Miraculously, we made it to Lawn Hill Gorge camping area unscathed and claimed the campsite closest to the water. It was weird going from caravan to tent dwelling for a couple days, but I actually enjoyed the change of pace. We didn't have a fridge or cooler to keep things cold, so that did limit our food options… but it was fine for just two days.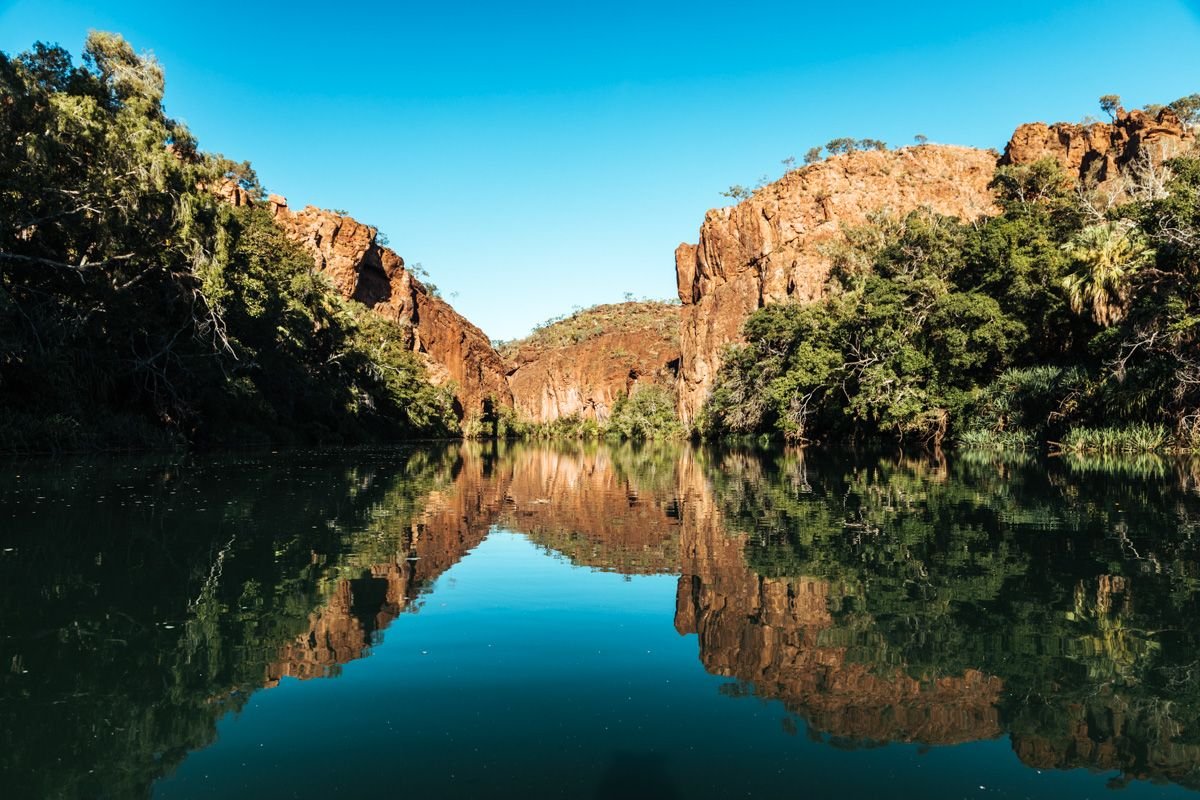 Lawn Hill Gorge is INCREDIBLE. One of the most beautiful places I've seen on this whole trip. The thing to do is hire a kayak and paddle through the gorge, but I had my own inflatable SUP that I used instead. Ugh, it was SO beautiful here. More details in the Best Bits section below!
Aug 15-19: QLD border to Port Douglas
The next leg of our long journey had us driving from Camooweal to Port Douglas, Outback to beach – 1400km (900mi) in 3 days. 3 long, hot, boring days. We camped at a rest area just north of Cloncurry, a council donation-based campground in Croydon, and a free campsite behind a petrol station in Mount Garnet – all without unhitching.
There isn't a whole lot to see/do in the Outback portion of this drive (which is called the Gulf Savannah region) until you get to Mount Surprise. From here, you can take a side trip to Cobbold Gorge (REALLY wish we'd had time for this!), explore the Undara lava tubes (caves), or stop at nearby Talaroo Hot Springs.
The hot springs were all we had time for, so I booked us a bathing session in one of their private geothermal pools at around the time I expected us to be driving through the area (which was noon-ish). What a gem of a spot!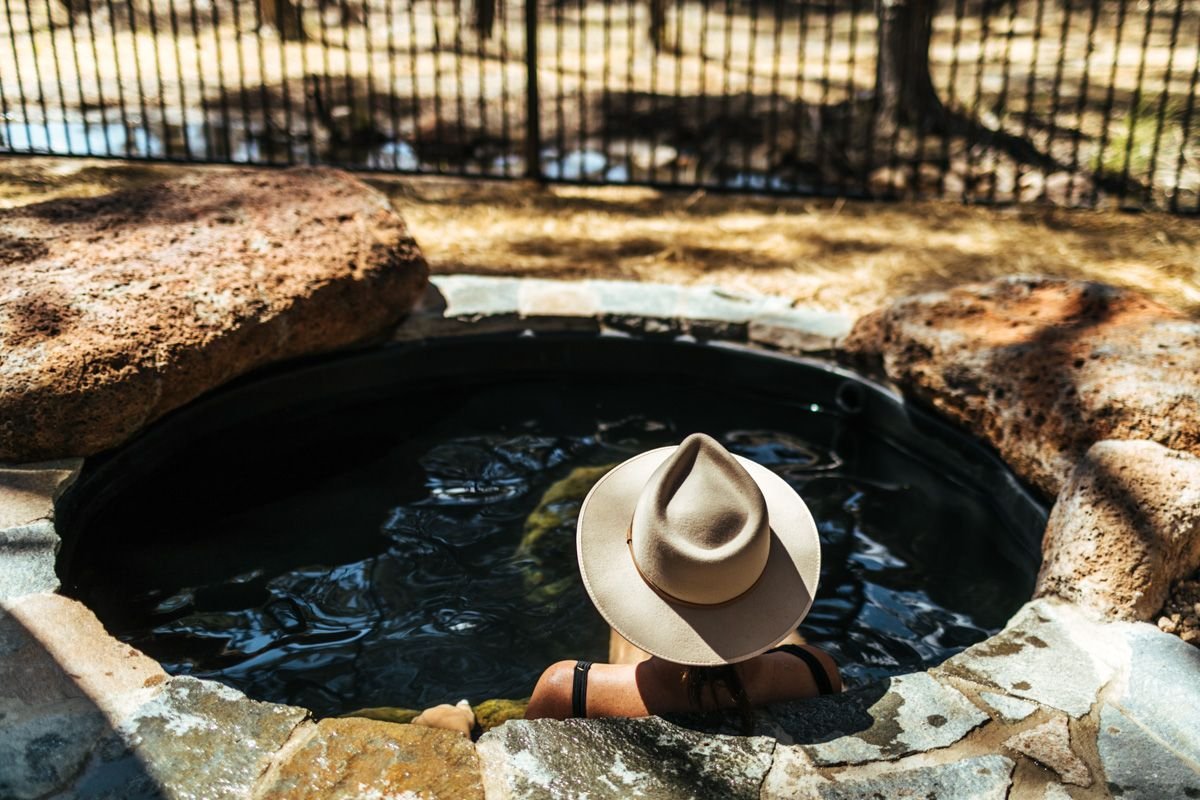 Talaroo Hot Springs only opened a few months ago so all the facilities are nice and new. You can camp there or you can just stop in to use the hot springs like we did. There's a large communal pool which you get to use for free if you book a tour of the hot springs, or you can opt to book a small private pool for $30/hour. The soaking pools draw their heat from the hot springs, which get their heat naturally from hot granite rocks underground. We were able to choose how hot we wanted the water and the staff adjust the temperature accordingly before we got in. So cool! (er, I mean hot)
Soon after Talaroo, the landscape shifted from dry red dirt to lush green forest as we got closer to the Queensland coast. We drove through the Atherton Tablelands, known for its amazing fresh produce, waterfalls, and green mountainous landscape. As much as I wanted to stop and explore, we had tunnel vision for the beach and therefore only stopped for lunch and coffee. We'll definitely return later this year to check it out, though.
Pete didn't know where exactly we were going because I had a surprise planned for his birthday. As far as he knew, we were driving to Cairns… but little did he know where we'd be stopping next!
The final stretch of driving had us going down windy roads and descending to a palm tree paradise backed by mountains. Hello Tropical North Queensland!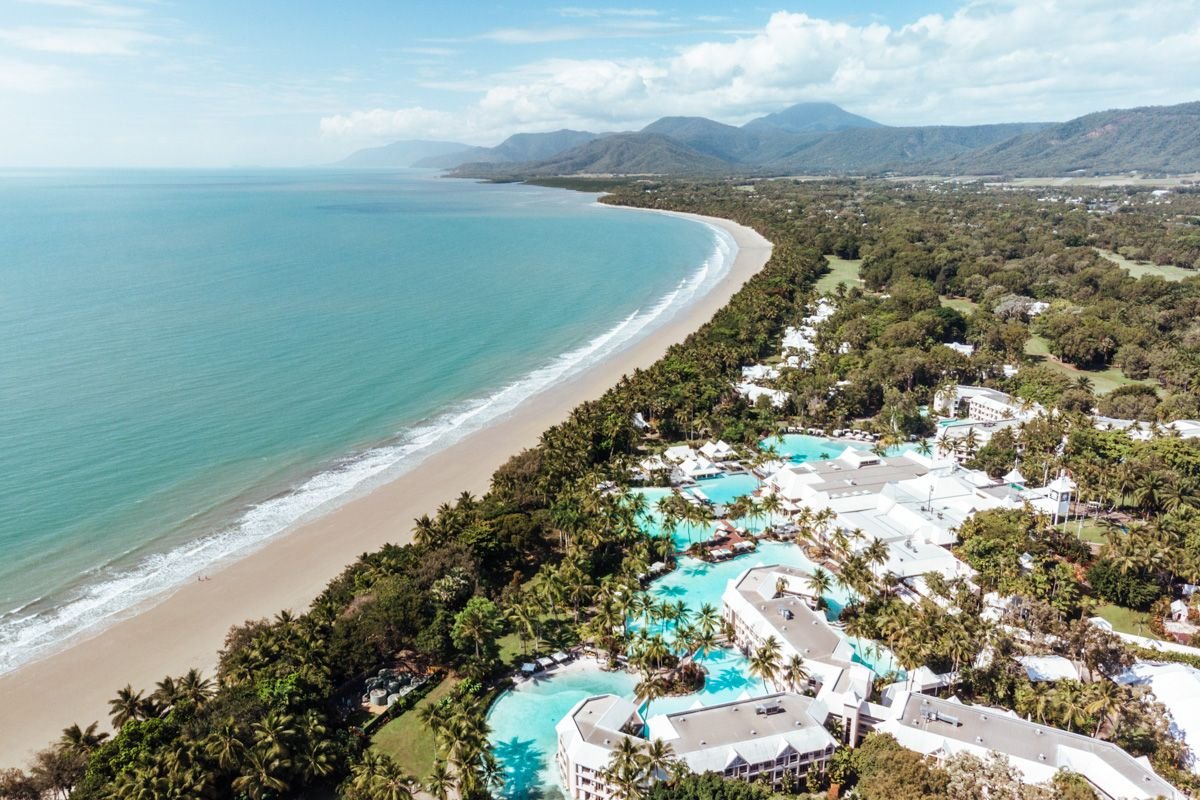 Aug 19-31: Port Douglas
We kicked off our time in Port Douglas with two nights at the Sheraton Grand Mirage to celebrate Pete's birthday. I wrote ALLLLL about it in this blog post but to sum it up briefly: IT WAS THE BESTTTTTTT.
The lagoon pools are the focal point of this resort, with the white hotel buildings contrasting beautifully against the vibrant turquoise pools. There are lush tropical plants along every outdoor walkway, and multiple paths leading straight onto the beach (yep, it's a beachfront hotel!). Basically it was all so gorgeous and we didn't want to leave, which I take as a sign of a birthday well planned!
I booked our stay using Chase Ultimate Rewards points and paid to upgrade to a lagoon edge room, which gave us a room with a patio that had a ladder leading into one of the lagoons. It was SUCH a dream, and made our time there so much more special than if we'd had a regular ol' guest room. More on our stay in the Best Bits section below!
CLICK TO BOOK THE SHERATON GRAND MIRAGE RESORT IN PORT DOUGLAS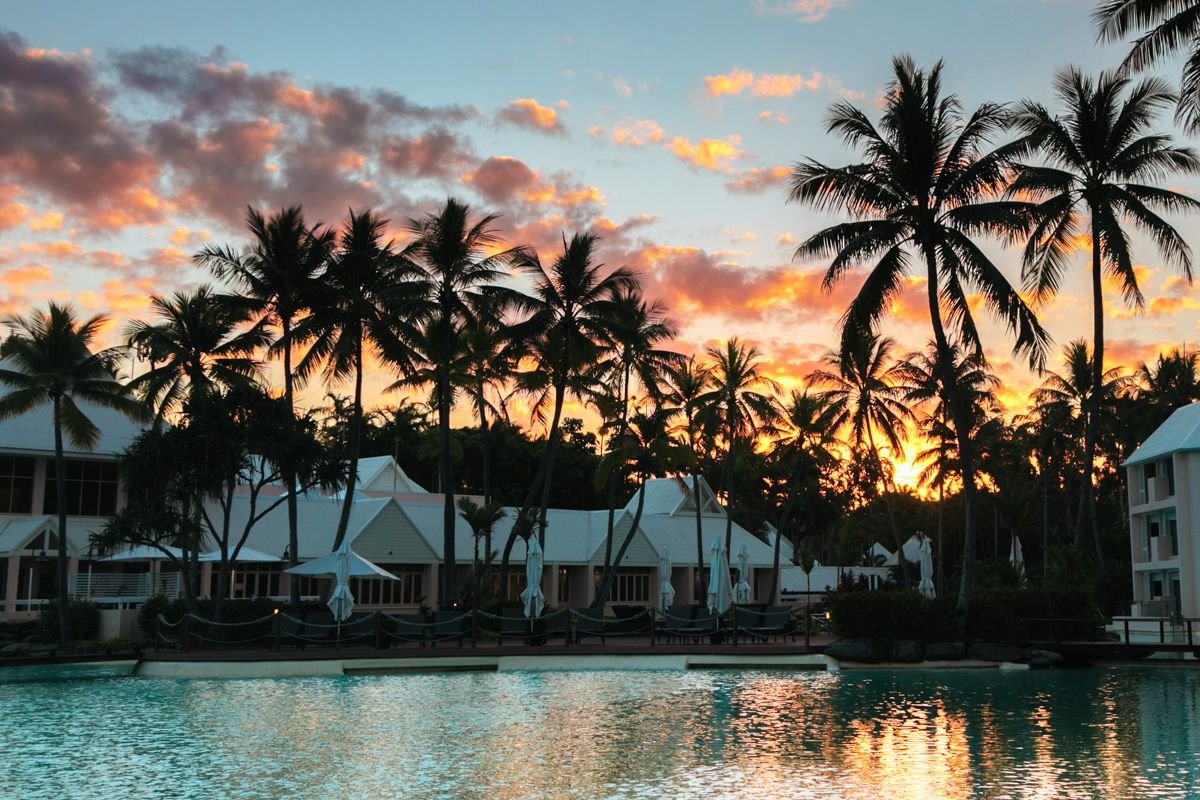 Then we finally landed at our long term base: the BIG4 Glengarry Holiday Park just outside of Port Douglas. Not too much to report on our first 10 days here, as they were largely spent catching up on work and just chilling the f out after a manic couple months exploring the Outback.
Is it weird that I kind of liked the fact that we were surrounded by older folks? This caravan park definitely had retirement village vibes and most of the time it was nice and quiet. Many of these people seemed to be here for an extended time, escaping winter down south – can't blame 'em!
Apart from working, I also went for walks on the town's famous Four Mile Beach and went for coffee numerous times at Origin Espresso, which has the nicest and friendliest staff as well as some seriously great coffee.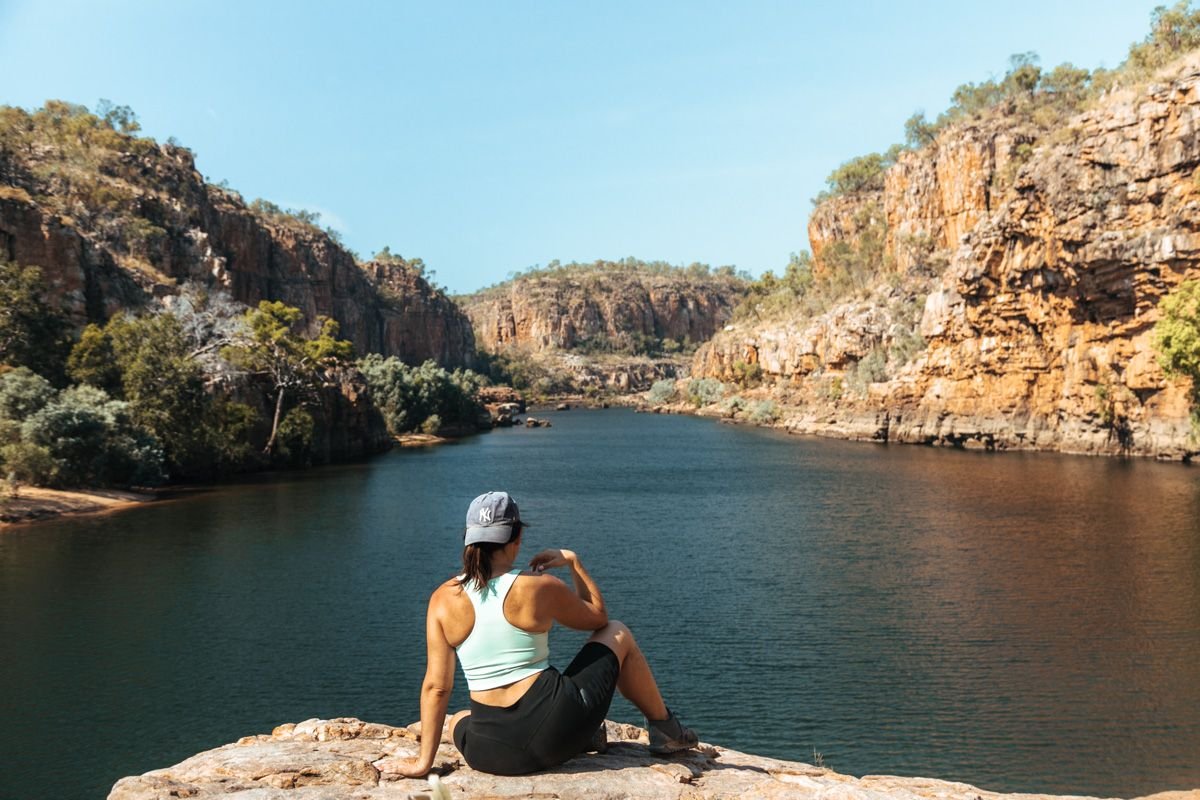 The Best Bits
Katherine Gorge
I LOVED the day we spent hiking along the top of Katherine Gorge, even if we didn't end up on a boat or canoe tour. We hiked to some viewpoints over the gorge, all the way to Pat's Lookout and down to Southern Rockhole (where normally there's a waterfall, but it was too late into the dry season so it had reduced to a trickle by August).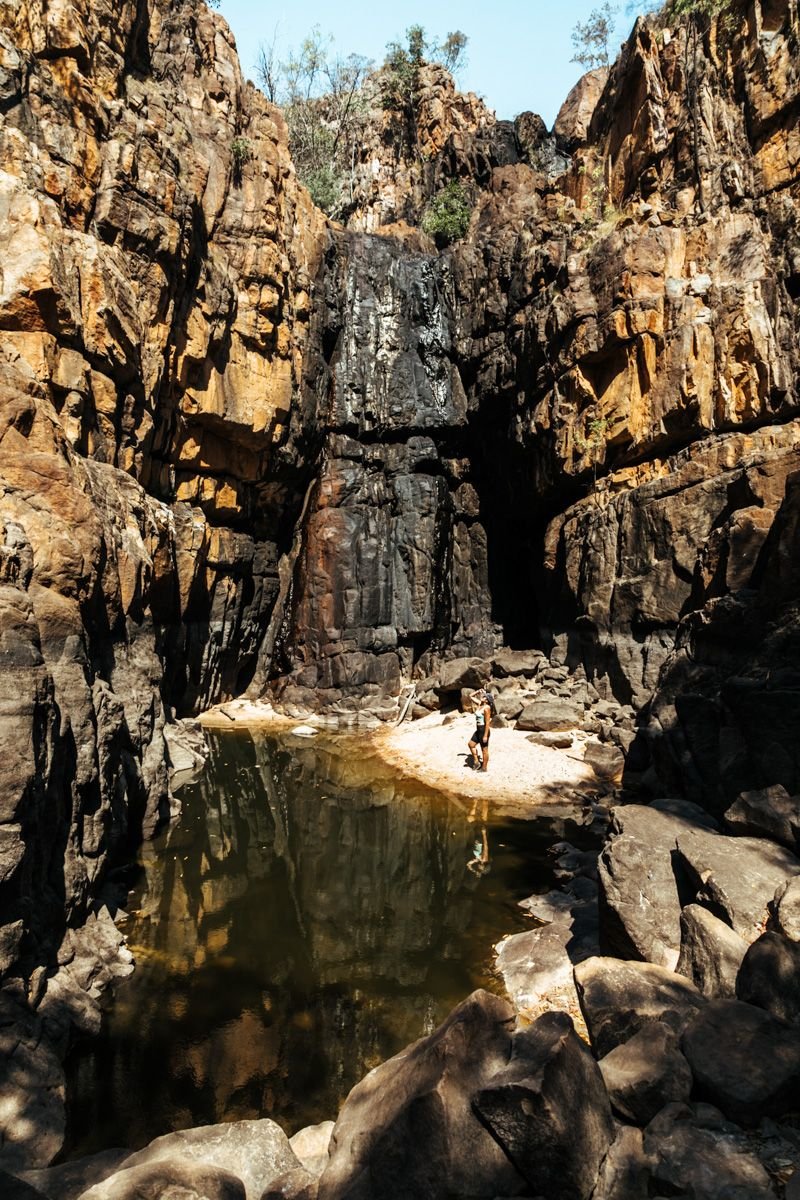 From here, we followed the trail a little further which led right to the water's edge inside the gorge (between gorges 1 and 2 on the park map). We walked up onto some rock shelves along the water and admired the view of Katherine Gorge from ground level. What a stunner!
It's weird because I fully expected to return another day to explore more of Katherine Gorge, perhaps on a boat – but I was really content with what we saw in a day and really didn't feel the need to come back.
Edith Falls
The best thing about Edith Falls is everything above it, as we learned once we hiked to the Upper Pool and beyond.
One day, we did the main pool and then hiked up to the Upper Pool and had our minds blown. It was one of those moments that will be seared in my memory bank for a long long time, I think: think perfect golden hour light, a reflection of the surrounding rocks on the still water, a sizable rock island in the middle of the pool that you can swim out to and sunbathe on, and a picturesque waterfall just behind it. The stuff of adventurers' DREAMS, I tell ya.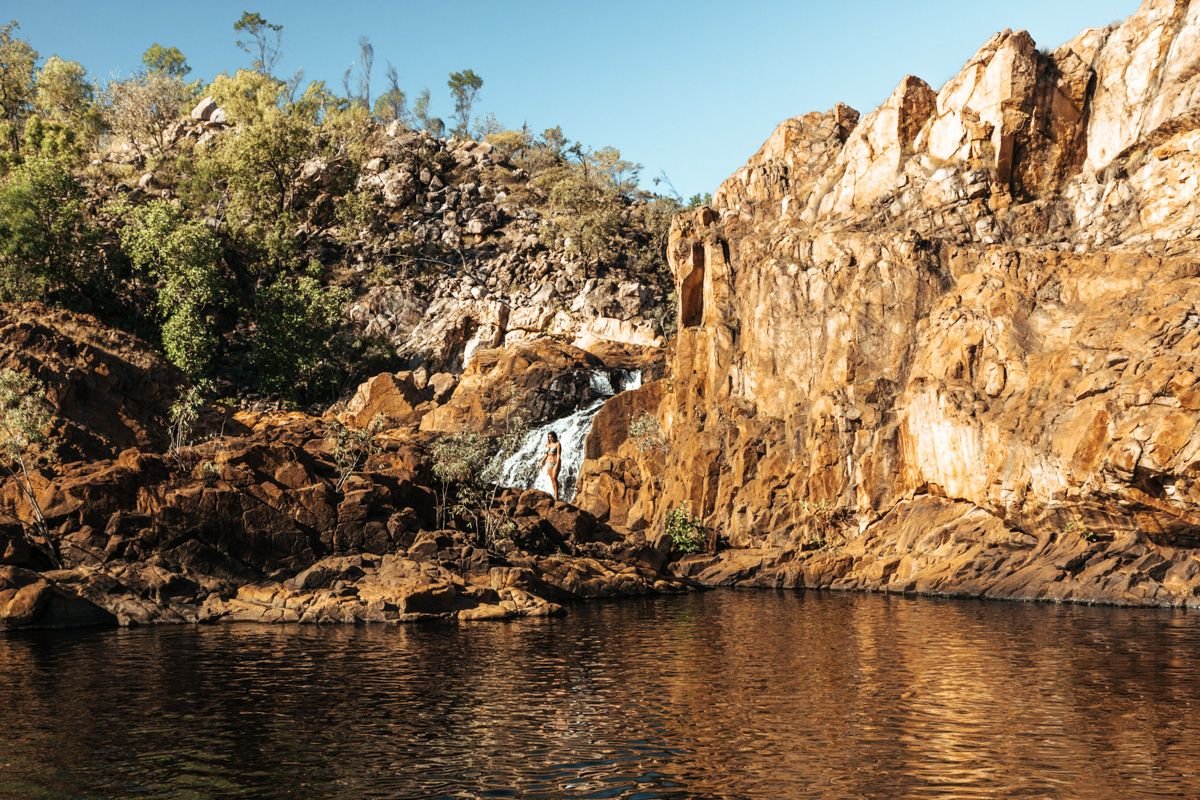 We loved it so much we returned later in the week, this time hiking further on to Sweetwater Pool (where you can actually camp) and another pool along the way, and then back to Upper Pool for golden hour again.
Edith Falls, what a fabulous surprise! And far less crowded at all the upper pools than any other swimming holes we've visited in the Top End.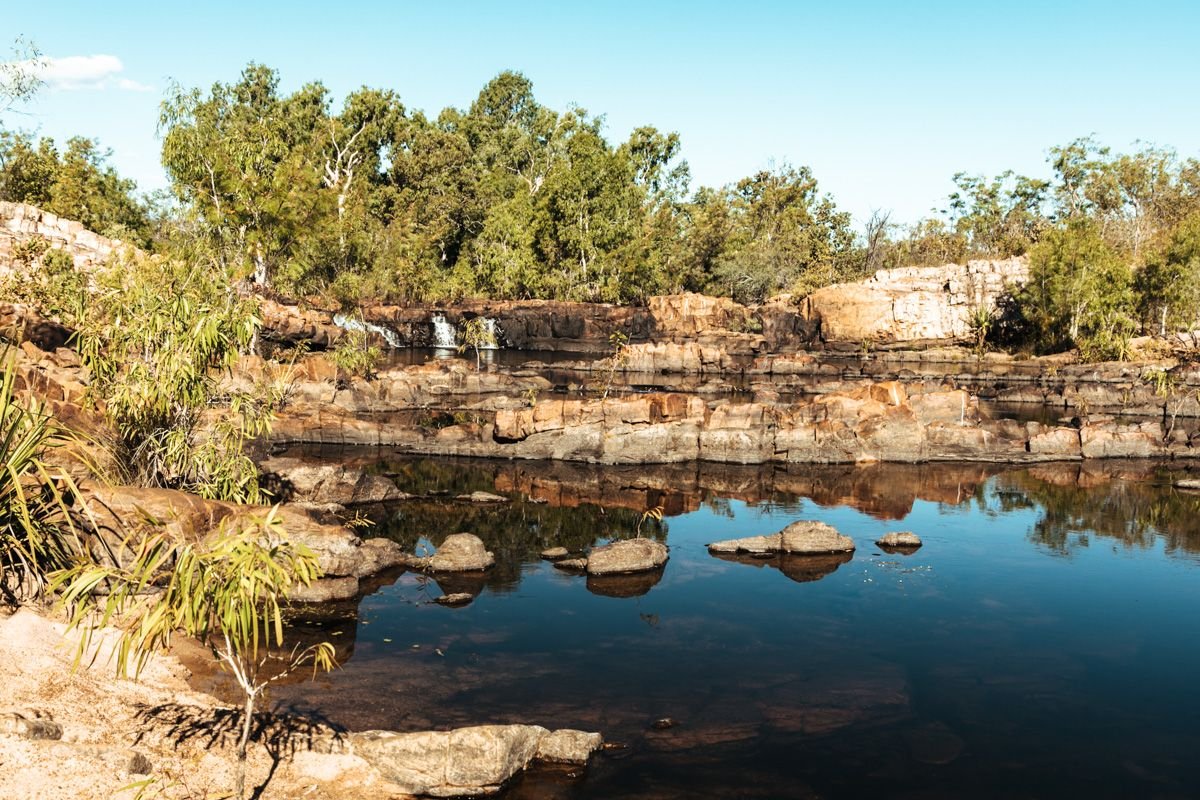 Lawn Hill Gorge
Very happy to report that the horrendous drive in to Lawn Hill was worth it (if it wasn't, I'd have felt very bad for making Pete drive it!).
First off, the water in the creek leading up to the gorge is a unique milky turquoise color – not sure if I've ever seen water like that before. All I know is that stand-up paddleboarding down the creek and through the gorge was a MAGICAL experience, particularly in the morning when it's lit up by the sun. Though come to think of it, I also really enjoyed a late afternoon paddle, where I lay on my back and sunbathed on my board while floating around by the waterfall.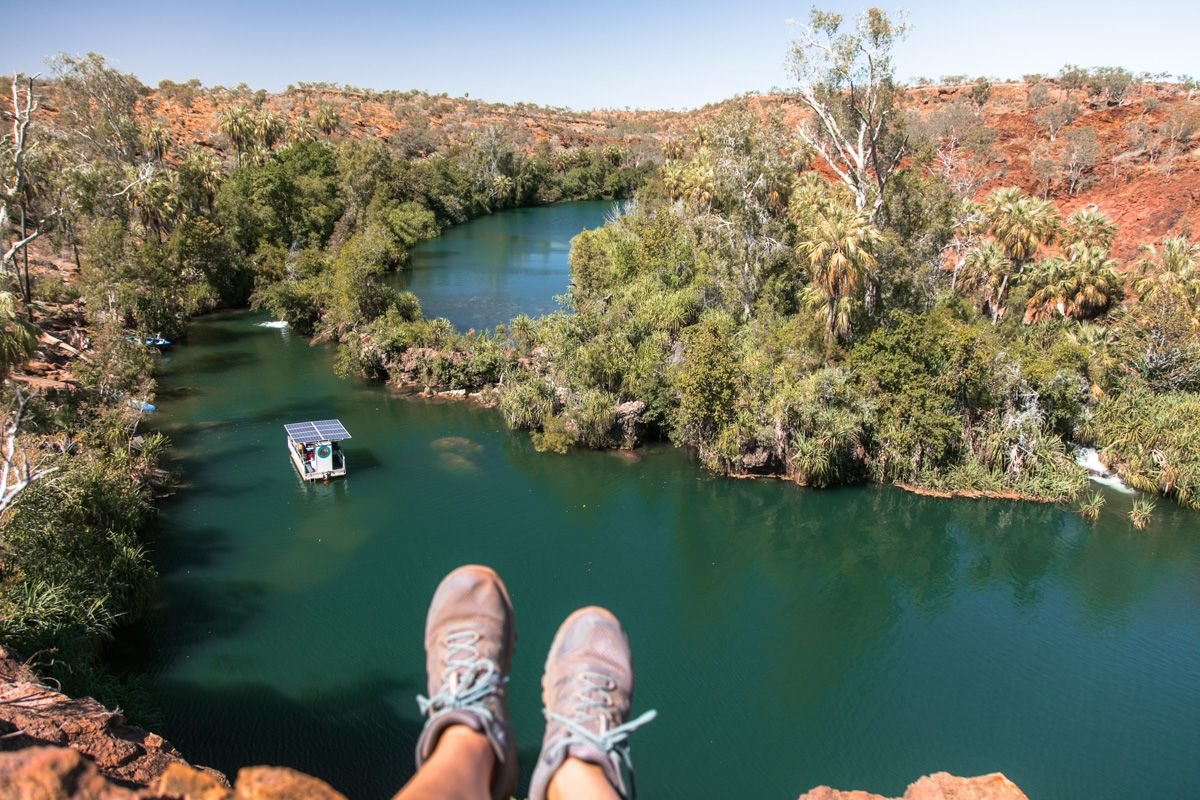 On our one full day in the national park, we hiked along the top of the gorge to some incredible lookout points, then hiked down for a swim at Indarri Falls in the middle of the gorge (which is where most everyone seemed to be congregating with their kayaks).
In sum, if you ever find yourself in bumblef*ck Queensland near the NT border, you absolutely should make the trip out to Lawn Hill Gorge. It's absolutely incredible.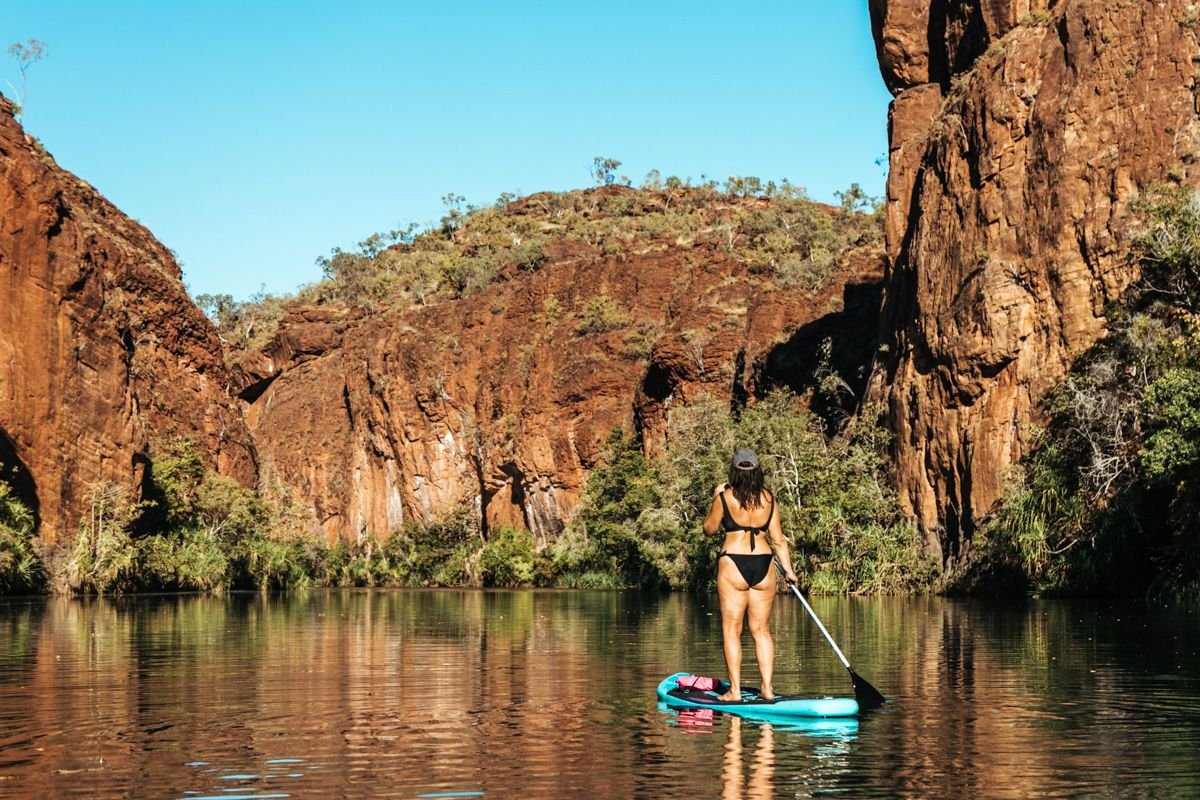 The Sheraton Grand Mirage
As I mentioned, I've written a blog post all about our stay at the Sheraton Grand Mirage Port Douglas and why I loved it so damn much, so read that for the finer details.
The cliffsnotes version of it is:
I loved the hell out of our lagoon edge room and sat on the patio both mornings drinking my homemade coffee and eating my homemade overnight oats (brought 'em so that I wouldn't have to leave the room for breakfast!), and we had the lagoon pool all to ourselves (never saw anyone else in it or sitting on the other patios the entire time).
I loved that some of the lagoons had little beaches built around them, where you could relax in the sand and order drinks and snacks straight to your lounge chair.
I loved the experience of walking around and across the different lagoon pools and admiring how pretty they looked against the white hotel buildings.
And thankfully Pete loved his birthday surprise just as much as I did!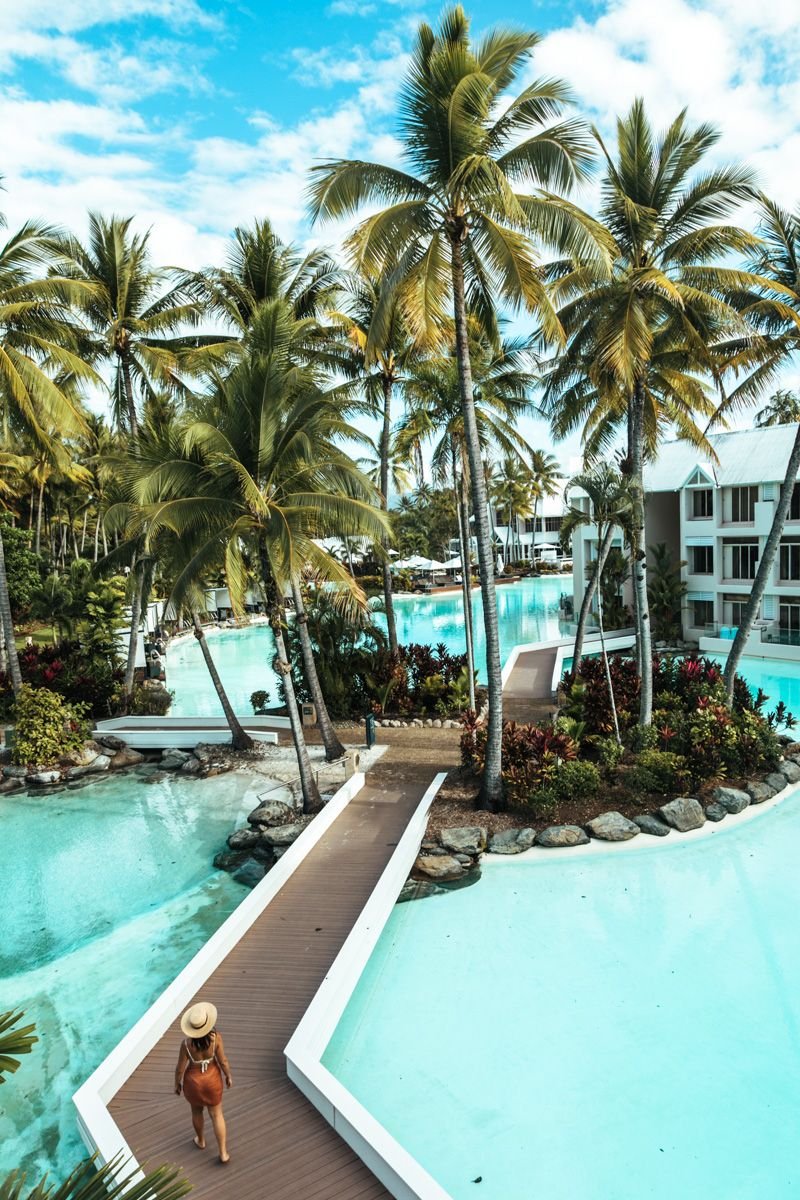 The Worst Bits
Mindil Beach Sunset Market
I'd been really looking forward to perusing the sunset market at Darwin's famous Mindil Beach – because BEACH! And exotic foodstuff! Things we had been deprived of in the Outback.
However, I forgot to factor in the fact that I LOATHE being stuck in a crowd, and the fact that my tolerance for people slowly shuffling in front of me while I'm trying to walk at a normal pace would be even lower (if possible) after all that time spent in remote parts of the country. So I kind of hated the market and spent more time sitting on the beach there (even though Mindil Beach is straight-up UGLY compared to other beaches in Australia). So sadly, the Mindil Beach Sunset Market was not it for me.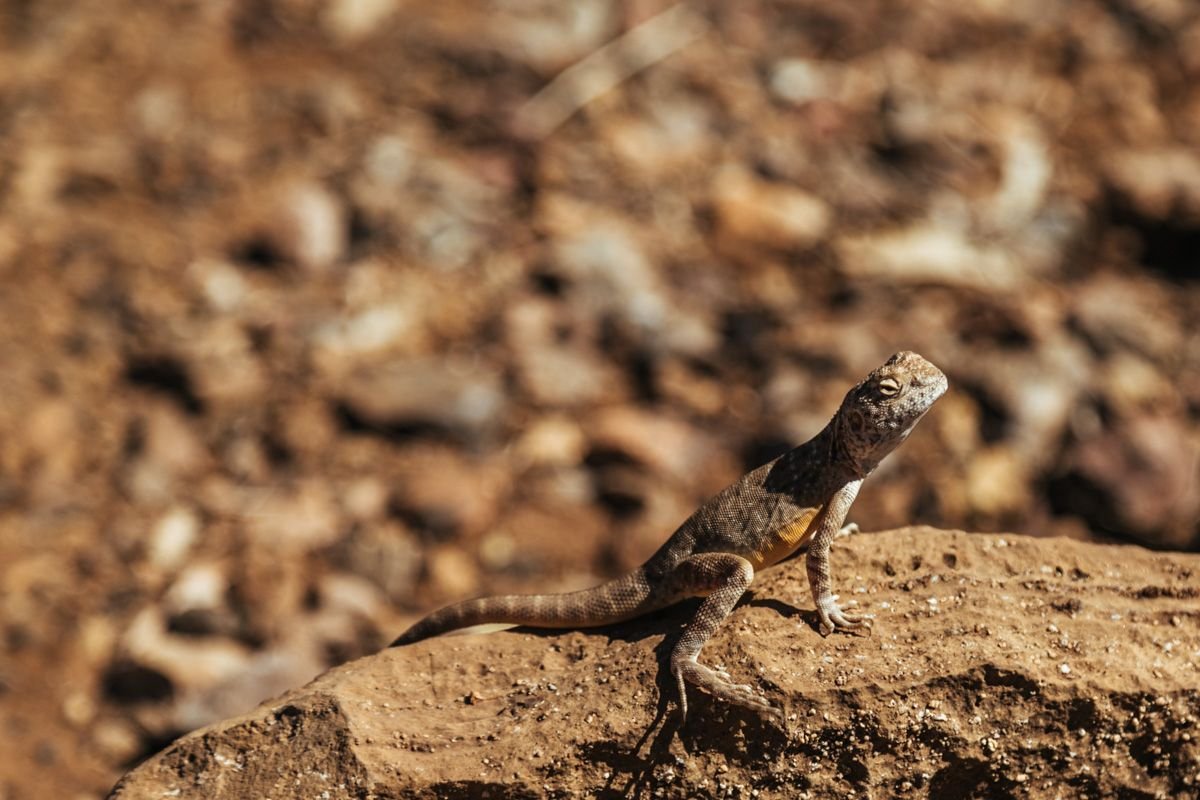 The Road To Lawn Hill
Throughout our Outback travels, I employed the strategy of downplaying the driving stints so that Pete wouldn't be too discouraged by what was often literally a long and bumpy road ahead. But I honestly had NO idea how horrendous the drive to Lawn Hill National Park was because there's hardly any information about it online.
We drove in from Camooweal in the south and the road started off paved (sealed)… then alternated between paved and unpaved (unsealed)… then became fully unpaved and progressively worse in condition the further we went. 4 hours, 240km (150mi), and 3 short creek crossings later and we all but kissed the ground upon arrival. The drive was so bumpy in parts that it knocked the dreaded Check Engine light on in our car (which mysteriously and miraculously turned off about a week later). I am so grateful we didn't end up with any actual damage!
I honestly have no idea how so many vehicles we passed seemed to be barrelling down the road over all the bumps while we were practically crawling in parts, but I have no desire to tackle a road like this again unless I'm in one of those sturdier cars.
Also, I am SO glad we had a jerry can full of fuel in the car because we wouldn't have made it there and back on one tank of gas. Obviously there are no petrol stations along this remote stretch of road, though I believe we could have purchased some fuel from Adels Grove caravan park near Lawn Hill (for a premium price no doubt!).
What I Read
I don't know how the heck I managed to read 5 books this month but I'm not mad about it. That makes 16 books read in 7 months on this trip, and 19 total so far in 2021!
12. Nomadland – Jessica Bruder
I felt like this one was super relevant to my life right now, given that it's about Americans escaping the rat race and living on the road in their vans. However, the book diverges with an element of desperation, as it chronicles people (mostly older folk) who typically can't find employment and resort to living super cheaply and taking up low paying seasonal work (like at the Amazon warehouse). Made me SUPER grateful to have come of age right around the advent of the internet and been an early adapter of it because thank goodness I'm able to work online as I travel, rather than have to succumb to crappy manual labor jobs just to get by like the characters in this book.
13. The Couple Next Door – Sheri LaPena
This was my first-ever Sheri LaPena book and welp, looks like I've got a whole bunch of new murder mysteries to devour! In this one, a couple spends an evening next door at another couple's house for dinner and leave their baby at home, popping back to check on her every hour on the hour. After a few hours of this, they go to check on her again and see that she's disappeared [cue the couple's lives falling apart]. I'm not sure how I feel about the guilty party being revealed so early on in the book, but it was interesting to see the psychology of it all unfold from their point of view. The ending is pretty wild, too.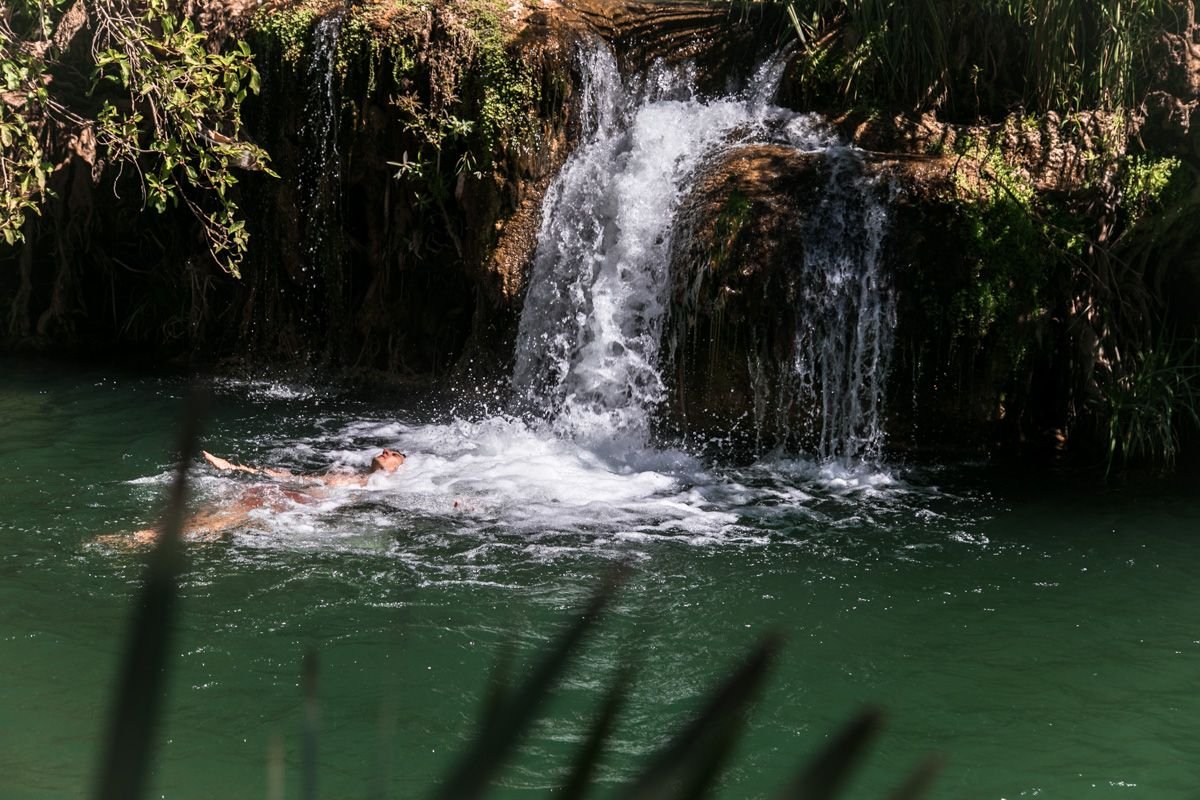 14. An Unwanted Guest – Sheri LaPena
Obviously I wasted no time in getting on with reading the rest of Sheri LaPena's books. This one I loved so much more than the other one! It's gotta be one of my faves of the year, mostly because of the plot (which kinda has And Then There Were None vibes, if you're an Agatha Christie fan!). Think: a bunch of strangers booked into a fancy hotel in Upstate New York that get snowed in for the weekend, due to a crazy snowstorm. One by one the guests are found dead onsite. Power goes out and roads are closed, so there's no way for police to get there anytime soon. This book kept me guessing til the end (and I didn't even pick the murderer right!). Ugh, so so good.
15. The Four Agreements – Don Miguel Ruiz
Gotta insert a little personal development/spirituality into the mix to balance out all the murder mysteries, right? So I finally checked this one off the list and all I have to say is that this book should be required reading for ALL HUMAN BEINGS. I'm serious. That means you, so go on – get yourself a copy! (And don't worry, it's a quick read)
16. Made In Reality – Stephanie Pratt
Ok, so maybe I fell down a rabbithole while watching the new season of The Hills New Beginnings, listened to an unhealthy amount of episode recaps on the Hillscast podcast, and then devoured this book in under two days. I regret nothing. Stephanie Pratt wasn't my favorite character on the original show, I sort of wrote her off as being dumb and dramatic – but there's actually a lot more to her that piqued my interest enough to do this deep dive. Definitely a worthwhile read if you're a fan of The Hills!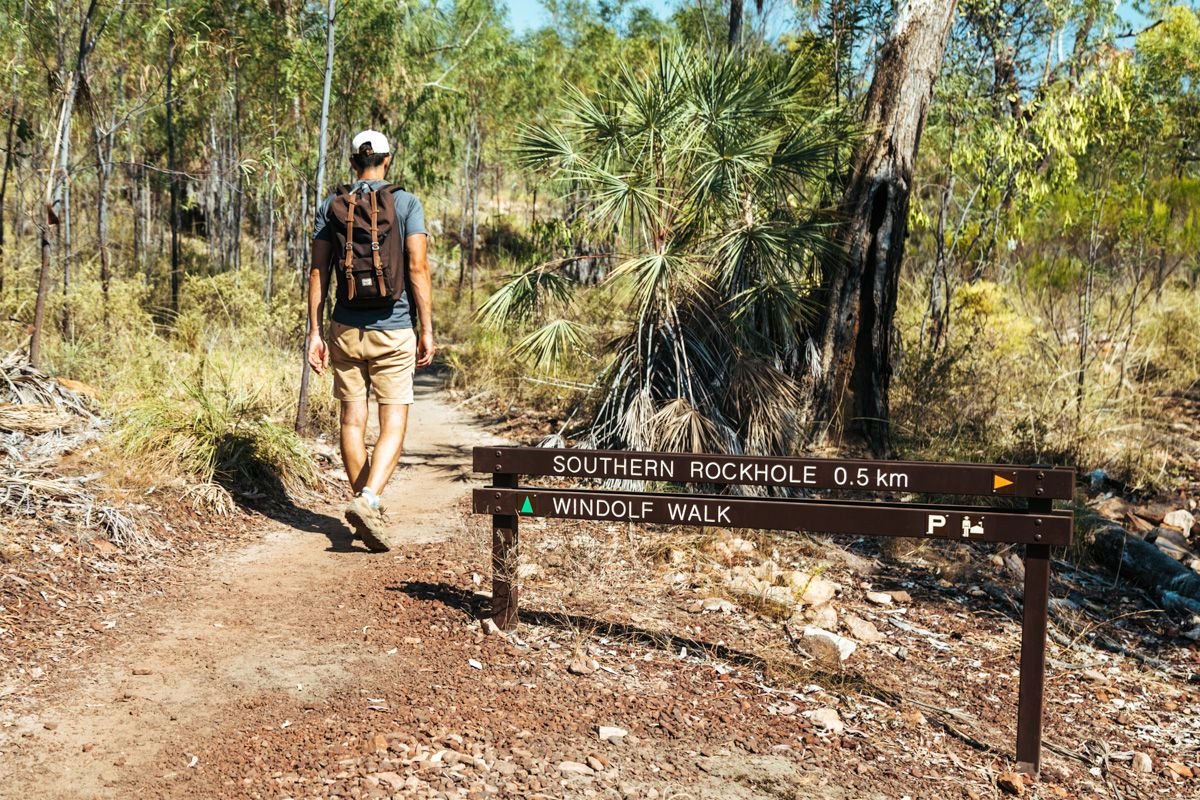 What's Next?
September's going to be pretty chill because we're finally resting after a few months of hectic travel in the Outback. We'll be in Port Douglas the whole month, catching up on work and beach time.