One of my greatest surprises on our big Aussie road trip has been how much I enjoyed Cairns.
It's the main hub for exploring the Great Barrier Reef, but it's also very close to dozens of other incredible natural attractions. There's so much to see within a 90 minute drive (or boat trip) that you'll never get bored living in or staying in Cairns.
From epic waterfalls to tropical islands to dramatic gorges, here are the best day trips from Cairns:
SEARCH FOR YOUR CAIRNS ACCOMMODATION HERE:


Great Barrier Reef
First thing's first: you can't come all the way to Cairns and skip the Great Barrier Reef. It's the stuff of bucket list DREAMS.
As such, there are a million and one ways you can get out there and experience the reef on a day trip from Cairns. Many, MANY operators run Great Barrier Reef trips by boat with options to snorkel and dive (too many to list here). They're all pretty similar in that regard, but differ in terms of inclusions and level of luxury.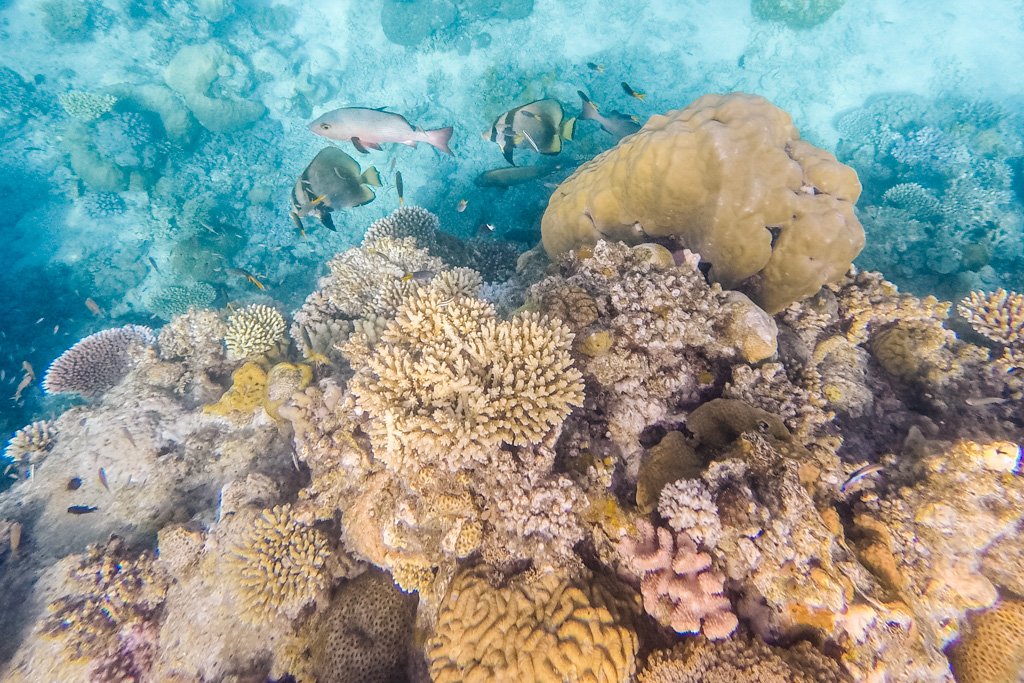 The only reef day trip I've done is to Green Island (also included in this blog post), so I can't recommend a specific reef trip based on my personal experience. I've done an overnight reef trip, but had a bit of a mixed experience with the operator so can't recommend them to you (and therefore won't mention them here, but you can read about it in this post). I recommend taking to Google to research the various options and read reviews before you book.
Also, you may have heard that there's a lot of coral bleaching and that the Great Barrier Reef is not worth visiting anymore because of it. NOT TRUE. There are many parts of the reef that are alive and thriving, with colorful coral and fishes galore. If you get lucky, you might find yourself swimming with turtles and rays. So yes, the reef is still worth seeing and should be #1 on your list of Cairns day trips to do.
Here are some things you might want to look for when deciding which Great Barrier Reef day trip to book:
Diving – Do they offer intro dives for those who are not certified divers? Seawalker helmet dives? How many dives can certified divers do?
Snorkeling – Is all equipment provided? Is there a guided snorkel tour?
Food – Are breakfast, lunch, snacks, drinks included?
Other Activities – Glass bottom boat tours, semi-submersible boat tours, paddle boarding, etc
Pontoon – Does the boat stop at a pontoon, or are all activities done right off of the boat?
Boat – What kind of boat? How big? How many passengers?
BONUS: Up the ante by booking a Great Barrier Reef scenic flight! If ever there was a place to splurge on something like this, Cairns is it (though I did mine in the Whitsundays).
READ MORE IN THIS POST: Scuba Diving the Great Barrier Reef with Divers Den
Green Island
Green Island is just a 45 minute boat ride from Cairns and offers both beautiful beaches and excellent snorkeling opportunities.
There are a couple different boat operators that run day trips to Green Island; I went with Big Cat Green Island and had a fantastic time on their day trip from Cairns, so can highly recommend booking with them. Click here to book a trip to Green Island.
At Green Island, you can relax on the beach, go snorkeling off the jetty, or partake in activities offered by your boat. Big Cat does guided snorkel safaris (highly recommend!) and glass bottom boat tours over the reef near the island.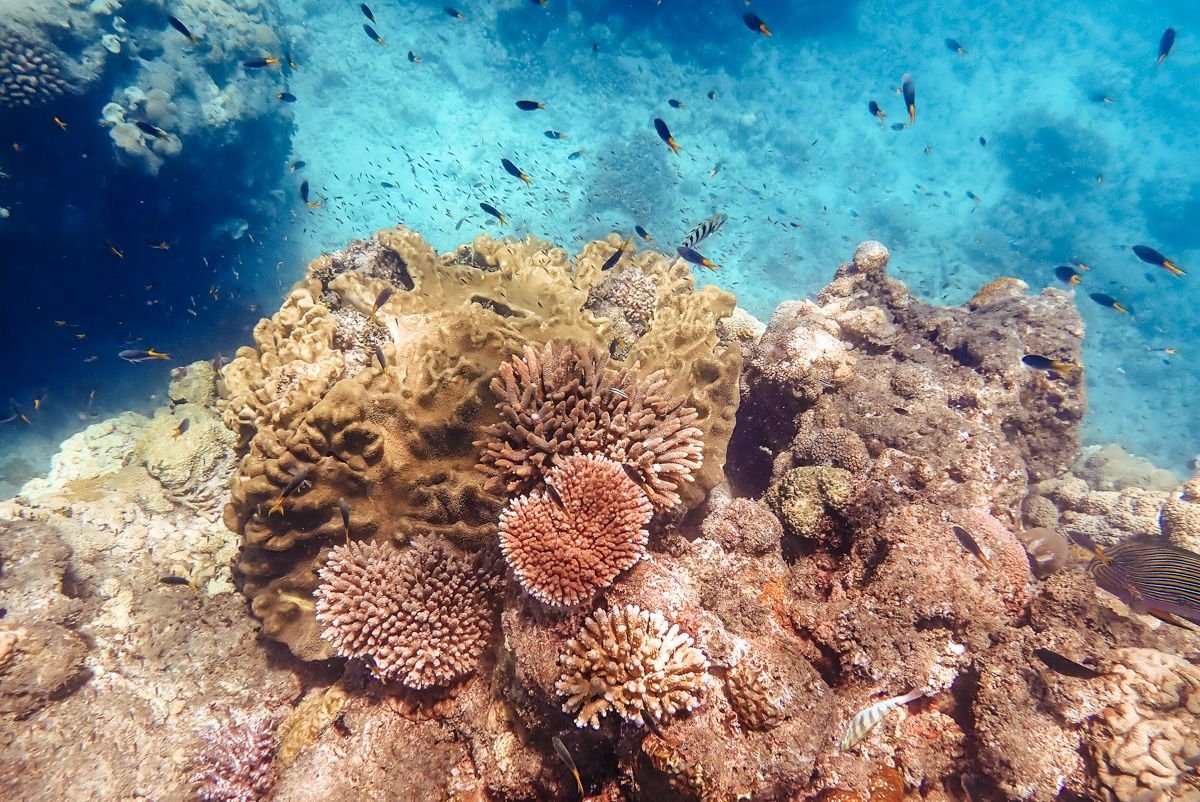 In general, snorkeling is the thing to do at Green Island, which is why the boat operators all offer it. There's a very high chance you'll see and/or swim with turtles while there. The Big Cat snorkel safari takes you a bit further out on the reef where you'll see much nicer coral and a wider array of fish.
READ MORE IN THIS POST: Fitzroy Island or Green Island: Which is Better?
Fitzroy Island
Also 45 minutes away from Cairns by boat is Fitzroy Island, one of my favorite day trips from Cairns and home to one of Australia's best beaches: Nudey Beach.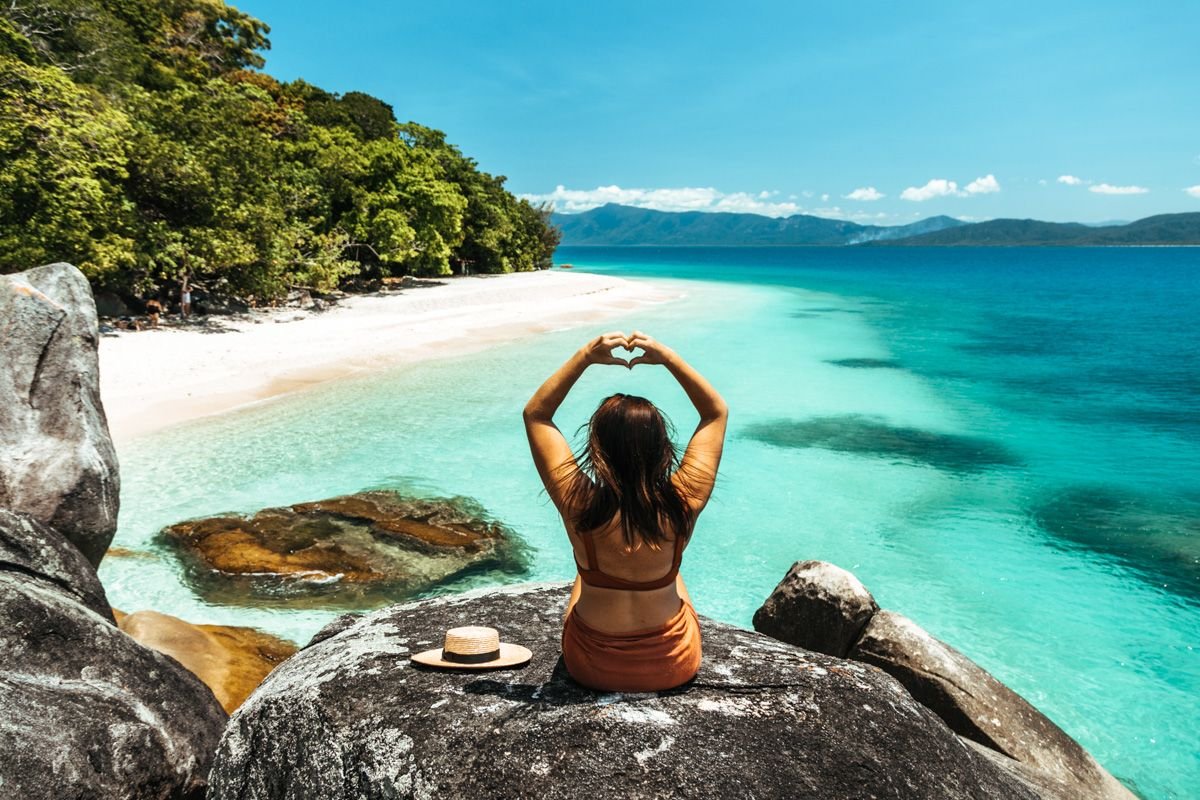 Being a beach snob myself, I can confirm that it's definitely worthy of that title. Nudey Beach is absolutely STUNNING with its white sand (well, more like coral bits) contrasted against bright turquoise water. There are some big boulders you can climb onto for some of the best views of the beach, and some smaller rocks on the beach you can lay or sit on between swims. And of course, it's equipped with a rope swing for all your Instagram needs 😉
I wouldn't blame you at all if you spend the whole time at Nudey Beach (I did this!), but if you're up for it there are other beaches and hikes worth doing. You can also hire snorkel gear and stand-up paddleboards to use while on the island. Or you can take a break from the sun and grab a drink or bite to eat at the island beach bar, Foxy's.
Overall, Fitzroy Island is just the perfect little island escape that you will probably want much more than just one day to enjoy. I booked our transfers with Fitzroy Flyer. Click here to book a trip to Fitzroy Island.
READ MORE IN THIS POST: Fitzroy Island or Green Island: Which is Better?
Waterfall Circuit
If you have limited time in Cairns, the Waterfall Circuit will give you the most bang for your buck in terms of maximizing the number of incredible waterfalls you're able to see in one visit. This 22km loop is about 1.5 hours south of Cairns and includes 3 of the best waterfalls near Cairns.

Elinjaa Falls.
IMO driving the Waterfall Circuit feels touristy and like you're checking waterfalls off a to-see list, rather than going on a proper adventure to just one or two falls. It's just a different vibe. Depends on what you like, really.
These are the 3 waterfalls you'll visit on the Waterfall Circuit:
Millaa Millaa Falls – The big kahuna. One of the most beloved falls in all of Australia. Features an 18m single drop fall and a small pool below for swimming.
Zillie Falls – From the car park, there's a short trail that leads to the top of this waterfall; from here, there's an unofficial trail that will have you at the bottom of the falls in 10 minutes. The view from the bottom of Zillie Falls is the best part of the entire Waterfall Circuit. It's too shallow to swim here, unfortunately!
Ellinjaa Falls – An easy 10 minute walk from the car park takes you to this gorgeous waterfall flowing over black volcanic rock. A great spot for a swim.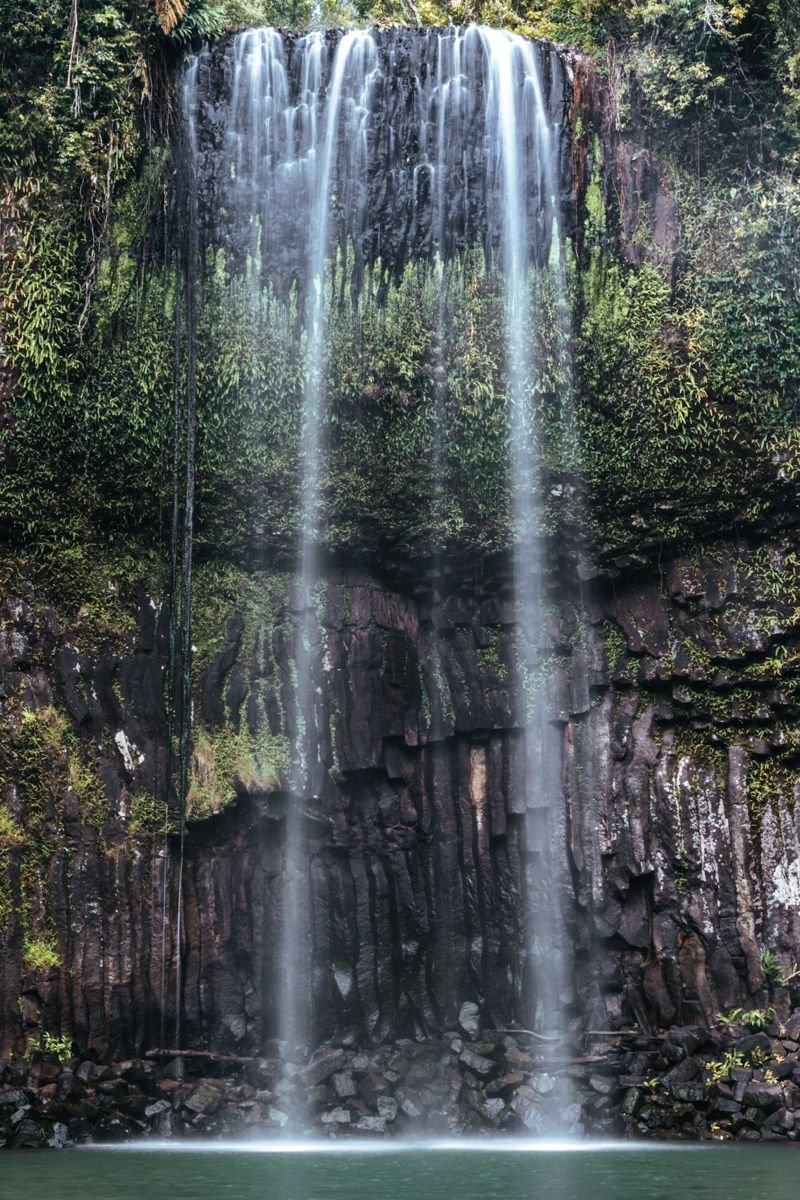 Milla Milla falls.
BONUS: If you have enough time, you can tack on a 4th waterfall to your tour: Nandroya Falls. It's about 15 minutes from Millaa Millaa, heading back towards Cairns.
Kuranda
Kuranda is one of the most popular Cairns day trips. This little hippie-ish village is just a half hour drive inland from the city, but you don't want to drive there!
Instead, take the Skyrail Rainforest Cableway up to Kuranda, and then the Kuranda Scenic Railway back down to Cairns. TRUST ME ON THIS. Getting there and back is the most fun part of the whole trip! And that's really saying something, coming from someone who's prone to motion sickness and just a wee bit impatient to reach her destination.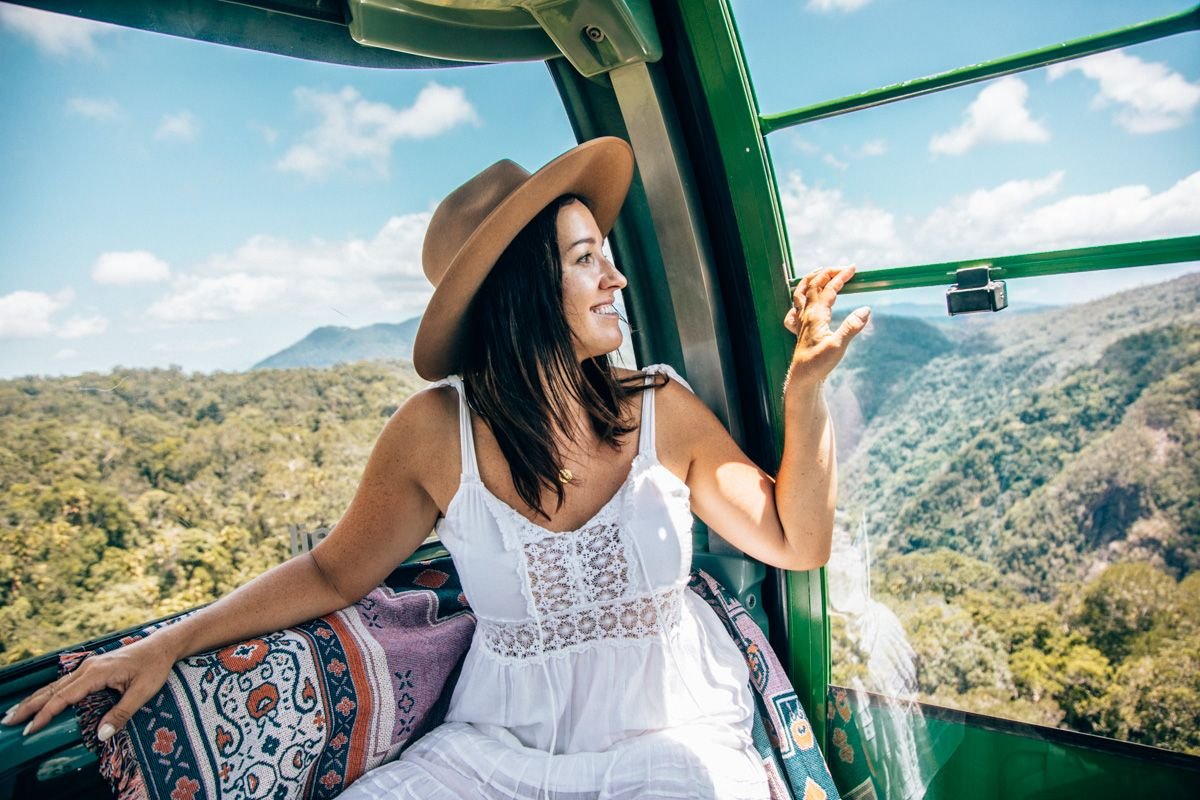 The Skyrail takes you up and over the rainforest and makes a couple of scenic stops before arriving in Kuranda. The whole ride is very smooth and somehow it never seems to start-and-stop as it picks up or drops off passengers.
The view over Barron Gorge shortly before you pull into Barron Falls station is SENSATIONAL, so make sure you have your camera ready for it!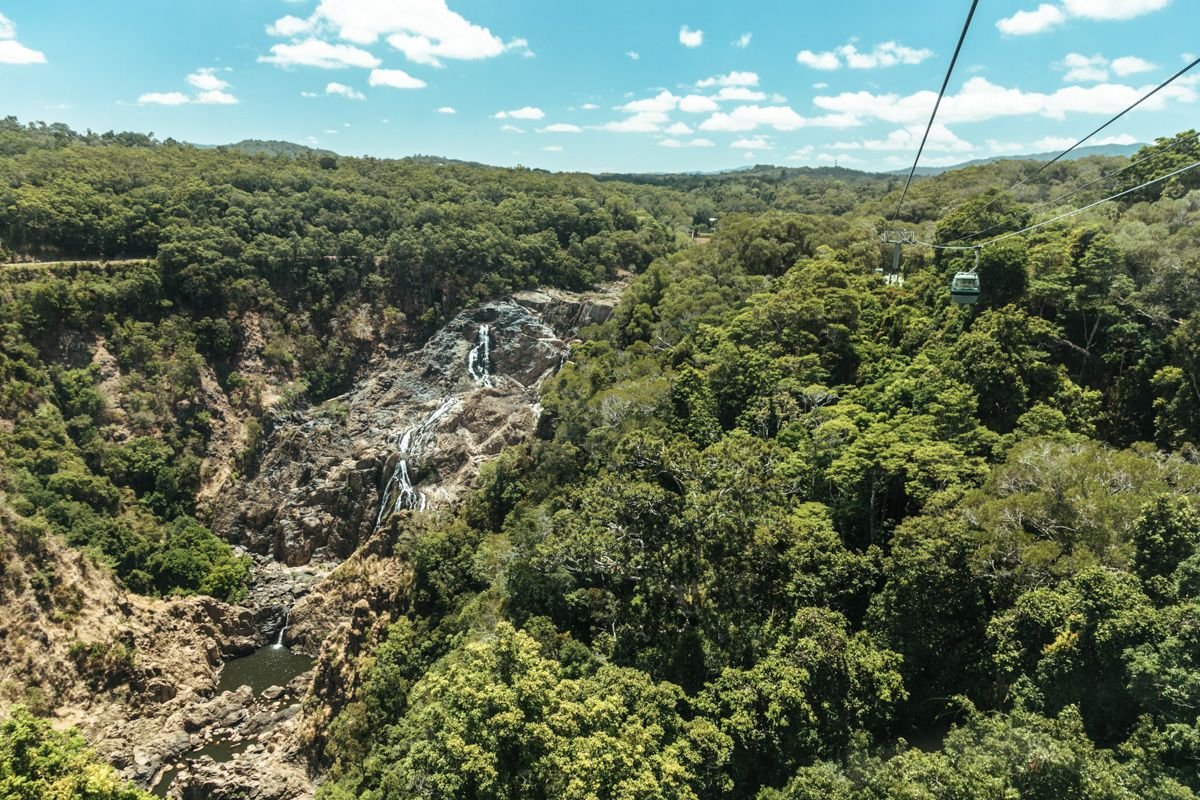 The Scenic Railway also makes a stop so you can glimpse the gorge from the other side. The views of the coast are excellent, and at one point you get to ride right next to a waterfall which is just so cool.
Also, did I mention that you're riding in an old heritage-style train carriage? The seats may not be all that comfortable, and there may not be any air conditioning, but taking this train is such a unique experience.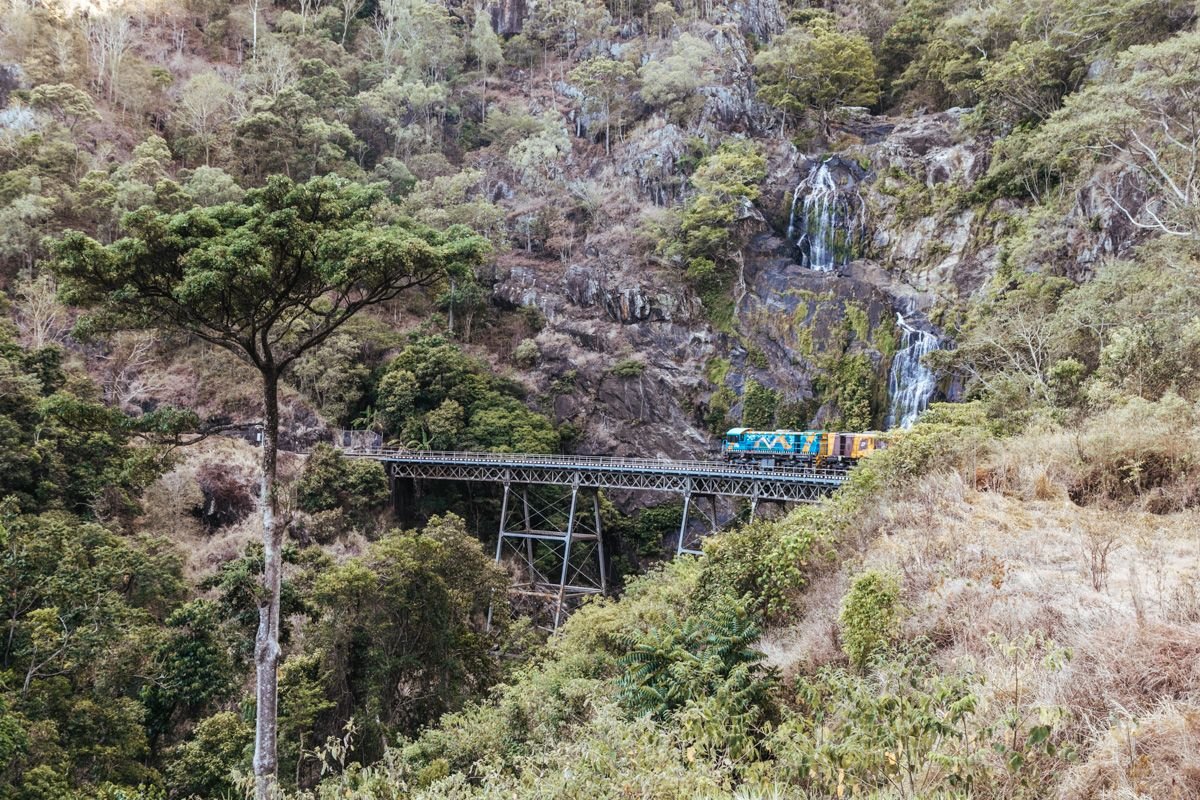 Kuranda's got plenty of things for you to fill your afternoon with, from cafes to markets to wildlife attractions. If you have time for just one thing, head to the Kuranda Original Rainforest Markets (NOT the Heritage Market), grab lunch there, and wander around all the new age market stalls. Think candles, crystals, and psychic readings.
Click here to book a Skyrail + Kuranda Scenic Rail combo ticket.
Davies Creek Falls & Emerald Creek Falls
Want something less touristy and more off-the-beaten-track? Head an hour inland past Kuranda towards Mareeba and the Atherton Tablelands and you'll find a couple of waterfalls worth writing home about. In fact, it's one of my favorite day trips from Cairns.
Davies Creek Falls is home to a natural infinity pool. It's slightly less dramatic than the one at Windin Falls (mentioned later in this post), but is pretty sizable and perfect for a swim.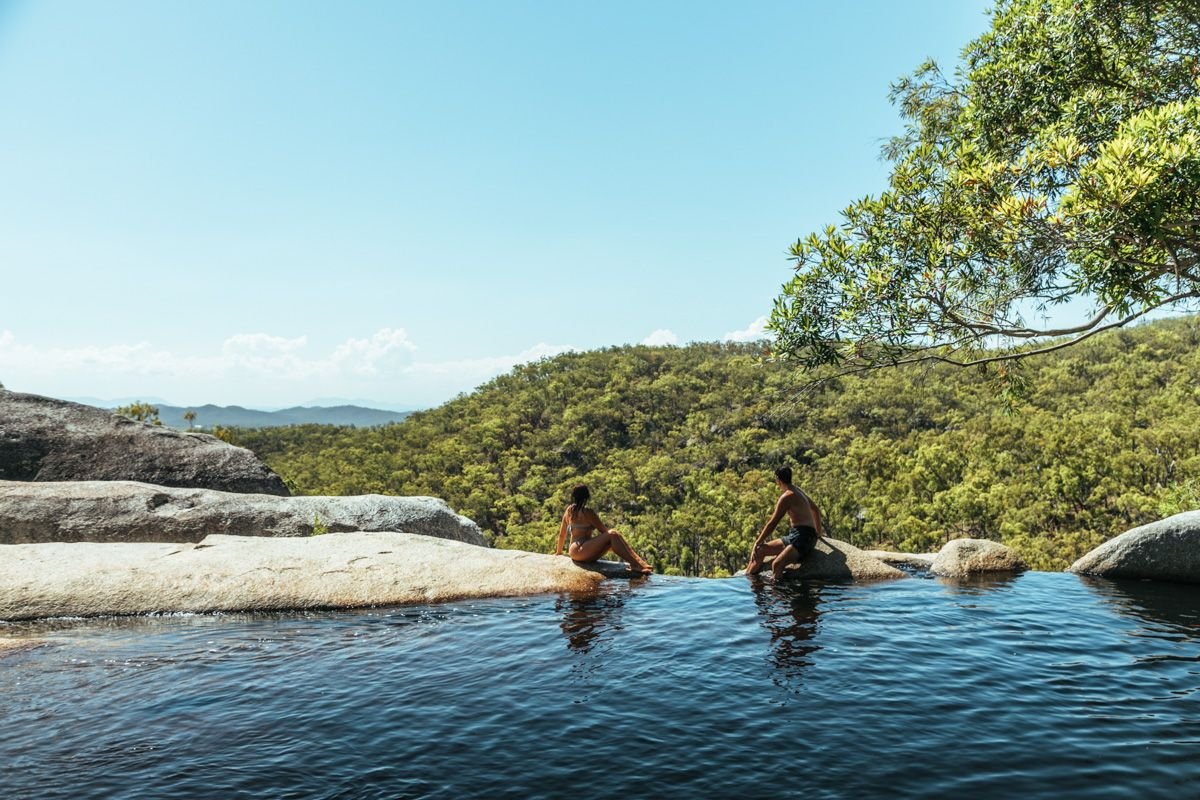 From the Davies Creek Falls car park, there is a 1.1km loop walk that you can follow to the creek, which then continues on to the falls and back to the car park. We enjoyed the creek without anyone else around for at least an hour – it's such a nice spot for a picnic and a quick splash.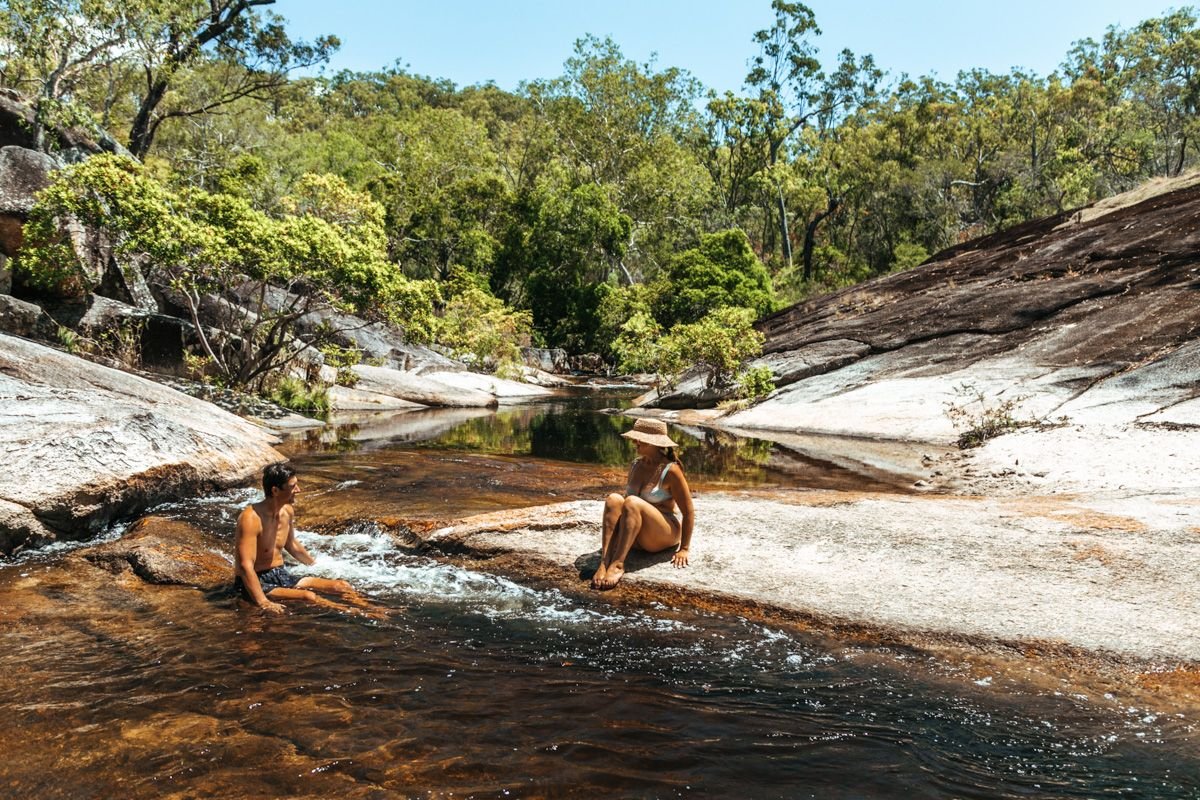 Emerald Creek Falls is a bit further down the road from Davies Creek Falls. It's one of my favorite waterfalls near Cairns because it's fully in the sun and has plenty of smooth, spacious boulders for sunbathing on. From the rock, you can walk down into the pool and swim right up to (and behind!) the falls. Just note that the rock gets VERY slippery here, so be super careful walking on it.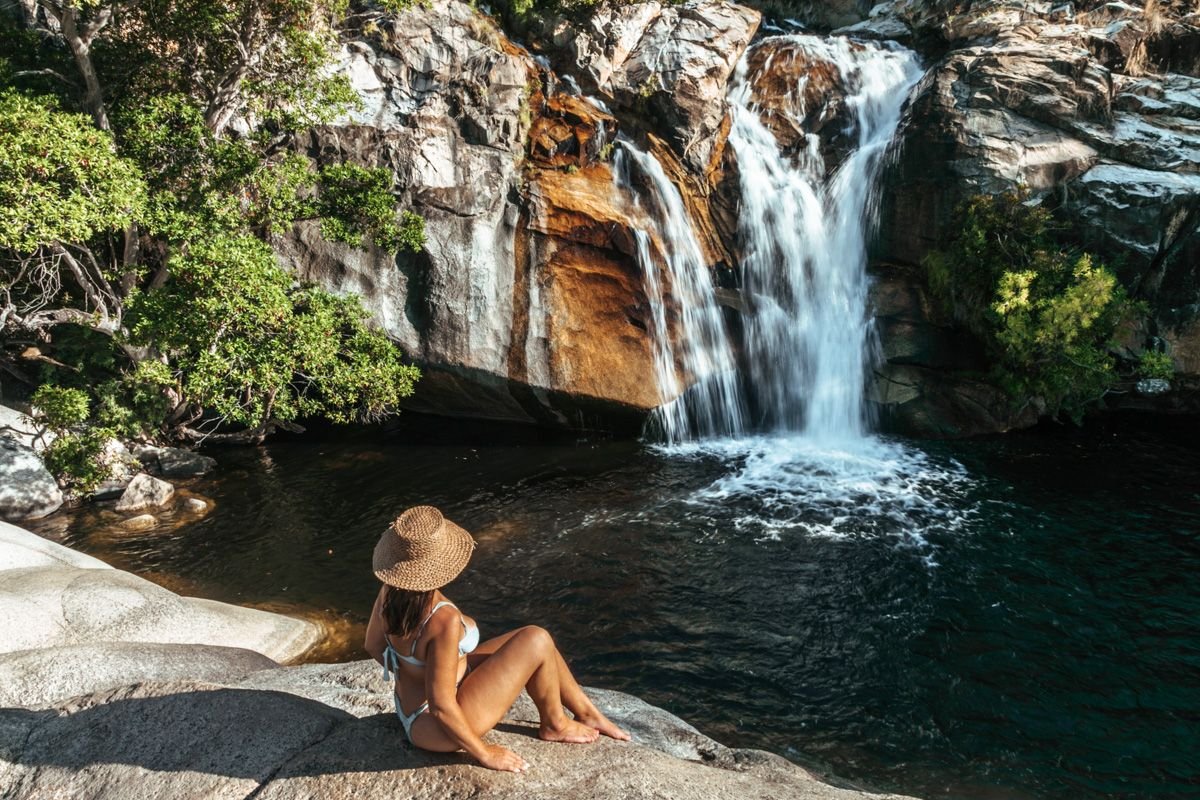 The falls are just a 10 minute walk from the car park. There's also a lookout above the waterfall that tacks an additional 5 minutes onto the walk (I wouldn't say it's a must-do; the view is best from below).
Atherton Tablelands
A couple of the Cairns day trips in this post are technically a part of the Atherton Tablelands region, but I wanted to include a day trip to the Tablelands specifically. It's a 1-1.5 hour drive west and inland from Cairns, depending on where you go.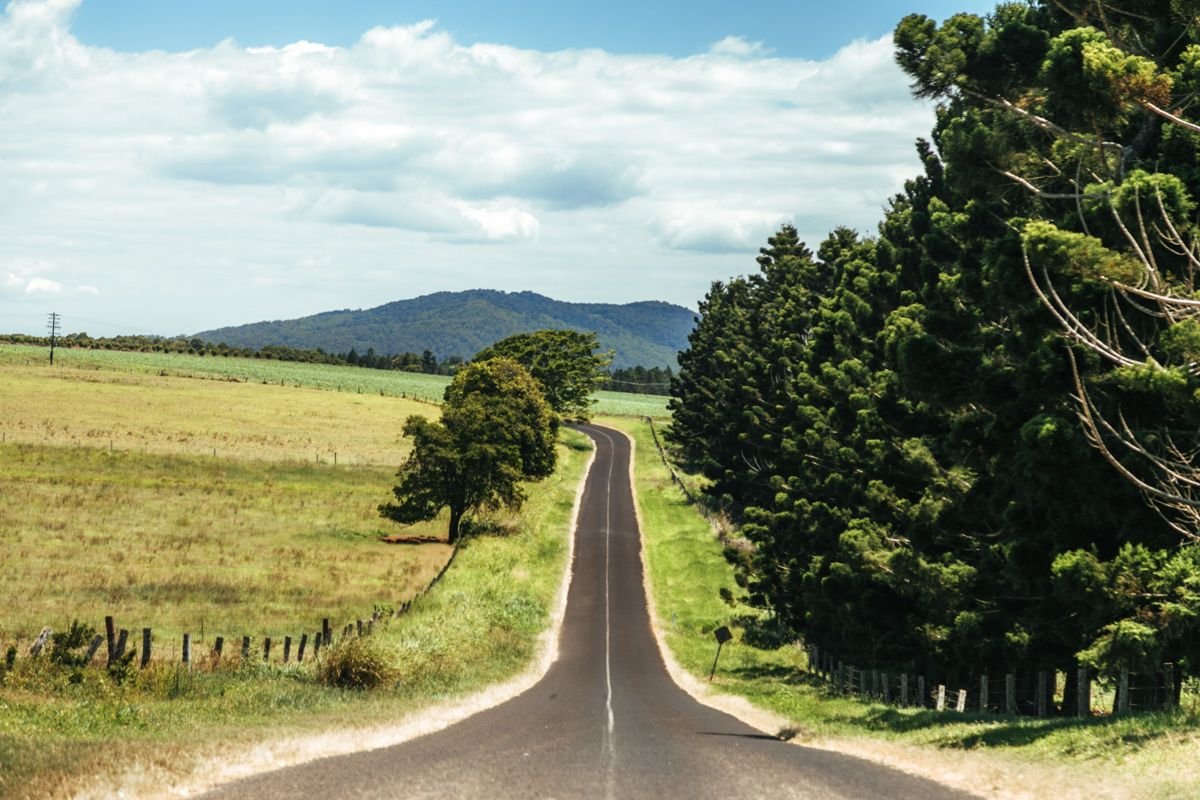 First off, it's much less humid up in the Atherton Tablelands than it is in Cairns and along the coast, so if nothing else, this day trip from Cairns is worth doing just for a little reprieve from the humidity.
But there's plenty to do here as well. I think the best way to spend a day in the Atherton Tablelands is to wander around Mareeba and/or Atherton (the two main towns), sample some fresh produce and dairy from the region (what it's known for!), and maybe stop off to check out a couple of natural sights nearby.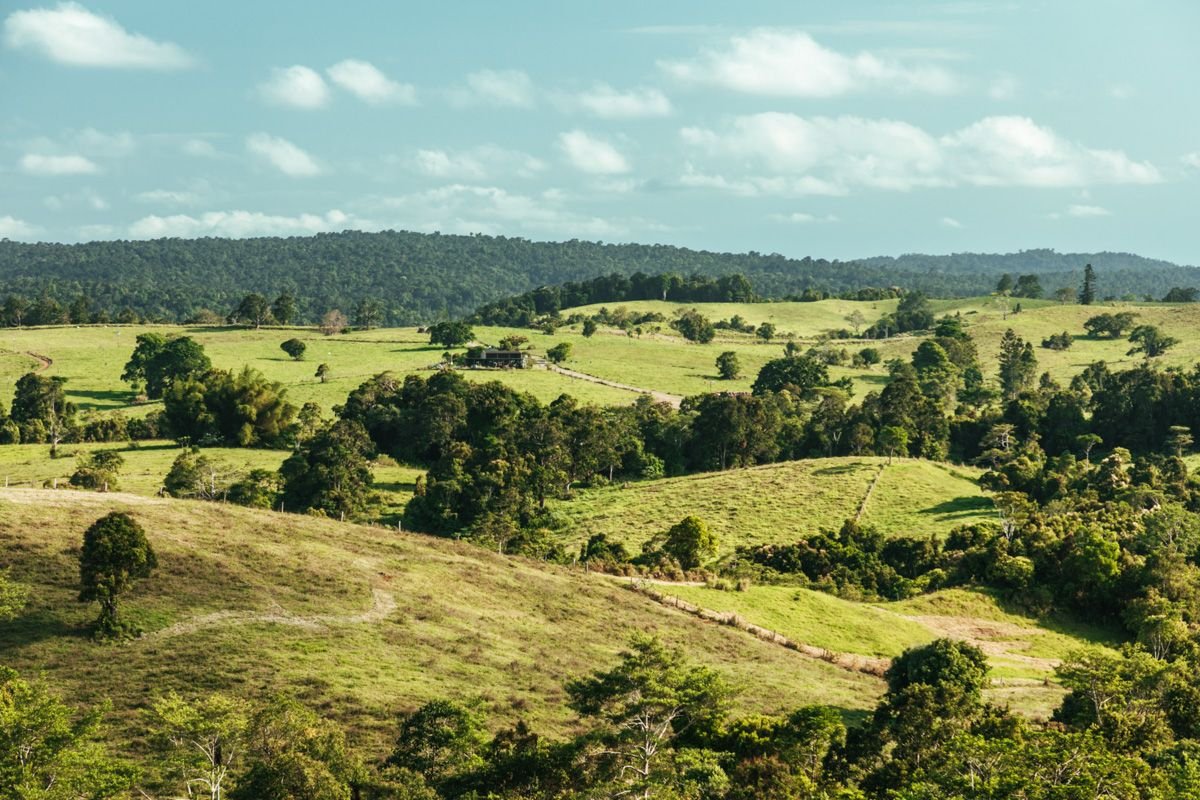 Here are some of the best things to do in the Atherton Tablelands:
READ MORE IN THIS POST: Our AmazingCo Mystery Picnic in Queensland's Atherton Tablelands
Babinda Boulders & Josephine Falls
These two spots are only 20 minutes apart and pair quite nicely as a full day trip from Cairns.
Babinda Boulders is about an hour south of Cairns and definitely one of the most popular Cairns day trips. The main attraction is the crystal-clear pool (more like a pond, really, as it's pretty big) – it's a great spot to relax, swim, and float around in a floatie.
If you want honesty, here it is: I just don't understand what the fuss is about with Babinda Boulders. I've visited twice now and both times left me wondering if I was missing something. I think it's just an easy spot for families to enjoy with little threat to kids' safety. I've seen a bazillion prettier/cooler places on my travels, many of which are other Cairns day trips included in this post. Suffice it to say that Babinda Boulders isn't my top pick, however it's nice enough, easy, and worth a quick stop if it's your style.
If you do go, don't miss the short walking path to the Devil's Pool! I had no idea it existed on my first trip to Babinda, but the second time I found it and was 1000x more impressed with the sights along the trail than with the main pool. The rock formations along the creek here are stunning, but please DO NOT swim anywhere along the trail! It's not safe and definitely not worth the Insta-shot.
At the end of the trail there's a platform from which you can take in the view, and there's a hidden little path off to the left if you want to hike down and get a little closer to the creek. Just be mindful of the conditions and again, don't get in the water! The current is very strong.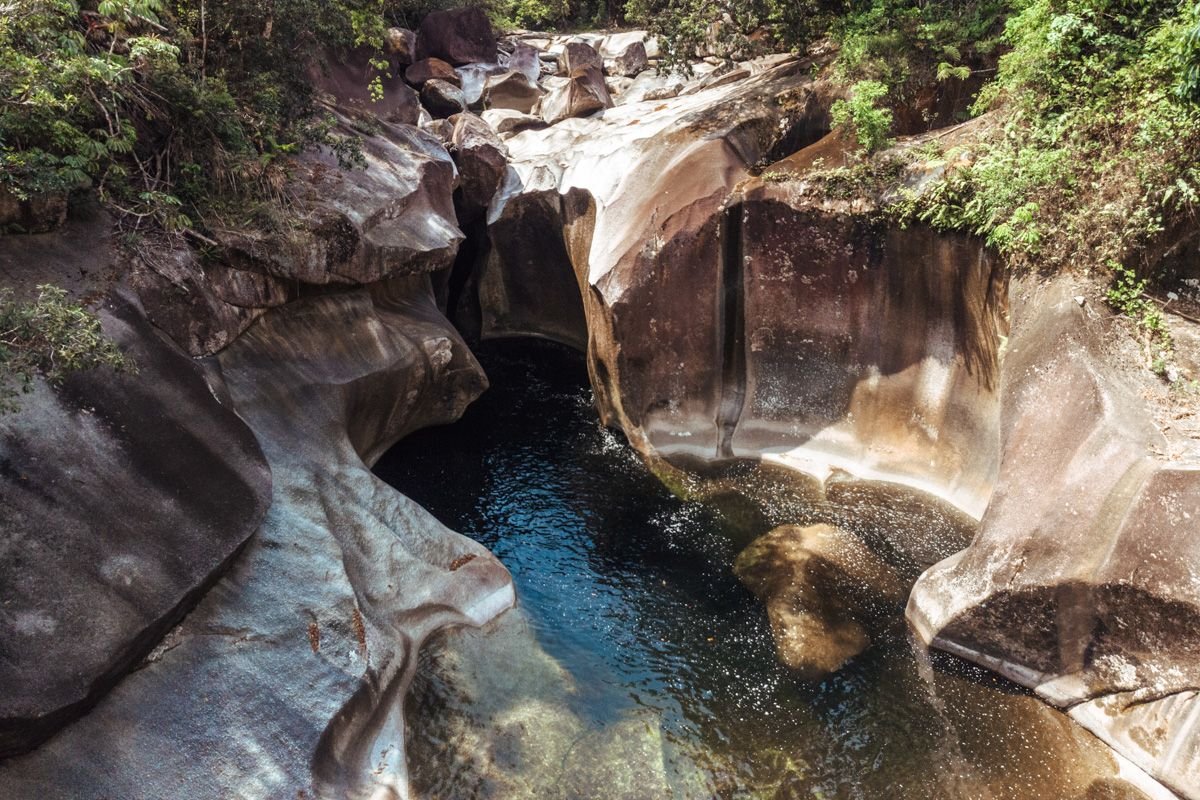 Devils Pool.
Josephine Falls is located just 20 minutes south of Babinda and, in my professional travel blogger's opinion, is a much better adventure from Cairns. In fact, I've seen a LOT of waterfalls around Cairns and Tropical North Queensland and I'd rate Josephine Falls as one of the more impressive ones.
It's a quick and easy walk in from the car park with exits off to the right to the different waterfall tiers and pools. You're technically not supposed to go into the top-most pool, but if it's safe to do so (i.e. dry season), you can climb over the edge of the platform and jump down. I think during the wet season or right after heavy rain, that area would be covered in water and not safe to walk through to get to that top pool. Please use your best judgement and don't do it if it doesn't look safe!
The lower pools are just as good though, so don't worry if you're not able to get close to the main waterfall at the top. The views are different from each pool, and there are big smooth boulders to sit on at all of them.

Josephine Falls.
If you do Babinda and Josephine Falls as one of your day trips from Cairns, decide which sight is more important to you and make sure you allocate the majority of the day to it. If you want a chilled, easy day, Babinda might be the better spot; if you're looking for more of an adventure, prioritize the falls.
Crystal Cascades & Fairy Falls
This might just be the closest day trip from Cairns. It'll be a quick drive from wherever you're staying in Cairns, just west of the city. Both Crystal Cascades and Fairy Falls can be reached from the same car park, which'll be marked for Crystal Cascades.
On the far side of the car park (directly opposite the road) you'll find a path leading through the woods – this will take you to Fairy Falls. If you see a warning sign for stinging trees early on, you know you're in the right place. Follow the path along the left side of the creek and don't cross it until you get to the end, just below the main waterfall. Don't divert up the hill to the left either, it's not the real path though it might look like it's well trodden.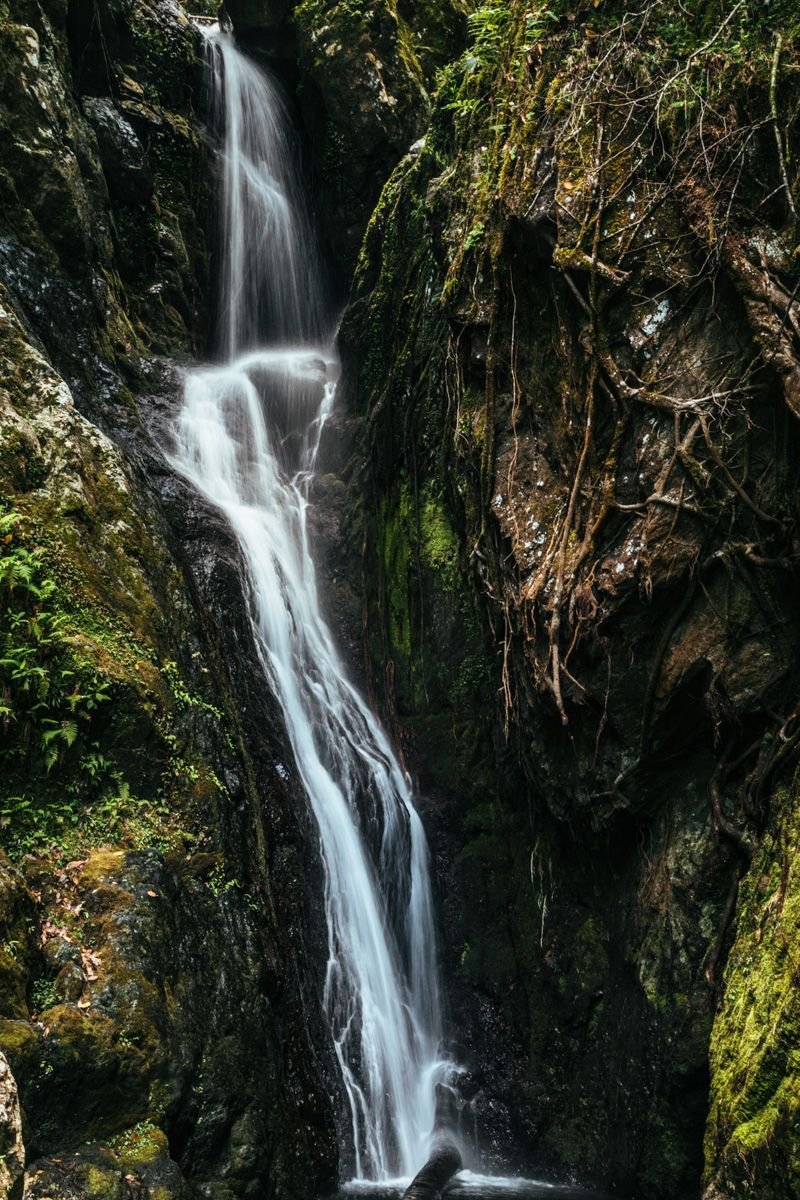 Fairy Falls.
Fairy Falls has a tiny pool at the bottom with a fallen tree trunk hanging out in the middle of it. It's a pretty waterfall but challenging to photograph unless it's cloudy; both times I visited, there were patchy bright spots over the falls from the sun. I also wouldn't rate it as a great swimming spot; you're much better off swimming at Crystal Cascades.
Back at the car park, the way to Crystal Cascades will be very obvious. There's a long walkway leading along the creek, where you can pop off to relax by the water and have a swim at any point along the first half.

Crystal Cascades.
The latter part of the path is a bit elevated above the creek, and you won't be able to access it until you get to the platform at the end. This is by far the best part of Crystal Cascades, and it'll likely be the busiest spot – but well worth it.
Definitely swim out to the waterfall while you're there! And if you dare, you can climb up above the falls and jump down into the pool (many people were doing this while we were there).
Behana Gorge
This Cairns day trip is a little bit off the radar for tourists, which makes it that much more sweeter to discover for yourself.
Behana Gorge is about a half hour south of Cairns. From the car park, you'll want to take the trail to Clamshell Falls which is 6.6km return.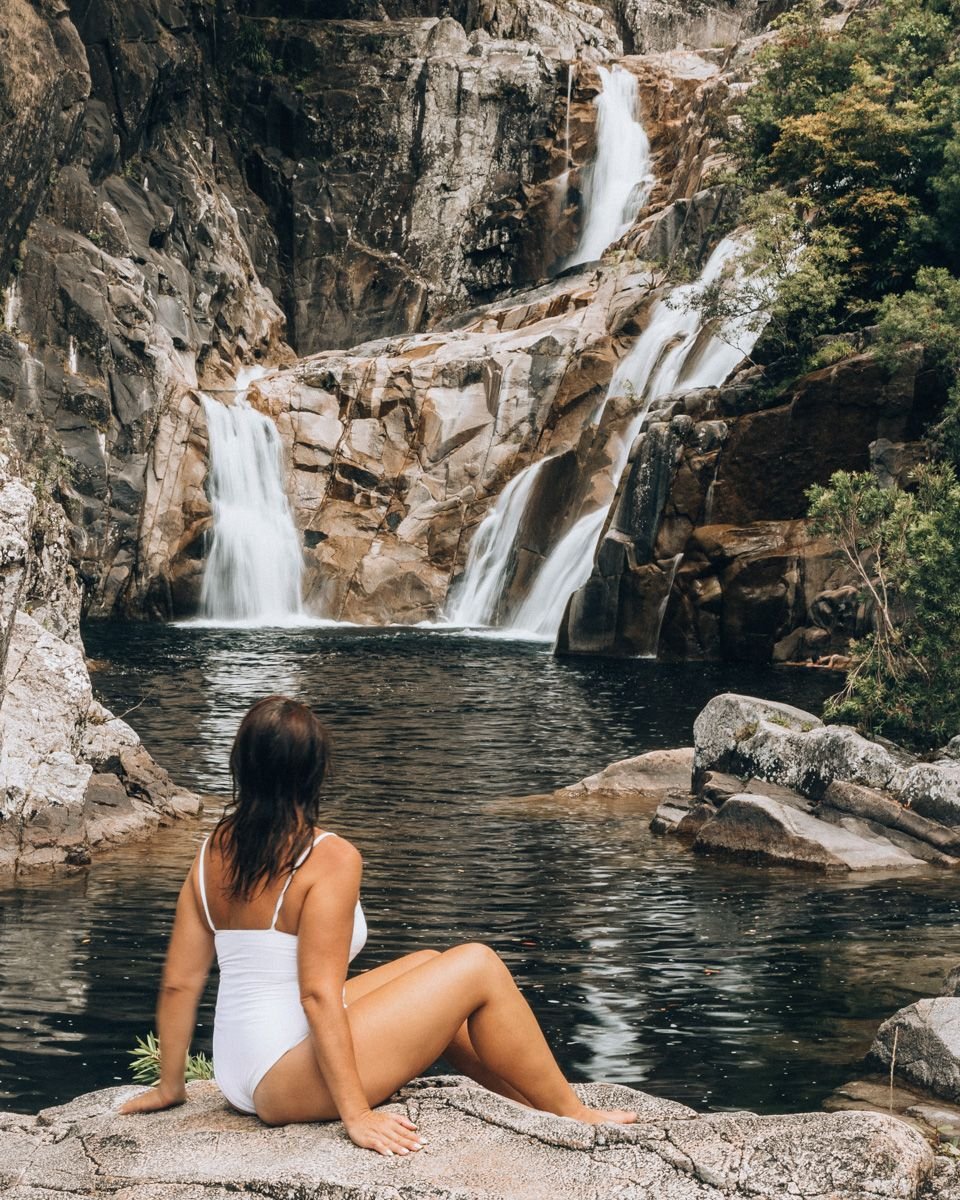 The trail is actually along a paved road, which makes it a smooth walk – but it's undulating and at times you'll be walking right in the sun. So while you might not need to wear proper shoes, you will need to carry lots of water.
The road/trail ends near what looks like a water plant and from here, you can hike down to Clamshell Falls. Watch out for the resident eel in the pool below the falls! Note that there is very little shade here, but plenty of flat rock to sit or lay on.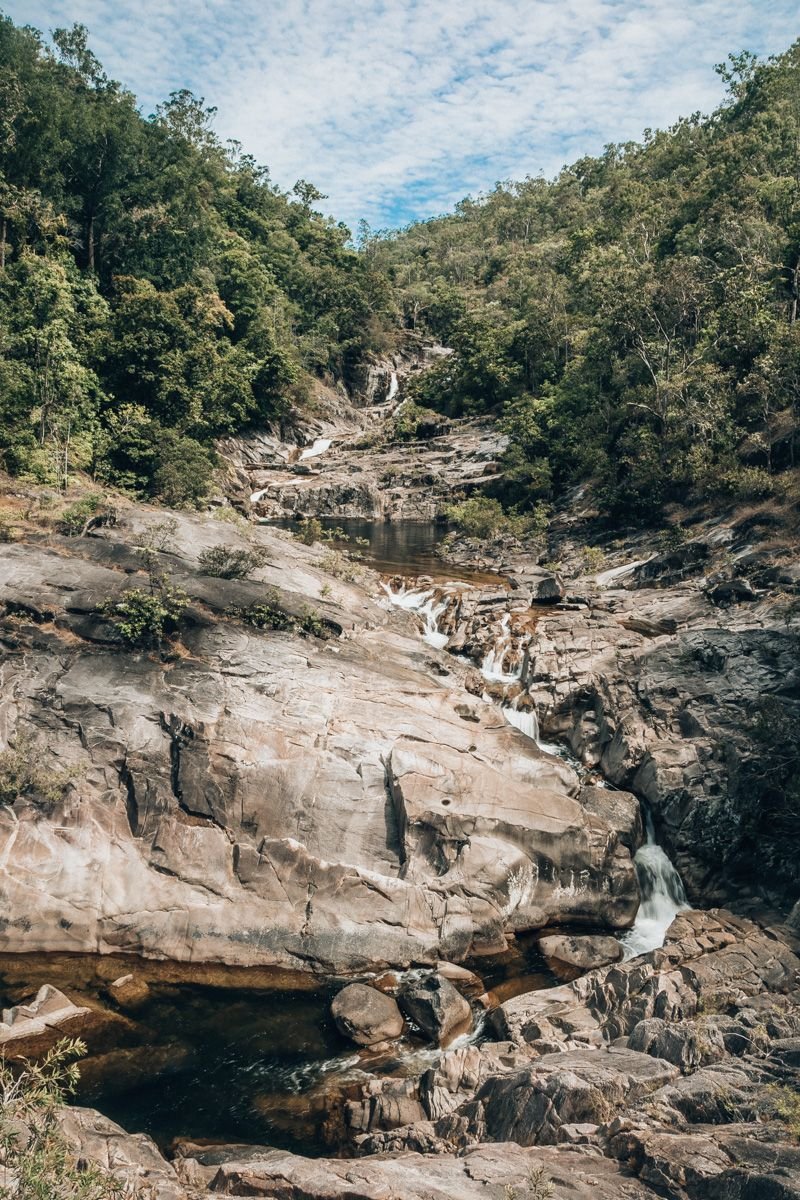 From the main pool at the foot of the falls, you can climb down the rocks and check out some other smaller rock pools. We tried to hike down from the road (further away from the falls) and when we bush bashed to the creek, we found a bunch of crayfish in the water so axed our plan to swim there.
BONUS: As you start driving back to Cairns from Behana Gorge, you'll have the best view of Walsh's Pyramid. This would be a prime opportunity for photos, as the angle/distance isn't so good from the main road.
Windin Falls
If you're into natural infinity pools, put Windin Falls on the top of your list of Cairns day trips to make. It's a 1.5 hour drive south of Cairns in Wooroonooran National Park. The view from this top pool is downright MAJESTIC.
I visited without researching any details and was able to stumble my way there solo, but here are a few things to know for a smoother trip:
Google Maps will get you very close to the trailhead – it's easiest to park just before you reach it, you'll see some space on the side of the road to the right. This last stretch of road is gravel/dirt, which I was able to do in a campervan rental just fine. I think a sedan could probably handle it, but I'm not sure if conditions change after heavy rain.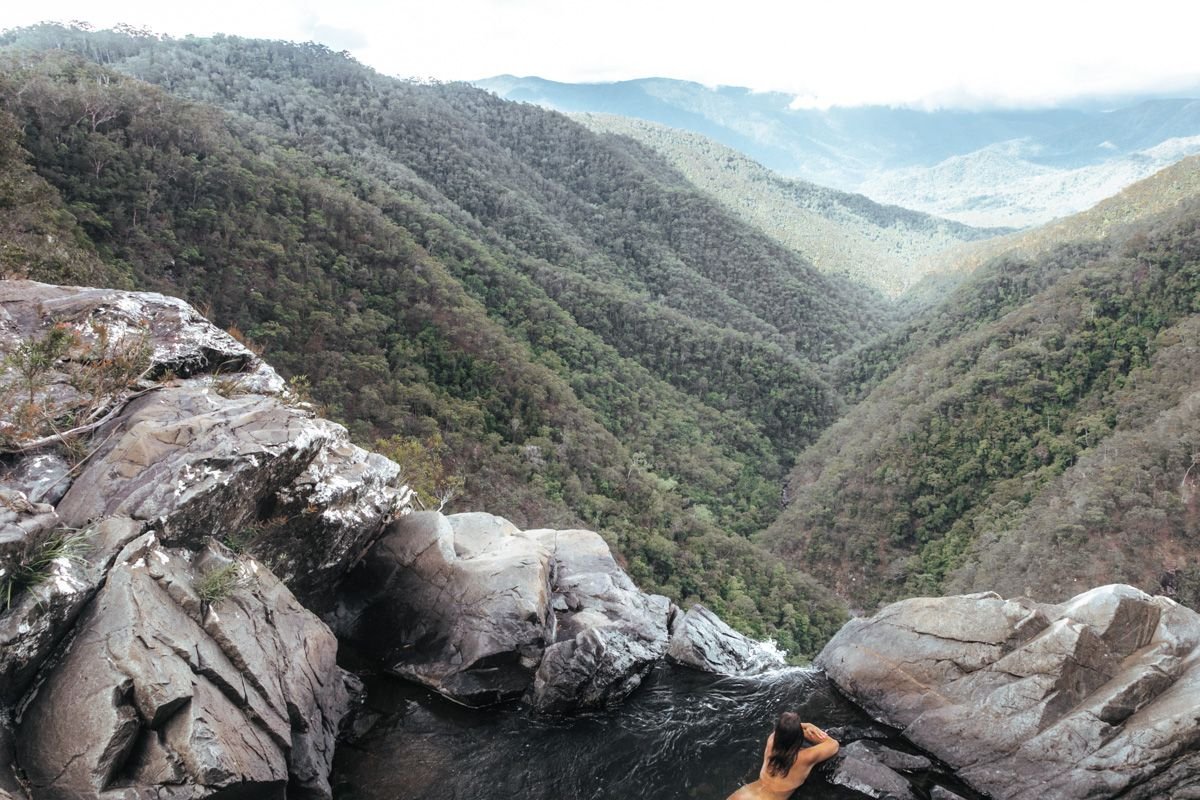 The hike in is longer than most of the other waterfalls around Cairns (90 minutes each way), but it's an easy fire trail. The path is pretty obvious except where there was an unmarked fork in the road where I wasn't sure which way to go. Keep right and it'll lead you to Windin Falls.
Be careful on the cliff edge and at the infinity pool edge! The infinity pool is best accessed by crossing the creek and climbing down from that side.
A lot of people like to visit at sunrise – if that's you, bring a flashlight for when you start the hike in the dark. I visited Windin Falls in late afternoon and had it all to myself.
BONUS: There's another similar natural infinity pool at Tully Gorge lookout, but it's over 2 hours from Cairns so just a tad too far to include on a list of day trips from Cairns.
Paronella Park
Do you know what Queensland's #1 attraction is?
Apparently it's Paronella Park, according to signage around Far North Queensland, despite me never having heard of it before. I'm not sure how they determine what the top attraction is, but that claim was enough for me to try it out as one of these day trips from Cairns, just 1.5 hours south.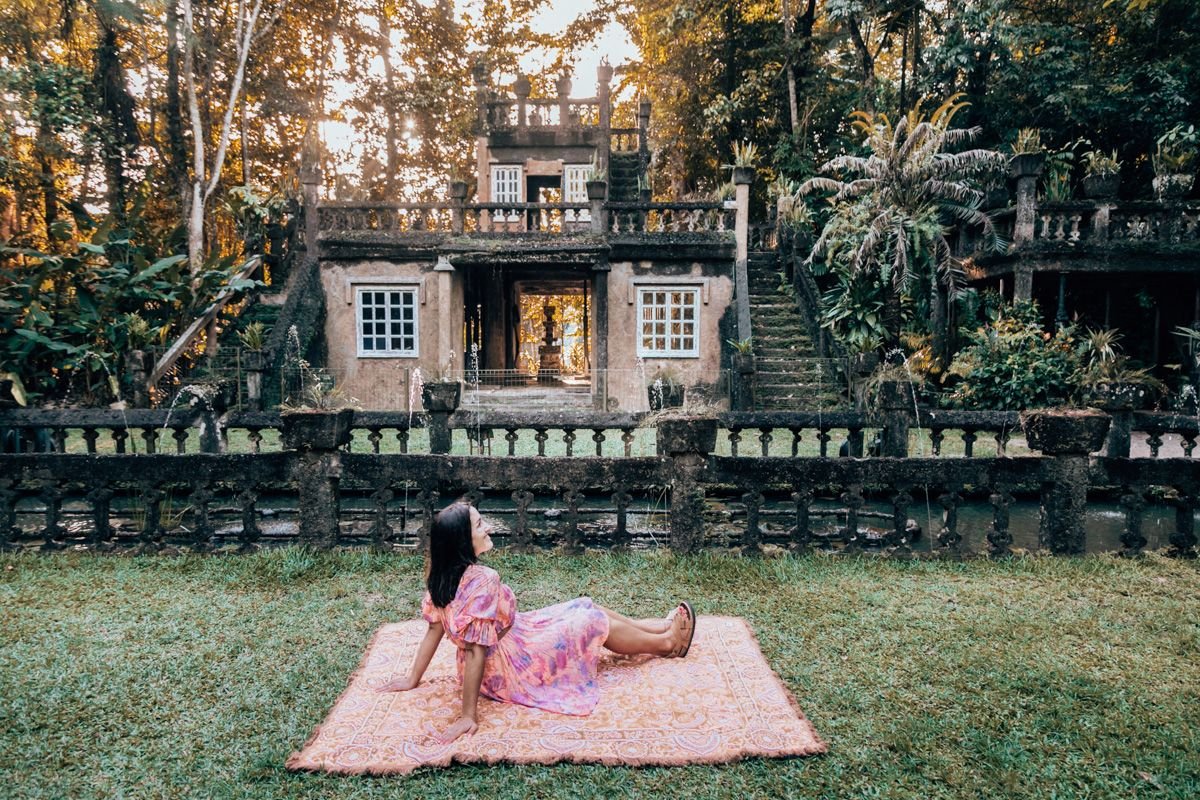 Paronella Park is unlike anything else in Australia, and that's because it's essentially an old European palace in partial ruins, built around a waterfall and pond. Where else can you find that Down Under?
A complimentary day tour and night tour is included with admission, which I'd say are well worth doing just to gain an understanding of how this place came to be. Otherwise you're free to roam the grounds, feed the little turtles and fish, and stage your own photoshoot.
Admission is $50/person and includes a night of camping in their onsite caravan park. Additionally, you can visit the park for FREE anytime in the 2 years following your ticket purchase. Click here to purchase a ticket to Paronella Park.
BONUS: You can visit nearby Mamu Tropical Skywalk as well with a $70 combo ticket. Click here to purchase a combo ticket to Paronella Park + Mamu Tropical Skywalk.
Palm Cove
I wasn't going to play favorites, but over the course of the 2.5 months I spent based in Cairns and Port Douglas, I made several trips to Palm Cove, which is about a half hour drive from both. We just couldn't stay away!
So what's so great about this place? I think for me, it's more a feeling than anything tangible I can put my finger on.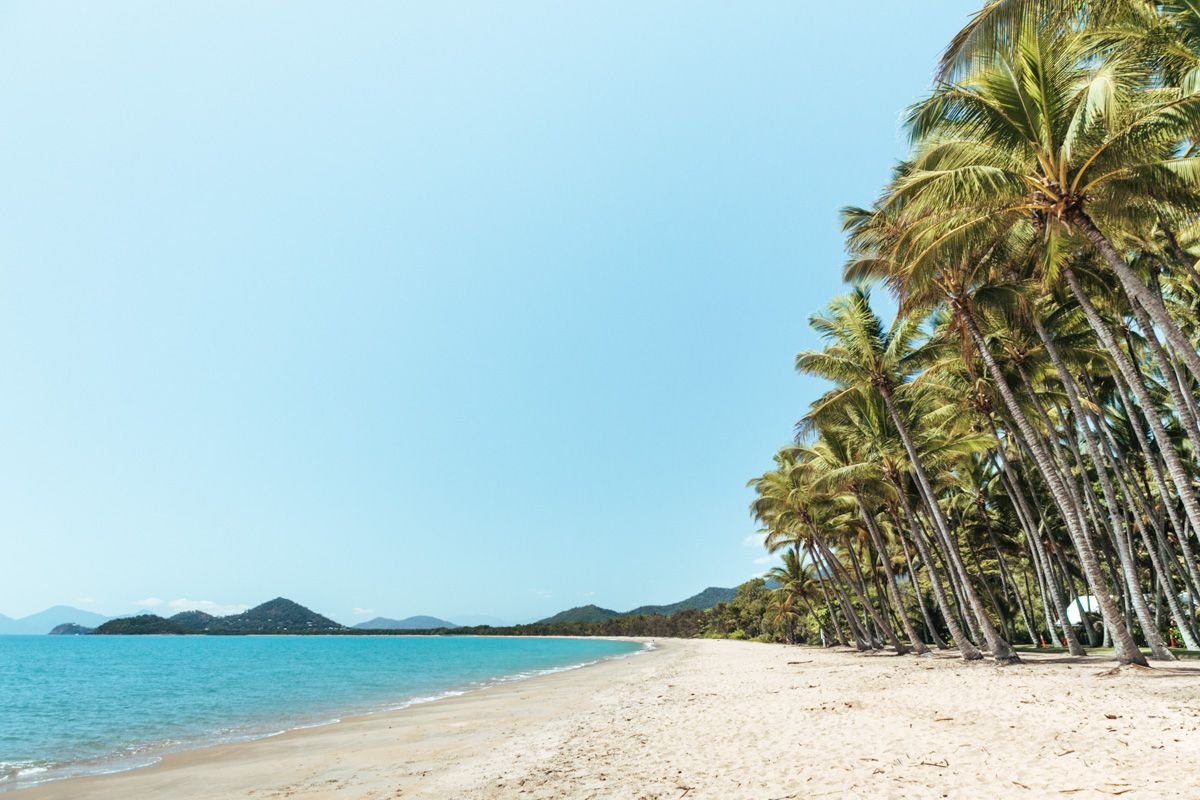 Palm Cove is a laidback (bordering on sleepy) village with a beautiful palm-lined beach and just a dash o' bougie. Grab a coffee and acai bowl from 27 Degrees and plop yourself on the beach for the day.
I always try to plan my beach trips around the weather whenever possible, because to me there's nothing more beautiful than an Aussie beach on a blue sky day. Many beaches are still super nice even on a cloudy day; however, I would argue that Palm Cove isn't one of them. You really want to plan your visit on a sunny and calm day to see the water at its crystal-clear best.
We had the full spectrum of weather across our 5 or so visits, ranging from high winds and clouds to no wind or clouds. Let's just say the quality of our experience was directly proportional to the quality of the weather. I can say without hyperbole that the perfect weather day we had at Palm Cove was one of the BEST days we had on our lap around Australia. We still reminisce on it, several months later.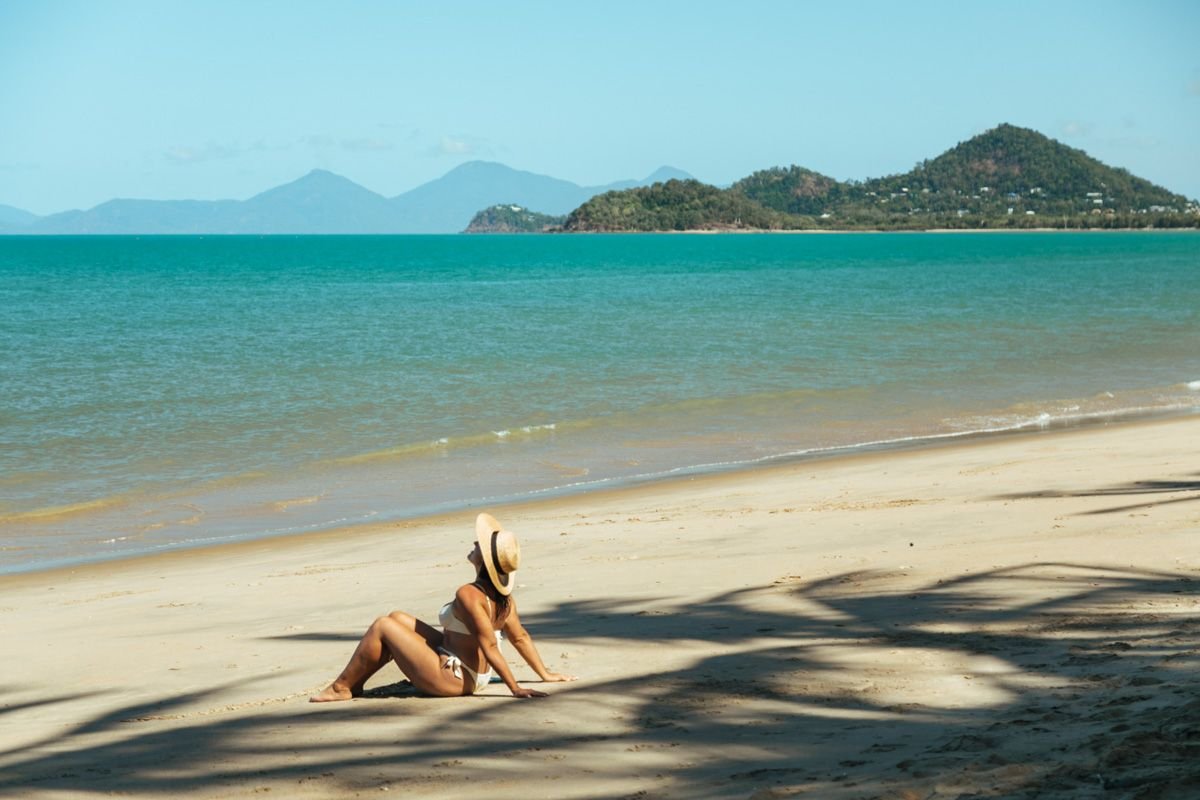 The water that day looked and felt like a tropical bath tub. Clear, calm, warm, and turquoise. We spent the entire day on the beach, alternating between lounging in the shade from the palm trees and lounging in the ocean shallows. Palm Cove is absolute MAGIC on days like this.
BONUS: If you can pry yourself away from Palm Cove, nearby Ellis Beach is a local favorite and well worth including on this day trip from Cairns (real talk: I could not, and therefore I never made it here… but it's on the list!).
Port Douglas
A trip to Cairns isn't complete without a visit to Port Douglas, just an hour north.
You'll enjoy the journey just as much as the destination because the Great Barrier Reef Drive between Palm Cove and Port Douglas is STUNNING. The road gets super close to the ocean at points, and the views are highly distracting to say the least. It winds past dozens of little beaches and around headlands, some of which you can safely photograph from designated lookouts on the side of the road.
Port Douglas itself is a really pleasant town, full of nice resorts and all of the vendors you'd expect to cater to resort guests. If I were to design a perfect day here, I'd recommend grabbing coffee from Origin Espresso and heading straight to Four Mile Beach to sunbathe, swim, and walk on the flat sand. From the beach, you can do the quick walk up to the Four Mile Beach lookout for some excellent views over the beach and ocean.
When you're all beached out, head into town and browse the shops before setting up your hammock between two waterfront palm trees in Rex Smeal Park to watch the sunset.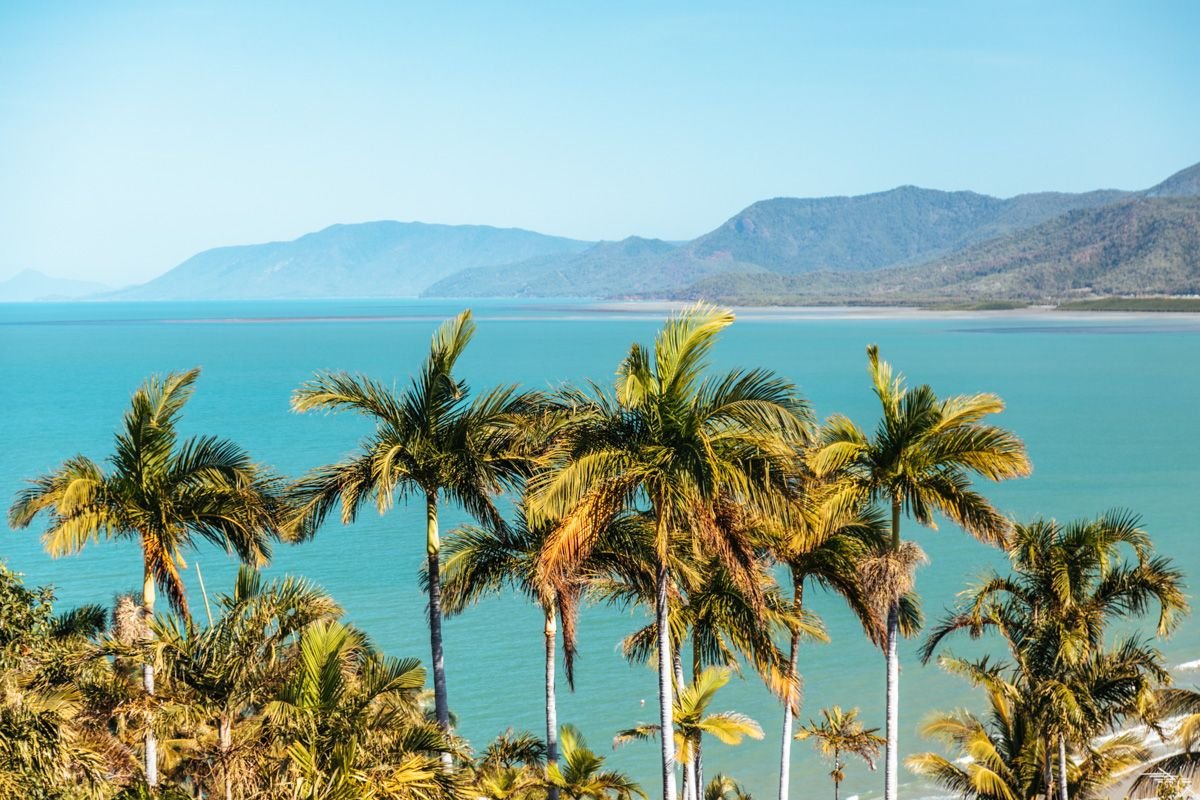 BONUS: On the drive from Cairns to Port Douglas, you might want to stop at Thala Beach Nature Reserve to see the picturesque coconut plantation! This is a great spot for photo ops, especially via drone.
READ MORE IN THIS POST: 25 Of The Best Things To Do In Port Douglas, Australia
Mossman Gorge
Last up on this master list of Cairns day trips: Mossman Gorge, just north of Port Douglas and slightly more than an hour away from Cairns.
Here you'll find a crystal clear creek dotted with smooth round boulders fit for photographing. It's not always safe to swim here, particularly after heavy rain, but if it is then it's well worth jumping in.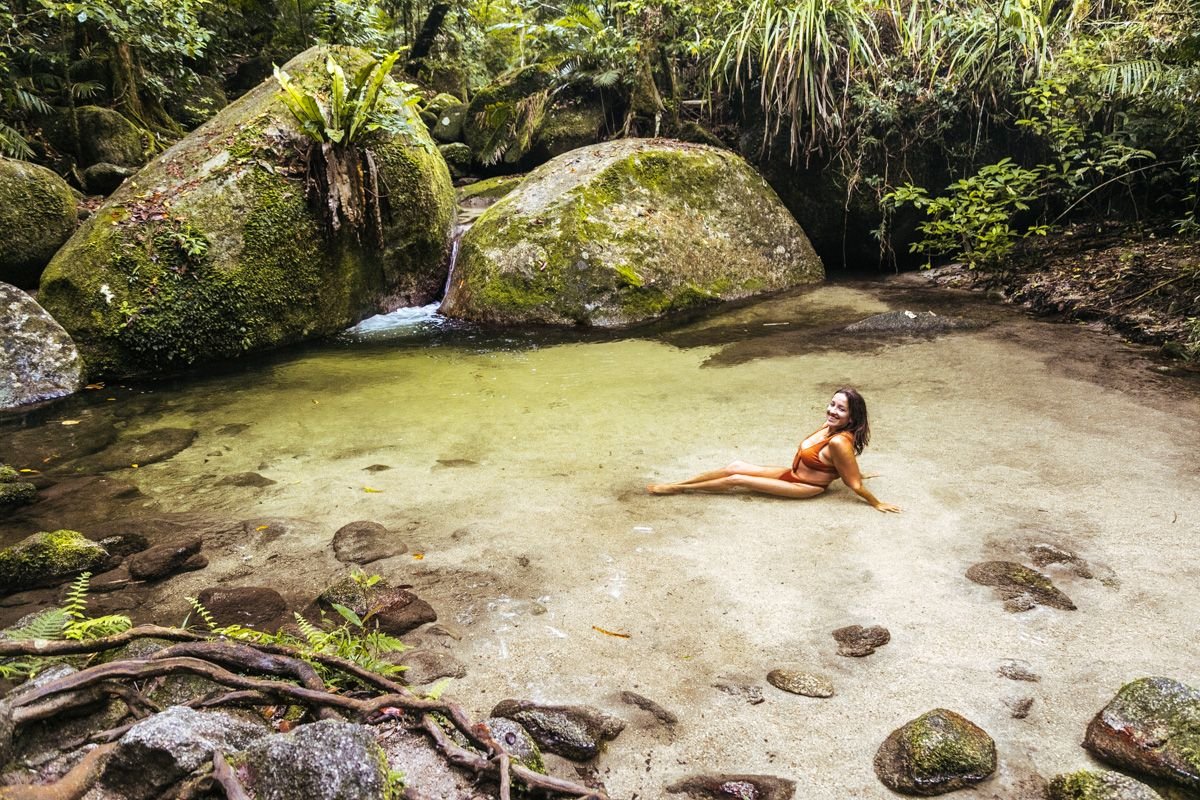 Be sure to do the rainforest circuit walk, an easy loop through the forest that gets you up close with nature. And definitely do the little side track to Wurrumbu Creek, a heavenly little swimming hole that feels so refreshing after a hike.
It costs $12.65/person for the mandatory shuttle back and forth to the gorge from the visitor centre.
SEARCH FOR YOUR CAIRNS ACCOMMODATION HERE:


Pin it!
Pin it!
Pin it!