This is a guest post by Daria Bachmann of The Discovery Nut.
—
You have probably heard about Utah's mighty five national parks. And if you haven't visited them, they are probably on your bucket list.
While these places are worth a visit, they also can be very busy, especially during summer. People from all over the world come here to enjoy Utah's famous sandstone arches, hike mesas and canyons, and camp in places surrounded by some of the most incredible landscapes in America.
Meanwhile, some of Utah's national parks have fallen a victim to their popularity (*cough* Zion National Park), with thousands of visitors clogging up roads, hiking off trails, and otherwise changing the peaceful atmosphere that made these places so popular.
This makes some wonder whether Utah still has places that have been spared from mass tourism.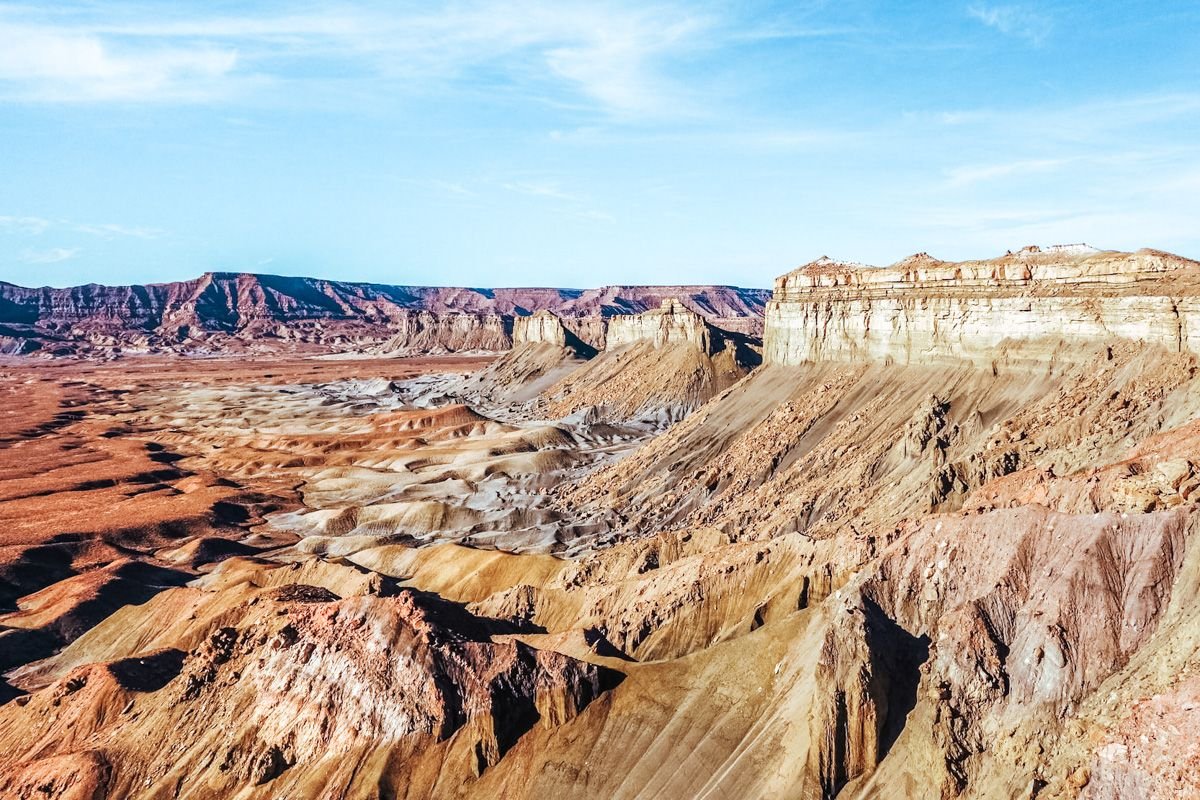 Photo by Patrick Hendry on Unsplash.
The good news is that the state has many gems far enough from the well-trodden trail that requires good navigation skills and extra effort to reach. One of them is the Grand Staircase Escalante National Monument in the heart of Utah's red-rock country.
This national monument designated by President Bill Clinton in 1996 is a true geologic wonder with narrow slot canyons, towering buttes, and sprawling mesas – a serene environment where you can roam around for days, weeks and months.
Unlike the state's popular national parks, Grand Staircase Escalante doesn't teem with tourists. Here you will not find people who stopped to take a photo for their social media while doing a road trip in the Western United States. Grand Staircase Escalante attracts the type of a traveler who craves the wilderness experience and who is not afraid to hike for hours or tread through a river waist deep to get to the scenic area 10 miles away.
Another perk of traveling here is that you will be rewarded with the incredible dark skies – Grand Staircase Escalante is one of the most remote areas in the United States that has zero light pollution.
If this is the experience you want, read this post to discover the best hikes in Grand Staircase Escalante.
CLICK TO BOOK A RENTAL CAR FOR YOUR UTAH ROAD TRIP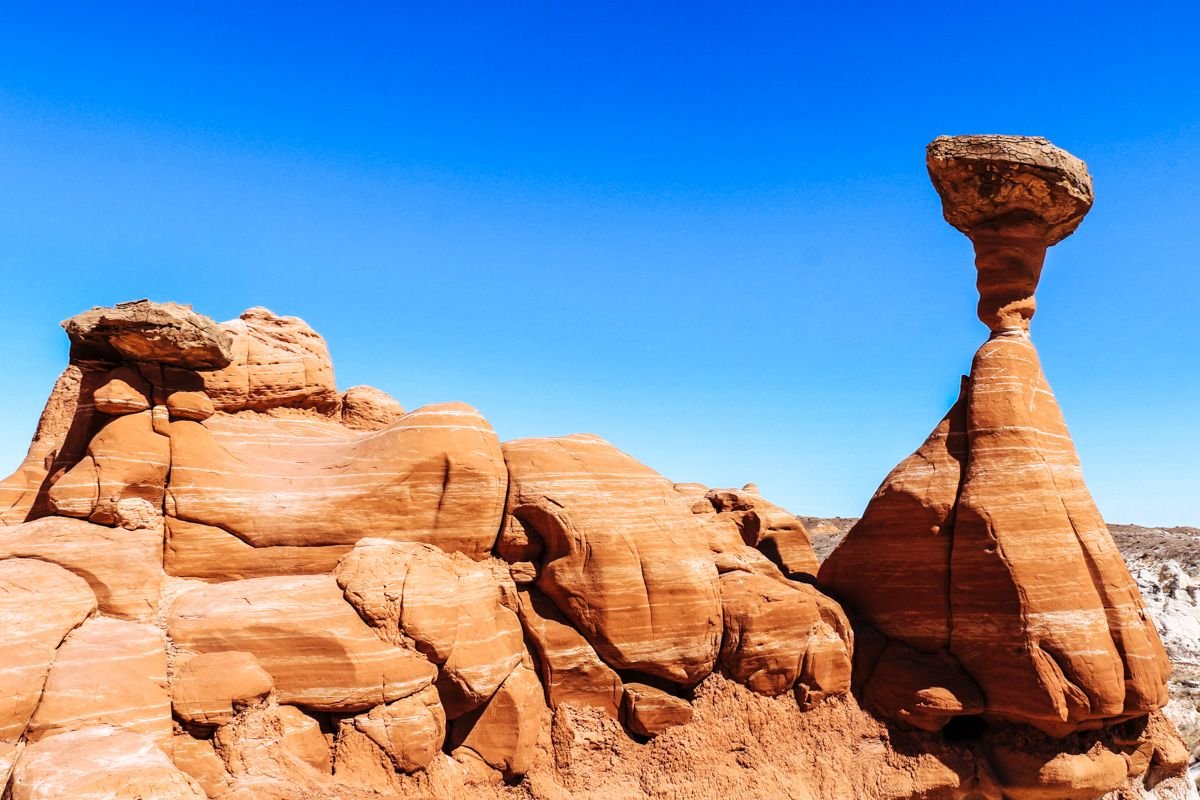 Photo by Joshua Sukoff on Unsplash.
Pro tip: To camp overnight or experience the backcountry, you are required to get a permit that can be picked up at the Grand Staircase Escalante National Monument in Kanab or Escalante.
Where is Grand Staircase Escalante National Monument Located?
One of the largest national monuments in the United States, Grand Staircase Escalante covers about 1 million acres of prime wilderness in South Central Utah. To the west of Grand Staircase Escalante is the famous Bryce Canyon National Park; to the east is the Glen Canyon National Recreation Area, and to the north is Capitol Reef National Park.
The easiest way to reach the park is from the west via Henrieville, Tropic, or Cannonville. Another way to enter the monument is via Scenic Byway 12 or U.S. Route 89 via Kanab.
The Bureau of Land Management has divided the monument into three distinct regions: the Grand Staircase Escalante in the southwest, the Escalante Canyons in the northwest and the Kaiporawits Plateau in the center. The monument for its name after the series of plateaus in the southwest portion that look like a set of stairs from the distance.

Photo by Halie West on Unsplash.
What Makes Grand Staircase Escalante Special?
Grand Staircase Escalante has a rich geological history. Paleontologists have uncovered over 20 species of dinosaurs in the Grand Staircase Escalante, and scientists believe that the area was a home of the rich tropical ecosystems tens of millions of years ago. The Kaiporawits Plateau is home to the largest number of paleontological excavation sites within the monument.
Best Time to Visit Grand Staircase Escalante National Monument
While you can visit this national monument year-round, the best time to do so is from May through September. Winter is the least busy time at Grand Staircase and it's not uncommon to see snow and ice, especially at higher elevations.
Meanwhile, summers in this region can sometimes have unfavorable temperatures for hiking between 90 and 100 degrees Fahrenheit, so if you are looking for comfortable temperatures, your best bet is to visit during the shoulder season.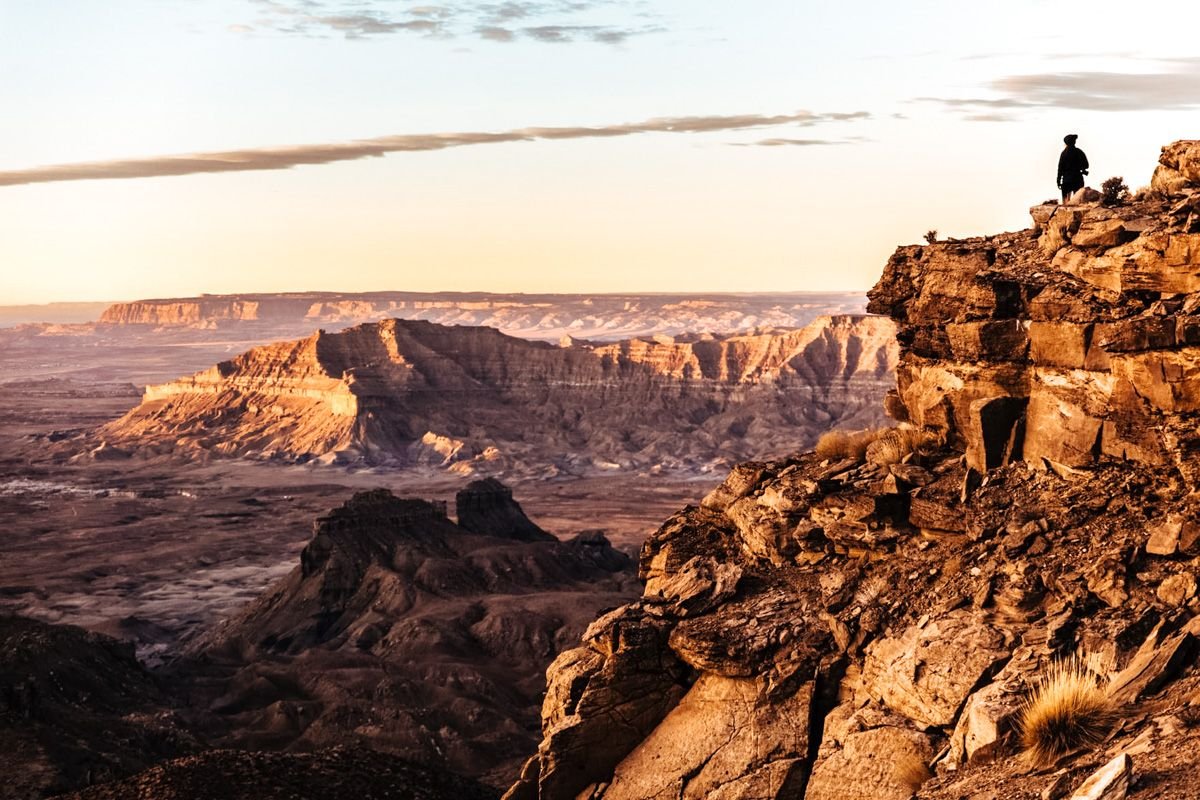 Photo by Patrick Hendry on Unsplash.
Where To Stay At Grand Staircase Escalante
Camping
You can find campgrounds in Calf Creek, Deer Creek, and White House Campground, the only developed campground that has amenities and is located on US-89 approximately 43 miles from Kanab. There are also dozens of primitive campgrounds throughout the monument.
Hotels
If you don't want to camp and instead want to stay in a hotel and dine in a restaurant, your best bet is to stay in Kanab, Escalante, or Boulder, the two towns along Scenic Byway 12 before getting to Torrey, the gateway to the Capitol Reef National Park.
Best Hikes in Grand Staircase Escalante National Monument
Since Grand Staircase Escalante is huge, I recommend about 5-7 days to get a good feel of the area. But if you have limited time, you can choose a couple of scenic hikes that will show you the beauty of this national monument.
In this guide, I will walk you through some of the best hikes in Grand Staircase Escalante National Monument that you can put on your list for a future trip.
Pro tip: When you hike at Grand Staircase Escalante, you have to bring everything. Water, food, comfortable clothing and footwear, and necessary hiking gear are the basic things that you shouldn't leave without. Grand Staircase Escalante is remote and it could take you hours to get to the nearest town. The park doesn't have the same amenities or facilities that many US national parks do, so you must be self sufficient.
The further you get from the easily accessible hikes at Grand Staircase Escalante National Monument, the better the chances that you will need a 4X4 vehicle. Make sure to rent a proper car depending on what your travel plans are.
CLICK TO BOOK A RENTAL CAR FOR YOUR UTAH ROAD TRIP

Photo by Patrick Hendry on Unsplash.
1. Peek-a-boo and Spooky Slot Canyons
Distance: 3.5 miles
Difficulty: Moderate
Grand Staircase is famous for its countless slot canyons.
While there are dozens and hundreds of them throughout the monument and many are still waiting to be discovered, a few have become famous in recent years thanks to visitors coming here to experience these two notoriously narrow canyons (the width can be less than 20 inches in some spots!)
The good news is that unlike other hard-to-reach canyons, the neighboring Peek-a-boo and Spooky Slot Canyons don't require technical skills, which means you don't have to bring any gear such as ropes or safety harness.
WARNING: One thing to know about slot canyons is that they can be deadly during the monsoon season. This means that you should NEVER try to hike through these canyons if the forecast calls for rain. The monsoon season in the Southwest United States runs from July through September and you should always check the weather before you plan your hikes. Monsoon in the desert can approach unexpectedly and sweep you off your feet. Unfortunately, people have died in the flooded slot canyons in the past not only in Grand Staircase but also in other slot canyons in the southwest.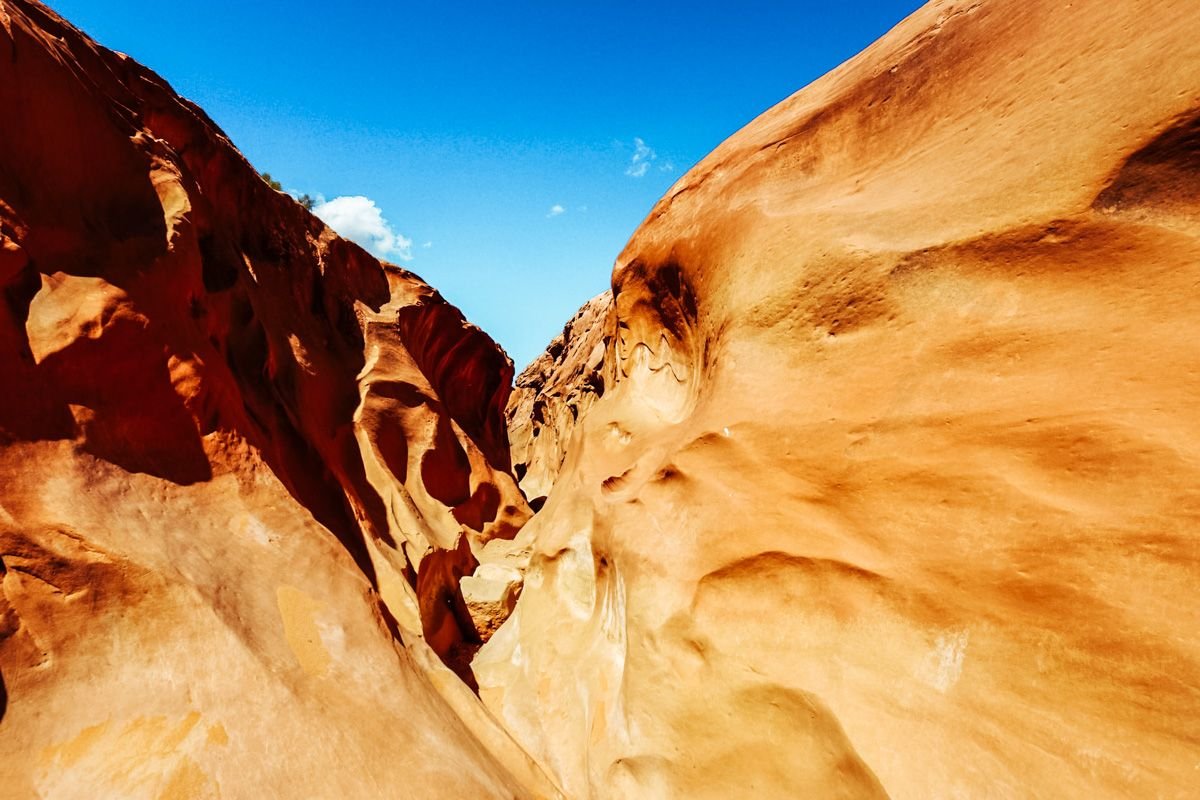 Photo by Kelsey Lane on Unsplash.
2. Coyote Gulch
Distance: 11-17 miles (roundtrip)
Difficulty: Strenuous
Located in the prime red rock wilderness, Coyote Gulch is one of the best hikes in Grand Staircase Escalante National Monument.
The hike takes between 9 and 12 hours, and while it can be tough to complete within a day, it's not impossible. If you decide to hike Coyote Gulch, you will have to get proper equipment: the hike requires scrambling, walking through mud, and treading in the river. For a better experience, you shouldn't try to rush through the hike, and instead take some time and camp overnight along the river.
Those hikers who hike to the end get rewarded with a view of the Stevens Arch that towers above the Escalante River. To access the hike, head to Fortymile Ridge and find a bunch of water tanks that mark the beginning of the trailhead.
To do a backpacking trip to Coyote Gulch, you need to obtain a special permit before your trip.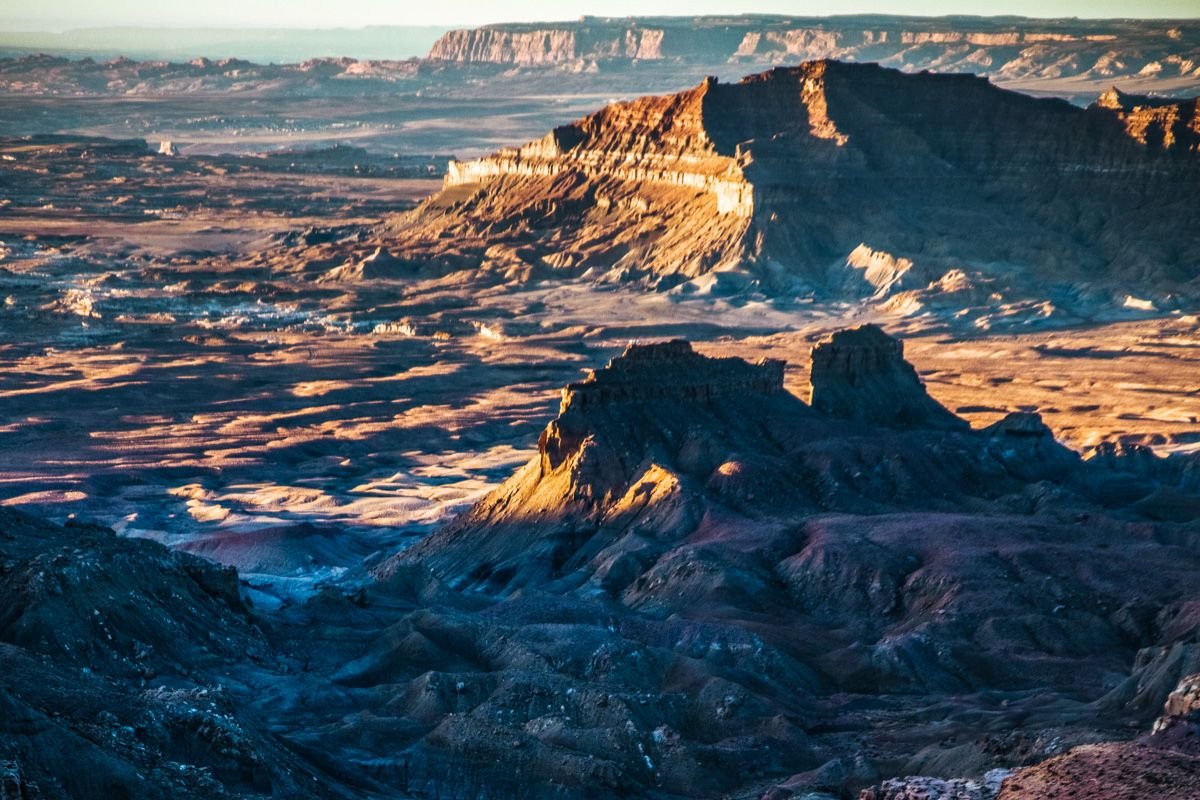 Photo by Patrick Hendry on Unsplash.
3. Lower Calf Creek Falls
Distance: 6 miles (roundtrip)
Difficulty: Moderate
Lower Calf Creek Falls is an easy hike located right off of Scenic Byway 12 near the Calf Creek Campground. The hike takes you along the Calf Creek below the tall canyon walls, however, portions of the hike that do not follow the trail have a little shadow. The hike culminates with a view of the waterfall that drops from over 100 feet and is ultimately one of the most beautiful sights in Grand Staircase.
If you hike during summer, you can also take a dip in the cool waters below the waterfall.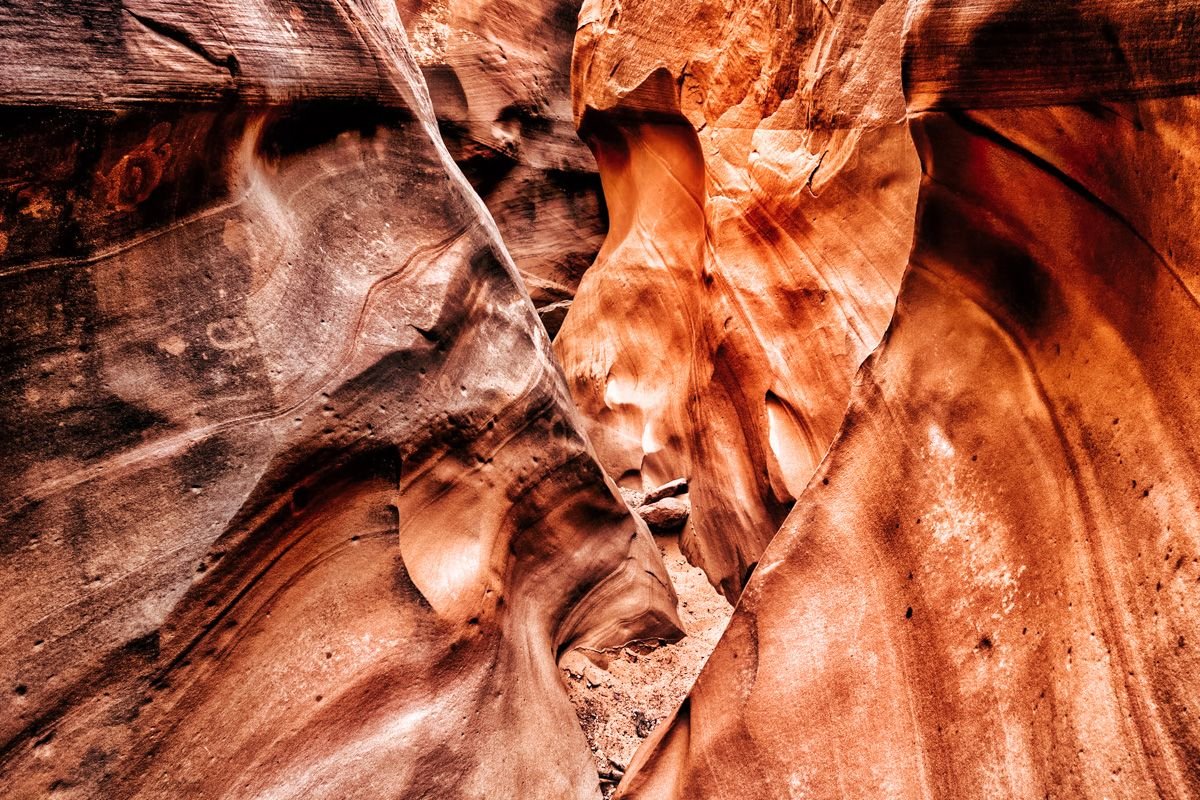 Photo by John Fowler on Unsplash.
4. Zebra Slot Canyon
Distance: 5.3 miles (roundtrip)
Difficulty: Easy
If you have heard about Arizona's Upper and Lower Antelope Canyons, you probably know that they have become quite touristy. If you want to see the beautiful slot canyon similar to that Antelope, but don't want to brace the crowds, head to Zebra Slot Canyon, one of the best hikes in Grand Staircase Escalante National Monument.
This narrow canyon is gorgeous and is named Zebra because of the beautiful white and pink streaks along its walls. It's a true hidden gem and you will not have to worry about beating the camera-wielding crowds compared to other popular places in the American Southwest.
The hike will take through the incredible dunes before going into the canyon. The trailhead to Zebra Slot Canyon begins 8 miles down Hole-in-the-Rock Road outside Escalante.
5. Devils Garden
Difficulty: Easy
Devils Garden is a loop trail near Escalante, and while you can hike here, the area is also used for picnics. While there's no actual trail and you can hike all over the place, there's a little challenge and after looking at the quirky hoodoos that dominate the landscape of this place, you might want to move to another location.
Pro tip: The biggest challenge is getting to Devils Garden. The road is bumpy and is more suitable for 4X4 vehicles.
6. Willis Creek Trail
Distance: 4 miles (roundtrip)
Difficulty: Easy
Willis Creek hike will take you through a shady slot canyon with narrow cliffs that sometimes have waterfalls. As with other slot canyons in Grand Staircase Escalante National Monument, make sure to plan your hike when there is no chance of rain.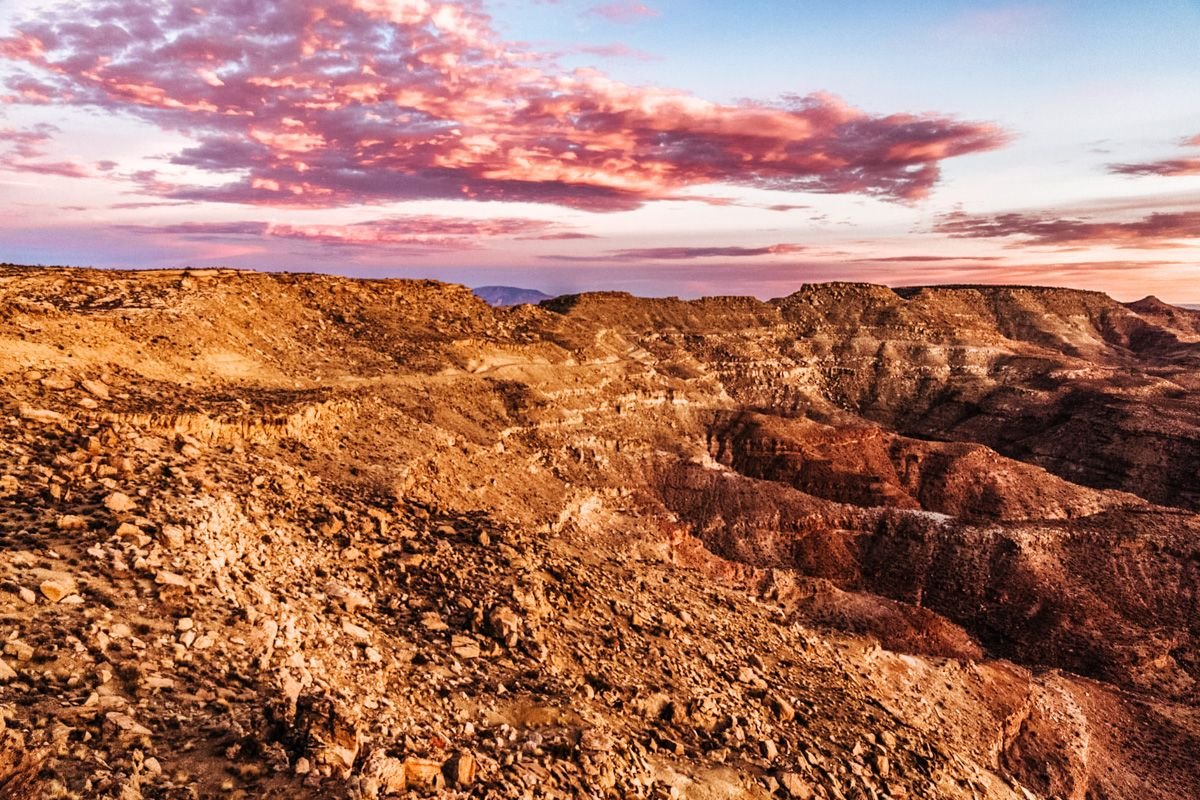 Photo by Patrick Hendry on Unsplash.
7. The Golden Cathedral of Neon Canyon
Distance: 9 miles (roundtrip)
Difficulty: Strenuous
Located in the lower part of Neon Canyon, Lower Cathedral is another cross-country hike that requires advanced hiking and navigation skills as you have to make your way through the water and find your way through Utah's backcountry. At the end of the hike, you will come to a stunning Golden Cathedral – a sheer chance of red rock with several holes at the top through which the sunlight lights up the entire area.
Getting to Golden Cathedral takes time and effort since the place is so remote. And this is one of those hikes where you will need a high-clearance vehicle.
Make sure to bring enough supplies, wear comfortable hiking shoes with water drainage, and bring enough supplies.
How to find the trail: From the Scenic Highway 12, turn onto Hole-in-the-Rock Road and drive for about 16 miles. Make a left turn onto Egypt Bench Road and after driving on this road for about 3 miles, you will pass the Twenty-Five Mile Wash. At about 6.4 miles after the turnoff to Egypt Bench Road, the road takes a sharp right turn and you will arrive into the wash. In another mile, you will see a deep incline and after approximately 2 more miles you will arrive at Egypt trailhead.
Whether you pick a multi-day hike or decide to choose one of the easy hikes that can be done in a few hours, you will have a great time. Grand Staircase Escalante is one of the best prime wilderness destinations in the United States, where you can find solitude and beauty making it a perfect spot for your next adventure.
Want more Utah? Check out these other posts:
Pin it!