I feel like there's a lot of pressure in visiting Arches National Park. It's seemingly not enough just to go and take skillfully-composed pictures of the arches – no, you've got to go to the right arches at the right time. You must plan your trip between mid-March and mid-April and catch Delicate Arch at sunset, amidst a hoard of other people, when the sunset angle is juuuuust right. Then you need to return to the park in the dead of night, set up your tripod, and take a crazy-long exposure of some other arch backed by the milky way.
Five years ago, I would have been alllllll over this. I'd have felt obligated to come back from this trip with a killer shot of an arch at sunrise or sunset and immediately post that ish all over Flickr. But now? I'm just not about it.
These days, I value the overall travel experience more than the photos I take away from it.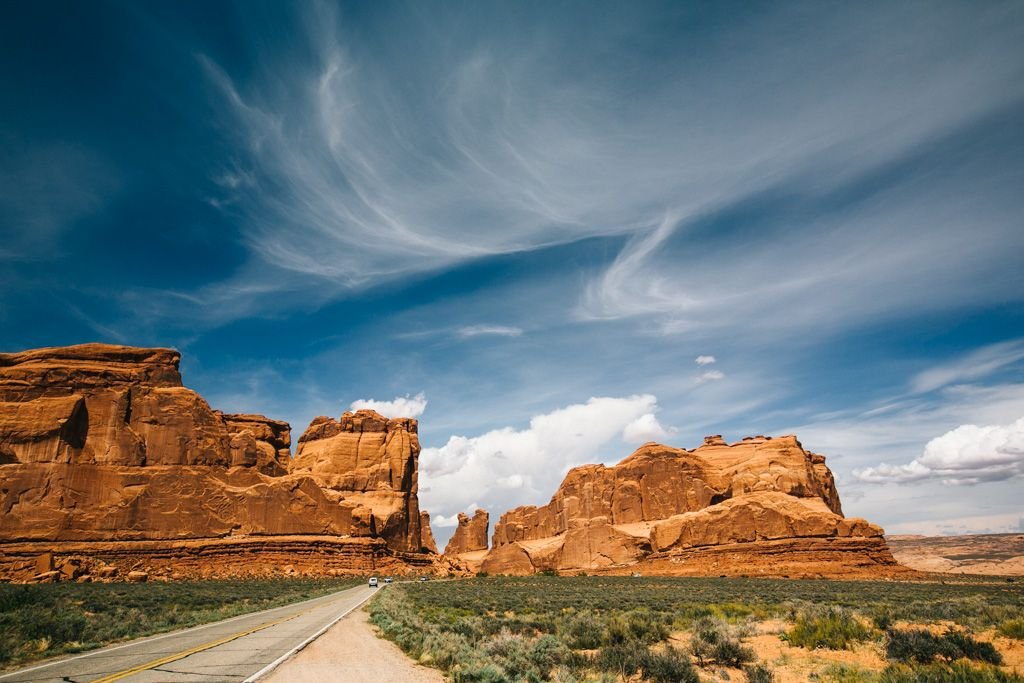 So here's how I did Arches National Park —
I went canyoneering in the morning, spent lunchtime basking in the sun at my campsite on the Colorado River, then moseyed on over to Arches after 1:00. I had no schedule to keep to, no specific locations to hit – it was just me, blasting the Glee soundtrack as I drove carefree through the park, pulling over whenever I felt like checking out an arch. It was exactly what I wanted.
The road through Arches National Park is insanely scenic. Scattered amidst the constant red rock you'll enjoy distant views of the white-capped La Sal Mountains, beige flatlands, and green bush. Backed by a bright blue sky, it's the classic Southwest US palette.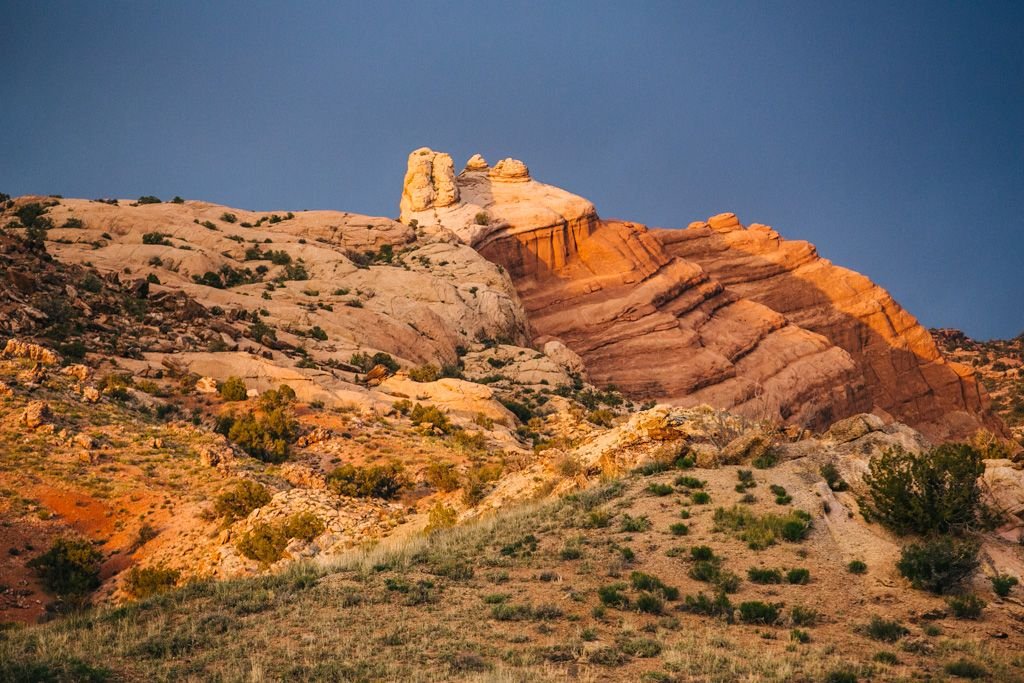 One of the earlier stops along the road is Park Avenue, a valley lined with skyscraper-esque red rock pillars. Every resource I read recommended doing this hour-long hike later in the day, but it was 2:30, the sun felt damn good on my pasty skin, and I just couldn't help myself from hopping out of the car for a little jaunt through nature.
BEST DECISION. I skipped along in my flip flops, taking in the bright red rock around me. There's something to be said for the vibrant colors yielded during midday sun. As far as landscapes are concerned, I actually think I prefer it to the subtle golden glow emitted just before sunset. I practically had the whole valley to myself and it was GLORIOUS.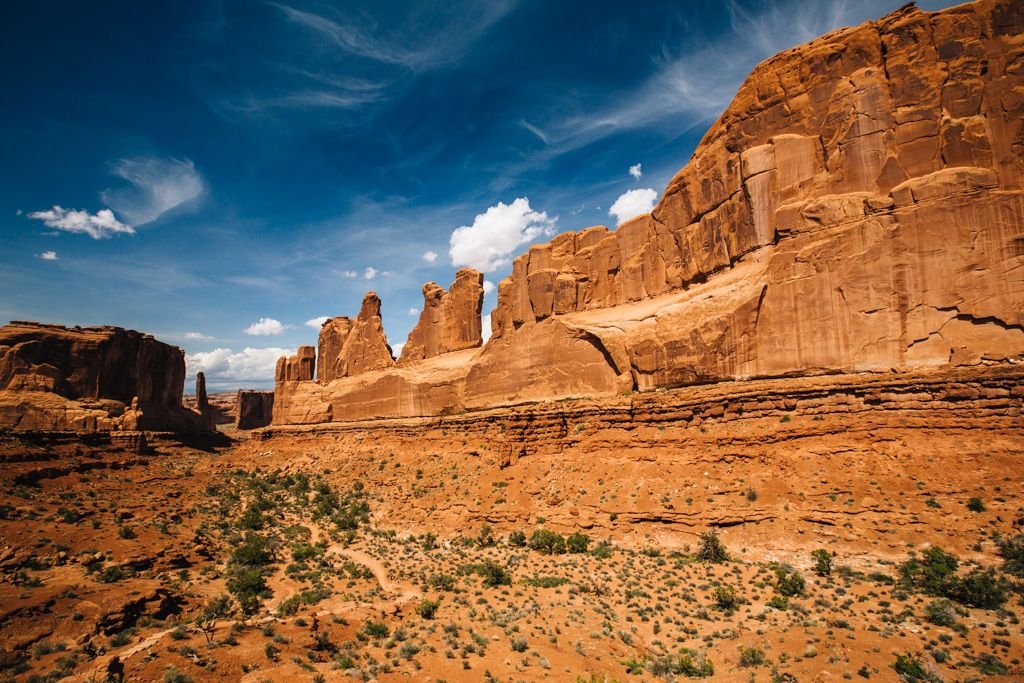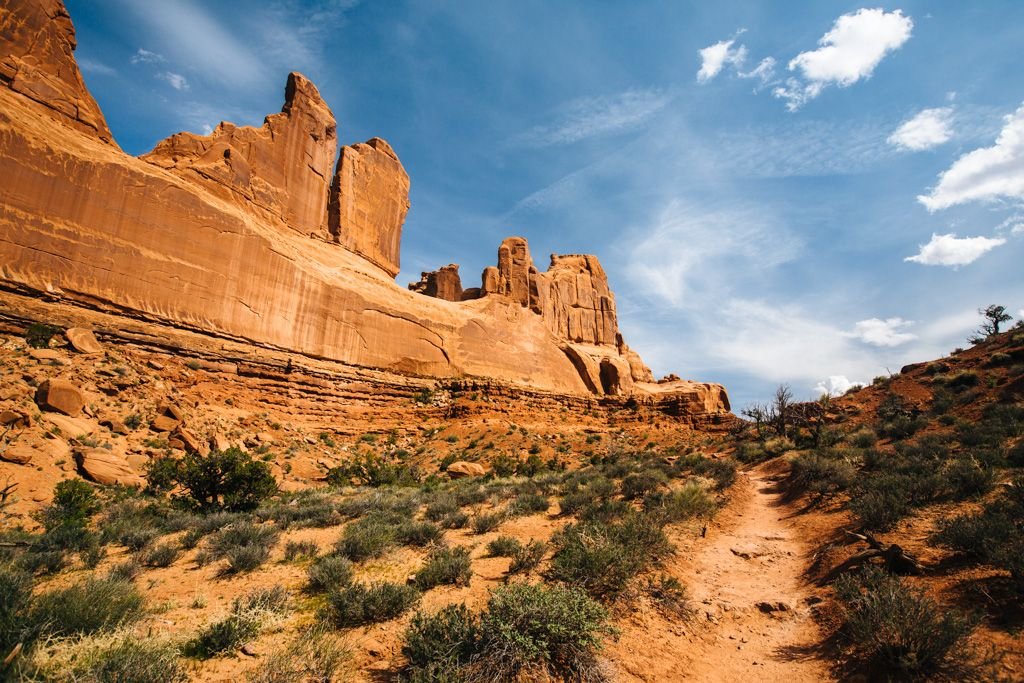 Honestly, I'd have been perfectly content with just doing Park Ave and driving around, but I figured I should check out an arch or two while I was there. I popped over to the Windows section of the park which, while not overrun with tourists, was still poppin' with visitors climbing the arches. I joined them, sitting on the edge of the North Window for a bit just taking in the view. Above, this massive arch curving over my head; below, massive rocks just down the ravine. Being surrounded by such majestic feats of nature really puts life into perspective – we're all so small in the grand scheme of things.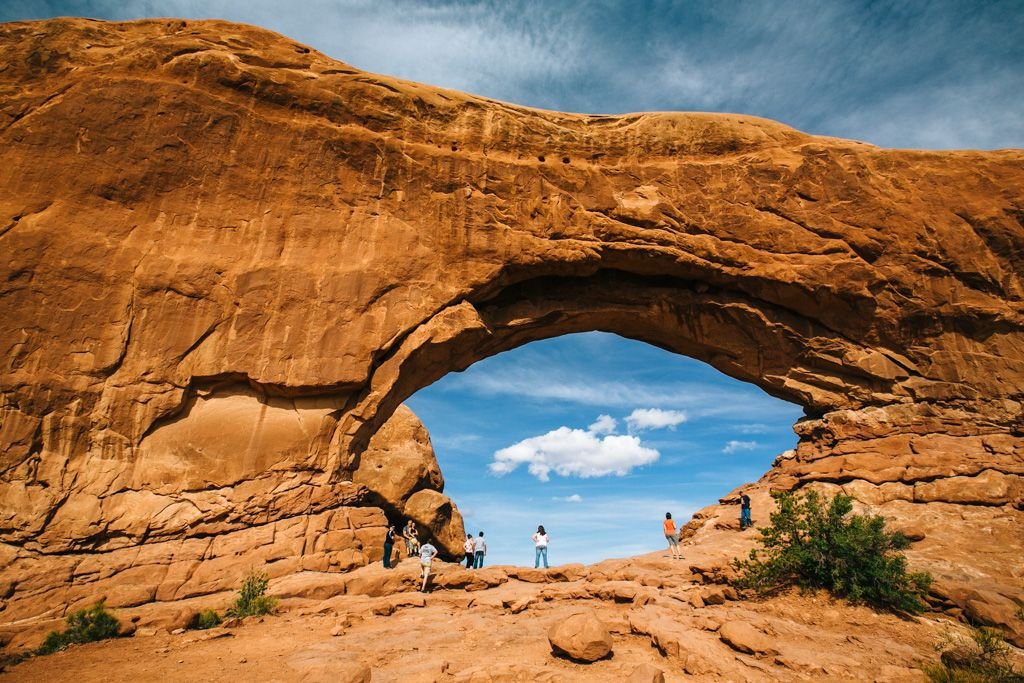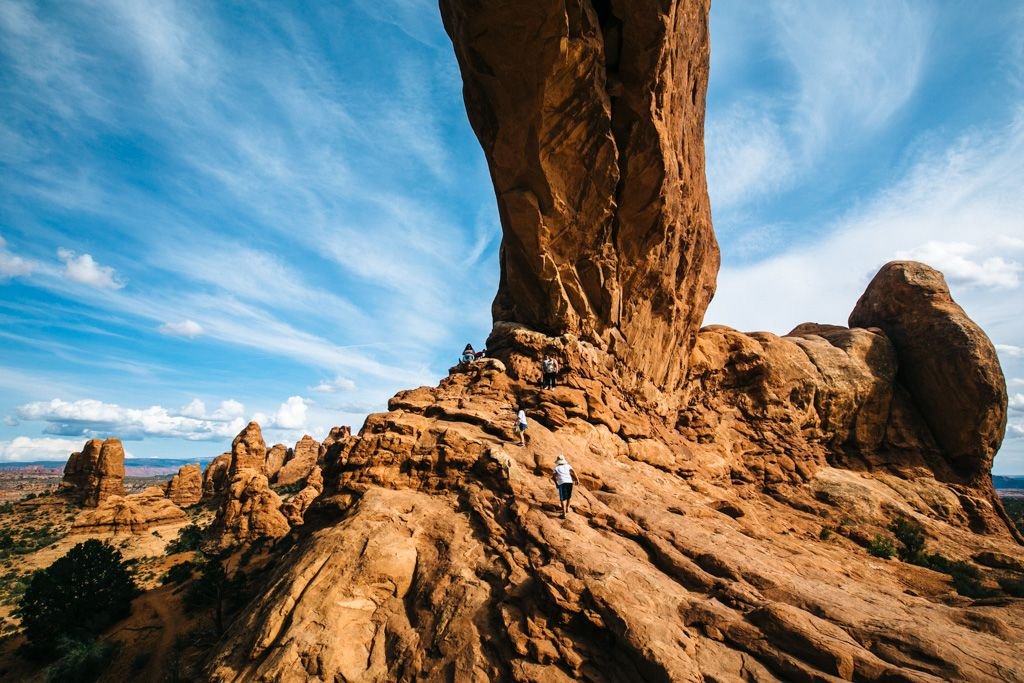 South Window's impressive too, but harder to climb up into – especially with a sprained toe. Pass!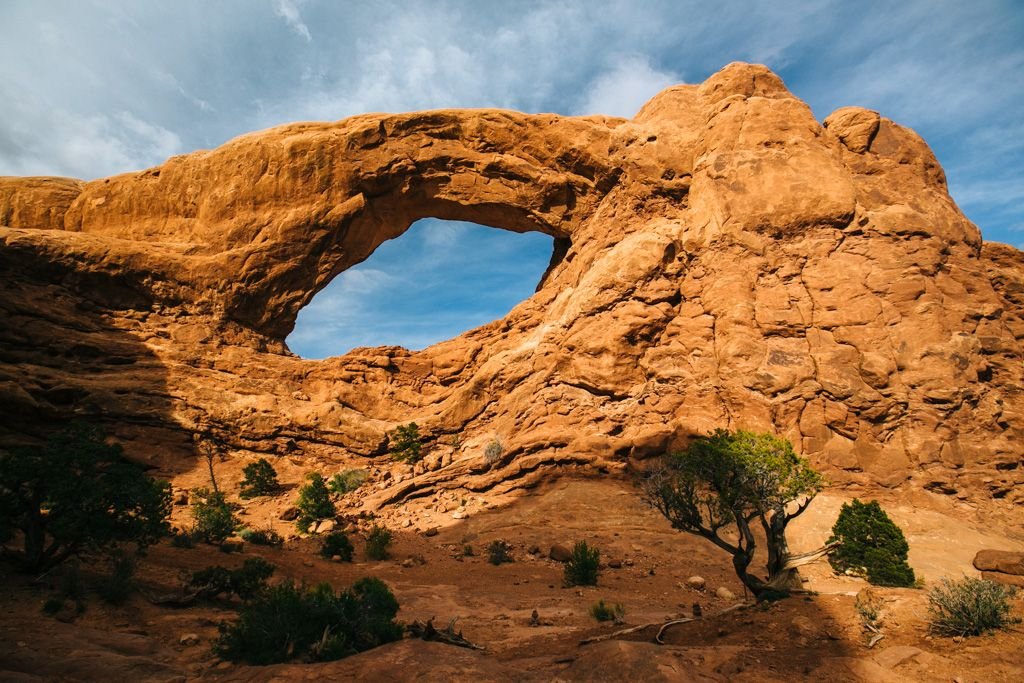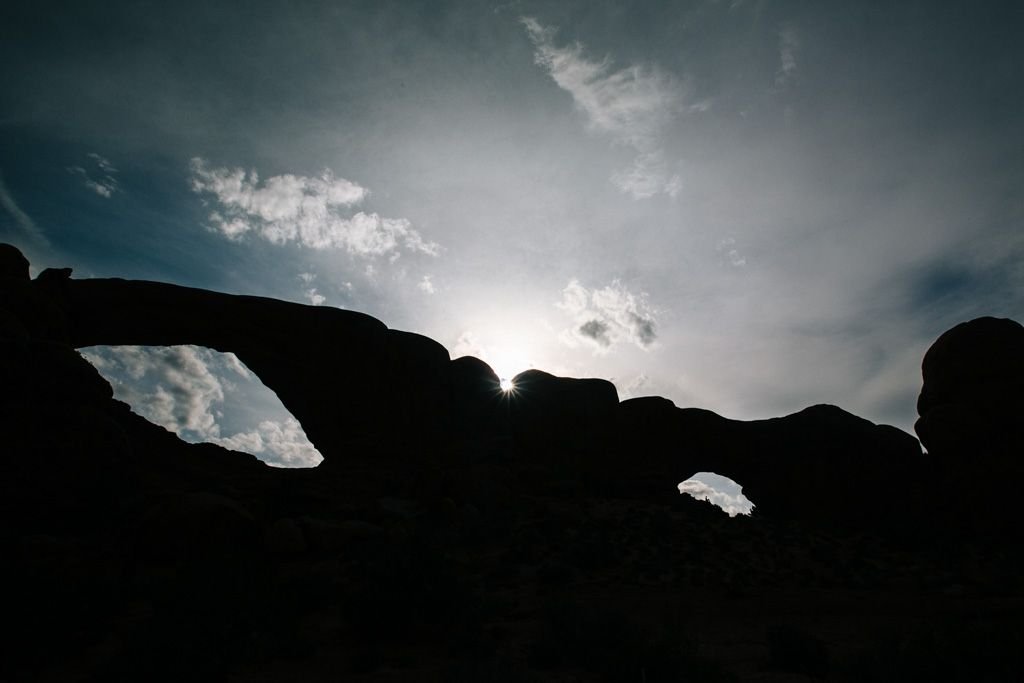 South Window (left), North Window (right) from behind
By late afternoon, the clouds began to roll in and snatch away the golden hour light. I caught a glimmer of it while driving to the next set of arches, but it was quickly overcome by an overcast sky.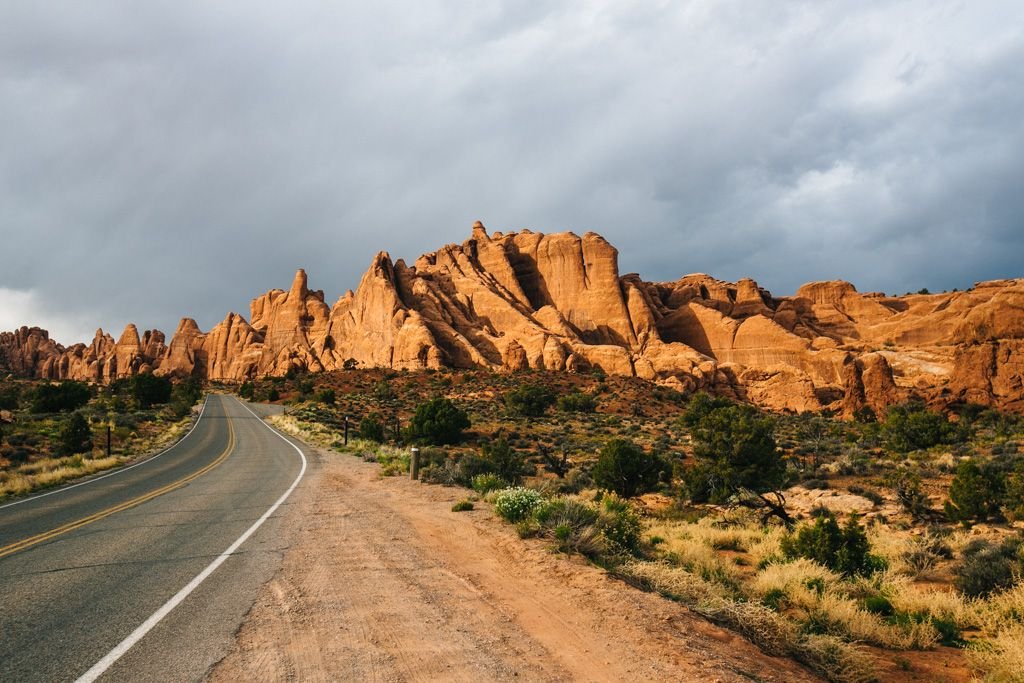 I wound up by Delicate Arch, aka the most-photographed arch in all of the park (you know, the one on the Utah license plate?), for sunset. There's a lengthy hike you can do that will take you uphill right to the arch, but if you're there for sunset you'll end up walking back in the dark. I opted to take a shorter trail to a lookout point below the arch. It looks SO TINY from below – certainly not the 65 foot height it's in the books for.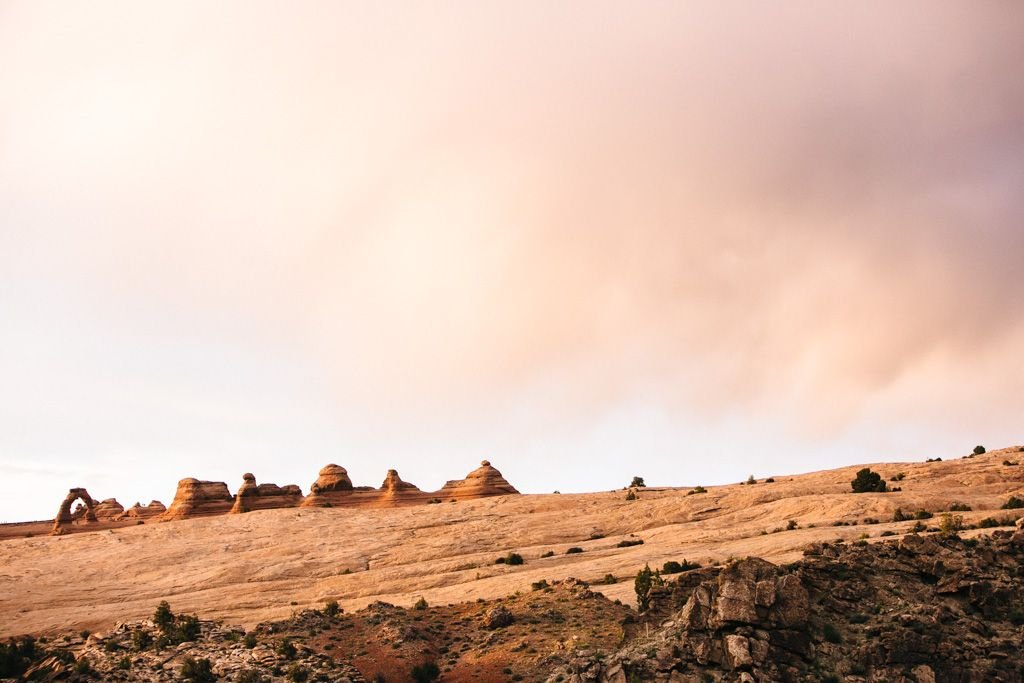 Arches National Park is beautiful at all times of day, no schedule needed!
Pin it!