Moab is an outdoor adventure playground. I planned my recent long weekend trip to Utah around this desert town, intent on taking advantage of everything it has to offer that I can't do at home in New York City.
With so many activities available and limited time in Moab, I had a difficult decision to make: what kind of adventure did I want to go on? I could walk down the main street of Moab and easily sign up for any of the following and more:
hiking
rock climbing
jeeping
canyoneering
rafting
ATV riding
mountain biking
scenic flights
hot air ballooning
Though I wanted to do ALL THE THINGS, I ultimately decided to go canyoneering in Moab due to its solo traveler friendliness and the fact that it was something completely new to me. On Easter morning, I found myself packing my bag with a harness and helmet and hopping into a van with Moab Cliffs and Canyons. To the desert!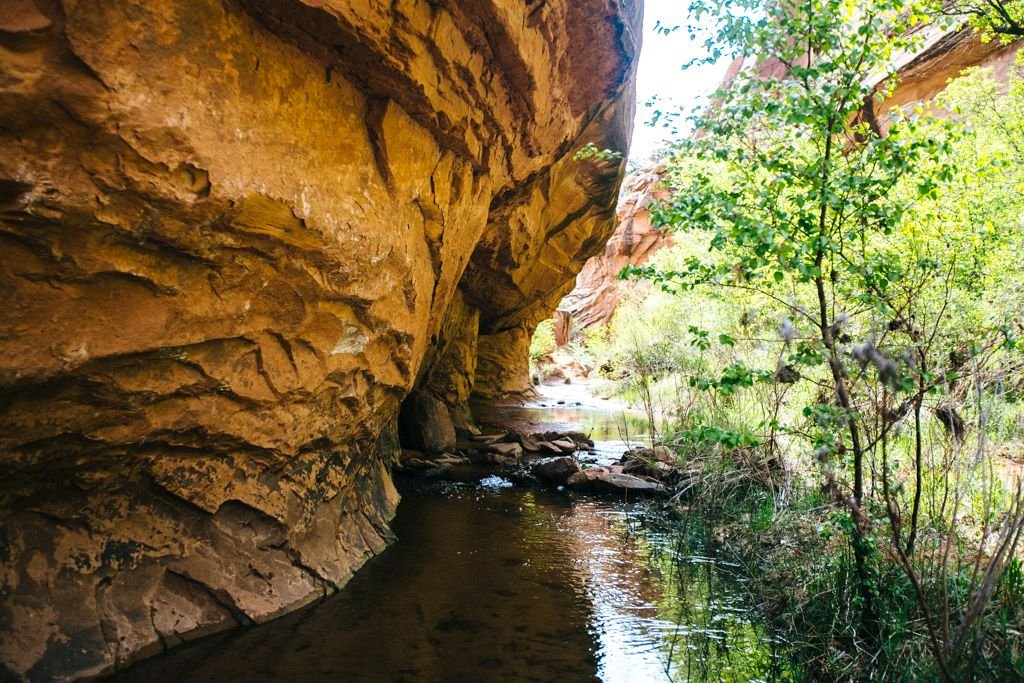 Canyoneering, in simplest terms, is navigating through canyons in essentially any way, including but not limited to hiking, climbing, jumping, swimming, and rappelling. Outside of the USA it's referred to as canyoning, but regardless it's something many people have never even heard of. If you think about it, this makes sense: most people don't have easy access to canyons, so it's not something they or anyone around them would likely be doing. But canyoneering is a thing! And it's reasonably popular in the western US, particularly in Utah.
We drove up into Sand Flats Recreation Area and began our hike to Ephedra's Grotto not too far from the Slickrock Bike Trail. I was nursing a sprained toe and absolutely dreading this part of the excursion, but the stunning scenery motivated me to ignore the pain and carry on. I feel like they totally undersold this aspect of the canyoneering trip: they don't tell you that half of the day is spent hiking through a desert shangri-la, learning about the wildlife and rock formation and enjoying the insanely gorgeous landscape. It was a wonderfully balanced trip in that regard.
The most challenging part of the day for me was having to jump from one curved rock edge to another (see photo above). Normally I'd be cautious while carrying my camera gear, but I was even more wary to make the jump with a foot injury. Our guide, Heather, was so accommodating as she helped me cross over safely without making me feel super lame for being the only one who couldn't jump.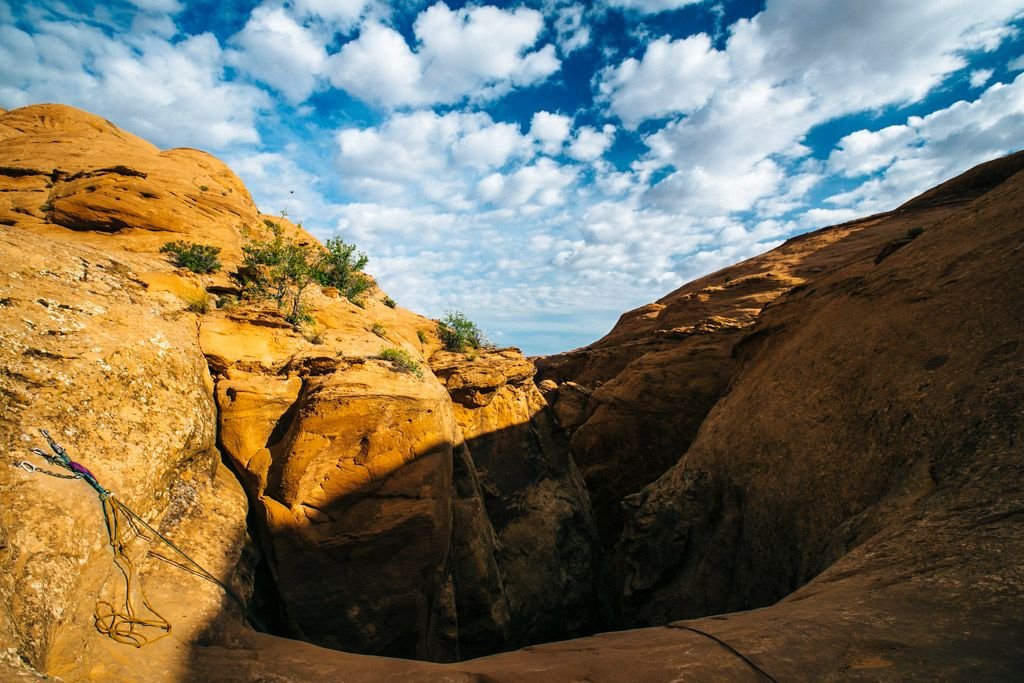 We reached our first rappelling site and the 7 of us went down into the canyon, one by one, on the ropes. I'm no stranger to being on a rope or traversing a rock wall, but lowering myself down was an entirely unfamiliar sensation. Heather methodically secured me to the ropes and gave me a quick lesson on how to rappel. Without allowing myself to think about what I was about to do, I started lowering my body into the canyon at a snail's pace. Rappelling was a lot less scary than I thought, and also a lot more uncomfortable due to the harness digging into my back side – but SO MUCH FUN!
Once we'd all navigated down into the canyon, we walked to our second rappel site at Morning Glory Bridge. I froze upon seeing an Outback-like scene before me: bright orange rounded rock, bright blue sky, lush green vegetation scattered in the valley below. I was so happy to be there, so immersed in the scenery that I let everyone else take their turn before me.
The first rappel has more of a gradual start as you inch over the edge and down the wall, while this second one requires close to a 90-degree step over the edge. It was unnerving to say the least, but Heather talked me through it and once I got over the ledge I was completely fine. This one entails a short rappel down the rock wall, then a free hang the rest of the way down after the wall ends. Surprisingly, the free hanging was the easiest and least-scary part! I lowered myself down as slowly as possible, so as to maximize the time I got to spend dangling and twirling around in the air as I passed by the bridge.
I took time to savor the changing view: the bridge as I passed by it, the trickling stream of water coming out of the rock on the other side of it, the Outback doppelganger-like valley that came into view as I dropped lower, the bridge as I looked up at it from below. It didn't matter that I didn't have a GoPro to capture the experience – it's something I'll never forget.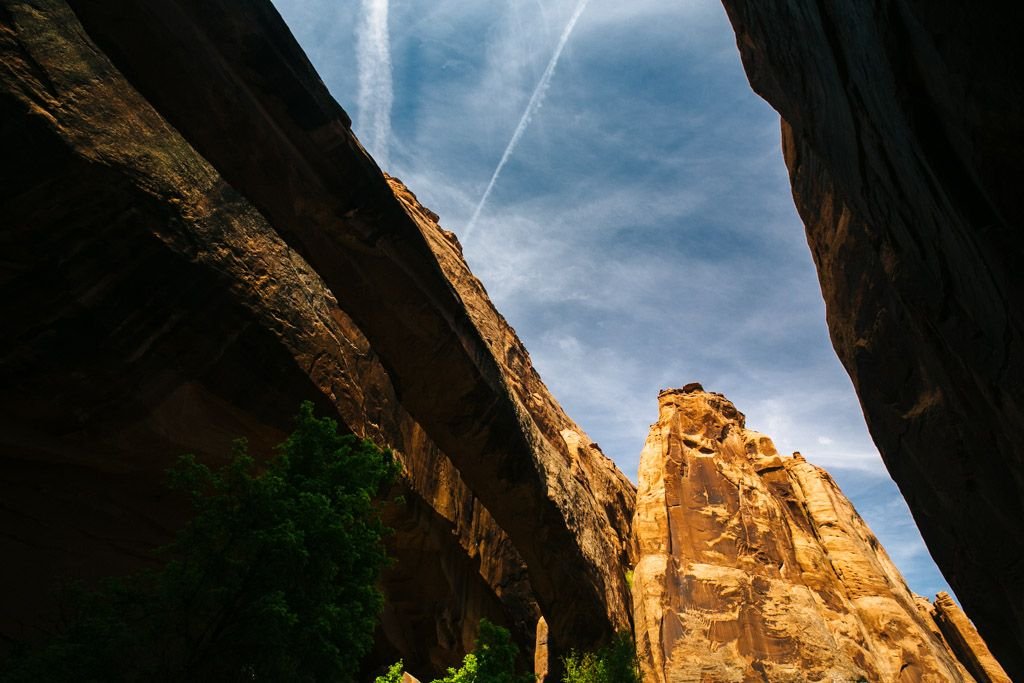 I rode my natural 4/20 high out of Negro Bill Canyon, pretending like I was back in the Australian Outback and that my right foot wasn't screaming bloody murder at me. We stopped to admire little purple wildflowers just coming into bloom and observe the cave that Negro Bill himself is said to have resided in, making way for families passing by on an Easter morning walk with their dogs. Our van was waiting for us as we made our way out of the canyon, and we arrived back at the office by noon.
I had such a blast canyoneering in Moab and can't wait to try it again sometime!
Thank you to Moab Cliffs and Canyons for having me along on their Ephedra's Grotto canyoneering trip! Note that all opinions expressed here and elsewhere on this blog are my unbiased own, and are uninfluenced by any gifts or incentives I may receive.
Pin it!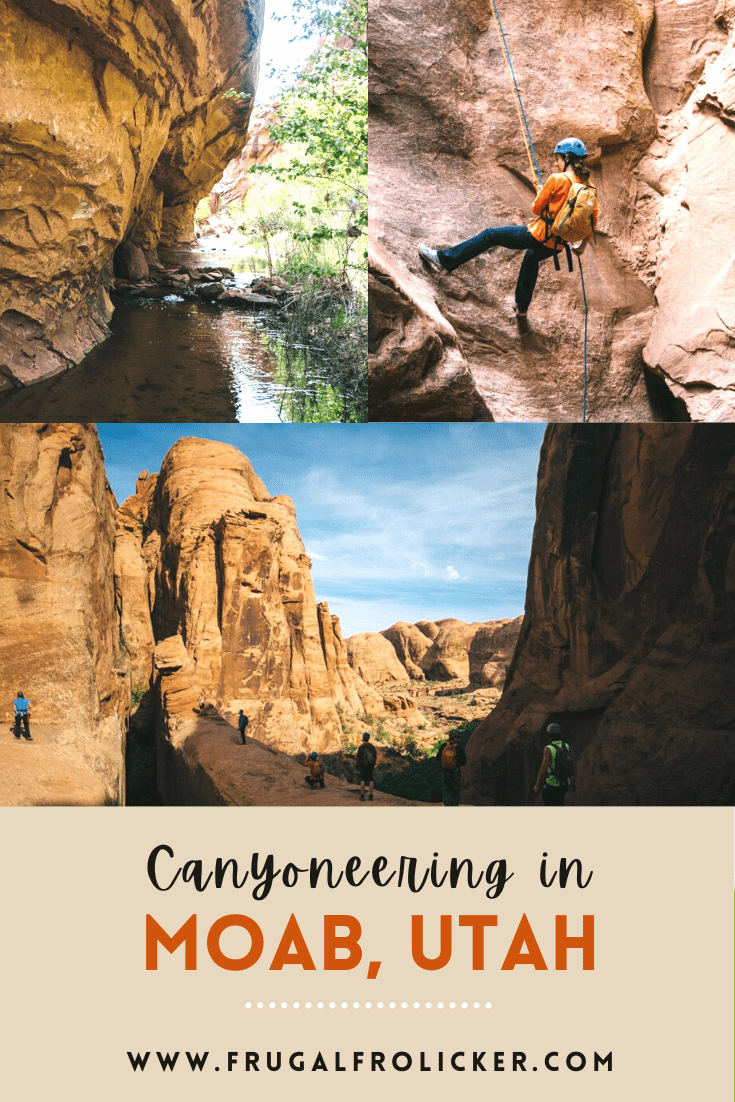 Frugal Facts
As of April 2014 —
A half-day canyoneering trip to Ephedra's Grotto costs $99/person (minimum group size is 3 people).