It was a happy little accident that I came upon this oft-unheard of park in Moab. Desperate for a campsite during the overcrowded mayhem that is the Easter Jeep Safari, I took google's recommendation and drove about 10 minutes out of Moab town center and up-up-uphill to the park entrance. Greeted by a big fat "CAMPGROUND FULL" sign, I dejectedly pulled over to plot my next move.
Then I looked up and saw this —
… which pretty much decided it for me. I wouldn't be staying the night here, but I just HAD to chase those snow-capped mountains and orange rock. How does this exist?!, I kept muttering to myself. Coming straight from the concrete jungle, it seemed so unreal to me.
Turns out, there's plenty to do at Sand Flats Recreation Area – which I suppose shouldn't be surprising, given the "rec area" portion of its name. Here's a sampling of the activities on offer —
Scenic Driving
After passing through the park entrance, I continued driving down the road as it led through the park and wove past scenic view after scenic view. I couldn't keep from stopping my car every few minutes to take another picture – in fact, I got scolded by a park ranger once for stopping in the middle of the road (oops!). I'm telling you, I lose all control when surrounded by breathtaking natural beauty, reduced to a slave of that so-called magnetic force. I mean LOOK AT THIS LANDSCAPE! Utah, you slay me.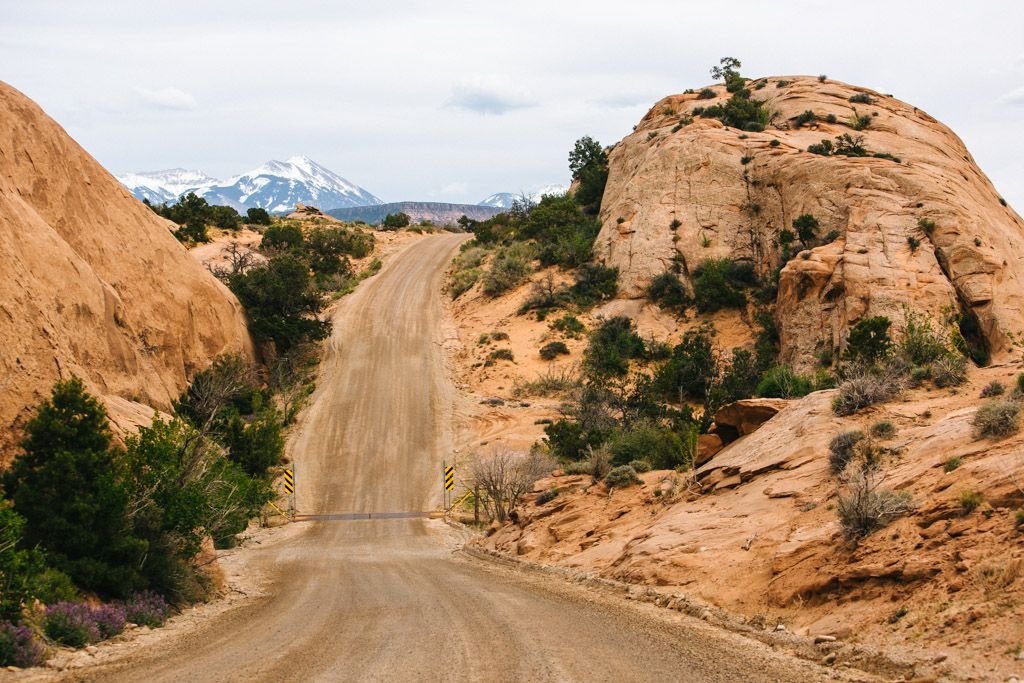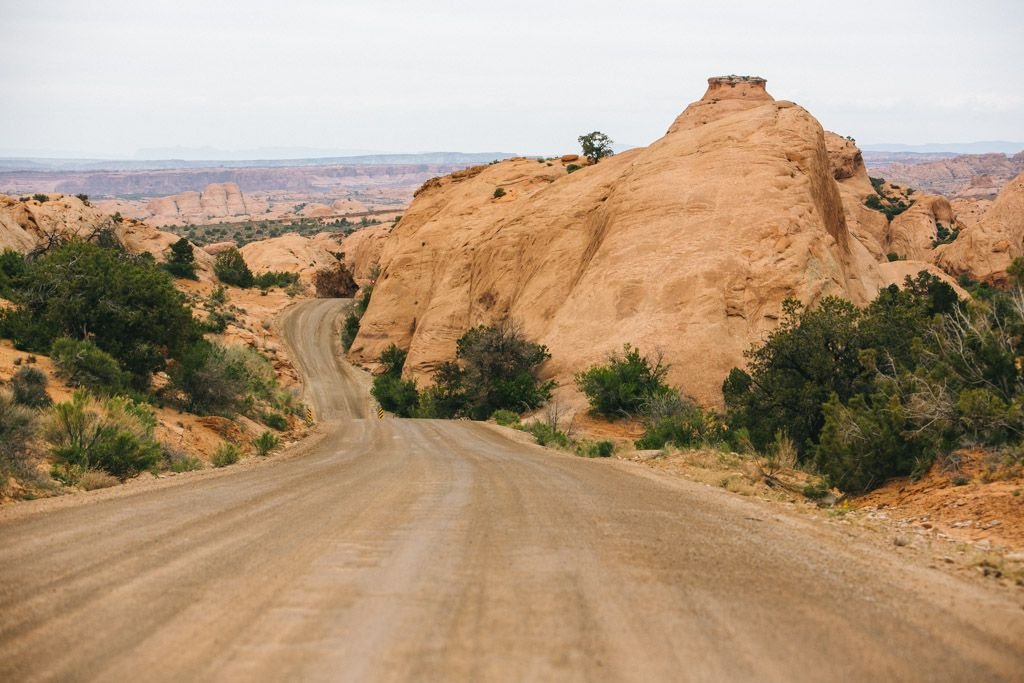 Camping
All along the scenic road, there are clusters of campsites – over 120 in total – available on a first-come, first-served basis. Best bet is to show up in the morning and hope for an open site, as you can't reserve one in advance. If you're lucky enough to snag one, you'll wake up to fetching views of the La Sal Mountains from your tent: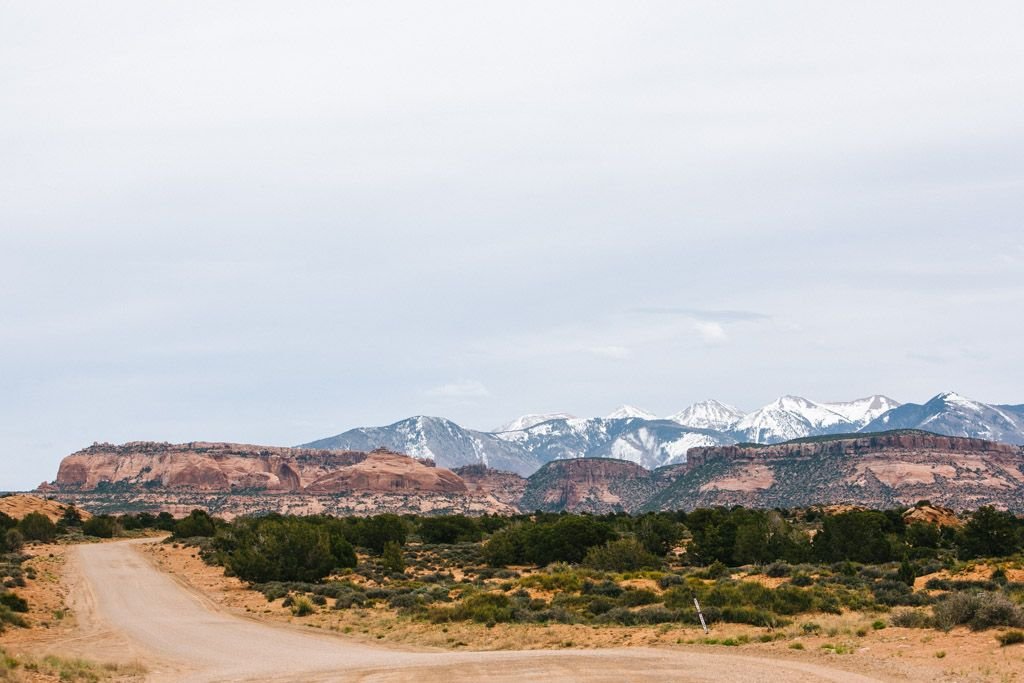 Jeeping / Offroading
In Utah, 'jeeping' is a thing. In NYC, the closest equivalent would be bopping around town in a big-ass 4WD car. People come to Sand Flats to offroad their little open-door jeeps up steep hills and down bumpy dirt paths. I'm not sure if it's an ideal activity for those prone to motion sickness like I am, but it looks like a great way for an adrenaline junkie to get his fix.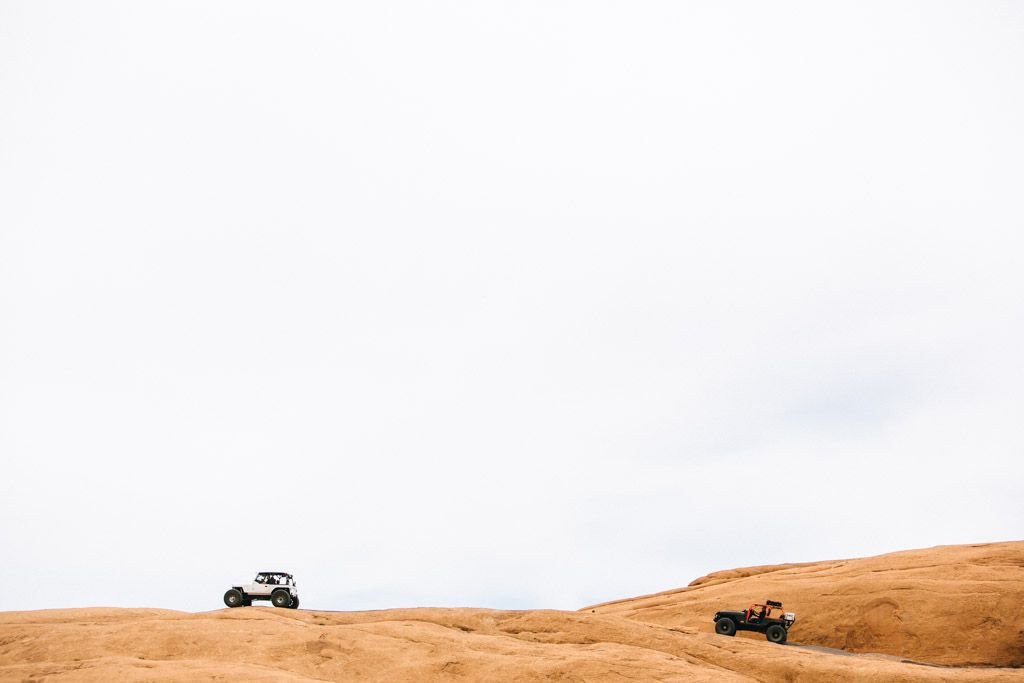 Mountain Biking
If you're coming to Sand Flats to bike, you're doing the famous Slickrock bike trail. This 10.5 mile loop is as challenging as it is beautiful, with constantly undulating smooth rock backed by mountainous views. The attached 1.7 mile practice loop is equally challenging, but more ideal for those short on time or energy. Unfortunately there aren't any bikes for rent within the park, so you'll have to drive in with your own. I'd love to come back someday to bike Slickrock – that is, after I've learned how to mountain bike. Slickrock is definitely not the place to attempt your first mountain biking adventure!
Hiking
With all the wheeled activities on offer, it's easy to forget that you can also get around on two feet. While maybe not the place for an epic hike, there are a few short trails you can walk in Sand Flats Rec Area. I opted to hobble along the Slickrock Practice Loop with my newly-sprained toe. The trail is easy to follow if you stick to the dotted lines of the bike loop. You'll be sharing the trail with mountain bikers, who have it a lot harder as they negotiate the steep rock with two wheels. It's an easy stroll on foot, though.
The Slickrock Practice Loop delivers exactly what the alluring park entrance views promise: smooth orange sandstone and white mountains, in a million different view variations. As an added bonus, the loop passes by Echo Canyon – no big deal, just another canyon in Utah, right? Maybe so, but this New Yorker was starved for canyons and all things nature-related. It was all beautiful to me.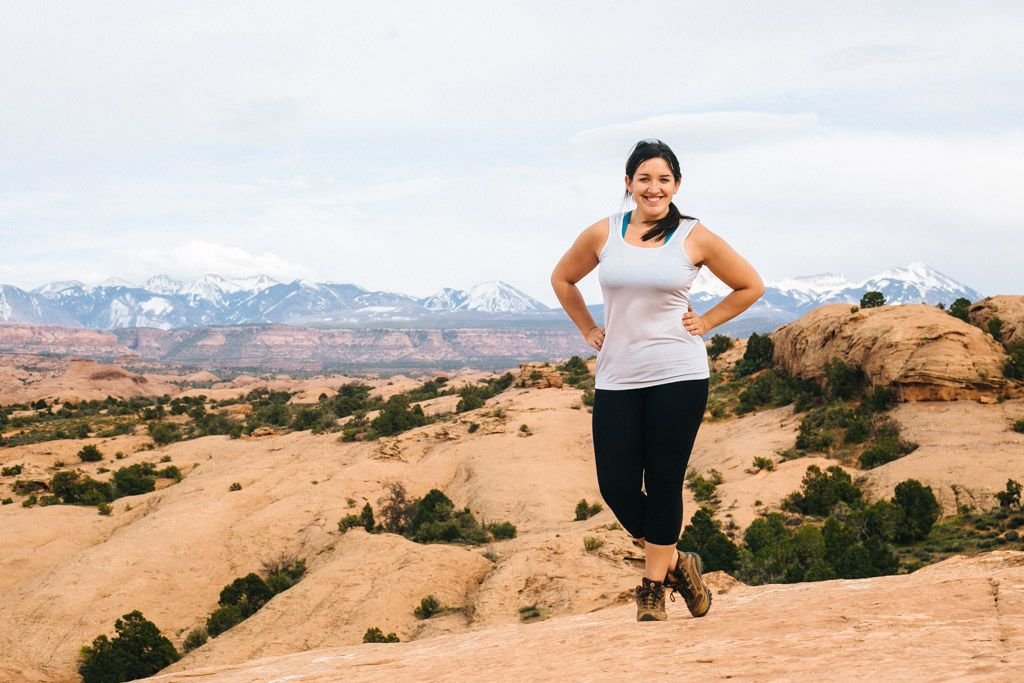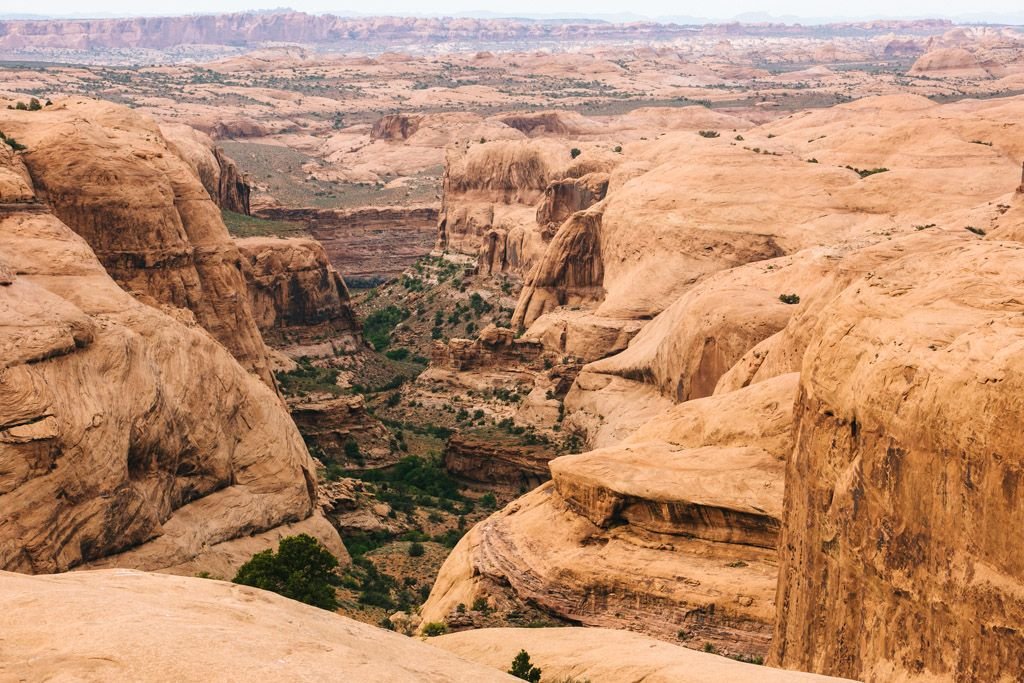 I had a fantastic afternoon at Sand Flats Recreation Area. Arches and Canyonlands are great, but there isn't much to do there other than hike and drive. If you're itching for other forms of outdoor adventuring on your trip to Moab, Sand Flats is where it's at!
PS – Moab is only a 6 hour drive from Denver, making it a doable weekend trip from Colorado (and vice versa)!
Pin it!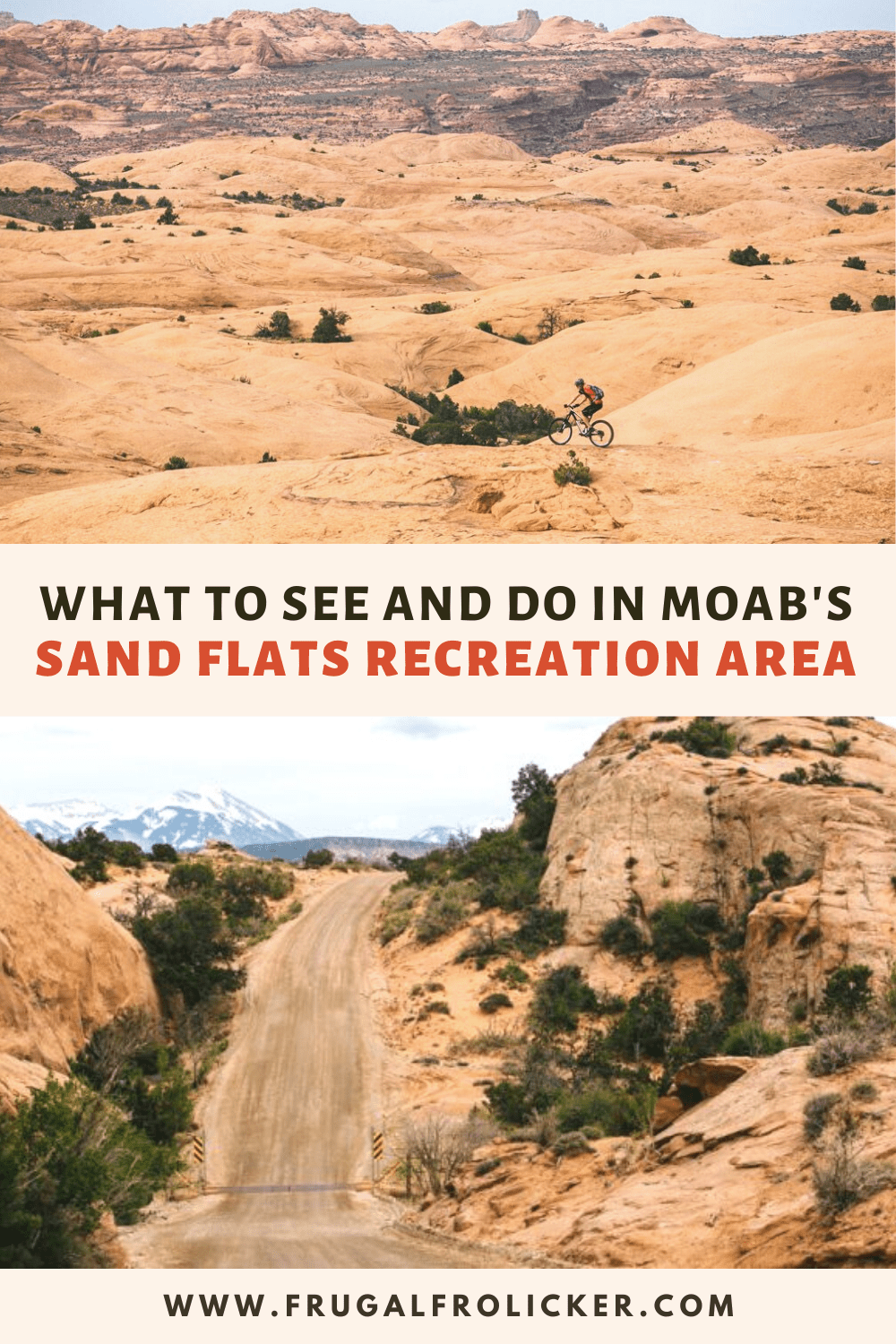 Frugal Facts
As of April 2014 —
A day pass to Sand Flats Recreation Area is $5 per car, while a 7-day pass is $10 per car.
A campsite inside the park is $10/car each night for up to 5 people, plus $2 per person beyond that.
Mountain bike rentals start at about $50/day, while jeep rentals start at about $175/day, both of which you can easily sort out most anywhere in town.