This isn't the article I expected to be writing about my trip to Siargao, from my month in the Philippines.
The majority of island-goers are there to surf, and understandably so as Siargao is renowned for its excellent surf conditions and epic Cloud 9. But me, no, I'm no surfer. I was there for the beautiful scenery and copious outdoor adventure opportunities. I had island hopping, stand up paddle boarding, and rock pool frolicking on my agenda.
BUT, I happen to prescribe to the theory that Kristen Newman champions in her book 'What I Was Doing While You Were Breeding' (HIGHLY RECOMMEND, btw), which is: do the thing you're supposed to do, in the place you're supposed to do it.
Liiiiiiiiike: Diving in Koh Tao. Yoga in India. Riding the double decker bus in London. Consuming literally nothing but pizza, pasta, gelato, and coffee in Italy. Seeing kangaroos and koalas in Australia. And now, surf lessons in Siargao.
Fine, just one surf lesson for the sake of it, I reasoned.
Three Siargao surf lessons later and I was absolutely devastated to leave the island and its surf life behind.
Sleep / Eat / Surf at Kermit Siargao
If you come to Siargao to surf, you shouldn't have any difficulties arranging Siargao surf lessons or renting a board through your accommodation. In fact, you could probably walk down the street and ask any random person and odds are either he'll offer to take you out, or will hook you up with a friend who does surf lessons on the island. It's just that kind of place.
That said, don't even worry about it. Just stay at Kermit Siargao in General Luna and you will be completely sorted with surfing, activities, and food – everything you need in a kick-ass Siargao surf camp.
Brainchild of Swiss-Italian surfer/entrepreneur Gianni Grifoni, Kermit has become a bit of a fixture on Siargao Island. This place gets booked up MONTHS in advance because it's so popular. I had no idea and foolishly inquired about booking maybe 6 weeks out. Silly me! So I ended up staying at Kermit for just two nights, and then moved over to Lux Boutique Resort for another two nights (which Gianni also co-owns).

The bungalow I had all to myself!
Why are rooms at Kermit in such demand, you might be wondering? For one, they are incredible value. A private room for two including a massive made-to-order breakfast for just $25, are you serious? If you're a babe on a budget, you can even try to snag a bed in the dorm for about $9.
Second, the food at Kermit is PHENOMENAL. They have at least 10 pasta variations on offer at any given time, plus a wood fired oven pumping out custom-made pizzas, plus a myriad of non-Italian options if you'd rather eat the local fare (OMG the veggie curry with garlic rice! <3). Seriously, Kermit's food is so good that most of its tables will be reserved for dinner by people who aren't even staying at the resort. (But don't worry, they keep a few tables saved for resort guests so you won't be turned away)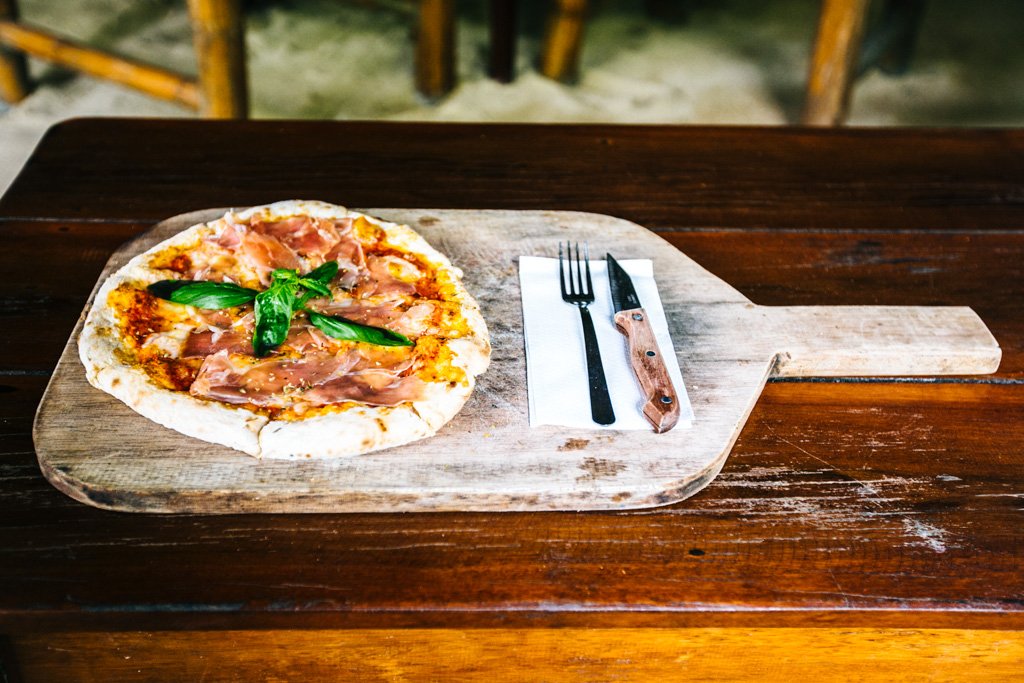 But most importantly, Kermit is so beloved because of its unique vibe. This is a place where locals and visitors mingle and become like family – honestly, I've never seen anything like it in all my travels. During the day, you'll often find the staff sitting at the restaurant tables kickin' it with guests and Gianni there with his laptop always happy to chat. The surf instructors who aren't out on lessons are typically hanging out at the onsite surf shack, working on surf boards and greeting guests that pass by. (If you missed it from my September monthly recap post, there's a video I took while hanging with the surf guys, of one of them playing guitar and singing my favorite Miley Cyrus song!)
In general, everyone is so friendly and chilled out at Kermit. Most people are there to surf, but you can definitely opt not to and instead just enjoy the laidback vibe and the various other activities on offer. Solo travelers, fear not: it's super easy to make new friends here, whether you plunk yourself down at one of the communal tables or befriend fellow travelers while on surf trips or island tours. And if going out is on your agenda, ask any one of the Kermit staff where the hot spot is that night and it's guaranteed they'll know where to go for a good time (slash possibly go with you).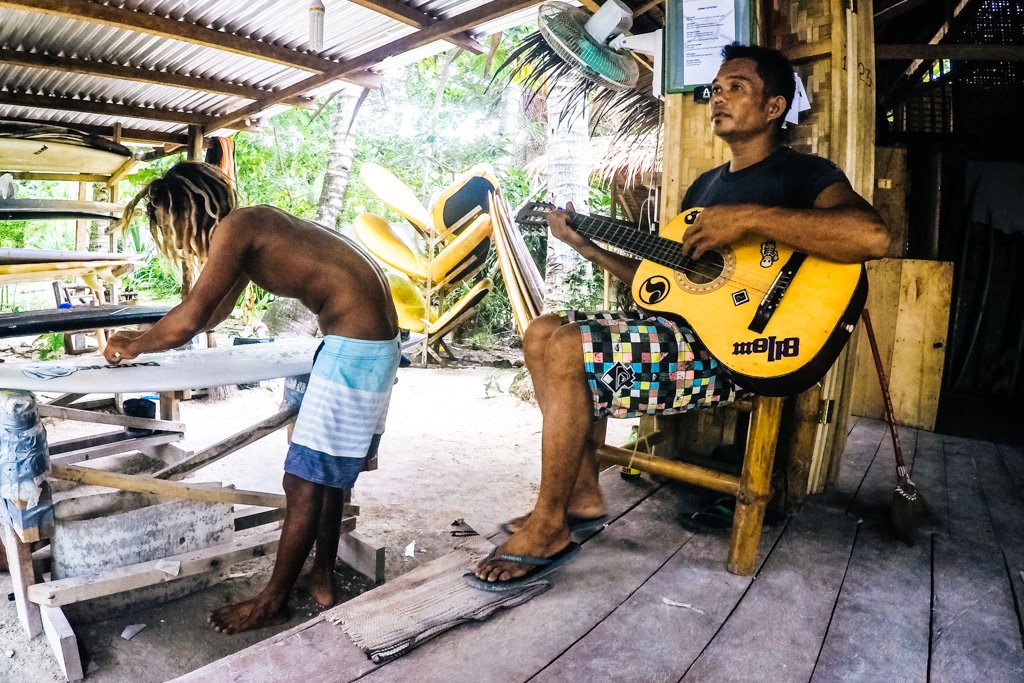 My First Surf Lessons On Siargao
On my first day at Kermit, I told them I was interested in doing ALL the activities – but I definitely wasn't expecting to start my first-ever surf lesson a mere two hours later! That's hardly enough time to fret about perpetual wipeouts and knocking myself out with my own surfboard (have I ever mentioned I have terrible balance? YEAH WELL I DO).
Soon after, I met my instructor Rico who would fast become my new favorite human on the island. We went over to a patch of grass at the resort where he demonstrated how to paddle and stand up on the surf board. I, in turn, demonstrated that I could swiftly move from stomach to feet while on dry land. I wasn't at all convinced that this would translate to the water, but apparently that's all I needed before my first attempt at surfing.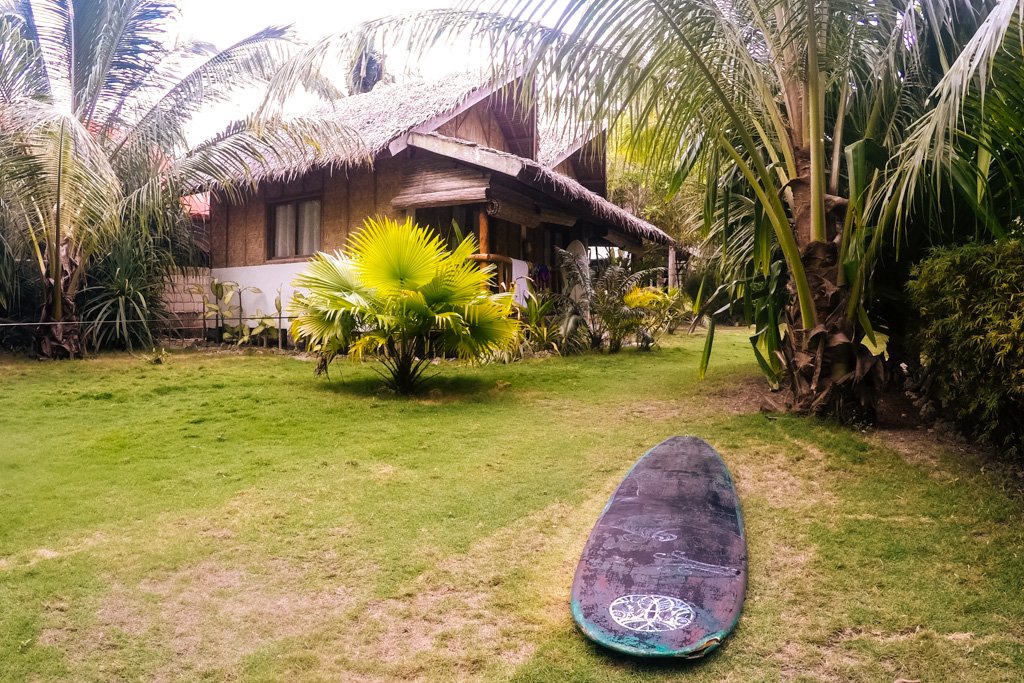 The site of my first Siargao surf lessons.
There are loads of surf spots around Siargao Island. In most cases, you'll ride with your instructor on the back of his motorbike to some beach, where you'll then take a quick boat ride out to the waves (the boat usually cost me 150PHP/US$3, but I believe it's free if you've booked the surf package at Kermit).
That was a weird thing for me to grasp, that you could surf waves that weren't just offshore – or even directly heading towards shore. The surf spots I was taken to were scattered between Siargao and some smaller islands nearby, with waves moving parallel to Siargao's coast and breaking at the reef.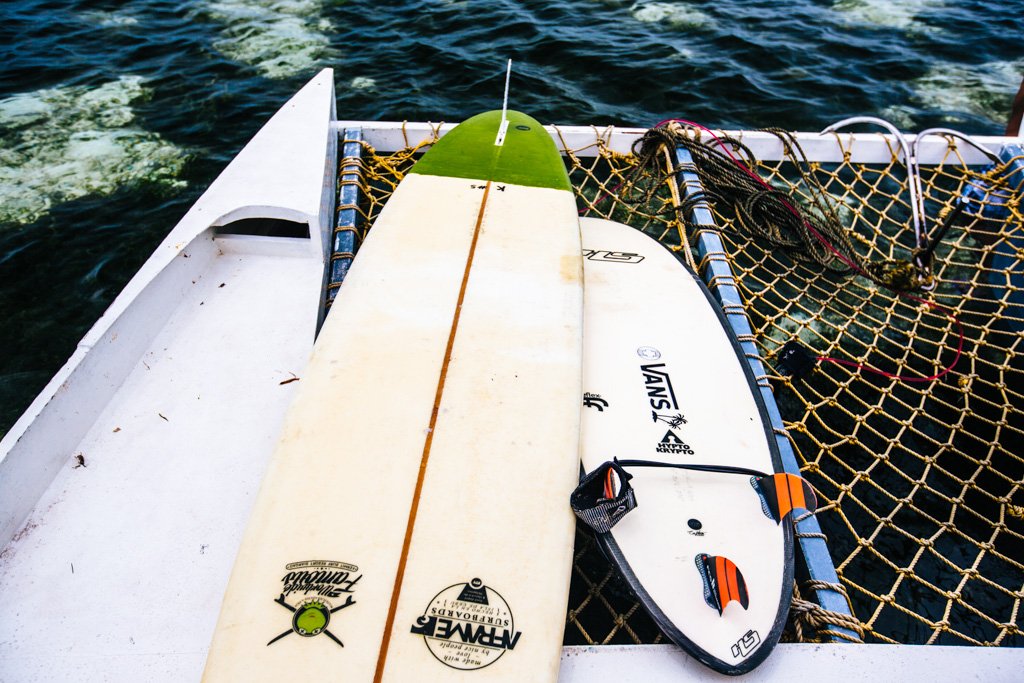 I was kind of expecting a continuation of the surf lesson once we got in the water, but there was nothing else for me to do but attempt to stand up on my board! While catching a wave! SO easy, right?
Rico was convinced I'd be fine, and I hid my nervousness with a whole lot of smiles. I tend to laugh when I'm nervous, perhaps in a subconscious attempt to trick myself into being confident in the moment. Constant laughter isn't a good idea when waves keep crashing over you, though – not unless you want to swallow salt water! (Oh yeah, it happened)
I absolutely cannot believe it only took me a couple tries to stand up on my board. Guess surfing really is that simple!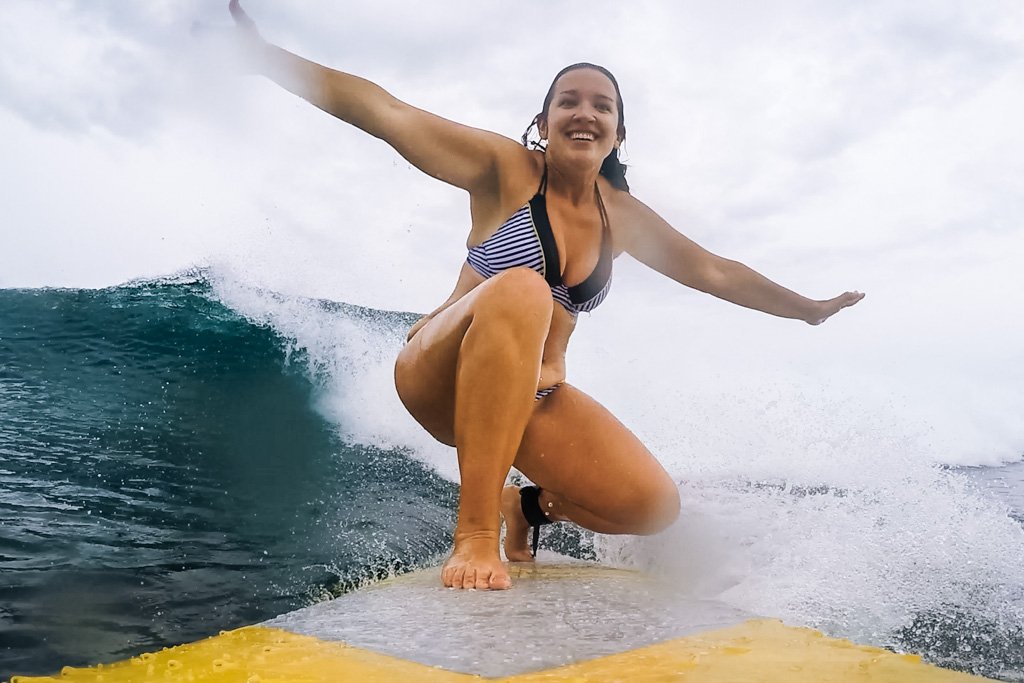 Simple, but by no means easy. Most of the time I'd fly right off the board because my feet weren't quite placed right. The few times I was able to stay on for awhile, I rode the wave wayyyyy far out and then exhausted myself paddling back. (Learning how to steer the board was definitely not a task to master on Day 1!).
Rico and I had our routine down from the get-go. He'd be on the lookout for good waves and once he spotted one, he'd get behind me and push me out to meet it, then yell "up! up!" when it was time for me to stand. I loved not having to worry about wave selection or paddling to catch it because I already had enough to worry about with the whole standing up and holding my balance thing. (Though I'm sure this will come back to bite me in the ass when I want to try surfing anywhere else in the world and have to ask someone to give me a push!).
Every so often, Rico would remind me about "chicken barbecue". I'm not 100% clear on this, but I think he meant it as a metaphor for going out and getting those waves. 'cause you know, BBQ chicken is delicious! Why wouldn't you want to go out there and focus on devouring it? Regardless, he had me in stitches every single time he told me to remember chicken barbecue. Like I said, new favorite human!

This video is far from my best surfing attempt, but it best conveys what my Siargao surf camp experience was like: a whole lot of waiting, goofing around with my surf instructors, and smiling.
The lack of a proper lesson actually worked well because after each wave, Rico would give me feedback on how to improve. On the first day, it was all about standing up faster (I rode a lot of waves on my knees). The second day, I focused more on moving my feet further down the board once I was up (as you can imagine, staying standing at the back of the board is a fast pass to wipeout city). I felt like I was able to gradually build up to proper surf form with each outing. Had I stayed on the island longer, I'd have had time to take more Siargao . surf lessons and, oh I don't know, maybe learn how to paddle and choose my own waves? I'm very happy with the way I did it this time, though – I would have been far more overwhelmed working on the entire surfing equation rather than just the second half of it.
Kicking Back At Lux Siargao Boutique Resort
Though I reeeeeeally wish I'd had more than two nights at Kermit to fully soak up the vibe, I was very ok with splitting my time between there and Lux. I suspect you might be too if your room looked like this ;)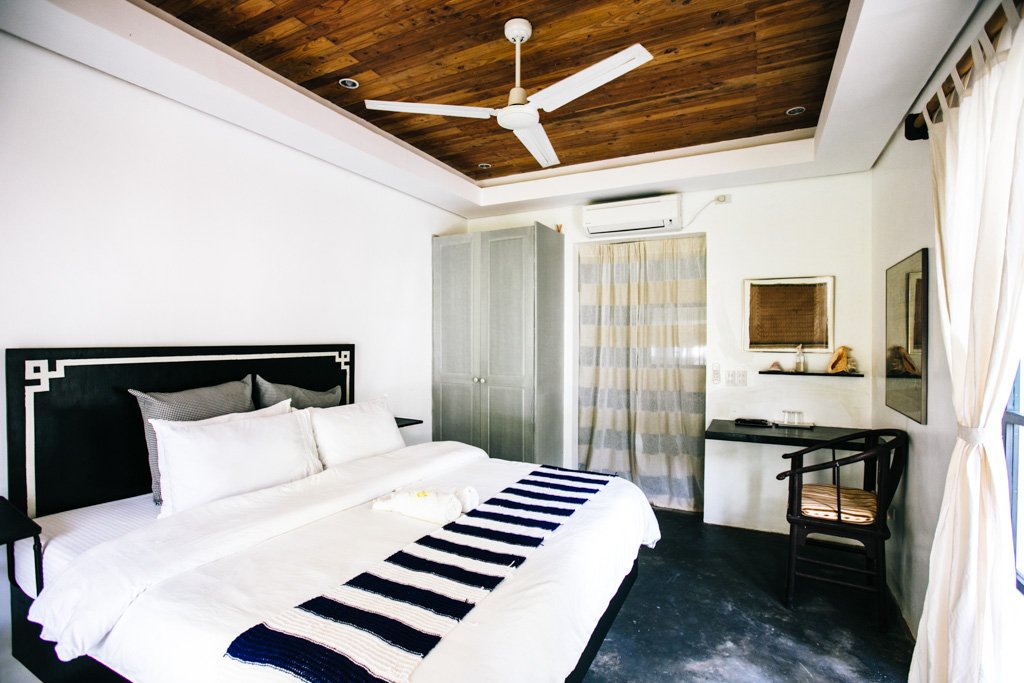 Lux Siargao Boutique Resort is about a 15 minute drive from Kermit and a 15 minute walk from the famous Cloud 9 surf boardwalk. Though Kermit is where all the action is, you can still book all the same activities at Lux, and surf and yoga instructors are happy to drive up to Lux to work with you. And for excursions, you can either book a private tour which will pick your group up at Lux, or you can opt to join a mixed group departing from Kermit and they will shuttle you there from Lux (which is what I did for my Sugba Lagoon tour).
That might seem like a slight hassle, but it was wonderful being removed from the noise and excitement in the heart of General Luna. And that's kind of the point of staying at Lux, where you can retreat to your peaceful beachfront abode after a day of island adventuring.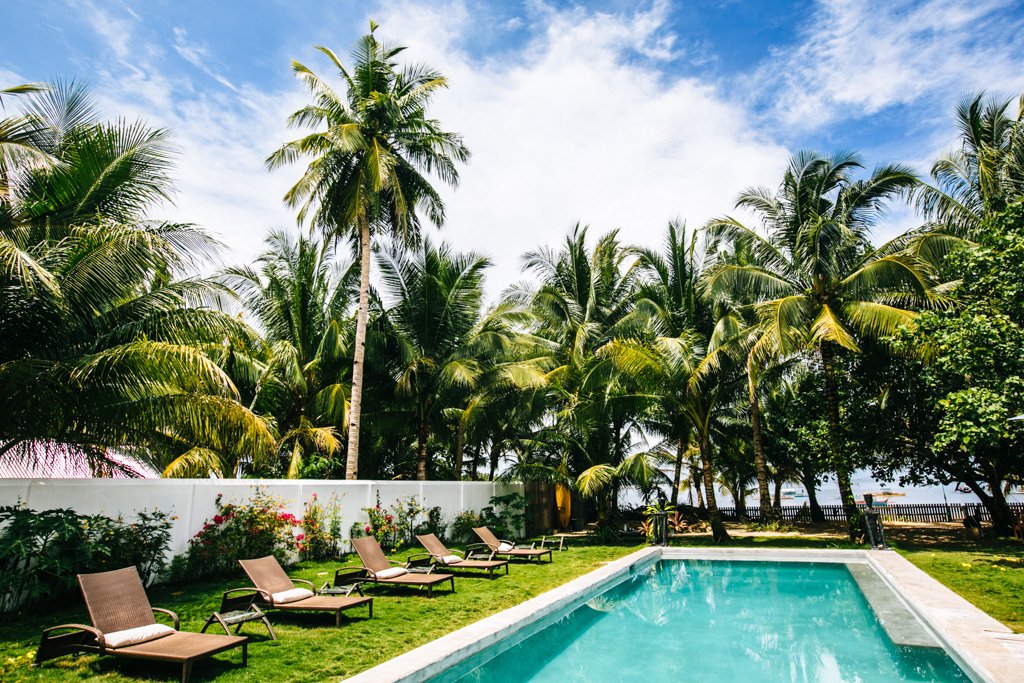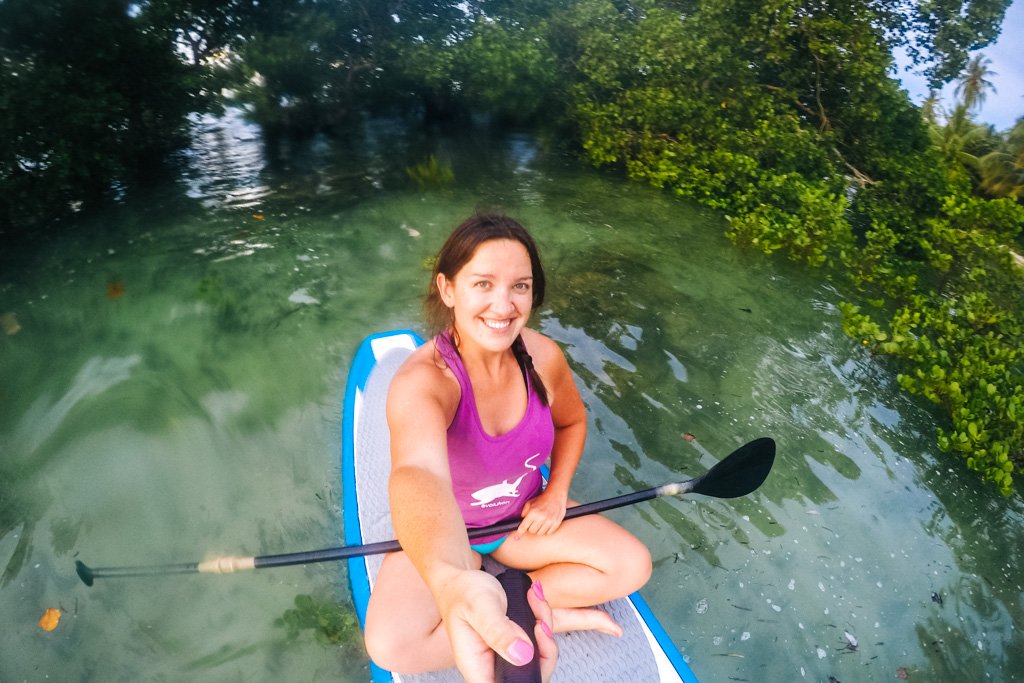 I spent my first day at Lux almost entirely on the property, recovering from my surf lessons and taking a break from all the organized activities. I burrowed in their hammocks, took one of their paddleboards out to the mangroves, and curled up on the couch with my laptop. And with just a handful of rooms on the property, I was the only guest around all day which was super ideal for getting work done.
Basically it was like I was bumming around at home, doing all my usual and favorite routine things… which probably sounds a little boring, but when you're constantly on the road and shuffling between beds and living spaces, you really start to cherish the rare days where you're able to get comfortable and enjoy some semblance of a routine. Major bonus when your temporary home is so rad that you can step outside your bedroom door and be right in front of the pool, or have pan seared tuna brought out to you while your face is glued to your computer screen!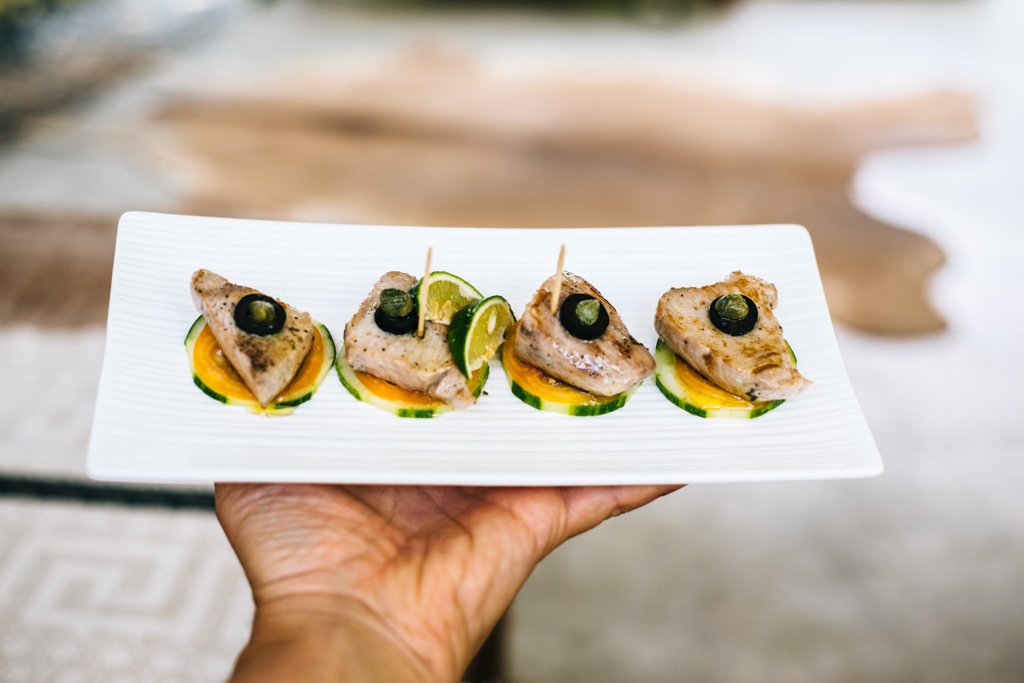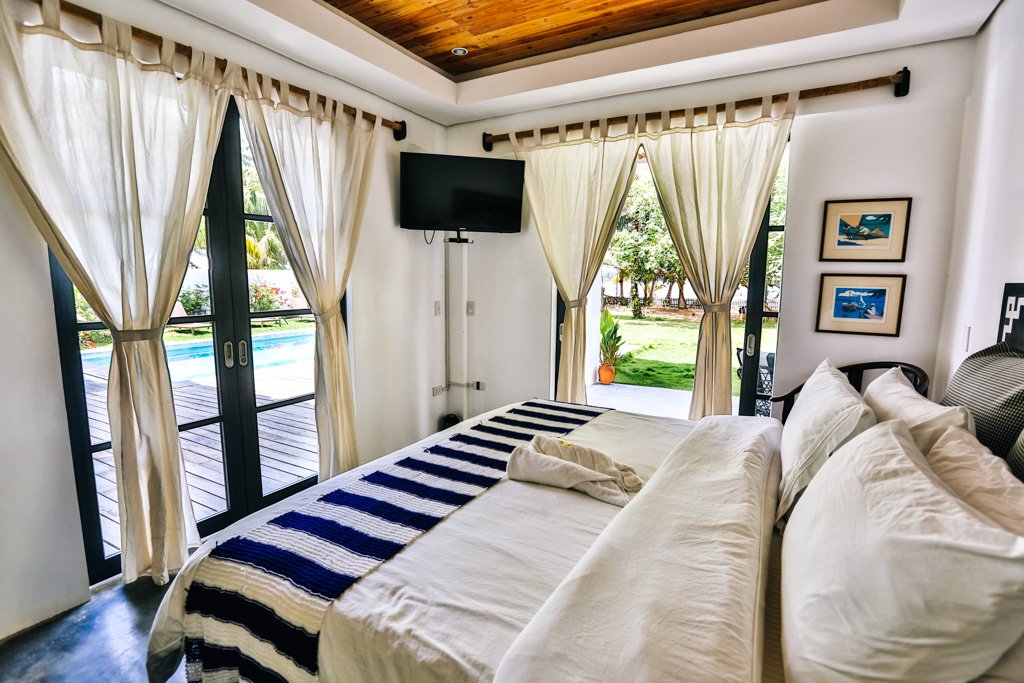 The fancy digs and fancy fish were indeed awesome, but the best thing about staying at Lux was how welcomed and "at home" I felt there. My favorite thing was just hanging out in the living room with the staff, all of us on our laptops well into the evening. They were constantly offering me free desserts and even invited me one night to join them for a special dinner they were preparing for themselves.
I was constantly impressed by how friendly and welcoming the filipinos were throughout my trip, but the staff at Lux were far and away the most wonderful of them all. I was so sad to leave!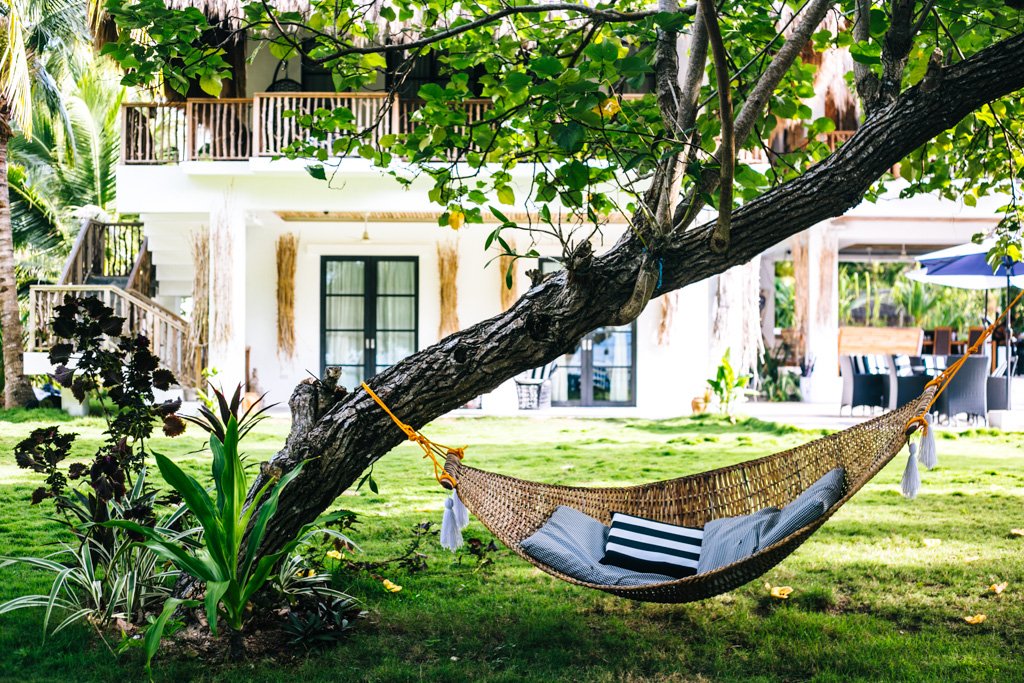 Final Words On Siargao
First, let me disclose that this experience was sponsored by Kermit Siargao. I'm always a little self-conscious about how I share experiences like this because it's easy to slip into a mode where you get a little too enthusiastic about recommending something, out of obligation to your sponsor.
It's especially problematic for me because, well, I'm really freakin' enthusiastic about most things I enjoy in life! I get excited very easily. I'm sure that reflects in my writing, maybe to the point where you can't always discern which experiences were awesome vs. super-duper-awesome.
So I just want to say that my experience on Siargao falls into (and perhaps even surpasses) the super-duper-awesome category, and that I tried to tone down the enthusiasm in this post so that it didn't sound like I was trying to sell the experience to you… but completely failed. I just can't do it. I loved the bejesus of Siargao and yes, I so badly want you to love it too!
My Best Siargao Tip
Here's what I'd recommend to you, and to my future self who is dead set on returning to Siargao in the near future: Book your stay at Kermit Siargao several months in advance, for as many days as you can spare. So many people told me this and I didn't believe them, but it's true: no matter what, you won't have enough time on this island, and you won't want to leave. Trust me on this. I wish I'd trusted them!
Kermit's surf packages are really great because they include quite literally everything you need in order to have the best surf vacation ever. You get to surf every day, then recover with yoga or a massage onsite (believe me, your shoulders will need this). The best part is that it's totally customized to your needs. Whether you're learning how to surf, or just need someone to guide you and provide tips on improving your technique, they'll set you up with an instructor who will choose the right surf spots for you.
Alternatively, you can book your accommodation only and then add on Siargao surf lessons as desired (500P/US$10 per hr) as I did, which might be the safer option if you're not sure how much you'll want to surf. The package is a better deal though, includes lots of extras, and lets you surf with the same instructor throughout your stay.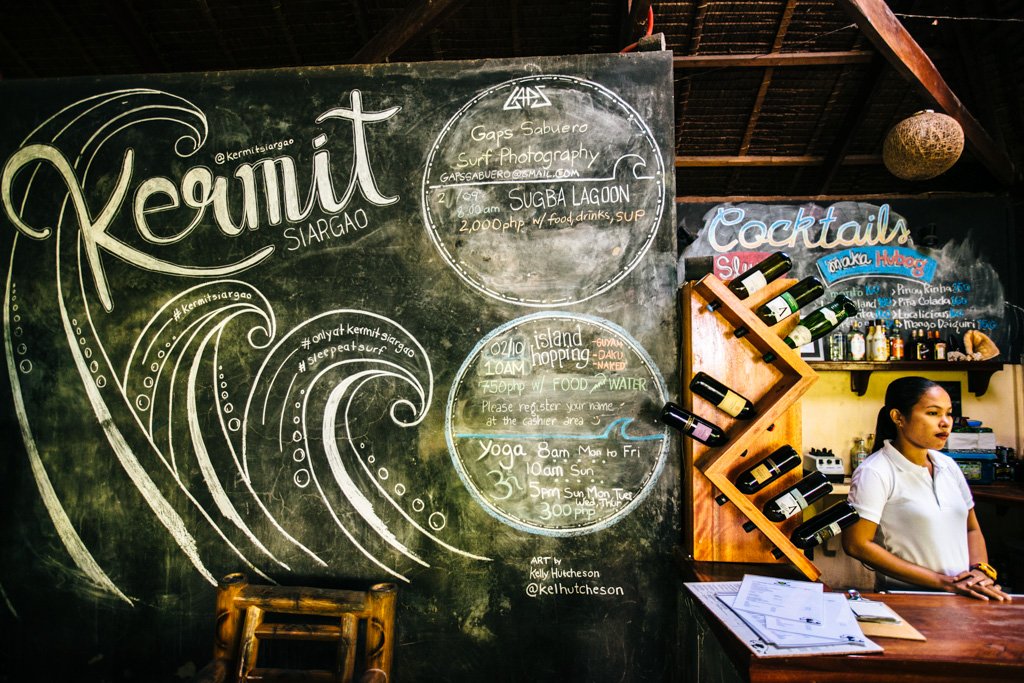 Kermit vs. Lux: Where Should You Stay?
Having loved my time at both resorts, I highly recommend both Kermit and Lux as a place to stay in Siargao. I actually stayed at 4 different resorts while in Siargao and these two were by far my favorites.
Stay at Kermit if you're traveling solo, on a budget, want to make loads of new friends, looking to go out at night, prefer to be closer to the action.
Stay at Lux if you're traveling with a group/family or a partner, prefer to have your own quiet space, don't mind spending a bit more money, value high quality boutique/luxury accommodation with excellent service.
Many thanks to Kermit Siargao and Lux Siargao Boutique Resort for hosting me on Siargao. As always, all opinions expressed here and elsewhere on this blog are my unbiased own, and are uninfluenced by any gifts or incentives I may receive.
Frugal Facts
As of April 2019 —
The only way to reach Siargao by plane is by flying from Manila or Cebu with Cebu Pacific Air or Skyjet Airlines. At Siargao Airport, you can catch the shuttle into town for 300PHP (US$6), no booking required.
Accommodation at Kermit Siargao is very affordable, ranging from a US$35 backpacker room (1800PHP for 2 people) to cottages and bungalows in the $58-68 range for 2 people (3000-3500PHP). All rooms include breakfast. Surf lessons cost about US$23/hour (1200PHP) and include a surf board rental, otherwise they are included if you book a surf package.
Rooms at Lux Siargao Boutique Resort start at 4200PHP/night (US$86/night) for 2 people and include breakfast.
CLICK TO BOOK ACCOMMODATION IN SIARGAO
Pin it!