I had every intention of taking advantage of all the adventure activities Rishikesh, India has on offer. Rafting, camping, rappelling, hiking, bungee jumping – not to mention, it's the yoga capital of the WORLD. With a sizable offering of active endeavors, it's so easy to keep busy there.
But during my 5 days in Rishikesh, in uncharacteristic form, I clocked in with a grand total of *zero* of these activities! All I wanted to do was decompress after a week of pure chaos in Rajasthan. So I chilled out. I fell into a routine of sleeping 10 hours a night, maybe starting off my day with a yoga class if I woke up in time, having a leisurely brunch with new friends, and then wandering around all afternoon.
RIshikesh was a breath of fresh air – literally and figuratively. There, I was able to soak up the beautiful scenery and rejuvenate myself before continuing on with my journey through India.
If you're in the mood to relax and take a break from adventure travel, here are 5 ways to chill out in Rishikesh: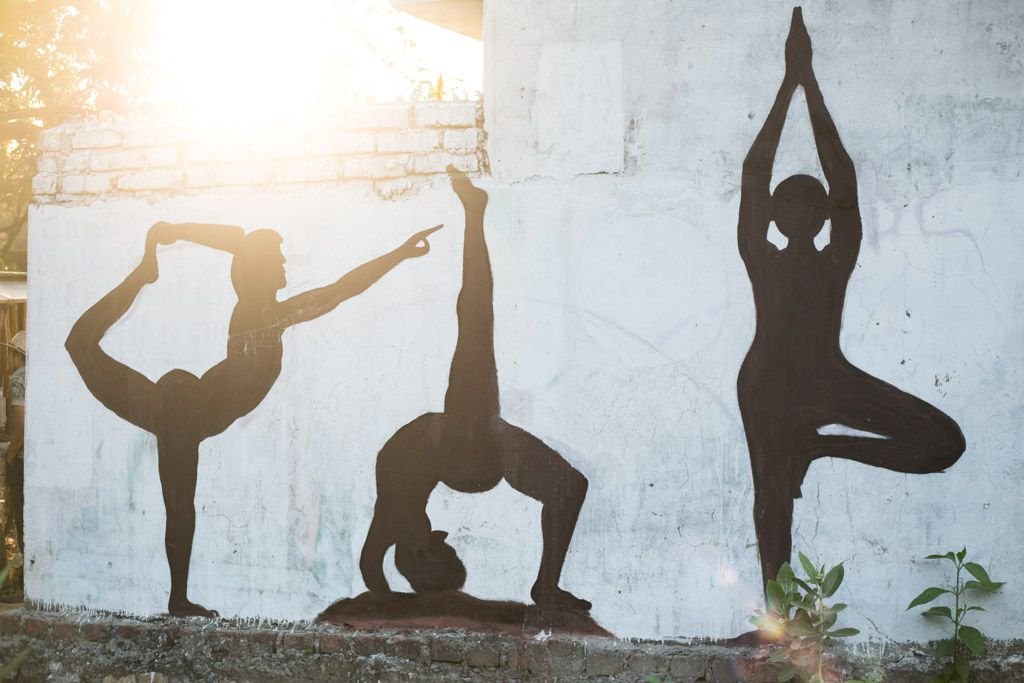 1. Yoga, yoga, yoga
Rishikesh is practically synonymous with yoga. You can't walk down a single street without being bombarded with signs for yoga classes. Hatha yoga is the traditional form practiced in India, but others such as iyengar and ashtanga yoga are also on offer. Normally classes are held around 8:30am and 5:00pm every day and are 1.5 hours long (and often they run over, so they end up being nearly 2 hours long).
If you're a beginner or a casual yoga do-er, you'd probably be fine dropping in on any beginner or open level yoga class. If you're more serious about your practice, your best bet is to talk to other travelers (ideally those who are in Rishikesh for weeks practicing yoga – there are MANY who do just this!) and see if they can recommend any good classes in town. Some instructors are so popular that you should get to class super early to ensure your spot!
1b. Meditate
Almost as prevalent as yoga classes, you can complement your yoga routine with some meditation classes in Rishikesh. (I did not take any meditation classes, so I can't speak much to them!)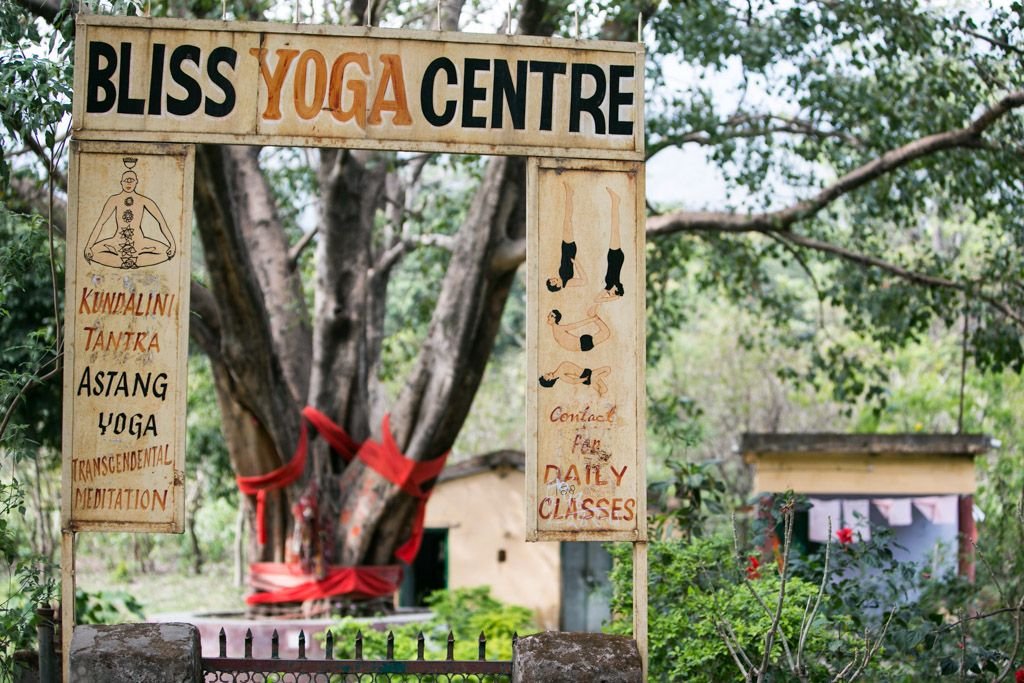 2. Cafe Hopping
Cafe hopping is one of my favorite activities in general, so I'm always looking to practice it whenever I travel. Rishikesh has all sorts of cafes set along the river, so you could hop around to several different ones and sample the varying drinks and views of the Ganges. Most of them even have free wifi, which was perfect for getting work done (i.e. writing for this blog!).
My favorite cafes were located on the south side of Laxman Jhula (the middle of the 3 'neighborhoods' in Rishikesh):
Paradise Cafe – (pictured below) has THE BEST view of the Ganges on a platform overlooking the river and bridge. I would sit here for hours and alternate between writing, reading, and looking at the amazing view.
Pyramid Cafe – has really cheap and delicious organic food (and much of it is non-Indian!). It's set in the hills above the main road, but definitely worth the uphill trek.
Pumpernickle Bakery – I was lured here by the amazing(ly cheap) baked goods on display in the entrance, and they definitely didn't disappoint! There's also a nice space inside to hang out and read, plus a balcony overlooking the Ganges.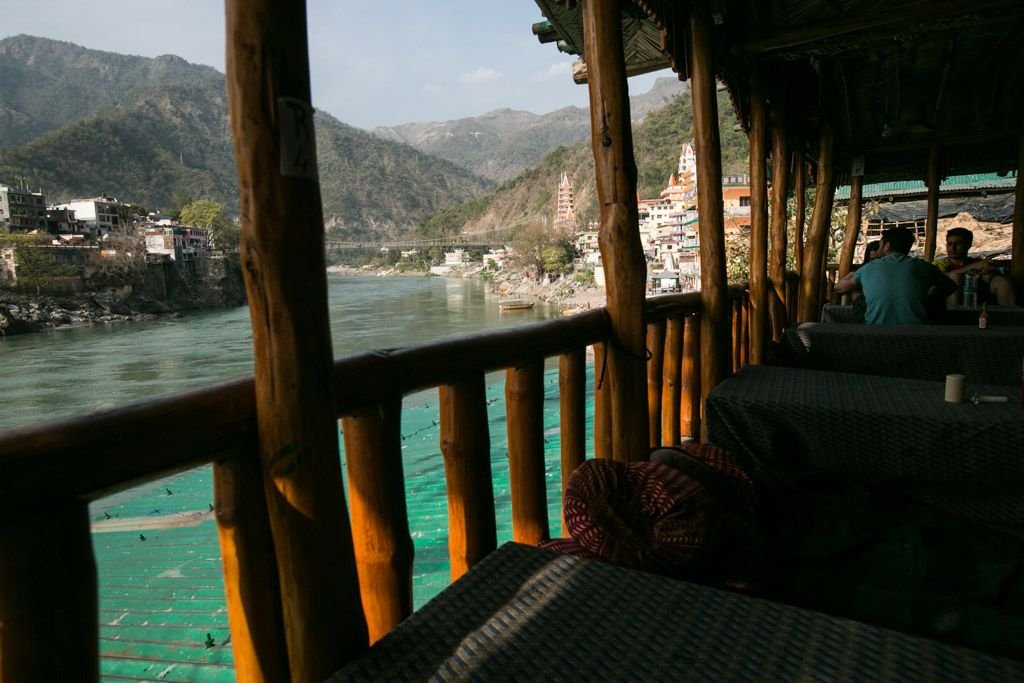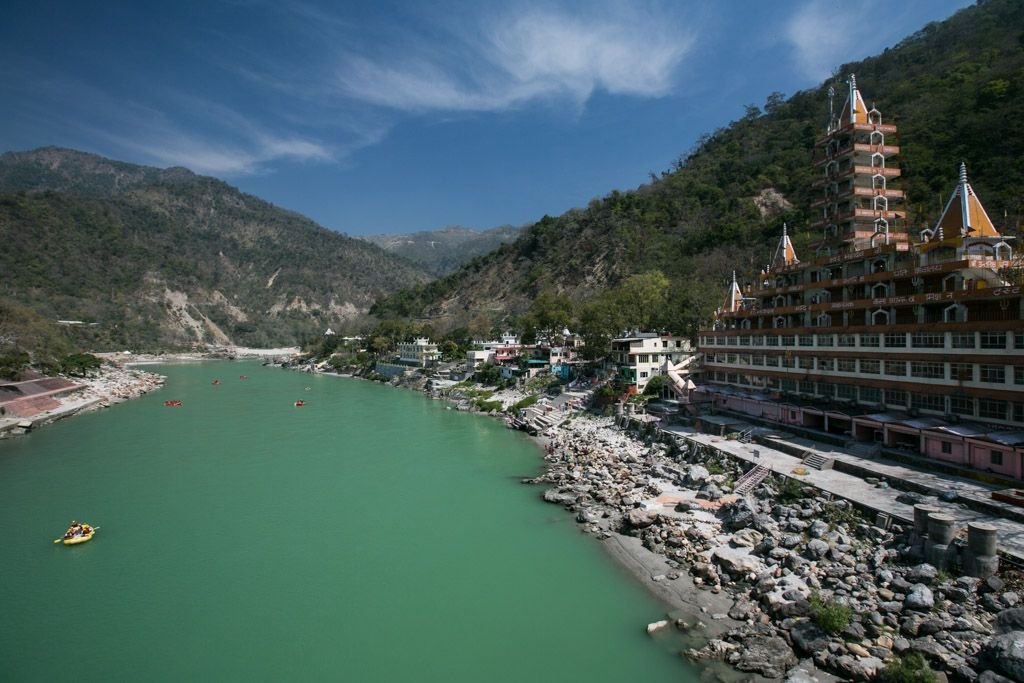 3. Go to the Ganges
The Ganges is the focal point of Rishikesh. If you don't go *in* it, at least get as close as you can to it! For an up close and personal experience, you can swim or bathe in the river (though if you're a woman, it's probably not a good idea), or go rafting. Rafting trips run constantly each day from sunrise to sunset and vary in length and grade. The quick and easy raft rides just take you through Rishikesh, but other trips start 15-20km upstream. Rafting trips are advertised all over the place in town, so you'll have no trouble booking one. You can either book just the rafting, or a combination of rafting and camping/hiking/rappelling.
Alternatively, if you don't feel like getting wet, there is a stretch of rocky beach just north of Ram Jhula (south side). I spent most evenings sitting on the rocks, dipping my feet in the river and reading a book until sunset. Throw in some beautiful golden sunlight and some acoustic guitar, and it's the perfect end to an afternoon.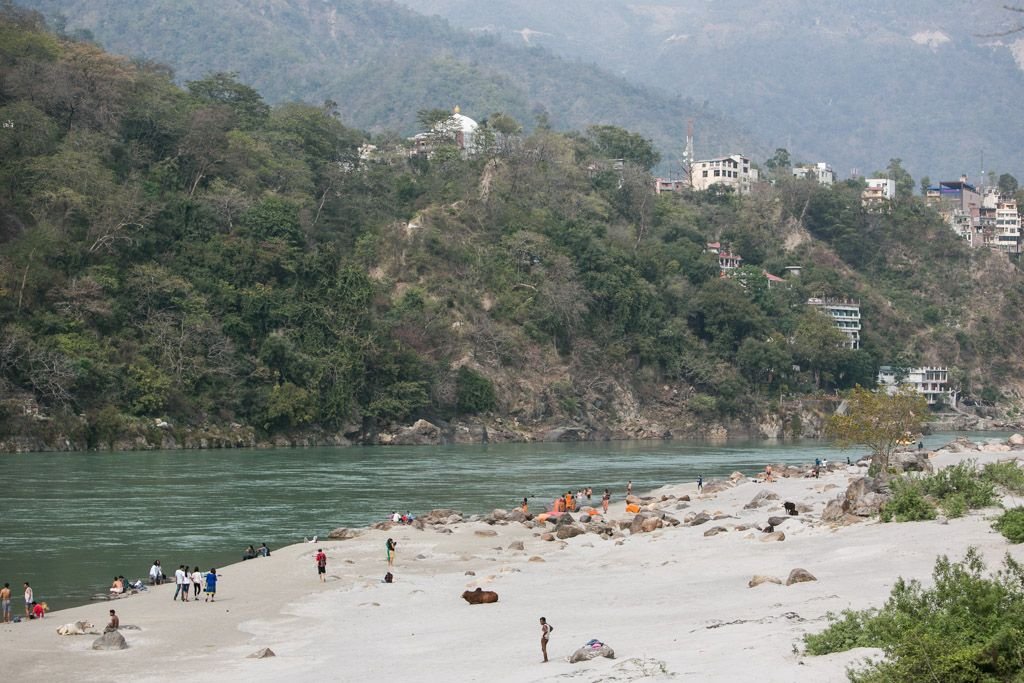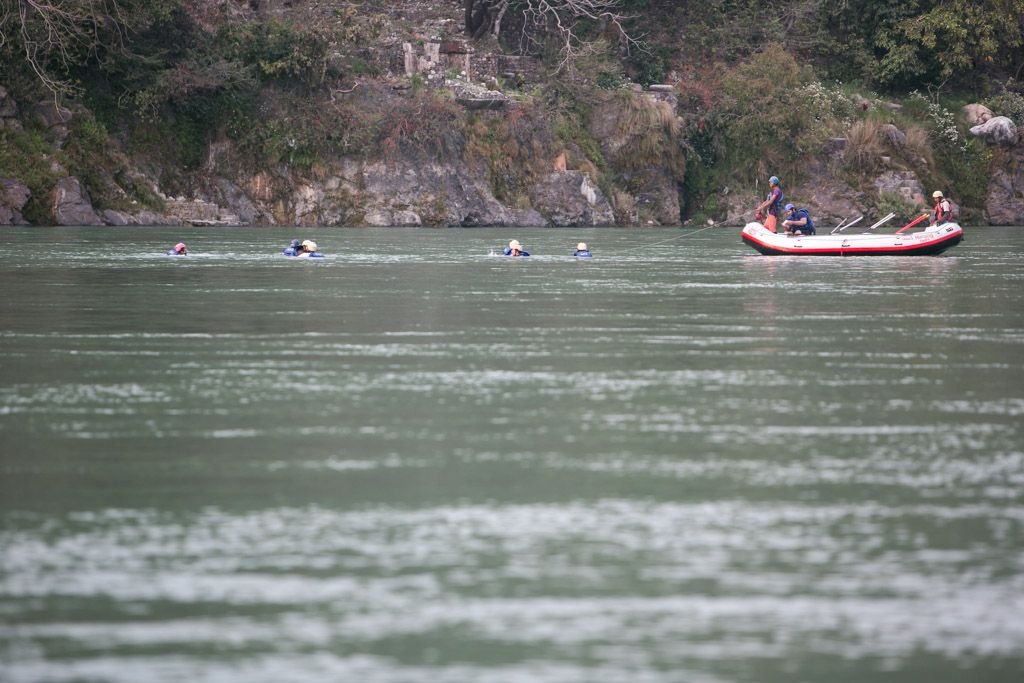 4. Treat yourself to an Ayurvedic Massage in India
Massages in general are a must-do in India (given the affordability), but ayurvedic massages in particular are India's specialty. Prepare to be slathered in all sorts of scented oils! The massage itself focuses on repetitive fluid motions that hit the pressure points, incorporating a bit of yoga as well with the bending of your limbs. I paid about $7.50 for an hour massage and it was quite possibly the most relaxing hour of my life.
5. Witness the Puja in Rishikesh
Every night just before sunset, there is a ceremony on the Ganges down at Swarg Ashram (in Ram Jhula) where people gather on the steps and sing, pray, and chant together. Then right around sunset, some people light a candle and set it down the river as an offering on a little cardboard boat filled with flower petals. It's best to get there 30-45 minutes before sunset to witness this Indian tradition.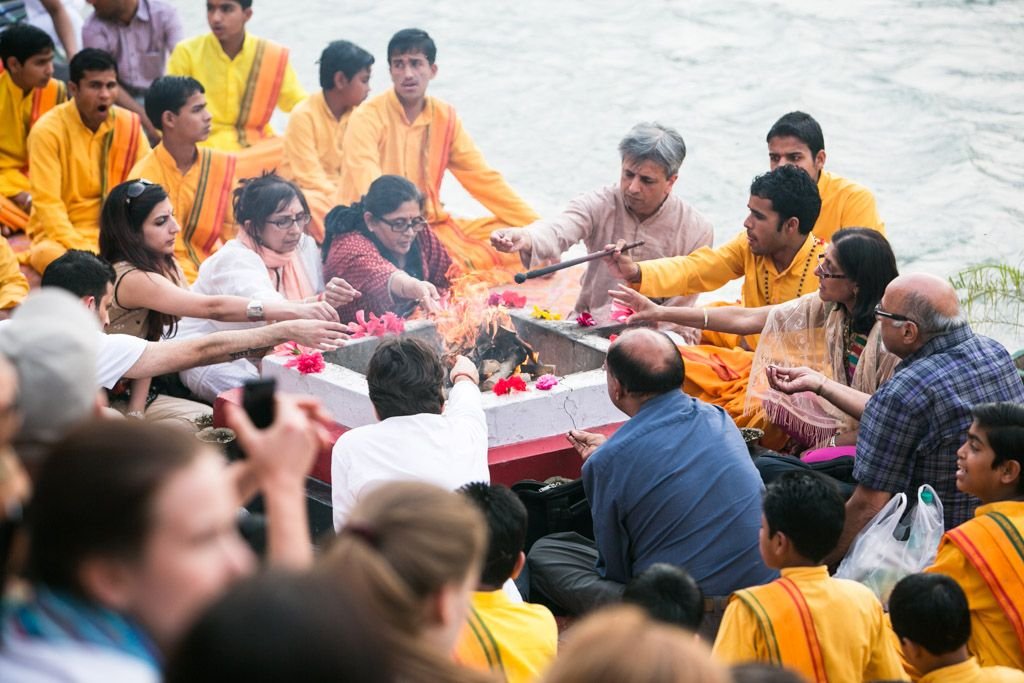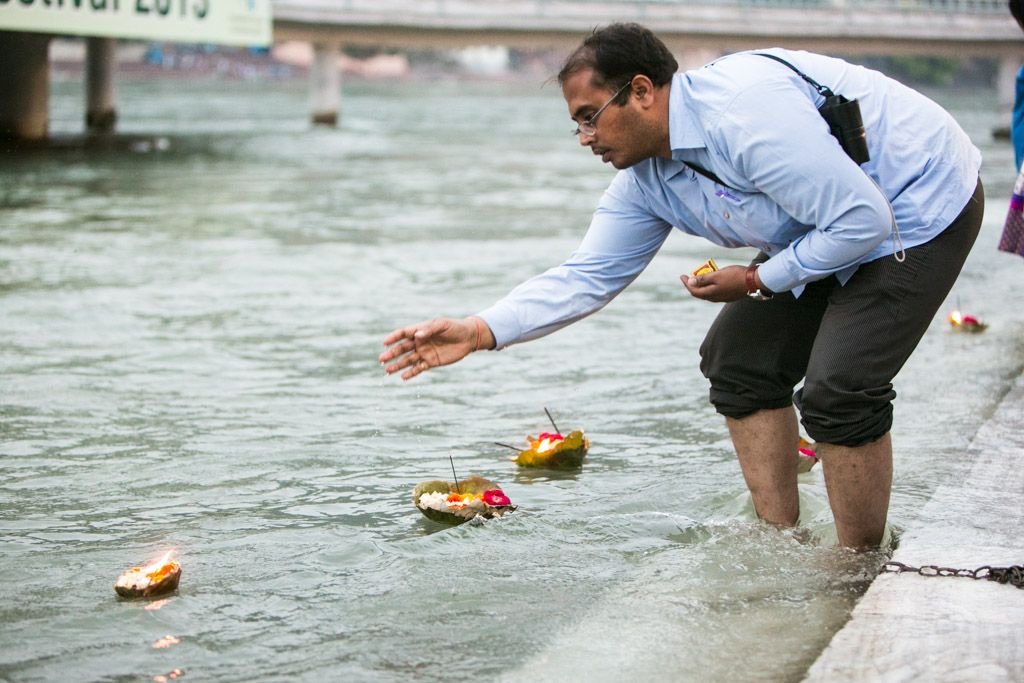 What is your favorite way to relax in Rishikesh?