I've gotta be honest: Accommodation usually falls at the bottom of my travel priorities list. Shouldn't come as a shock to you, since I pretty much write about where I stay, oh, like never. I'd rather spend as much time as possible frolicking outdoors in a new city, and as little time as possible lazing around indoors at a hotel. And since all I really need is a place to crash, I can't be bothered spending any more time or money than necessary booking my accommodation… yannowhatimean?
But every once in awhile, it's nice to take a break from being a frumpy backpacker on the move and savor some (modest) luxuries for a hot second. Whether it's a 5-star hotel in Bangkok or a hip hostel slash local hangout in Reykjavik (keep reading!), I've periodically enjoyed incorporating the hotel experience in my travels.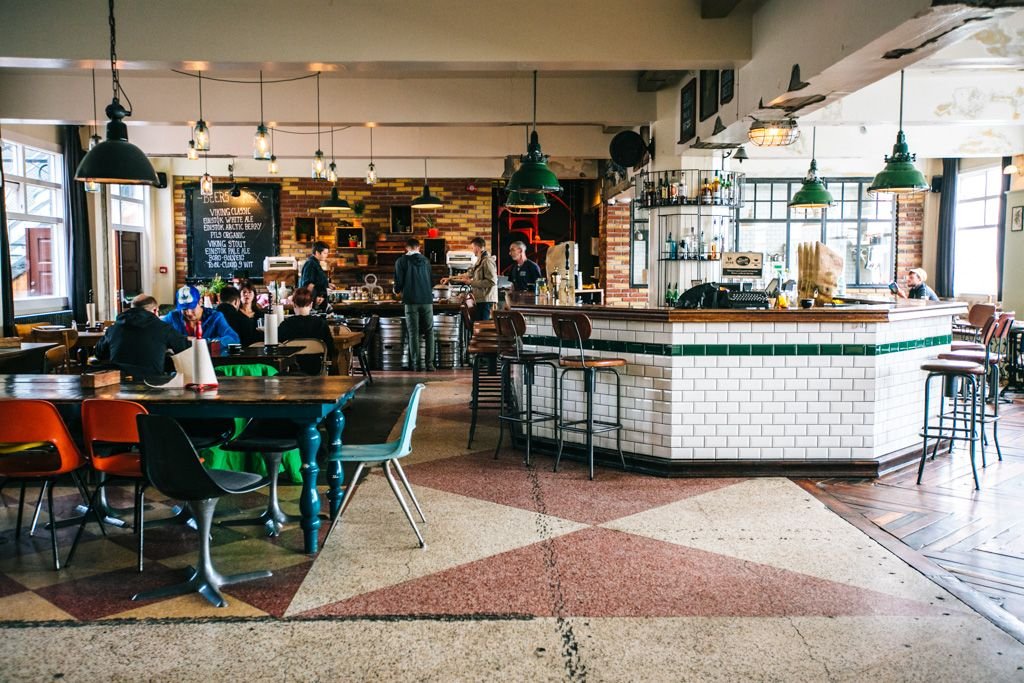 I knew that after two weeks of camping, trekking, and roadtripping in Iceland, I'd want to take it easy on the last night of my trip. Pegged on Google as "a trendy hostel housed in an old biscuit factory," I didn't even need to click any further to decide that Kex Hostel was where I wanted to stay.
And boy, did I choose right. I had a fantastic stay at Kex and it had everything to do with the atmosphere they've cultivated there. Be still, my Brooklyn hipster heart!
Allow me to illustrate —

Drinking at Kex Hostel
Kex is so hip that it's buzzing with locals on weekend nights. How many hostels do you know that are deemed cool by their city's residents?
We couldn't help but stop by the hostel bar to grab *a drink* and see what the fuss was about before venturing out on the town. Two rounds, some food, and a Northern Lights show later, and we'd resigned ourselves to a night at Kex. I was more than happy to spend the evening in a "trendy" yet cozy setting with my friends.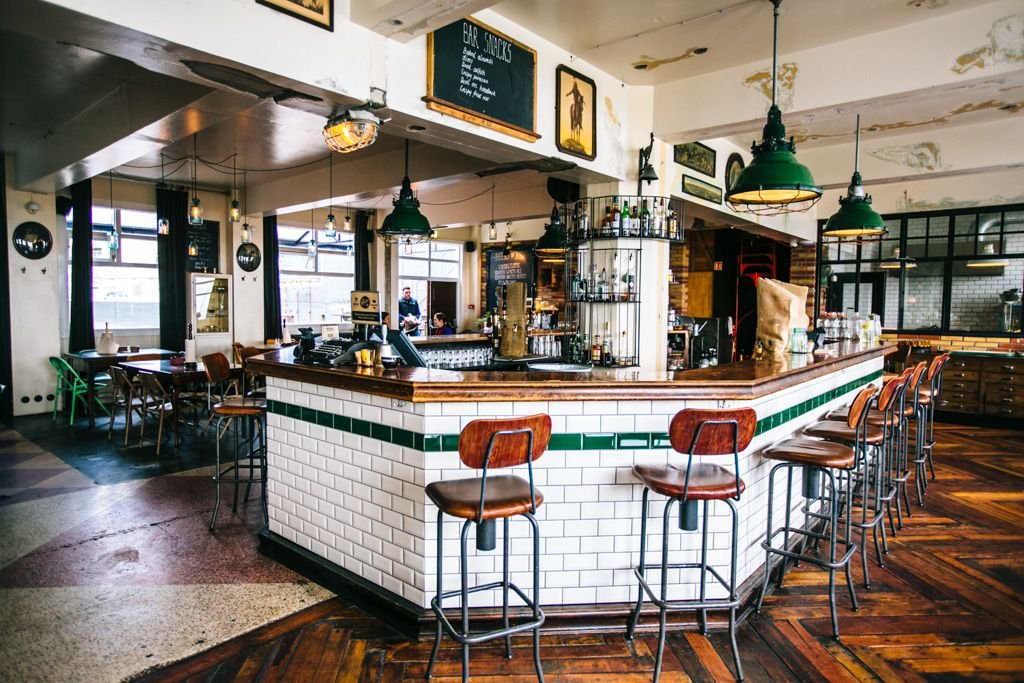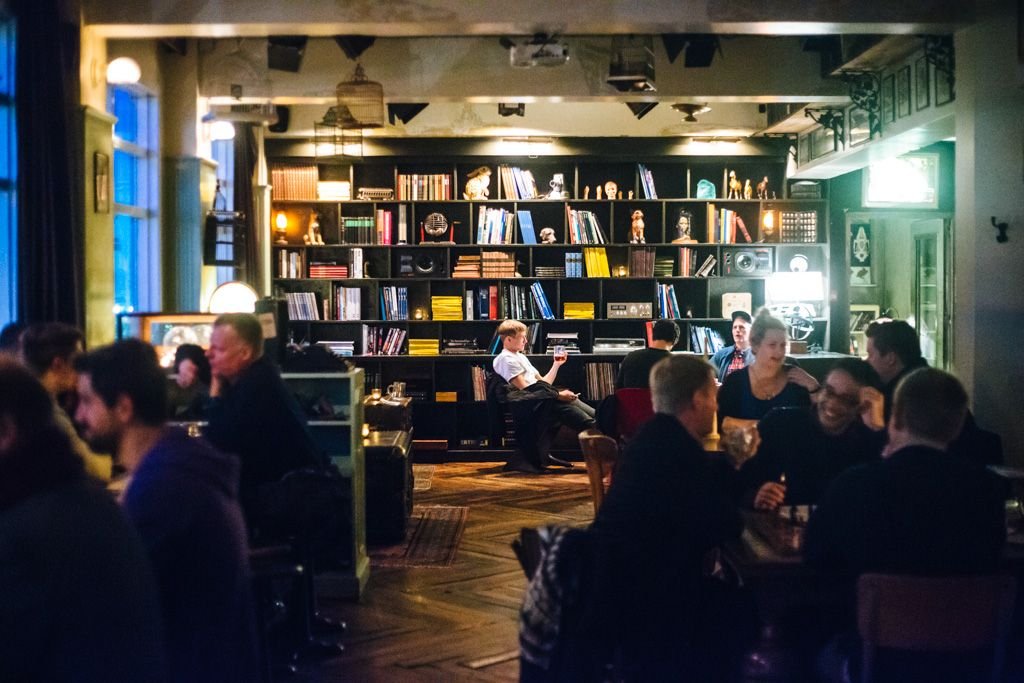 Do these people look like backpackers to you?
Eating at Kex Hostel
Clearly I didn't choose to stay at Kex because I was excited to dine there. But in hindsight maybe I should have, because Kex's in-house restaurant Sæmundur í Sparifötunum was phenomenal. When it became clear that we'd be staying for more than just *a drink*, I took a peek at the menu. On the pubtender's recommendation, I ordered the fried spotted catfish with pickled lemons, burned butter, and almonds – an artisanal meal if I ever saw one.
Now, I have what you might call an unrefined palate. If asked to describe what I'm eating or drinking, I'll reply with something on the bad-meh-good-great-amazing scale. A foodie I am not, that's for sure. But this much I can say: the fish dish I had at Kex was AMAZING.


If you stay at Kex Hostel, I highly recommend shelling out an extra 1450kr ($12 US) for the Baxtur breakfast buffet. And if my word isn't good enough for you, then perhaps an excerpt from the hostel website might entice:
Start the day right with a visit to the BAXTUR breakfast buffet in the Sæmundur dining area, offering a selection of organic Icelandic jams and domestic cheese on slices of freshly-baked bread as well as our special porridge with your choice of toppings. With the lovely aroma wafting from the oven, it's just like the good old days when the building was a biscuit factory.
The photo below is a very modest representation of the breakfast I enjoyed at Kex Hostel. The fresh bread topped with meat, cheese, and tomato was the showstopper for me, but how can you resist fruit salad and skyr (yogurt) served in mason jars?! You can't. And why should you have to when it's a buffet breakfast? Might as well grab some biscuits while you're at it – it's the hostel's namesake, after all.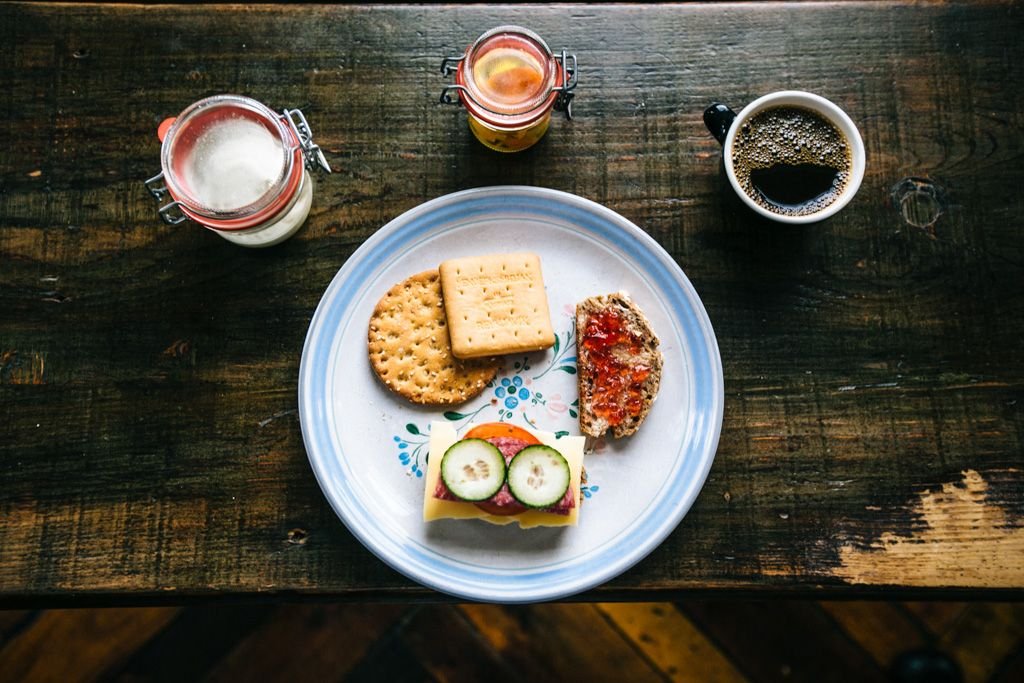 Hanging Out at Kex Hostel
By night, Kex is an Icelandic hipster haunt. By contrast, during the day it's bright and quiet. There are plenty of nooks to curl up in (sometimes literally, if you're a tired traveler waiting awhile for your ride to the airport), from couches and pillowed benches to tables and old school desks. I was so content hanging out there with my laptop in the morning.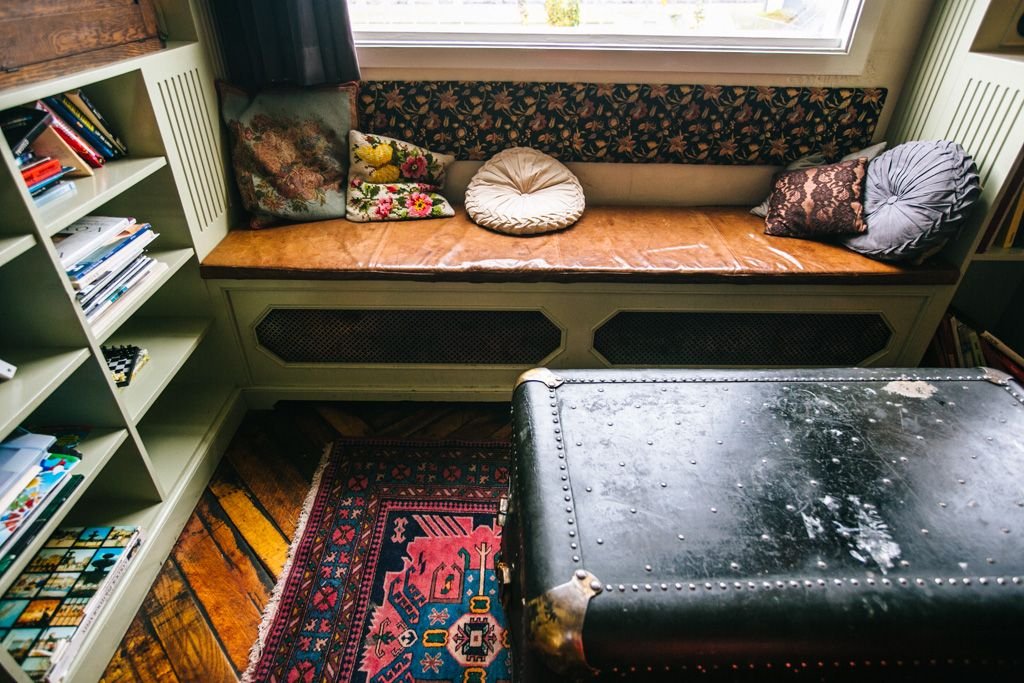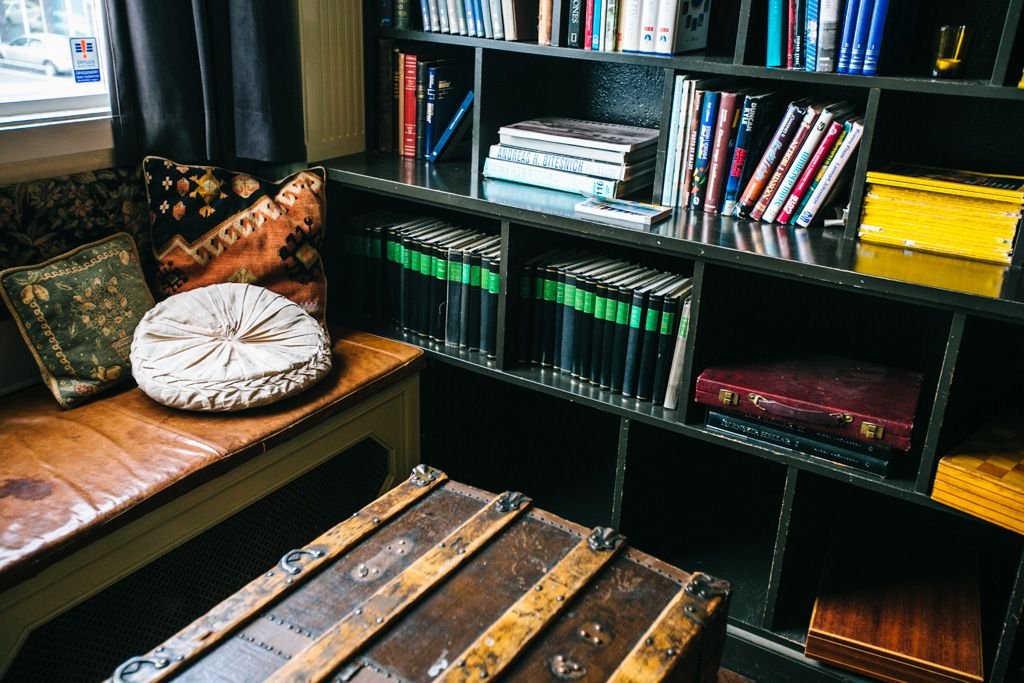 Kex Hostel reminded me so much of the Ace Hotel, especially in terms of decor and ambience. It hardly felt like a backpackers enclave to me. What's really cool is there are so many interesting things to look at: bookshelves containing old record players and globes, walls covered in old bingo cards, stacks of vintage suitcases and trunks, old clocks and bird cages – and magnetic poetry.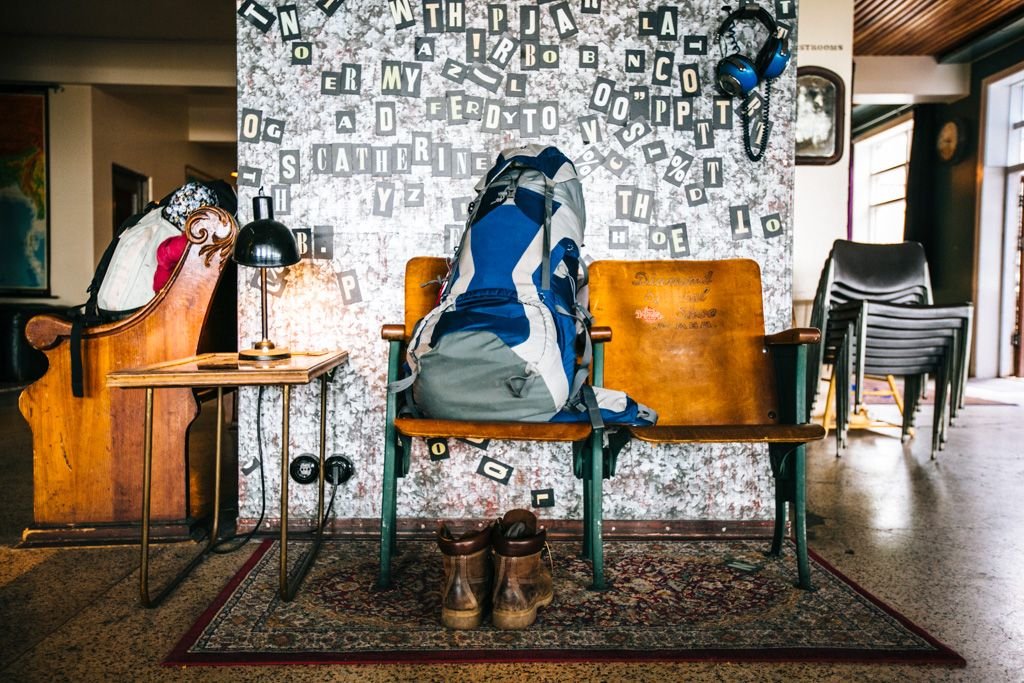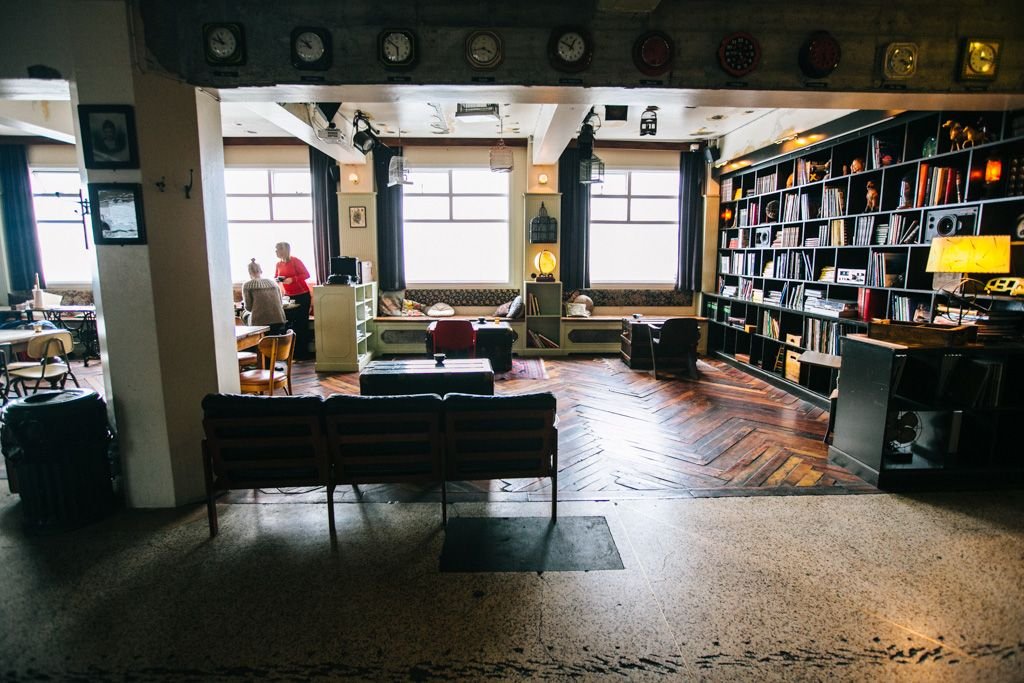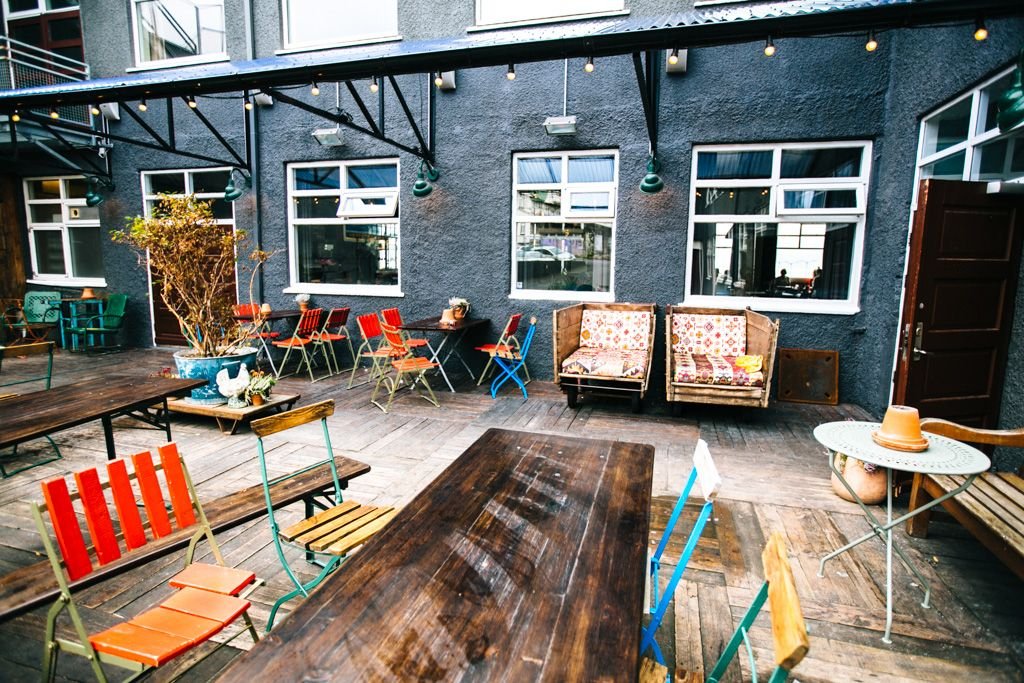 In short, Kex is the most un hostel-like hostel I've ever stayed at. It is so much more than a place to crash for the night – it's an experience in and of itself. I'd highly recommend this Reykjavik hostel!
Thank you to to Kex Hostel for hosting and feeding us on our last day in Reykjavik. Note that all opinions expressed here and elsewhere on this blog are my unbiased own, and are uninfluenced by any gifts or incentives I may receive.