I've made it my mission to sample wine throughout Australia these past couple years.
Which is a little strange for someone who constantly claims to be "not much of a drinker", I know, but that's just a testament to how amazing Aussie wine can be.
I've long since checked the Yarra Valley, Mornington Peninsula, Tamar Valley, Barossa Valley, McLaren Vale, and Margaret River off my wine tasting list, but oddly the wine region closest to Sydney – The Hunter – is precisely the one that had eluded me until recently.
In both Melbourne and Adelaide, there are heaps of wine tours on offer that will shuttle you from winery to winery nearby – so you'd think that Sydney would be the same, right?
But no, oddly there aren't that many wine tours that leave from Sydney. I suspect it's because the Hunter Valley is a bit of a mission to get to, being about 2.5 hours away from the CBD. It seems to be more common for people to head up to the Hunter for a weekend away and tour the region independently, rather than in the form of a day trip from the city.
Most wine tours will take you to 3-5 wineries and feed you lunch at one of them along the way. And that's totally fine because really, aren't you just looking for a designated driver and escort for a boozy day out amongst the vineyards? I know I've never asked for anything more than that of a wine tour.
But then I found Gourmet Getaway Tours.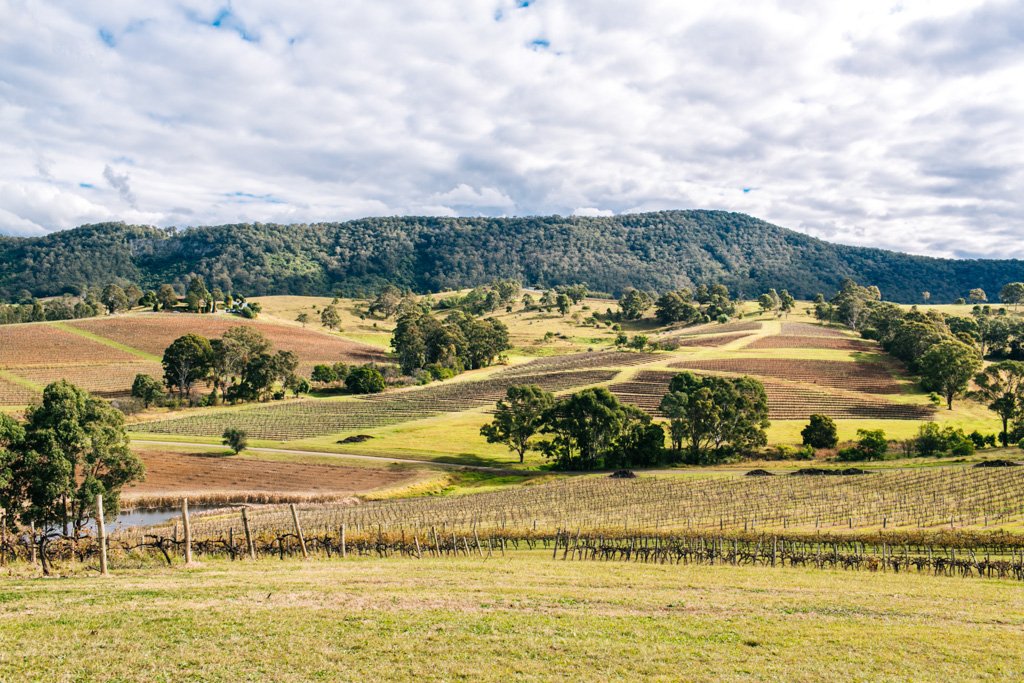 Mt. View Estate.
Not only is Gourmet Getaway Tours one of the few Hunter Valley wine tours from Sydney, but it's also not your standard wine tour.
Because when a chef leads a wine tour, the food is just as important as the wine you sample throughout the day.
And when an entrepreneur gets really creative, they might come up with a brilliant idea like having the tour guide whip up dishes using local ingredients, using a makeshift kitchen in the back of the tour bus, to pair with wines at every tasting stop throughout the day.
OH YEAH, it's a thing. Let me tell you about the awesome day out I had tasting wine and sampling local food around the Hunter with Gourmet Getaway Tours: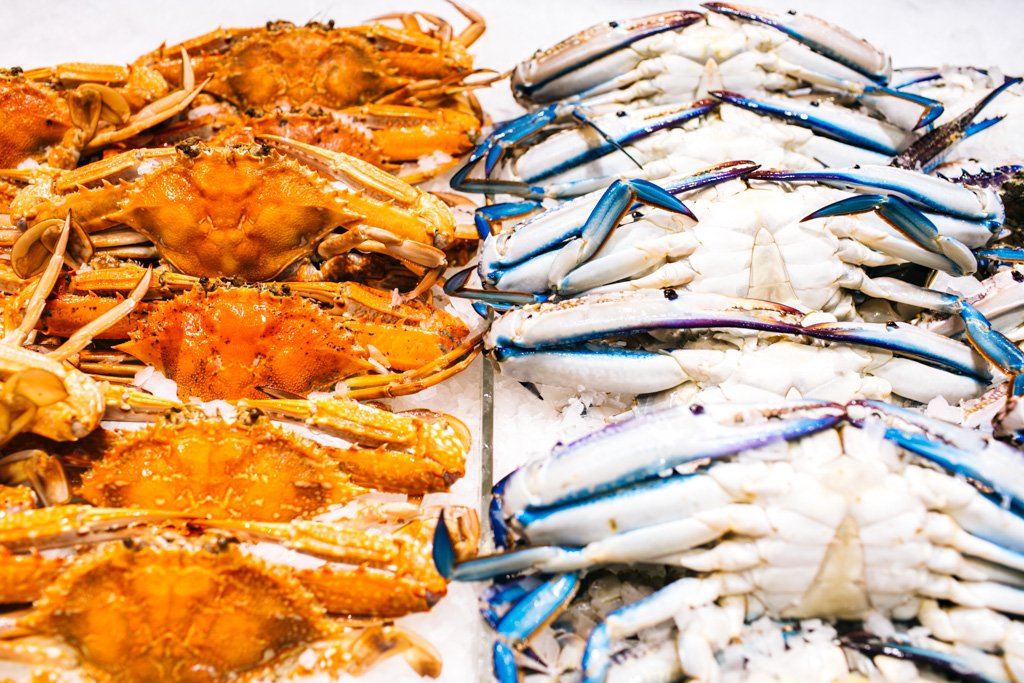 Sydney Fish Market
We kicked off the day at 7am with a quick trip to the famous Sydney Fish Market in Pyrmont. Jimmy, both owner and lead tour guide of GGT, gave us a quick tour of the market and picked up some fresh produce to use to prepare our meals later in the day.
I must admit, I was in an uncaffeinated daze at the start of the day so I may not have absorbed much of what we were told about the fish market. I all but beelined for the nearest coffee outpost inside the building, which just so happened to be Blackwattle Deli. It definitely did the trick.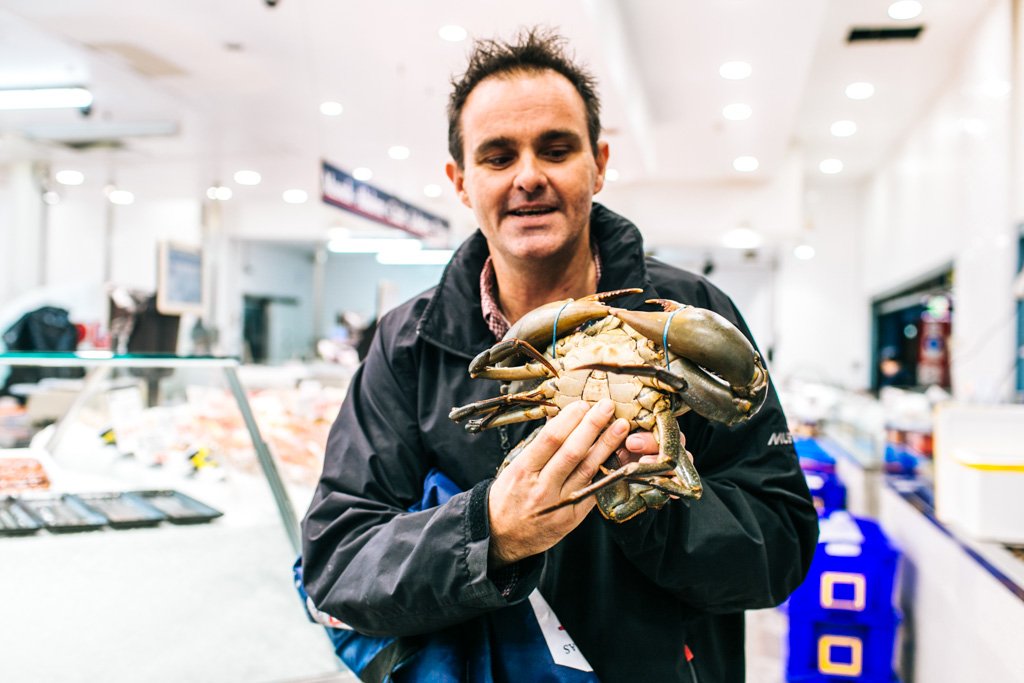 Breakfast on the Hawkesbury River
From Sydney we started heading north to the Hunter, with a breakfast stop about halfway up in a little town called Brooklyn (holler!). I hadn't yet explored the Hawkesbury River region, so I was especially eager to have a look.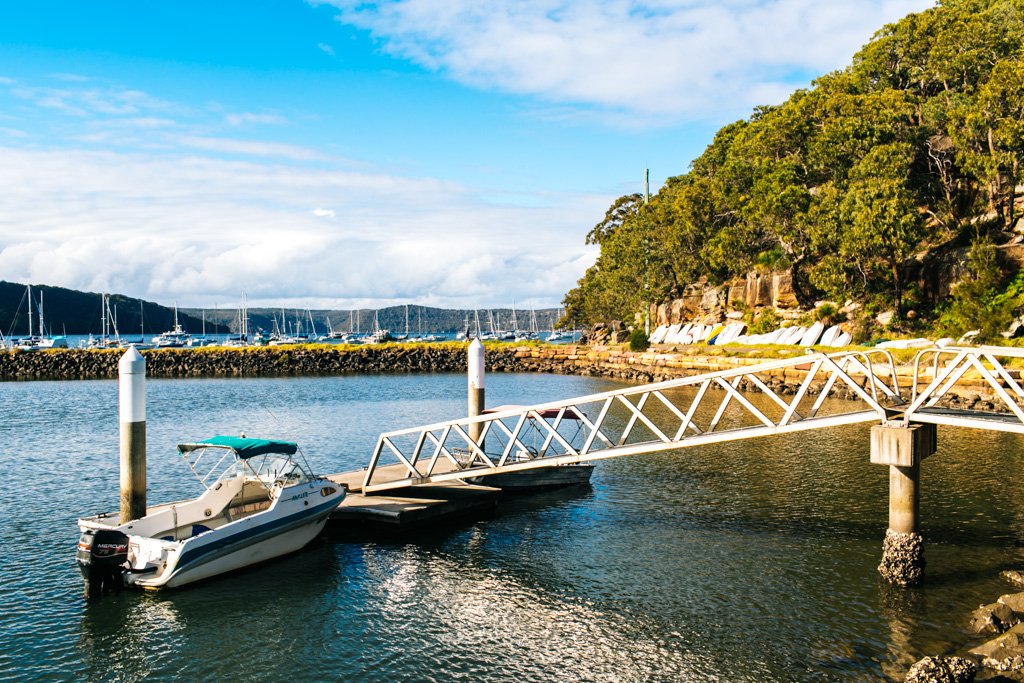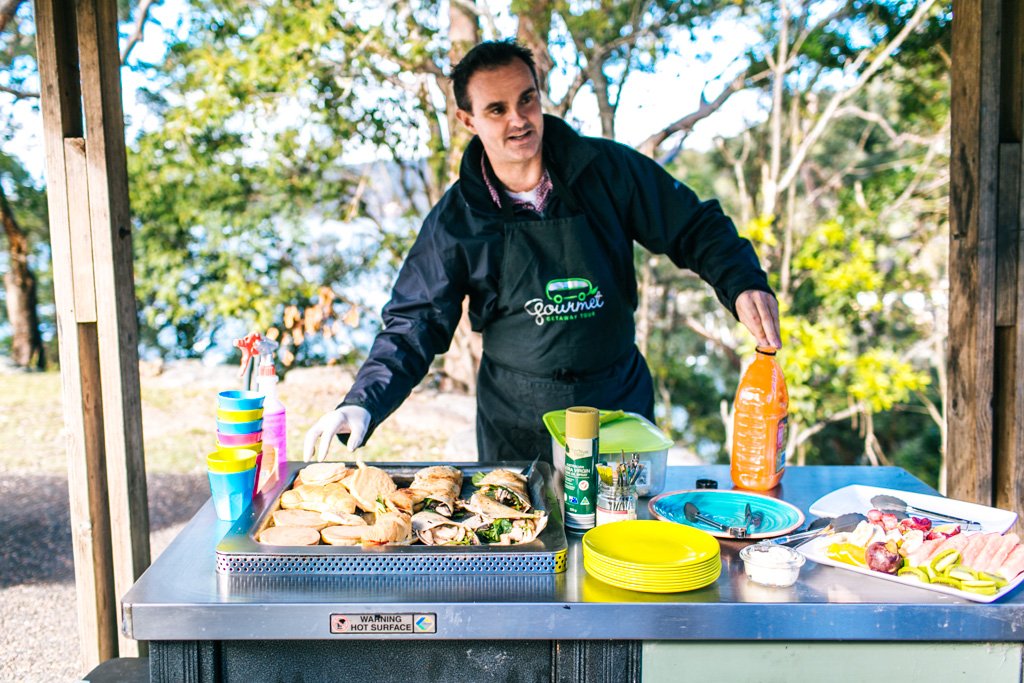 In Australia, there are BBQs like this one at nearly every park or beach that are free to use!
We got to frolic along the river for a bit before settling in for a freshly-cooked breakfast in a nearby picnic area. Fresh fruit, croissants, fajitas, and pikelets made up our breakfast buffet, with banana bread and locally-made banana rum jam being the runaway favorite (UGH so good!).
Then Jimmy put us to work after breakfast and taught us how to make our own sushi rolls! I'm not sure why I always imagined it to be a lot of work – turns out it really is as easy as layering sticky rice and fillings on some seaweed and then rolling the whole thing up. I'm sure the actual prep of the ingredients is what takes the most time.
Either way, the rolls were set aside for our lunch at one of the wineries later on in the day.
Wollombi Wines
Our first tasting stop of the day was Wollombi Wines, a small boutique winery that won me over before I'd even sipped my first wine.
I've visited some pretty damn fancy wineries in this country, complete with fountains, statues, and manicured gardens – and while fancy is impressive for a hot minute, the wineries that really do it for me are the ones that feel like home. You know… cozy and rustic, where you feel like you're tasting wine with friends and family.
That was definitely Wollombi Wines for me. I loved this winery so much!

It honestly felt like we were tasting wine in a friend's home… with a cute kitty wandering around!
We nibbled on some cheese and crackers with our wines – anything more than that right after breakfast and they'd have had to roll us back onto the bus!
I'm usually a red wine and Chardonnay fiend, but I went absolutely nuts over their rosé – so much so that I was reaching for the price list after just one sip of it. I may have gone home with two bottles of the stuff…

Mt. View Estate
The grounds at Mt. View Estate, our second wine tasting stop, were exceedingly beautiful. Unfortunately, being on the cusp of winter, it was a little too cold and windy for me to linger outside for more than a couple minutes. Anyone else a complete pansy when it comes to cold weather?

I loved the sleek, modern look to the cellar door at Mt. View Estate.
I found all of the reserve wines at Mt. View Estate phenomenal – it was like one hit after another as we made our way through the list. The "regular" wines were pretty good too, but the reserves were on a whole other level. I knew I wasn't going to leave the cellar door without a bottle of the 2015 Chardonnay Reserve, so I didn't even bother trying to talk myself out of it.
Jimmy served us a few different tapas here, including asparagus with truffle oil and parmesan, as well as some chorizo and mushrooms – all of which he prepared outside in the kitchen at the back of the bus. It was a perfectly choreographed event, with the right food magically appearing alongside the right wine.
Saddler's Creek Wines
Our last stop of the day was Saddler's Creek Wines. I'm going to be honest with you: I don't remember much about the wines we tasted here beyond the fact that I enjoyed them.
I remember being escorted to a long table in a separate room and sinking down into a cushy chair. I remember getting up to use the toilet not once, not twice, but FIVE TIMES during the hour or so we spent at this winery (oh ya, I'm a joy to road trip with).
No no, I didn't go too hard on the wine tasting, promise. Neither my overactive bladder nor forgetfulness can be blamed on boozin'. I just tend to chug a lot of water at meals and with wine.
And as for the not-remembering bit, well, I was more than slightly distracted by our final food plates of the day: kangaroo, scallops, and creme brulee burnt right in front of us. If I were a foodie, I'd be relaying the finer details of these dishes to you in great detail right now – but alas, all I can say is that multiple foodgasms were had.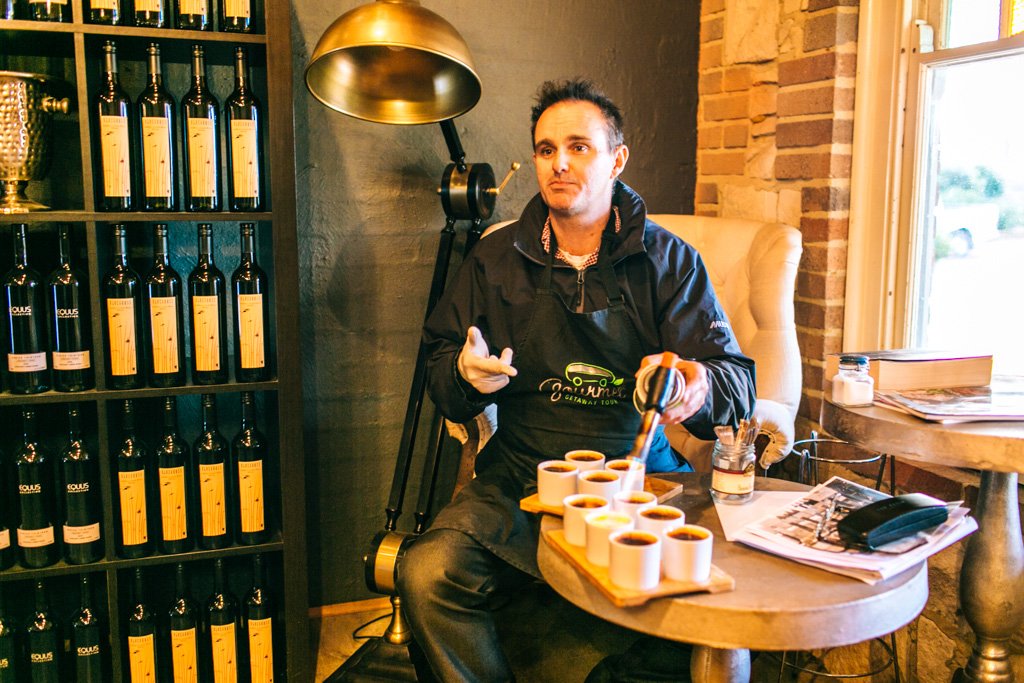 I can't believe a wine tour like this exists! If you're any degree of wino and ever find yourself traveling to Sydney, definitely take this Hunter Valley wine tour with Gourmet Getaway Tours.
Thank you to Gourmet Getaway Tours for taking me on a complimentary wine tour. Note that all opinions expressed here and elsewhere on this blog are my unbiased own, and are uninfluenced by any gifts or incentives I may receive.