Disclaimer: This is a review of a Yarra Valley wine tour from the perspective of a wine enthusiast and avid photographer. As such, the focus is on the overall wine tasting experience, with particular attention to the aesthetics of the vineyards and winery grounds (i.e. less wine snobbery and more pretty pictures).
Right. Just wanted to clear up that I'm not a wine snob, and did not absorb the finer details of all the wines we tasted. I won't be dazzling you with my newfound knowledge of how these wines are made or how to describe the various tastes. With the exception of coffee, my palette remains horribly unrefined.
Instead, I'm going to show you how unbelievably beautiful the Yarra Valley region is. If you're in Melbourne, you absolutely must devote a day to touring the valley and tasting the local wines. The Yarra Valley, like Margaret River and Tasmania, produces cool climate wines. It's best known for Chardonnay and Pinot Noir, but you can find all sorts of varietals here.
Wine aside, the scenery around the Yarra Valley is just stunning. Many of the wineries have built some impressive buildings in which to enjoy some wine or a meal – some of which are equipped with a 5 star view.
With all the landscapes, architecture, and culinary delights, a Yarra Valley wine tour is the perfect way to spend a day outside of Melbourne. Here's what our day out wine tasting with Vinetrekker looked like:
Coldstream Hills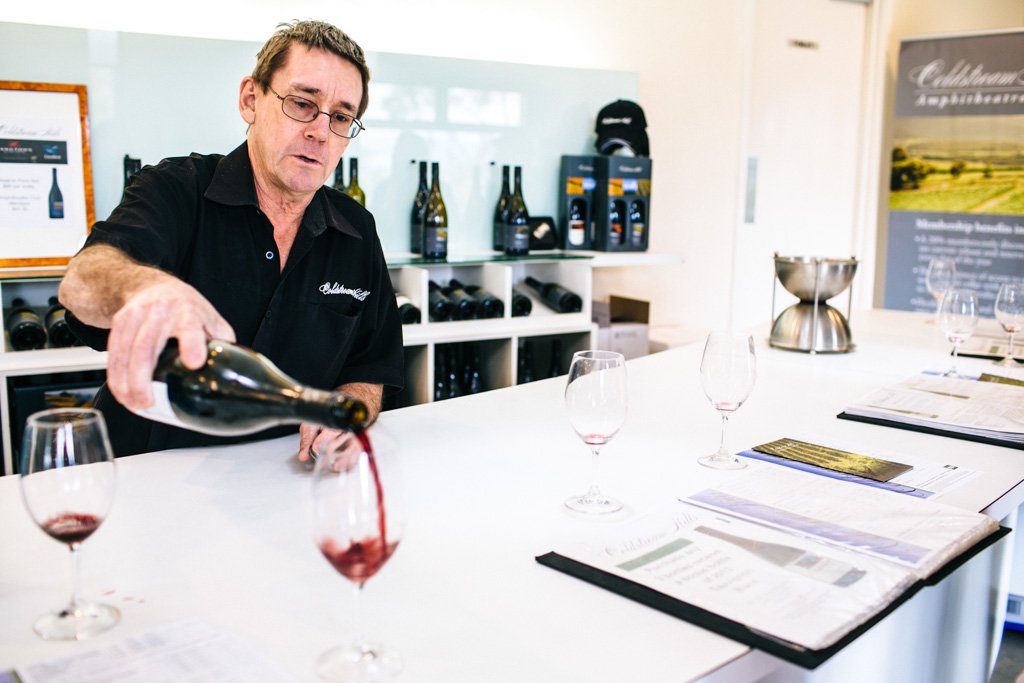 We warmed up our wine taste buds at Coldstream Hills, a rather simple winery that admittedly didn't inspire love at first sight. Our lackluster setting soon became a non-issue as we were served our most generous tasting of the day – I believe it was about 9 wines in total, more than half of which were Chardonnays. Coldstream has an interesting sparkling Pinot Noir Chardonnay. I'd never heard of blending white and red, but in this case it was quite tasty (and the color is more white than red).
With every Chard tasting, my face became more and more akin to the heart-eyed emoji. Aside from coffee, this just might be the best way to start the day!
(Speaking of Chard, I was quickly called out for referring to it as that – apparently that's slang for crystal meth in Australia. Whoops! Guess I shouldn't be proclaiming my love for Chard around these parts!)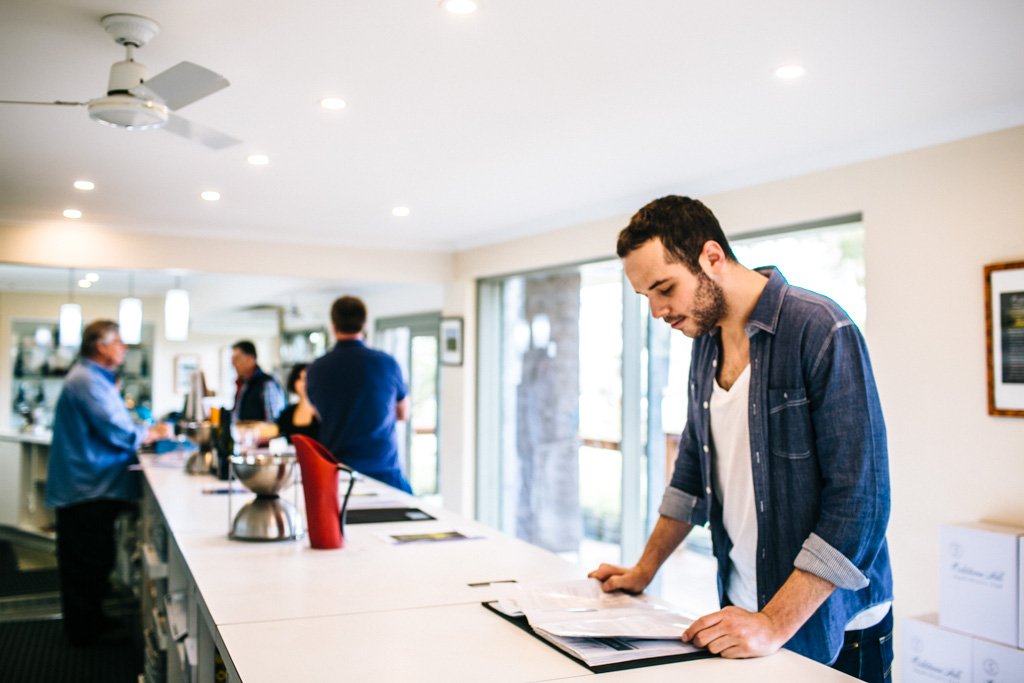 Medhurst Wines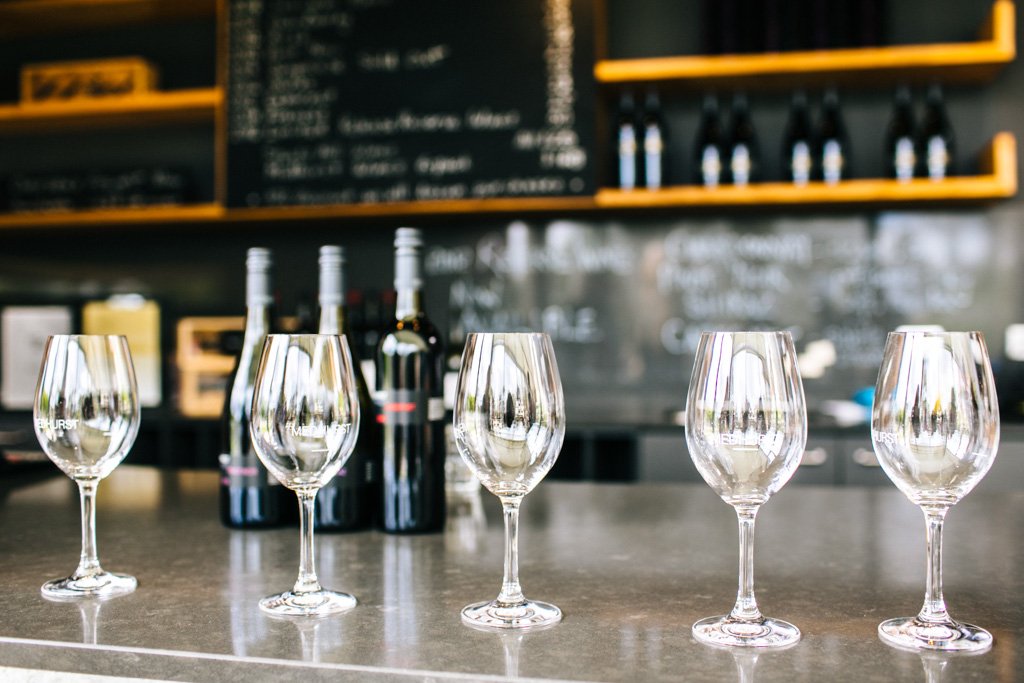 It may have been the glorious light that spilled in through the floor-to-ceiling windows that made me completely adore Medhurst Wines. Or the enticing sweet treats that greeted us by the kitchen door as we walked in. Or the fabulous reclining chairs tempting us just outside, overlooking the hills.
Mostly, I enjoyed the hell out of our Medhurst tasting because this winery seemed more Mom & Poppy than any other I've visited in the Yarra. It felt like we were walking into a family home rather than a corporate facility.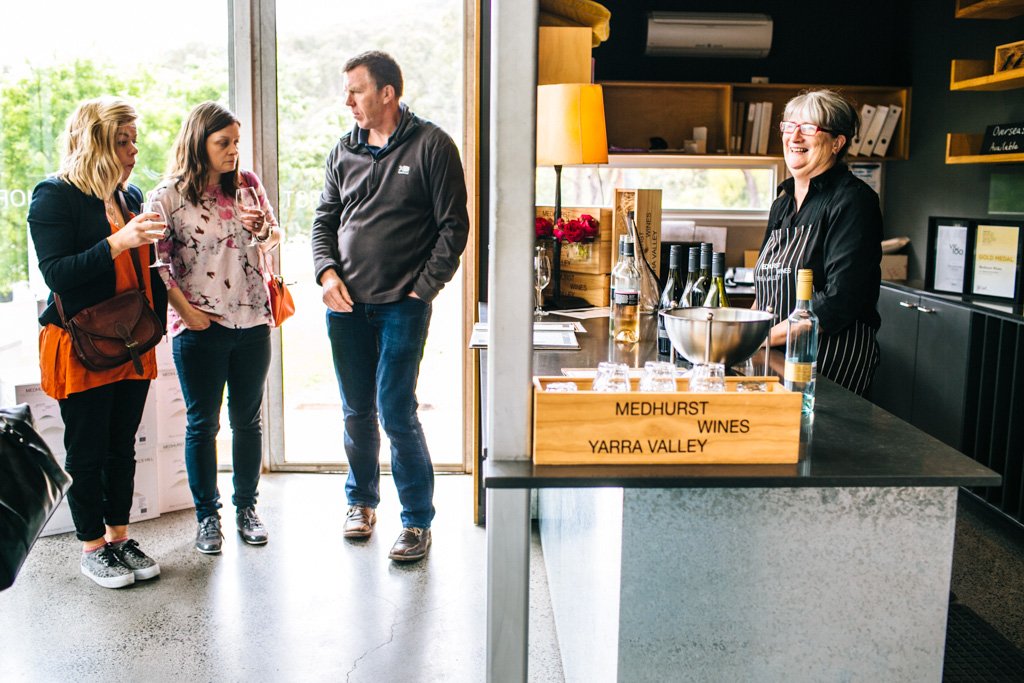 Our guide, Paul, let us know that Medhurst did a pretty excellent vanilla slice. "A slice of what?", I demanded to know. Cake? Pie? Life? Can you be more specific, Australia?
App Guy let me in on the joy that is the Australian Vanilla Slice and snagged one for us to share. It's like a slice of custard, commonly enjoyed during holidays and special occasions here. Judging from how quick we cleared (ahem, vacuumed) the plate, I reckon I'm a fan of this Aussie treat.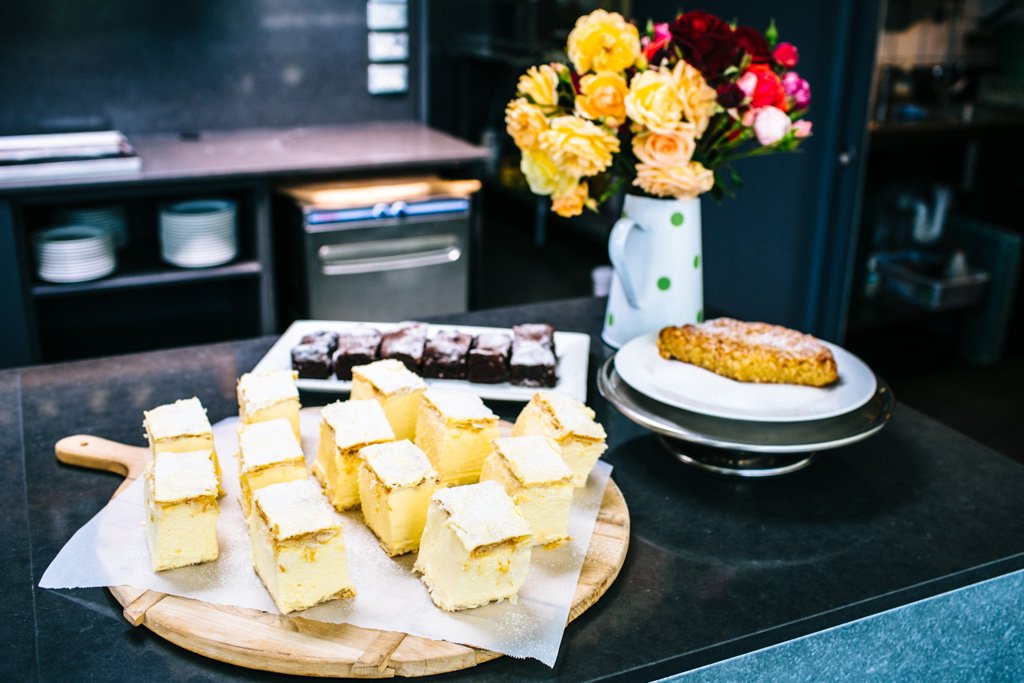 Domaine Chandon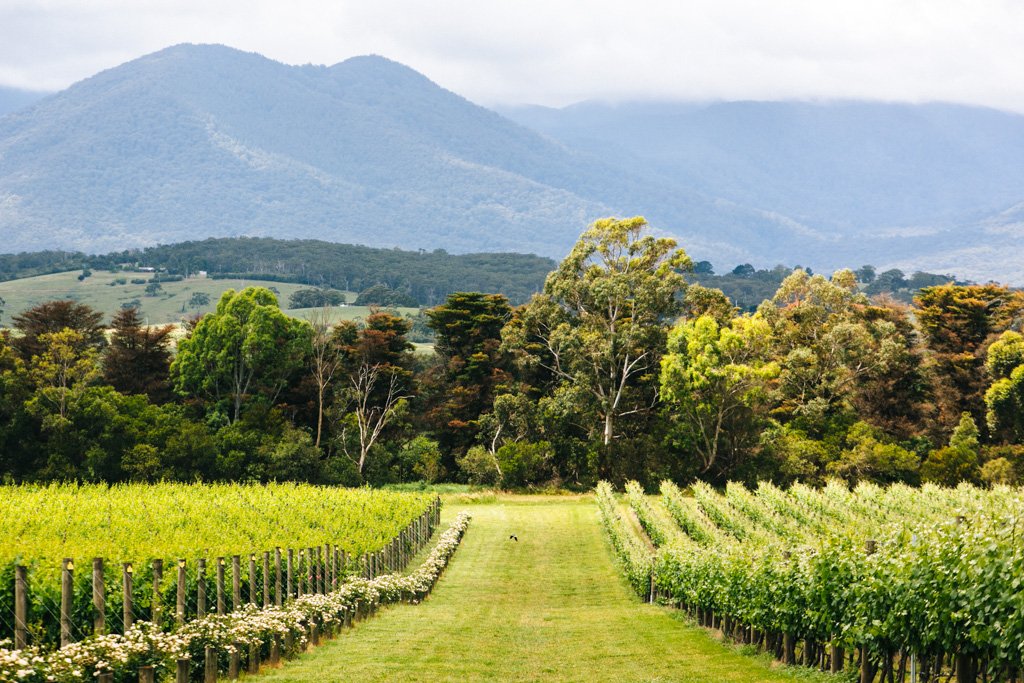 I was pretty pumped to get back to Domaine Chandon. It's probably the most popular (and commercial) winery in the Yarra Valley, and hence best enjoyed in the morning before the crowds file in.
Crowds or not, it's 100% worth it to visit this place. It felt like we were roaming a fancy European estate as we strolled down majestic hallways with super tall ceilings. Paul gave us a tour of the facility, from grape processing to the riddling room. In lieu of a tasting, we were each offered a glass of one of their sparkling wines (they had 4 kinds to choose from).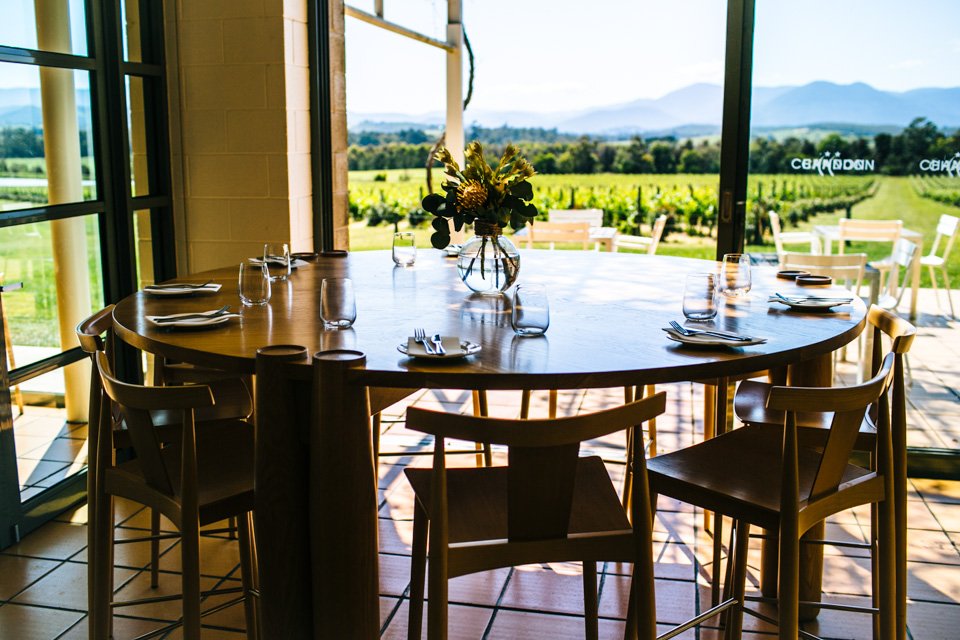 We could have opted for a $5 tasting on top of that, but more than anything I just wanted to sit outside with my glass of sparkling and stare out at the most beautiful grounds in the valley. And have a mini photoshoot, OBVIOUSLY.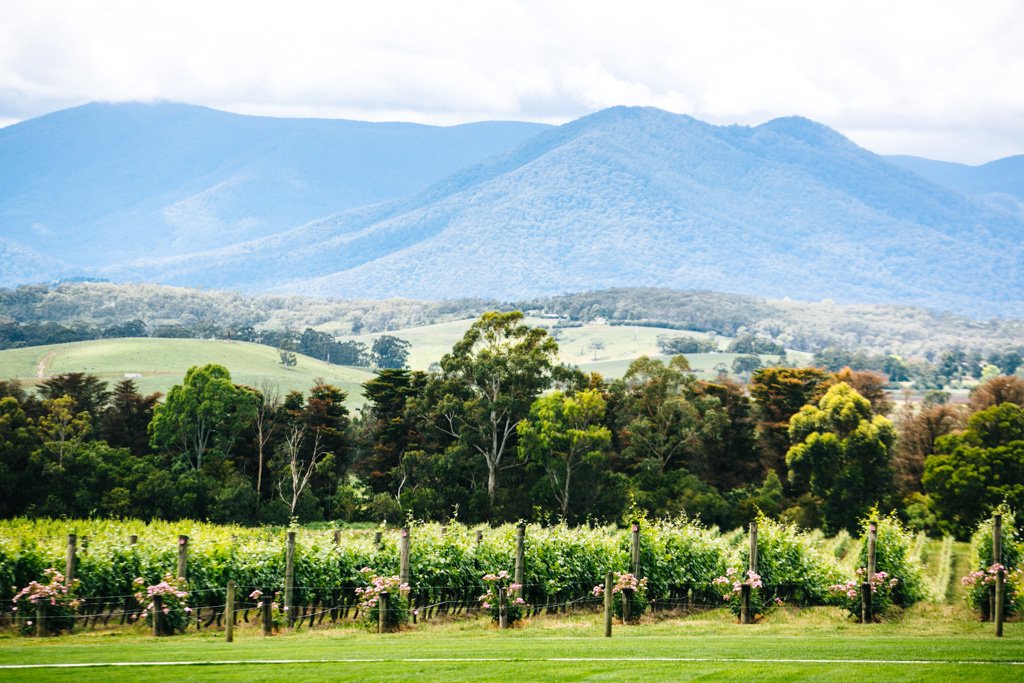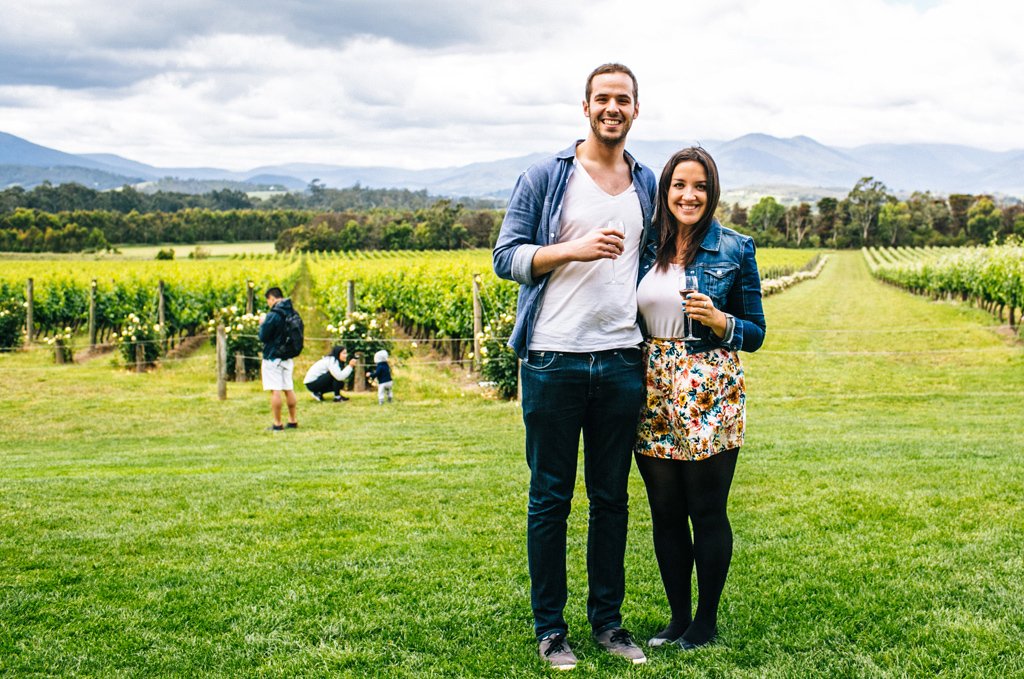 Yering Station
Yering Station has some of the most impressive grounds of any winery in Yarra Valley. Its restaurant building is modern, sleek, and looks out onto the vineyards from the dining area. Yeah, I definitely didn't mind having lunch here!
For a self-proclaimed non-foodie, it's probably not too surprising that this was the fanciest menu I've ever had to order from. I didn't even know what about 1/4 of the listed items were, but in the name of adventure I cast my hesitations aside and ordered the rockling (a fish), served with celeriac ash, mussels, fermented garlic, and pink peppercorn hollandaise. WOWZER.
Lunch was accompanied with a glass of wine and a cup of coffee. This was a much easier choice for me: Chardonnay and a flat white, duh!
Yering's cellar door is located in a different building, one that instantly made me think *rustic chic wedding venue*. Exposed brick walls and wooden everything else? Oh yeah, it was a beautiful space for wine tasting. At this point I was ready to wine-down, but I tried my best to keep up!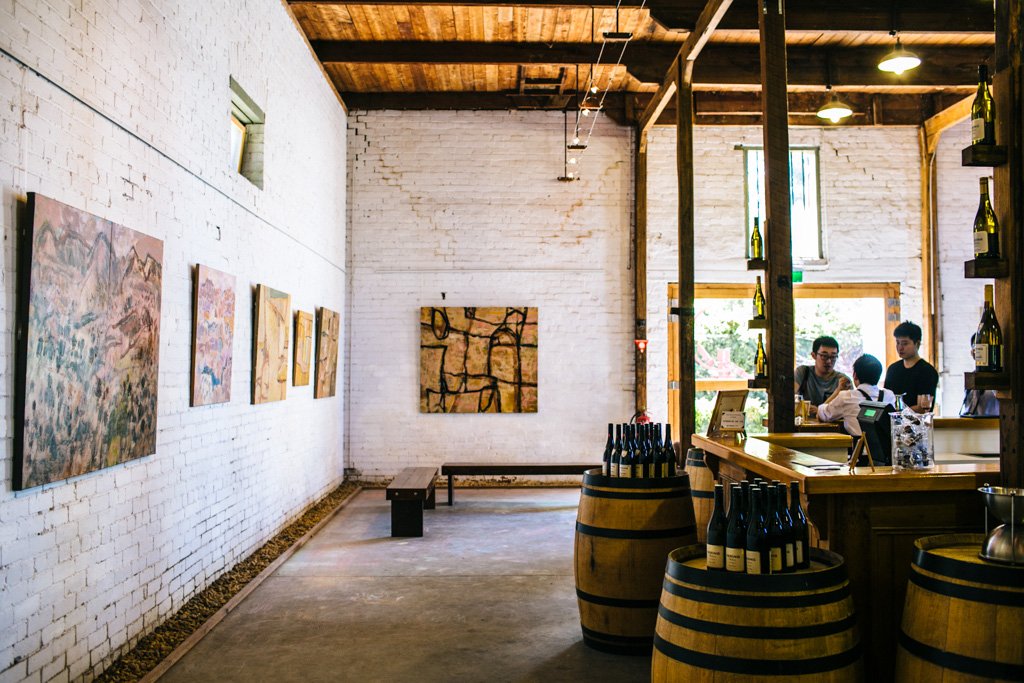 De Bortoli Wines
Fast approaching the point of exhaustion, we rolled into our last vineyard for the day and I was kinda wishing I was horizontal. A generous offering of cheeses helped spark me back to life for the final tasting at De Bortoli Wines. Prosecco and dessert wine are what they do really well here.
I don't understand why or how, but pairing certain cheeses with certain wines can make the wine taste so much better than when it's imbibed on its own. Paul knew which cheese went best with which wine, and made sure we all tried the right cheese with each wine tasting. App Guy and I may have sampled more cheese than wine here, but can you blame us? We were two glasses and, like, 20+ tastings in at this point. I never said I was in it to win it!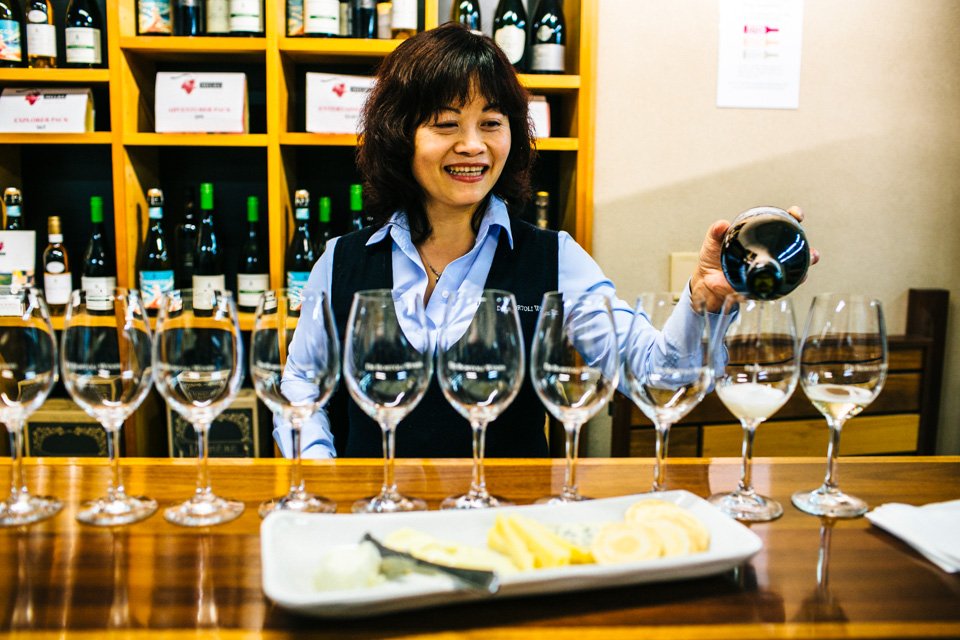 We snuck out towards the end to enjoy the grounds on our own. Save for one guy meditating on the hill, we had it all to ourselves. Photo shoot part 2, you say? Well ok!
Man, what an awesome experience. There are plenty of tour operators that run from the city to the valley so that you can safely imbibe without having to drive, but I'd go with Vinetrekker again without question. Our Yarra Valley wine tour with them was one of the best days I've had in Melbourne!
Thank you to Vinetrekker for inviting us on their Yarra Valley wine tour. Note that all opinions expressed here and elsewhere on this blog are my unbiased own, and are uninfluenced by any gifts or incentives I may receive.
Pin it!