My first day back in Sydney this past December, about 8 years after leaving it, didn't quite go as well as I'd imagined it would. Instead of spending it frolicking around the city and ogling Sydney Harbour, I was stuck on a diverted plane at Canberra Airport for 8 hours. When I finally made it to Sydney that evening around 7pm, I stumbled into Base Backpackers with over 100 lbs of luggage and passed out in my bunk within seconds of my head hitting the pillow… only to be woken up in the middle of the night by a couple of dimwits wrestling in the dark in the middle of the room (who, mind you, weren't even staying here). That's what you get when you stay at a party hostel – which I swear I NEVER normally do, but I had a voucher to redeem on a hotel booking website and this was the only Sydney hostel available on it. Never again!
So let's just say my first *official* day back in Sydney was a day later. I woke up wide awake at 4:30am, briefly contemplated forcing myself to go back to sleep to help kick the jetlag, but ultimately gave in to my excitement and scampered out with my camera and tripod to shoot Sydney Harbour at sunrise. It was already starting to heat up and turn light at 5am, but I hardly saw anyone on George Street as I hustled down to Circular Quay. I missed the sun come up (seriously, the sun rises EARLY in summer here), but I caught some sweet early morning light while reuniting with my loves, the Sydney Opera House and Sydney Harbour Bridge!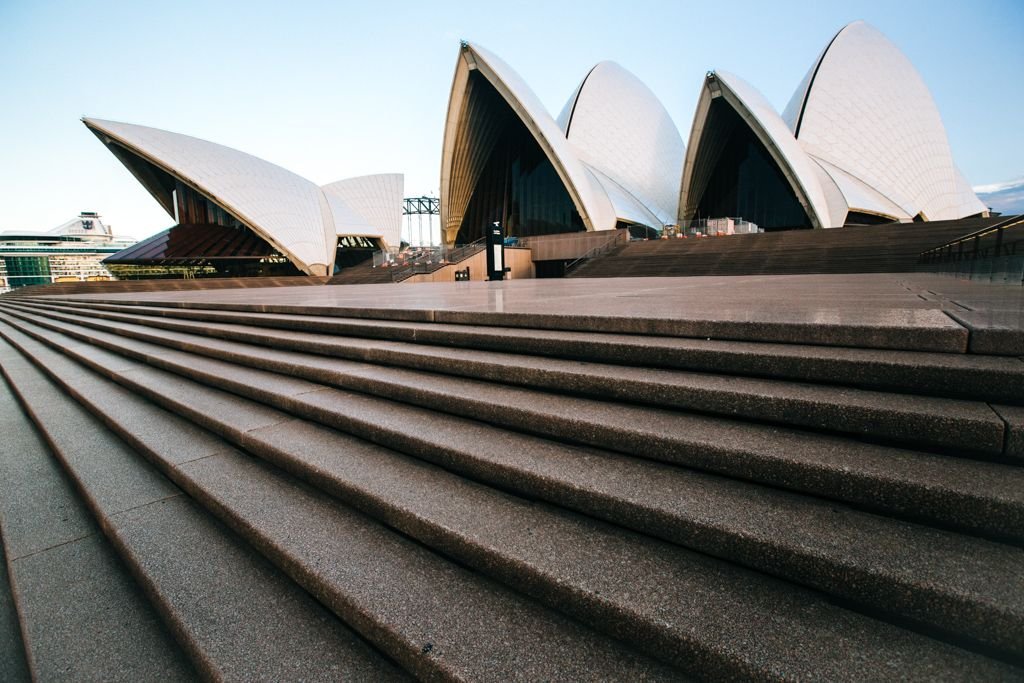 And then, like a moth to a flame, I found myself traversing the Sydney Harbour Bridge (me and bridges, what else is new). As I walked further down it, the harbour opened up to a full view of Circular Quay and the city skyline, the Sydney Opera House front and center, and several boats and bays from a distance. File this under "Things I Missed From Sydney".
Having accomplished enough before 10am to call it a successful slash awesome day, I stopped back at the hostel to eat and rest a bit before venturing back out again. On impulse, I headed in the opposite direction up George Street toward Sydney Uni, where I "studied" for two semesters in 2006. I passed by the Broadway Shopping Centre and crossed the street to Victoria Park, a lovely green oasis that prefaces the Sydney Uni campus. My heart sped up as I raced across the footbridge and approached the stairs leading up to the Quad. I couldn't believe I was back here! Smile permanently plastered on my face, I took a stroll around the Hogwart-esque buildings (no but really – does this not look like a scene out of Harry Potter?).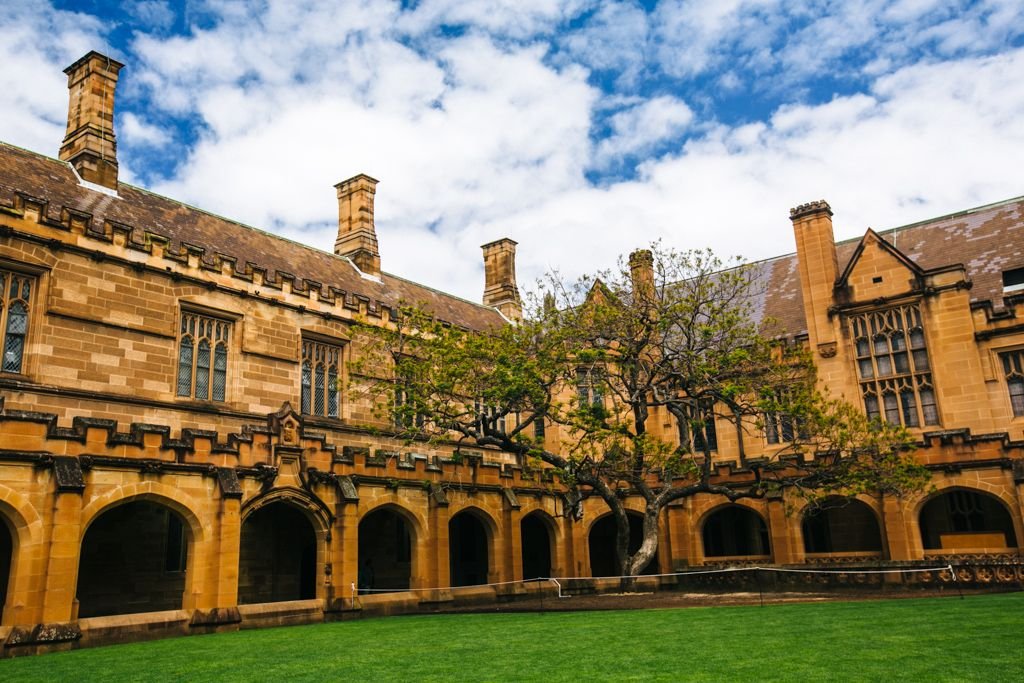 Somehow, I couldn't for the life of me recall where any of my classes were held! And yes, I regularly attended every one of them (except one, held at 8am on Fridays!). I had vague recollections of approximately the area in which most of my classrooms were, but couldn't quite place which buildings.
I spotted the patch of elevated lawn where our Welcome Back BBQ was held. Details are fuzzy as to how I ended up leading Unimates, the international student group at USyd, but I remember making new friends over sausages and burgers on a hot afternoon. Today, the campus was quiet and nearly empty since students were away on summer break.
And can we talk about the stark contrast between old and new buildings on the Sydney Uni campus? It's like Harry Potter meets The Office here. Some of the more modern buildings I deemed too ugly to photograph, so luckily you're spared from those eyesores.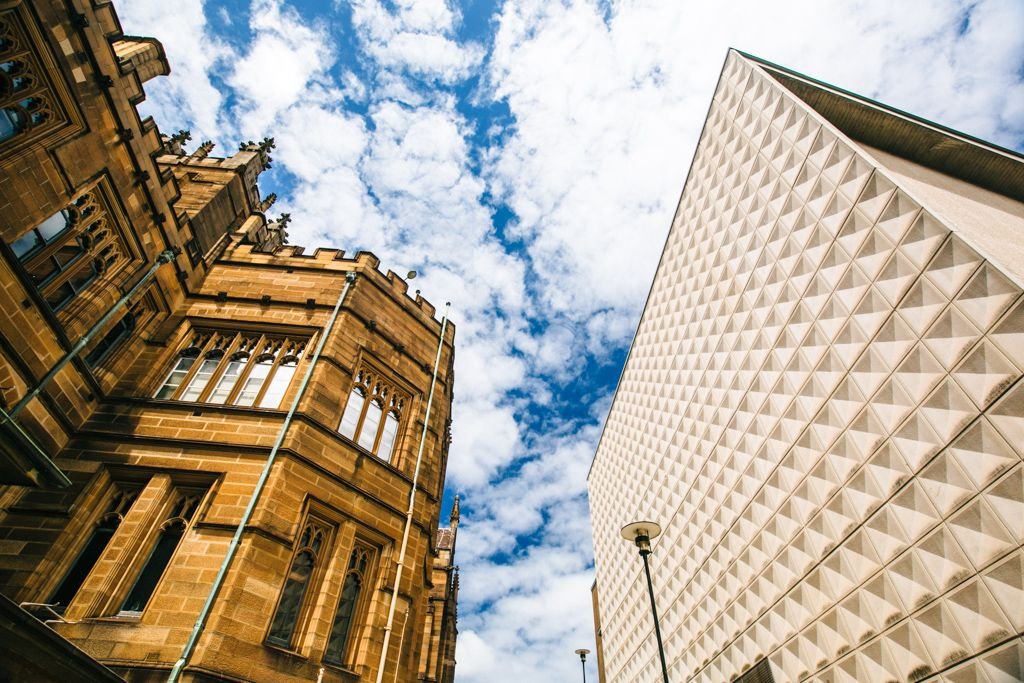 I cut through campus on a mission to revisit my old home, the Sydney University Village. The only reason I lived in this overpriced student housing complex is because there was no other long-term accommodation I could book in advance! These days I'd be totally cool with crashing at a hostel for a few days while looking for an apartment, but 9 years ago I was a more novice traveler. It worked out well, though, because I made two really great friends at The Village who I'm still in contact with today! In fact, I promised them I'd report back on the current state of The Village. From what I could make out through the windows, the old student lounge had been converted into some sort of office. Our favorite local cafe, Hoochie Mama's, had undergone a successful makeover. Other than that, it all looked mostly the same as it did in 2006.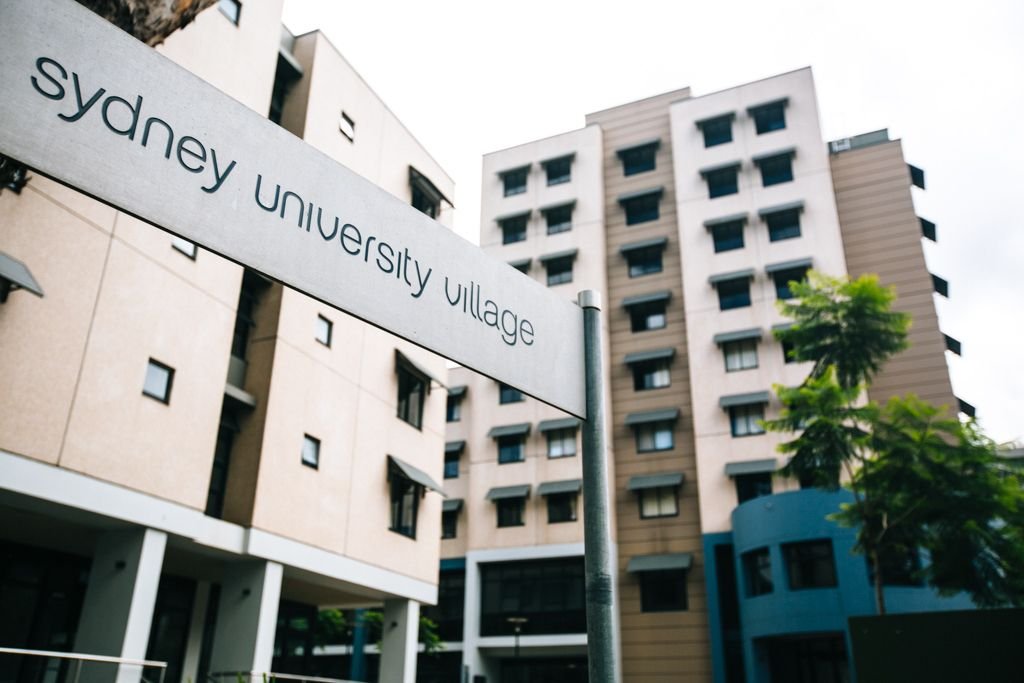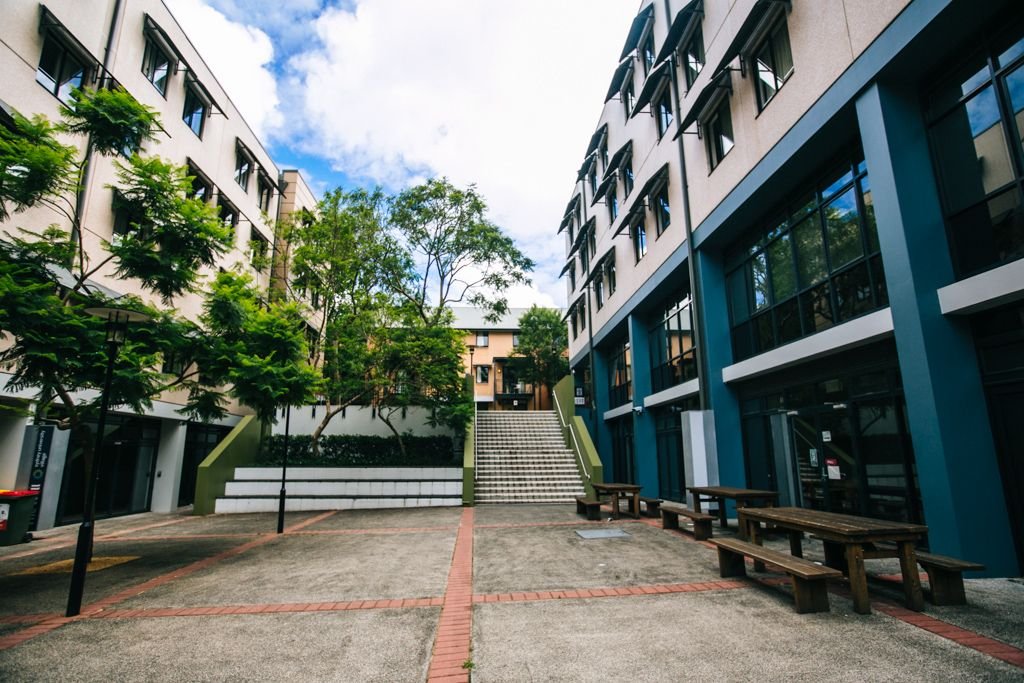 While this entire day was a series of highly anticipated moments of reacquaintance, I was surprised to stumble across Campos Coffee. I'd completely forgotten about this coffee shop, likely because I'd discovered it right before moving to the other side of campus before second semester – but OHMYGOSH they make the best coffee around. Lots of cafes around Sydney brew Campos beans – in fact, I've been brewing them myself at home since returning to Sydney in January. Finding this cafe again was the most pleasant of surprises!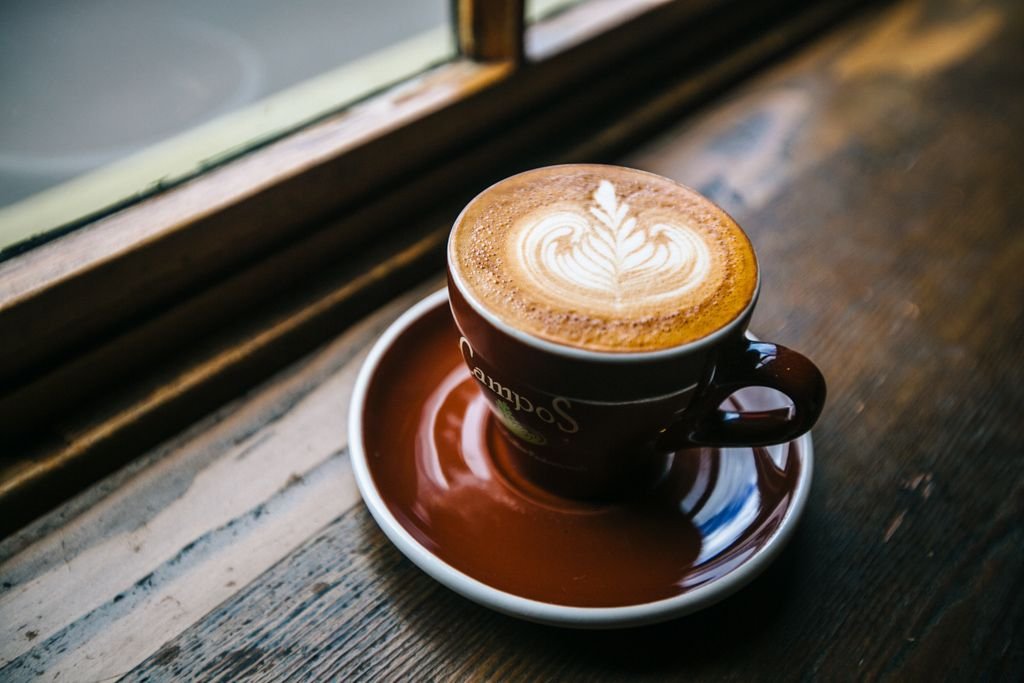 At last, my walking tour spit me out onto King Street, the main thoroughfare of Newtown. It looked much the same as it did 9 years ago, with loads of Thai restaurants and hotel bars. The main difference, as far as I could tell, was the numerous vegetarian restaurants and boutiques that have popped up in recent years. I was thrilled to see the cool old building facades still in tact.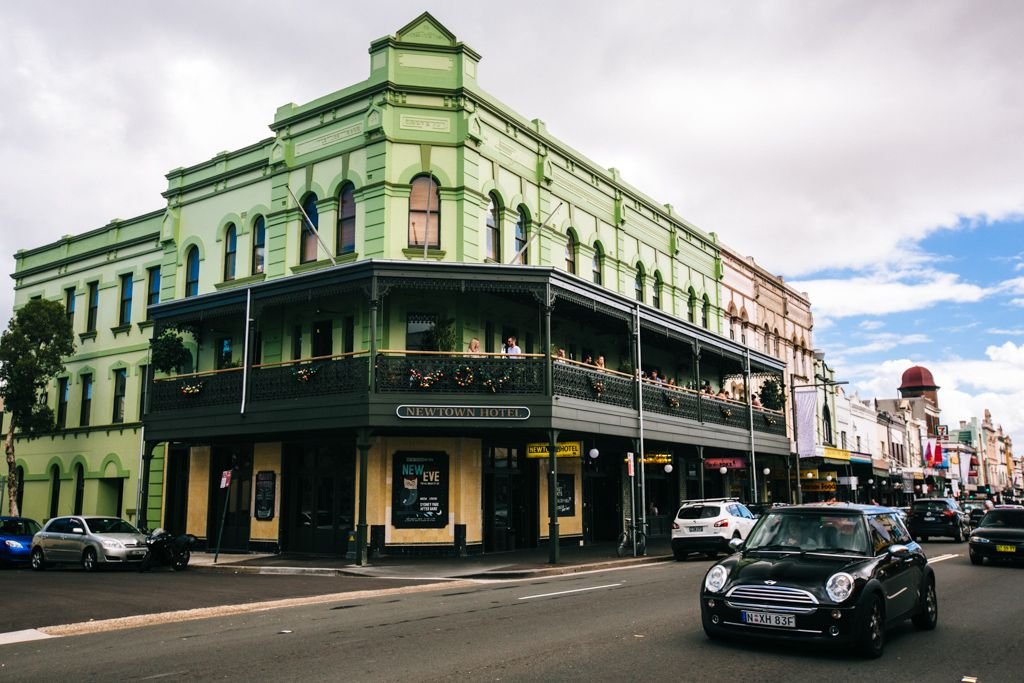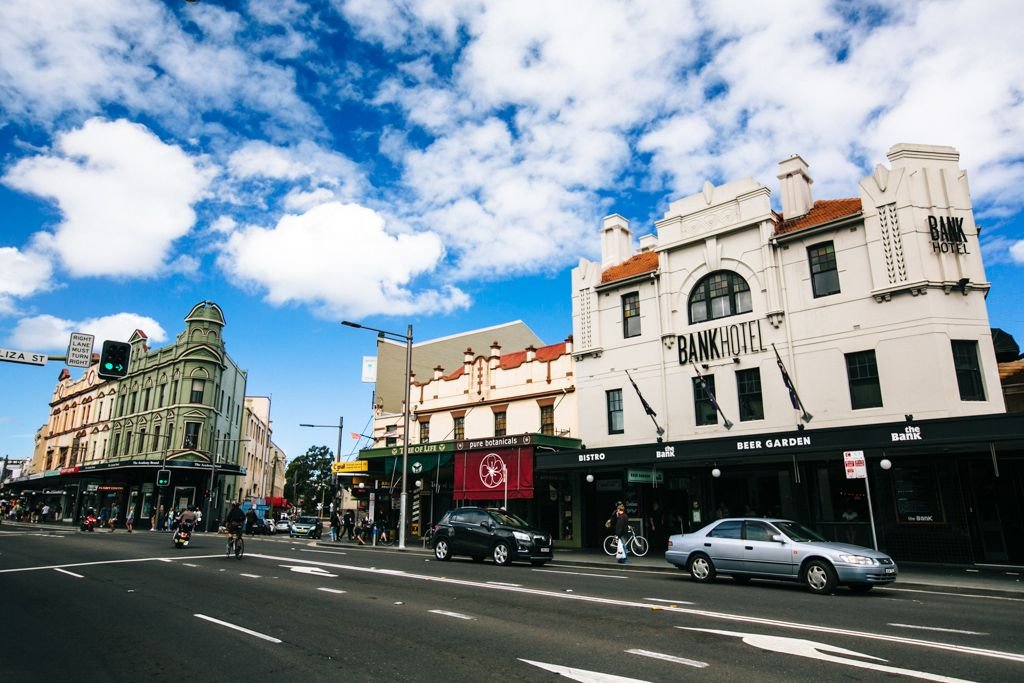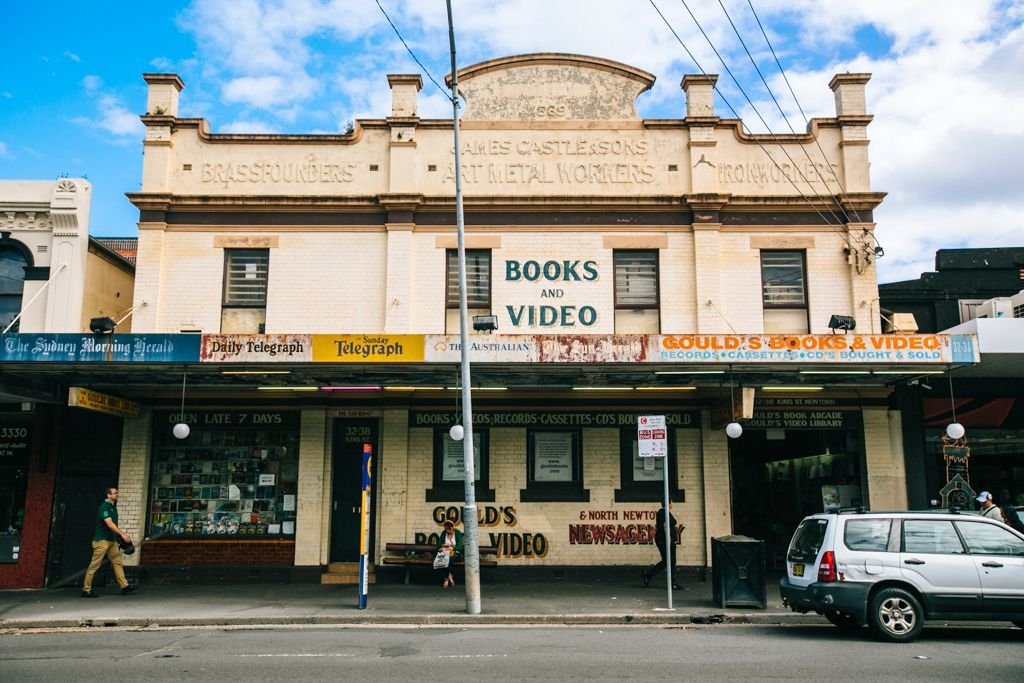 I veered off onto some side streets along the Newtown/Camperdown border into an area I'd never explored when I lived here before. I must have been too enraptured by Sydney Harbour to spend my free time on more local explorations, but this time around I discovered some colorful streets within 10-15 minute's walk from The Village. I had no idea that Newtown street art was a thing!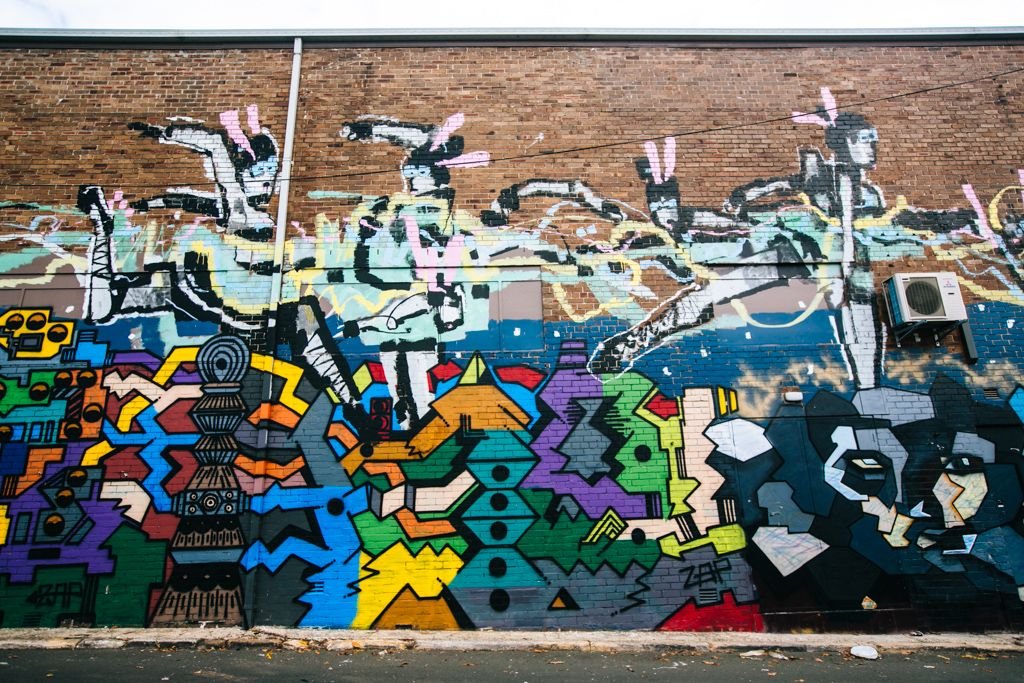 Note: This article is meant to complement an older piece I wrote: My Year As A Sydney Uni Study Abroad Student