The Down Under Report is a monthly recap of my time and money spent in Australia on the Work and Holiday Visa in 2015. Be sure to check out the other monthly recaps as well!
Month 2 in Australia
I spent the entirety of Month #3 settled down in Sydney, and man did it feel good. I'm a little short on memorable moments and far-flung adventures from this month because I've spent most of my recent days at Bondi Beach. With this beauty on your doorstep, would you ever leave?
Here's my reasoning: These 2 months will likely be the only time in my life where I'm living within a 5-10 minute walk of a world-class beach, so I damn well better appreciate the hell out of it while I can. And my god have I been! I've been very intentional in getting myself to the beach nearly every day, whether it's just walking by, sitting in a coffee shop with a view, laying out on a hot sunny day, running laps on it, or catching the sunset.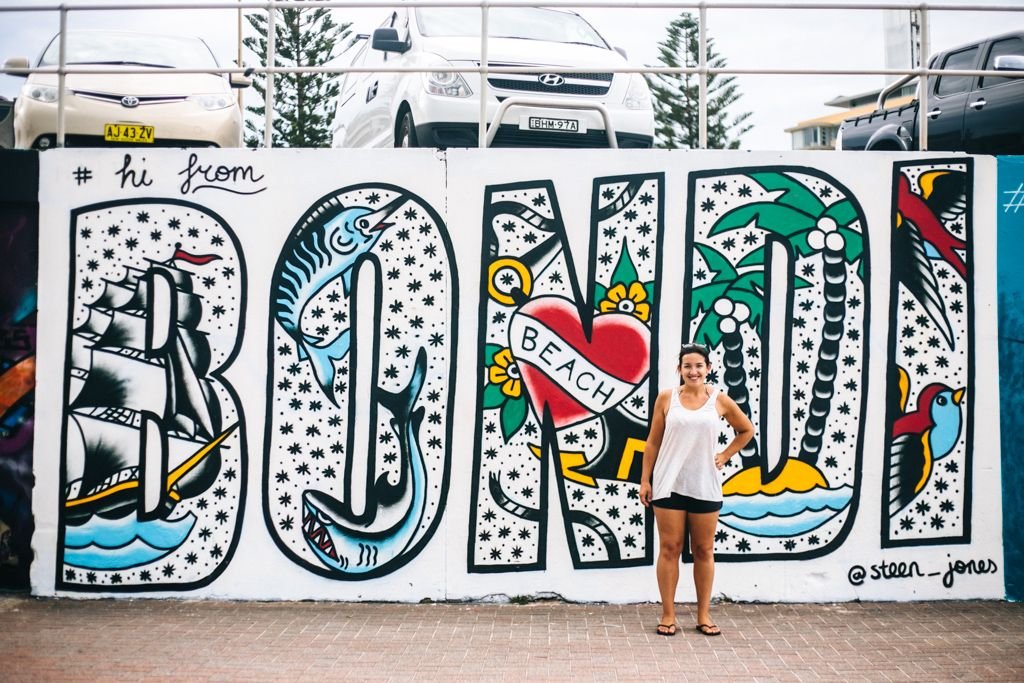 And when I'm not beach bumming, I'm actually working (gasp!). In exchange for the privilege of living in Bondi, I do 4 hours a day of work for my HelpX host who has started a sleep coaching business. I've done some wordpress and SEO work, blogging, research, social media, project management, IT support (LOLz), and photography for her. It's probably been more stressful and involved than the average HelpX gig, but also way more fulfilling because I've gotten to use a smattering of skills.
In fact, it's inspired me to start a new business venture myself! Anna – my fellow HelpX-er, flatmate, and #newbestie – and I are combining forces to create a digital marketing company of sorts. Our goal is to help new small business owners establish and grow their online presence. So, my dear readers: if you or anyone you know is looking for help with a website, SEO, social media, or content development – please contact me! We'll have a website up for it soon, so stay tuned for more details!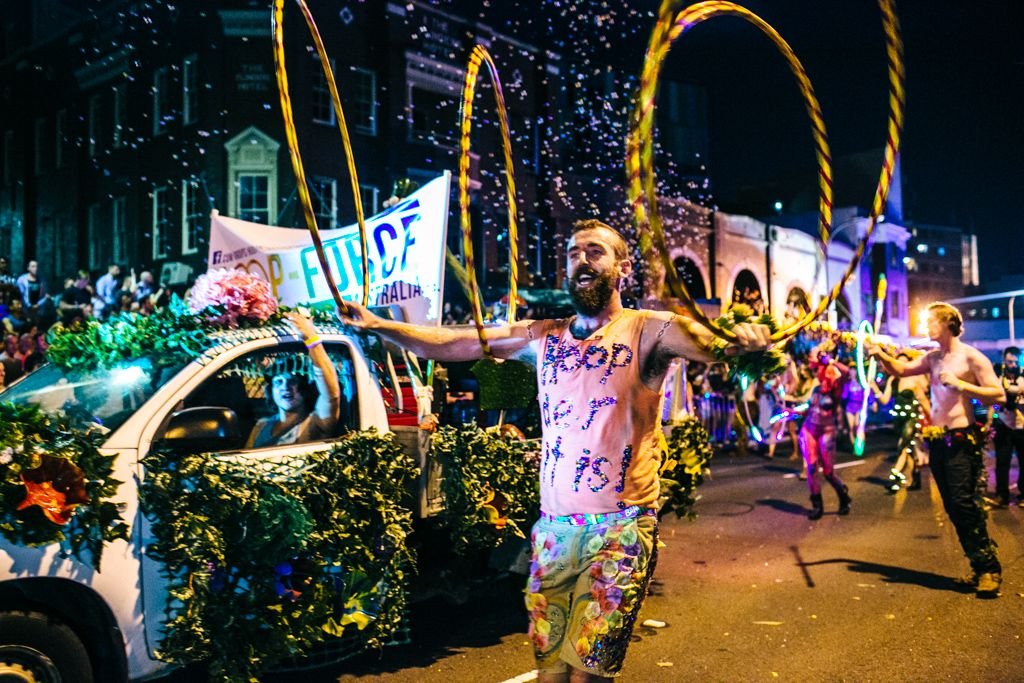 The Sydney Mardi Gras Parade
Another added bonus of this HelpX gig? Getting to try out our host's sleep coaching program! I'm not an insomniac, but I'm definitely not the best sleeper so I felt like I could stand to learn a thing or two from her. Her work focuses on brainwaves and stress patterns, and much of it has to do with learning how to incorporate more relaxation time into your days (something I'm completely awful about). We've done meditation, Tibetan singing bowls, and Reiki – things that I previously thought were fluff but now am starting to see value in.
But the core of it is determining which enneagram personality type you are, becoming conscious of what causes stress for you (hint: you're probably not even aware of most of it), and altering your thought patterns so that the stress dissipates. More relaxation = less stress = better sleep! I used to think I never got stressed, but my overly-knotted back muscles tell a completely different story. As I've learned more about my Type One personality (there are 9 enneagram types), my actions and thoughts make SO MUCH MORE SENSE now! (more on that later)
So yeah… Month #3 has been a time of growth and awareness. The kind of stuff that doesn't translate into travel-friendly blog posts, but hopefully does result in an improved version of me :)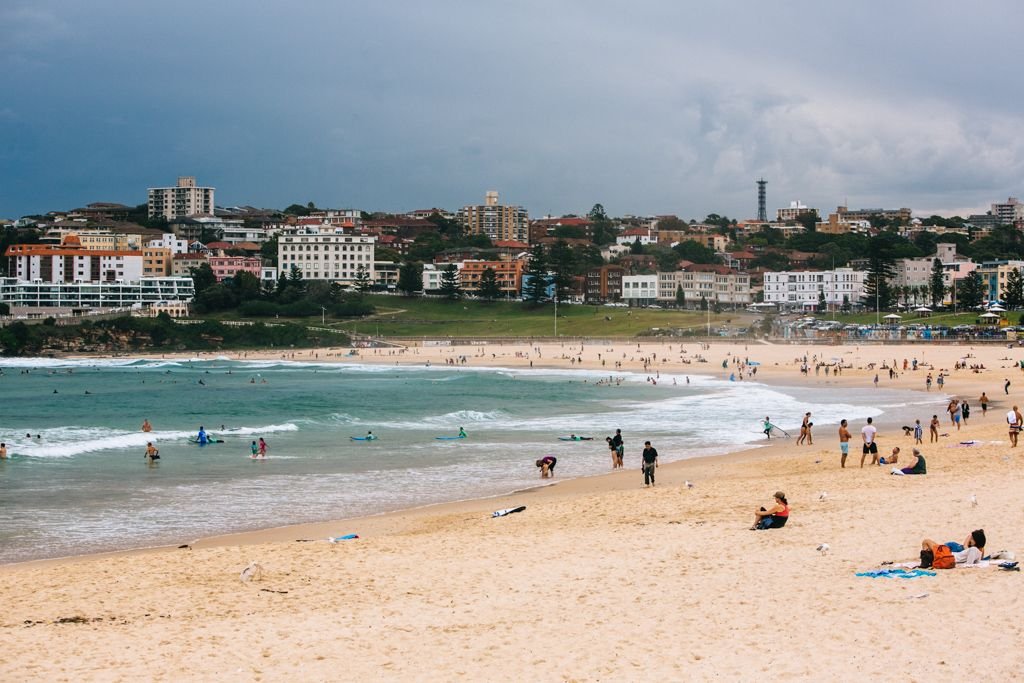 While living, working, and playing in Bondi, I've managed to pry myself away from this glorious 'hood on occasion for various day trips and camping excursions. You've heard about my cycling trip to Sydney's Northern Beaches and at least one of the several Sydney Harbour walks I've completed. And if you follow me on instagram, you may have caught some updates from a Kangaroo Valley camping trip, the Royal National Park Coastal Track, and an afternoon in Jervis Bay. I may be a colossal beach bum these days, but at least I've made a point to explore more of New South Wales this time around! It really is one of Australia's most underrated states.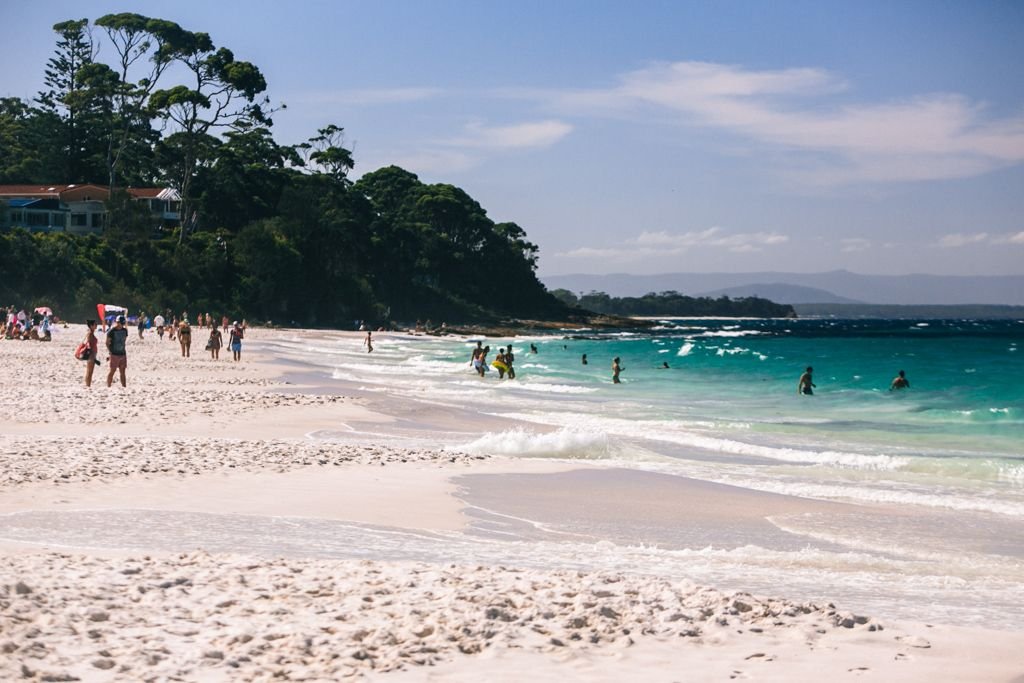 Jervis Bay, about 3 hours south of Sydney. Known for some of the whitest sand in Australia!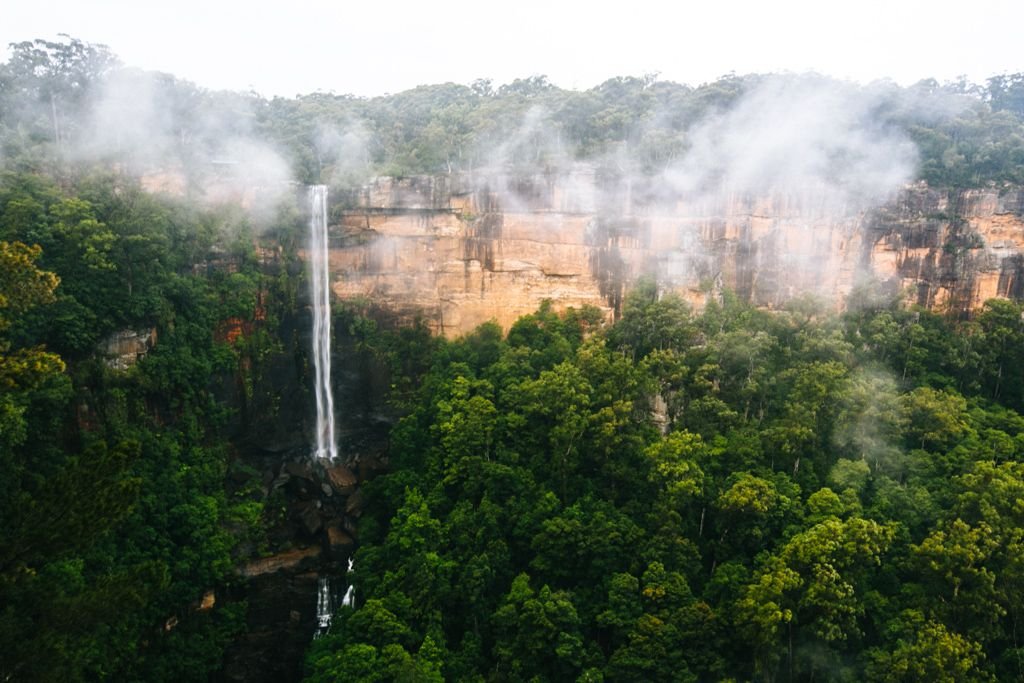 Fitzroy Falls in Kangaroo Valley, about 2 hours south of Sydney
Favorite Moments From Month 3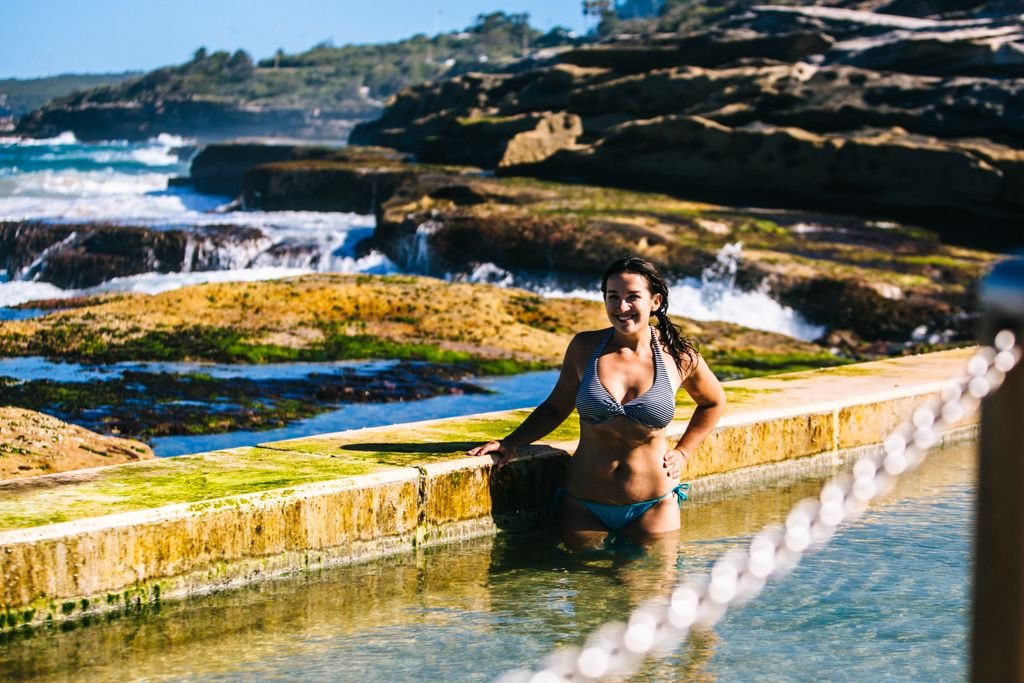 Finding the pool at Curl Curl Beach
I was already in my element cycling between some of Sydney's Northern Beaches (I mean hello, bike + beach = HAPPIEST LINDSAY), but things got real good at Curl Curl Beach. We immediately beelined toward the lap pool on the southern end of the beach (yes, many Sydney beaches have ocean pools – as if they weren't already impressive on their own!). While I appreciate these ocean pools, I'm not super into swimming and have close to zero desire to swim laps at the beach.
And then we noticed this tiny shallow pool attached to the end of the lap pool. It was free of people, filled with warm water, and looked directly out at the ocean. Basically, it was a natural infinity pool with a view of the crashing waves. OBSESSED.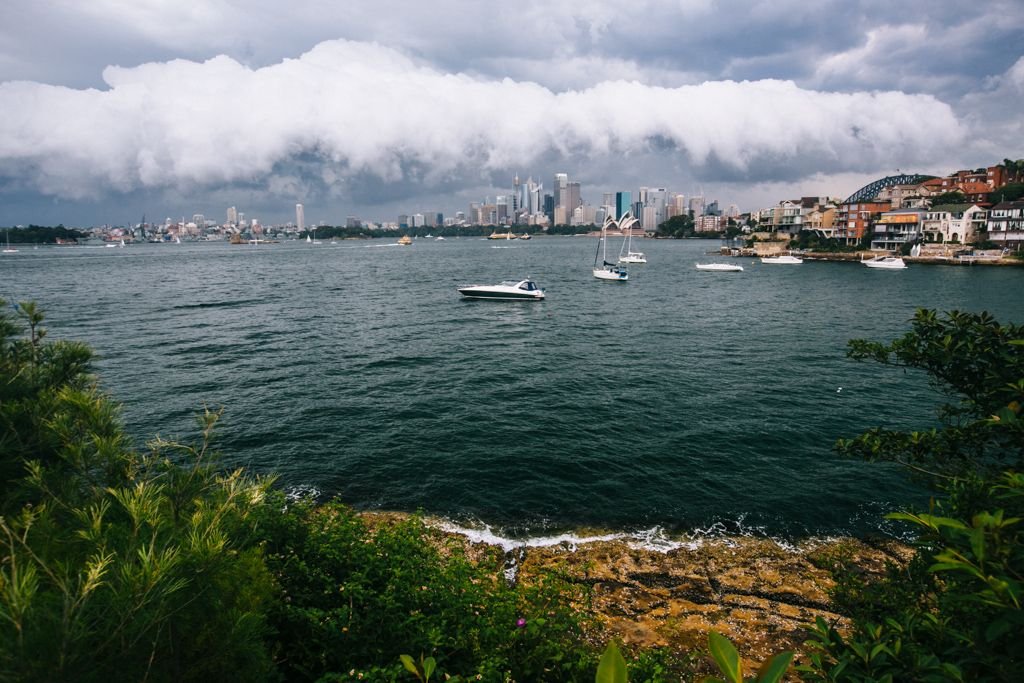 Witnessing a crazy storm attack Sydney from the North Shore
On the hottest day of the year, I embarked on one of the Sydney Harbour walks, from Mosman to Cremorne Point. There was no indication that a massive storm would soon hit until the clouds gradually started to roll in over the harbour. It went from partly cloudy to big ass cloud-y in a hot second, while I went from swimming and sunbathing to running for cover at the ferry terminal before said cloud exploded over Sydney. I watched in awe as it took form over the city skyline and then completely consumed it. Nature is just too cool!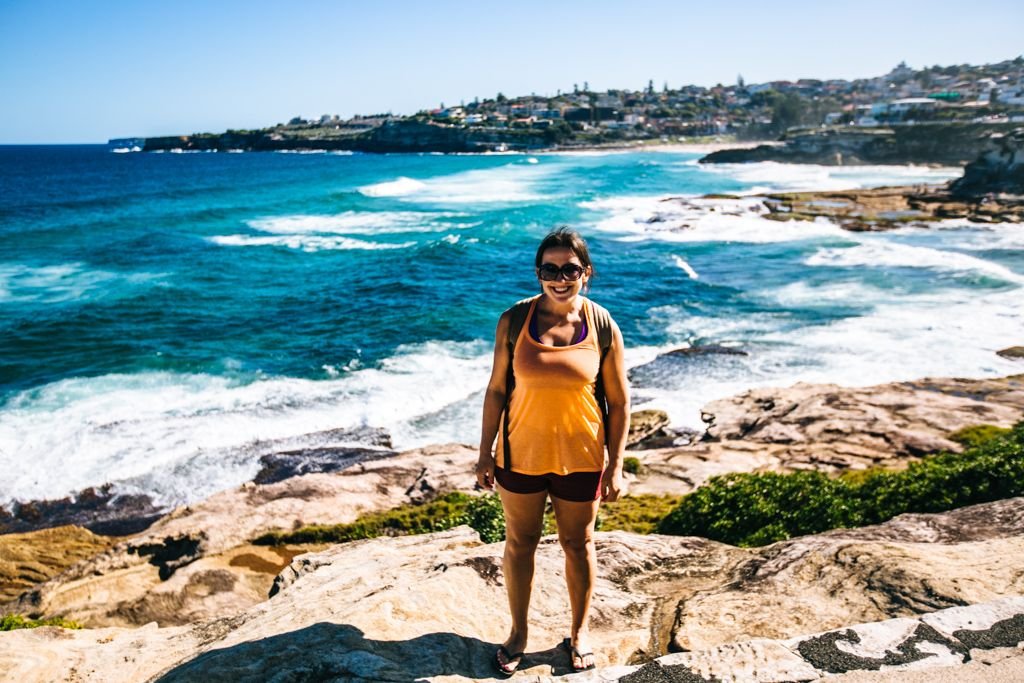 Having an epiphany about myself
As I alluded to above, this month has been about growth and awareness. Participating in my HelpX host's sleep coaching sessions has been challenging for me, especially the pseudo-therapy sessions we had early on where we dug into my Type One personality. I became aware of certain 'programs' that have been running in my mind since childhood: the black and white thinking, the judging, the perfectionism. I immediately flashed back to numerous episodes in my life where I've gotten upset about things or had disagreements with close friends and family, and I finally understood why: I've been programmed a certain way. Often it serves me well in life, but sometimes it doesn't. And when it doesn't, I now know that I have the ability to recognize that and choose to relax into the stress trigger rather than let it set me off.
The real breakthrough happened when I was sitting on the floor of my host's apartment and realized something pretty whoa-worthy: my entire sense of self is based on my achievements. If I strip them all away, I don't even know who I am – how insane is that?
I could go on and on about it, but I'm not sure a travel blog is the proper forum for it, so instead I'll sign off with my two key takeaways:
Accept things for what they are, rather than judging and condemning them
Strike a better balance between 'doing' and 'being' (as opposed to zero balance at all)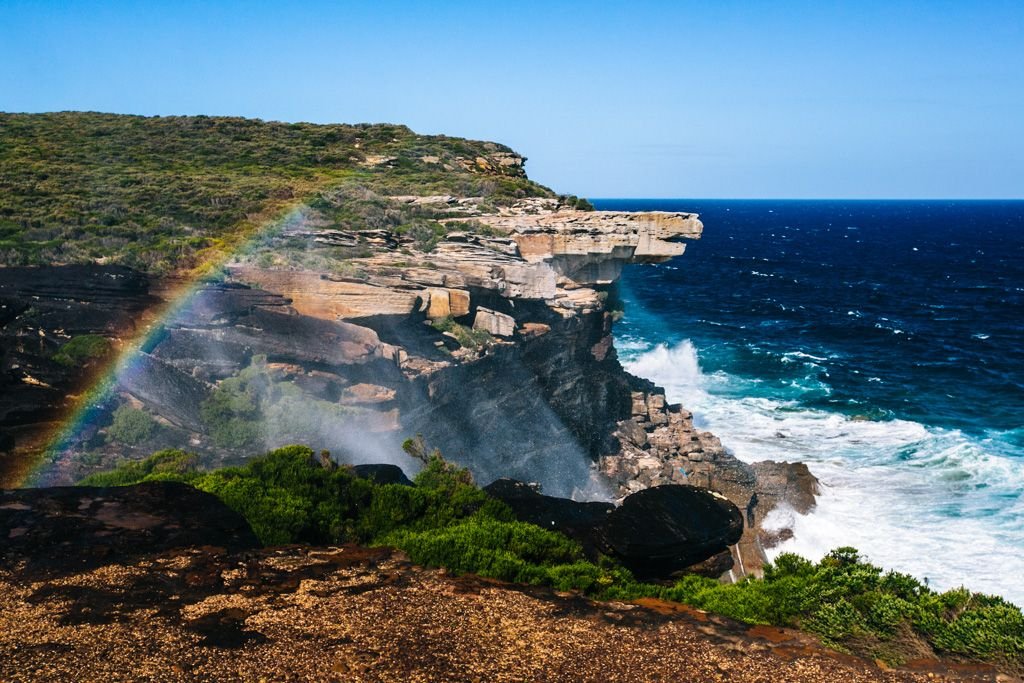 Watching the backwards waterfall on the Royal National Park Coastal Track
I'm going to unapologetically do a little copy/paste action from my recent Exploring the Elements post:
As we were rounding a bend on the Royal National Park Coastal Track (a 31km trek just south of Sydney), we noticed a light stream of water being blown over the path from the ocean. As we approached, we realized the mist was being blown back upwards from a waterfall that went over the cliff edge. A rainbow flickered in and out of view as we continued to circle it counterclockwise. Upon reaching the edge, we could see the massive waves below churning and crashing into the rock just beneath the waterfall, whose water both thundered down into the sea and got swept back up onto the land.
We sat in near-silence right here, marveling at all the things the water was doing on the natural stage before us: waves forming and breaking, water falling and blowing, a rainbow appearing and disappearing. It was completely incredible.
Singing "Sexy and I Know It" at karaoke with my two amazing flatmates
It had been WAY too long since my last karaoke binge, and boy was I ready to let my vocal cords loose. One Friday night, I went out with Anna and Mel (both are flatmates/HelpX-ers – the two on the left in the photo above) and we ended up at a really random karaoke joint that had quite literally JUST opened, as evident in their somewhat sparse song list (No "Push It", really?!). We put on some Queen, some Grease, a few ballads – but what was the one song that all 3 of us connected on? LMFAO's "Sexy and I Know It". We danced like loons on the benches in our private room while I (tried to) sing lead. It was completely absurd and SO MUCH FUN.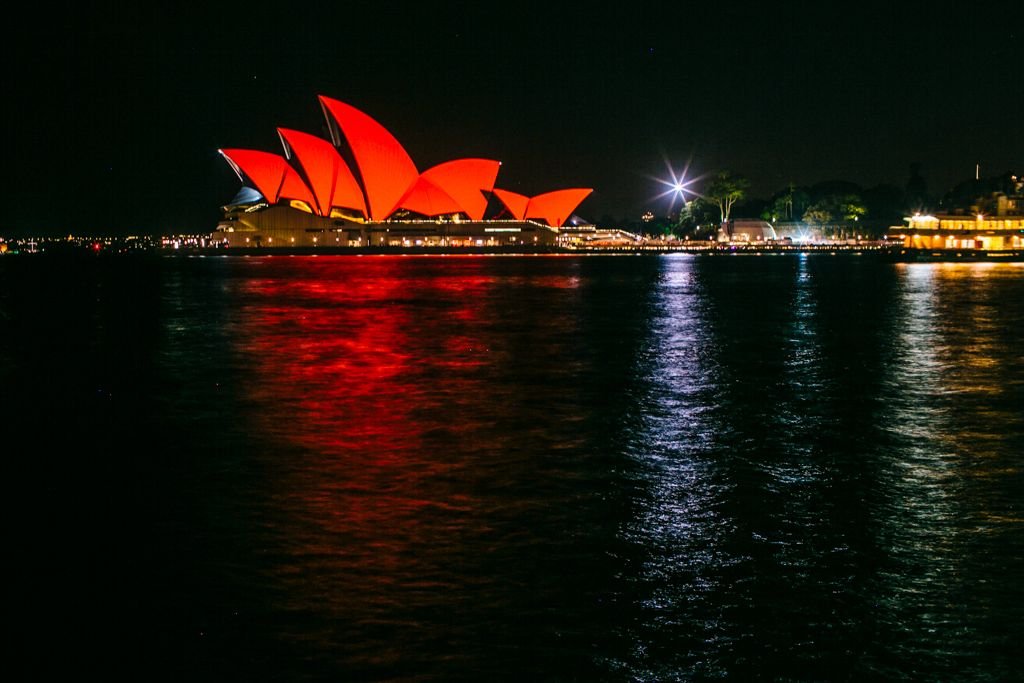 The Sydney Opera House all red for Chinese New Year.
Crappy Moments From Month 3:
The Tinder date that went MIA
Listen, I'm not saying I was remotely heartbroken over this. Intensely offended and puzzled, yes. Here's what went down:
We had two great dates (one of which made the highlight reel from Month #2). A couple days later, he asks me out for Saturday (which happened to be Valentines Day, whoop de do). On Friday we're texting to make plans, but he's out drinking with coworkers so I let him enjoy and say we'll figure it out in the morning. Saturday morning rolls around and we're literally in the middle of finalizing plans to meet up – AND THEN I NEVER HEARD FROM HIM AGAIN. Yup, the fool dropped off the face of the earth mid-conversation.
But to my credit, I tried not to jump on the hate train straight away. I thought that maybe something had happened to him because it was such a weird thing to have occurred. But when I saw that he had read my text messages and had been active on Tinder for the next few days, I knew he had pussied out for some unknown reason.
Memo to all guys: DON'T DO THAT. If you don't want to hang out, just say so for cripes sake. Be a man about it rather than a cowardly assmunch.
Finding out my cat is really, really sick
Ugh, I want to vomit whenever I think about this. My old roommate from Brooklyn is fostering my cat Chibbers while I'm out of the country and has willingly assumed full responsibility for her. She is obviously completely amazing for doing this, and I know Chibs is far happier staying with her than she would be if I'd shipped her off to my parents' house to live with 4 other cats. But last week, I got word that Chibbers is really sick, and that blood tests revealed that she may have cancer or some other awful inflammatory disease that makes her stop eating and drinking and basically immobilizes her with pain. I'm heartsick thinking about my poor baby kitty, and stricken with guilt knowing that Lauren is having to deal with vet bills and a sick cat. What can I do from the other side of the world, other than hope to the high heavens that she gets better?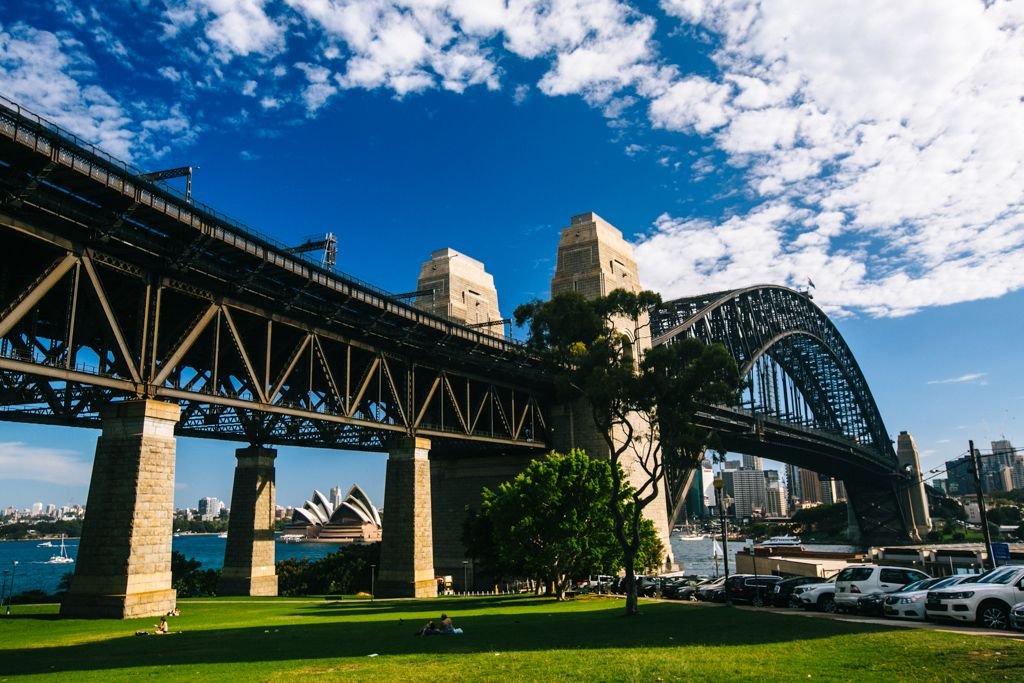 Month 3 Numbers:
Since I had accommodation and food covered for this entire month thanks to my HelpX arrangement, I managed to average less than $14/day on expenditure. Go me!
Sydney
Dates: 14 February – 13 March 2015
# of Days: 28
# of Nights Spent in a Tent: 2
Total $ Spent: $384.29
Top Expenses: Public transport – $46.69, coffee – $48.66
Splurges: Coffee paraphernalia – $53.75
Average $ Spent: $13.72 US/day
Average Miles Walked: 5.2 miles/day
Year-To-Date Numbers (Months 1-3):
Dates: 12 December 2014 – 13 March 2015
# of Days: 94
Total $ Spent: $4834
Average $ Spent: $51.43 US/day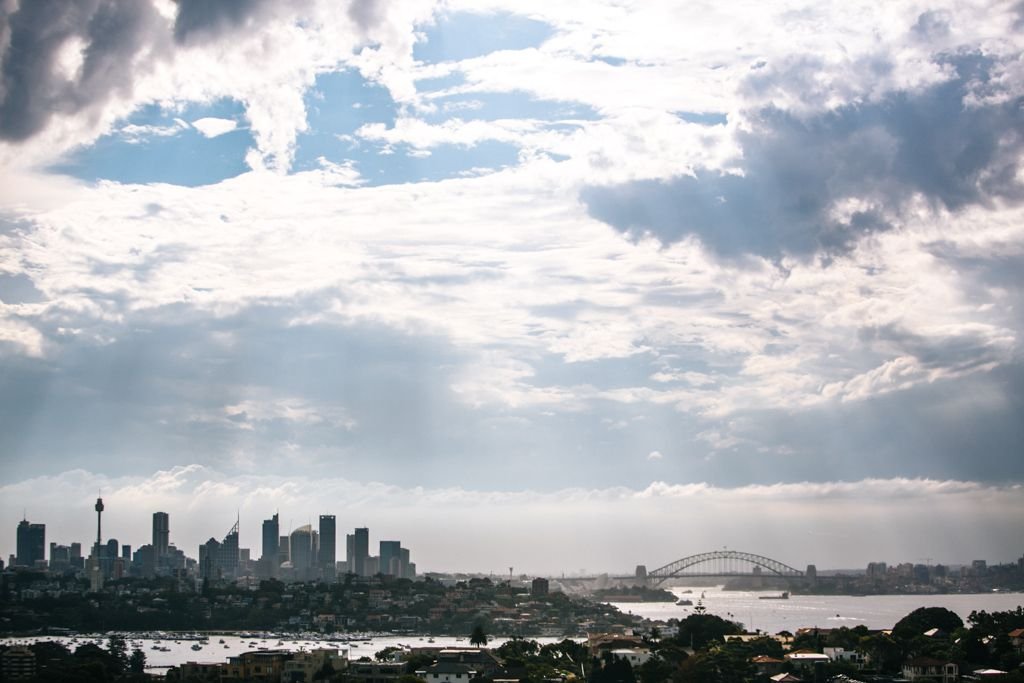 What's Next
I have just 2 weeks left in Sydney before hitting the road again! Anna and I will be spending the first week of April doing a HelpX at a farm in Kangaroo Valley (a few hours south of Sydney), staying in this gorgeous converted shed. I am SO EXCITED to relax in nature and have more time to work on my own stuff, free of distraction. We're also using this time to kickstart our digital marketing business, first of all by getting a website up and running.
After that, we're off to Melbourne! We've rented a really nice apartment in the city center and will be helping our current HelpX host out with her booth at the fitness expo April 10-12th. I have nothing booked or planned after that, but I'm sure I'll be frolicking plenty around the city and hopefully going on adventures outside of it. We really want to start heading north now that summer is over, so don't be surprised if you see some major moves made in Month #5!