A few years ago, I swore off the infamous Greyhound bus from New York to Atlantic City. It's notorious for a questionable cast of passengers, being reliably late, and even altering routes without notice. The last straw for me, though, was the ride where I was squished in the very back seat with 3 people, right next to the putrid bathroom, directly in the warpath of some rowdy drunken 20-somethings who were en route to party at the casinos. NEVER AGAIN.
I couldn't imagine a more unpleasant bus ride to subject myself to… that is, until I went to Southeast Asia, where it's the norm to be squished into a passenger van that may or may not actually leave at its scheduled departure time. I spent many a ride with my bare legs stuck to the seats with sweat thanks to lack of AC. On at least two occasions, the person sitting next to me fell asleep on my shoulder. These are the sorts of things that come with the territory of navigating a third world country. You go into it almost expecting absurdity.
I thought I'd seen it all as my 2013 Asia trip drew to a close – until I took a Laos overnight bus to the Thai border.
Part 1: Nong Khiaw to Pak Mong
Due to passport issues, I had to be in my last country (Thailand) of my 2013 Asia trip by June 15. Booking an overnight bus across Northern Laos for the night of June 14 was risky and dare I say foolish, but I desperately wanted to maximize my time in Laos.
First, I needed to get back to the Pak Mong bus station, about an hour's drive from Nong Khiaw. I could either take the one daily bus that passed through Nong Khiaw and spend the entire afternoon waiting at the Pak Mong bus station to catch that overnight bus, or I could enjoy my last day in Nong Khiaw and have a taxi take me to Pak Mong in the evening. Obviously I chose the latter, and paid a pretty penny (er, kip) for this service. Oh and by taxi, I mean "friend" of the guy at the tourist office, who happened to have a truck and some free time that evening to drive me and some of his friends around. I was assured he would wait with me at the bus station until my bus arrived.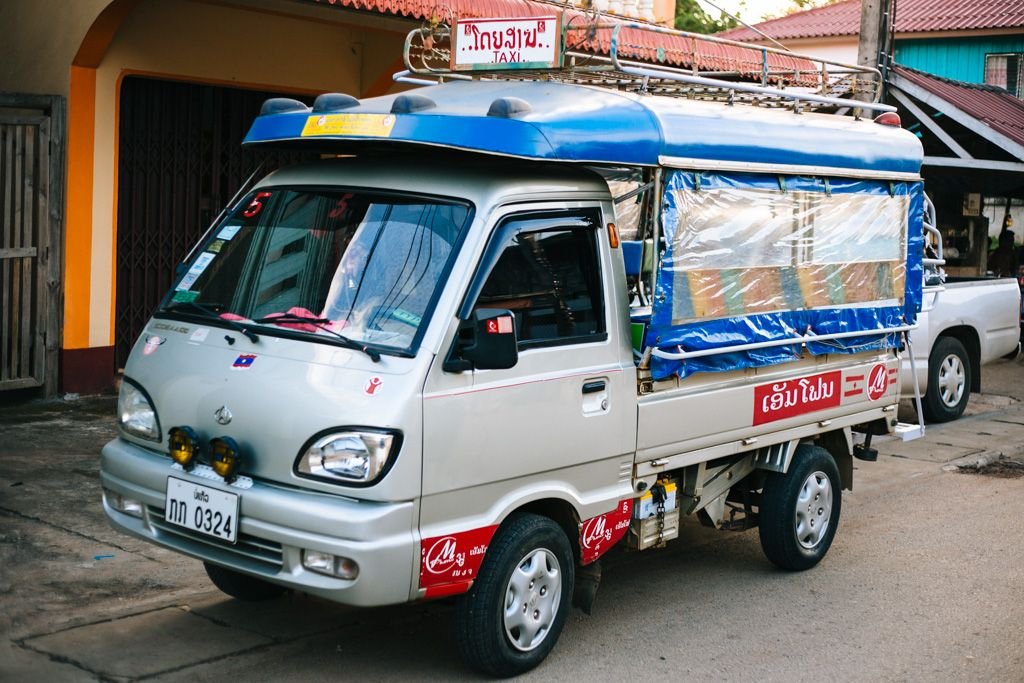 When we got to the Pak Mong bus station, one of the driver's friends got out with me and spoke to the person selling tickets so that he would know I wanted a ticket to the Thai border. For some reason, he wouldn't sell me the ticket until just before the bus was scheduled to arrive, so I sat nearby and kept looking at him every few minutes for any indication that it was time for me to get my ticket.
Then, a few stress-inducing things happened:
My taxi driver left
My taxi driver's friend left
My bus was late
Most of the other people waiting there left (on another bus)
My bus still hadn't arrived, an hour after its scheduled departure time
They still wouldn't sell me my bus ticket
My bus still hadn't arrived, 2 hours after its scheduled departure time
In short, I was left to fend for myself in a sea of non English-speaking Lao people, waiting for a bus that may or may not come, at a ramshackle bus station in this dirt parking lot:

Photo Credit: Panoramio
Ah well, I thought. It's not like I've never been alone in unfamiliar territory while entering crisis mode. I reassured myself by recounting the time I cycled around the island of Gotland by myself, got caught in a storm, and had to knock on a Swede's door begging to refill my water bottle because I was about to pass out from dehydration. Or the time I got off at the wrong train station in rural Italy where literally NOTHING and NO ONE ELSE was around, called a taxi driver, and communicated with him in Italian effectively enough to lead him to where I was and take me to another station.
Middle-of-nowhere, Laos is hardly a scary or dangerous place. If I were to run into any problems in catching my bus, I would deal with them just as I had those other times. It would all be ok.
Part 2: Pak Mong to Huay Xai
More than two hours after its scheduled arrival time, the overnight bus from Luang Prabang finally stopped in Pak Mong. I could have kissed the ground in gratitude!
As I stepped onto the bus, the bus attendant motioned to the right towards the luggage store rather than upwards toward the seats. I had already handed him my bags, so I figured he'd misunderstood. I pointed up the stairs and he shook his head, ushering me into the downstairs space with everyone's suitcases and backpacks.
Everyone else boarding at the Pak Mong station followed suit. When the doors closed and the bus started moving, it became painfully clear that this was where we'd be sitting. Yup – I spent the night in the luggage store on a Laos overnight bus.
I don't know how they overbooked the bus from Luang Prabang. Maybe this is common practice in Laos; maybe that guy at the tourist office didn't actually reserve a seat for me when he "booked" my bus ticket. But since I absolutely HAD to be at the Thai border the next day, I had no other option but to take my seat in the luggage store.
Upon realizing that the next 9 hours of my life would be absurdly uncomfortable and, if nothing else, go down in the books as one of my more ridiculous misadventures, I embraced the situation. I cuddled with a suitcase and played footsies with the other people sitting near me. No matter that my iPhone inexplicably decided NOT to play any music the entire duration of the trip but conveniently started working again the second I got to Thailand. And nevermind the fact that we'd be driving on one of the worst-kept roads in Southeast Asia, a portion of which is so rough and bumpy that we'd be reduced to a speed of ~20mph.
All of the Lao people sitting with me pulled out their barf bags within 5 minutes of departure (sheesh, and I thought *I* was plagued with motion sickness!). No really, this was my life (as documented by my semi-functioning iPhone 4):

Needless to say, no sleep was had.
About halfway through the journey, we stopped in Luang Namtha where a handful of people disembarked. My initial thought: FREE SEATS! My next thought: I HAVE THE WHOLE LUGGAGE STORE TO MYSELF! Suddenly, the thought of being able to sprawl out horizontally on the dirty floor sounded more appealing than sitting upright in a cushioned seat. And besides – if I was going to do this, I had to do it for the whole journey, not just half of it. Luggage store all the way!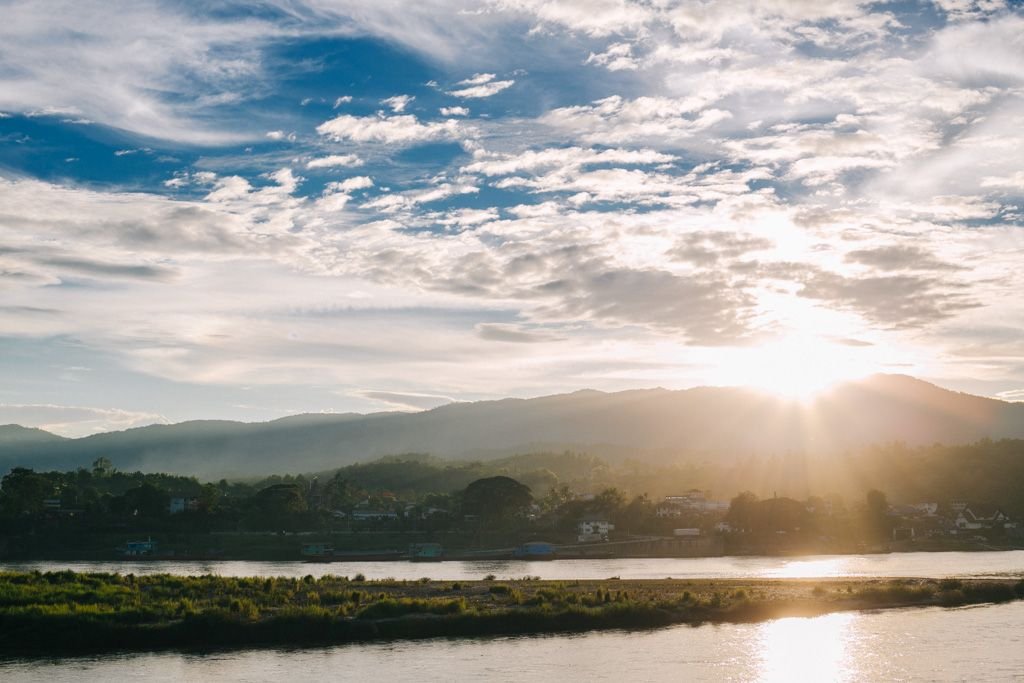 We arrived in Huay Xai without incident very early in the morning, before the border even opened. No one on either side of the border batted an eye at my valid-for-exactly-6-more-months passport.
I SURVIVED THE NIGHT IN A LAO BUS LUGGAGE STORE! I CROSSED THE BORDER ON TIME! A fairly anticlimactic way to end this ridiculous journey, but I'm more than ok with that.
Would you have sat in the luggage store on a Laos overnight bus?