For various reasons, I only had a week to spend in Laos – which is a blasted shame, considering how slow-going yet incredibly gratifying travel can be in this country. To be honest, had I had more time to see more of Laos, I'm fairly confident that I'd have walked away from my 2013 Asia trip declaring Laos as my favorite country of the journey.
Rather than cram as much as possible into one week (c'mon, you know that's not my style!), I had to make a choice: after Luang Namtha, should I visit the scenic village of Nong Khiaw, or the renowned city of Luang Prabang? Shocker!: I took the path less traveled and headed to Nong Khiaw. The allure of spending a few days surrounded by mountains was too great to pass up.
I made the trip with the Dutch couple I'd met in Luang Namtha and we arrived in town by mid-afternoon in the pouring rain without umbrellas or anywhere in particular to go. Like magic, a local greeted us and conveniently swept us off to his nearby guesthouse. When he introduced himself, I knew EXACTLY who he was – this guy was the infamous Mr. Mang, affectionately referred to as the "Godfather of Nong Khiaw" on the interwebs. Legend has it that he has a knack for building business and making money off tourists that come through town. This would have been off-putting, but his eager and earnest personality won me over instantly. How can you NOT like a guy who gives you an umbrella and takes your bags the second you step out of a taxi?
I had been thinking of staying at Mr. Mang's Nam Ou River Lodge anyway, so it worked out that he was there to herd us straight to his guesthouse.
Around Nong Khiaw Laos
The town of Nong Khiaw is divided by the Nam Ou River: most of the cheap guesthouses and restaurants can be found on the eastern side of the river bridge, while more locals live on the western side.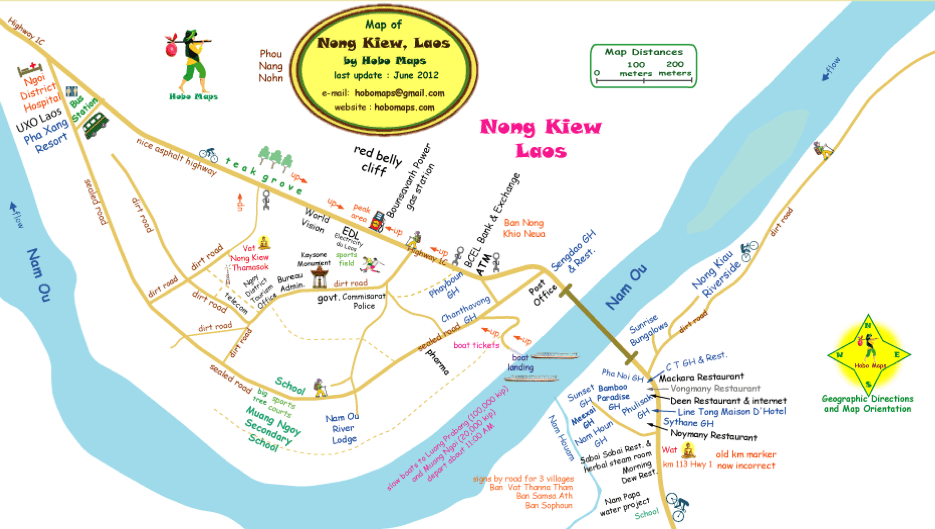 The Nam Ou River Lodge is one of the few guesthouses on the western side of the river and is about a 10 minute walk from the town center, but I chose it because I wanted to be able to sit on the balcony overlooking the river. This was literally my office for 4 days – does it get any better?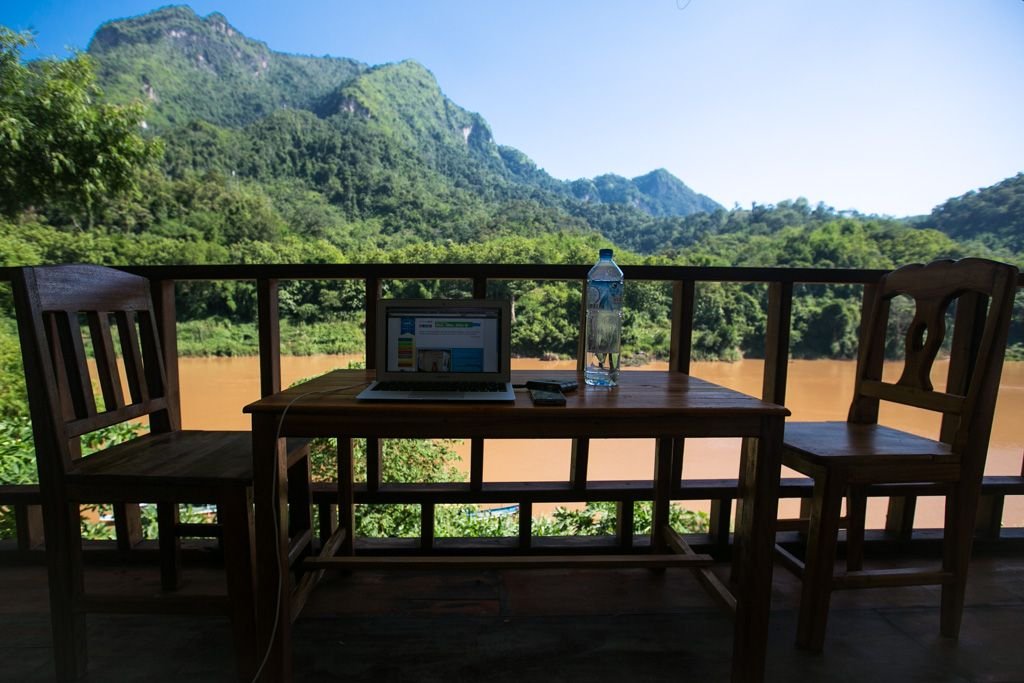 I spent my time in Nong Khiaw writing and editing on my balcony, and indulging in coconut smoothies, pancakes, and lao lao cocktails at various restaurants on the east side (Machara Restaurant and Sabai Sabai Restaurant were my favorites). I could have gone trekking up the mountain or to some hill tribes, but for me it was enough to relax by the river, surrounded by mountains. Nong Khiaw is a visually stunning town, well worth the effort to get to.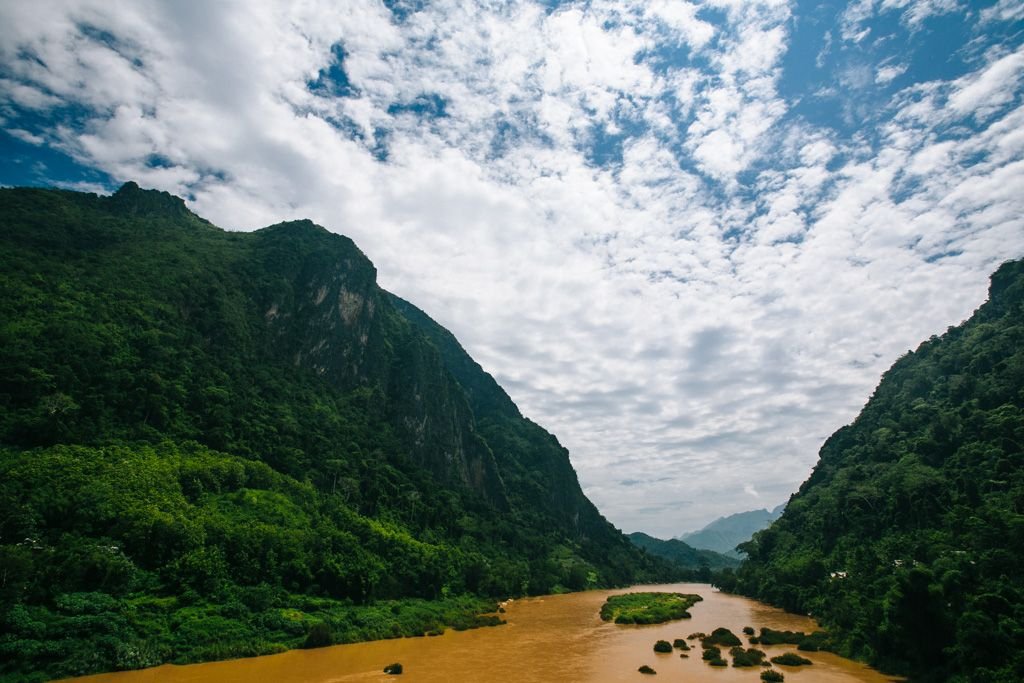 Once in awhile I felt like I should actually get up and DO something, which was when I found myself taking in alternate views of the area via boat and bicycle.
Boat Trip to Muang Ngoi
I had such a positive experience on my kayaking trip in Luang Namtha that I was eager to see the river in Nong Khiaw by boat as well. Apparently Laos is a country best seen by boat because this trip up the river was nothing short of incredible. Five of us from the guesthouse took a motorboat up the Nam Ou river to the village where Mr. Mang grew up. It has clearly been prepared for tourist visits, with nearly every hut displaying an array of colorful handmade scarves outside for purchase. Despite this, it didn't feel overly touristy or any less authentic, and I thoroughly enjoyed exploring the village. And by exploring, I clearly mean creeping on basketweavers and unsuspecting children in the most innocent way possible. I also caved and bought the most beautiful, intricate scarf for about $7 US – a total steal considering the quality and uniqueness of it.
We then stopped at Muang Ngoi, a village about an hour up the river from Nong Khiaw and only accessible by boat. It's become quite popular with backpackers, which was evident the moment we stepped foot into town. There were lots of signs for rooms and even villagers approaching to offer us a place to stay. Despite being smaller and sleepier than Nong Khiaw, it felt more touristy to me. The only real benefit to staying in Muang Ngoi is having easy access to hill tribe treks, which you can't easily get to from Nong Khiaw. Since I had plenty of experience with the hill tribes in Luang Namtha, I felt ok about skipping it in Muang Ngoi.
Still, Muang Ngoi is worth seeing at least on a daytrip from Nong Khiaw Laos. It doesn't get much better than having lunch and drinks on the riverfront overlooking the misty mountains.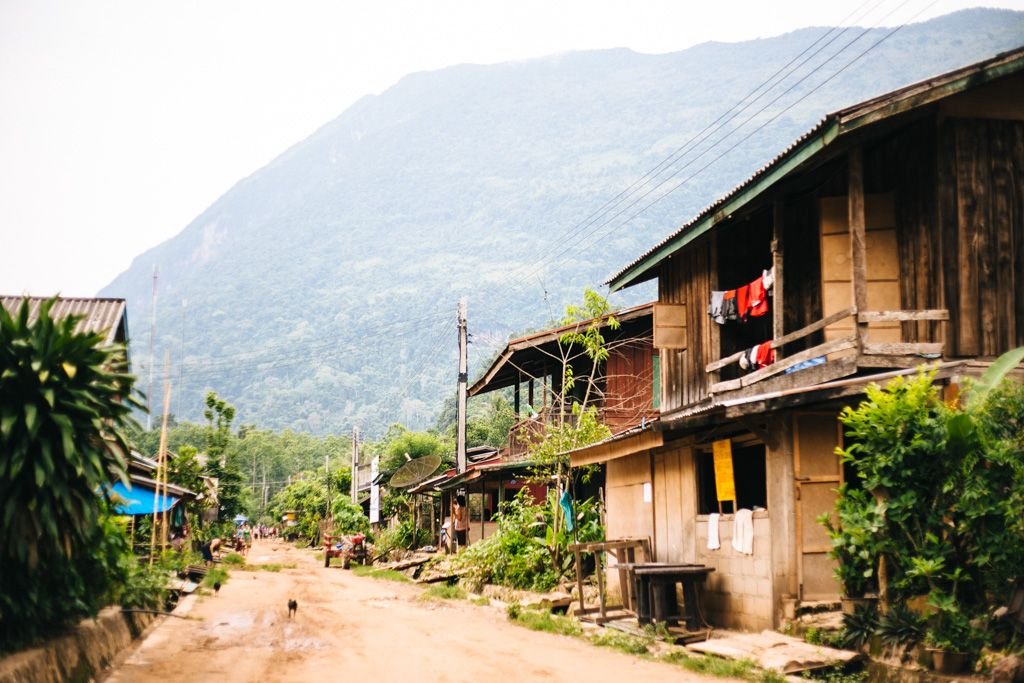 Mountain Biking Around Nong Khiaw
Be warned: if you want to do some biking around Nong Khiaw, you won't get very far unless you're on a mountain bike. The surrounding roads are very hilly and rocky!
I rented a bike on the east side of the bridge and started riding the road out of town. I didn't make it very far because I kept getting sidetracked by all the turnoffs and mountainous views. I was definitely in my happy place!
Just before sunset, I returned to town and rode on the dirt path along the Nong Khiaw riverside. The path seemed to go on forever following the river – I'm not even sure where it ended because I had to turn around before it got too dark. If you're only going to do one trek, walk, or ride while in Nong Khiaw, let it be the riverside foot path – you'll have fetching views of the river and mountains, and a jaunt through one of the local villages.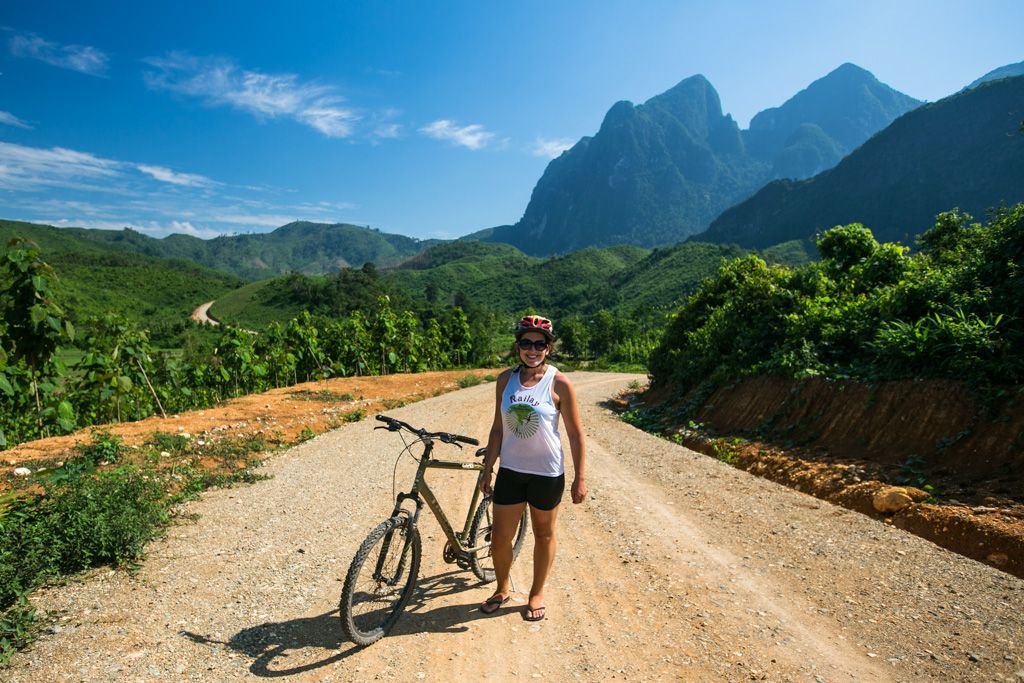 If your Southeast Asian adventures find you in Laos, you should make the effort to explore Nong Khiaw and the far north. The untouched lush green mountains, friendly people, and lack of tourist infrastructure make it a very rewarding travel experience.
Frugal Facts
As of June 2013 —
Getting There and Away
There is no direct bus to Nong Khiaw Laos from Luang Namtha, but you can take a Luang Prabang bound bus and ask to be let off at Pak Mong (4 hour drive). From there, you can catch a taxi to Nong Khiaw (1 hour drive). This entire route is extremely bumpy and slow-going; if you're at all prone to motion sickness, be sure to take precautions!
In the reverse direction, you can take a taxi back to the Pak Mong station from Nong Khiaw, then catch the overnight bus that runs from Luang Prabang to Huay Xai via Luang Namtha, reaching the Thai border very early the next morning.
The minivan from Luang Namtha to Pak Mong is 105,000 kip (~$13 US). A shared taxi from Pak Mong to Nong Khiaw is about 150,000 kip total (~$19 US) – you'll pay less if you can share the ride with others. The overnight bus from Pak Mong to Huay Xai (Thai border) is 120,000 kip (~$15 US).
Other Expenses
A room at the Nam Ou River Lodge costs 70,000 kip ($9 US) per night – this price is slightly less than the normal nightly rate because I stayed for 4 nights and bargained them down.
A scenic boat trip up the river from Nong Khiaw to Muang Sing is 150,000 kip (~$19 US) via the Nam Ou River Lodge. As with most tourist activities in Laos, the more people who join in, the lower each person will pay for it. My boat trip had 5 people.
A mountain bike rental costs 30,000 kip (~$4 US).