I spent $742 total on my recent trip to Colombia. For an 8-day international trip, I'd say that's pretty darn excellent.
I don't know if you've noticed, but money has played a recurring role on this blog since Day 1. I believe very strongly that money should never keep you from pursuing your travel dreams. You can travel without a lot of money as long as you're sensible about it: keeping an eye out for flight deals, minimizing splurges, reducing transportation costs by spending more time in fewer locations. If I can save a little money here and there, I'll make the extra effort to do so. It's like a game!
I played the game exceptionally well this round, though I loosened the purse strings a bit when it came to food and drink. I consider each of my splurges in this arena to be well worth it for the experience, though. Nothing quite hits the spot like a good bottle of red and great (travel-related) conversation!
It's worth noting that Colombia is not one of the cheaper countries in South America; I'd say it falls somewhere in the middle. Furthermore, the coast of Colombia is more expensive than the rest of the country. Point is, I could have visited a different South American nation and gotten by on less money than what I spent on this trip. Still, budget travel in Colombia is very doable. Take a look at my expenditure below:
Note: As of February 2014, ~2030 COP = $1 US.
Flight: $365
Half of what I spent on this entire trip was on the extremely cheap flight there – which was the reason why I traveled to Colombia in the first place. $365 from New York to Cartagena, does it get any better than that?
Transportation: $66
Intercity transportation in Colombia was a bit pricier, but also more comfortable, than I expected. A seat in an air conditioned van from Cartagena to Santa Marta was about $20 one way.
By contrast, I found local transportation quite affordable. A cab ride across town in Santa Marta, or from Old Town Cartagena to the airport, cost us about $5. A bus ride covering the same routes would have been $1-2. I normally avoid taxis in New York, but it was hard to resist them at such great value in Colombia.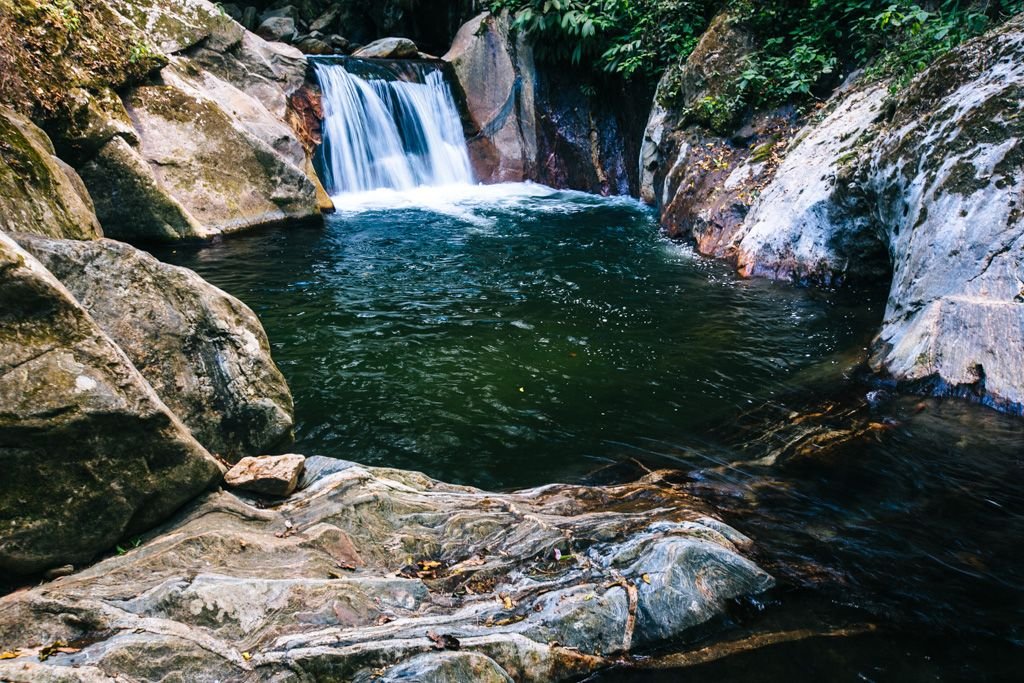 Pozo Azul in Minca, Colombia
Accommodation: $96
Averaging $12/night for accommodation, sleeping in Colombia hardly broke the bank for us. Here's what I paid:
$10/night for a hammock on the beach in Tayrona National Park
$15/night for a bed in an AC dorm room at El Genoves Hostal in Cartagena
$18/night for a bed in an AC dorm room at Drop Bear Hostel in Santa Marta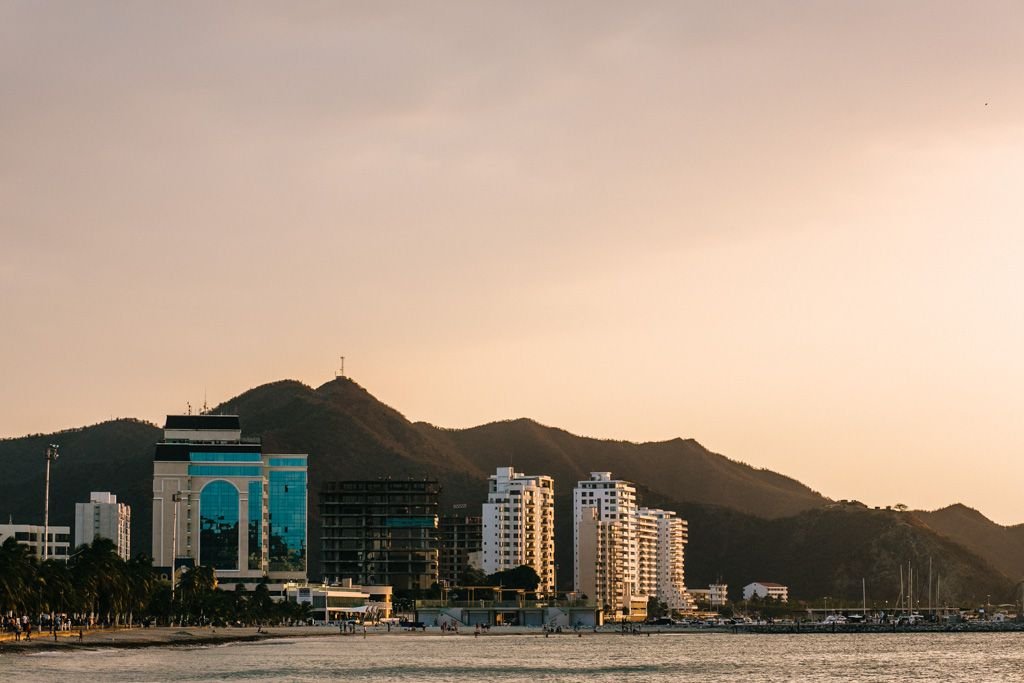 Santa Marta, Colombia
Food/Drink: $184
I averaged $23/day on food and drink, the expense I was most lenient with. Had I skipped a few rounds of Wine Time, I'd have spent under $20/day – but what fun would that have been?! No regrets, baby.
I took my usual approach to eating while I travel: simple grocery-shopped breakfasts, street food snacks, and a proper dinner out at a restaurant (sometimes with drinks). I wouldn't classify Colombian food as one of the highlights of visiting this country, but there are plenty of great restaurants specializing in other cuisines. We ate well in Cartagena, splurging on tapas at El Balcon and fish at La Cevicheria, and had a Mexican feast in Santa Marta.
Other: $31
I didn't do any shopping on this trip, so my miscellaneous expenses were minimal. I paid $19 for a Tayrona National Park pass and $12 for a guided hike in Minca – that's it! I was willing to shell out more to do some sort of adventure activity in Minca, but supposedly there weren't any happening the day we visited.