A quick google search will tell you that Tayrona National Park is beautiful, gorgeous, stunning, insert any superlative here. It didn't take much convincing for me to allot nearly half of my time in Colombia to this tropical oasis.
But what google couldn't do was provide adequate answers to some of the nitpicky concerns I had: Was the hike in doable in flip flops? How are the hammocks set up? What is the locker situation like? Do I have to carry in all of my water? I'm sure I'd have been fine to just wing it and go with the flow, but there's something to be said for how being well-informed can give you peace of mind.
As much as I sometimes wish I could be completely spontaneous and carefree, I would rather quell any worries or concerns I have in advance so I can be fully present while I'm traveling.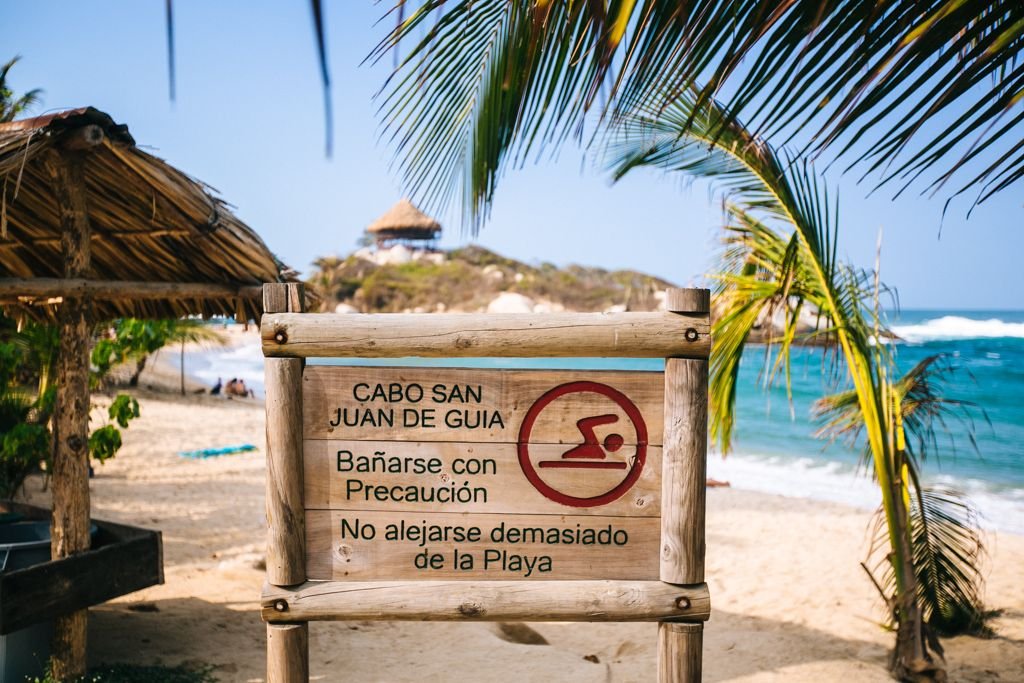 Here's the nitty gritty on getting to and spending time at Tayrona National Park (Parque Tayrona Colombia):
Getting To Parque Tayrona
Getting to the Parque Tayrona is a process, but it's worth the effort.
First, catch a Tayrona-bound bus from Santa Marta either from the bus station or anywhere along the route. Between the sign on the front of the bus that says TAYRONA and the driver's assistant hollering "Tayrona! Tayrona!" upon approaching anyone wearing a big backpack, you don't have to worry about missing it. The bus ride takes 45-60 minutes and costs 6000 COP ($3 US).
The bus will drop you off near the park entrance, where you'll cross the street and enter. At the first station, your bags will be inspected. I was dreading having to unpack and then repack my perfectly-arranged and overstuffed backpack, but the inspection was not very thorough at all. You're technically not allowed to bring in any alcohol, but I reckon we could have gotten away with it.
At the next station, you'll show your passport and pay 38,000 COP ($18.50 US) for your park pass. There should be a van waiting nearby to shuttle visitors further into the park for 2000 COP ($1 US).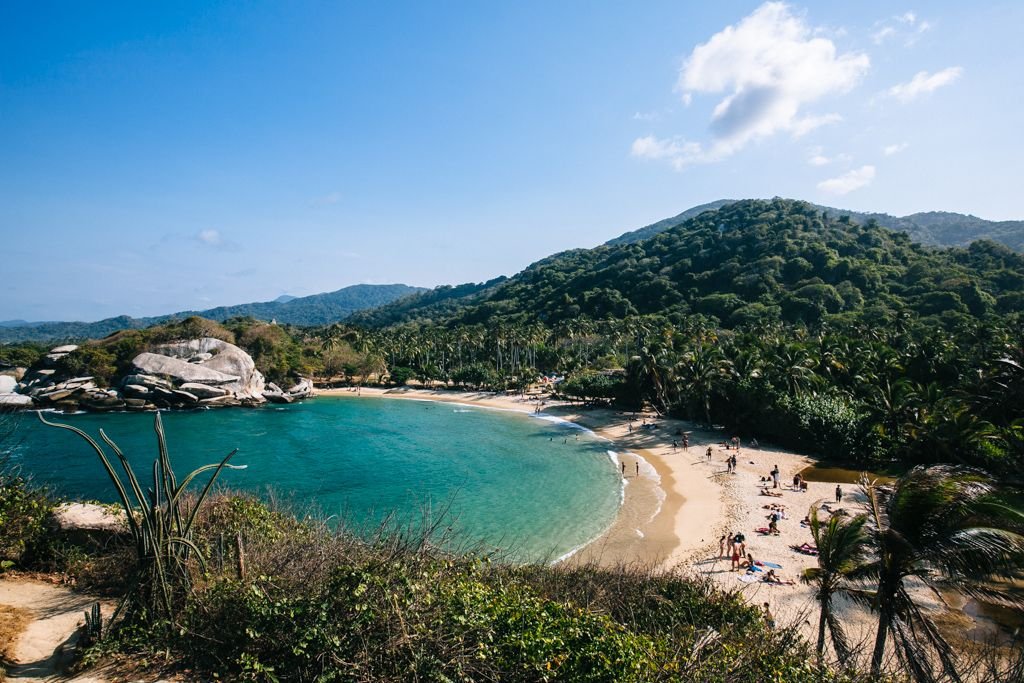 Finally, you'll get dropped off at the trailhead to start the hike to the beach. If you don't stop and keep a steady pace, you could get to Cabo San Juan in 1.5 hours. It took us 2-2.5 hours due to photo breaks and not being adequately prepared for a lengthy hike in the heat.
The trail itself is well maintained and worn – there are even platforms and stairs built into it (very necessary during wet season!). Yes, the hike is doable in flip flops, but I don't recommend it. Don't be silly like me – bring a pair of running shoes to hike in.
The first half of the hike is through the hilly jungle; the second half takes you on a path slightly inland from the beaches. It's actually quite a nice trail and not very difficult, but we were too eager to get to the campground and drop our bags.
Tayrona National Park Camping
There are a few campgrounds in Tayrona National Park, but as I asserted in previous posts, you'll want to stay at Cabo San Juan. They won't let you check in until 2pm, so we sat (er, dozed off) on the beach with all our gear for an hour before returning to reception. A couple things I wish we'd known:
Queue up early to check in! By the time we showed up at 1:50, the line was already really long and it was about an hour before we were able to check in.
You can stash all your gear in a locker even before checking in. The locker room is open and right by the beach; had we known, we'd have locked up our gear rather than taken everything to the beach with us.
In terms of accommodation, you have 2 options: renting a hammock (20,000 COP [$10 US]/night per person; 25,000 COP [$12 US]/night for the ones over the water, at the view point) or renting a tent (18,000 COP [$9 US]/night per person). We opted for regular hammocks, namely because it was colder on the water and Nicki didn't have a proper sleeping bag to keep warm. Be warned that the Cabo San Juan hammocks are hung absurdly close together and do not come with mosquito nets (though we didn't need them).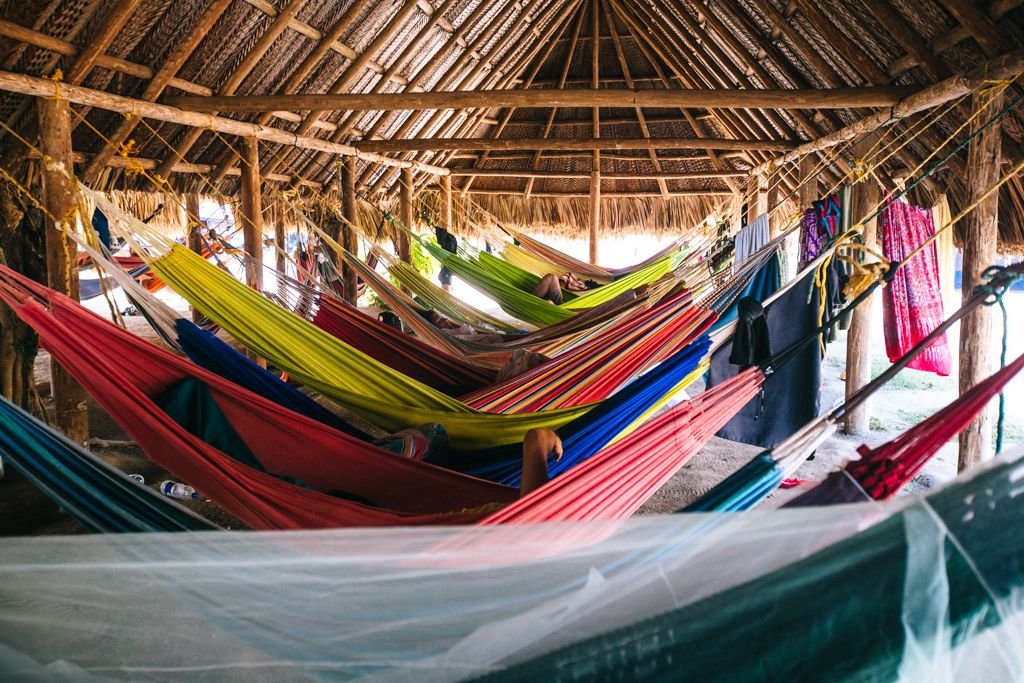 One thing I'd been curious about was whether I could bring my own hammock and hang it on or near the beach. I didn't see any spot where I could do so at the campground, but during the day I saw a few hammocks hanging on Cabo – though I'm not sure if you're allowed to sleep on the beach there. Nicki saw a couple of tents on the beaches north of Cabo while on her sunrise runs, but they were gone during the day. I suspect people were sleeping in tents there at night, then taking them down early in the morning so as not to get caught. It's probably easiest just to rent a hammock or tent at the campground rather than bring your own.
Facilities at the campground were surprisingly decent. Cabo has 4 toilets (that even flush!) and about 8 showers, and we never had to wait long to use either of them. The lockers are quite big and easily fit my daypack, camera gear, and tote bag – though it might be difficult to fit a larger backpack upright.
And finally, the ethnic makeup of our fellow campers surprised me. The majority of visitors were South Americans, mostly from Chile and Argentina. We met a few fellow Americans, and there were a handful of Europeans, but other than that – most everyone was Spanish-speaking.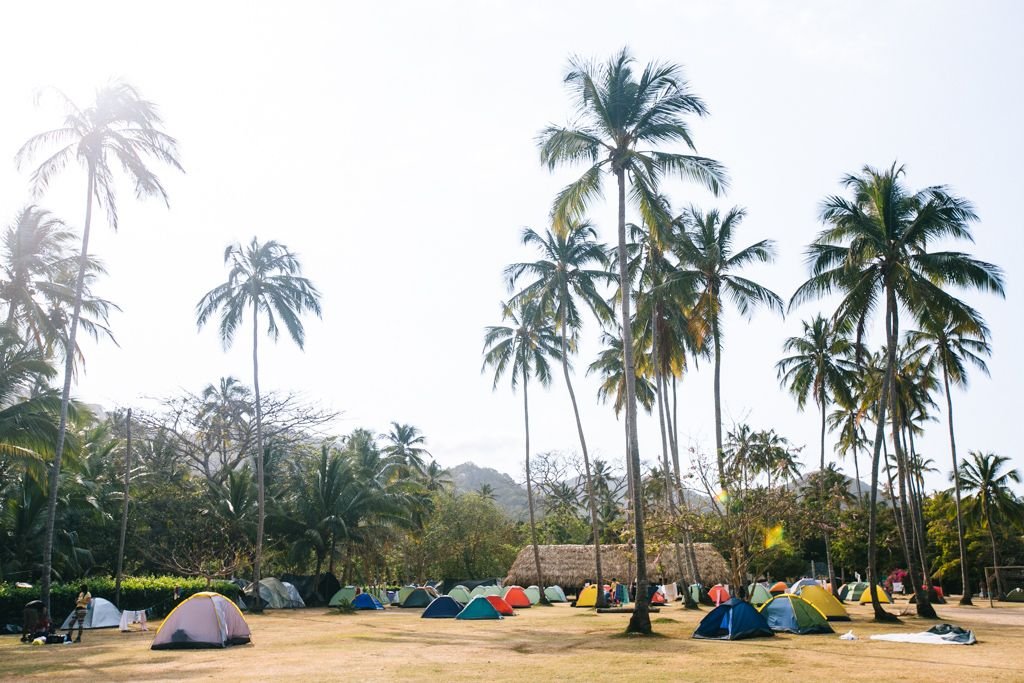 Eating at Parque Tayrona
We stopped at the grocery store in Santa Marta beforehand to stock up on snacks, breakfast foods, and water for our time at Tayrona, buying as much as we were willing to carry on our backs. Food and water is pricey at the campgrounds and, though not bank-breaking, it's easy to save a bit of money by bringing your own snacks and water.
A small water bottle costs 3000 COP ($1.50 US) at the campground; you'll pay less for a bottle 3x this size back in town. When I ran out of my store-bought water, I purified water from the campground tap and it tasted fine.
There is a restaurant at the campground which google will reveal to have mixed reviews. I found it to be more than adequate – and dare I even say good! You won't find much local food on offer, but there are plenty of pasta, chicken, and fish dishes to choose from – 15,000 COP ($7 US) / 20,000 COP ($10 US) / $25,000 COP ($12 US), respectively. An American-style breakfast is 12,000 COP ($6 US) and a bottle of wine is 40,000 COP ($20 US). I can't vouch for the brekkie, but the vino splurge was oh-so-satisfying.
There was also a little smoothie stand set up in the corner, where you could order all sorts of exotic fruit drinks for 5000 COP ($2.50 US) a cup.
During the day, there are a few vendors scattered along the beaches selling drinks and empanadas. Don't miss the arepa stand about 15 minutes south of Cabo – those arepas were the best thing I ate in Colombia!