Amongst Thailand tourists, Chiang Rai typically plays second fiddle to Chiang Mai. Both towns serve as a base for treks through Northern Thailand; since I had chosen Chiang Mai for that, I wasn't sure if I'd bother stopping in Chiang Rai.
But guess what! I didn't even have to make that call myself, because the minivan I took to the Laos border made a quick stop at the White Temple in Chiang Rai – which, let's be honest, is the one thing I'd wanted to see there anyway.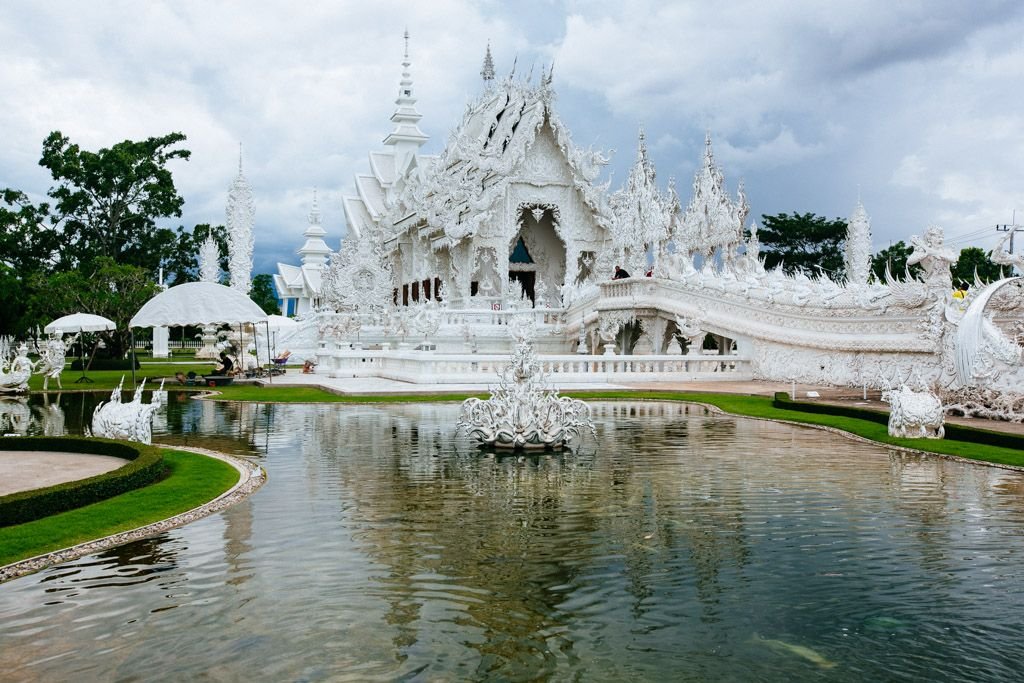 I love modern art, and Wat Rong Khun is one spectacular example of contemporary architecture. Unlike other Buddhist temples in Thailand, this one is – surprise, surprise! – white. 100% white. It was only started in 1997 and looks to be complete, but the artist insists there will be at least another 90 years of work on it before it's Taj Mahal caliber (indeed, that is his goal). The detail on this temple is – for lack of a better word – absolutely insane.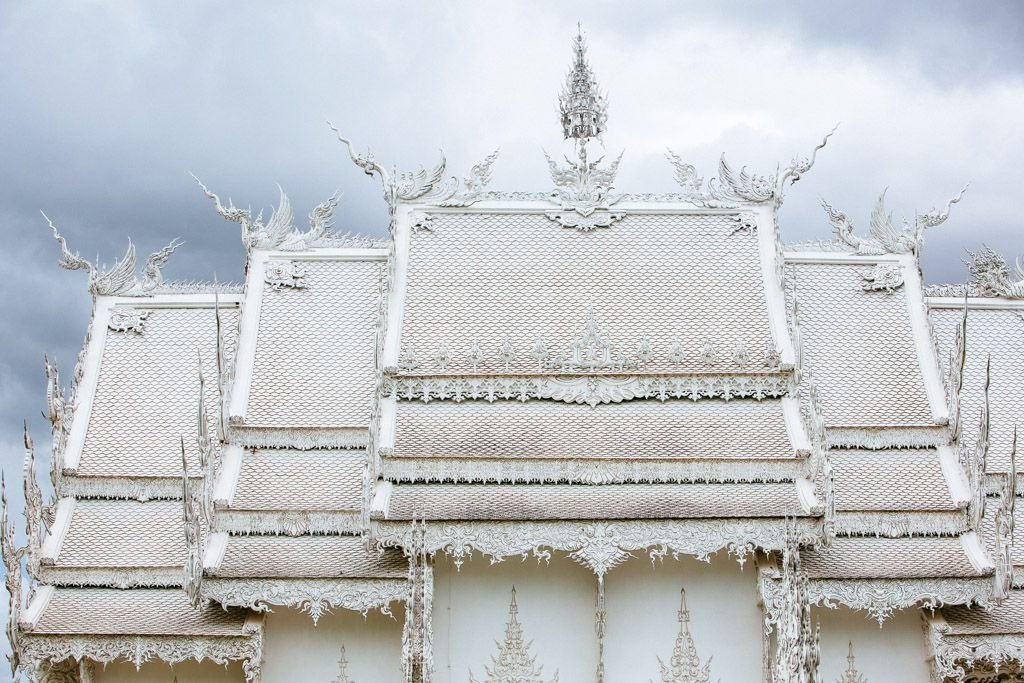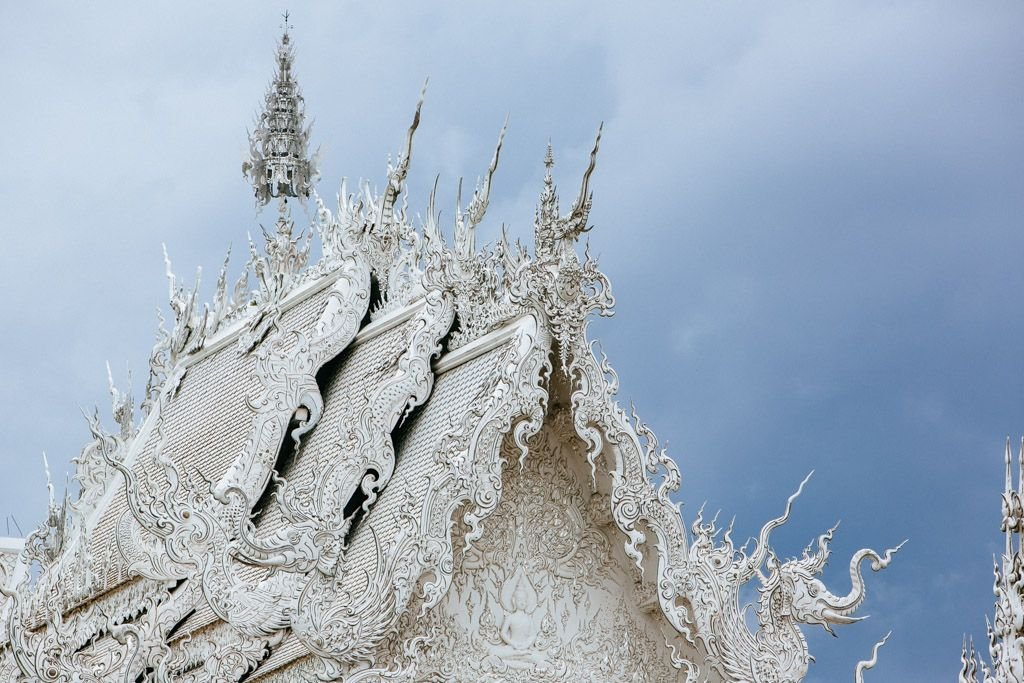 And then you have a few weird things around the White Temple, like a big pool of hands reaching up toward the sky, and creepy heads hanging off of trees. The hands represent the people who have fallen victim to temptation and evil, trying to escape the pit of hell and get back on the path to heaven (represented by the temple itself). I can only assume the grotesque hanging heads are representative of hell as well. The White Temple in Chiang Mai is all about the constant struggle between good and evil, heaven and hell. It's absolutely fascinating!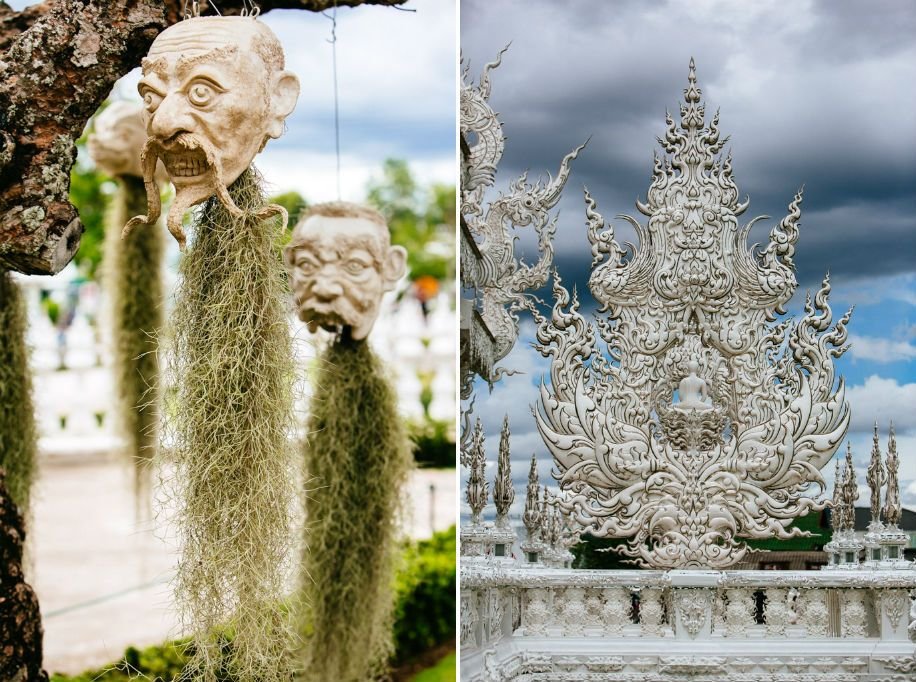 Unfortunately, we only had 20 minutes to wander around the temple before continuing the bus trip to Laos. If I'd had it my way, I would have allotted an hour to thoroughly explore and examine the intricate details around the complex. But hey, better than not seeing the temple at all, right?
The White Temple in Chiang Rai is one of the best things you can see in Northern Thailand. And bonus: if you have time, you can check out the Black House as well (which was designed by a student of the architect who created the White Temple!).
Frugal Facts
As of June 2013 —
The tourist minivan from Chiang Mai to Chiang Khong costs 400 THB ($12 US). It includes a stop in Chiang Rai and picks you up at your hostel (hence saving you a trip to the bus station).
The local Green Bus from Chiang Khong to Chiang Mai costs 290 THB ($9 US). It includes a small meal and drops you off at the bus station.
Admission to the White Temple in Chiang Rai is free.