The latest on my quest to tackle ALLLLLL the Sydney Harbour walks? The Hermitage Foreshore Track, which runs along the waterfront on the harbour side of Vaucluse.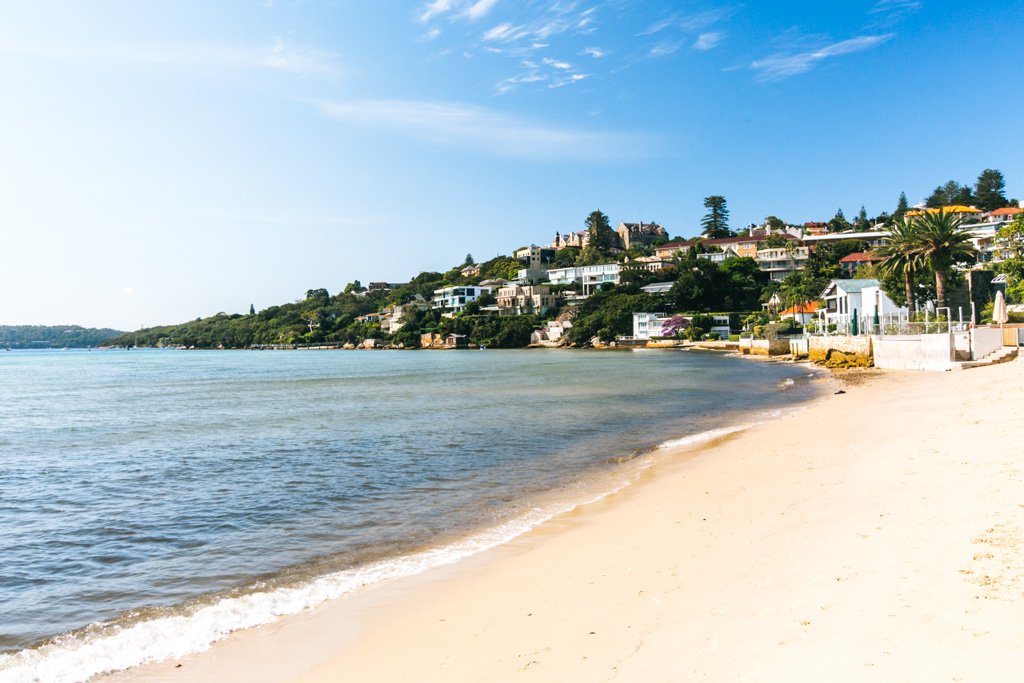 Rose Bay. The track begins shortly after the sand ends here.
The Hermitage Foreshore Track is only 1.8km long and should take you under an hour to complete unless you make a lot of (lengthy) stops along the way. It's a great choice in walks because it's quick, easy, and really beautiful
READ MORE: The 15 Best Hikes in Sydney
Vaucluse
In order to get to either end of the track to start this walk, you'll be walking through the lavish eastern suburb of Vaucluse. It's the kind of place where you'll find elementary schools and tennis courts with million-dollar views.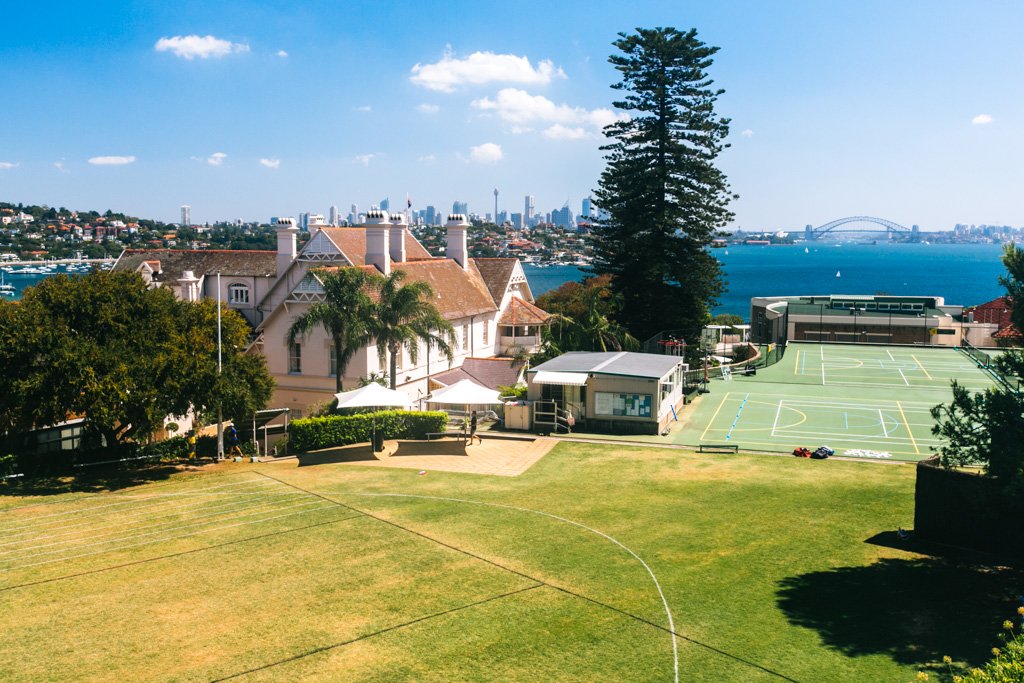 If you derive any pleasure at all from property porn, you'll love ogling the homes in Vaucluse. The streets are lined with houses so fancy that you may find yourself pondering what the $*%& you have to do in life in order to live in one. I mean, can you imagine owning a home with pillars and floor-to-ceiling windows that yield views of Sydney freakin' Harbour?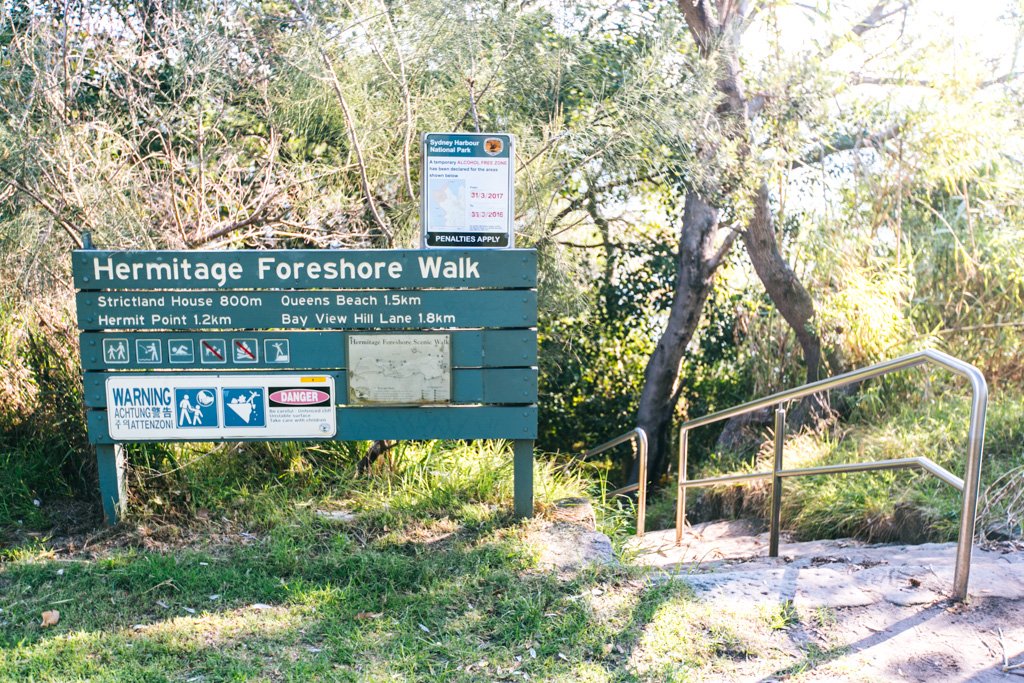 Hermitage Foreshore Track
My suggestion is to do this hike in the morning so that you can enjoy clear views out toward the Sydney skyline. If you go later in the day, the skyline will be washed out by the sun's brightness as it makes its way over the city to set.
I recommend walking west to east on this track so that you finish up in Nielsen Park and can add on other nearby stops if you have the time and energy. East to west is fine too, but don't walk this way in the afternoon because you'll be walking straight into the sun the whole time.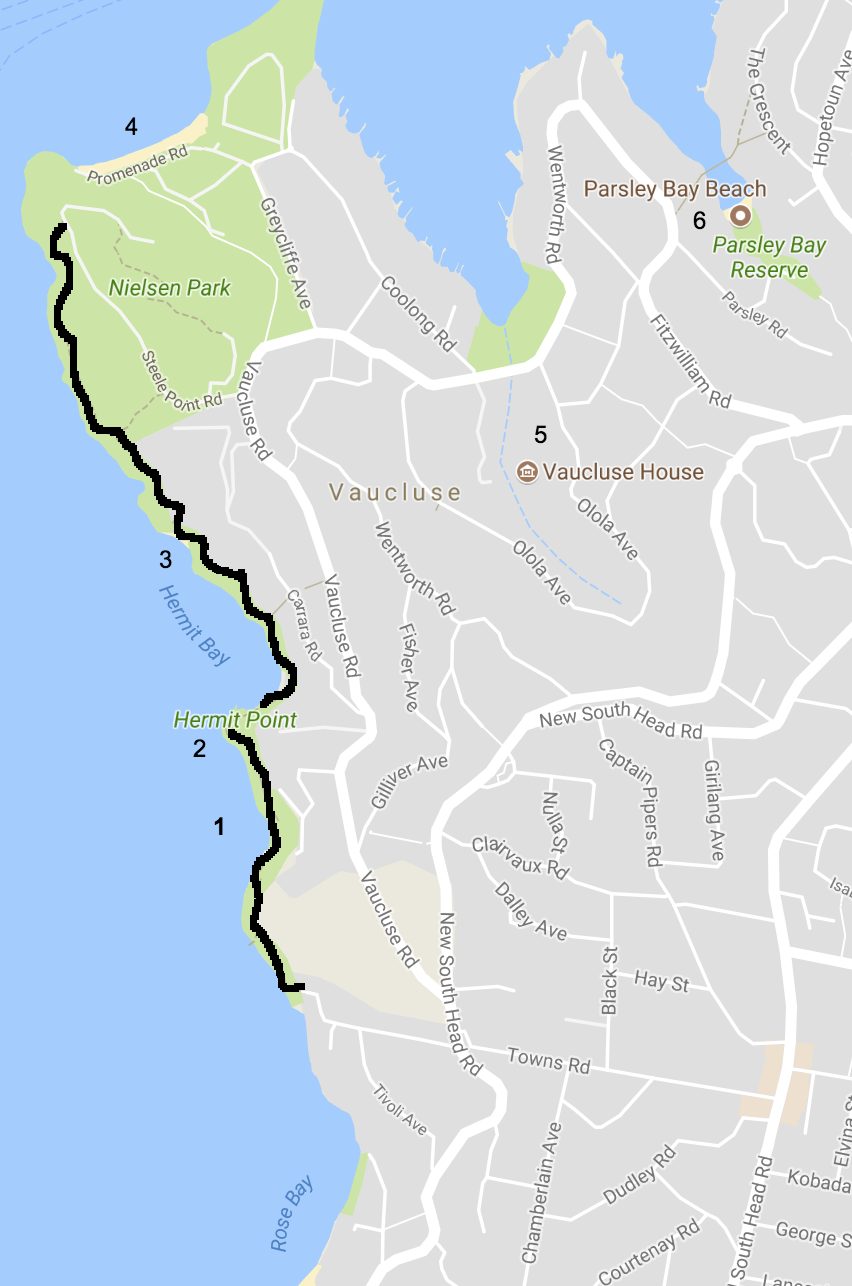 To be honest, there aren't a whole lot of highlights along this track. Don't get me wrong, the whole thing is a delight to walk – but the harbour views are pretty much the same throughout.
That said, here are a few notable spots: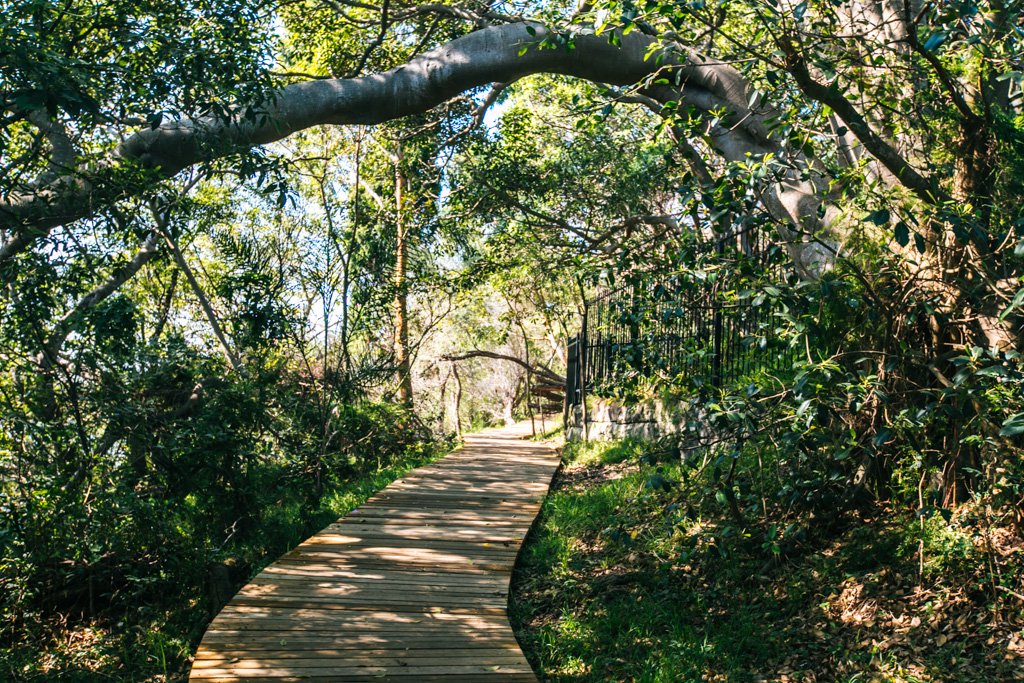 1. Queens Beach
The first noteworthy stop along the track is secluded little Queens Beach. For some reason it's not as popular as the other beaches along the way, but for me that only adds to the appeal.
Can't beat 180-degree views of Sydney Harbour, amiright? From here, you can sunbathe while gazing out at the Harbour Bridge and Opera House, or over toward the turquoise waters of Rose Bay.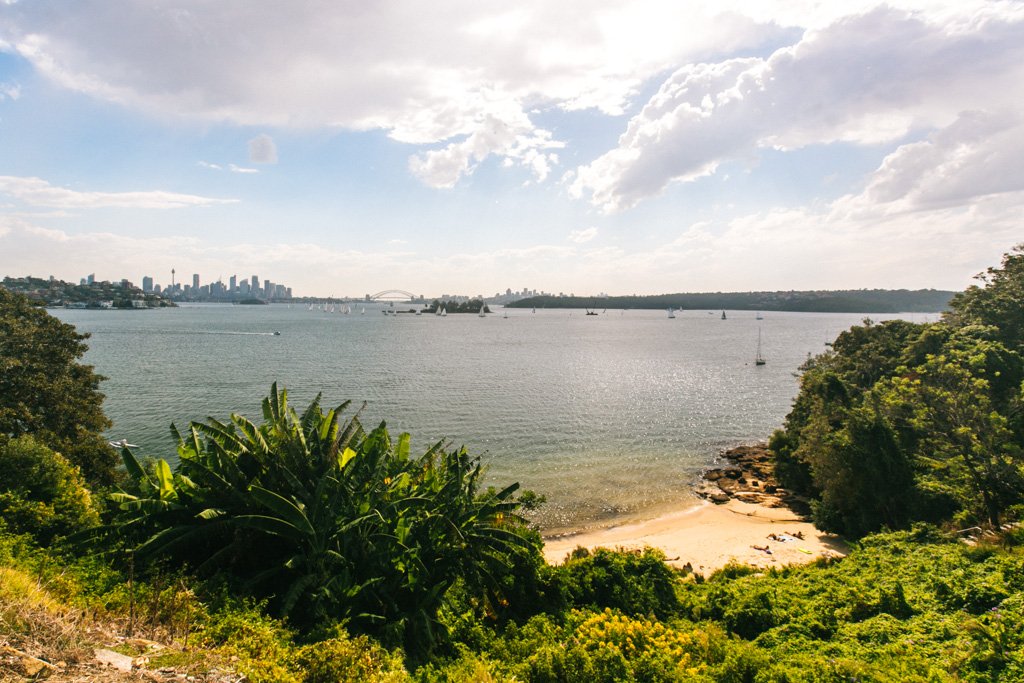 Queens Beach with a view out toward Shark Island.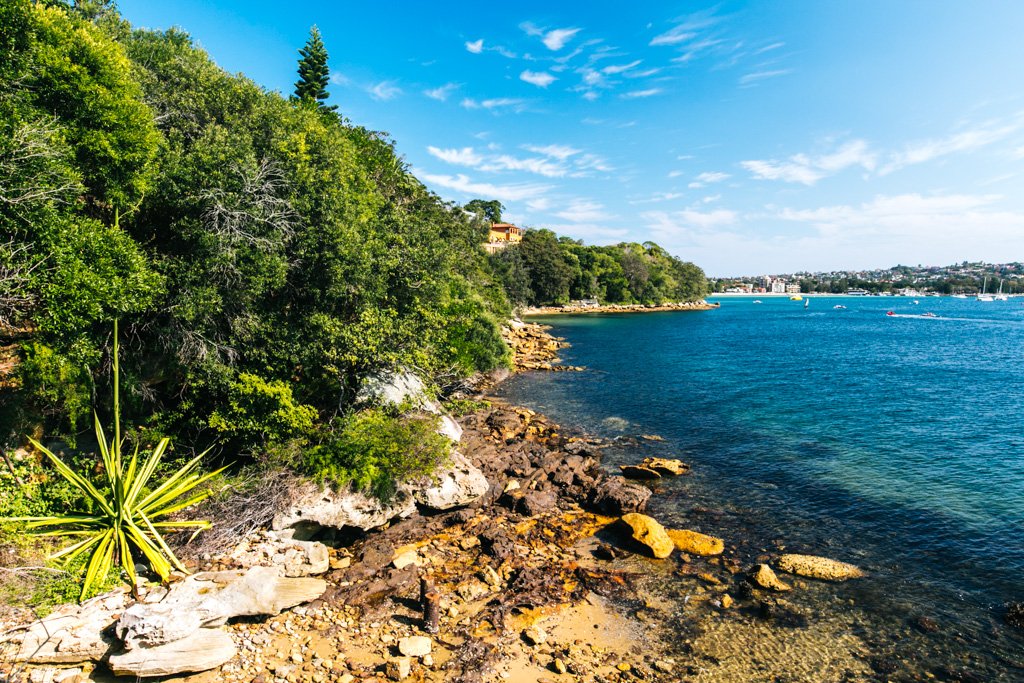 2. Hermit Point
You're likely to catch more boats than people hanging out at Hermit Point, but I actually quite like it around here. There's a quiet beach and some big trees where you can sit in the shade. Just don't sit on the concrete where I am in the photo below – the grooves make it an incredibly uncomfortable place to sprawl out!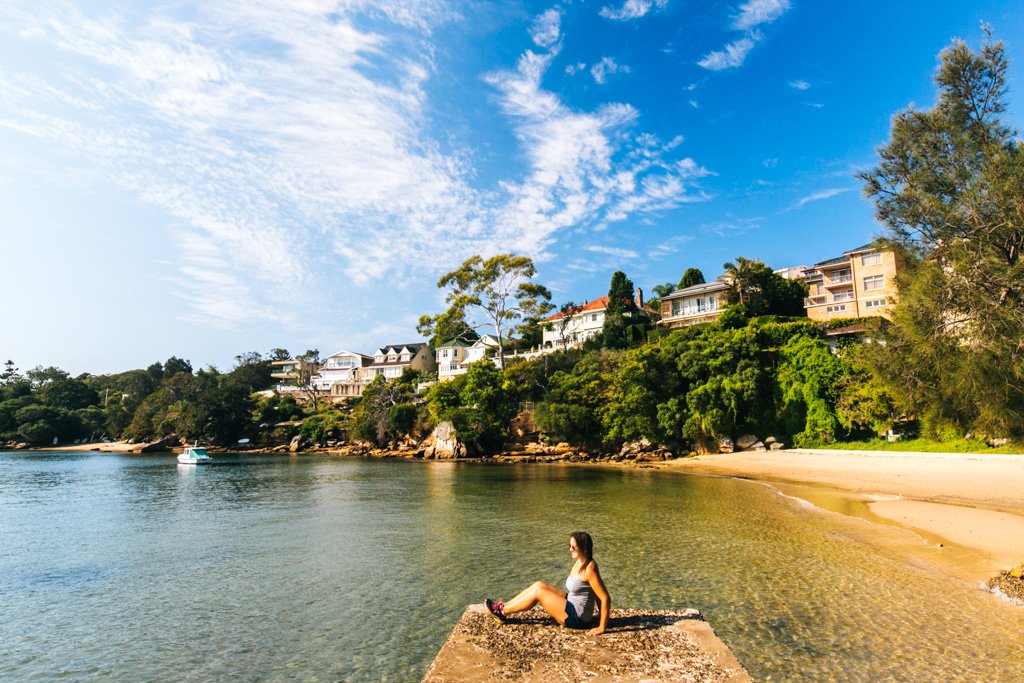 Hermit Point.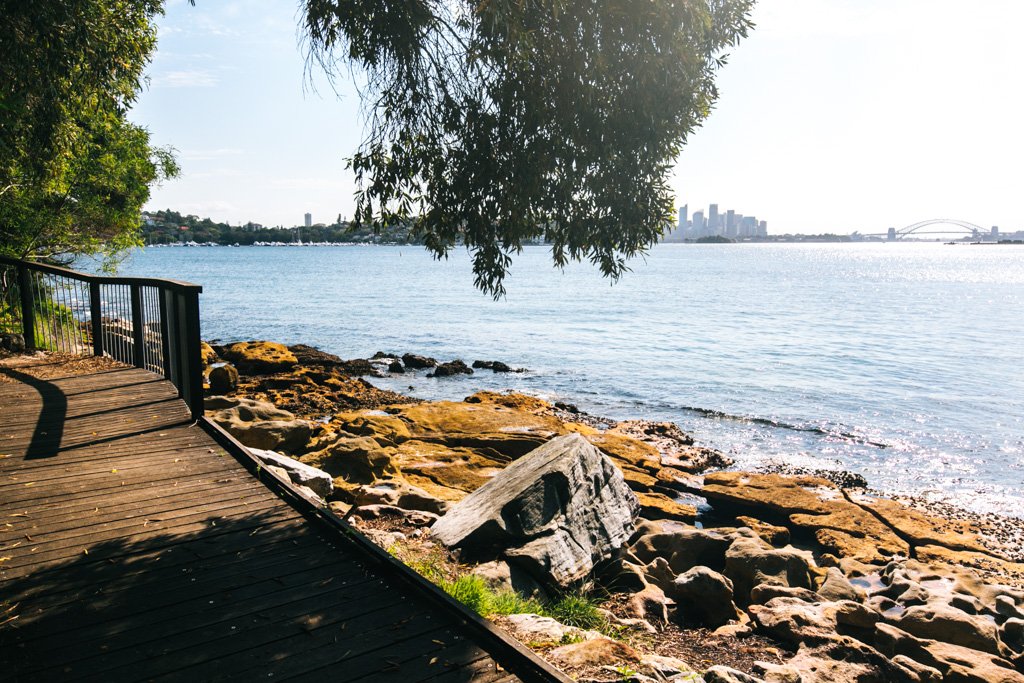 3. Milk Beach
Milk Beach is a favorite amongst Eastern Suburbs residents and it's pretty easy to see why. This cozy sand beach looks straight out toward the Sydney skyline, gets good sun all through the afternoon, and is well off the tourist track.
If you're going to stop anywhere for awhile along the Hermitage Foreshore Track, let it be here.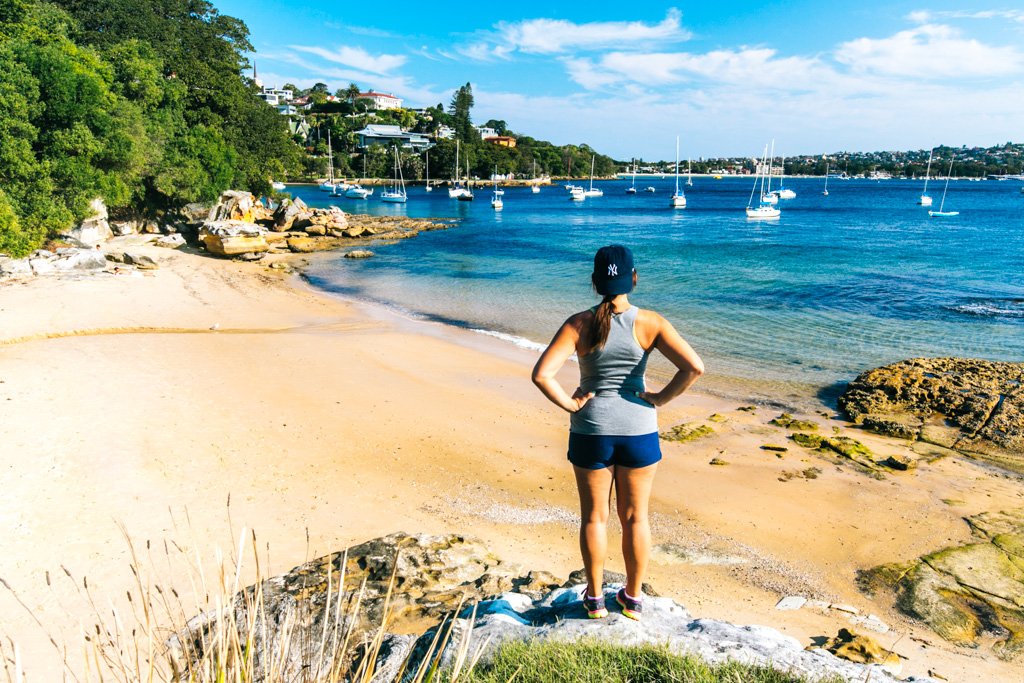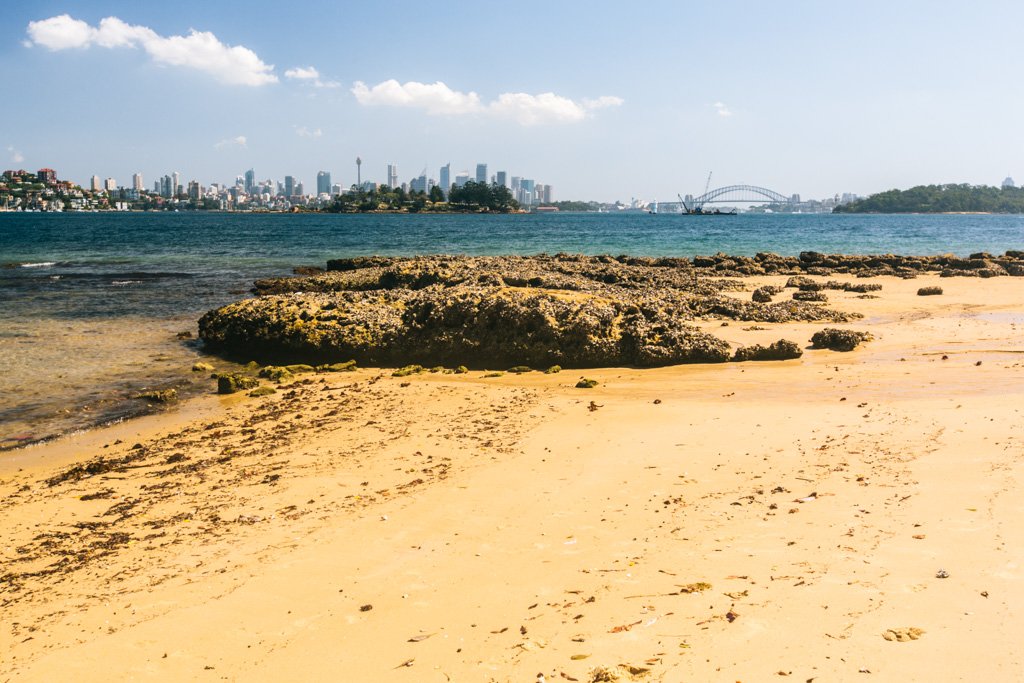 4. Shark Beach
The walking track ends in Nielsen Park, but if you walk a little further you'll reach Shark Beach. This Sydney beach is easily recognizable by its enclosed swimming area – the netting is to keep out sharks! I'd say morning is the best time to hang out here, as the beach faces east and can become shaded by mid-afternoon.
There are lovely views from the headlands on both sides of Shark Beach as well.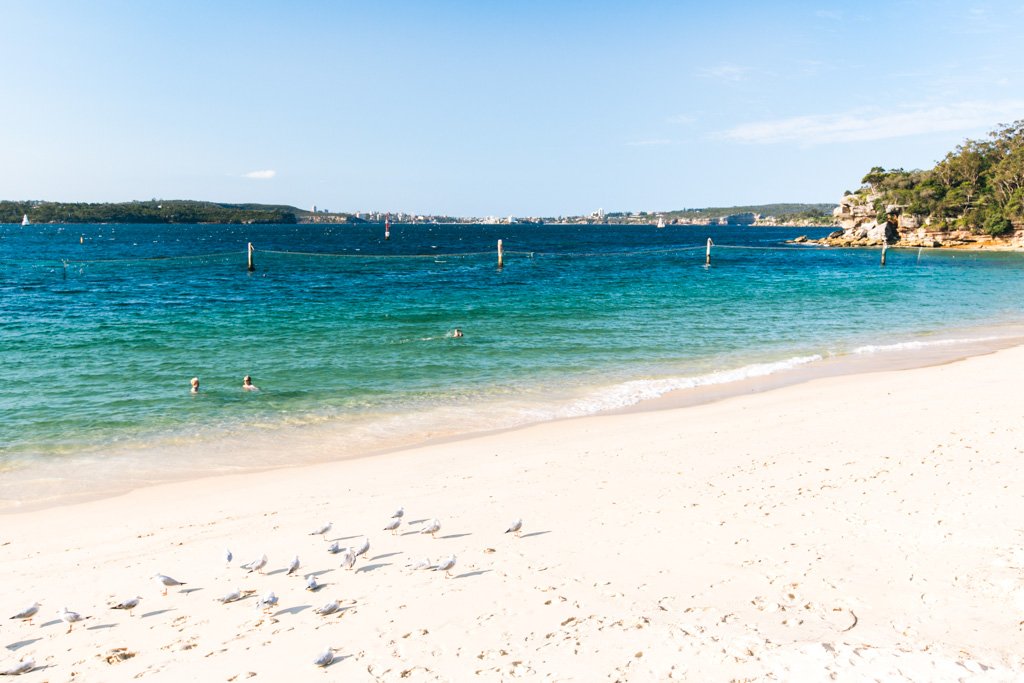 Other Stops Near The Hermitage Foreshore Track
5. Vaucluse House
History buffs and bloom chasers especially might enjoy a stop at Vaucluse House: Australia's first house museum, set in a 19th century mansion surrounded by gorgeous gardens, just a 10 minute walk from Shark Beach. The house is open Wed-Sun from 10am-4pm and costs $12 to get in; the gardens are open 24/7 and are free to wander around.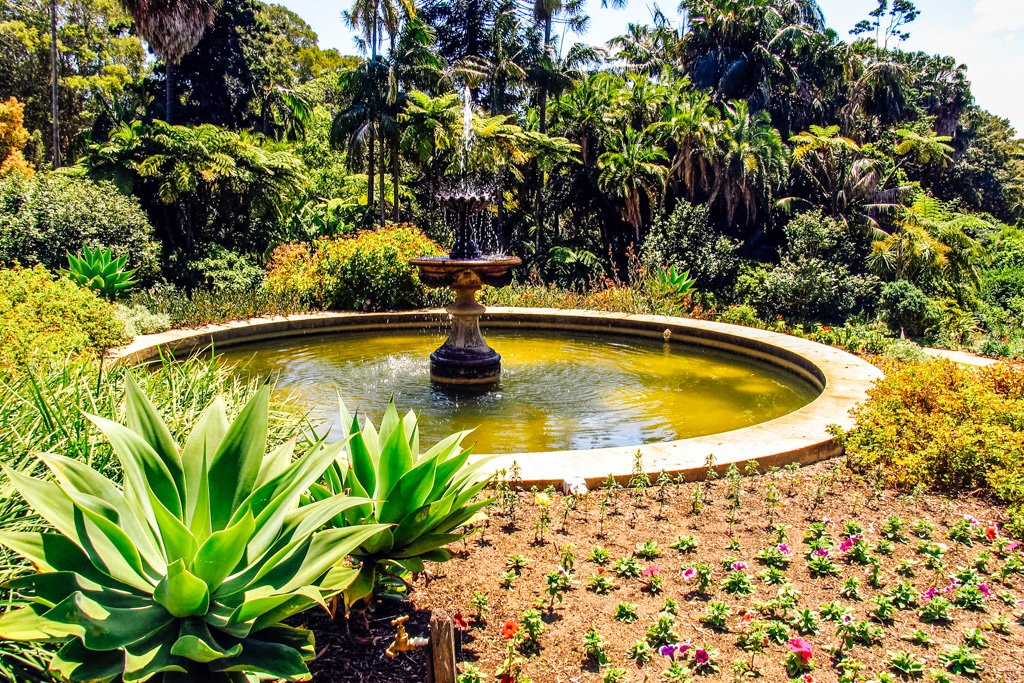 6. Parsley Bay
I'd wager a guess that very few Sydneysiders even know about this spot, but boy is it glorious! And it's just a couple minutes' walk from Vaucluse House, so you might as well visit both in one go.
Parsley Bay has become one of my new SUP spots in Sydney because it's close enough to paddle to from Watsons Bay (a transport hub, and my go-to SUP location), and it's closed off to boat traffic – which means super calm water for swimming and paddling.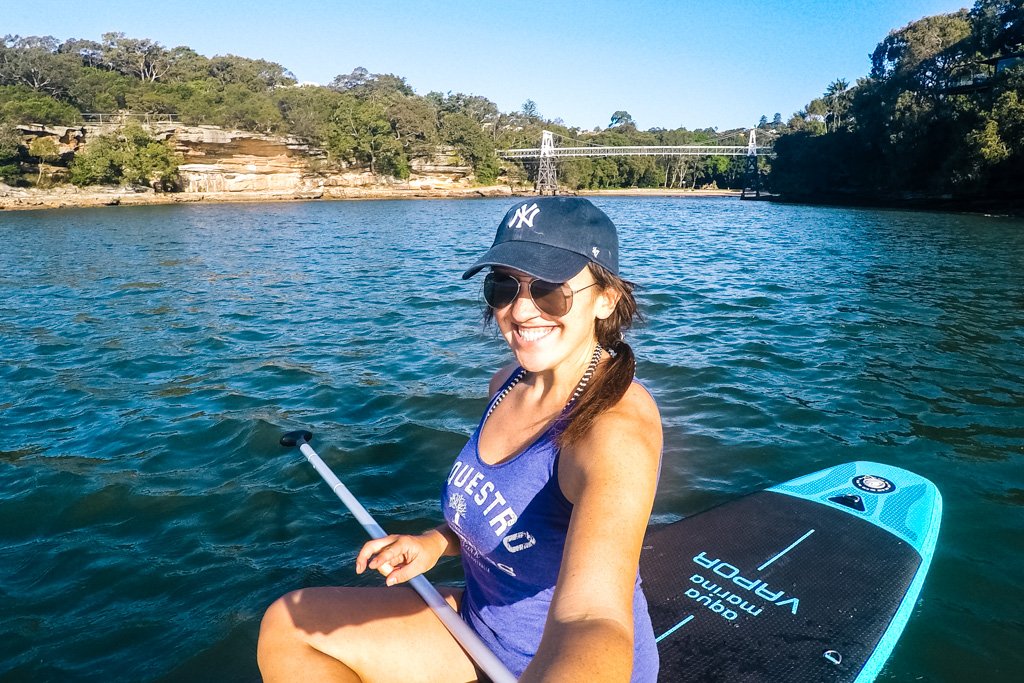 Paddling in Parsley Bay.
The beach itself here is ok, but if you walk along the edges of the bay you can find some cool spots in the rocks for frolicking and sunbathing. On the edge of the enclosure there's a dock that's popular for sunbathing.
Parsley Bay is also unique in that a bridge runs over it! I'm pretty sure it's the only beach in Sydney that can make this claim.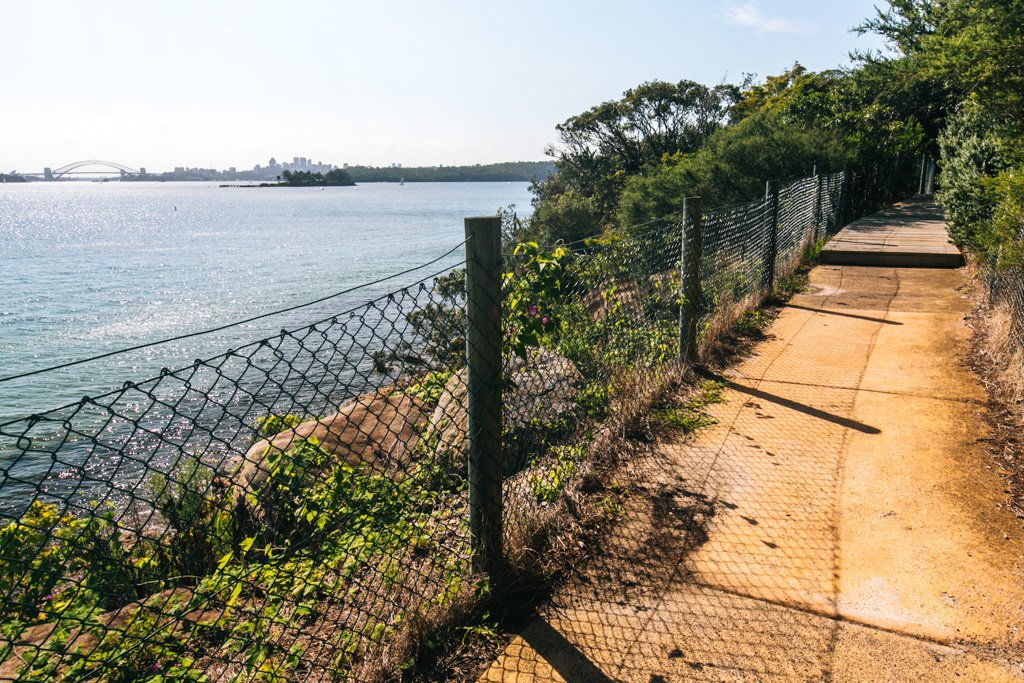 Want more? Check out some other Sydney Harbour Walks: Mosman to Cremorne // Spit to Manly // Watsons Bay & South Head // Manly to North Head // Bradleys Head to Chowder Bay
Pin it!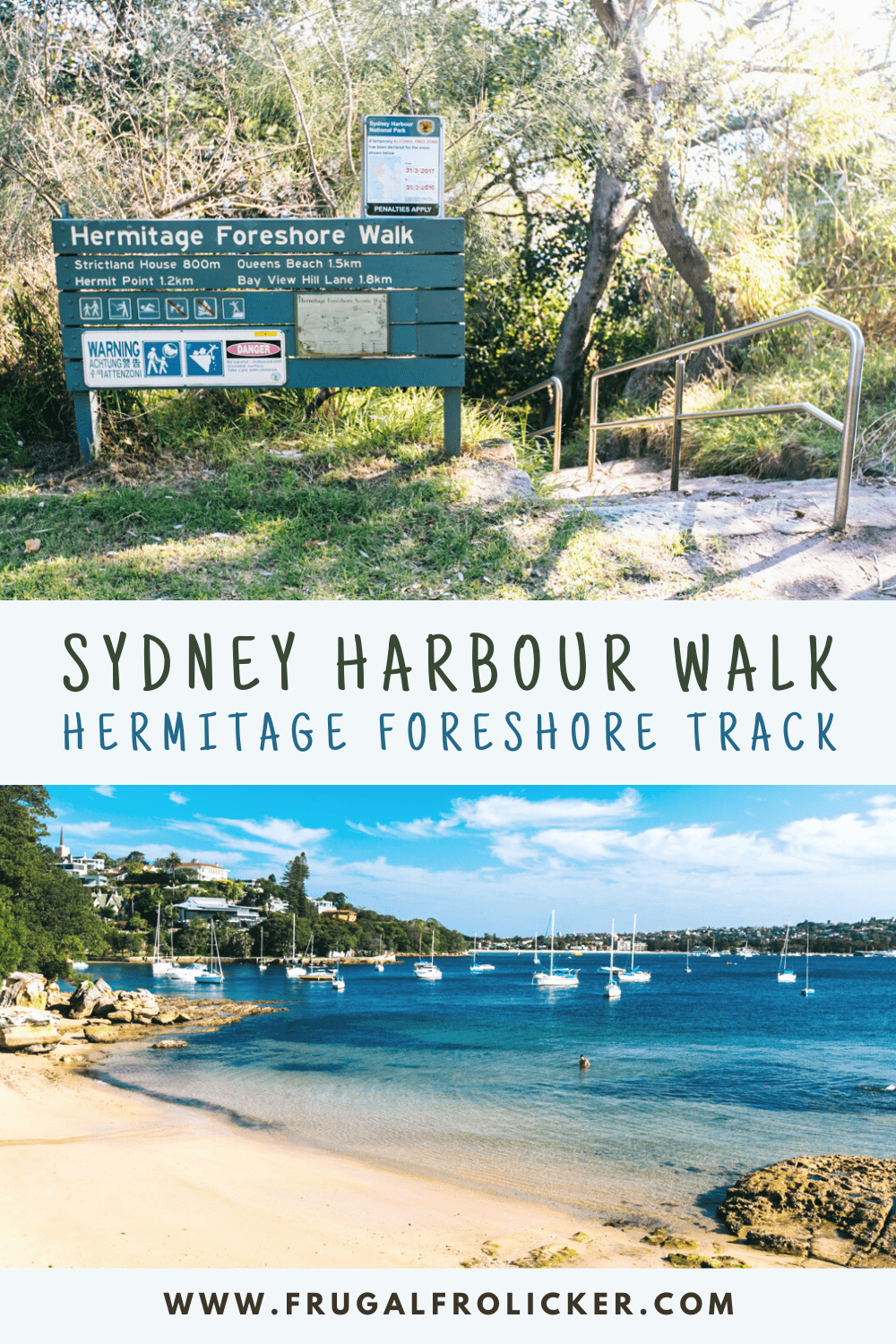 Frugal Facts
How to get there: Take the 324/386 bus to Rose Bay if following the route as specified above; alternatively, you could start at the other end by taking the 325 bus to Nielsen Park (Vaucluse Rd near Greycliffe Av).
How much time to allow: The 1.8km walk can be completed in 30 minutes – 1 hour without stopping for long. Allow more time if you want to swim or sunbathe at one of the beaches along the way.
You'll love this hike if you enjoy: Secluded beaches, harbour views, a quick and easy stroll.