There are a couple of must-do hikes in Wanaka, New Zealand. Rob Roy Glacier tends to be the one locals recommend: a glorious half-day hike rife with alpine scenery, waterfalls, glaciers, and swing bridges… and unfortunately, not a viable option for me because the trailhead isn't within walking distance from town.
Not to be discouraged, I "settled" for option B: Roys Peak, a rigorous and exposed uphill climb with views over Lake Wanaka. Here's a little photo guide to hiking Roys Peak (spoiler alert: it rocked my world!):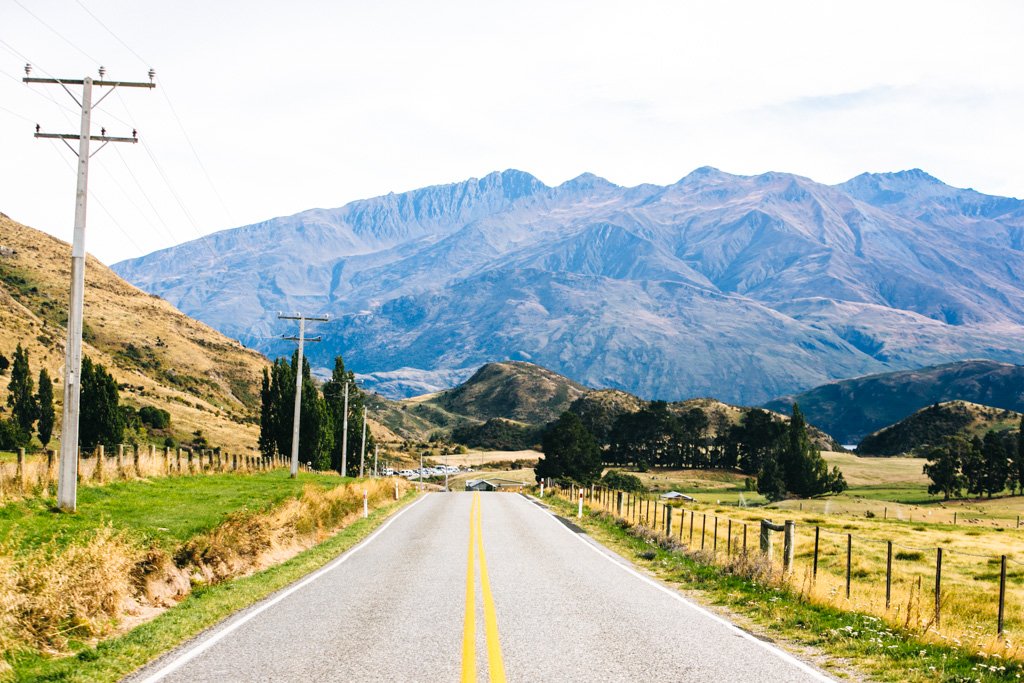 Hiking Roys Peak in Wanaka
If you don't have a car, you can walk about an hour out of town toward Mount Aspiring National Park til you reach the Roys Peak carpark. Not that you'd want to tack on all that extra walking time onto a hike that's already pretty exhausting, but it's an option that I was grateful for. If you get an early enough start, you can break up the walk back to town and hit Rippon Vineyard before it closes at 5pm, rewarding yourself with some wine and more fetching lake views. #ThingsIShouldHaveDone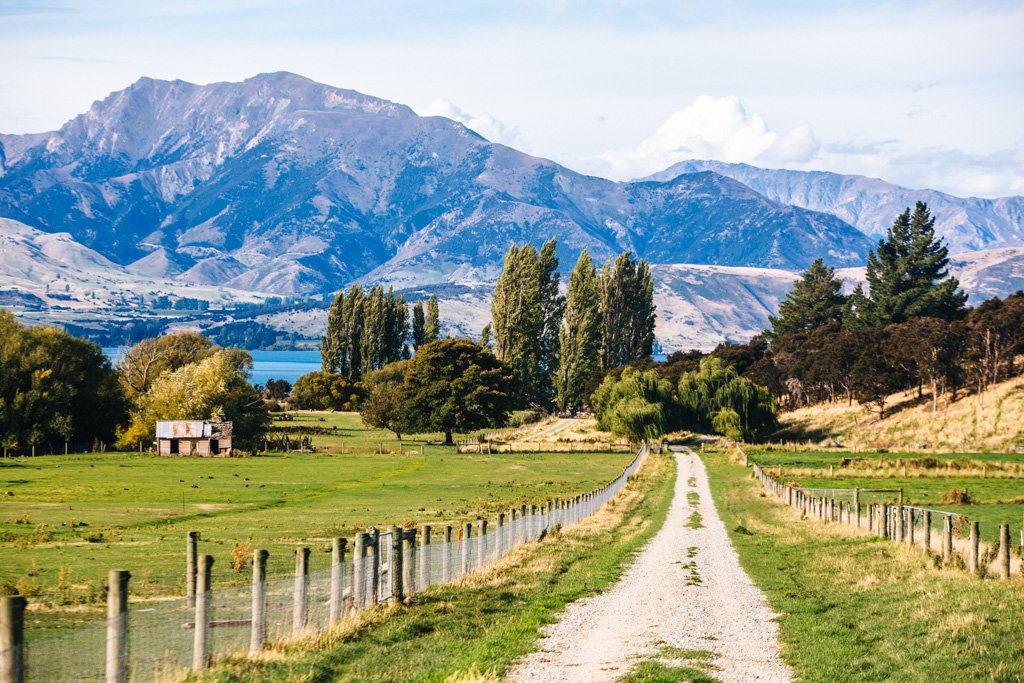 First off, you must know that the entire Roys Peak hike is fraught with nonstop switchbacks. In non-hiker terms, that means you'll be walking up a seemingly never-ending zig zag trail that gradually makes its way to the top. Switchbacks make the hike less steep, but longer. There are only a handful of times where the Roys Peak trail is flat, but within seconds you're back to ascending.
In other words: this hike is exhausting. Don't let that dissuade you though, because it's SO worth the effort – promise!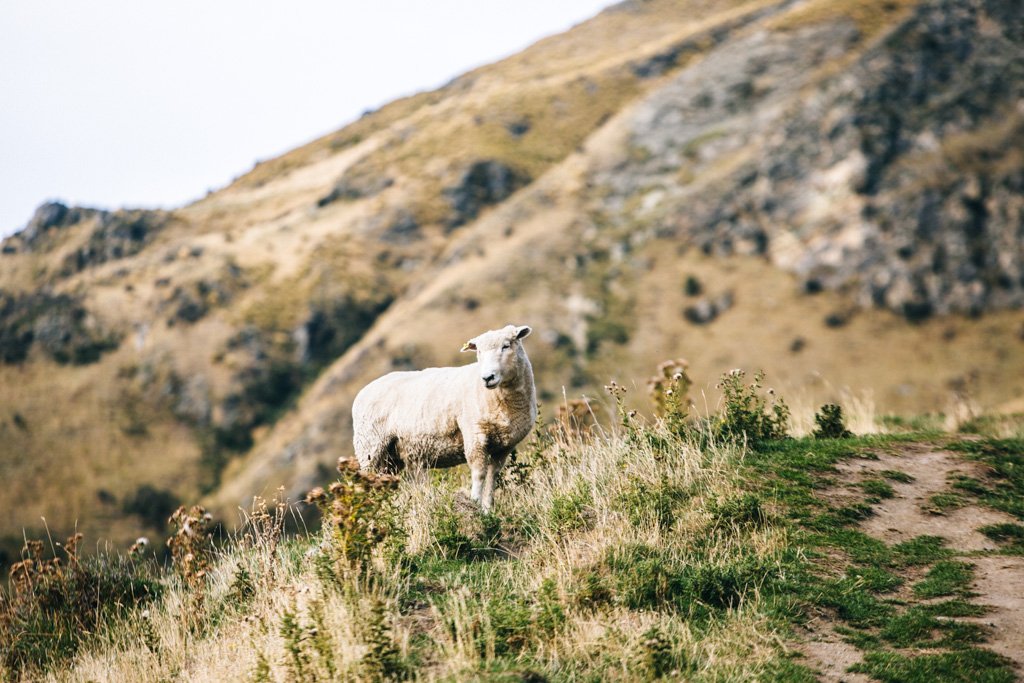 The first half of the Roys Peak trail passes through grass where you'll see sheep grazing and cheekily staring you down if you get too close. Save your breaks and photo ops for the second half, though, as the views get exponentially better the higher you climb.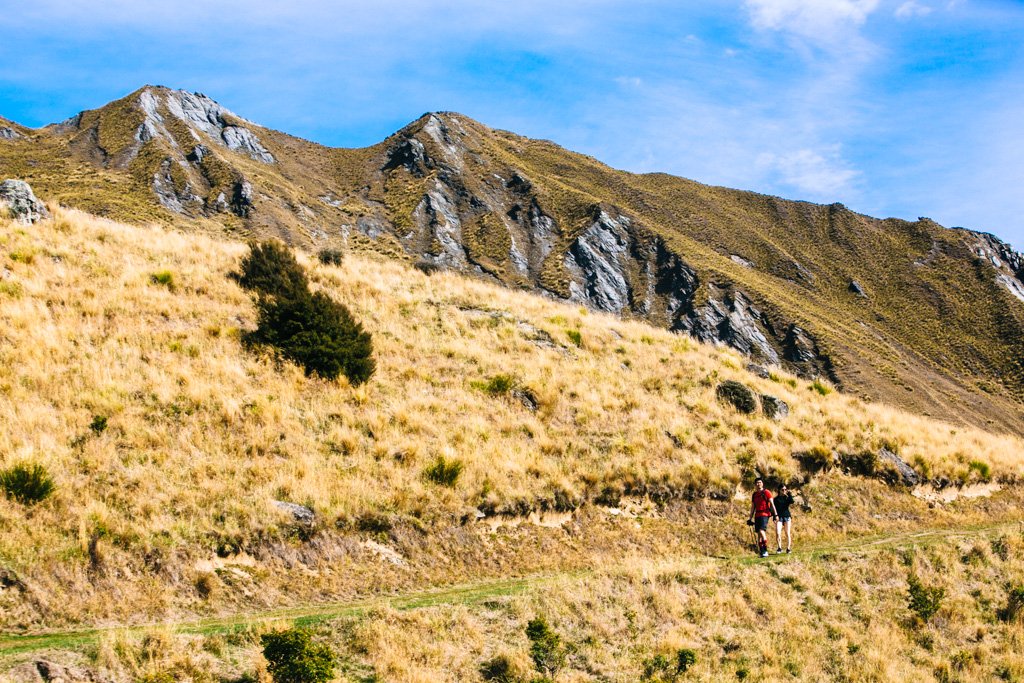 Definitely bring sunscreen and loads of water with you on the Roys Peak hike. The entire trail is exposed to the sun and you will dehydrate and burn in no time. When I was there in late March, there was a little stream about halfway up where I was able to refill my water bottle, but I'm not sure if it's always running.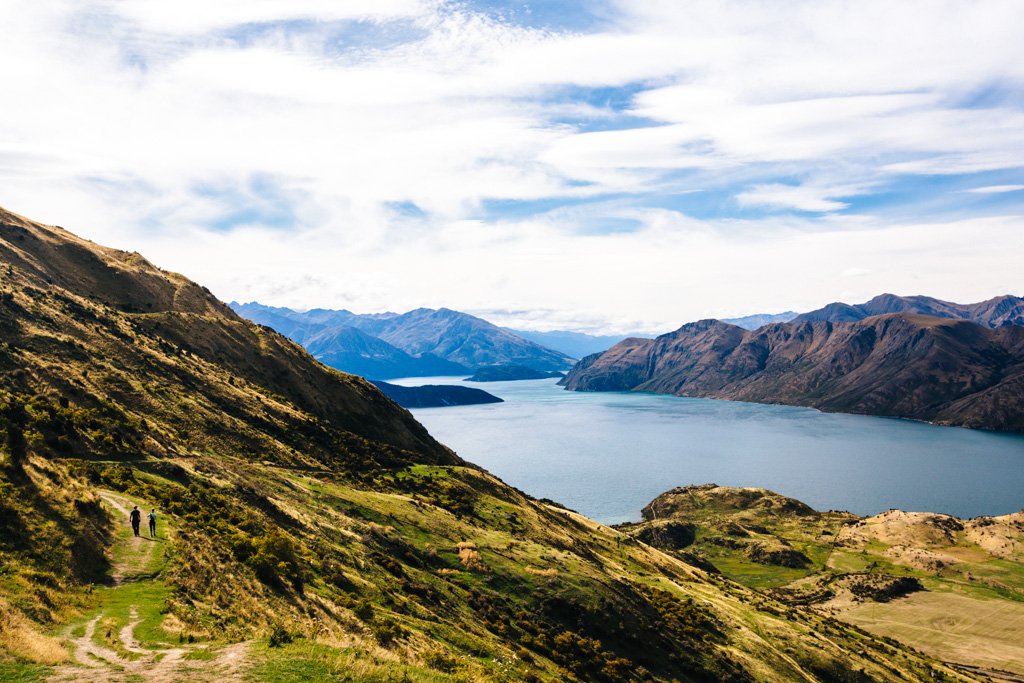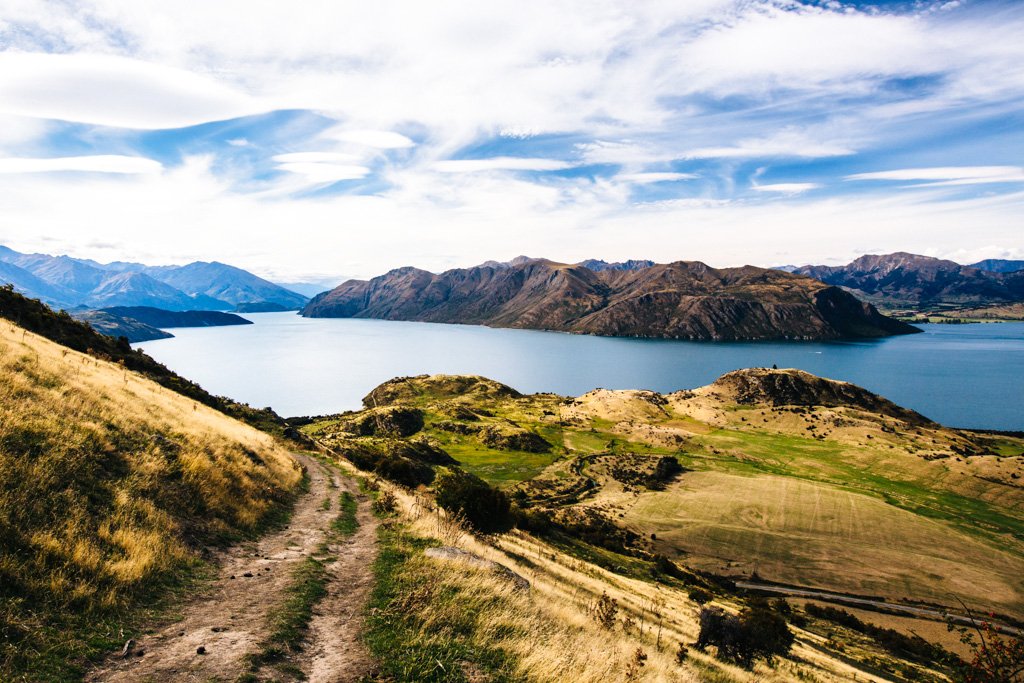 The second half of the trail is rockier and sheep-free. You'll be very tempted to keep stopping for photos and water (and let's be real, to catch your breath). The views of Lake Wanaka and the town itself are sensational the entire way.
The downside to switchbacks is that while the top looks to be close, it could actually take you quite awhile to reach it. But if you're anything like me, once you get super close, adrenaline and determination will kick in and you'll put your head down and just.keep.going.
And then…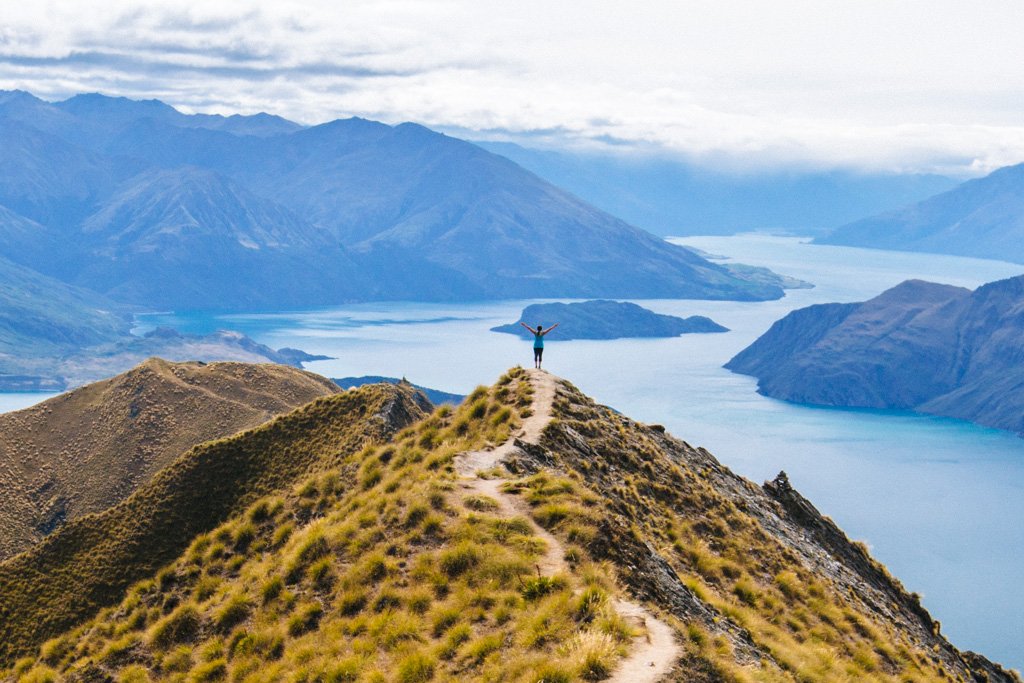 It's just like every photo you've seen. 100% stunning!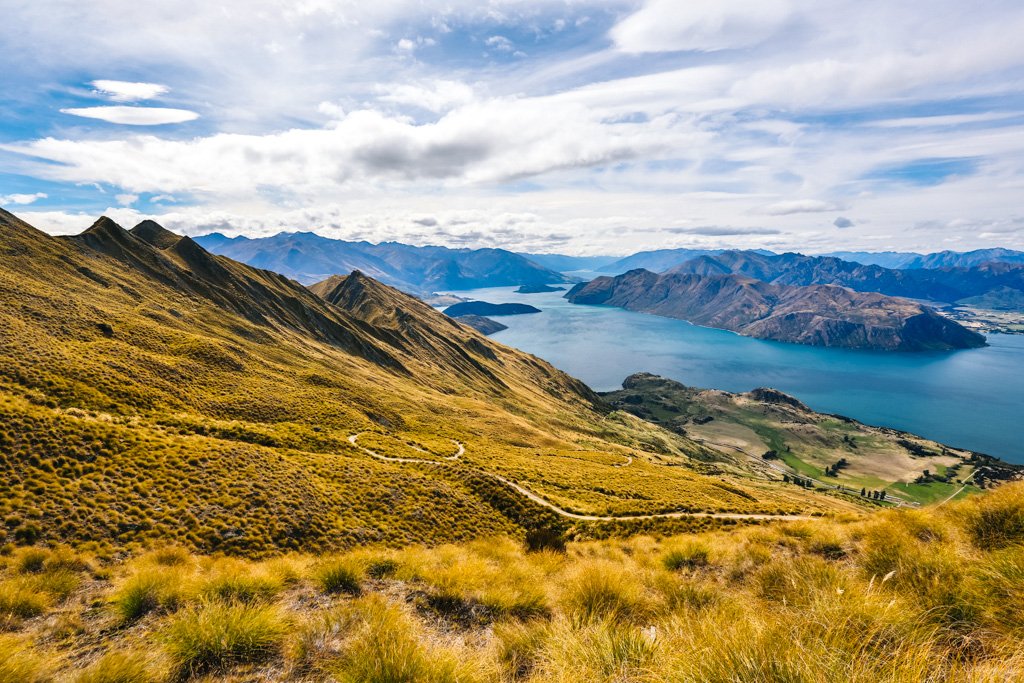 Comically, everyone at the top was taking turns to run out on the ledge and strike the classic Roys Peak pose. You know the one. I briefly entertained the idea of doing something different, but ultimately decided I wanted my own version of that epic shot. Whatever, WORTH IT.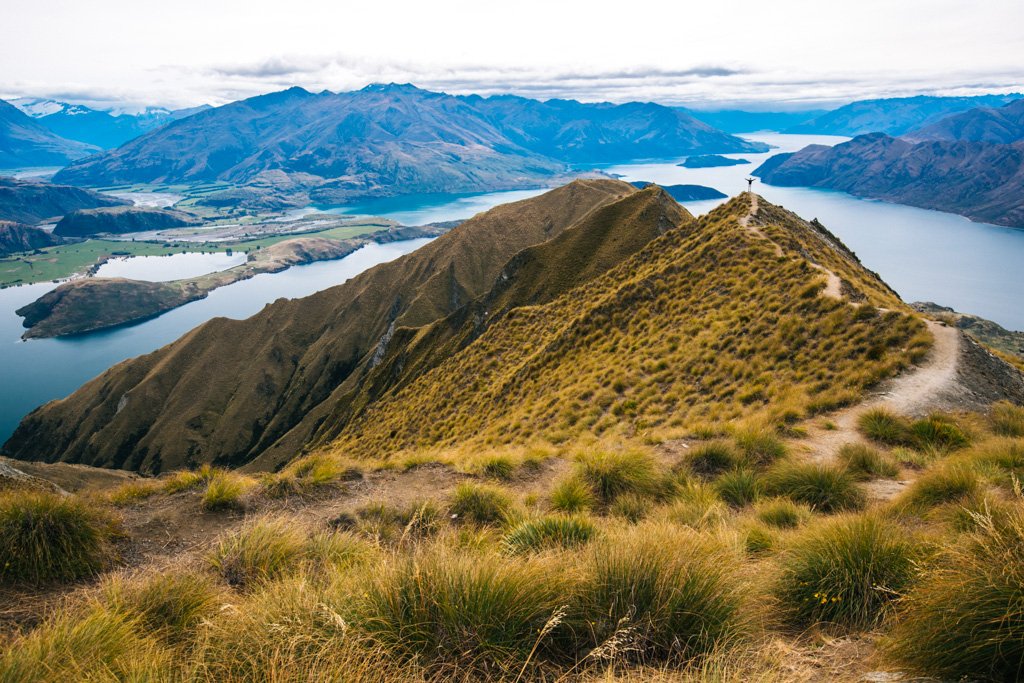 While the view across Lake Wanaka was a complete stunner, I was equally taken by Glendhu Bay and the start of Mount Aspiring National Park just to the left. All I could think was: I have got to get down there. Look at those colors! And those mountain peaks!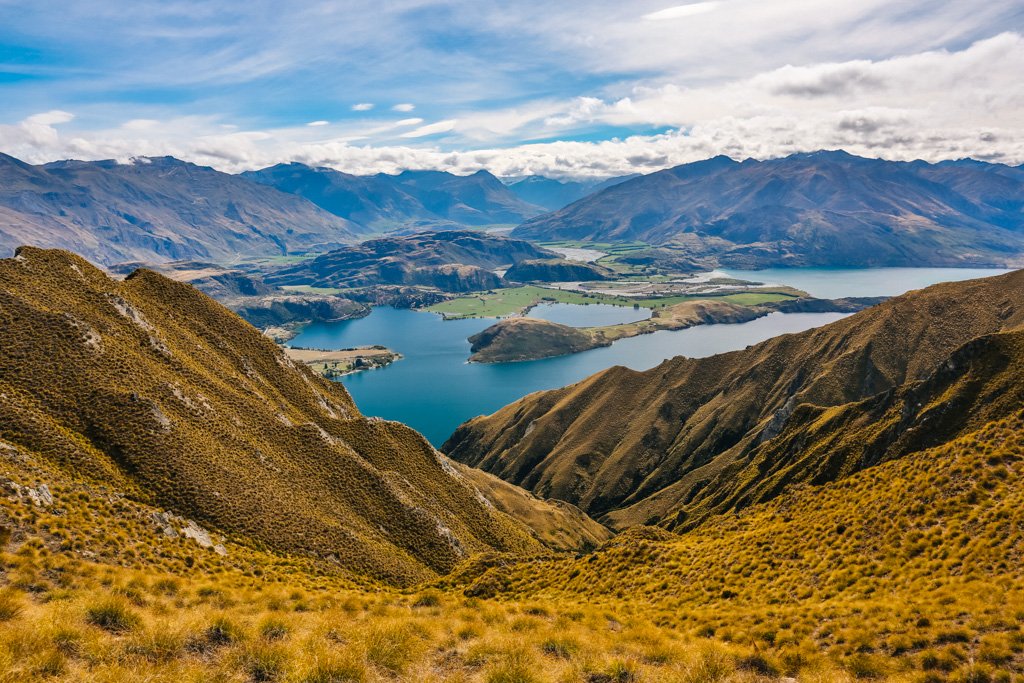 From here, you can opt to hike for another half hour or so to reach the REAL peak. Most people hiking with me skipped it, as did I. I don't think the views are that different from the top, and possibly not worth an extra hour of your time – but that's ultimately your call to make. I was way too busy blissing out at the unofficial end point to be bothered going up any further.
Descending the mountain is a breeze. I often find it taxing on my knees when the descent is steep and/or lengthy and definitely wouldn't have minded having some hiking poles with me for this part of the hike. Either way, I loved being able to enjoy the views without the copious sweat and racing heart this time.
Final Thoughts on Roys Peak
The Roy's Peak hike is absolutely beautiful, but it's really more about the views of Lake Wanaka from above than the scenery on the trail. This kind of hike is totally up my alley, but if you tend to prefer woods and varied terrain on your hiking trails, you might prefer Rob Roy Glacier.
Another consideration worth noting is that Roys Peak tends to be more crowded than Rob Roy Glacier. Consider yourself lucky if you have any part of the trail to yourself.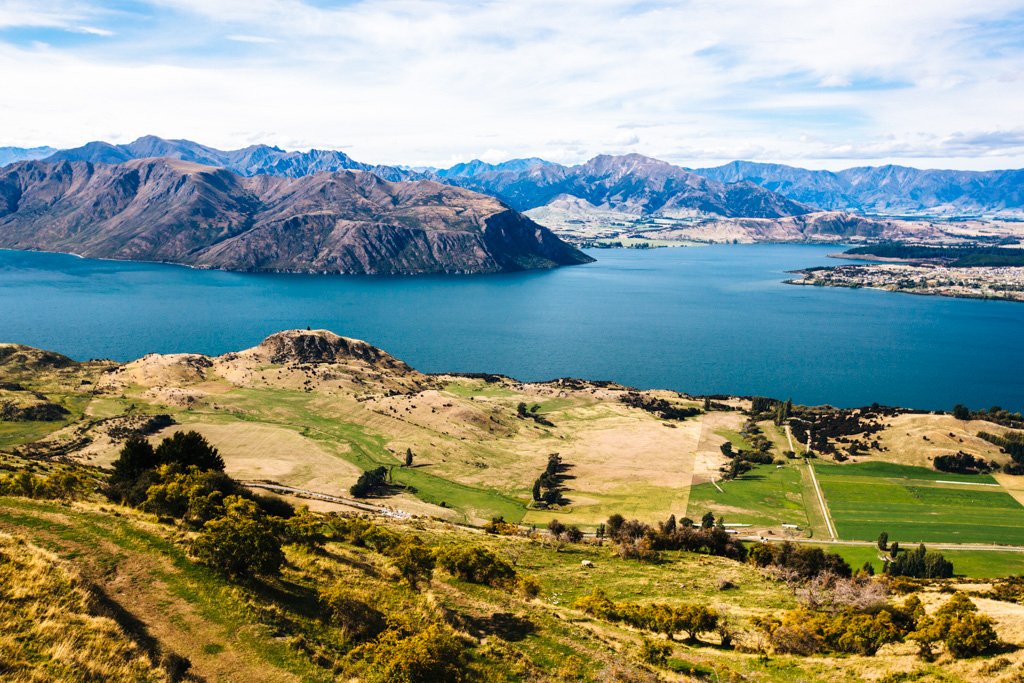 Time-wise, count on spending the better part of a day hiking to Roys Peak. It took me nearly 6 hours in total to complete. DocNZ recommends allotting 6-7 hours. Sounds about right!
I got to the top in 2 hours and 20 minutes without any breaks (from what I've gathered, 3-4 hours is more typical). I spent 1.5 hours at the top relaxing and soaking in the scene. If you want to climb to the very top, add on about 1 hour return to your hike time. Going down should be much faster, but I went more than a little crazy taking pictures that I didn't get on the way up and it took me 2 hours.
Have you hiked Roys Peak before? Is this your kind of hike?
Pin it!