I recently spent 3 weeks on New Zealand's south island. I could have easily been tempted to spend that time trying to explore the entire country, or at least all of the south island, but instead I focused on just the central part of the island around Queenstown, Wanaka, and Mt. Cook.
This trip wasn't about vacationing; it was about immersing myself in the Kiwi life and waking up to the mountains every day. Getting a feel for what it's like to live in New Zealand appealed to me more than trying to cram as many sights and activities as possible into my 3 weeks there. I also had to put in about 20 hours of work a week, which meant ensuring I had access to wifi and a decent working environment more often than not. I bookended any days spent camping or hiking off the grid with well-connected off days.
At first I felt like I wasn't doing much and was maybe sacrificing too many days to the rain and my work, but when all was said and done: I climbed 3 mountains, took a scenic flight, went SUP-ing, cruised Milford Sound, and went on a few epic bike rides. I'd say that's plenty of outdoor adventures, right?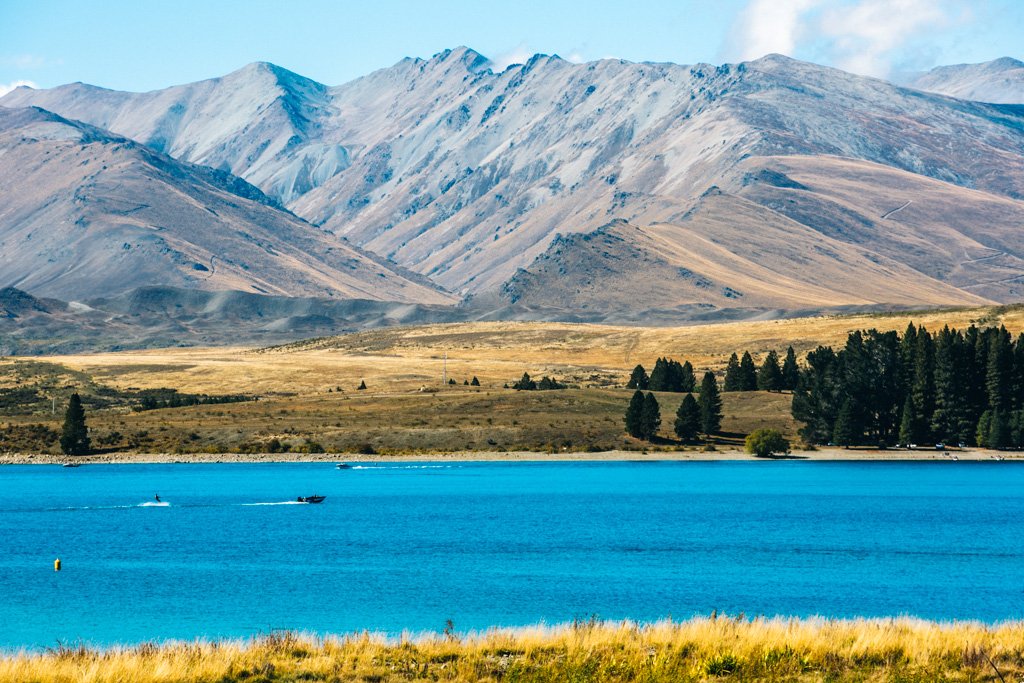 Lake Tekapo.
Anyhow, I found myself accumulating all sorts of observations, thoughts, conclusions, and facts during my time in New Zealand, stuff that probably wouldn't make its way into any other blog post but is still worth highlighting in case any of you are considering traveling to or living in NZ.
American accents everywhere
File this one under Things I Wasn't Expecting. One thing I love very much about Australia is how infrequently I hear someone else speaking my same dopey accent. Somehow it makes me feel more exotic, more special – and who doesn't want that?
But traveling in New Zealand, at times it felt like my fellow Americans were the majority. I've got a few hypotheses as to why this might be, but I'd love to hear your thoughts on why there seem to be many more Americans in NZ than in Australia – so feel free to comment below!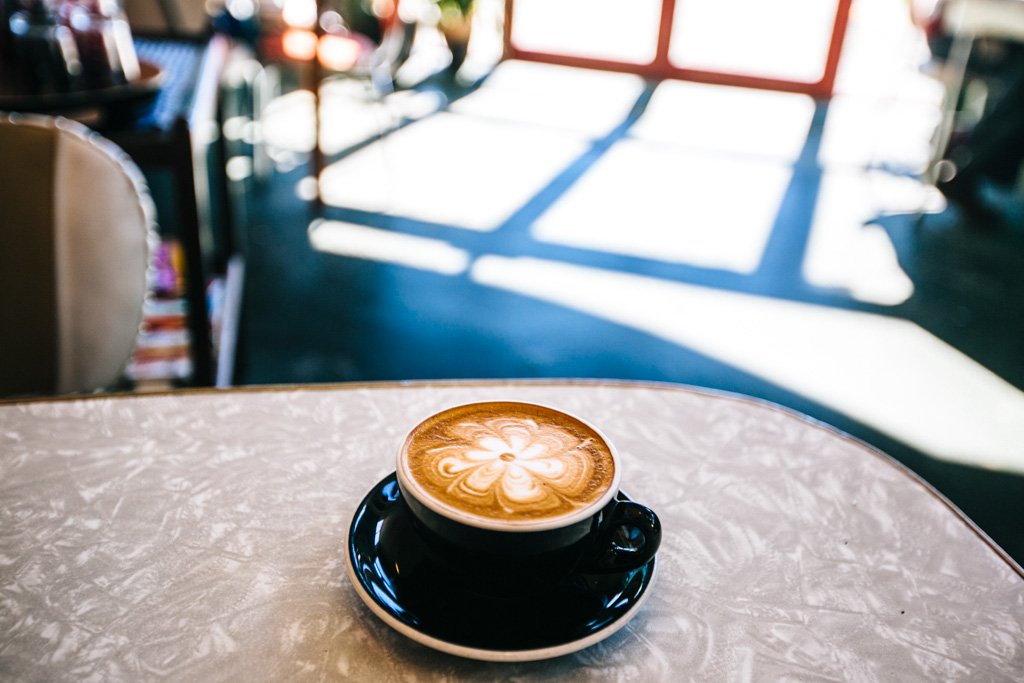 One of the better coffees I had, in Greymouth.
Sorry Kiwis, your coffee isn't as good as you think
If there's anything I know well, it's coffee. I was eager to sample copious flat whites throughout my NZ travels (you know, purely for research purposes), but I was largely disappointed by the coffee in New Zealand. Which would have been fine if I hadn't had such high expectations based on what I'd heard about it beforehand.
But now that I've thoroughly sampled coffee around the south island, I'm utterly baffled as to how this claim was made. Even the good cups I had leaned more toward the bitter end of the scale. Maybe the north island is where the good coffee's at? Wellington, I'm coming for you next time!

Sunrise at Mt Cook.
Thank God for the Vodafone Travel SIM Card
While wifi in New Zealand was categorically The Worst I've ever experienced on my travels, I had a surprisingly positive experience with Vodafone of all carriers (in Australia, they are not-so-lovingly referred to as Vodafail). I popped into a random electronics store early in my trip and picked up the Vodafone Travel SIM. For NZ$49 (about US$31), I got a one-month plan with 3gb of data and more than enough texts and minutes to contact others in NZ, Australia, and the US. I found I had good service in most every town I visited, even Mt. Cook village – but while on the bus between towns, there was no service at all.
I nearly managed to use up all of the data in my 3 weeks there because I used it to get online on my laptop whenever I didn't have decent wifi. One of my favorite digital nomad hacks is turning my iPhone into a personal hotspot and connecting to it via my laptop. It's the perfect solution for working at cafes that don't have wifi, or at hostels that charge you to use their (epically slow) wifi. Having plenty of Vodafone data and good coverage meant I had wifi on tap whenever I wanted to work during my NZ travels. Brilliant!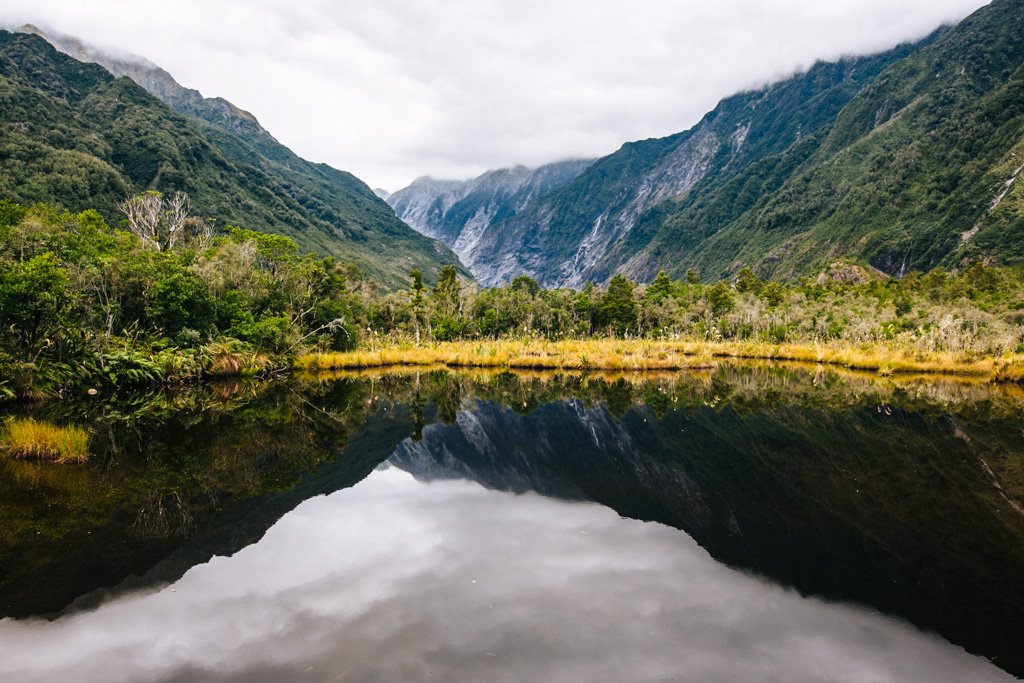 A lake at Franz Josef.
Want More Instagram Followers? Go to New Zealand
I've watched other instagram accounts go from average to booming once they started posting photos of the glorious NZ scenery, and I noticed a similar gain in followers as I began doing the same. Call it the New Zealand Effect.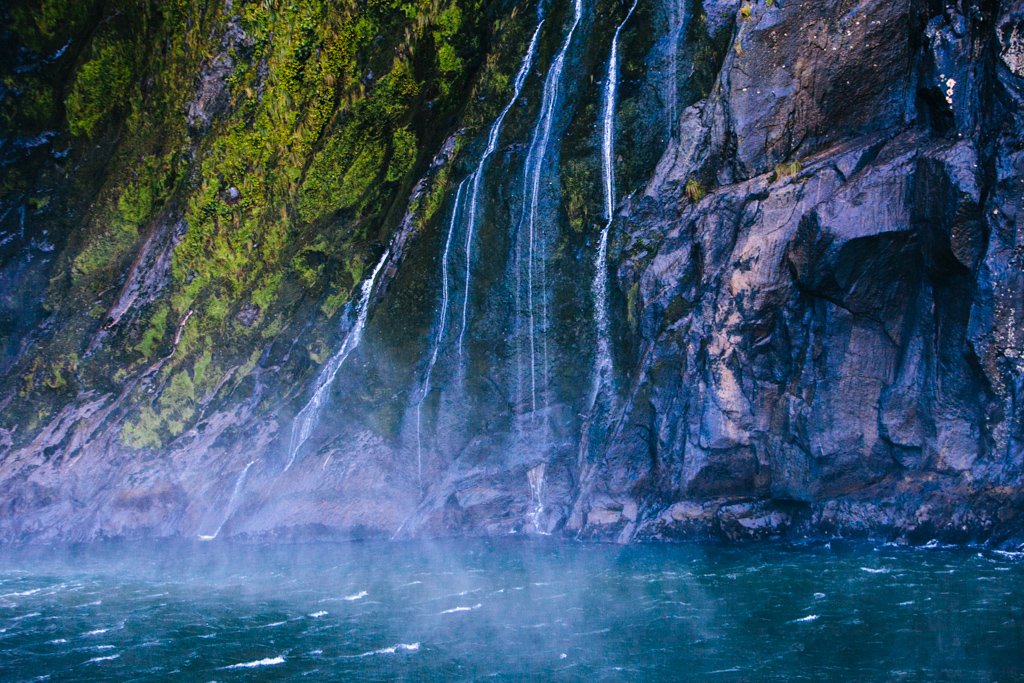 Milford Sound.
As Beautiful As NZ Is… I'm An Aussie Girl
While I was hanging out in New Zealand, I tried to imagine myself living there with the mountains on my doorstep. I love the idea of having epic trails just minutes away, making it easy for me to get my hiking and cycling fixes on the reg. And I'd have the opportunity to dabble in just about any other outdoor activity imaginable: mountain biking, stand-up paddleboarding, river surfing, skiing (to name just a few of interest).
But the one thing New Zealand (specifically most every south island town) lacks is the thing that trumps all else for me: BEACHES. I'd miss the beach too much if I lived in landlocked Queenstown or Wanaka. So if nothing else, this trip confirmed that I made the right decision in foregoing a year on the NZ working holiday visa in favor of a year living on the edge on the Australian tourist visa. What can I say, Australia has my heart.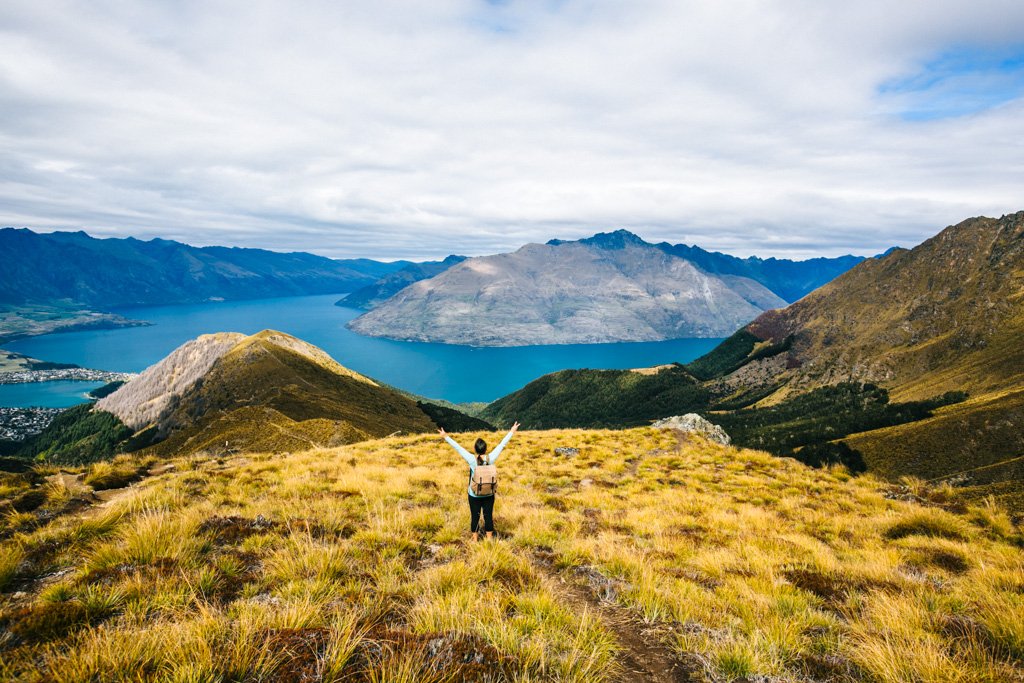 Hiking to the Ben Lomond summit.
NZ Hostels Get Booked Up Fast
I don't know if this is the norm throughout New Zealand, but in several of the south island towns I visited you'd be screwed if you decided to rock up to a hostel without a booking. New Zealand is very popular amongst backpackers and young travelers, and there aren't nearly enough budget accommodation options for them all.
I found Queenstown to be the worst of all: this is a very popular and touristy town that's short on housing overall, so what happens is the working holiday folks either can't afford to pay rent on a proper apartment or just have trouble securing permanent housing for a short-term stint. So they end up living at the hostels in town, usually working there in exchange for a free bed. This would be fine if they weren't taking up beds that proper travelers could be booking instead, or constantly taking over tables and common areas in the hostel with their fellow long-term stayers.
My week in Queenstown entailed a little game of musical chairs (or beds): I had to camp for a few nights when there were no free hostel beds in town, then I had to shuffle between different rooms and hostels for the remainder of my time there. Totally avoidable had I booked way ahead of time, but ah well – lesson learned!
I've heard that this is normal for Queenstown year-round, but other towns only book up at certain times in the year. During the second half of March, I found Franz Josef hostels to be nearly fully booked, Tekapo's one hostel fully booked, Mt. Cook hostels with availability, and Wanaka hostels with availability before the Warbirds Over Wanaka Easter weekend event. Your mileage may vary.
CLICK TO BOOK YOUR NEW ZEALAND HOSTEL WITH HOSTELWORLD.

Road to Mt. Cook.
No Freedom Camping For Tents
I was really disappointed to find that my options were extremely limited for where I could pitch my tent in NZ. Freedom camping is restricted to certain areas in New Zealand, and usually only campers with self-contained vehicles are allowed to camp where they please – i.e. no tents allowed. What this means is that if you want to pitch a tent and camp in New Zealand, you typically can only do so on DOC campsites or in caravan parks. The DOC sites are more basic and immersed in nature, but you generally need a car to access them.
Since I was traveling NZ by bus, I was limited to town caravan parks. It was beyond frustrating to have to pay $25/night just for a tiny plot of land squeezed between other tents or campervans, and access to things I didn't want or need like proper bathroom blocks, laundry facilities, and kitchens. All I wanted to do was be alone with my tent and nature!

Someone river surfing near Wanaka.
Traveling NZ By Bus Is Doable, But Not Ideal
If you're a solo traveler on a budget (and/or shit-scared of driving on the left side of the road like I am), you can still travel New Zealand by bus. There are several bus companies that run between most towns and tourist attractions, so you can get around each island easily. The obvious downside is that you're limited to doing things in or very close to town unless you join a tour or hitchhike.
On that note, it is so much better if you hire a campervan or a car to travel around NZ. Not only are you able to pull off and sleep in your vehicle most anywhere freedom camping is allowed, but you're also able to veer off the main roads and away from towns to more thoroughly explore the country. There were so many hikes in New Zealand I wanted to do but couldn't because I had no reliable/affordable way of getting to the trailhead. It killed me that I didn't have as much freedom as I could have, had I been doing a New Zealand road trip.
Next time I visit NZ, I'm vowing to rent a campervan so that I can expand my options for exploring. Who's with me?

Cycling Queenstown.
The Queenstown vs. Wanaka Debate
I'd fully expected to join Team Wanaka after all I'd heard about this little town that gladly plays second fiddle to Queenstown. For whatever reason I just wasn't feeling it, though. I loved paddle boarding on and walking around Lake Wanaka, hiking to Roy's Peak, and cycling the Hawea River Trail, but I didn't love the town of Wanaka itself. It felt too quiet and too rife with (North American) expats to charm me.
Queenstown took me by surprise, though. Yes, it's uber-touristy, and most of the town's residents are foreigners or displaced Kiwis (i.e. they come from elsewhere in NZ) who work in tourism or hospitality. But can you blame them? Queenstown is freakin' beautiful and has the most accessible outdoor adventures of any place I've ever visited (or even heard about!). I wouldn't classify Queenstown as a proper city, but it sure feels like one compared to Wanaka and consequently has more options for dining, drinking, and adventuring. Yup, consider me on Team Queenstown.

Lake Wanaka.
Watch Out For The Weather
With all the postcard-worthy photos plastered all over the internet, it's easy to overlook that New Zealand is known as the land of the long white cloud. The weather does not always cooperate in this part of the world, and the landscapes don't always look as magnificent as they do on picture-perfect clear days. I'd say it rained at least half of the time during my NZ trip: partly because I was traveling in early autumn (prone to more rain), and partly due to the El Nino effect (say the Kiwis). I was very glad to have allotted plenty of time in each place I visited, which was usually enough to give me at least a couple of semi-clear days to enjoy.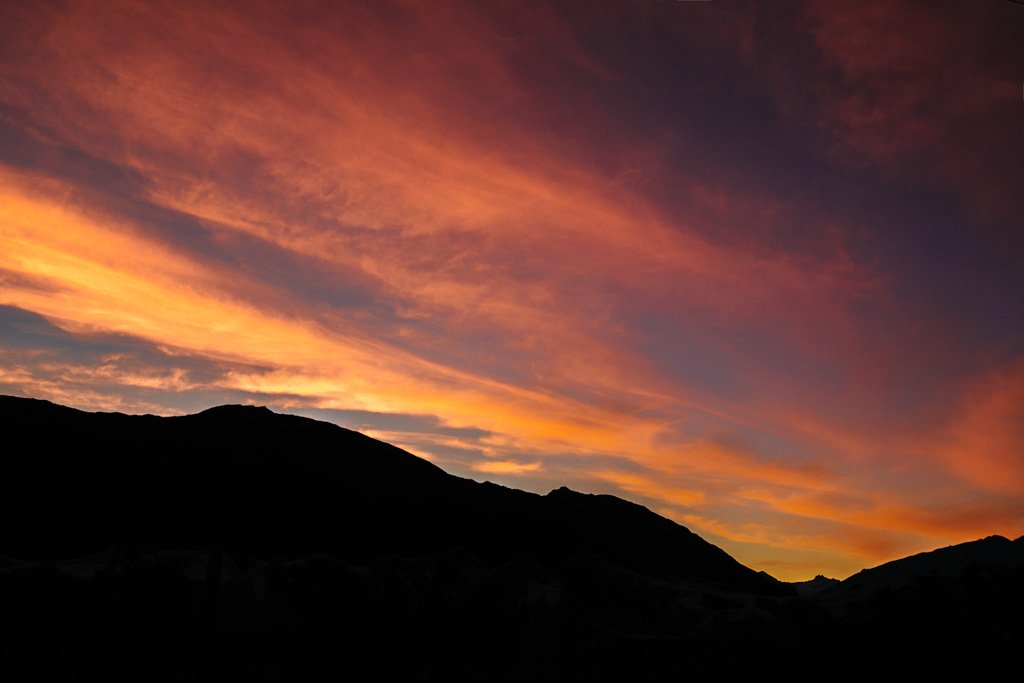 Wanaka sunset.
As Usual, Lifestyle Trumps Adrenaline
I could have jumped off a ledge, soared over a lake, or raced down a river, but what did I do instead in New Zealand? I hiked and biked, the same things I do at home and try to do wherever I travel. These things always bring me joy and provide a full day of adventure, and I'm the kind of girl who tends to opt for those guaranteed hits of happiness. When I find something I like, I stick with it. So really, I guess it's not surprising that I opted to skip the short-lived thrills that all the popular adrenaline activities in New Zealand provide. If I'd had more time (and, er, money), I'd have tried paragliding or mountain biking – but my favorites take priority. I wouldn't change a thing!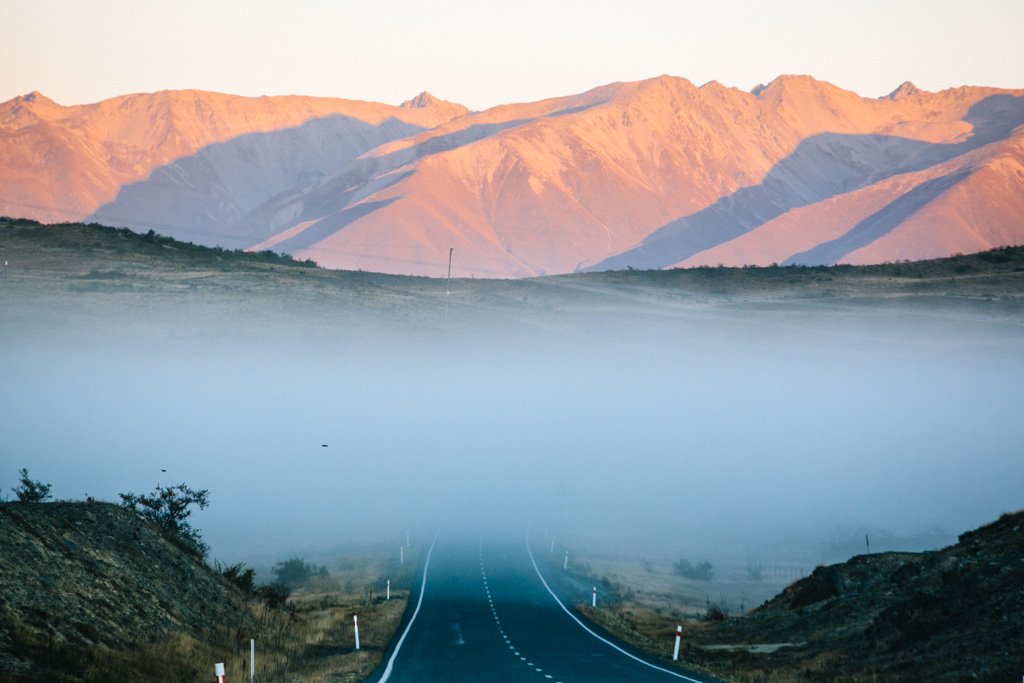 How Much Does Traveling NZ Cost?
And because no Frugal Frolicker trip recap is complete without some mention of money, I spent a grand total of US$1541 on 3 weeks of travel in New Zealand. My return flight from Sydney was about $300, and my average spend per day excluding flights was US$59/day. For such a pricey destination, I'm pretty happy with my expenditure.
What do you think about New Zealand? If you've been, anything to add to this random thought list?