I am a mere 3 weeks away from embarking on my 5-month travel adventure through Asia! Obviously that means all I'm capable of thinking or talking about these days is travel (which, let's be real, is not a far stretch from how I usually am).
I've been immersing myself in all sorts of travel blogs this month, mostly by bloggers who are champions of solo travel. Since I'll be travelling alone as well, their writing has been EXTRA inspiring and has made me even more excited for my trip! Here are some Southeast Asian adventures I will and won't be embarking on:
Things I will NOT be doing in Southeast Asia:
As someone who routinely makes a bathroom run every hour, this sounds like my personal hell. I can barely make it through the 4-hour drive from New York to Boston without using the bathroom at least once. Do I really want to be subject to sporadic stops the bus may or may not make on a 30-hour drive, dropping trou on the side of the road with god knows how many other bus riders? I'm still undecided about whether I'll make it to Laos, but if I do it will NOT entail this bus ride from hell! (photo credit: southeastasiabackpacker.com)
Note: Instead, I ended up sitting in a luggage store on an overnight bus through Laos!
I'll admit, the idea is brilliant – vendors on the beach selling buckets full of ice, liquor, and energy drinks, with straws for you to drink your cocktail straight from the bucket. But if you know me, you know that's not my style.
I'd heard about scams at the border between Cambodia and Thailand well before I started to plan my trip. Who knew obtaining a visa would require so much work and stress?
Things I WILL be doing in Southeast Asia:
Okay, confession time. I'm a self-professed health nut and fitness fiend, but somehow I just cannot get into yoga. I'm well aware of its many benefits, so I'm going to make an effort to embrace yoga while in Bali. Seems like the right place, if any, to do this, yeah? (photo credit: baliecostay.com)
I am intentionally packing minimal clothing so that I can stock up on tailor-made dresses and skirts in Vietnam. I love the idea of having a few things made to fit me like a glove, at a minimal price. And it's one of those "When in Vietnam…" things I feel like I just HAVE to do while I'm there. (Well, that and have a cup of their famously delicious coffee every.single.day)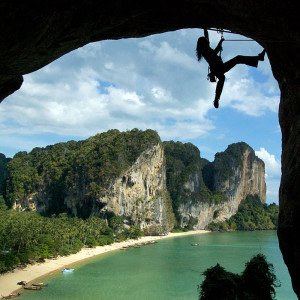 I'm not 100% sure where I'll be April 13-15th, but if I'm anywhere in northern Thailand, I'll be getting my super-soaker on for this festival. It's essentially a 3-day water fight to usher in the Thai New Year, with the added benefit of cooling you down during what's just about the hottest time of year in the country.
If I'm making it to Laos at all, it's going to be via slow boat. It just seems significantly more comfortable than the 30-hour bus ride, though admittedly I AM wary of the bathroom situation (or lack thereof).
OH YEAH, this is happening. I've spent the entirety of last year honing my rock climbing skills at Brooklyn Boulders and I'm ready to put them to use ourdoors. Specifically, on a gorgeous beach off the coast of Thailand. (photo credit: yourkrabi.com)