Before I even began planning my 2013 Asia trip, I knew about the infamous scams at the Thailand-Cambodia border. Not only that, but I'd heard it was one hell of a journey, requiring several different connections, all of which were subject to scams and other discomforts.
From my high level understanding, the border crossing process looked something like this:
Bus from Bangkok to somewhere close to the border in Thailand.
Tuk tuk to the official border. Tuk tuk driver will try to take you to somewhere nearby to pay an inflated price for your visa. SCAM!
Get visa. Cross border. Woohoo!
Free bus to somewhere just over the border in Cambodia.
Bus/taxi to Siem Reap. Long, bumpy ride.
I'm all for adventure travel, but this doesn't sound like a fun time at all. I wasn't even sure I wanted to go to Cambodia that badly, but since my Thailand visa was about to expire and I had to wait about a week to return to Bangkok to pick up my fixed camera, it made the most sense for me to "kill time" there.
And with that – I was going to Cambodia!
Having made this decision a bit last-minute, I was frantically searching for details the night before on how exactly to go through the Thailand-Cambodia border crossing process. I came across reports of a brand new bus that runs direct from Bangkok to Siem Reap which would greatly simplify the journey. Needless to say, I was SOLD.
So… how did it go? And how exactly does the Thailand-Cambodia border crossing work with the new direct Bangkok-Siem Reap bus? Read on!
Crossing The Thailand-Cambodia Border
In Bangkok:
Buses depart from the Mo Chit 2 Bus Terminal in northern Bangkok. You could take the MRT to Chatuchak Station, then take either a bus (#77) that will bring you to the terminal, or a tuk tuk/taxi. When I weighed the time/effort required this way vs. the minimal extra cost of taking a cab straight from my hostel to the bus terminal, I opted for the 15-minute cab ride, which cost me 110 baht from Lumphini (+45 baht toll) – just over $5 total.
Go inside the ground floor entrance of the terminal and buy your Bangkok-Siem Reap ticket from window #22. As of April 2013, there is one bus daily departing at 9am that costs 750 baht. Your ticket should have your seat number and gate number printed on it. If for some reason the bus is full, you could always just buy a ticket to Aranyaprathet and make your own way to Siem Reap via tuk tuk/bus (these buses depart something like every hour daily).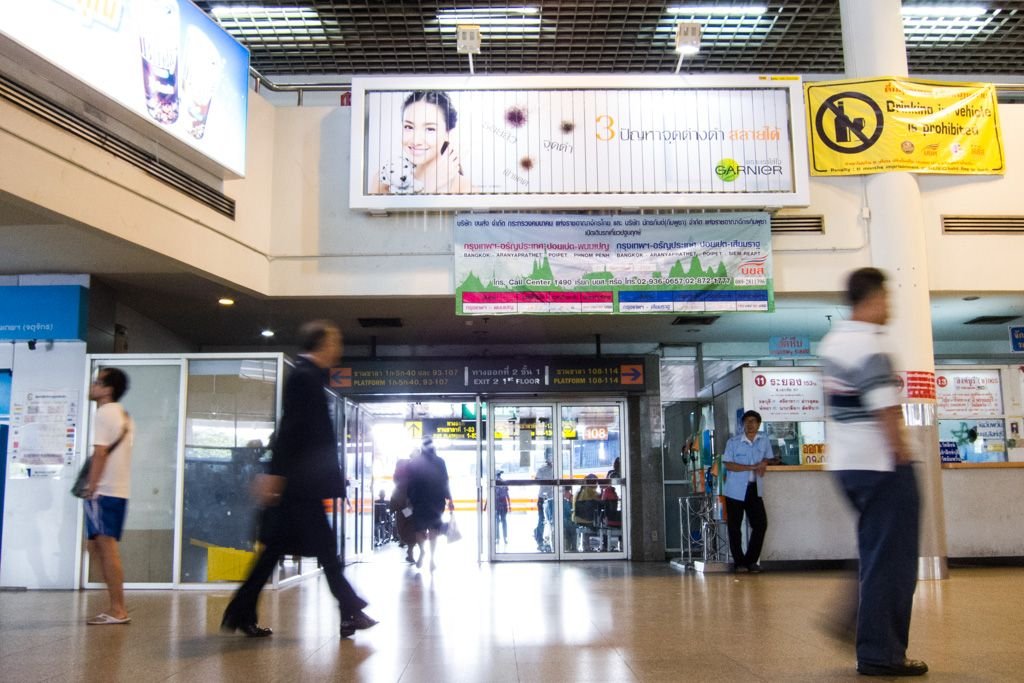 The Mo Chit 2 station is easy to navigate and has a few shops and cafes inside – so you can grab your last minute snacks from 7-11 and coffee from Dunkin Donuts!
Speaking of snacks, they actually served us food on the bus! Shortly after boarding, we were each given a box which contained a small cookie and packets for instant coffee (though there was no hot water to make coffee, so I'm not sure what the coffee packs were for).
In Aranyaprathet:
We arrived in Aranyaprathet around 1pm (4 hours from Bangkok) and stopped briefly to drop off/pick up a few passengers.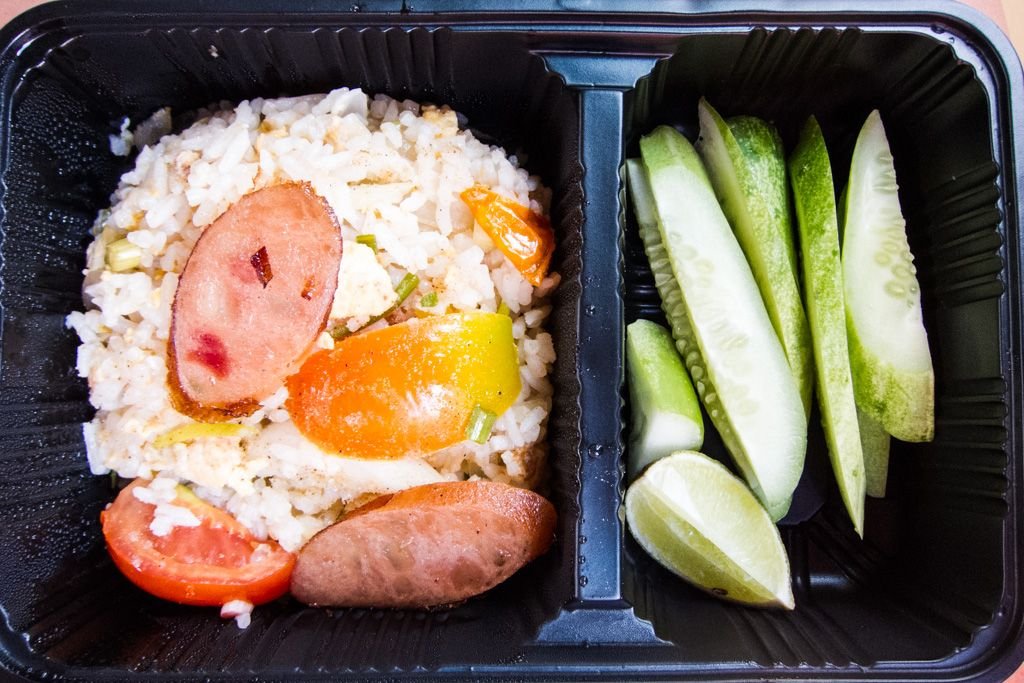 They served us a small lunch on the bus (fried rice and vegetables) and then drove us to an office across the street where they told us we had to get a Cambodian visa if we didn't already have one.
DON'T LISTEN TO THEM – THEY ARE SCAMMING YOU!
I'd done enough research beforehand that I knew this was coming. Just to be sure, I asked if I could pay in USD at the border. The officer told me that this WAS the border, and that the visa would cost 1000 baht ($35). I told him that this was NOT the border, and that I would pay $20 instead to get the visa at the official border, and walked out before he could even respond. Aside from the few onboard the bus who already had visas, everyone else got scammed. I held tight for the bus to take us to the border, which was just a few minutes down the road.
At The Border (Poipet):
First you'll enter the Departures building where you'll officially exit Thailand. Fill out the departure card you were given when you first entered Thailand (they also provide them here in case you don't have one). Get your passport stamped, then proceed outside toward arrivals.
Just to the right of the Kingdom of Cambodia gate is the visa office. Fill out a visa form and hand over your passport with a passport-sized photo, and 5-10 minutes later your visa should be ready. It should cost $20 + 100 baht ($3). I've no idea what the extra 100 baht is for, but I couldn't find a way to avoid it.
Once you have your Cambodian visa, head through the Cambodia gate and to the Arrivals building. They will stamp your passport and scan your fingerprints, and then you're good to go!
Note: Even though the rest of the bus passengers had gotten in line at the Arrivals building before I did (since I had to stop to get my visa first), they weren't too far ahead of me in line. The driver saw me in line and knew to wait for me before continuing the drive into Cambodia, so no worries about missing the bus!
In Siem Reap:
We left the border at 2:45pm and arrived in Siem Reap at 5pm. Aside from the driver making a few quick stops to check out some religious statues for sale on the side of the road, the ride was pretty smooth. Before improvements were made to the road, this segment of the trip used to take 6+ hours!
In Siem Reap, there were tuk tuks ready to take us to our hotels as soon as we stepped off the bus. The driver made it sound like he had handpicked these trusted tuk tuk drivers and encouraged us to use them. I ended up with an adorable guy who drove me to my accommodation for $1 – I hardly even minded when he tried to sell me on his all-day tour of the temples because he was just so sweet.
Would I recommend the new direct Bangkok-Siem Reap bus?
YES. It was super comfortable, the bathroom was decent, the ride was smooth, and above all it cut out all the moving parts the traditional border crossing entails. This one bus takes you all the way from Bangkok to Siem Reap, making for a relatively stress-free ride.
The only caveat here is the scam at the border. As long as you go into it knowing that they're going to try to get everyone on the bus to pay nearly double the price to get their visas just before getting to the border, you can plan to opt out of this and pay the actual fee of $20 at the official border instead. It was a minor annoyance, but not enough to offset the convenience and ease of taking this direct bus.