I love solo travel, and I will happily sing its praises to anyone who will listen. But man, sometimes it's nice to be able to split the cost of things with traveling companions – whether it's ordering several dishes and sharing them all, affording a 5-star hotel room, or just sharing a cab to the airport.
I began my 2-week stint in Cambodia traveling solo, staying in a single room at a guesthouse in Siem Reap. The one thing on my agenda was to explore the temples at Angkor. Only problem? It costs about $15 to hire a tuk tuk driver for the day to take you around the temple complex. Totally affordable if you're traveling with a few other people, but an extra $15/day was not in my solo traveler's budget.
So I did what I probably would have done anyway had it only cost me $5 to get around by tuk tuk – I hired a bicycle to explore the temples at Angkor. For just $1/day, I had a trusty little cruiser to take me around town:
The Angkor temples are mapped out along 2 main loops: the small loop (red) and big loop (green). If you want to venture beyond these, tuk tuk drivers will usually charge more due to the greater distance covered.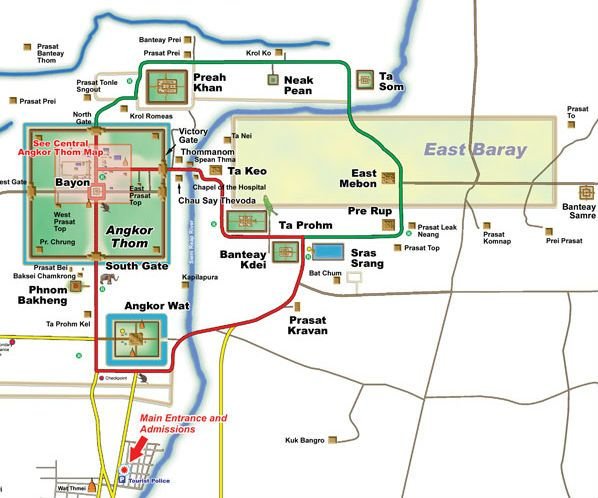 I bought the 3-day pass and only used it for 2 days: the small loop on Day 1, and the big loop on Day 2. I was perfectly content with that, and way too exhausted from 2 full days of cycling in horrendous heat and humidity to seriously consider a third day of it.
Cycling Angkor Wat
Even though it's just one of MANY temples at Angkor, the entire complex is commonly (and mistakenly!) referred to as Angkor Wat. Angkor Wat is one of the largest and best-preserved temples at Angkor, and certainly well deserving of its fame. Here she is!: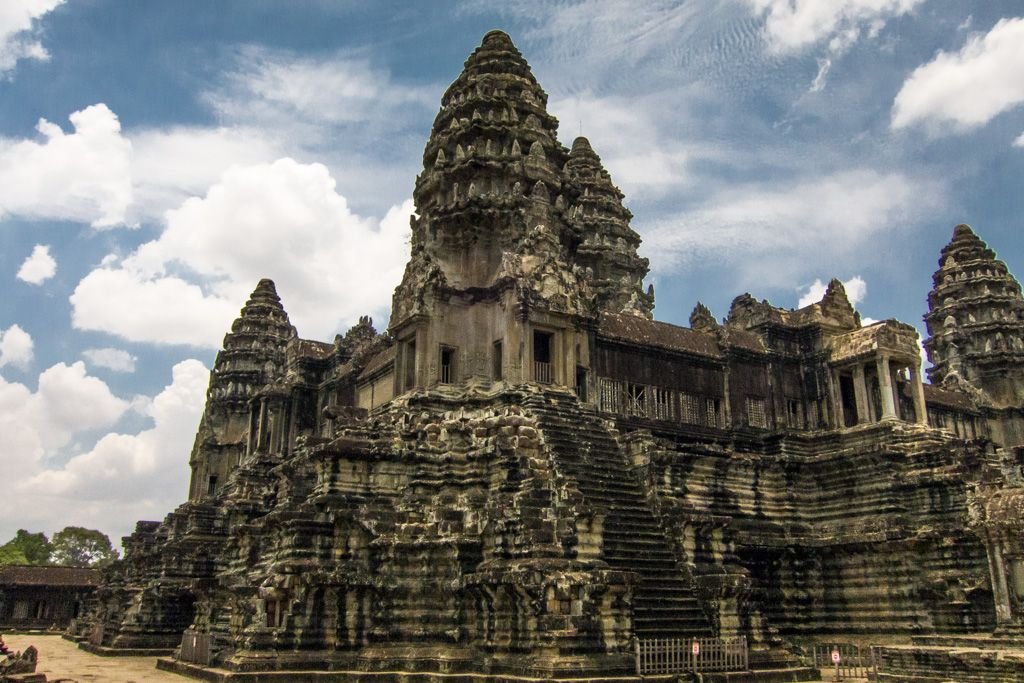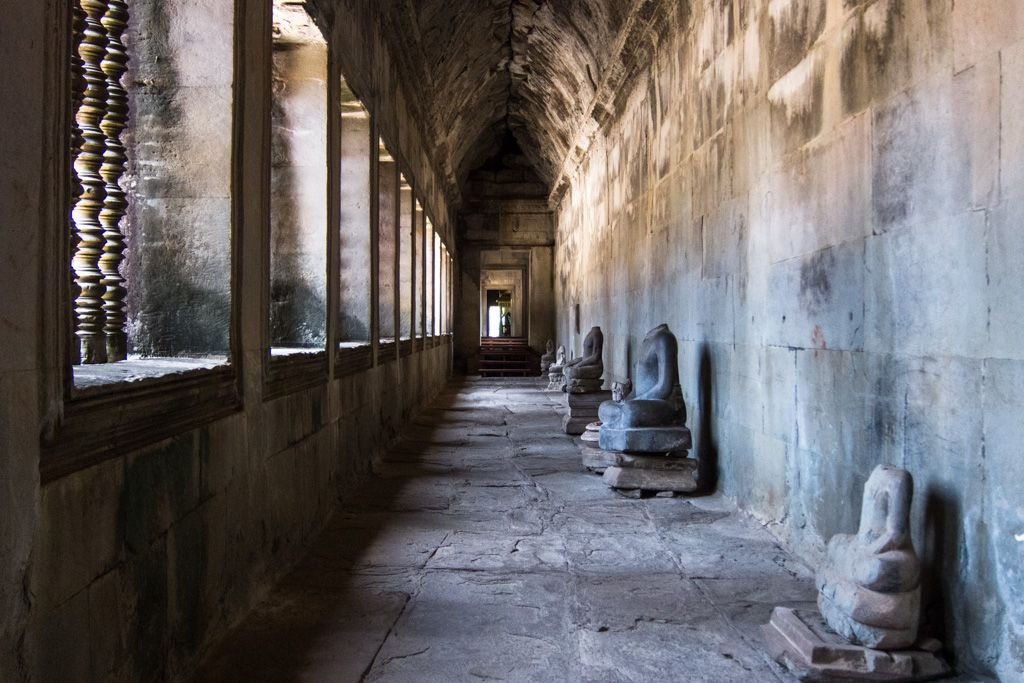 In truth, though, I think I liked Bayon more than Angkor Wat. At Bayon, it's so easy to lose yourself in a maze of passageways and get your Lara Croft on. Bayon also has several stone faces carved into its towers. They look absolutely MASSIVE in person!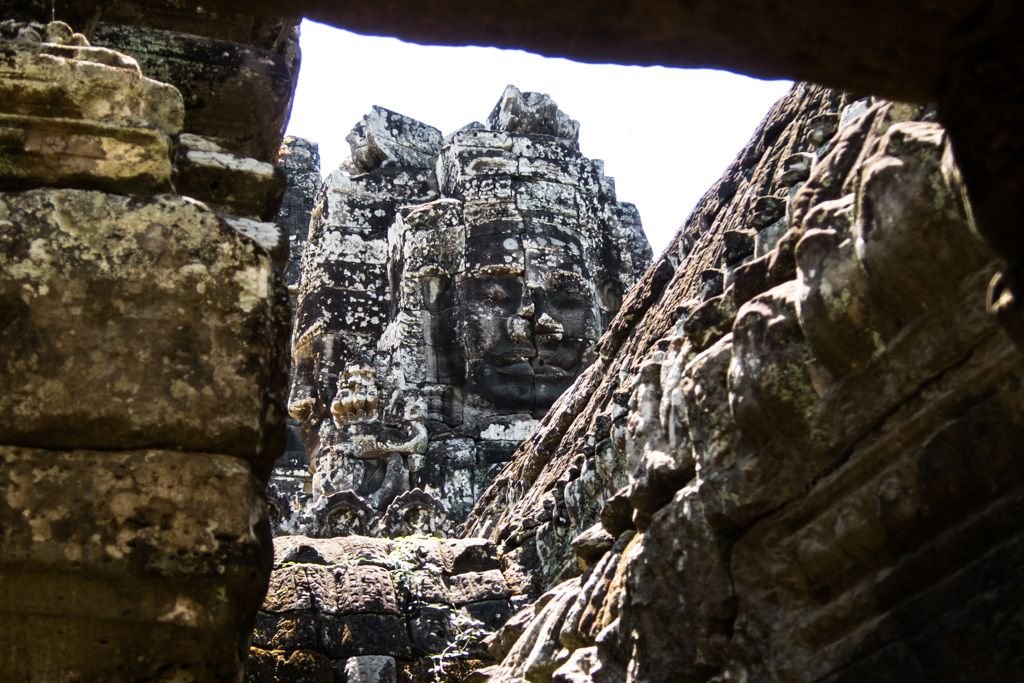 We now interrupt this programming with a sweat-tastic self portrait – yes, that's sweat all over my shirt. I'd say within the next hour, the entire thing was drenched in sweat. SO GROSS.
A few of the temples (most notably, Ta Prohm) have trees growing out of them. Evidently they were found and left like that, rather than restored.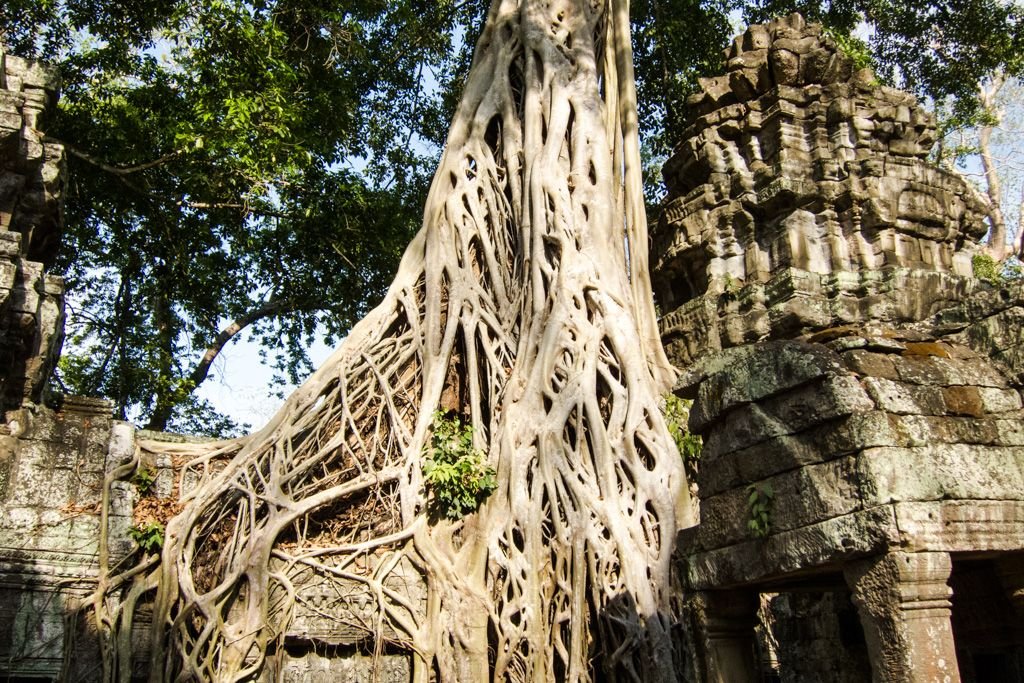 The big loop is definitely worth doing if you have the time. Some of the temples have been partially restored; others are mostly in ruins.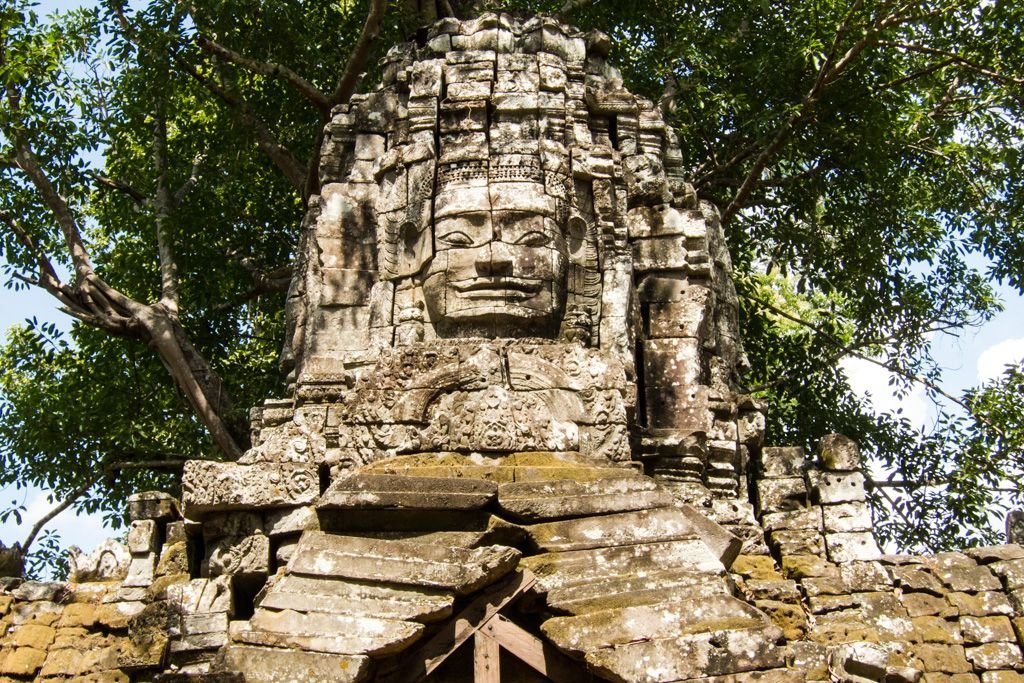 Preah Khan was one of the most enjoyable temples for me. You can frolic through a long series of connected halls, now in partial ruins, and it hardly feels like you're in the same temple.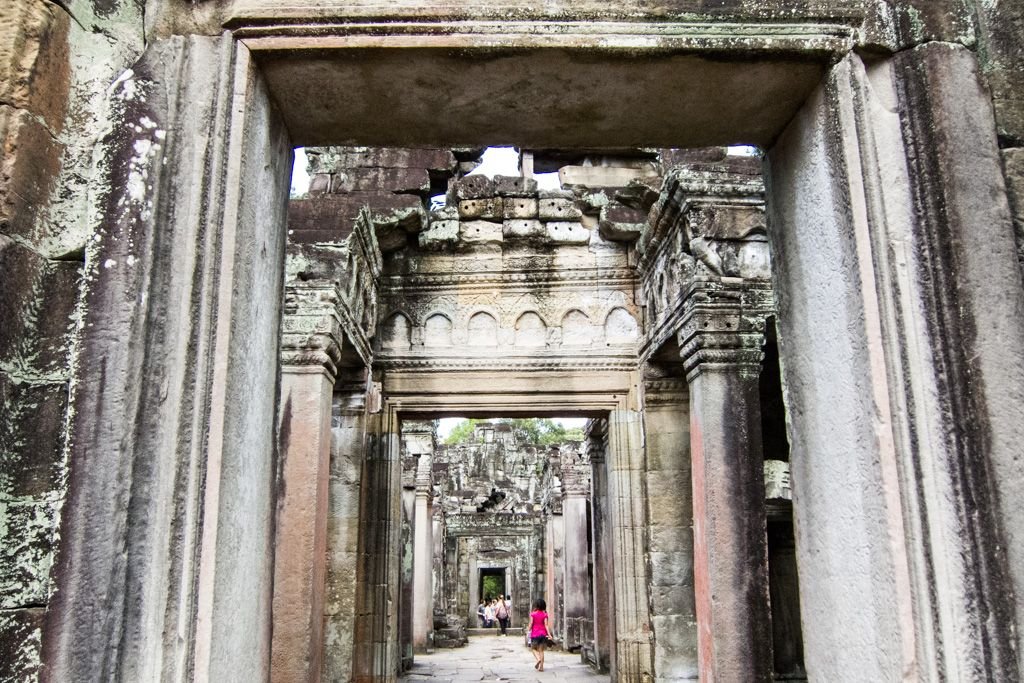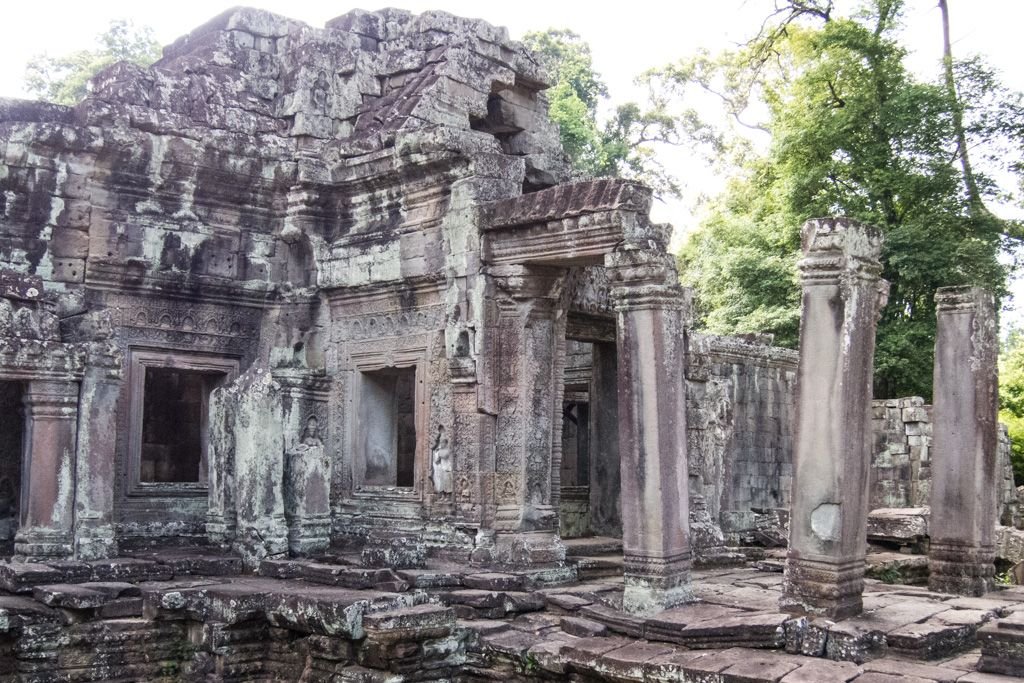 Things To Consider Before Cycling Angkor Wat
Shop around for $1 bike rentals
There are many shops renting bikes for about $2/day, but if you venture off onto side streets or check at/near the guesthouses, you can probably find some $1 rentals. I found mine at a tiny shop right across from my guesthouse.
Know your route
It helps to have at least a vague idea of where you're going before venturing out, especially if you're heading to Angkor to catch sunrise. It's easy enough to take the main road out of town, but the turn-off to Angkor is not clearly labeled. I missed it and entered the complex at a different point where you had to have already purchased your temple pass, meaning I had to backtrack and make a few more wrong turns before finally stumbling upon the proper entrance with a ticket booth.
Be wary of the weather
Siem Reap and Angkor are HOT. Here and the Mekong Delta region in Vietnam were the most uncomfortably hot and humid places I visited in Southeast Asia (in April/May). Being flat and inland, you won't have the blessing of a breeze to periodically cool you off throughout the day. If you do not typically fare well in hot climates, you might think twice about cycling around Angkor Wat and the rest of the temples.
Another thing to consider is rain. If you're traveling in Cambodia during the wet season (June-October), you can count on being rained on at some point during the day. It's brilliant for cooling off from the heat, but not so enjoyable cycling through a torrential downpour. When I got caught in a storm, I hid out under a bridge for about 20 minutes til the rain died down.
Bring as much water as you can carry
I easily went through 4L of water each day I cycled around Angkor – and that's not including any water I consumed before and after my bike ride. Having a bike basket is super handy for carrying bottles of water!
Beware of the ringworm!
Fun fact: Ringworm is actually NOT a worm, and not caused by a worm – in fact, it's a fungus. Not-so-fun fact: I somehow contracted ringworm while in Siem Reap. I suspect it was a combination of the hot and humid weather, constantly being wet with sweat and rain, and riding on the same worn bike for 2 days straight (my sincerest apologies to the sucker who rents my bike next!). I had 3 growing skin rashes on my legs for the next month of my travels, and they all gradually started to look like target signs (or 'rings').
Ringworm is easily treatable with some lamisil cream, so should you be infected with the fungus – get thee to a doctor! (Oh, how I wish I'd known that the cream a pharmacist sold me was actually FEEDING the fungus)
Pin it!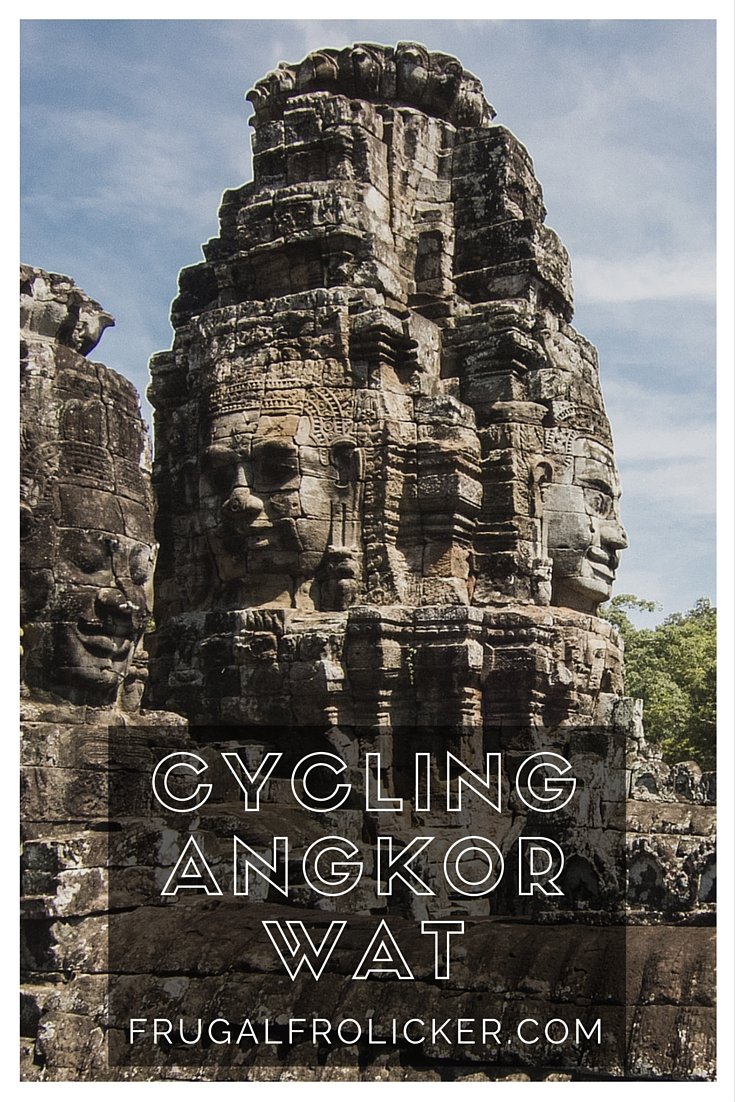 Frugal Facts
As of April 2013 —
1-Day Pass to Angkor: $20
3-Day Pass to Angkor: $40
Tuk tuk temple tour: $15 (on average)
Bicycle Rental: $1