Chiang Mai, Thailand is where you want to go when you're a). a digital nomad, or b). looking for some ACTIVITIES to do. On the latter front, you can find trekking, camping, climbing, cooking classes, village homestays and daytrips, elephant rides, ziplining, mountain biking, massage lessons, and more.
My #1 activity of choice? A Thai cooking class!
Booking A Cooking Class in Chiang Mai
Choosing a cooking class in Chiang Mai actually turned out to be one of the easiest decisions I've made. The dish choices were similar across the board, so for me it came down to reviews/ratings and location. 350+ reviews and a 5-star rating on TripAdvisor was how Thai Farm caught my attention; once I realized that the class took place on a farm in the countryside, I was sold!
I booked the cooking class at my Chiang Mai hostel, GongKaew HuenKum. I'm fairly certain that you can book ANY activity, with ANY vendor, at virtually ANY hostel in Chiang Mai. You could also just as easily book your activities at any tourist office in town. It couldn't be easier!
Touring a Local Market
The next morning, Thai Farm picked up me and my fellow classmates at our hostels and took us straight to a market to pick up supplies for the day. Our instructor was MB – which I only remember, 2.5 months after the fact, because she jokingly told us it stood for 'Most Beautiful'. MB never stopped smiling, laughing, or joking the entire day – she was absolutely fantastic. She took us on a brief tour of the market and showed us various items commonly used in Thai recipes, including my beloved coconut. I was also amused by the pieces of meat being spun around in circles like the blades of a fan. (Veg friends, you might want to look away)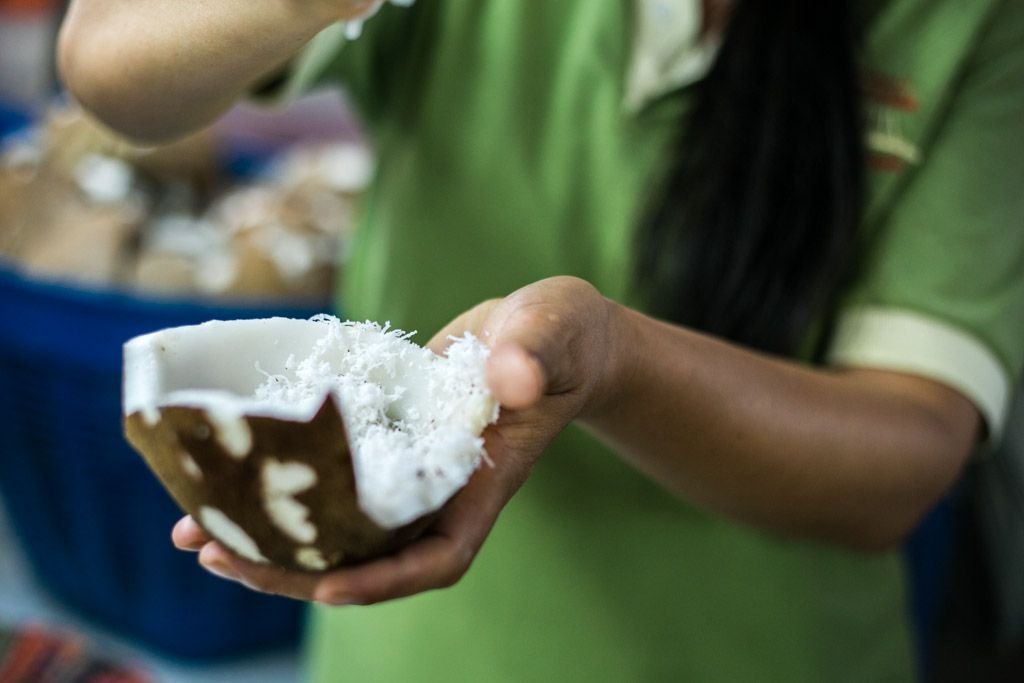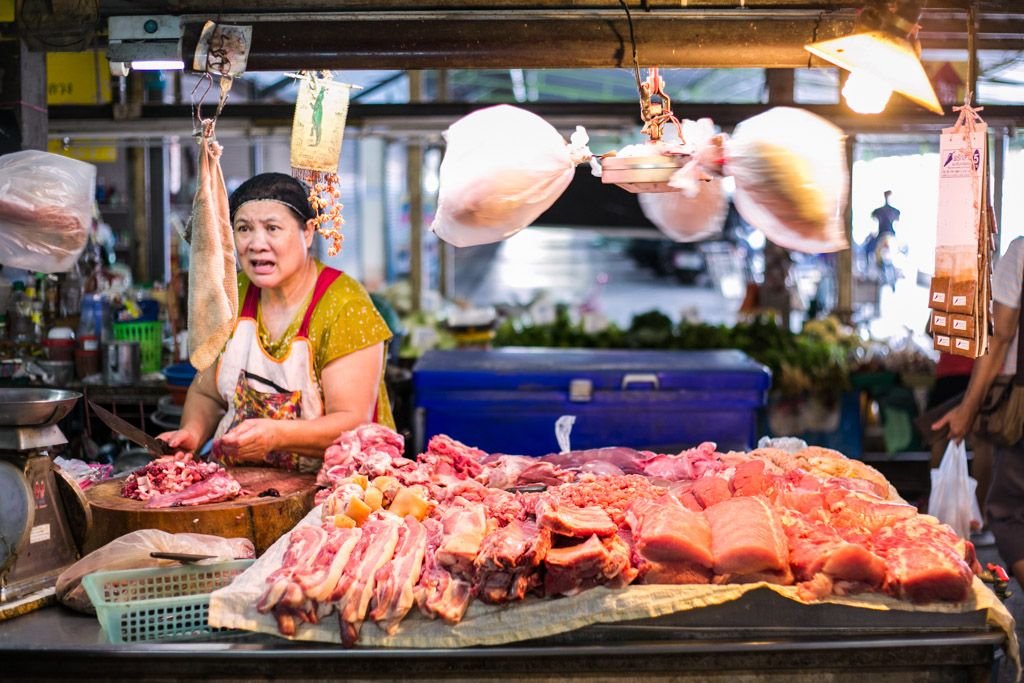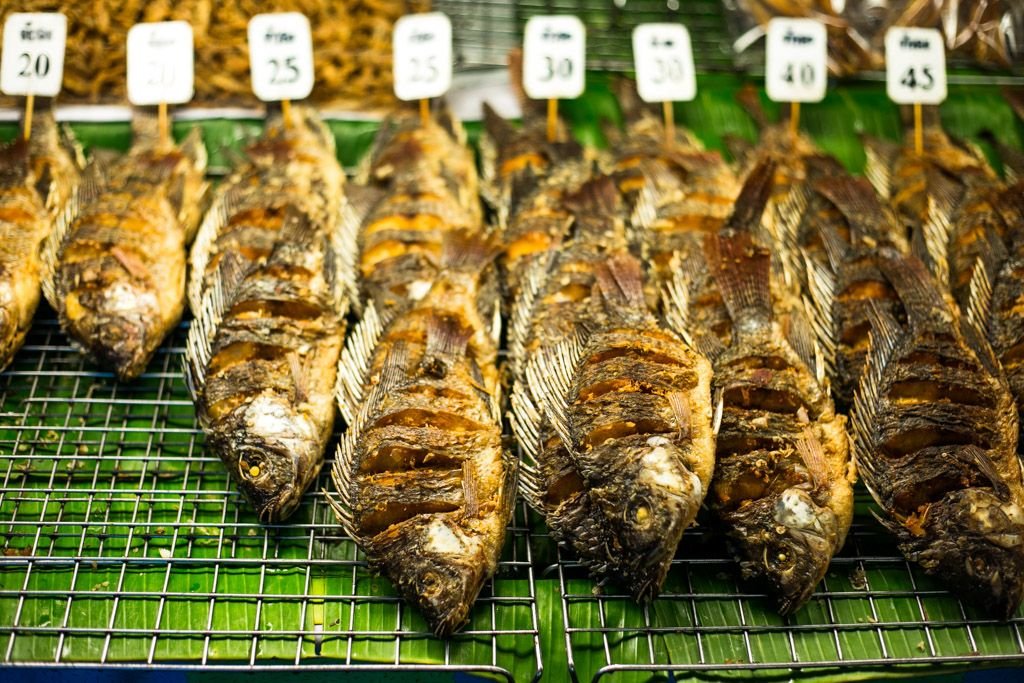 Touring The Farm
While driving to the farm, we all selected 1 of 3 dishes to prepare for each course. Once we arrived, MB gave us a tour of the grounds while the staff prepared the ingredients for our selected dishes. We got to sample all sorts of produce straight from the trees, from sweet mango to blindingly-sour mango, and things we'd never expect to eat like leaves and stems. "The Thai eat EVERYTHING – nothing goes to waste!", MB insisted.
Ever wonder why nuts (aside from peanuts) are so absurdly expensive? ME TOO. Then I learned at Thai Farm that cashew nuts are grown and picked INDIVIDUALLY. Once grown, they look like single cashew nuts attached to a small pepper-like crop. Mind: blown!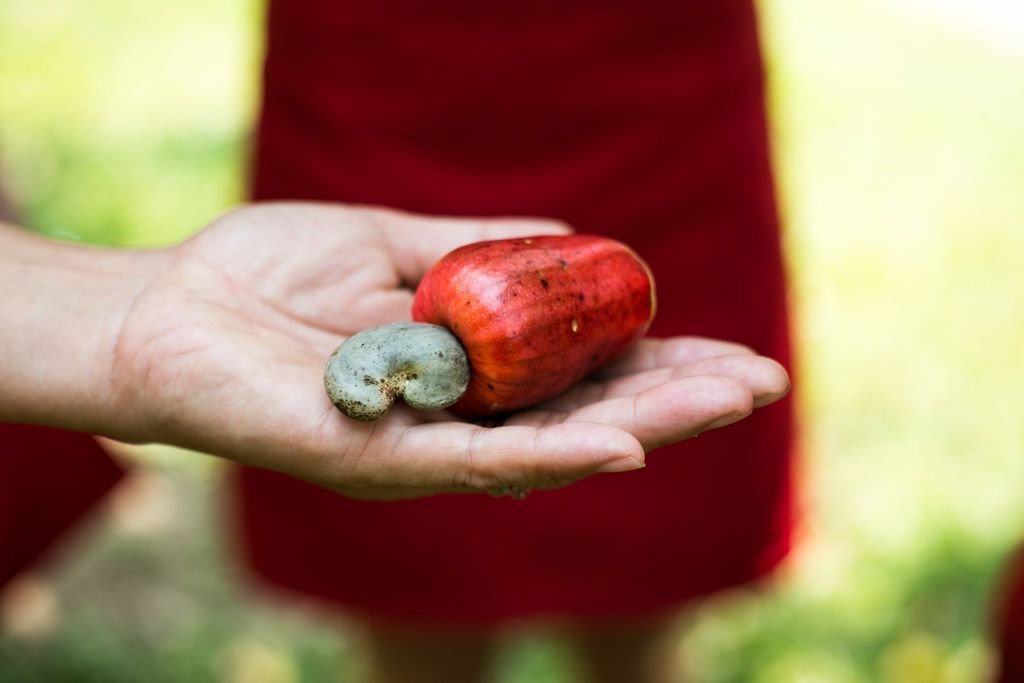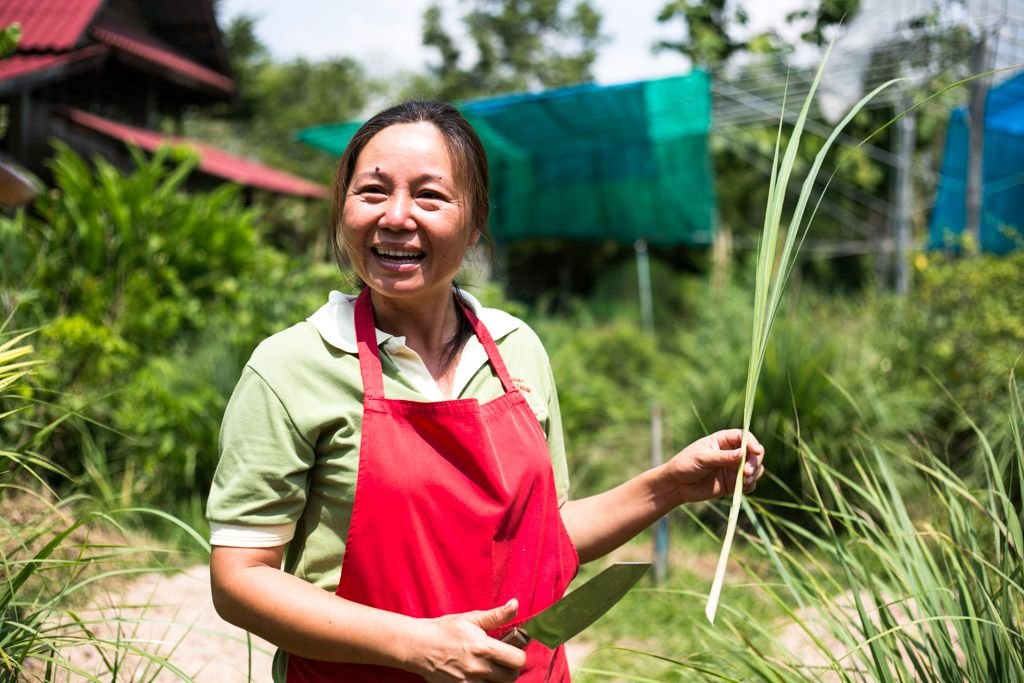 Thai Cooking Class
The rest of the day was spent in the kitchen. Each of us had our own work station equipped with a stove, utensils, and the ingredients needed for each dish we had chosen to prepare. I opted to cook:
yellow curry (including the curry paste)
chicken with cashew nuts
stir fried (big) noodles
pumpkin in coconut milk
The 5th course was papaya salad, which they had prepared for us at lunch. I wasn't too upset about not being able to make this myself, since I'd already learned how to make papaya salad in Vietnam.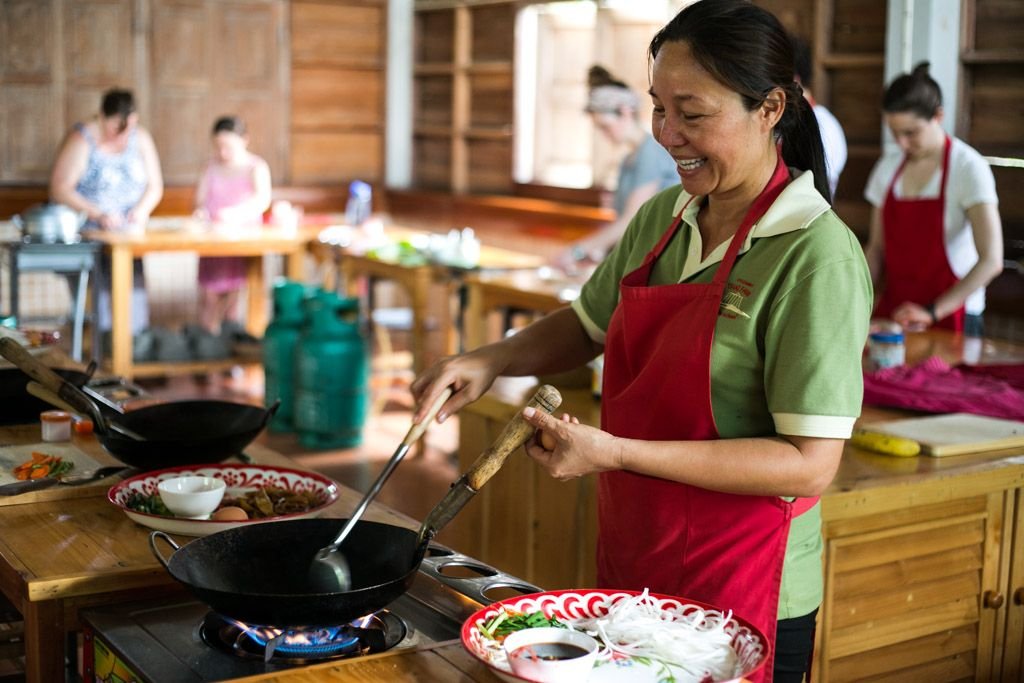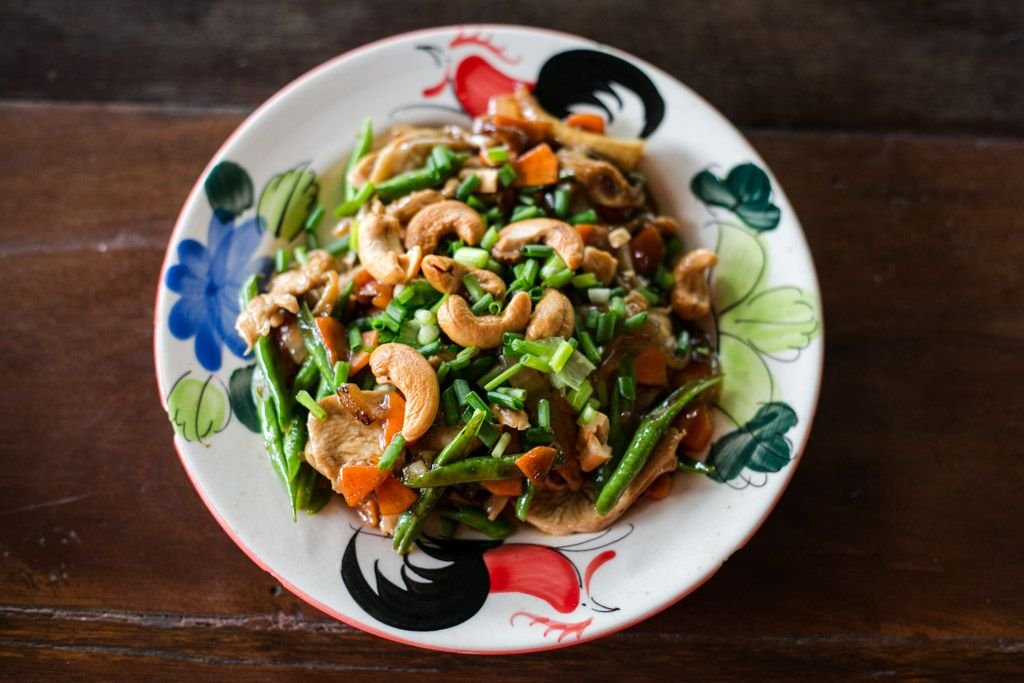 I may come from the land of big-ass everything, but I couldn't even come close to finishing this big-ass meal. Everything was DELICIOUS! I'd like to give myself credit for it, but I think it had more to do with the freshness of the ingredients.
At the end of the class, we got to take home our leftovers, along with a recipe book containing instructions on how to prepare every recipe offered, not just the ones we worked on (FYI – most of these recipes are actually posted online on Thai Farm's website). I'm confident that I could recreate a fair number of these dishes back home in America, though the curry paste calls for many obscure ingredients and requires more effort, so it's probably not gonna happen.
Taking a cooking class in Chiang Mai is a must-do. I had a fantastic experience learning how to cook at Thai Farm Cooking School and would highly recommend them!
Frugal Facts
As of June 2013 —
A full day cooking class at Thai Farm Cooking School costs 1000 THB ($31 USD). You can book online via their website, or through any hostel or tourist office in Chiang Mai.