The 'Best of Laos' photo gallery below is a collection of images I took in June 2013 while traveling in Northern Laos. In one week of travel, I explored the far north of the country: crossing the Thai border at Huay Xai, then splitting the week between Luang Namtha and Nong Khiaw. I've also selected my Top 5 favorite photos I took in Northern Laos, which are at the bottom of this post and in no particular order.
Since I was only able to spend a week in Laos, I don't feel like it was enough time for it to qualify as my favorite country on my 2013 Asia trip; however, had I been able to see more of Laos, I have a very strong feeling that it would have continued on its trajectory of amazingness and catapulted to #1 on my Favorite Asian Countries list. I cannot wait to go back and visit Luang Prabang, go tubing in Vang Vieng, and roam around the far south. Laos is truly an incredible country.
The Stats
Dates: June 6-12, 2013
Locations: Huay Xai, Luang Namtha, Nong Khiaw
Camera: (2013) Canon 5d Mark III
Lenses: (2013) Canon 16-35mm f/2.8 L, Canon 50mm f/1.8, Canon 70-200mm f/2.8 L IS
# of Photos Taken: ~1180
Best Of Laos Slideshow
[kml_flashembed movie='/slideshows/laos/viewer.swf' height='468′ width='765′ base='.' allowfullscreen='true' wmode='transparent'/]
My Top 5 Laos Photos
1. Kids from a village in Luang Namtha
I was the only foreigner wandering around this village on the outskirts of Luang Namtha – clearly an outsider, yet welcomed by smiles. This group of girls approached me and started striking poses, so I took that as my cue to snap some shots.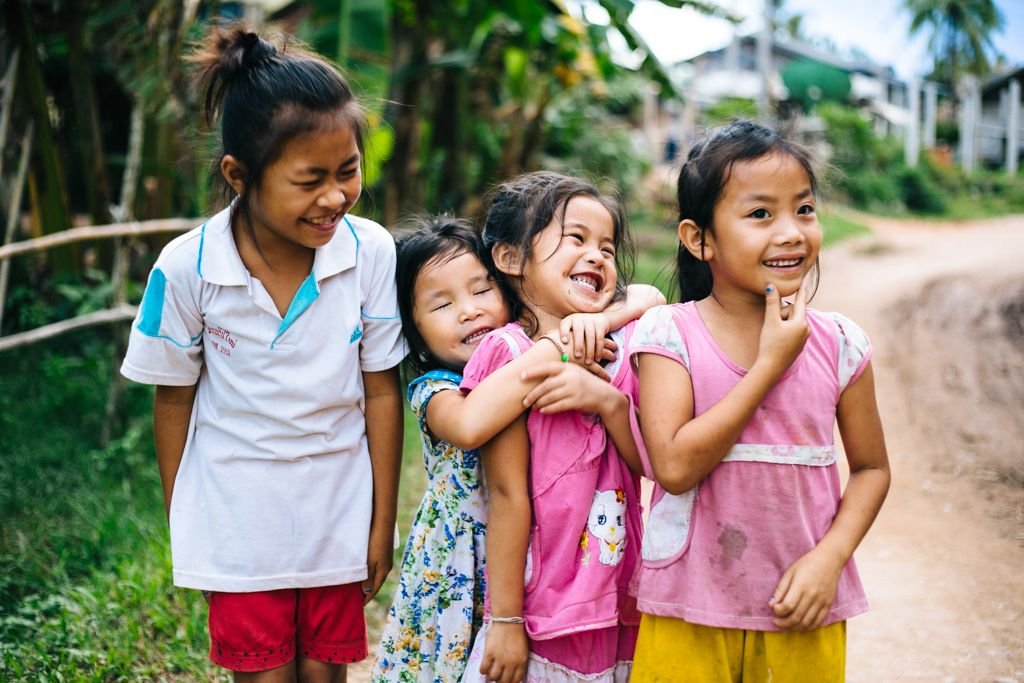 2. Walking through a village upstream from Nong Khiaw
This is the spitting image of the typical Lao village: a dirt path lined with stilt houses, adults relaxing inside or in their doorway, kids playing, and all sorts of animals roaming around.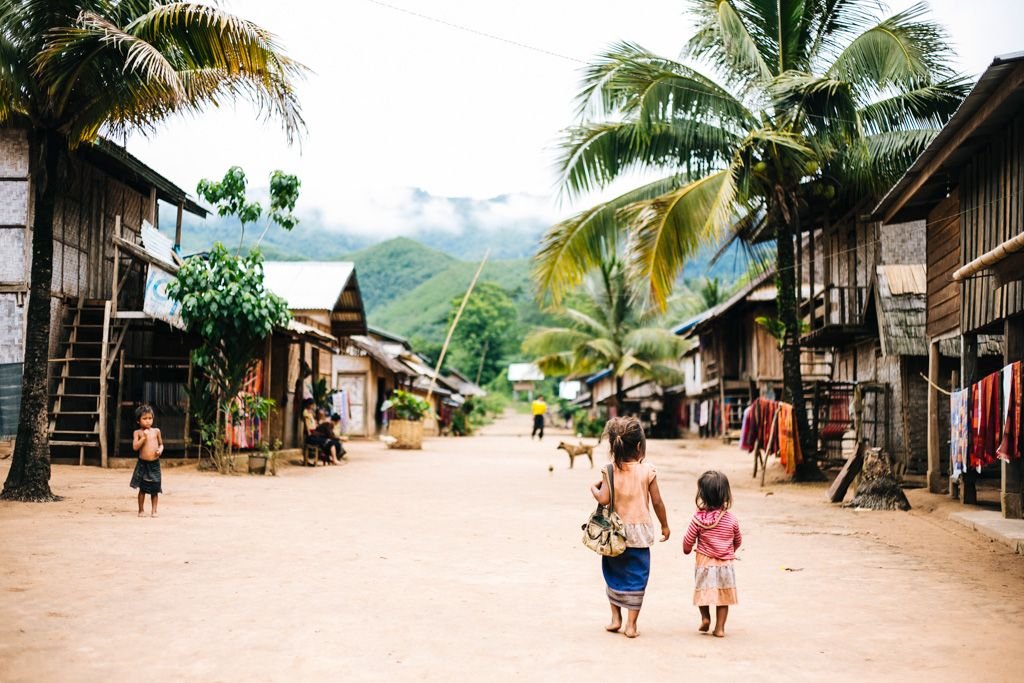 3. Ceremony at the Lanten village in Luang Namtha
We were so fortunate to be invited to a ceremony held in one of the local tribesman's huts. Tying a string around one's wrist is said to ward off evil spirits. After we all partook in the string-tying, we shared whiskey and a meal with the villagers in the hut.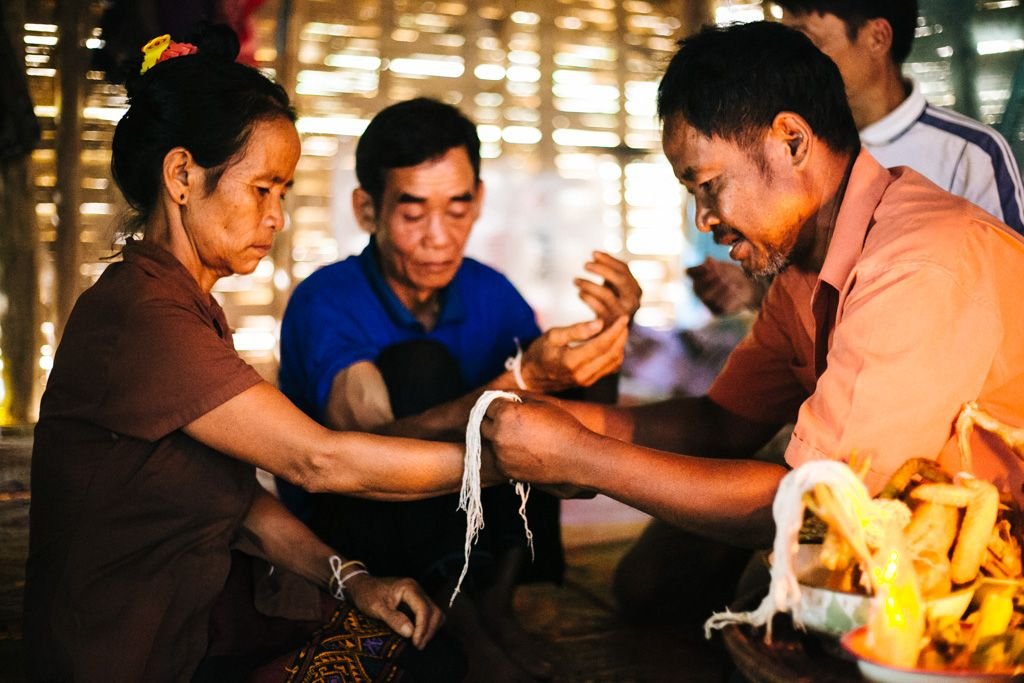 4. View from the bridge in Nong Khiaw
This is what the center of town looks like in Nong Khiaw. Northern Laos is rife with lush green mountains and milk chocolatey rivers, and this million dollar view epitomizes that.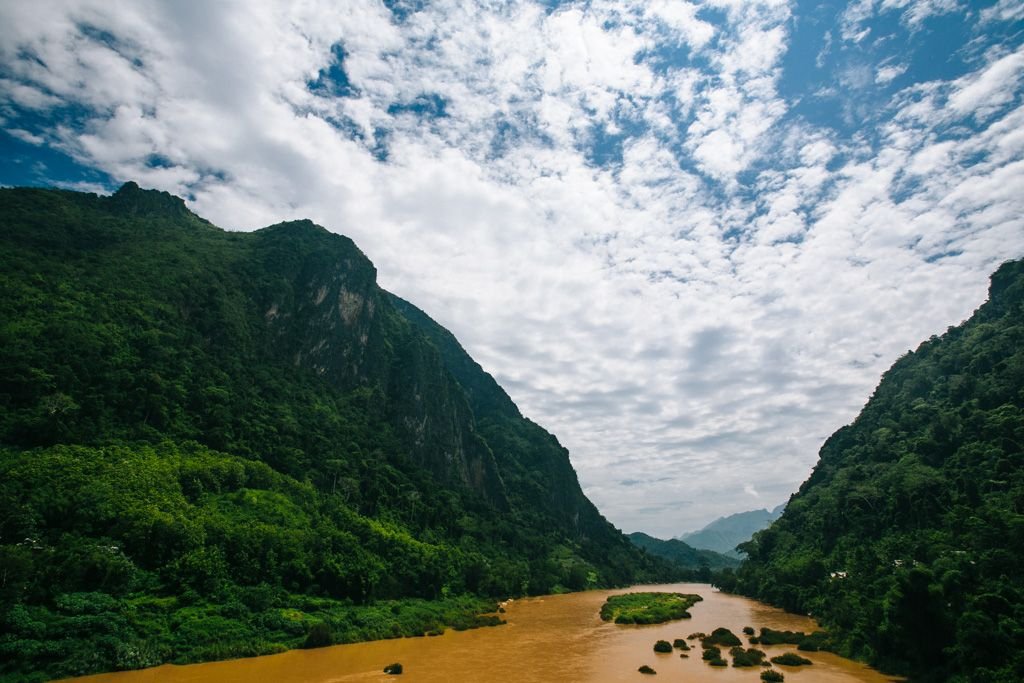 5. Basket weaving in a village upstream from Nong Khiaw
Perhaps not typical travel photography, but I slipped into photojournalism mode on more than one occasion while documenting my time in Laos. I watched, captivated, as a villager sat outside of her hut weaving a basket.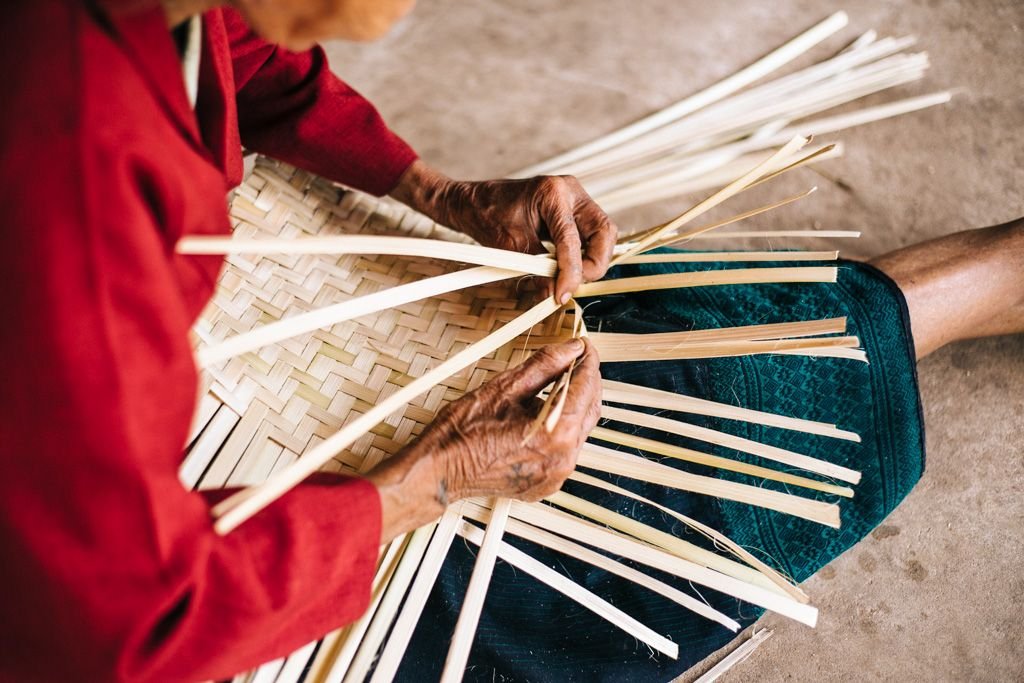 Which is your favorite Laos photo?