Planning a trip to explore the Grand Canyon and Arizona? Consider booking one of these boutique hotels in Sedona.
Enchantment Resort

Photo via Enchantment Resort
This 5-star resort has a 5-star backdrop with the iconic Red Rocks that Sedona is famed for. Enchantment Resort spans 70 acres at a secluded location within Boynton Canyon and is oft referred to as a "slice of heaven". All guest rooms have private decks and patios, a fireplace, and decor with a Southwestern flair. All guests have access to the Mii amo spa, which contains a sauna, whirlpool, indoor pool, outdoor lap pool, and fitness center with classes. Myriad spa services are available for booking as well, including some unique ones like stress reduction and integrative breathing sessions. And to balance out all that relaxation, the resort offers over 100 complimentary activities from gardening and composting to watercolor painting to tennis and golf clinics.
l'Auberge de Sedona
L'Auberge de Sedona sits on Oak Creek in the midst of Sedona's Red Rocks. It sets itself apart form other Sedona luxury hotels with its cottage accommodation. These recently-renovated cottages are decorated with works from local artists and many include a fireplace (manned by a fire-making concierge), outdoor cedar shower, and private balcony. The Vista Cottages provide the best panoramic views of the Red Rocks, Creekside Cottages are nestled right on Oak Creek, Garden Cottages are immersed in the resort's beautiful foliage, and Spa Cottages offer larger bathrooms with Jacuzzi tubs. All guests can enjoy complimentary coffee and baked goods each morning as well as myriad activities throughout the day like forest bathing and stargazing.
Sky Ranch Lodge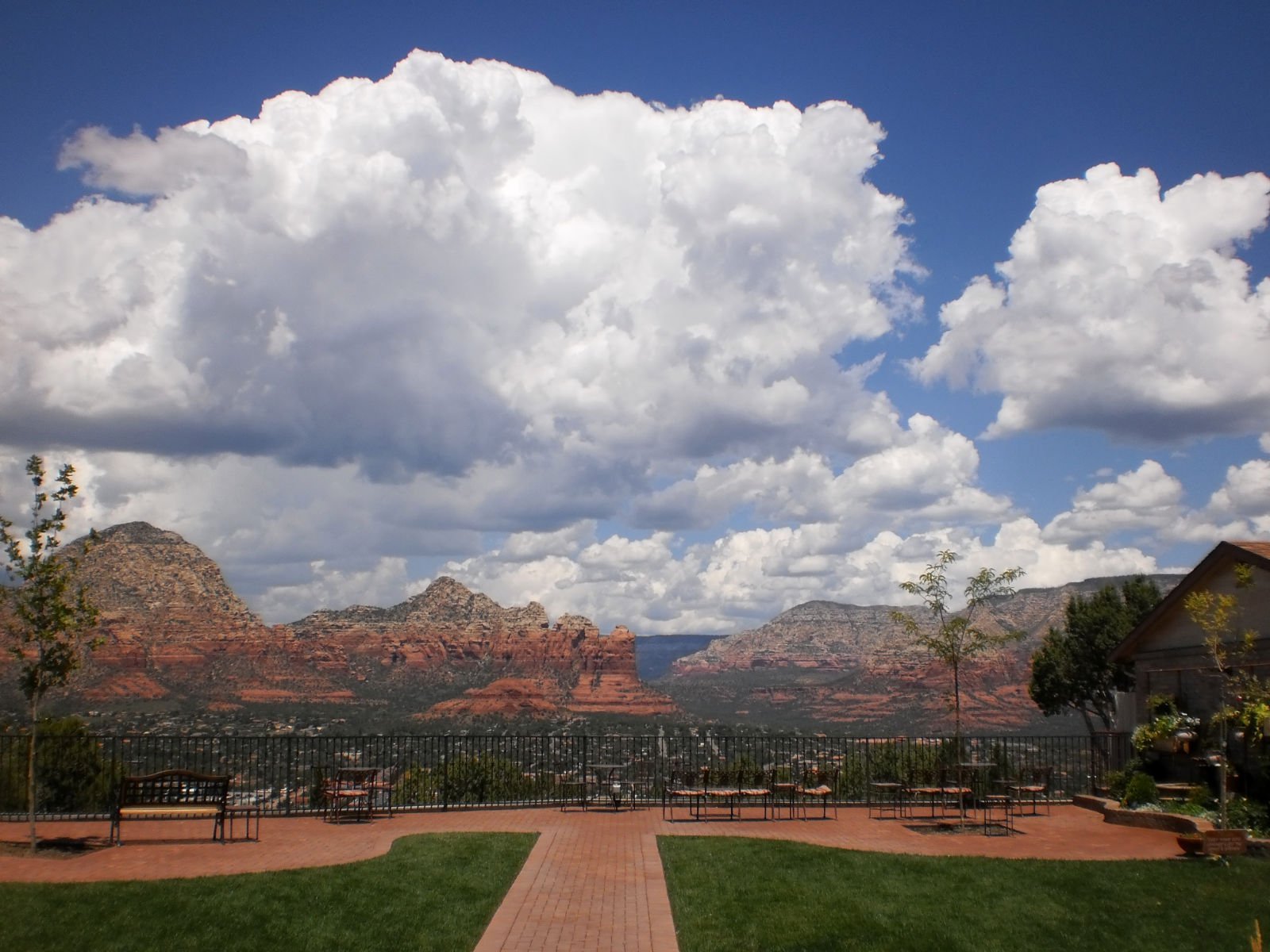 Photo via Sky Ranch Lodge
The Sky Ranch Lodge boasts the best views in Sedona, and with its perch on the Airport Mesa overlooking town and the Red Rocks below it's hard to argue. Whether you enjoy sunset from the wine bar or The Lookout, or lunch in the gardens, you are constantly enveloped by stunning 360-degree views at the resort. Accommodation options start at $149 and may include a kitchenette or fireplace. All guests can enjoy the onsite heated pool and hot tub, the impeccably landscaped grounds complete with ponds and courtyards, and complimentary Wi-Fi.
Southwest Inn at Sedona
The award-winning Southwest Inn at Sedona is renowned for its great design and its famous breakfast burrito. Located beneath Thunder Mountain and Chimney Rock on the western side of town, it is perfectly poised as a base for outdoor adventures in Sedona. All guest rooms include oversized private baths, "Sedona Dream" pillow top mattresses, a Kiva (beehive) style gas fireplace, and premium cable TV. Dogs are allowed, though with a $30 deep cleaning surcharge.
Orchards Inn Sedona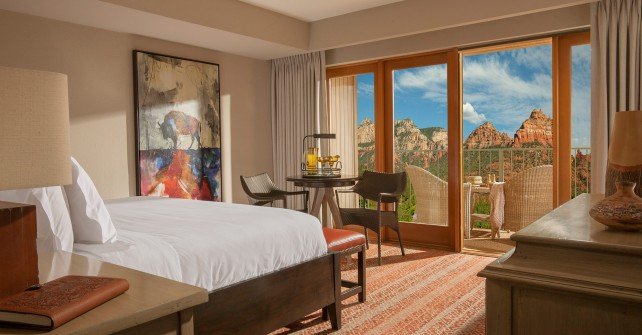 Photo via Orchards Inn

Orchards Inn is located in uptown Sedona and, like all of the other hotels mentioned above, offers exquisite views of the surrounding Red Rocks. This hotel offers free perks like a daily "Healthy Start" breakfast, Wi-Fi, a Hike House cookie voucher, and a Rock Springs Cafe slice of pie. Room options include queen rooms, king rooms, or suites. Guests can dine in the onsite 89Agave restaurant or opt to enjoy their meals on their personal balconies overlooking the Sedona landscape.