This post was last updated in June 2020.
—
Planning a trip to explore the Grand Canyon and Arizona? Consider booking one of these boutique hotels in Sedona.
Enchantment Resort

Photo via Enchantment Resort
This 5-star resort boasts a 5-star backdrop with the iconic Red Rocks that Sedona is famed for.
Enchantment Resort spans 70 acres at a secluded location within Boynton Canyon and is rightly referred to as a "slice of heaven". Its newly-refreshed suites and casitas integrate colorful southwestern accents with modern furnishings. All guest rooms have private decks/patios and a fireplace.
For the ultimate luxe experience, book yourself a pool suite (so exclusive that the resort only takes bookings for them over the phone). This suite comes equipped with a private outdoor pool and sundeck with a panoramic red rock view.
All guests have access to the Mii amo spa, named the #1 destination resort spa by Travel & Leisure. Along with a sauna, whirlpool, indoor pool, outdoor lap pool, fitness center, and standard spa services, this spa offers unique classes and healing sessions (e.g. aura photography, past life regression hypnosis, chakra meditation, and an ayurvedic lifestyle consultation).
And to balance out all that relaxation, the resort offers Native American-influenced experiences, stargazing sessions, watercolor painting classes, beading workshops, vision board making, and guided hikes and mountain bike rides around Sedona.
CLICK TO BOOK A ROOM AT ENCHANTMENT RESORT
l'Auberge de Sedona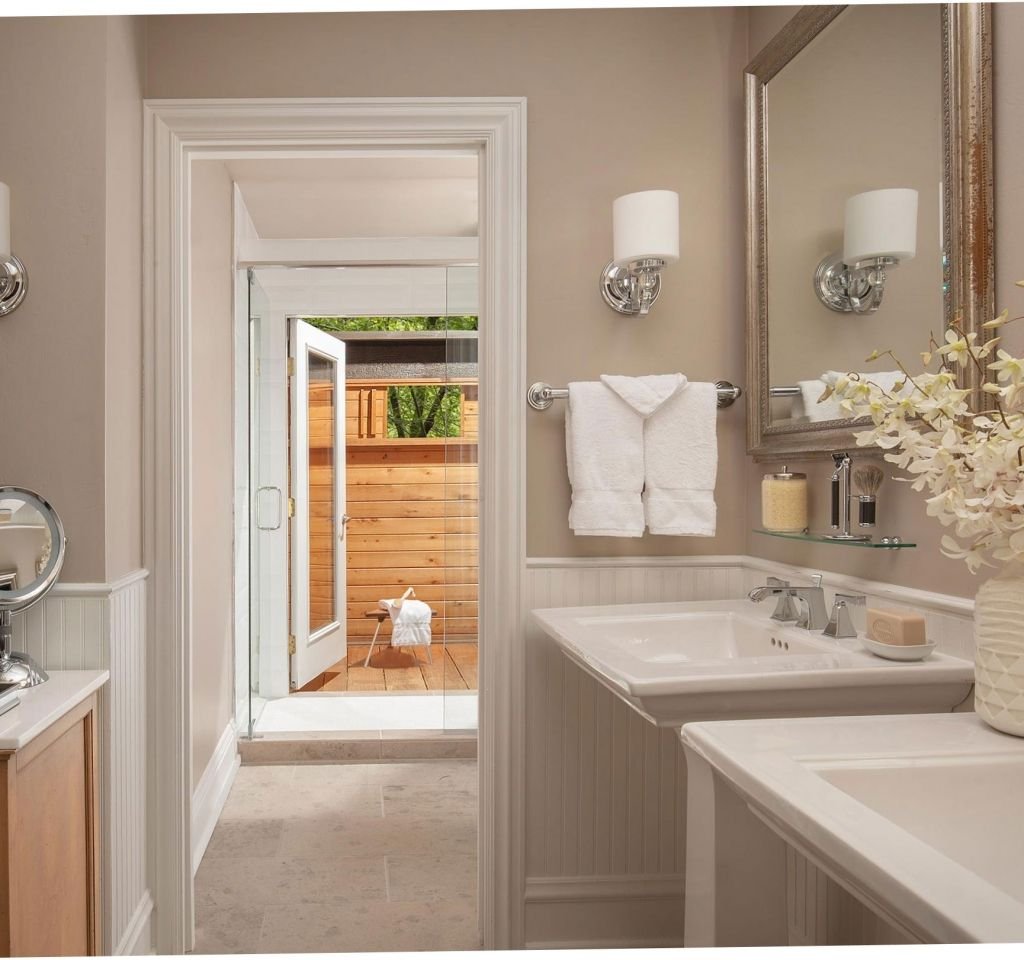 Photo via l'Auberge de Sedona.
L'Auberge de Sedona is a boutique hotel in Sedona that sits on Oak Creek in the midst of Sedona's Red Rocks. It sets itself apart form other Sedona luxury hotels with its cottage accommodation. These recently-renovated cottages are decorated with works from local artists and many include a fireplace (manned by a fire-making concierge), outdoor cedar shower, and private balcony.
Vista Cottages provide the best panoramic views of the Red Rocks, Creekside Cottages are nestled right on Oak Creek, Garden Cottages are immersed in the resort's beautiful foliage, and Spa Cottages offer larger bathrooms with Jacuzzi tubs.
All guests can enjoy complimentary coffee and baked goods each morning as well as myriad activities throughout the day like forest bathing and stargazing. There's also a heated pool and hot tub as well as L'Apothecary Nature Spa.
Be sure to treat yourself to a fine dining experience at the onsite Cress on Oak Creek, serving Southern European cuisine with locally sourced ingredients.
CLICK TO BOOK A ROOM AT L'AUBERGE DE SEDONA
Sky Ranch Lodge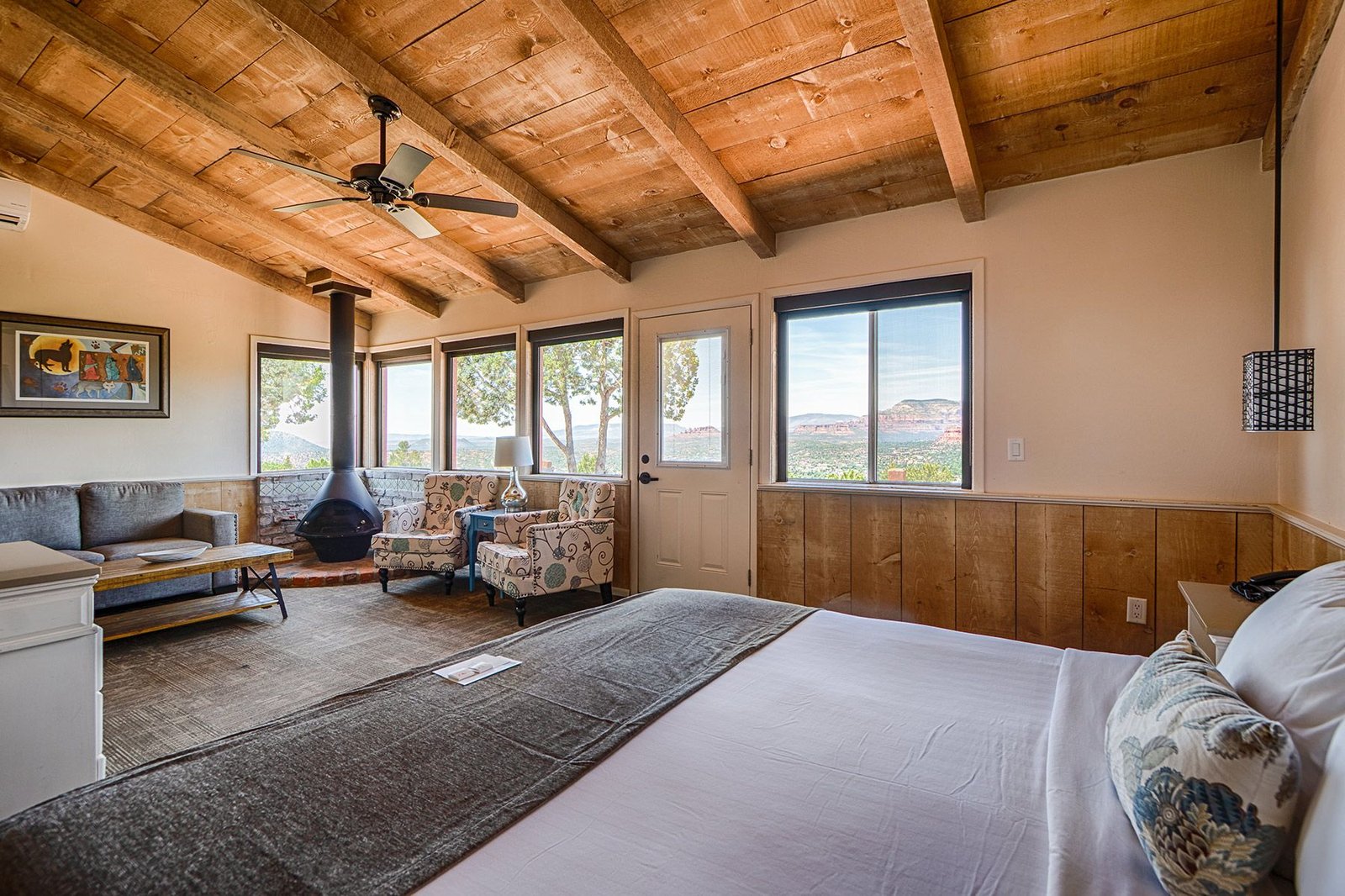 Photo via Sky Ranch Lodge.
The Sky Ranch Lodge boasts the best views in Sedona and a "unique rustic experience", and with its perch on the Airport Mesa overlooking town and the Red Rocks below it's hard to argue. Whether you enjoy sunset from the wine bar or The Lookout, or lunch in the gardens, you are constantly enveloped by stunning 360-degree views at the resort.
Lodge rooms are pet friendly and may include a kitchenette or fireplace. All guests can enjoy the saltwater jacuzzi and pool, the scenic overlook and wine patio, the impeccably landscaped grounds complete with ponds and courtyards, and a complimentary shuttle service anywhere within a 5 mile radius.
CLICK TO BOOK A ROOM AT SKY RANCH LODGE
Southwest Inn at Sedona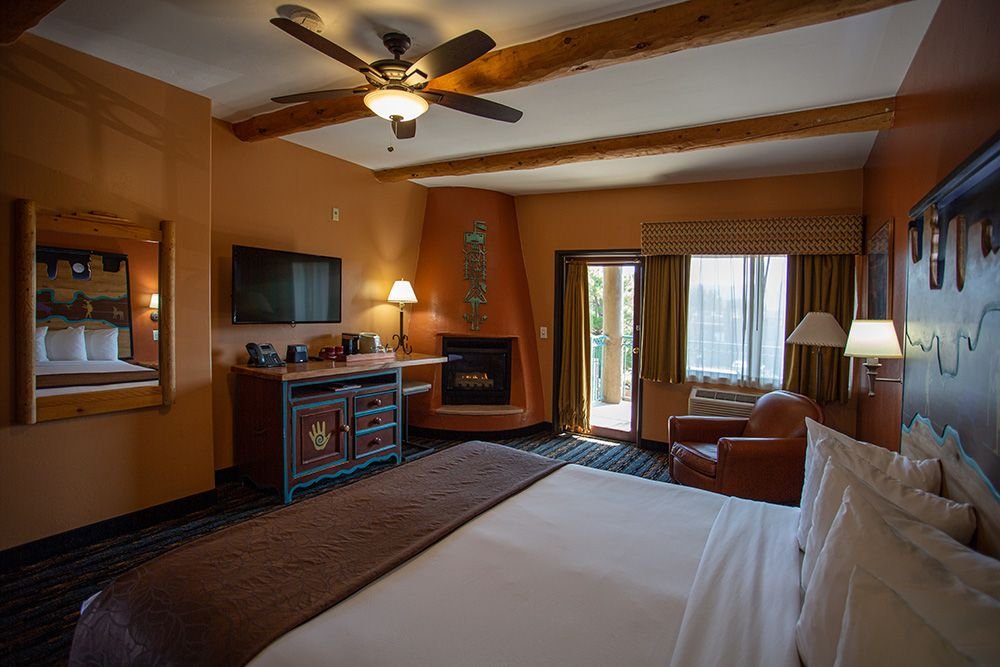 Photo via Southwest Inn at Sedona.
The award-winning Southwest Inn at Sedona is renowned for its great design and its famous breakfast burrito (they even share the recipe on their website!). Located beneath Thunder Mountain and Chimney Rock on the western side of town, it is perfectly poised as a base for outdoor adventures in Sedona.
All guest rooms at this boutique hotel in Sedona include a continental breakfast, a private patio or balcony, oversized private baths, "Sedona Dream" pillow top mattresses, and a Kiva (beehive) style gas fireplace. Dogs are allowed to stay in guest rooms, though with a $30/night surcharge.
This boutique hotel in Sedona comes equipped with an outdoor jacuzzi, outdoor swimming pool, gym, and business center onsite. And, bonus: it offers incredible value for money for anyone visiting Sedona on a budget.
CLICK TO BOOK A ROOM AT SOUTHWEST INN.
Orchards Inn Sedona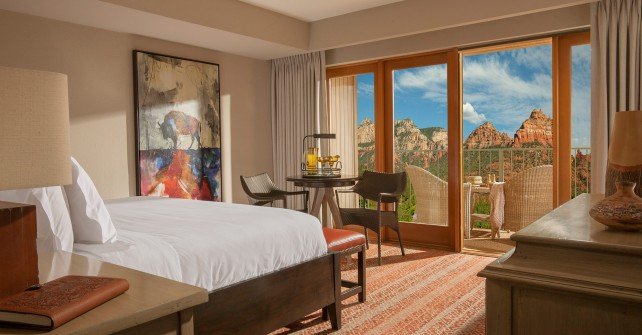 Photo via Orchards Inn.

Orchards Inn is located in uptown Sedona and, like all of the other boutique hotels mentioned above, offers exquisite views of the surrounding Red Rocks (specifically Snoopy Rock). In fact, every single room in the hotel includes a private balcony from which to admire said views – and if that gets old, you can opt to soak in the landscapes from the hotel pool and jacuzzi.
Room options include queen rooms, king rooms, or suites. Premium and deluxe rooms come equipped with a gas fireplace, and suites include a sofa bed. Dog owners will be delighted to know that this boutique hotel in Sedona is pet friendly: so friendly, in fact, that they throw in some free treats for your dog during your stay.
In addition, Uptown Sedona's 89Agave restaurant is owned by the same folks that own Orchards Inn. The restaurant serves up some of the best Mexican food in town, and is particularly known for its house-made tequila infusions and handcrafted margaritas.
CLICK TO BOOK A ROOM AT ORCHARDS INN
Pin it!