This is a guest post by Lexi of Adventures of an Aquaholic.
—
It is a perfectly scorching hot day on the island of Koh Tao in Thailand. There is not a cloud in the sky, the Gulf is as blue as it gets, and I am zooming off to a dive site on the resort's inflatable Zodiac with my two students. Koh Tao, my eight square miles of paradise, looks like a model off to my left rendered by a graphic artist. Those rocky cliffs that give her the best views, that lush greenery draped over her like a blanket.
I still can't believe I get to call this magical place home. Not only do I get to call her home, but I get to spend my days breathing underwater, the thing I love most, and sharing that elation with the next generation of scuba divers. This is one of those *this is living* moments. It takes me aback and suffocates me with its perfection like a pen full of puppies. How did I get here?

Photo by Valeriy Ryasnyanskiy via Unsplash (+ edited by me).
They say there is a "wanderlust gene". I have no problem believing that to be true. I've been dreaming up ways to go galavanting across the globe for about as long as I can remember. The scuba diving came along later in life.
During my senior year in high school, everyone was required to complete a Capstone Project. The draw was we could pick any topic that we so desired. I went home and told my mom that I had to learn how to scuba dive for school. I lived in landlocked Colorado, so after learning the initial skills in the local swimming pool, we road-tripped to Utah where there was a hot spring inside a crater that was just deep enough to qualify as "open water." I was hooked.
Then came my college years, and like many college students, I had neither the money nor the time for such frivolities as scuba diving. My focus retuned to finding a profession that would allow me to travel. I worked two part time jobs, and took on extra credits so that I could graduate a semester early.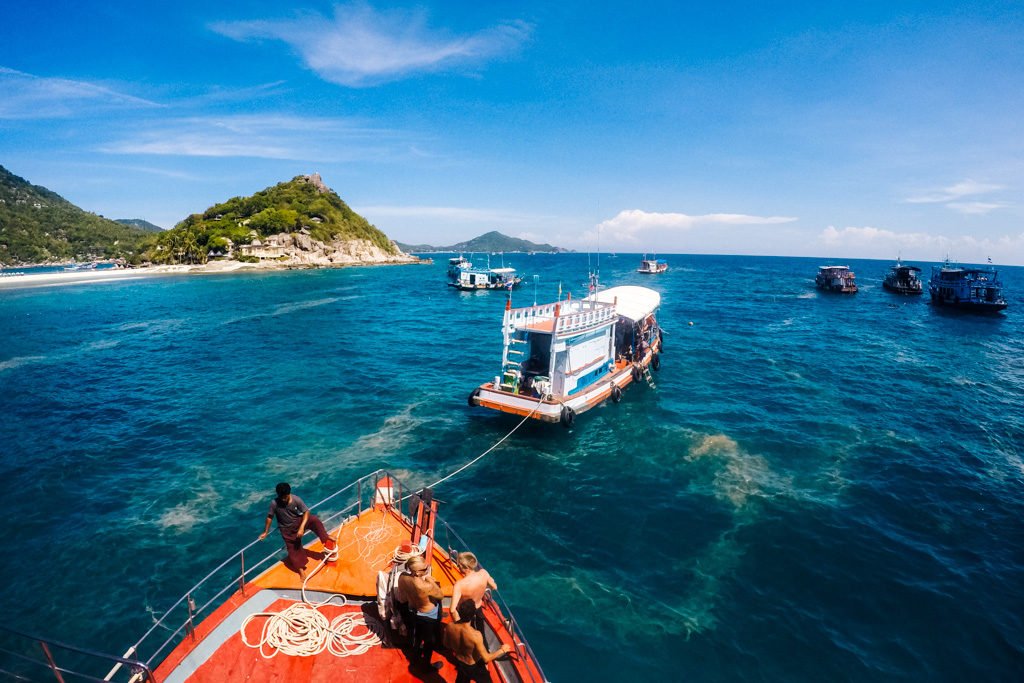 Once I had saved myself a semester of tuition, I couldn't resist the urge to put off my career a few more months and go travel while the rest of my classmates were finishing their degrees. I went all out and found a "scuba diving internship" in Roatan, Honduras. This internship would train me all the way up to a professional ranking. I told everyone it was just for a few months of fun. Mostly I was trying to convince myself that it was just for a few months of fun. I had just spent a small fortune on a college degree. It was my duty to go home and put that degree to good use. Scuba diving was just a hobby.
I spent two of the happiest months of my life training from a novice who could barely control her own buoyancy, to someone qualified to work in the industry. I lived on beans and rice, my hair turned blonde, and my feet turned to leather from being barefoot around the clock. Every day was spent blowing bubbles and spearing lionfish (an invasive species in the Caribbean). Every day one of my classmates would yell her signature "Is this real life?!" at least once.
After that there was no turning back. Two months turned to four, and one trip turned to years of traveling from one beach to the next.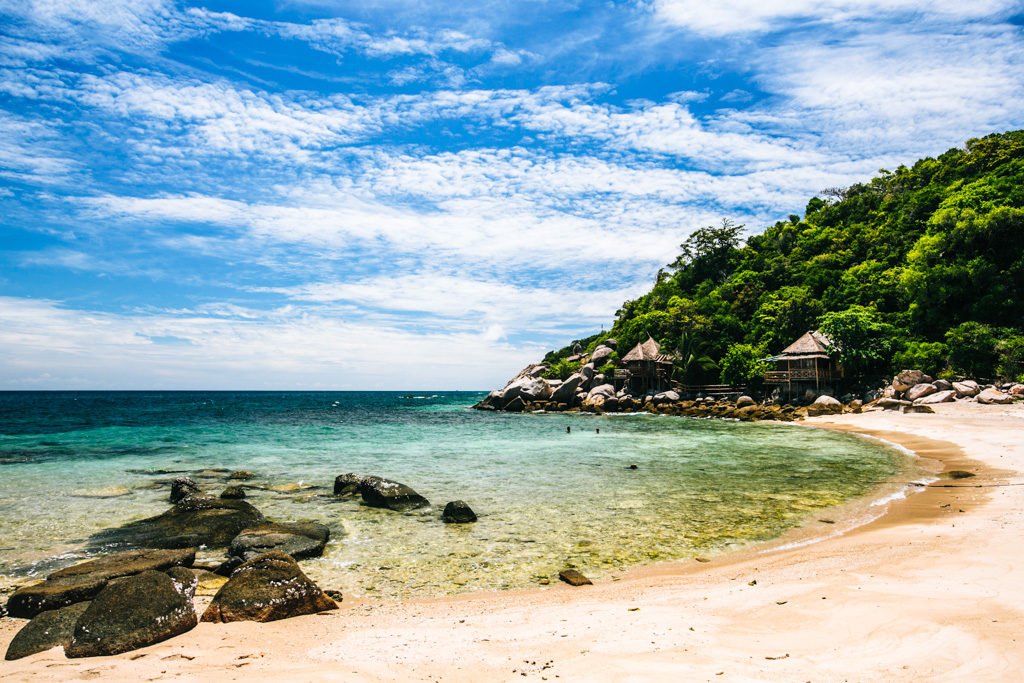 The following 6 years brought me and my other half (who I met in Roatan) to Thailand, Palau, Fiji, and Oman. I learned to do without a lot of life's modern conveniences. My belongings could be condensed down to two suitcases (one of which was entirely dive gear). The pay was always just enough to scrape by; scuba diving is definitely not something you get into for the money. I was truly living my best life though, and constantly wondered at how in the world I had gotten so lucky.
So that's my story in a nutshell. If you are curious about how to land yourself in my shoes (or fins, rather), read on.
Step 1 – Learn To Dive
Don't know how to dive yet? Not a problem. Everyone has to start somewhere.
Learning how to swim is a crucial first step. Don't feel bad if you can't; I've had a surprising number of eager students show up over the years who I had to send off to learn how to swim first. Just like mastering walking is important before beginning any land-based activity, learning how to swim is crucial before moving on to other water-based activities. Head to your local pool and see what lessons are available. You will need to be comfortable swimming 200 meters/yards and treading water for 10 minutes to get your entry level diving certification.
Now there are "zero to hero" programs available in areas of the world where scuba diving is particularly popular. They will train you from no experience, all the way up to a pro in as little as two months. I don't necessarily recommend starting these out from zero though. Scuba diving sounds like a blast in theory (and usually is), but it isn't necessarily for everyone. You never known if you're going to like it or not until you're underwater. Do yourself a favor, at least try it out first. You don't want to spend a small fortune buying a plane ticket to an exotic location and sign up for two months of training, only to discover that you are deathly afraid of fish. (Yes, I once had a student who was afraid of fish).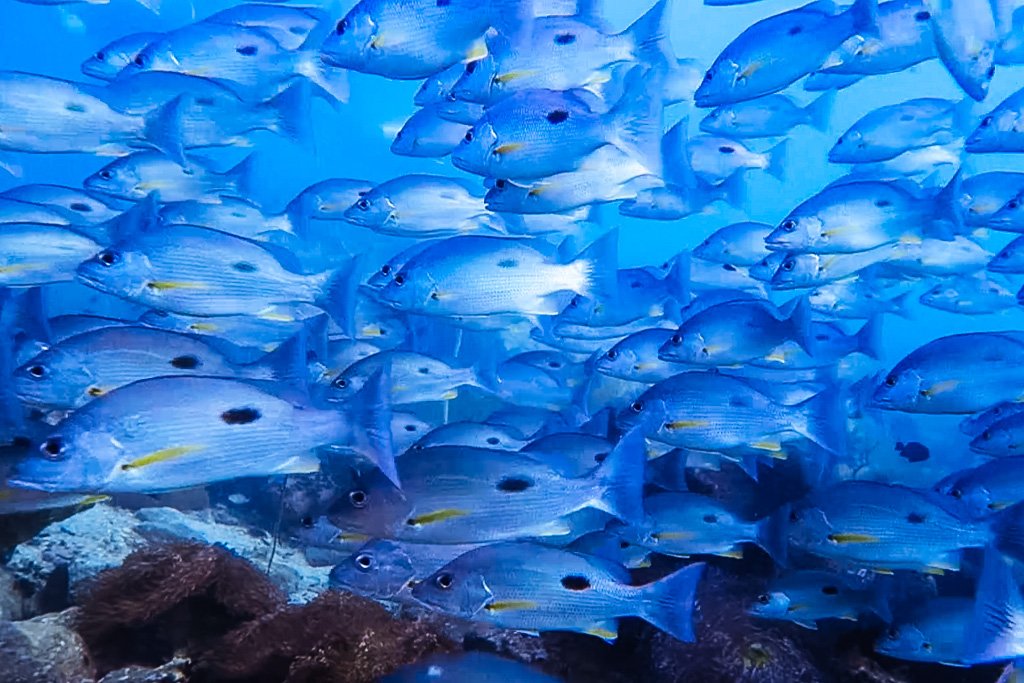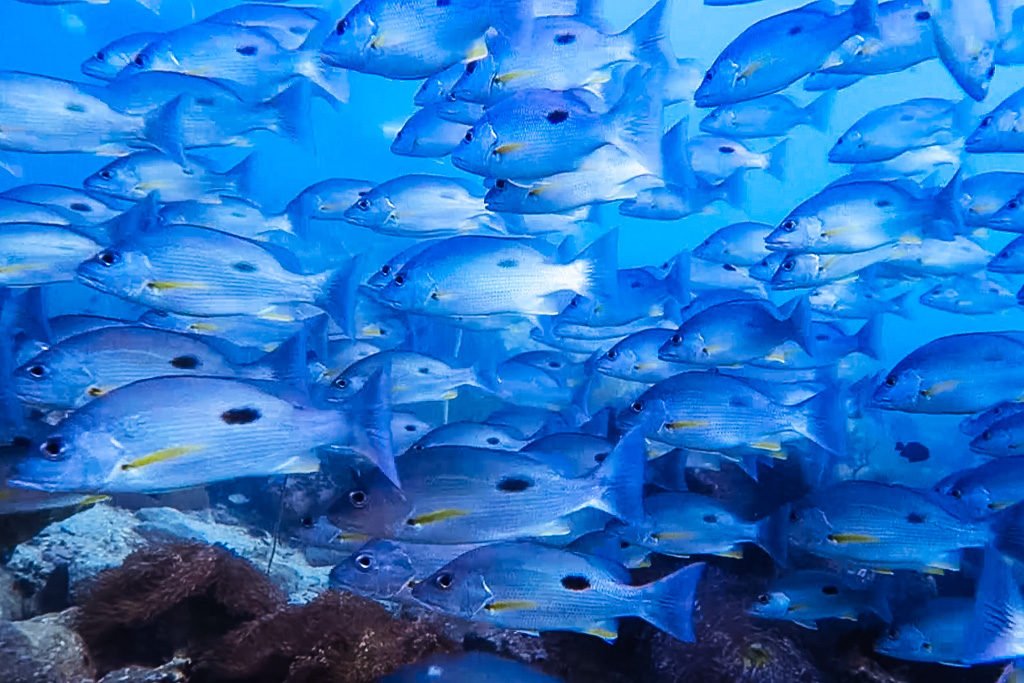 So how do you try it out? There are two different options here. Option one is really just a sample. It is called a Discover Scuba Dive (DSD). You get a 30-minute crash course on all the important theory, and then an instructor holds your hand through a shallow dive, allowing you to get a feel for what it's like. You are not qualified to dive anymore afterwards, unless it's to repeat the same program. This really is just to see if you like it or not. This can be accomplished in a swimming pool (if you are landlocked), or in the ocean. I suggest scoping out the real deal in the ocean on your next vacation for the full effect.
The second option is to go ahead and sign up for the Open Water Diver certification. This course usually takes around 4 days, and by the time it is finished, you will have a certification card allowing you to dive anywhere in the world, on dives up to 18 meters/60 feet. The course is comprised of:
reading a book & answering review questions
watching 5 videos
several hours in a classroom with an instructor
4 quizzes and a final exam (alternatively an e-learning option replaces all book and classroom work)
learning skills in a swimming pool with an instructor
4 open water dives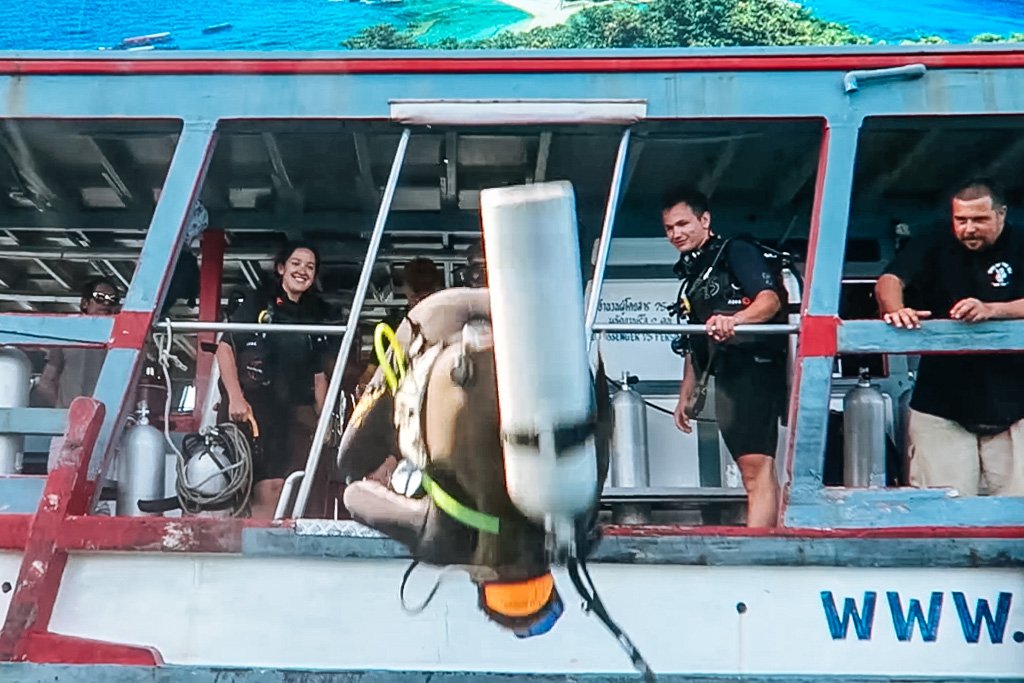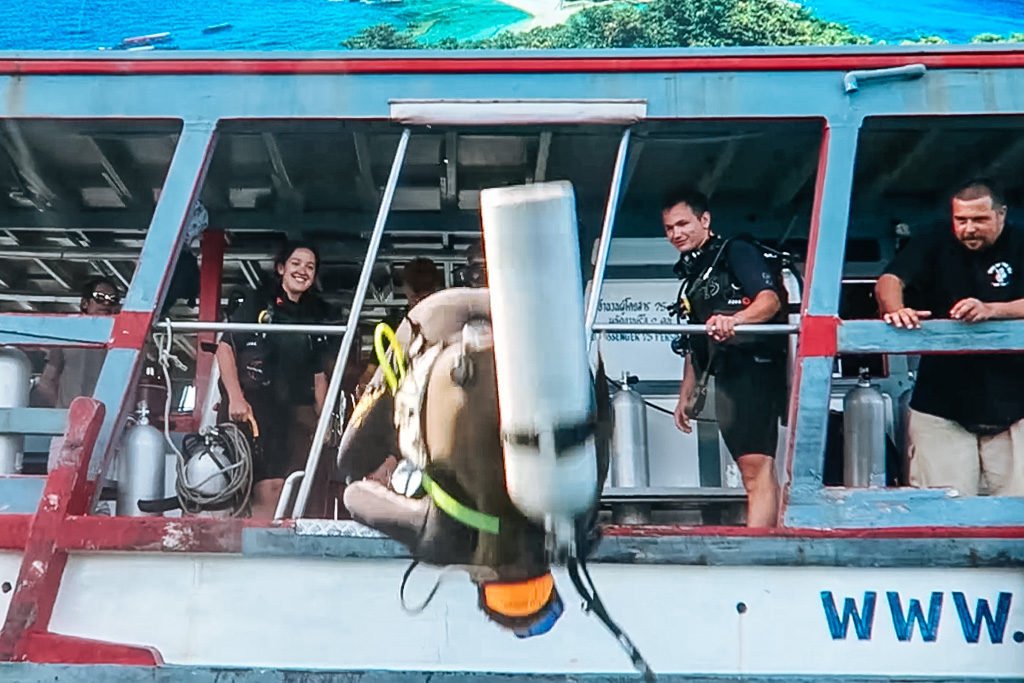 What if you don't live anywhere near water?
Again, not a problem. There are dive shops all over the world, even in landlocked areas. Find your local dive shop and ask them what your options are. They will likely go through all of the classroom and pool portions of the certification with you, and then offer trips to complete the final, open water dives. Either that, or they can give you referral paperwork so that when you go on vacation, the next dive shop just picks up where they left off.
It is also possible to do the entire course on vacation, but keep in mind that it is 4 very full days of work, including homework. And not everyone wants to devote 4 days of their vacation to taking a course.
A brief side note on diving agencies and terminology
There are many different diving agencies in the world, and the terminology varies slightly from one to the next, but I am going to go ahead and use PADI's terms for this article as PADI is the most widely recognized throughout the world. The pathway to professionalism is very similar for the other agencies though (SSI, NAUI, BSAC, and CMAS to name a few), so it really doesn't matter whether you get certified through PADI vs. SSI or some other agency. The same governing body regulates the standards for all of them.
It is widely recommended to go through PADI for the instructor course though. Switching over to other agencies from PADI, is much easier than the reverse.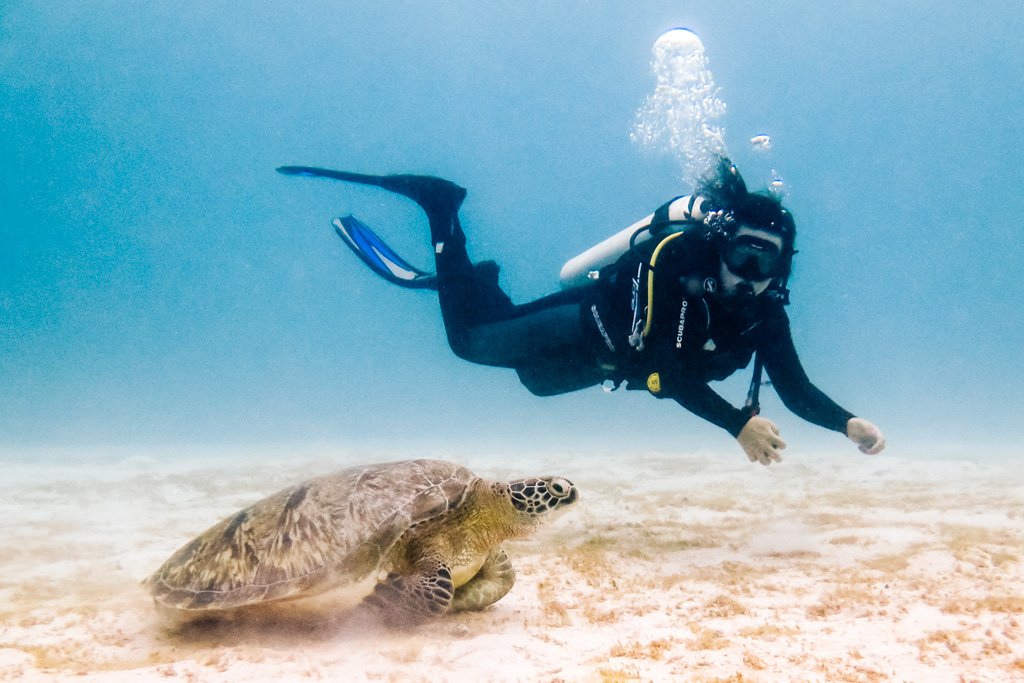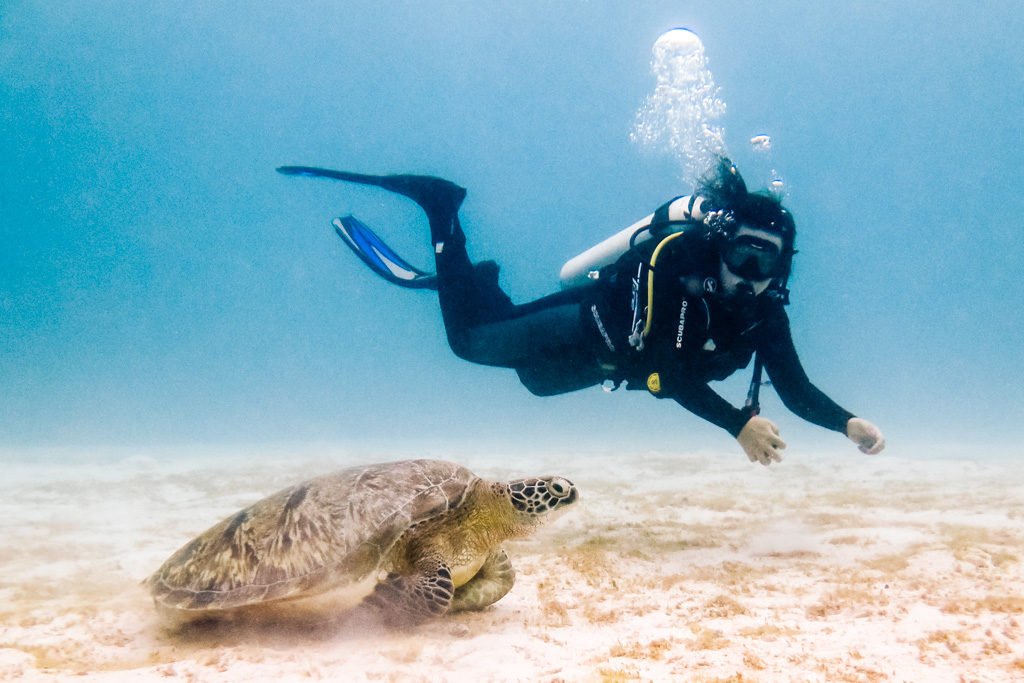 Step 2 – Advance Your Diving Skills
If you have completed Open Water and you are hooked, then congratulations! The fun is just getting started.
Advanced Open Water is the next course you will take after Open Water. This course is much more laid-back. There are no quizzes or exams, and no pool work. All you need to complete are 5 open water dives, which usually takes 2 days. You do need to be close to a body of water larger than a swimming pool for this one, though.
The next diving course is Rescue, but first you must have recent CPR/first aid qualifications. If you have completed such training (within the past 24 months) through an agency such as the Red Cross, then have that paperwork handy to show your instructor. If you have never taken such a course, then PADI offers one called Emergency First Response (EFR), which you can complete in a day. This course is classroom only, so a good one to take while you are land-locked.
The Rescue course is going to look a lot like the Open Water course in terms of all the different avenues of learning. There's a lot of book work to cover, an exam to make sure you know the material; you'll learn everything in a pool first, and then you'll show off all your newly developed skills in an open water setting.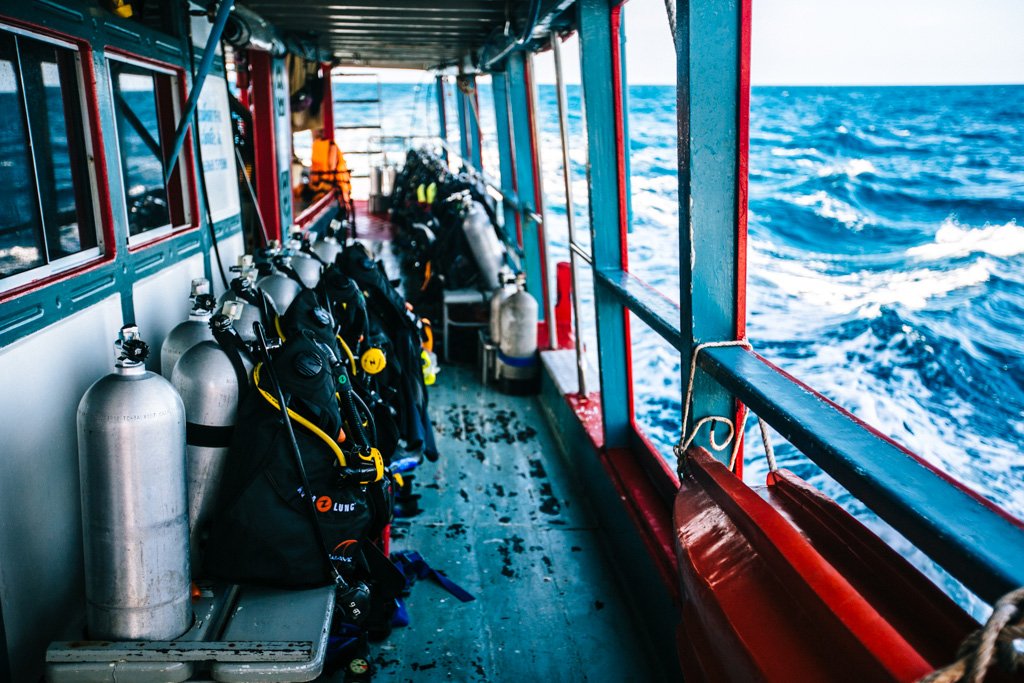 Step 3 – Become A Professional Dive Bum
Divemaster is the first professional-level certification (oh yes, you can just keep climbing the ladder a good long while after this). Divemaster means that you can work for a dive shop, leading around other divers who are already certified, and get paid to do it. Before you get paid though, you still have to complete the course. To qualify for the course, you must have 40 logged dives – and to complete the course, you must have 60 logged dives.
The divemaster course on its own can be completed in as little as two weeks. It can also be completed as part of an internship (which I recommend) over the course of one or several months.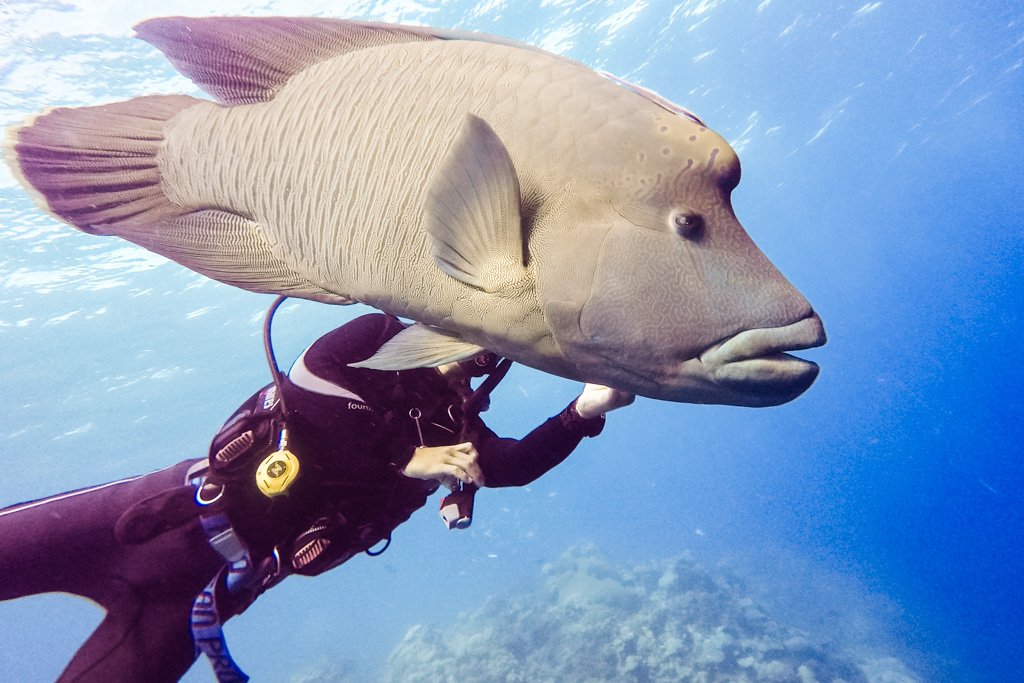 Step 4 – Go Beyond Divemaster
Many people prefer the laid-back work of divemasters, guiding around other divers who already know what they are doing. PADI will sell you on the idea that you can use this qualification to work anywhere in the world, and that is true, but only to a certain extent. And this is where getting permission to work as a foreigner in another country comes into play.
In many countries, there are laws that require jobs to be offered to the local people before they can be outsourced. Or so many locals must already be on staff for every foreigner that is allowed a work permit. For this reason, many divemaster jobs are difficult to get into as a foreigner, as there are plenty of locals who have also gone through the training.
This is why many people in the diving industry who aim to work outside of their home country go one step further, to the next level of training which is Open Water Scuba Instructor (OWSI). The Instructor Development Course (IDC) takes just under two weeks, and concludes with a two-day Instructor Exam (IE). To qualify for the course, you must have logged 60 dives, and have been a certified diver for at least six months. You must have 100 logged dives before the IE.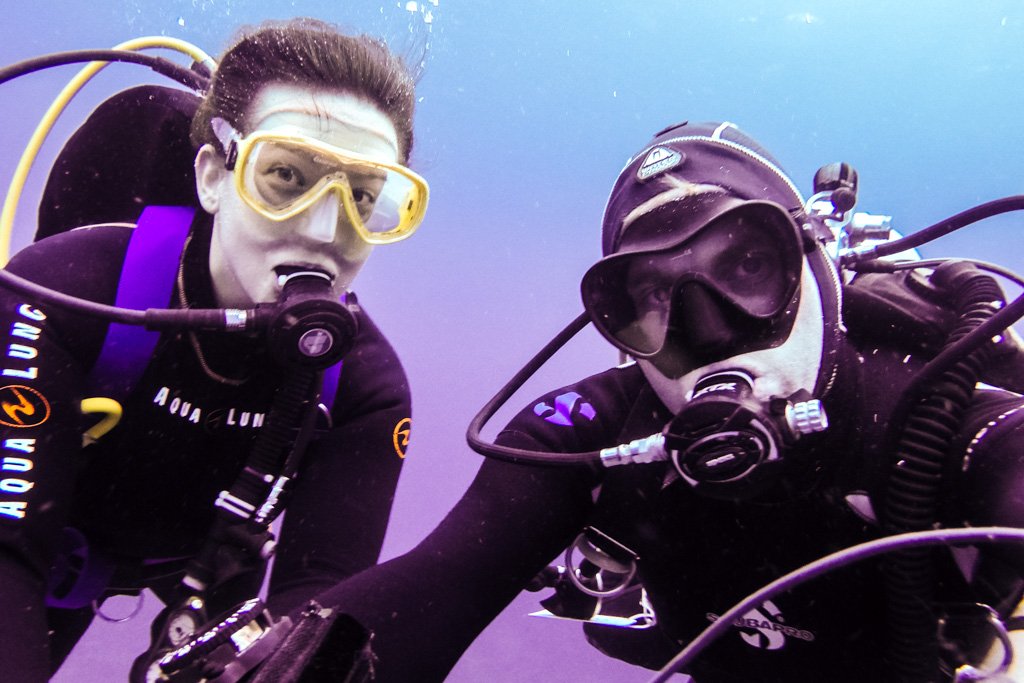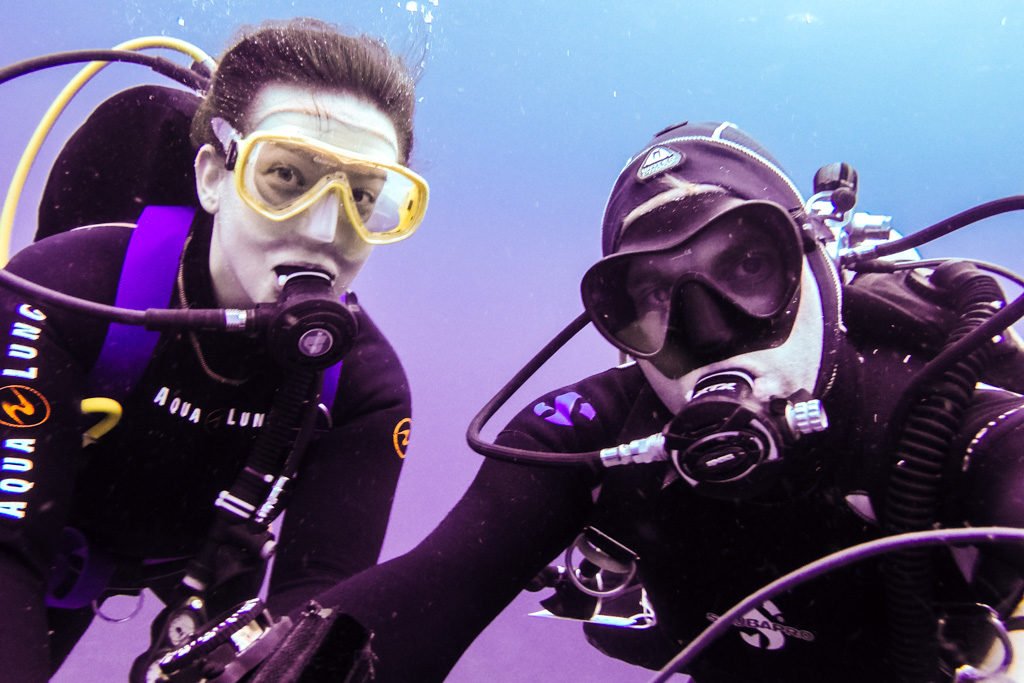 Step 5 – Find Work As A Diving Instructor
As with any industry, getting your foot in the door to get that initial experience will be the hardest part. The best thing to do if you have the funds to skate by for a little while, is spend some extra months with the shop where you did your training to get that experience.
Once you have a little experience, finding work in the dive industry is easier than you might expect. The diving industry is very much a travel industry, so when someone shows up someplace new, there is usually someone else leaving.
There are ways to find jobs before just showing up somewhere out of the blue. PADI has a job listings page for all of their members and there are Facebook groups dedicated to dive jobs.
Usually the best method is just being there in person though. Even if you don't have the mechanical and multilingual experience requested, a shop would usually rather hire you in person than Roger over in Egypt who may or may not actually get on a flight halfway across the world. So have your resumes ready, and start handing them out!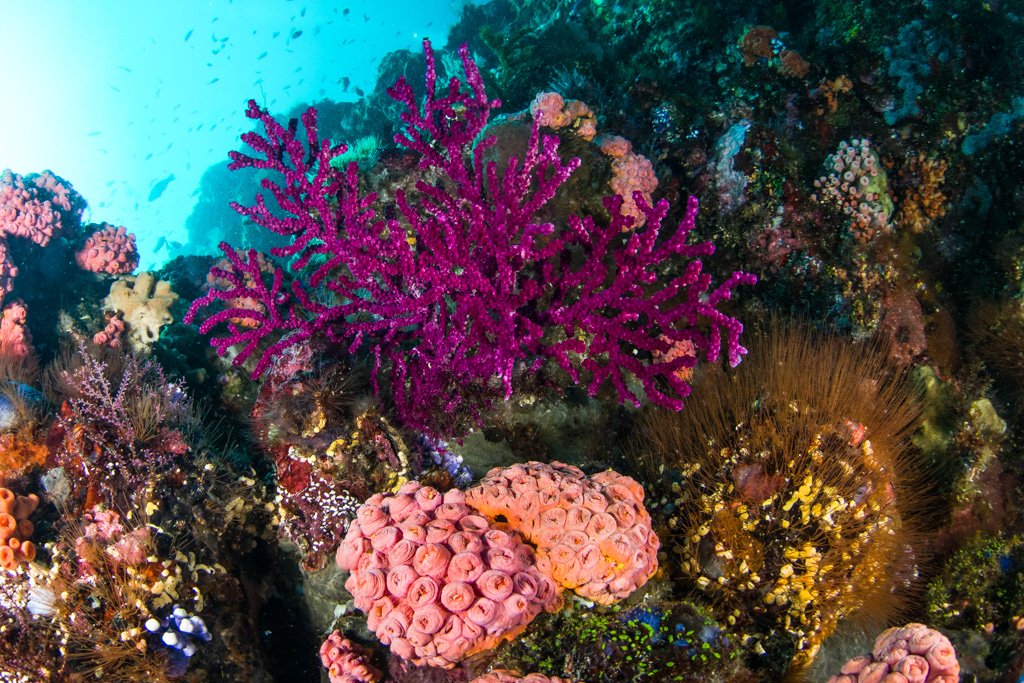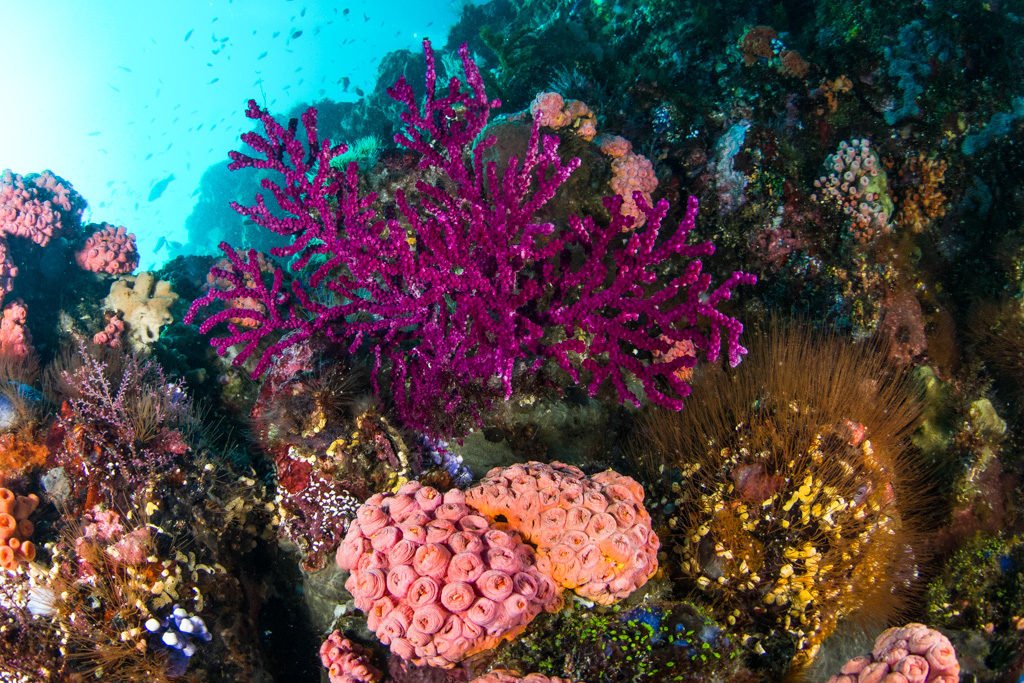 How much will I make as a diving instructor?
Diving is not an inexpensive hobby, and this leads many recreational divers to the misconception that we dive instructors must make some serious cash. Unfortunately this just isn't true. You don't get into the diving industry for the money; you get into it for the love of the sport, and the lifestyle.
I've had the pleasure of working as a dive instructor in 5 different countries now, and based on that experience, I've found that the wage is usually based on the cost of living. You'll make just enough to put a roof over your head and eat modestly, perhaps with a beer at the end of the day. They know you'll have to leave eventually too, so you'll be able to save just enough to afford that plane ticket home or onto the next place. You can't really put a price tag on spending your days in awe of nature though.
I hope this post has been useful in helping you plan your escape from reality. The life of a scuba diving professional is the stuff that dreams are made of. The training can be completed in as little as two months (plus the 6 months you must be a certified diver before becoming an instructor). Then you'll be the one with sand between your toes, staring out at the blue horizon, wondering, "Is this real life?!"
Pin it!