As much as I live for the beach, I have much love for the desert, too. It's why I adore both the coast and the Outback of Australia. There's just something very exotic about deserts – they're harsh, hot, wide open spaces. You never quite know what's out there, but that's the thrill of it.
California walks the coast/desert line, too: it's got San Francisco, Big Sur, and other coastal gems; but then it also has Death Valley and Palm Springs further inland. I've been well aware of and enamored with the first three for YEARS, but it wasn't until I read about one of my favorite blogger's experience in Palm Springs last year that this locale made it onto my radar, and promptly leapt onto my *To Do When I Finally Live in California Someday* list.
Oh yeah, someday I'll be getaway-ing in Palm Springs, and I'll be doing exactly two things: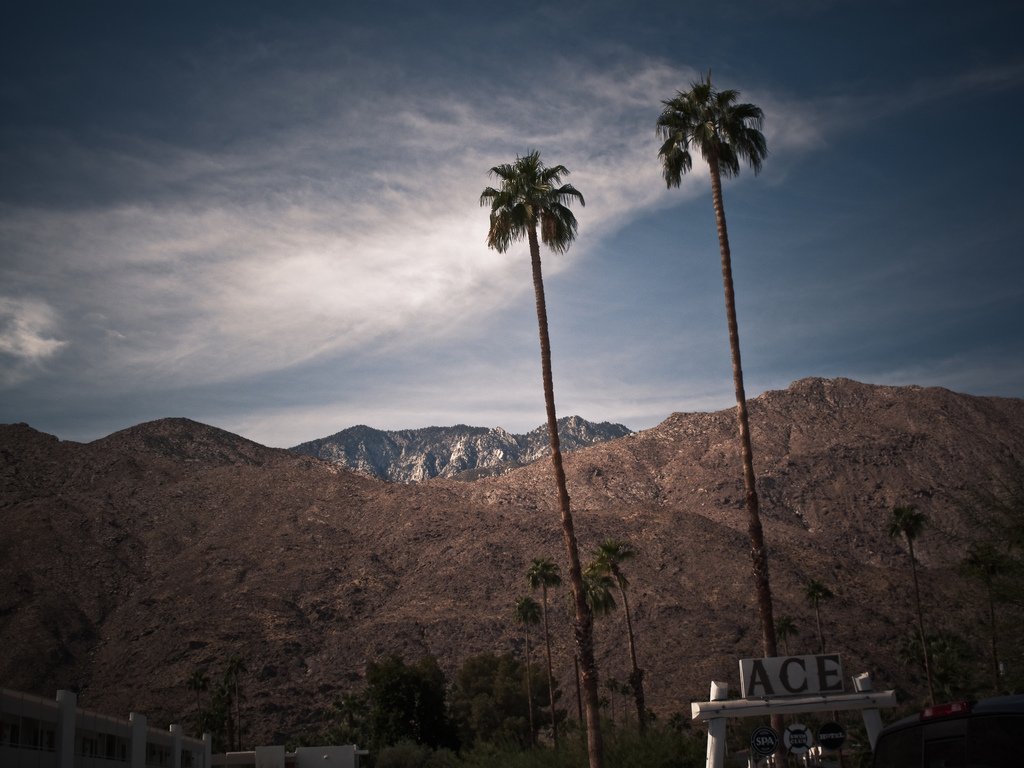 Image from Ricky Montalvo via Flickr Creative Commons
Maxin' Relaxin' at The Ace Hotel
So, I know historically I have a bit of a problem with chilling out and doing nothing, but I really think a stay at the Ace Hotel could help remedy this. When I lived in NYC I'd sometimes hang out in the Ace Hotel lobby on W 29th Street. By day, it'd be a cozy coffee shop aglow with Macbooks; by evening, it'd morph into a buzzing bar. Ah, the hipster-chic life.
Palm Springs' Ace Hotel has a similar feel, but given its rather warm location, it brings something a little different to the table with its urban-meets-desert theme. The hotel is backed by mountains and a perpetually blue sky. The rooms have a retro-camping vibe to them, complete with walking sticks, DIY BBQ kits, and old school cameras for guests to enjoy.
Best of all: The Ace Hotel & Swim Club is super affordable. If you don't splurge on a suite, you could save some cash and go with a cozy $89 room while still enjoying all the standard hotel amenities: admission to the uber-trendy Swim Club pool, access to the Kings Highway diner-turned-restaurant, and use of the lobby photo booth, to name a few.
CLICK TO BOOK A ROOM AT THE ACE HOTEL.


Image via Mr. and Mrs. Smith
Hiking and Biking in the Desert
Whenever the relaxi-radar maxes out, I figure I'll pry myself out of my poolside lounge chair and venture out into the surrounding desert for some activity. Conveniently enough, Palm Springs has plenty of outdoor adventures to entertain, particularly for frugal travelers who prefer to immerse themselves in nature via their own two feet (or two wheels). I reckon I'll snag a vintage Cruiser from The Ace and explore Palm Springs by bike for a breezy outing.
Then, I'll up the ante and take to the Indian Canyons on foot. Located just southwest of town, the Palm Canyon trail meanders around a stream and is lined with California Fan Palms, creating a glorious contrast against the gorges and barren desert landscape. Much of the trail traverses a plateau yielding fantastic views of the canyons below, and it culminates with a little side trail to the Stone Pools: an idyllic picnic and swimming spot if it's not been a particularly dry season.

Image from Ian Agrimis via Flickr Creative Commons
This post was written as part of the #HipmunkCityLove campaign. Note that all opinions expressed here and elsewhere on this blog are my unbiased own, and are uninfluenced by any gifts or incentives I may receive.