I've sung the praises of North Brooklyn before. Surely you remember me raving about the arepas at Caracas Arepa Bar, and all the phenomenal coffee shops in Brooklyn, and the bangin' street art in Williamsburg, and the Smorgasburg and Brooklyn Flea outdoor markets.
But I haven't said much about where to stay in Williamsburg and Greenpoint, because, well, I lived there. I've never needed a place to stay. However, now that I've given up my amazing apartment and moved to Australia, I may very well need to find somewhere to stay in my favorite area in NYC upon my eventual return. It's good to know that there are some really cool hotels and loft apartments there that rock the industrial-chic aesthetic, some within a couple blocks of my old dwelling.
Here are five of the best Brooklyn boutique hotels —
Hotel Le Jolie

Photo via Hotel Le Jolie.
Hotel Le Jolie is a Euro-inspired hotel in Williamsburg that offers a few freebies that many other boutique hotels in Brooklyn don't: namely free onsite parking and a complimentary continental breakfast. Comfort is key when it comes to the rooms, from beds outfitted with Tempur-pedic mattresses and Egyptian cotton linens, to showers with rainfall shower heads, to large flat screen tvs equipped with hundreds of tv and movie channels. Best of all, Hotel Le Jolie is a quick walk from scene-y Bedford Avenue, where Williamsburg's best shopping and dining is found.
Habitat 101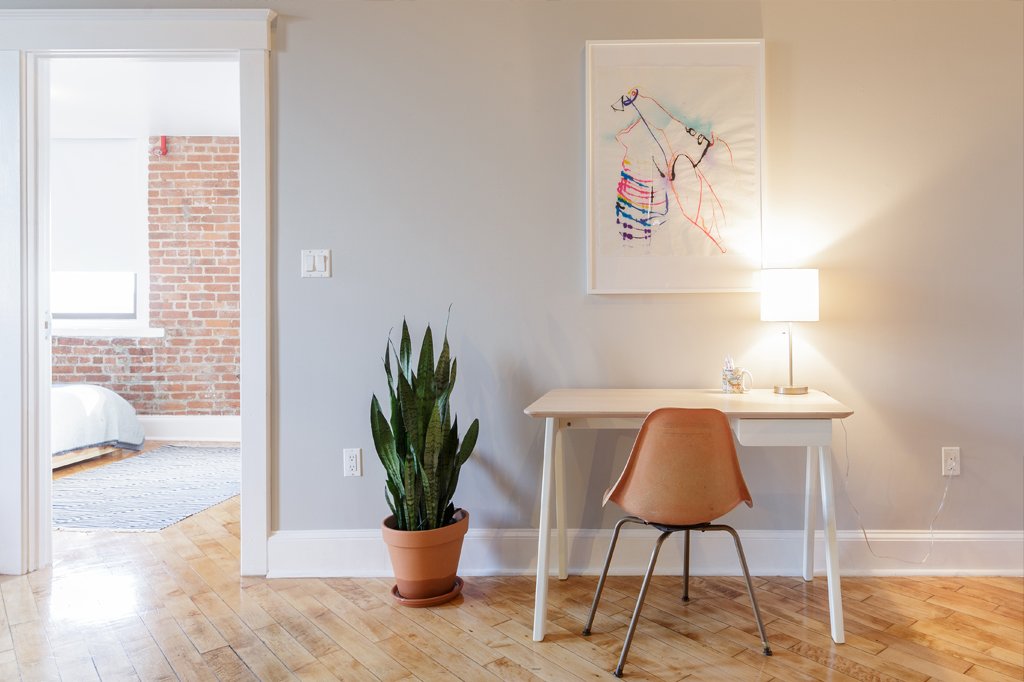 Photo via Habitat 101.
A renovated factory-turned-hotel, Habitat 101 offers apartment-style lofts with thoughtfully preserved details from the old factory, such as the long wood beams and exposed brick walls, paired with locally sourced furniture and artwork. All lofts include air conditioning, a kitchen with a dishwasher, cable tv, and wifi, while the 1-2 bedroom lofts also have separate living areas. Stylish and comfortable, Habitat 101 makes for a fine stay in Greenpoint.
The Box House Hotel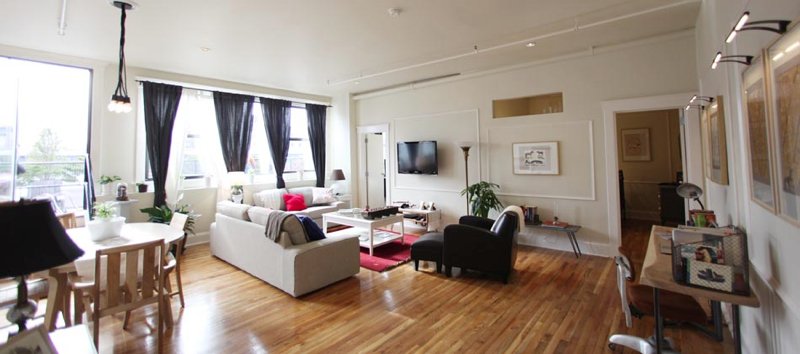 Photo via The Box House Hotel
The Box House Hotel is a unique place to stay in North Greenpoint, offering apartment-style lofts that sleep 4-6 people rather than standard rooms. These beautiful suites have kitchenettes, are furnished with antiques and accented with bright-colored decor, and may include a terrace or private courtyard. Free wifi and bottled water are very welcome perks to staying at the Box House Hotel, but most exciting of all? Complimentary transfers in a 1970's checker cab! Classic New York meets modern industrial-chic Brooklyn.
CODA Williamsburg
Photo via CODA Williamsburg.
Overlooking the big neighborhood park, CODA Williamsburg (formerly known as the McCarren Hotel and Pool) is best known for its Beach Club, which hosts a large heated rooftop pool.
Even if you don't swim, you can still enjoy the city view with a cocktail in hand at the lounge. All rooms include modern decor, free wifi, movie channels, and flat screen tvs; the lavish penthouse suite also boasts a soak tub, two balconies, and separate living and dining rooms.
Wythe Hotel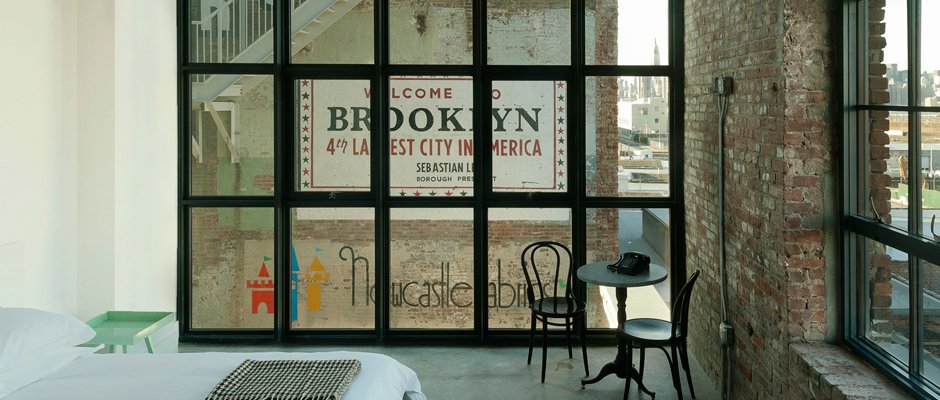 Photo via the Wythe Hotel.
Set in a refurbished factory on the Brooklyn waterfront, the Wythe Hotel is as industrial-chic as Williamsburg gets. Most of its decor, furniture, food, and bath products are locally sourced, including beds constructed from the building's salvaged ceiling pine, custom designed Flavor Paper wallpaper, and locally-made artwork.
Other unique amenities include heated floors, 13 foot timber ceilings, and in-room surround sound. Don't miss the hip rooftop bar, the Ides, where you can enjoy artisanal cocktails made by hipster bartenders, with a view of the city.