We weren't even supposed to visit Junbesi; our Everest Base Camp trekking schedule had us taking a quicker route up to Lukla so that we'd completely bypass the village. But I remembered reading something online where lots of people kept recommending a rest day here and thought – surely it must be worth a stop, then?
It took some metaphorical arm twisting, but my guide agreed to take the detour to Junbesi. The trek there from Phaplu only took a couple of hours and guided us through a few small villages (more like settlements, really). I was completely mesmerized by the colorful houses and the views across the valley. I observed the villagers going about their daily tasks – manual tasks that the US has largely outsourced/automated that you just don't see done there. People washing clothes by hand and hanging them out to dry in the sun, gathering/prepping crops from the garden, transporting goods between villages in baskets carried on their back.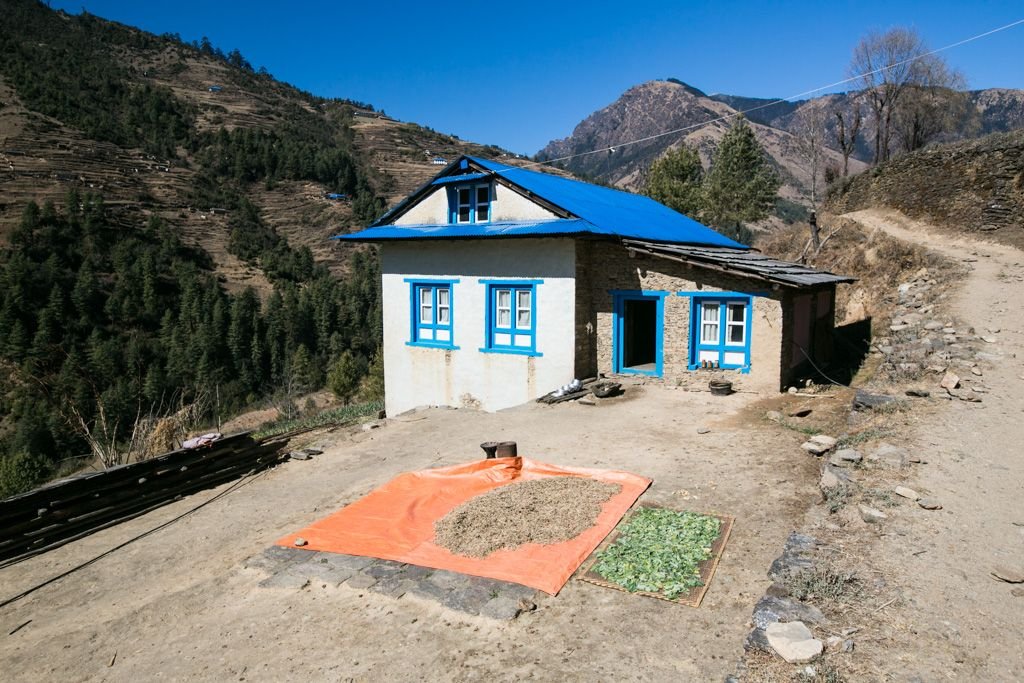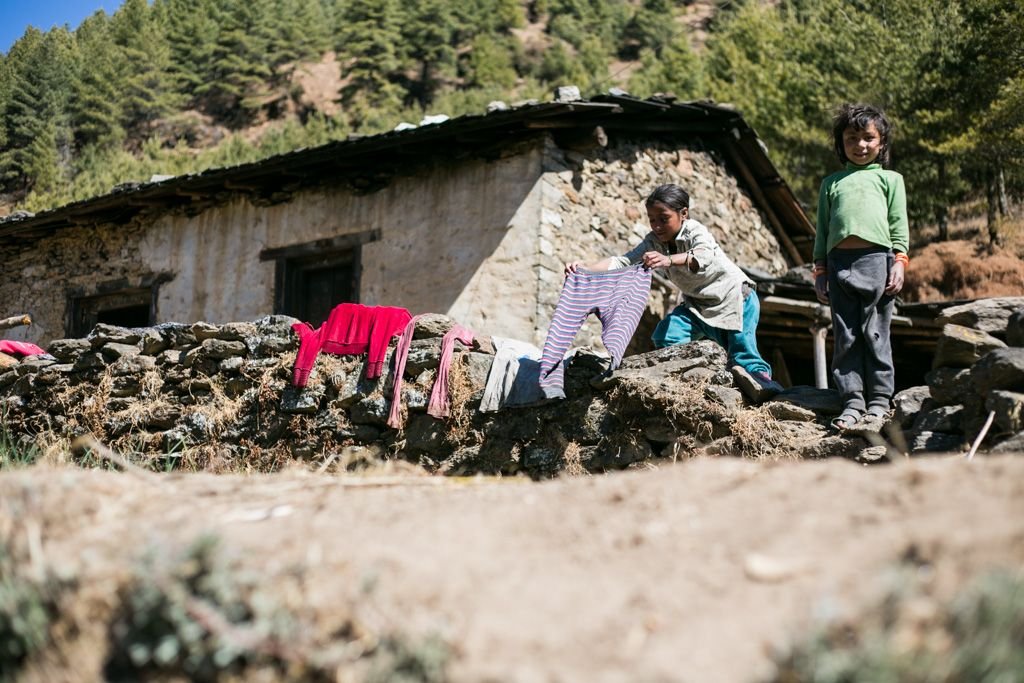 We arrived in Junbesi by late morning and checked into Ang Chhopka's Guesthouse. This ended up being my favorite tea house on the EBC trek. I had a gorgeous bedroom with a big bed and windows overlooking the village. The guesthouse had a deck that I spent the entire afternoon reading, writing, and sipping tea on. It was a glorious day with a breeze that made it a little too cool to wear a t-shirt, but sunny enough to keep you comfortably warm all day.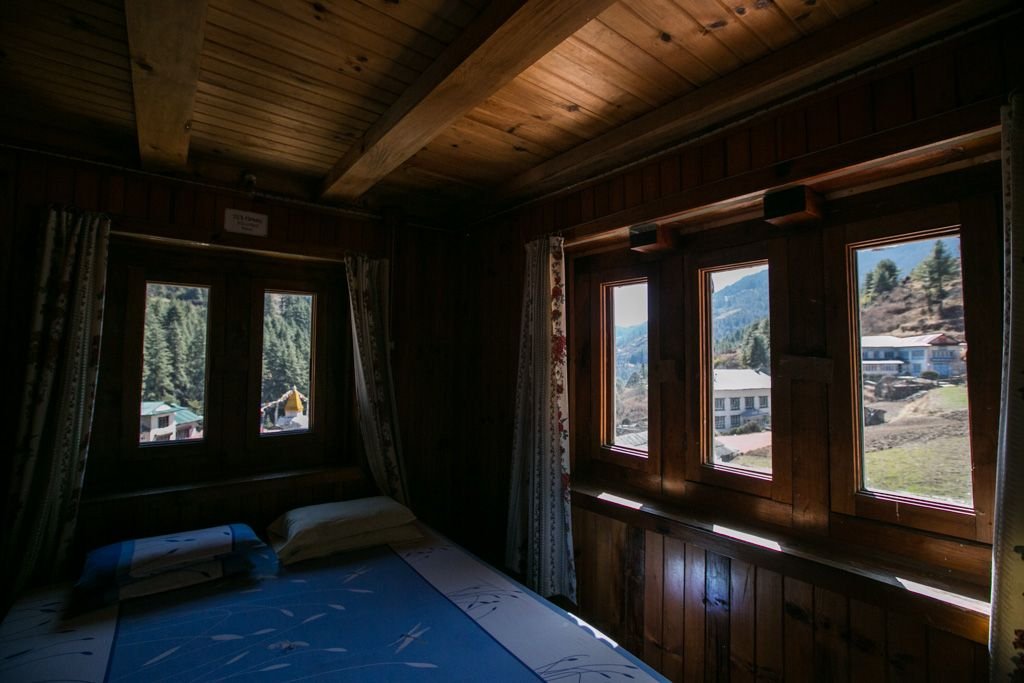 I stayed entertained by the owners' little gray cats that sauntered around between the house and the deck, and their son who kept kicking around a soccer ball and chasing the cats. Those poor kitties were so skinny and malnourished. One of them had been burned recently and walked around now on 3 legs. I was sure to give it lots of love and attention :)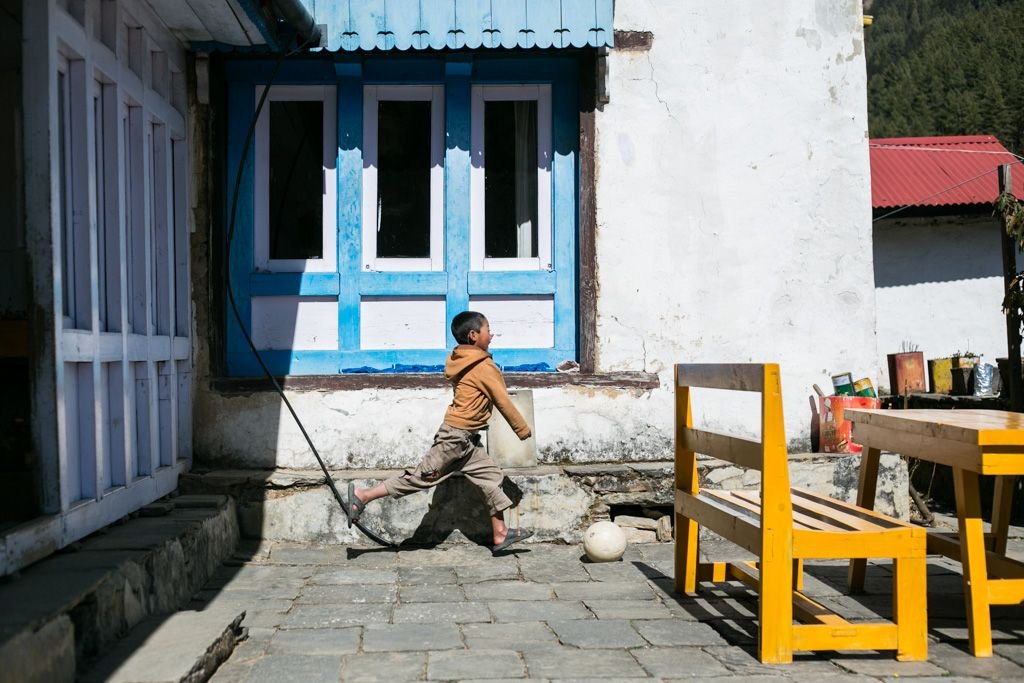 I also made my first-ever attempt at washing my clothes by hand! (I know, I know – shameful!). It must have been a rather amusing sight with me washing my clothes right next to my Nepalese guide washing his clothes. He thoroughly scrubbed every inch of fabric on each item with a bar of soap before putting them through no less than 2 rounds of rinsing. I, in typical American fashion, dumped a portion of my cure-all Heavy Duty Liquid Wash soap into a water bin, let my clothes soak in it, then rinsed them out – as if they'd be magically clean without me doing a thing. A good amount of dirt washed out of my clothes AND they didn't seem to smell afterward, so I'm marking this endeavor a success!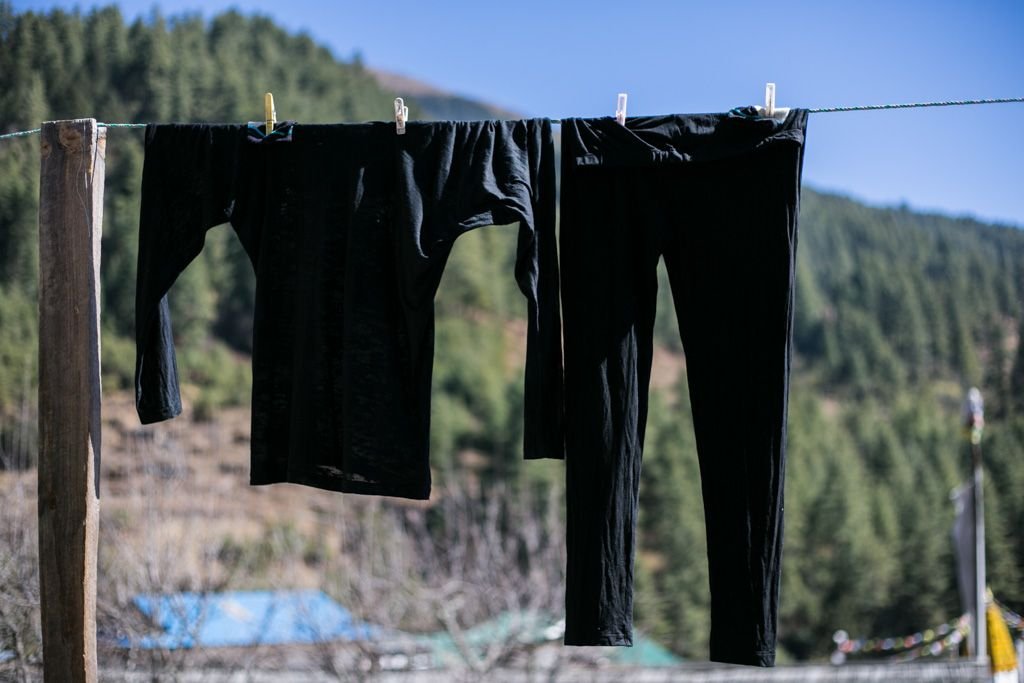 I finally peeled myself off of the deck just in time for golden hour and grabbed my camera before walking around town. Junbesi is tiny, so it didn't take all that long to see the bulk of it. I kept getting distracted by little things, like the decorative borders around doorways and the colorful baskets carried by sherpas. I watched the sherpas slowly make their way uphill into town carrying supplies on their backs, which made me feel pretty lame for hiring someone to carry MY bag through the mountains. Much respect for them!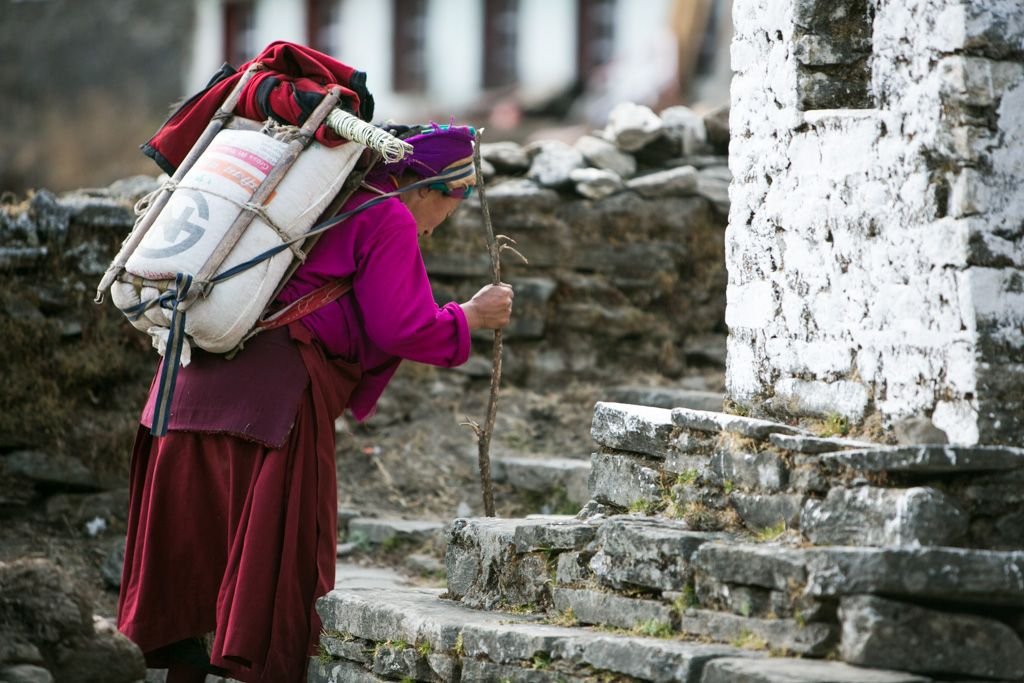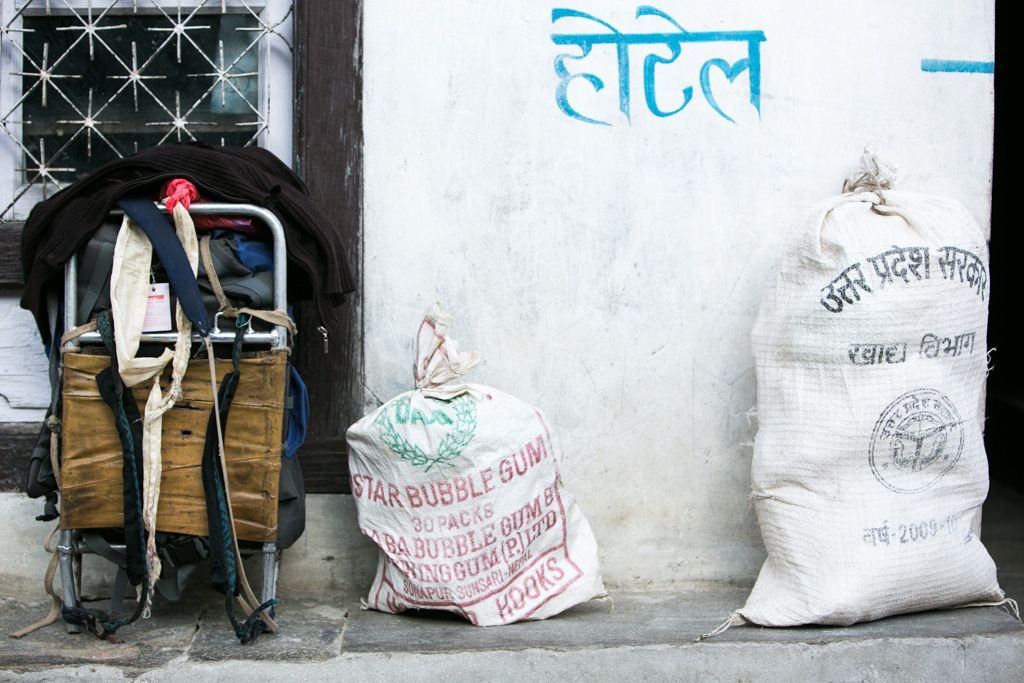 I had a peek inside Junbesi's monastery – as with all the monasteries I saw in the Himalayas, it was like an explosion of colors. Every little bit of the walls and the altars was colored. Benches and blankets were set out in a circle around the main altar, and drums and flutes were set out for use during the daily ceremony (unfortunately we missed it!).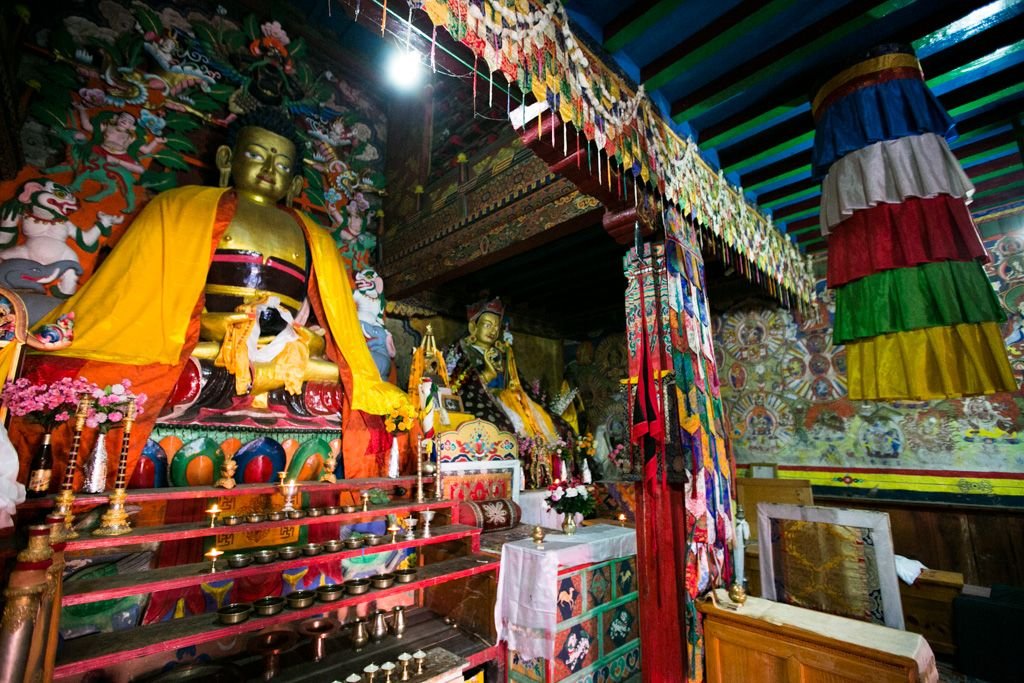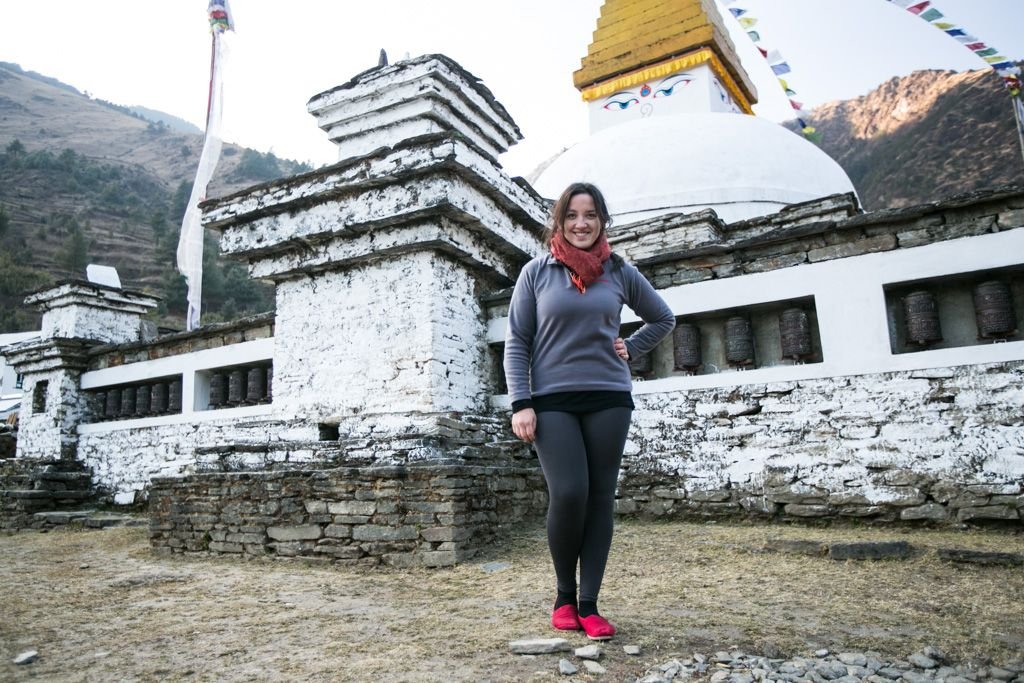 The evening was spent sitting in the kitchen in front of the fire, cat on lap, poring over maps and details for the upcoming trekking days. Just before bed, I remembered to look at the sky – I haven't seen that many stars since camping in the Australian Outback! Oh it was so beautiful – and the perfect end to a perfect day!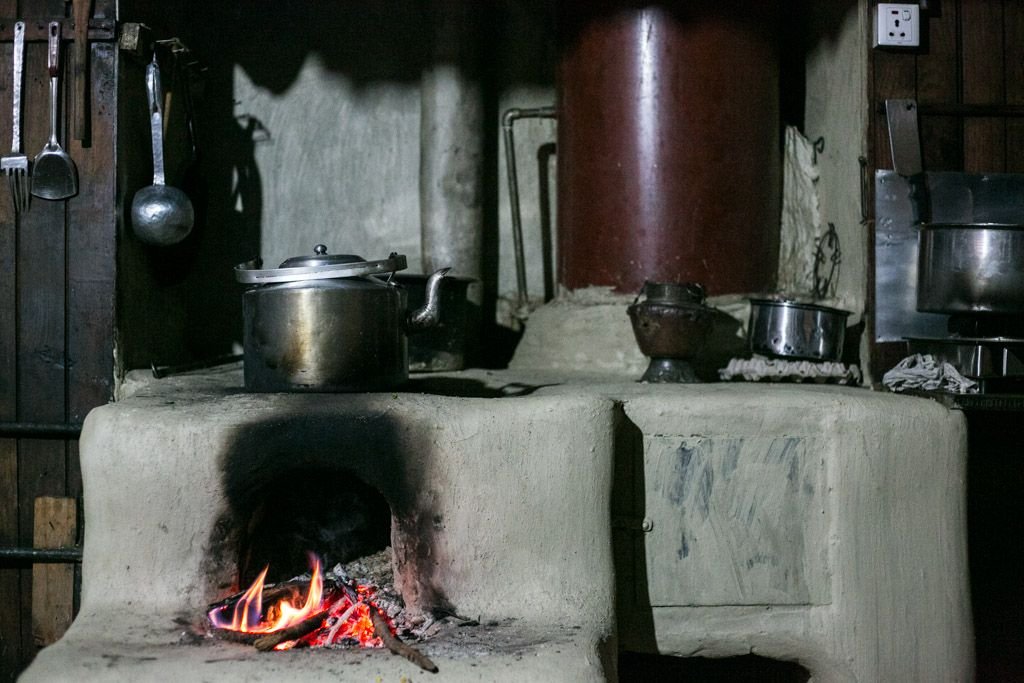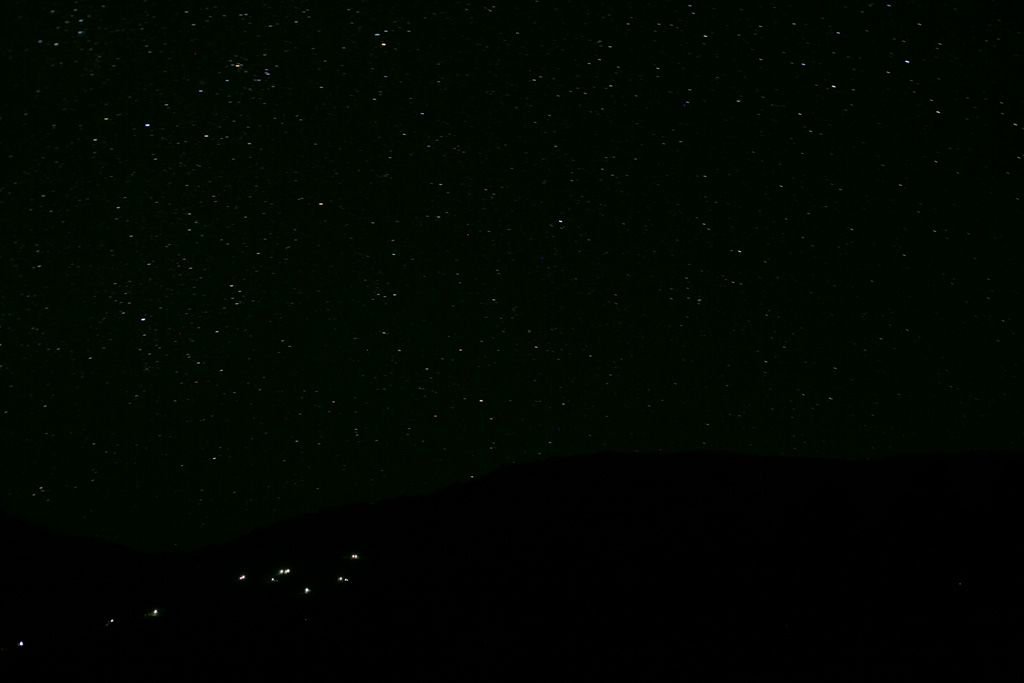 A Perfect Day, in my book, is a day of utter contentment – where I literally think to myself, 'wow, today was perfect'. It doesn't happen too often, and never happens intentionally – but tends to be a day full of sunshine and *me* time, where I'm very in touch with my surroundings.