This is a guest post by Samantha and Chris of Boozing Abroad.
—
Despite what you might think, there are thousands of people every year who sell everything, buy an RV, and hit the road in the US. Also contrary to popular belief, it isn't just retirees or "gray nomads" living this nomadic full time motorhome life, either.
As a cheaper and self-contained (and socially distant) way to see the country, full time RV living is becoming a hot trend in today's society with dealerships reporting record sales figures. With so many options out there, it's important for you to know what your needs are when deciding on the right RV for you.
Why We Choose To Road Trip Full-Time
We've always had the itch to travel. Whether it was domestic or international, we're always planning our next trip.
With some ambitious international travel plans in our near future, we set out to see more of the US while we're still here. Seemingly every month, we were jet-setting out of airports all over the country for long weekend getaways. The cost of flying + hotels was adding up quickly!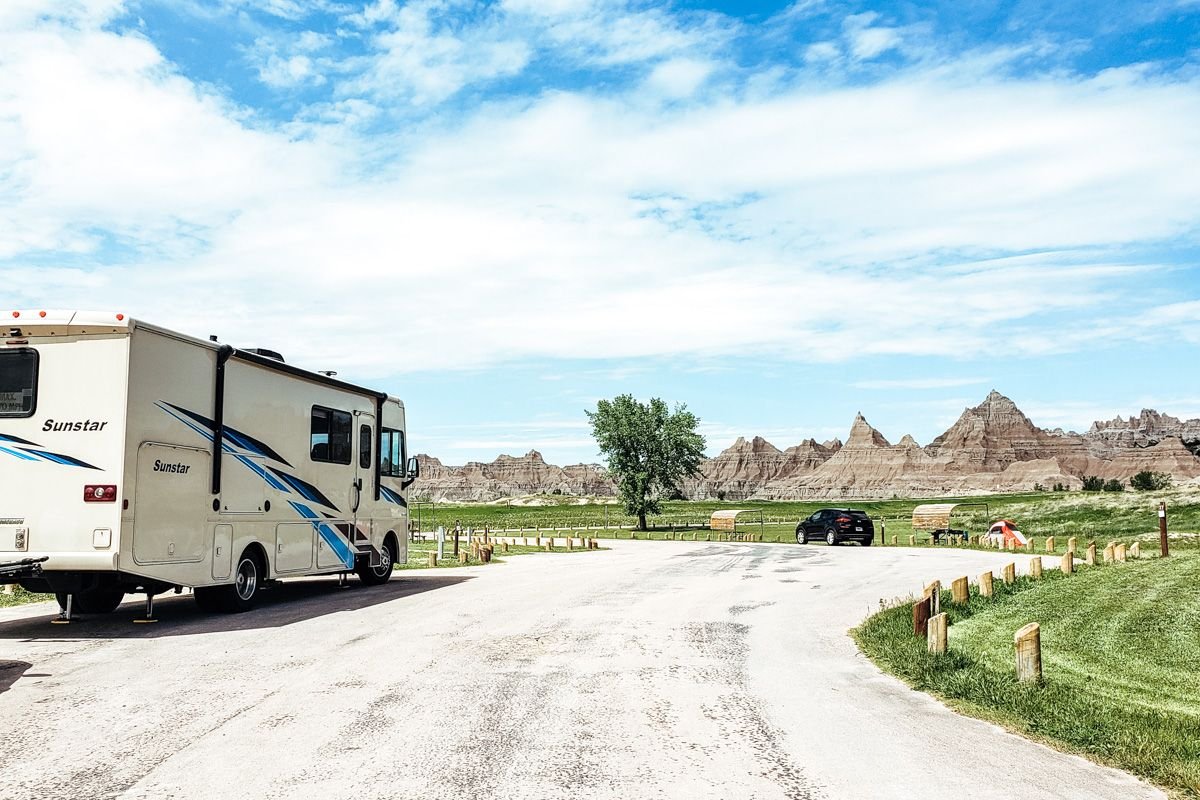 Enter full time RV living. We had never really considered motorhome life before, but after a bit of research, it seemed to be one of the best options to explore our incredible country. So we traded the friendly skies (and unfamiliar hotel beds) for the open roads (and a consistent mattress).
Why We Chose Motorhome Life
There are so many different types of mobile homes to choose from, but for us, it made the most sense to pick a Class A motorhome. As they say, "your mileage may vary," and what fits your needs and desires may differ from our situation.
That being said, here are our top reasons why we chose Class A motorhome life over a van or camper trailer: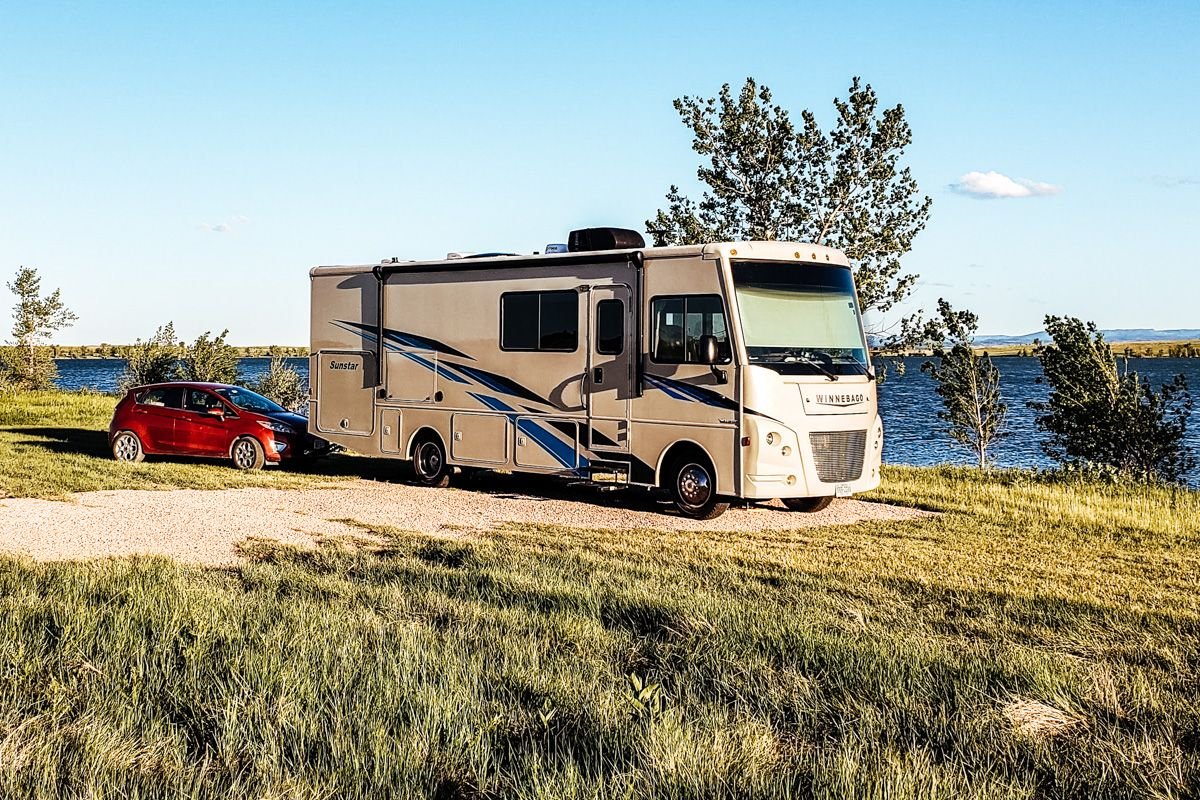 Two Engines
It's important to note that we tow a small Ford Fiesta behind our RV so we can scoot around towns and parks with greater ease. In addition to not having to worry about the hassle of parking a 30-foot vehicle, some parks, like Glacier National Park, have very strict car size limitations, so having a small tow car gives us the ability to drive around these areas a lot easier (it's just a BIT better on gas mileage too). One of the best reasons for this second vehicle, though? If one engine breaks down, we have a backup vehicle.
We met a couple who was towing a travel trailer with their truck and their truck blew a head gasket. They were stranded on the side of the road for a while waiting on a tow truck to come and haul their truck + camper away. In our case, we would only have to have one vehicle towed, giving us another form of transportation in case of an emergency or to continue exploring!
We have first-hand experience with this too. Recently, our tow car battery was completely dead (jump start attempts were unsuccessful) and had to be towed away to get a new battery and some other work done. Thankfully, our RV was still in working condition so we could still get around town and didn't have to wait in the auto shop's waiting room. If you're traveling in a campervan (Class B) and you run into car trouble, you're out of luck unless you rely on public transportation, ride-sharing, taxis, or rent a car.
Don't Have To Leave The Camper To Drive It
I know, this sounds INCREDIBLY lazy, but it was something that was important to us.
When we are just doing quick one-night stopovers, we can wake up at 4 AM and just go, without having to get out of the RV. This is great when there is extreme weather too because you don't need to be exposed to any of the elements. Plus, once we park, we can get to work on setting up camp in the inside of the RV immediately.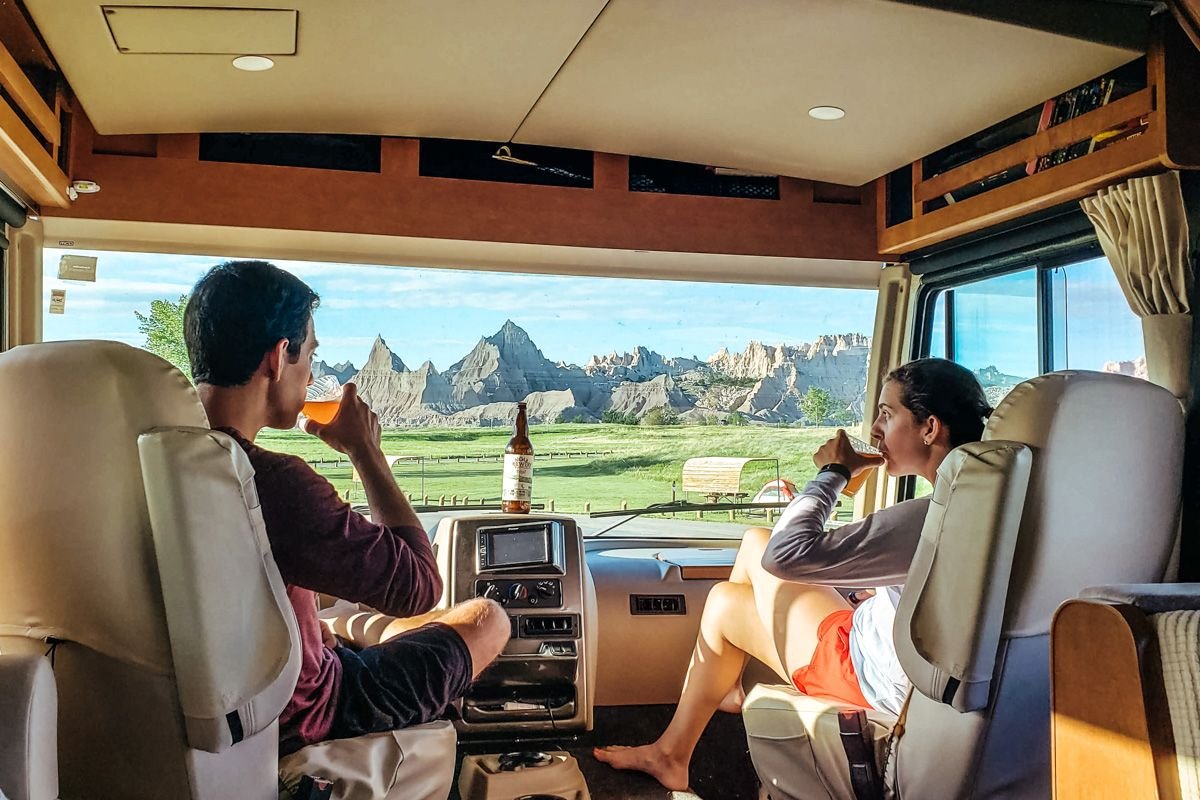 Built-in Generator
A large portion of travel trailers do not have built-in generators, which can be very important when you are dry-camping (meaning you aren't hooked up to electricity at a campsite). When it's 90 degrees outside and the sun is beating down on you and your RV (or you just need your microwave to heat up some leftovers), you can turn on the generator and have power to run your roof A/C and other appliances. In a travel trailer, you would need to pull out a portable generator and plug it in. We can turn our generator on simply by flipping a switch from inside the RV!
We can even use it while driving to cool down the back of the RV since the cab A/C can only pump out so much cold air. The built-in generator uses the same unleaded fuel that our engine uses and has a safety feature that automatically cuts off the generator at a certain fuel level so we're never stranded with no fuel because of generator use.
Since we travel full time in the RV with our kitty, having this built-in generator is very important for us to make sure he is cool and comfortable during the summer months (and so we feel comfortable leaving him in the RV).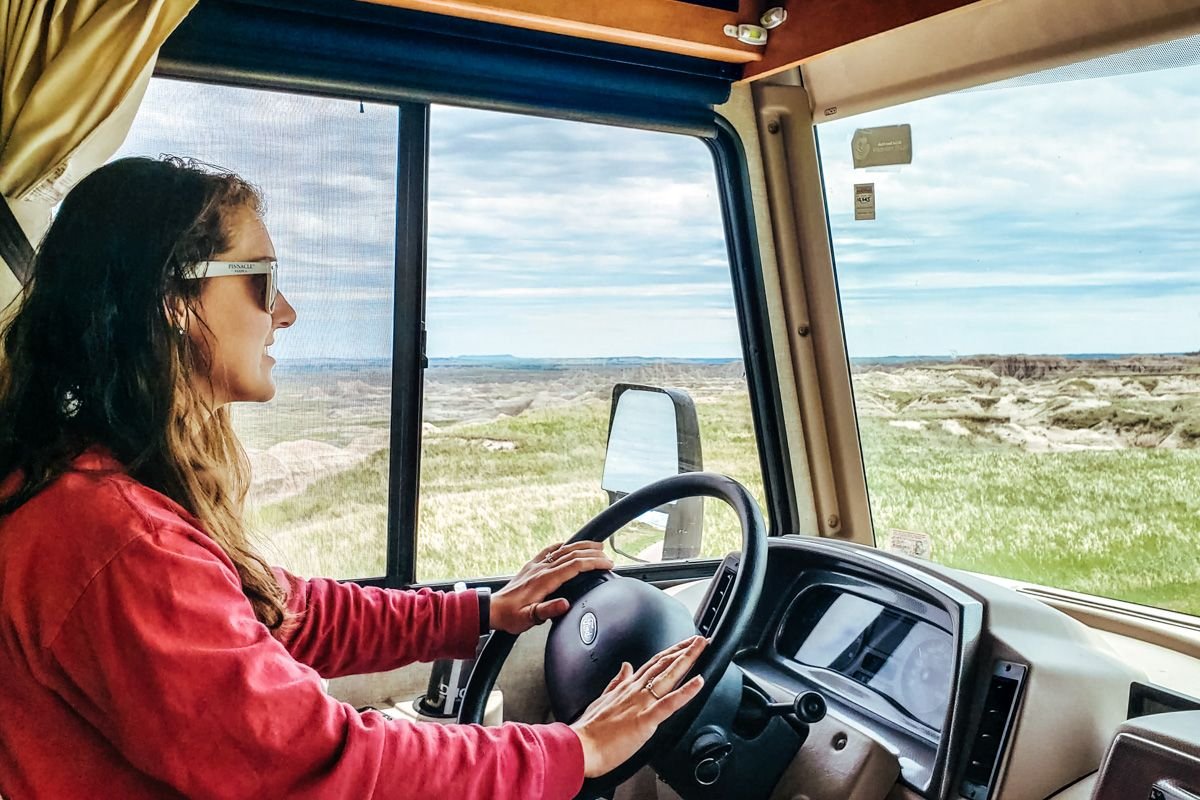 More Room To Roam + More Storage
With the exception of a 5th wheel, Class A motorhomes are one of the most spacious ways to practice RV living full time. While it can be manageable without it for short periods of time, our 30-foot RV has a full-length slideout on the driver's side which really opens up the unit and gives us plenty of space to live, work, and relax.
Many of the travel trailers and campervans that we have seen don't have slideouts, meaning what you see is what you get for living space. Since this is our full-time home and we need space to spread out for work (and for some occasional alone time), the extra room provided by the slideout is a huge feature for us.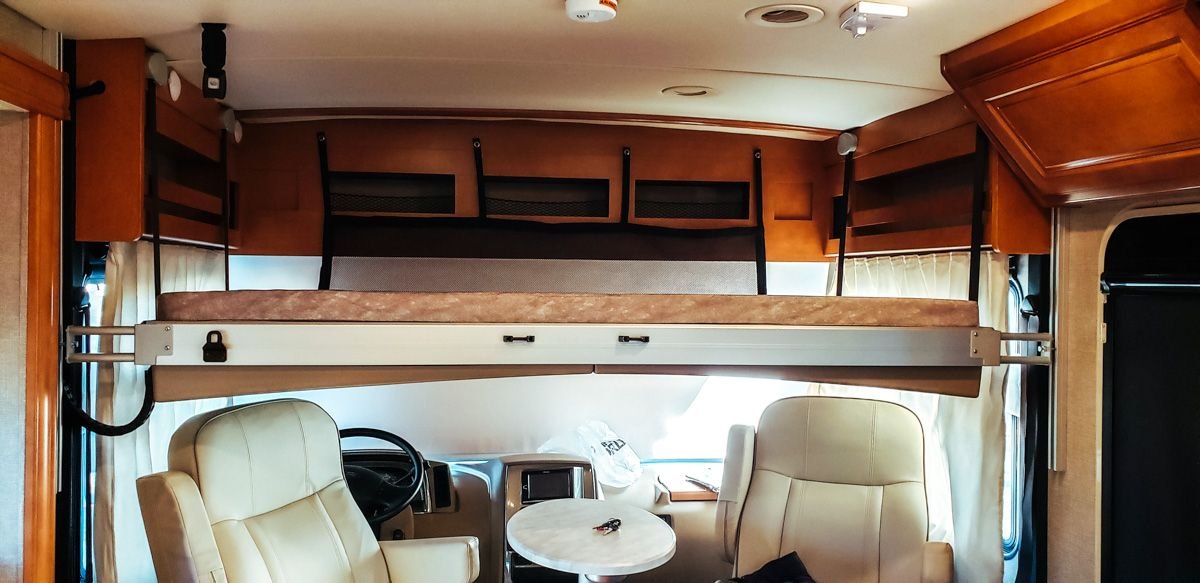 Also, we really like the single-side, full-length slideout as the inside of the RV doesn't feel as sectioned off as some others that we've toured that have multiple smaller slides. Who knew an open-concept RV floor plan was a thing?!
The storage outside of our RV, called the basement, gives us ample space to store stuff! Since this is our primary home, we needed to be able to take all of our essentials with us on the road. From camping chairs and grills to winter clothes and extra shoes, the storage in our basement is very important.
Another reason we wanted more room was for our RV kitty, Micah. Micah is an indoor-only animal and we didn't want to confine him to such a small space in addition to having to deal with the stresses of being in a loud, rolling home. Like most cats, Micah can be rather temperamental, so giving him a little bit of room to roam was important. He has taken to motorhome life beautifully and absolutely loves to sit on our huge dashboard to sunbathe!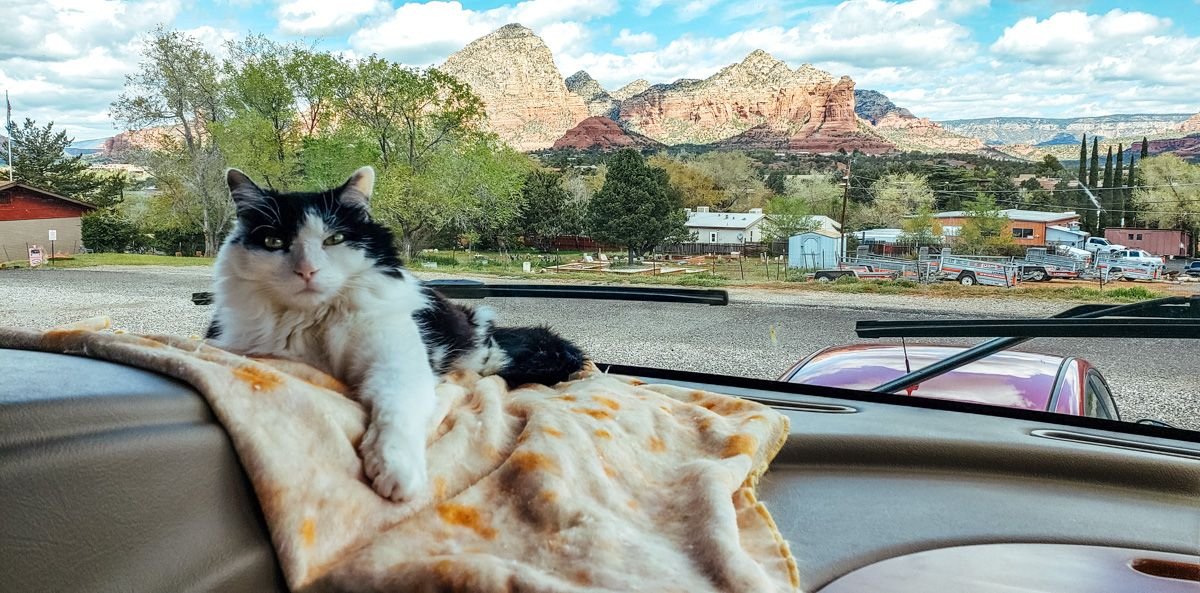 Big Bathroom (by RV standards)
The layout of our Class A motorhome had one of the biggest bathrooms and showers that we saw. Although a huge bathroom or shower wasn't a deal-breaker for us, it was definitely a nice-to-have feature since again, this is our full time RV home. Having that little bit of extra space to dry off after a shower is nice.
Also, neither of us were really big on the idea of the "wet bathroom" concept that we see on most Class B camper vans. To save space in camper vans, the shower and toilet are not separated by a curtain or door. In our Class A, our shower has a door which makes keeping moisture where it belongs a lot easier.
Full Kitchen
Our RV has a full kitchen so we aren't limited in what we can make for our meals. Complete with a small oven, microwave, and a 3-burner stovetop, we can cook just about anything whenever and wherever we want (microwave won't run off of battery alone – either generator or electric hookups needed).
This might not sound like a big deal when deciding between van or motorhome life, but trust us, for full time travel, it's nice to know we can make a pizza, slow roast a pork loin, or sauté some veggies.
Accessibility Of Things While In Motion
Ok, so this section doesn't sound great since you should ALWAYS be seated with your seatbelt fastened. BUT, it's really nice to be able to get up to use the bathroom on long driving days without needing to stop at a gas station or rest stop.
At a stoplight, the passenger can jump up and refill water or grab a snack and plop back down in their seat before the light turns green. It also makes rest stops and driver changes easier and quicker since you never have to leave the vehicle.
Beer Fridge
We wouldn't be Boozing Abroad if we didn't make a beer fridge a priority ;)
In our RV, we have a small outside tailgate kitchen complete with a beer fridge. We love to try local beer when we travel and having a place to put it was super important for us. It's not always just a beer fridge either. Sometimes we put other stuff in it, like white wine or heavy whipping cream for White Russians!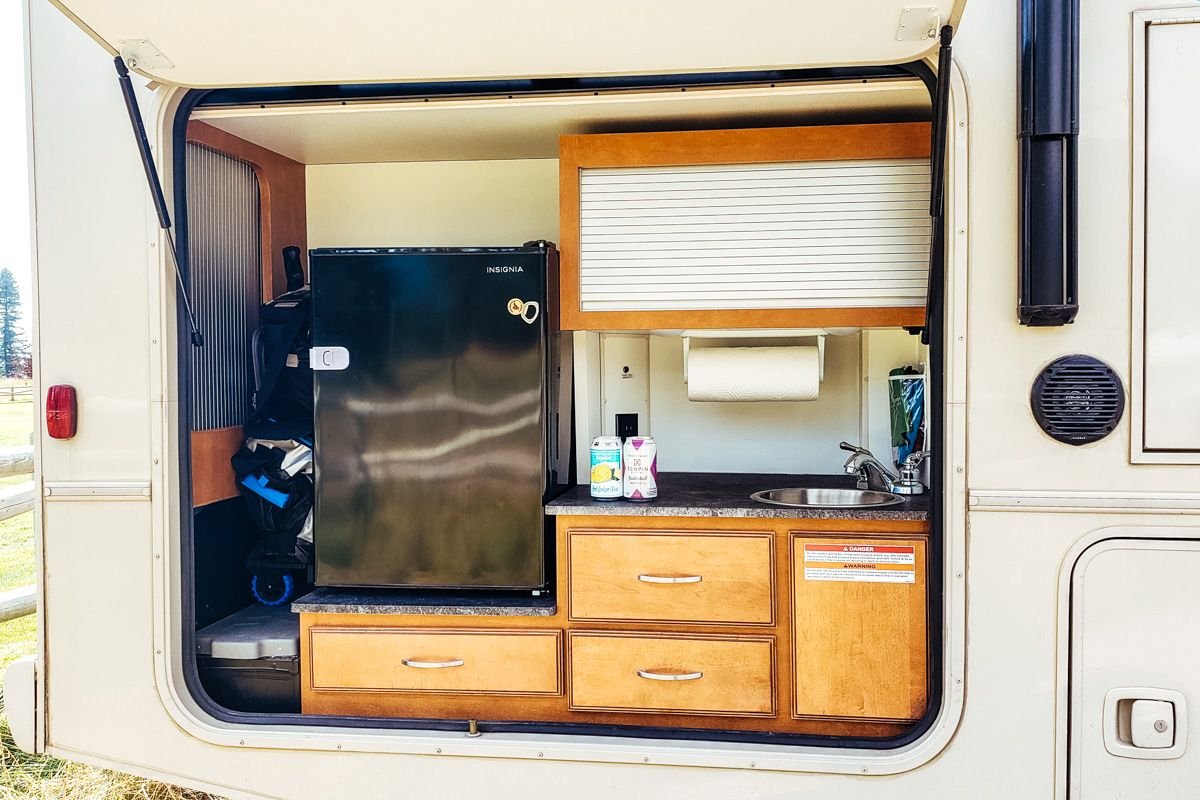 Easier To Drive
This sounds crazy, we know, but Class A motorhomes are incredibly easy to drive. Before test driving RVs, we were sold on getting a Class C because we thought the big tour-bus-looking Class A motorhomes were terrifying and difficult to drive. Boy, were we wrong!
Since the driver sits on top of the wheel-well, the motorhome is easily maneuvered and it makes driving easier! Having driven both Class A and Class C motorhomes, we understand why so many full-timers (including those retirees) pick the Class A motorhome. They are simple to drive!
We also didn't want to worry about towing a large trailer since backing up seemed scary. It's probably easy once you do it a few times, but we really didn't want to have to worry about geometry while driving an RV!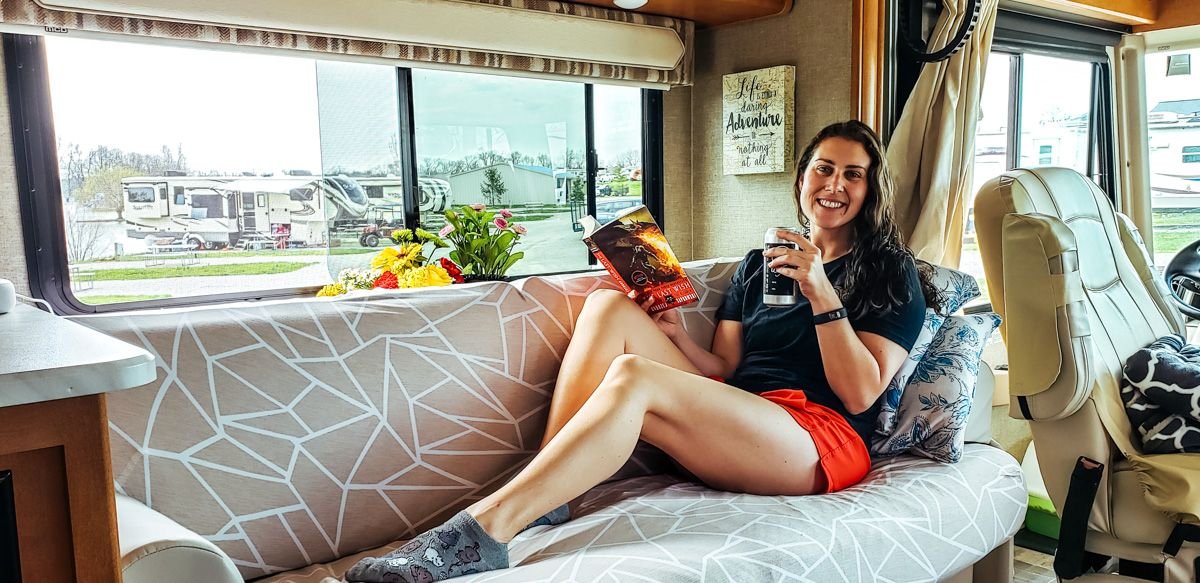 Self-Contained Way To Travel
A motorhome is self-contained. We don't need to leave it to see some amazing things. We've driven through many beautiful and scenic areas and can experience all of it from our front seats. We can see things clearly right through the huge windshield (once we get the bugs off, of course).
One of the keys to keeping our country and planet a beautiful place is to practice the "Pack it in, Pack it out" and "Leave No Trace" mantras. This is incredibly easy to do in our Class A motorhome since everything we need is contained inside of the walls of the RV. You'll find this is the case with most types of RVs, so this is more of a reminder to keep things clean and leave them in a better place than when you arrived.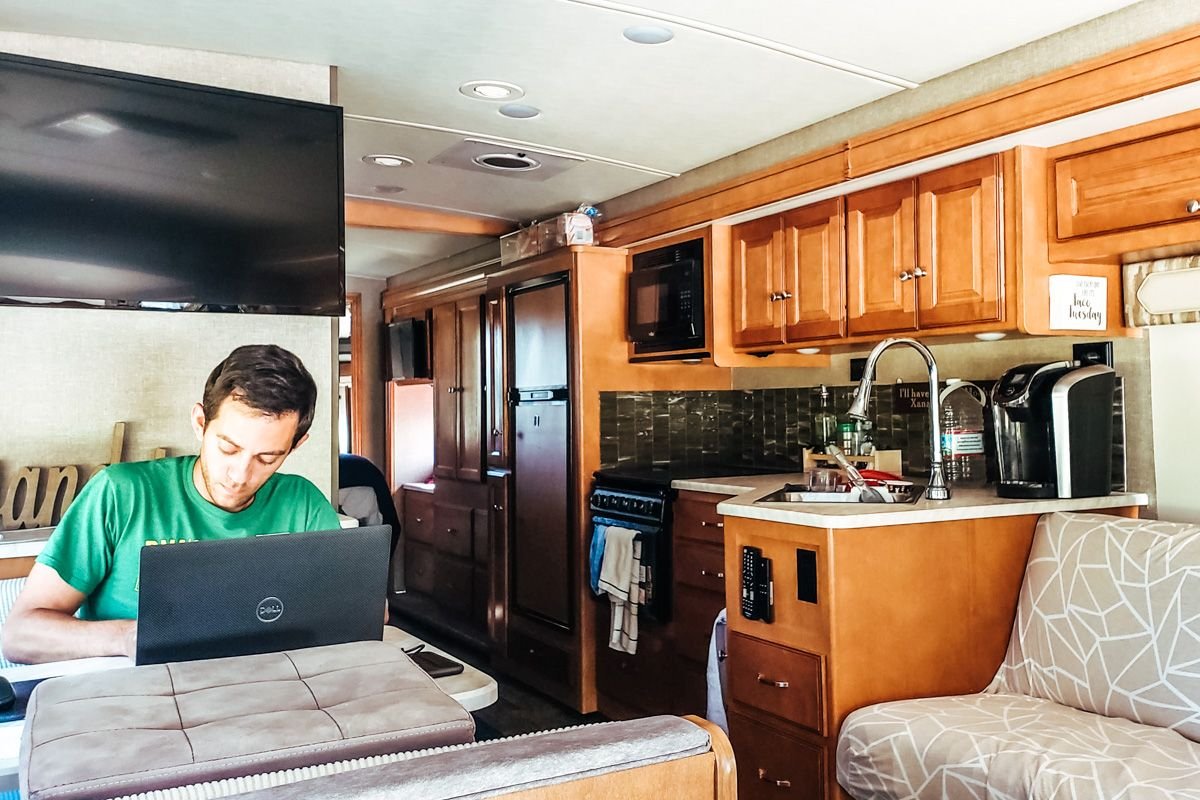 Cons Of Motorhome Life
When Towing A Car, You Can't Back Up
This is specific to our tow car and tow bar, but we aren't able to go in reverse when it's hooked up. Meaning, if you miss the gas pump or that last-second turn your GPS shouted out, you have to drive around and try again. While we could probably back up a few inches or feet if needed (and have read about others doing this with no issues), we try to avoid this at all costs.
Backing up can put undue stress on the hitch, the tow bar, and your tow car. We figure the extra 2 minutes it takes to circle the block or pick another gas pump/station is well worth not damaging our home and transportation.
If It Breaks, You Lose Your Home
Unfortunately, this applies to any RV or camper, but when things go really wrong, you lose your home. Fortunately, most RV mechanics know this and will allow you to stay on site while they work on it (we've even stayed in the RV while work was being done), but sometimes it isn't an option and you could be left packing up your belongings and moving to a hotel.
Summary
Like all things in life, your situation is going to differ vastly from ours which will greatly impact your RV decision.
Maybe you're retired and don't need the amenities that we do to work full-time on a computer. Or maybe you're taking a year off of work and really want to get off the grid and away from society. Or maybe you'll only be traveling on the weekends with your kids.
All of these factors will be important for you to weigh when you decide on pulling the trigger on an RV.
Our Class A motorhome works great for us and we are so happy with full time RV living. Cheers to happy and safe travels!
READ MORE IN THIS POST: Why Choose Travel Trailer Or Caravan Life Over Van Life?
Pin it!
Pin it!