Want to know what my favorite place in Sydney is?
I know this may be surprising, but it's actually not Bondi Beach. It's a little spot nearby that I retreat to on hot sunny days to escape the Bondi crowds. It's never too crowded, even on a summer weekend – and the views are just to die for.
Tamarama Point – aka the headland north of Tamarama Beach, which I usually refer to as "the rocks at Tama" – is my happy place.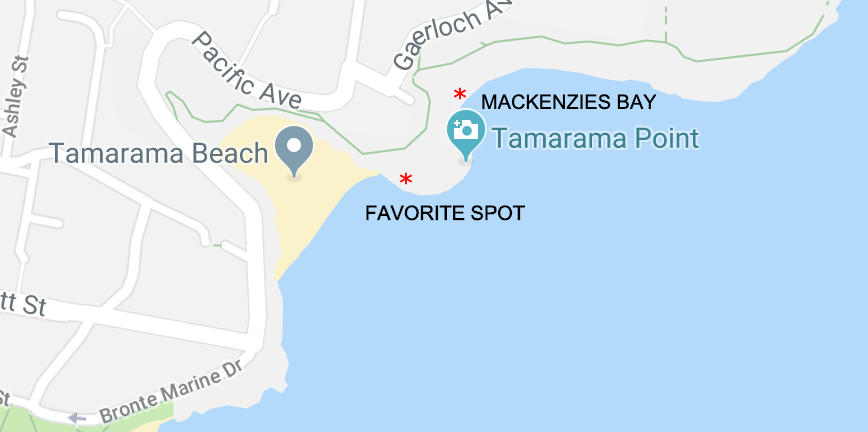 Tamarama Point is essentially a cliff with little rock caves and rock pools around it. The Bondi to Coogee coastal walk runs right through it and offers some of the most spectacular views of the entire track from above here, but I much prefer to drop down to the rock platforms cut out in the headland below. There, I can lay out all day without being disturbed by people walking around or on my rock.
Though I always pack my kindle and journal when I hit the beach, I never seem to get much reading or writing done when I'm at the Tama rocks. Can you blame me though? The views of the beach and the nearby coastline from here are just so stunning!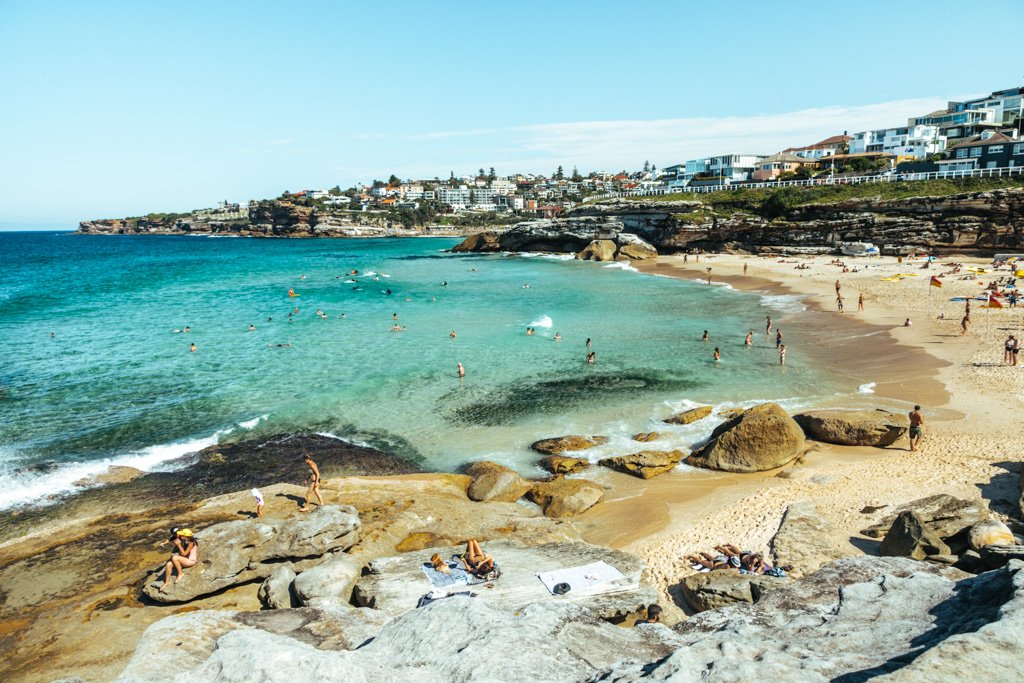 Just below the rock platforms are more rocks that wrap around the headland on ground level. Tamarama is a popular surf beach, so surfers like to walk through this area and use it as a shortcut to the waves in order to avoid having to paddle out after every wave.
The rocks at Tamarama are also popular for sunbathing (hello!), picnicking, and dog walking. It's a top spot for people (and dog) watching – as if I really need more to distract me from my book!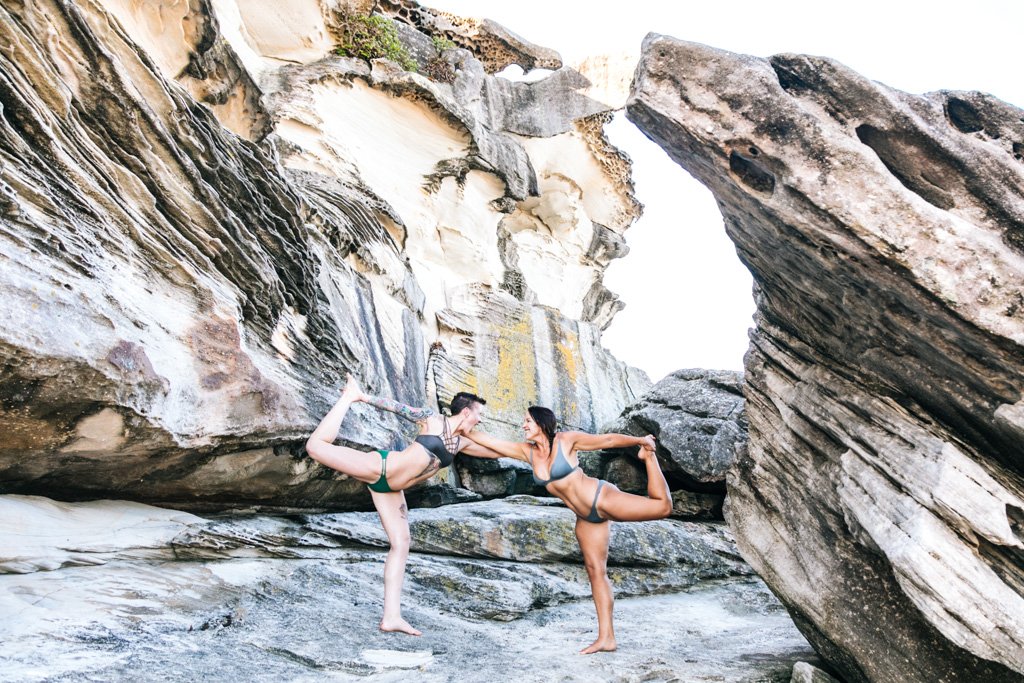 Though dogs aren't allowed on Sydney beaches, or even technically on these rocks (there are signs around saying so), this is definitely the place to bring your dog for a swim because no one ever enforces the rule. Every time I'm hanging out at Tamarama Point I see dogs running around and dunking themselves in the rock pools, or even going for a swim in the ocean. I'm unabashedly a cat person, but man – every time I spot someone sunbathing on the rocks with a dog laying next to them, my heart melts a little bit.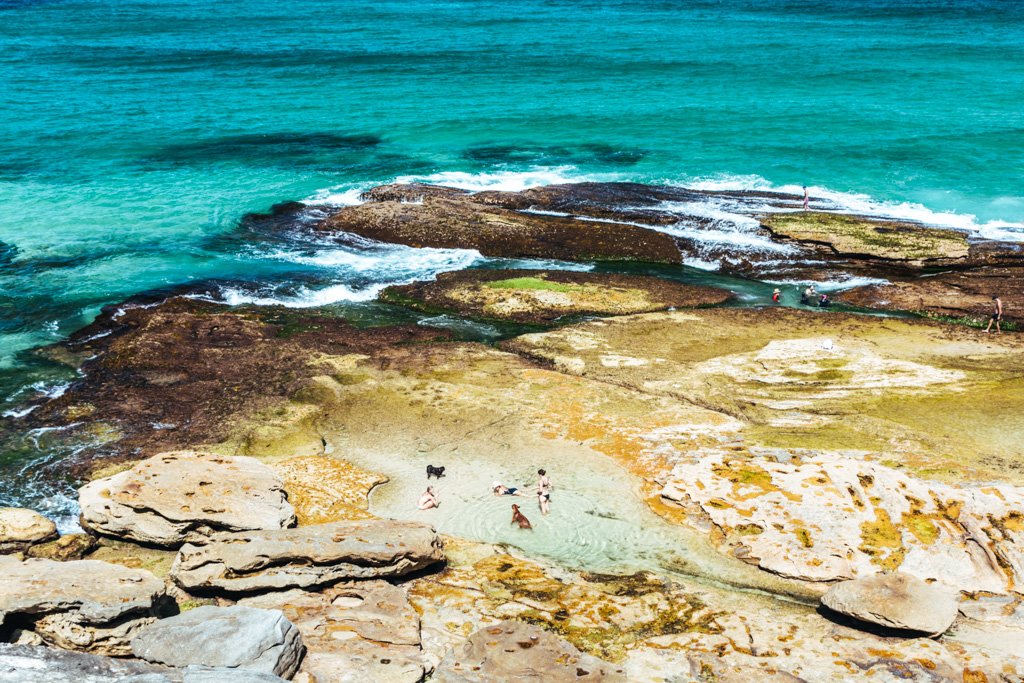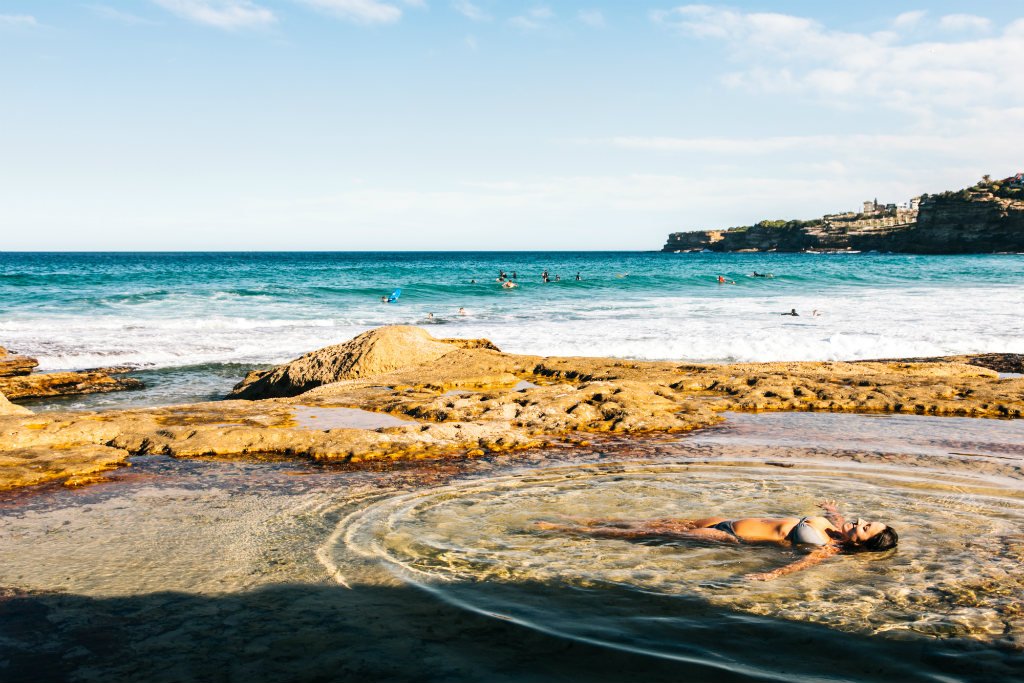 Just around the other side of the headland is Mackenzies Bay, a picturesque rocky inlet that you see just before Tamarama Beach on the coastal path from Bondi. There tends to be a strong current here, so it's not-oft frequented by anyone other than surfers. I typically walk on by and set up camp on the Tamarama side of the headland.
So imagine my surprise when I walked around the headland on Anzac Day and saw SAND at Mackenzies Bay, and people swimming and hanging out on rocks that are normally submerged over here. The water level had dropped low enough to turn Mackenzies Bay into Mackenzies Beach!

Mackenzies Bay with SAND!

Mackenzies Bay normally, without sand.
I'd heard about the mythical Mackenzies Bay Beach before, and god knows I've walked by it hundreds of times by this point. But I'd never witnessed it myself until this day.
According to this source, this little pop-up beach only appears once every 7 years when excess sand is dumped in the bay (clearly false, as it also mentions that the last occurrence was 2.5 years ago). This nifty little PDF claims that sand appears in Mackenzies Bay every few years at the beginning of winter, and has to do with swell patterns and seasonal changes.
Either way, it's so interesting that some years there's no change, other years there will be a small strip of sand at Mackenzies Bay (like this year), and once in a blue moon the whole inlet is turned into a proper sandy beach (as apparently happened in 1997 and 2007).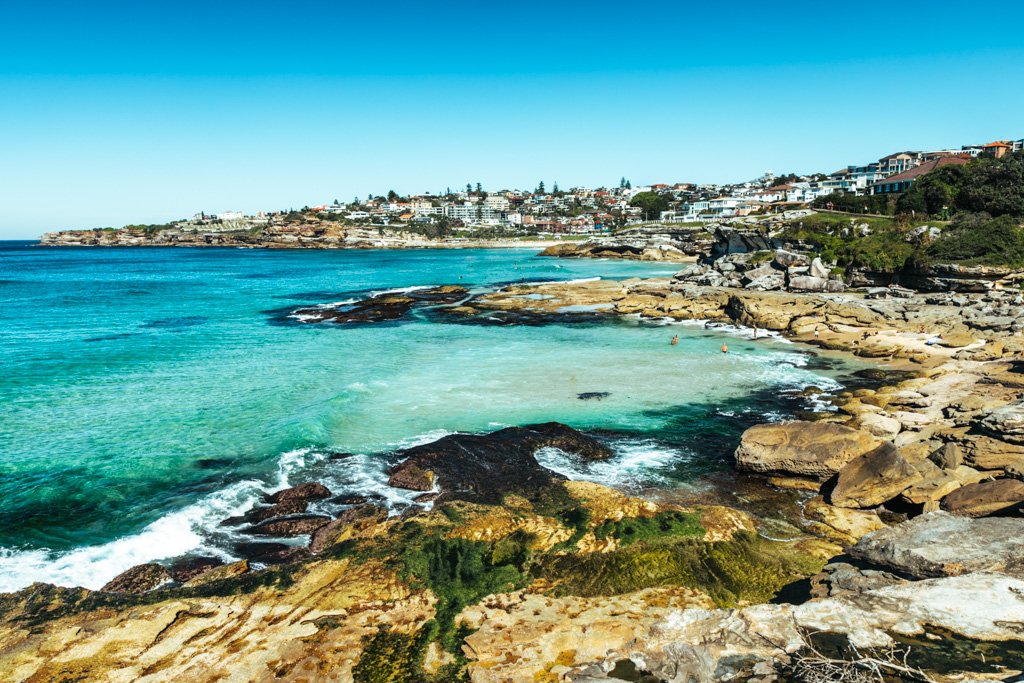 I returned to Mackenzies Beach the following morning to make the most of this mystery beach while it lasted. I enjoyed an early swim with the whole bay to myself, and water so clear I was kicking myself for not having brought my GoPro.
The sand here felt different to me. It didn't feel as soft or worn as the sand at most other Sydney beaches; actually, it reminded me more of the texture of the sand at Whitehaven Beach (just without the silica). Just one more thing to make this beach special.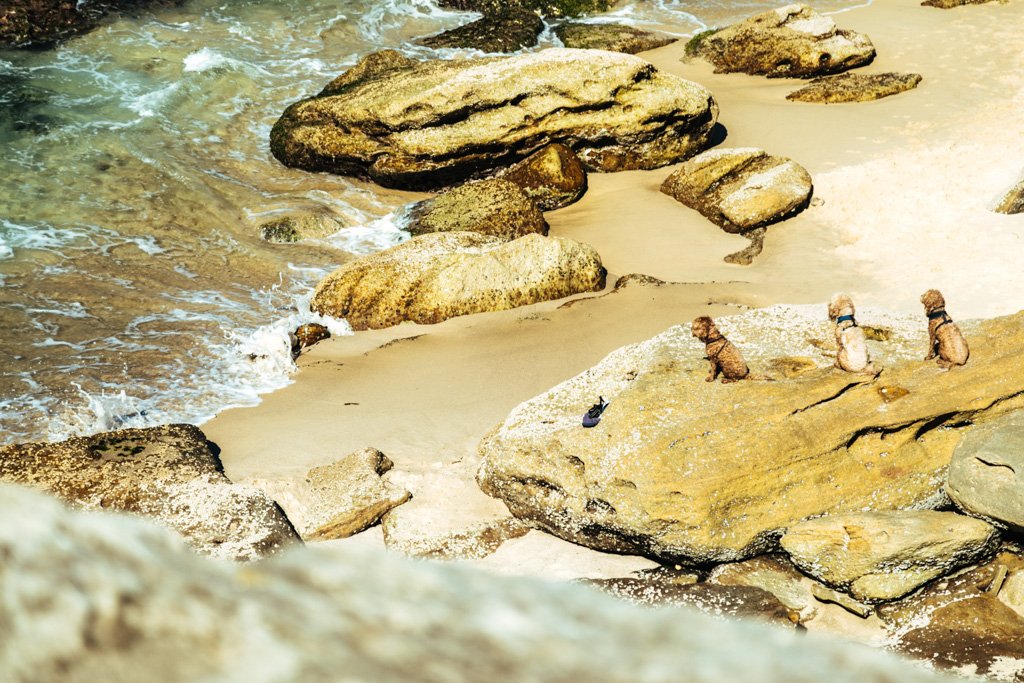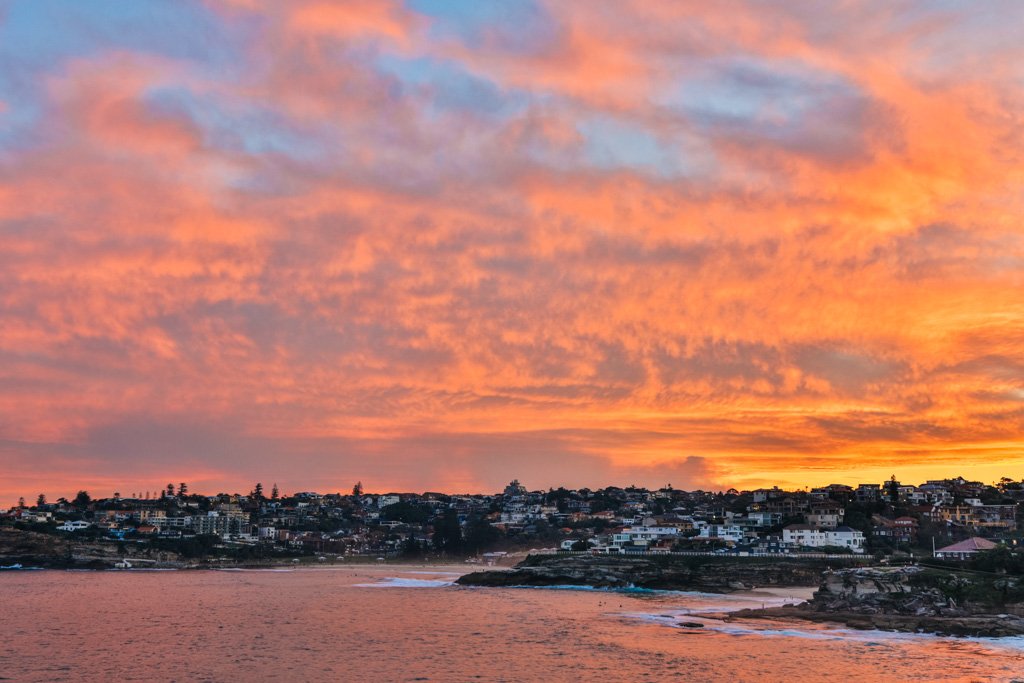 And then people started arriving for the day, which meant I had to share this pop-up beach with them. I lay out all day and watched the tide come in and out, finally dragging myself home once the sun dipped over the horizon.
Until next year (or 7 years from now), Mackenzies Beach!
Pin it!