I've been badgering my friends for months about going snowshoeing.
This winter in NYC, I'm on a crusade to override my tendency to go into hibernation mode for 4 months. Instead of succumbing to winter and the miserable weather it brings, I'm trying to play nice with it. So far I've gone upstate to see the Great Jack-O-Lantern Blaze in November, enjoyed Christmas season in NYC in December, organized a pot luck dinner with friends, went to my first trampolining class in January, and now – a snowshoeing trip upstate in February!
I had it in my mind that snowshoeing would make for a great workout, and would be fairly easy to pick up at first attempt. More importantly, it would be something NEW to try.
And so, the latest installment in my Kick The Winter Doldrums series: a snowshoeing daytrip to Fahnestock Winter Park!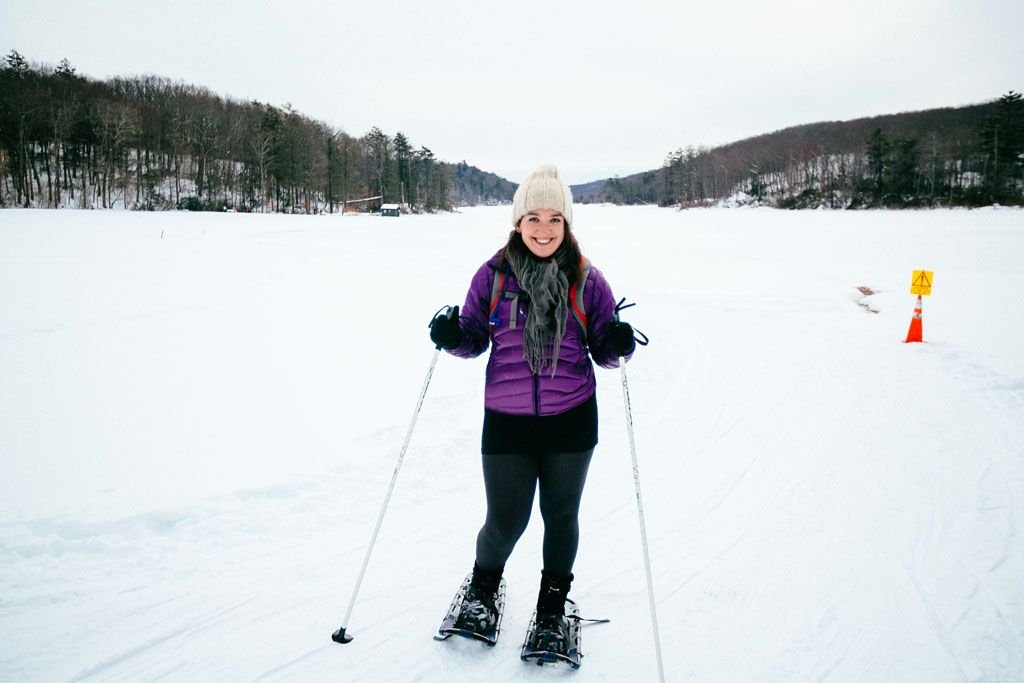 Getting to Fahnestock Winter Park
Cost-wise, there isn't must benefit to taking the train vs. renting a car to get to Fahnestock. But what makes the train ride worth it is the scenic river views all along the way. My gaze was permanently fixed at the Hudson and its massive puzzle-like ice chunks scattered offshore. As much as I claim to hate snow, it sure looked pretty on the river.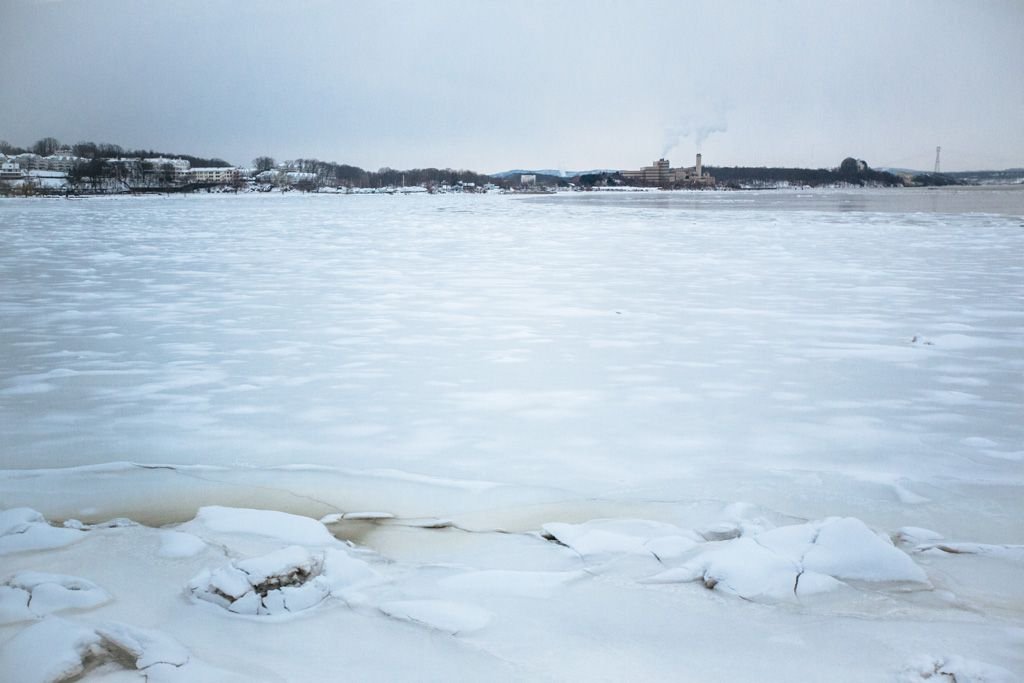 We called for a cab as our train arrived in Cold Spring and were told it'd be about 20 minutes. 20 minutes soon turned into well over an hour, which was more amusing than it was frustrating. I wrote it off as small town charm and we killed the time by hanging out in a snowy park on the river, watching freight trains roll by and listening to gentle ice cracks in the distance. We relished this quiet time away from the city noise.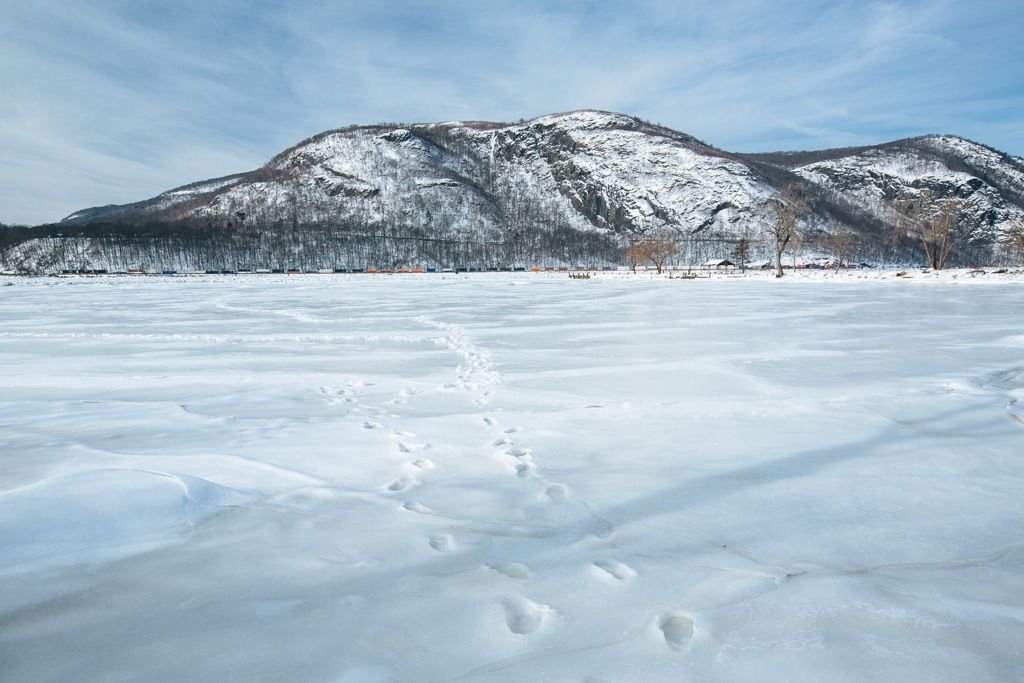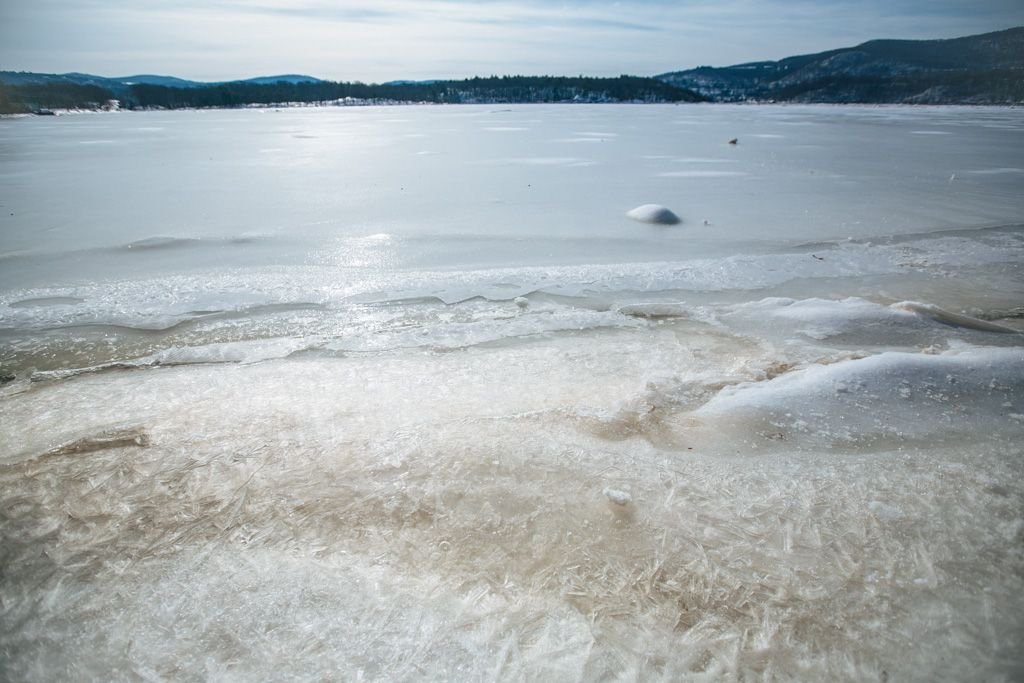 At Fahnestock Winter Park
Fahnestock Winter Park is part of Fahnestock State Park, which functions as a campground and hiking mecca during warmer months – ideal for day trip hikes from New York City. As such, there is no snowboarding or downhill skiing here – instead, during snowy winter months, walking trails are groomed and transformed into snowshoeing and cross country skiing trails.
Fahnestock has 2 dedicated snowshoeing trails. With zero snowshoeing experience to our names, we opted to try the easier trail first. Perhaps the conditions were ideal, but I found it to be exceptionally easy – like, bunny trail easy. That didn't stop me from enjoying the experience, though – we didn't see anyone else on the trail, and it was just so peaceful and calm out there. At times the trail had us crossing the street, or led to views of parking lots below, a quick reminder that we weren't too deep in the wilderness.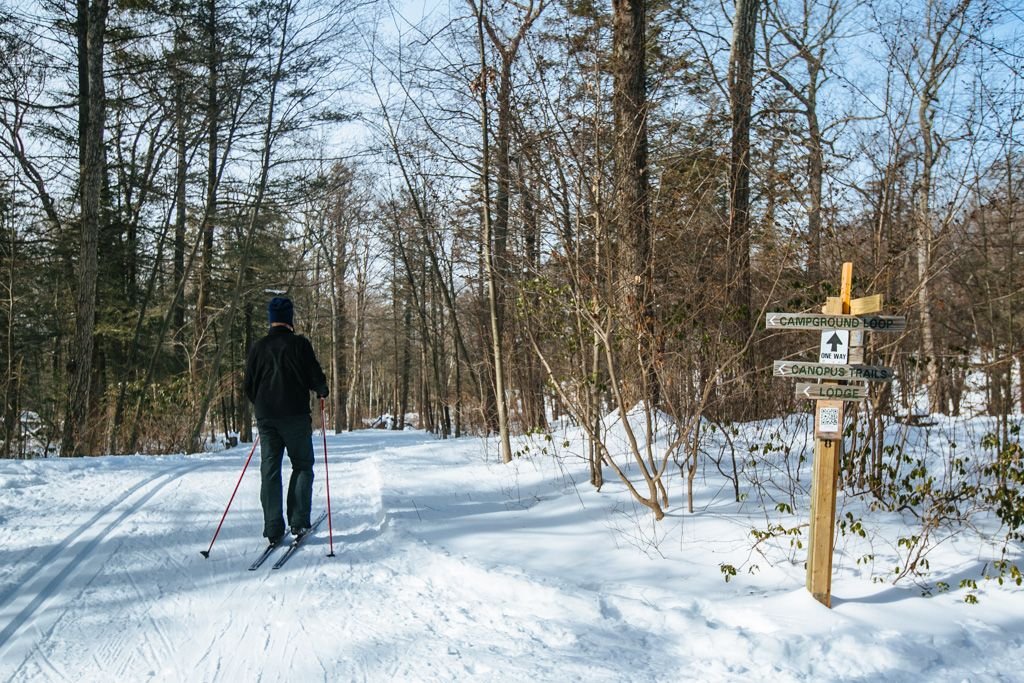 We stopped for lunch at the lodge, then set out again for round 2 – this time attempting the more difficult snowshoeing trail. We didn't quite have time to make it through the whole trail, but we did make it up to the lake viewpoint: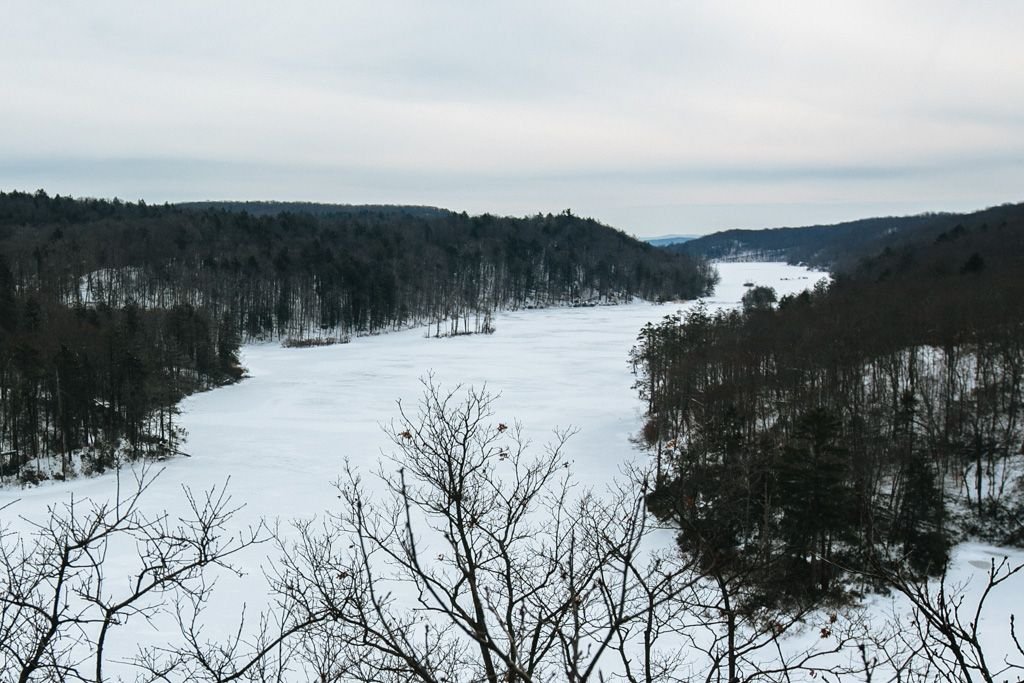 The more difficult snowshoeing trail runs partially along the Appalachian Trail, which we got a quick taste of on our little jaunt. It definitely was more difficult than the other trail, but I didn't find it tiring at all even with the steady uphill climb. The hardest part for me was the footwork required on narrower parts of the trail, particularly while navigating hills. I tripped over my big clumsy feet a few times, but falling on snow was pretty painless.
This trail felt significantly more rugged and scenic – like we were actually in the wilderness, not in a well-kept park. I wish we'd had time to complete the whole thing, but we had to make sure we returned our rental gear by a certain time.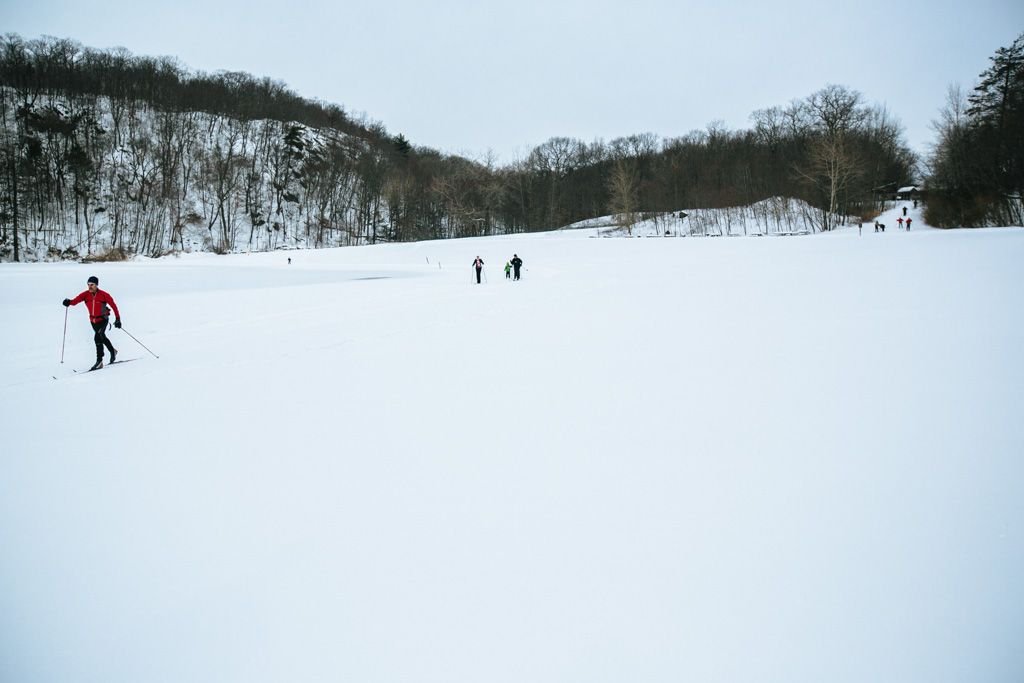 In all, I had a blast not only snowshoeing, but escaping New York City for a day. I'd love to snowshoe again, maybe even try cross country skiing, but preferably someplace more aesthetically gratifying (hello, western US and/or Canada!).
Snowshoeing Tips
I had been wondering a few things before my first time snowshoeing, so I thought I'd share my findings with others contemplating trying it out:
What is snowshoeing actually like? Walking or trekking, but with added traction on your feet which makes it easier and faster to negotiate snowy hills.
How hard is it? Not hard at all! If you can walk, you can snowshoe. I found it slightly challenging to tackle the parts of the trail that were very narrow and unflat, simply because it was easier to trip over my snowshoes (yes, I did this on more than one occasion).
What should I wear? LAYERS. Layers for days! Don't worry so much about pants – your legs should warm up fairly quickly. I was perfectly warm in just fleece leggings. As for the top half, I'd recommend a sweat-wicking bottom layer, a thin warm-weather pullover (like the kind you'd run or work out in), and a thin outer layer (preferably water-resistant). Wearing one big winter coat is not a good idea because you'll sweat like mad. FYI – it was in the 20's when I snowshoed in this getup.
What kind of shoes? Anything water resistant. Regular hiking boots would work fine, but you'd want to wear a pair or two of wool socks to keep your feet warm. I opted to wear my warm and fuzzy snow boots, which worked very well for me.
Do I need poles? Most of the time I found I didn't need them, but they were useful to help stay balanced on hills or narrow parts of the trail.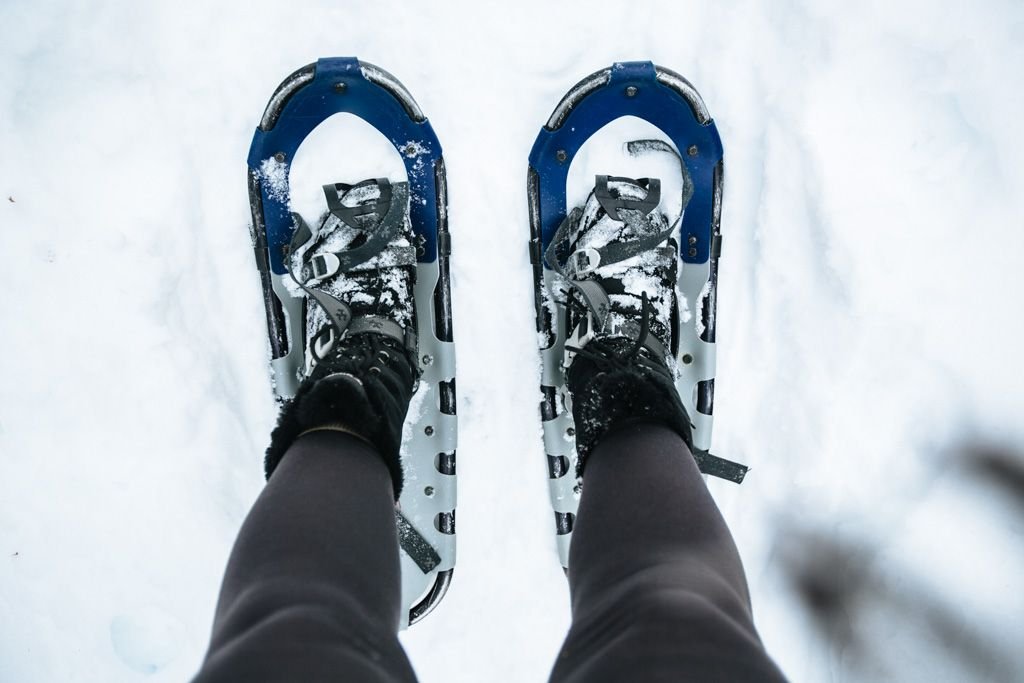 Pin it!
Frugal Facts
As of February 2014 —
It is well worth renting a car for a day to get to Fahnestock Winter Park. But if you're frugal and/or adventurous, you can reach Fahnestock Winter Park from NYC via public transport and taxi:
Train: Take a Metro North Hudson line train from Grand Central to Cold Spring. Trains leave every hour, take about 1h20m, and cost $26.50 roundtrip.
Taxi: It's a good idea to have the phone numbers of a few cab drivers before arriving, and call to be picked up shortly before arriving in Cold Spring. A cab ride takes 15-20 minutes and costs $25 each way.
You can rent snowshoes and skis (with poles) at the park: it's $15 for an all-day rental, plus $10 for a trail pass.
In terms of food, there are some cute cafes in town, not terribly far from the train station, that are ideal for grabbing coffee and breakfast before hitting the trails. There's also a cafe at Fahnestock that sells snacks, hot drinks, and lunch (sandwiches and chili at $5 a pop).
In all, 2 people can expect to spend about $80 each on this snowshoeing excursion – and closer to $100 if renting a Zipcar.