In all my globetrotting, I've surprisingly never had a long layover while in transit. Back when I worked corporate jobs with 3 weeks paid leave a year, I always wanted to maximize the time spent at my destination rather than fritter away an extra day in transit.
But now that I've escaped the cubicle and have the luxury of time, I've changed my tune a bit. I think long layovers are perfect for getting a taste of a city that you probably wouldn't make an effort to travel to otherwise. So when I saw that I'd have to connect through Kuala Lumpur no matter which flight I booked to/from Phuket last month, I finagled a 13 hour layover that would give me plenty of time to explore KL.
And by explore Kuala Lumpur, I mean bum around in a hipster coffee shop all afternoon, take in the Petronas Towers from every which angle, and get horribly lost trying to find good street food en route to the train station.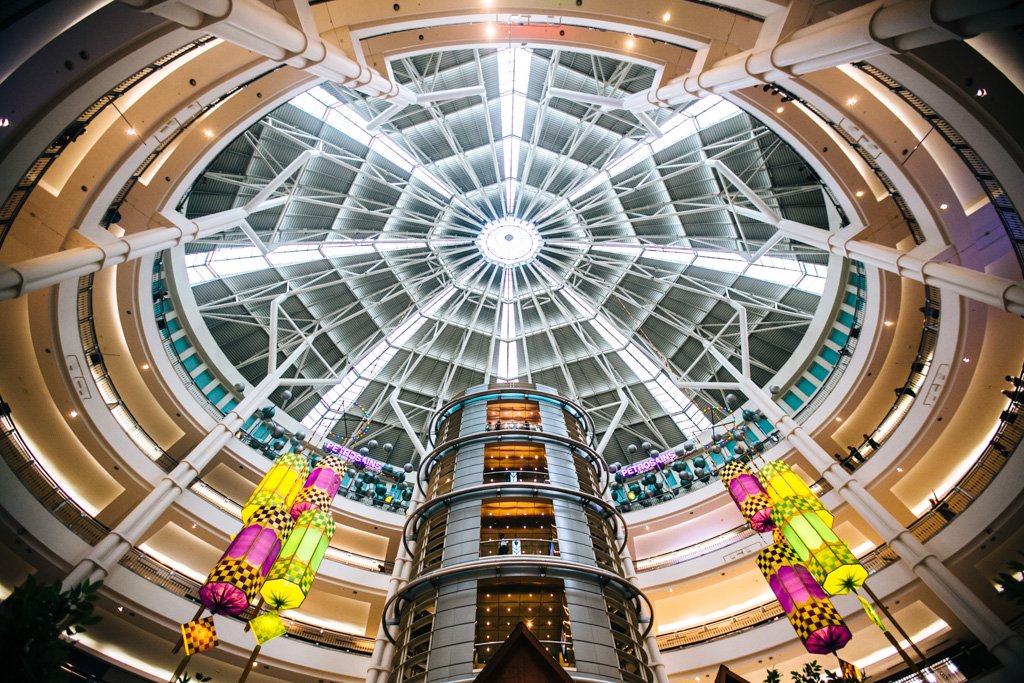 Suria KLCC, the 6 story shopping center beneath the Petronas Towers.
So in short, I probably didn't do KL much justice. It's not really a city of sights to see, so unless you're into eating and shopping you'll probably deem it a snoozefest.
I did, however, ogle the Petronas Twin Towers for several hours. Here's how that went down:
The Petronas Twin Towers
If you want to get inside the Petronas Towers, you've got to buy tickets. You should definitely book online and in advance of your visit to save yourself the time and hassle of buying in person and probably having tickets be sold out. Tickets cost 85 MYR (US$21).
Your tickets will give you access to the Skybridge plus the Observation Deck on the 86th floor. This isn't a proper tour, though, so don't expect to be regaled with all sorts of facts about this building. Someone will escort you to each viewing point, where you're free to wander around on your own.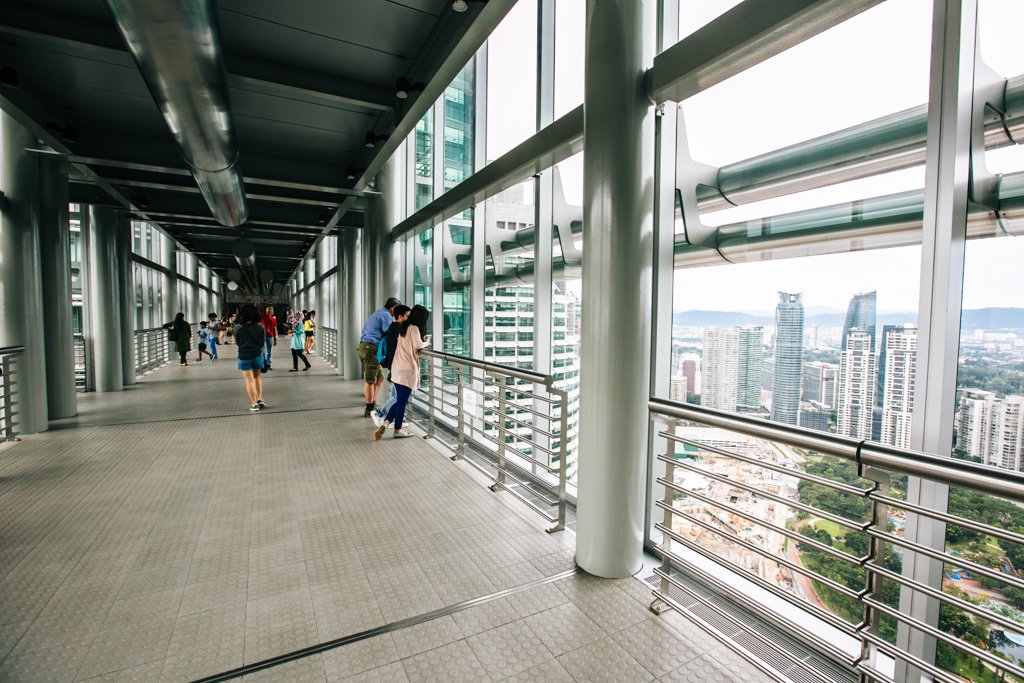 Petronas Towers Skybridge.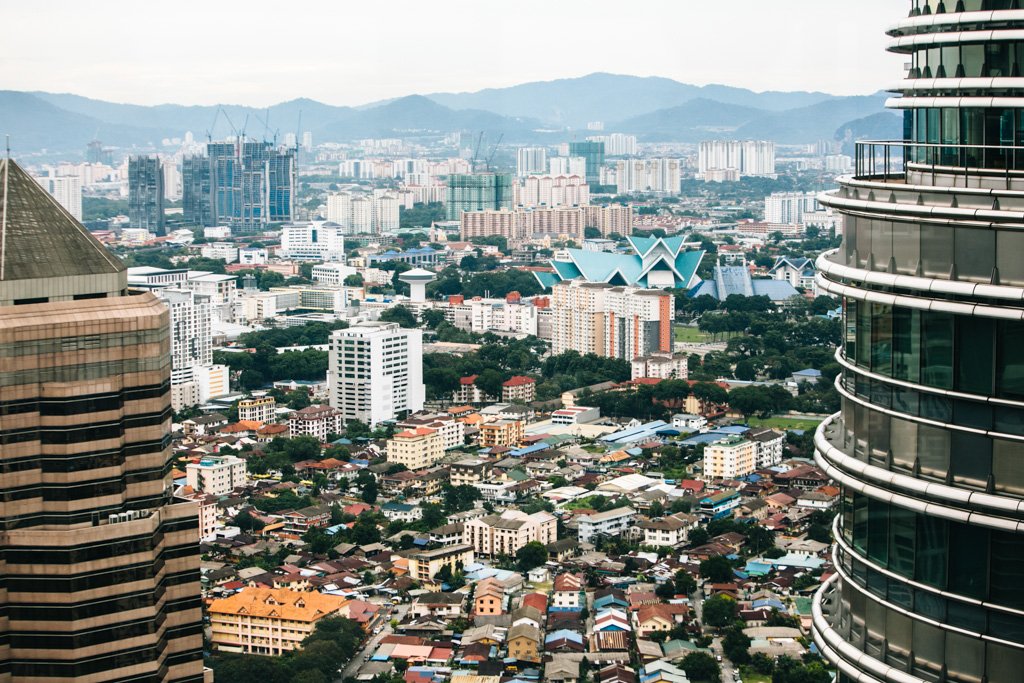 I hadn't seen much of Kuala Lumpur before I made my way to the Petronas Towers, but taking in the 360-degree views from the 86th floor helped me get my bearings a bit. I loved the concentration of colorful homes in the suburbs contrasted against the rather bland-looking buildings of the city. And look at those mountains! If I were ever to return to KL, I'm fairly certain I'd flee the city and try to get close to those.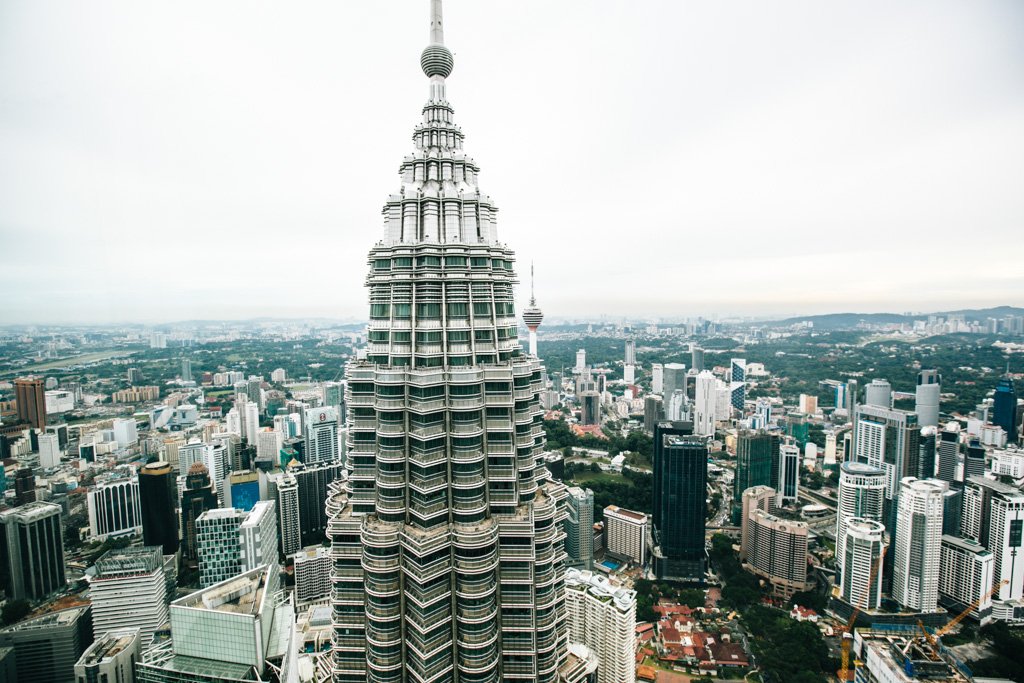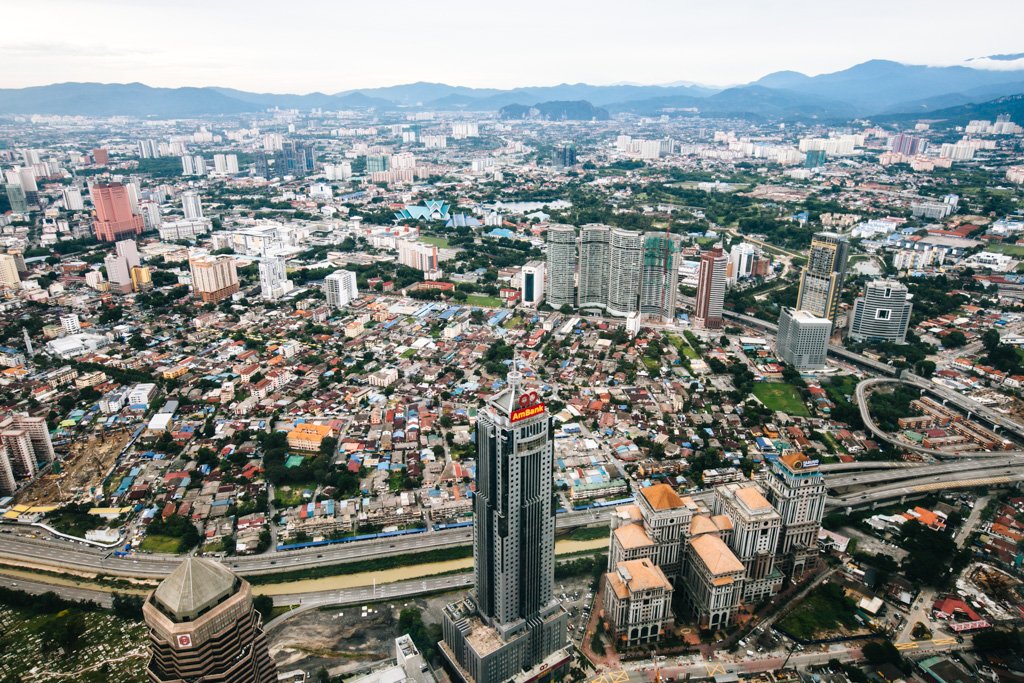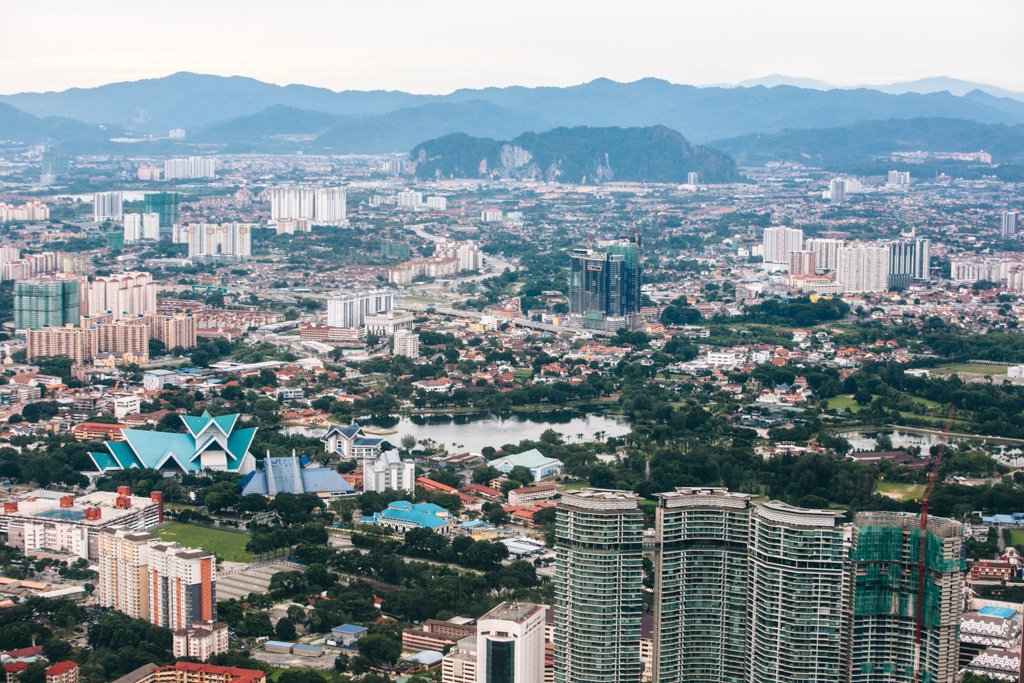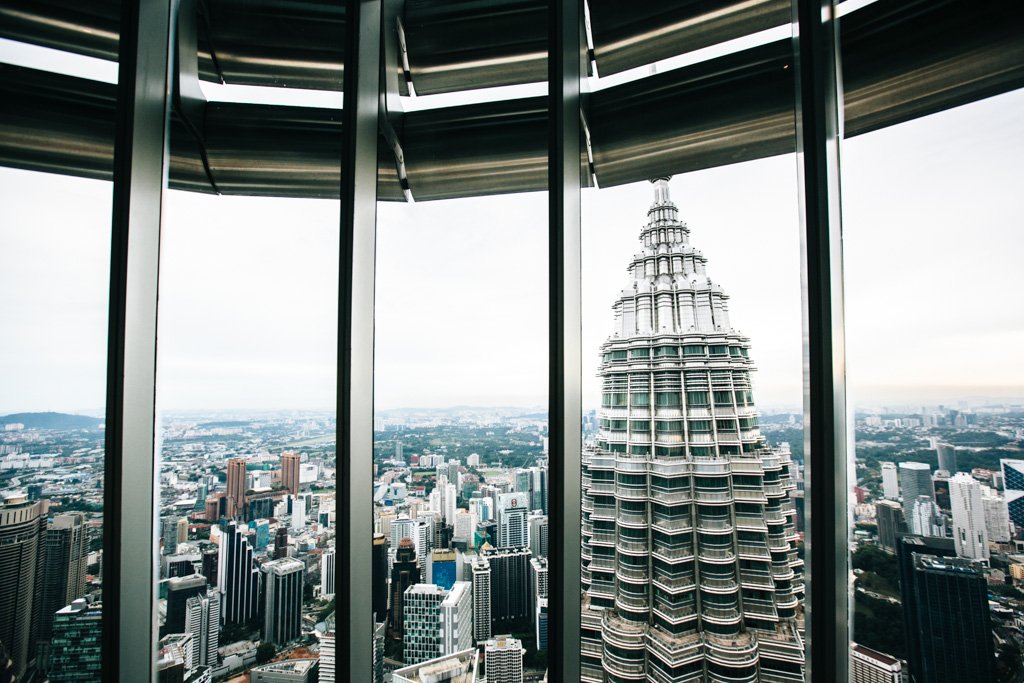 View From KLCC Park
Right below the Petronas Towers is KLCC Park, which you might as well amble through while you're in the neighborhood. You can enjoy an close-up view of the towers from near the footbridge.
View From The Traders Hotel SkyBar
If you have limited time to visit the Petronas Twin Towers, skip the tour and the park and head straight across to the Traders Hotel. Non-guests can stop by the hotel's SkyBar and lounge in a cabana overlooking KLCC Park and facing the towers. This is the best view of the Petronas Towers.
I was fully prepared to order a drink, but since I was traveling solo I didn't want to leave my cabana to run to the bar because someone surely would have snagged my prime seat. I thought maybe someone would come around to take my order, but no one ever did. So I basically got to soak up this view for free! Definitely not mad about it.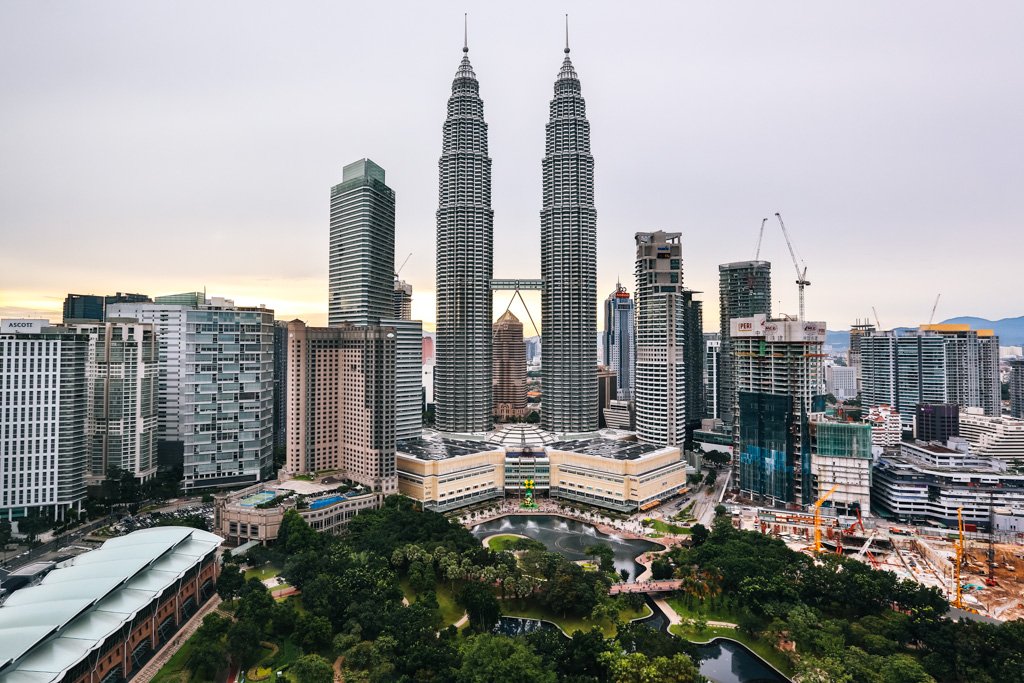 Are you a fan of long layovers? What city would you recommend for a layover?