Whenever I visit a new city, I like to find a spot where I can take in the view from above. Savitri Temple, perched atop a steep hill, is the prime location to see Pushkar in all its white-washed glory. They recommend doing the hour-long trek around sunrise – not just to see the sunrise, but also because it's too damn hot later in the day for that kind of exertion. Without a doubt, there was no way I was going to make it from my hotel across town, entirely on foot, at such an ungodly hour. It just wasn't happening.
Instead, come late afternoon, I started walking uphill and out of town to nowhere in particular, hoping to happen on a good viewpoint. I frolicked through a little village and in no time was swarmed by a bunch of kids asking me my name, where I was from, where I was going, and if I had any money. Whenever I have Indians coming at me like that, I always have this internal struggle: should I ignore them and avoid the probable hassling they'll give me, or should I acknowledge them and possibly have a meaningful interaction with some local people? You can never be sure of their motives.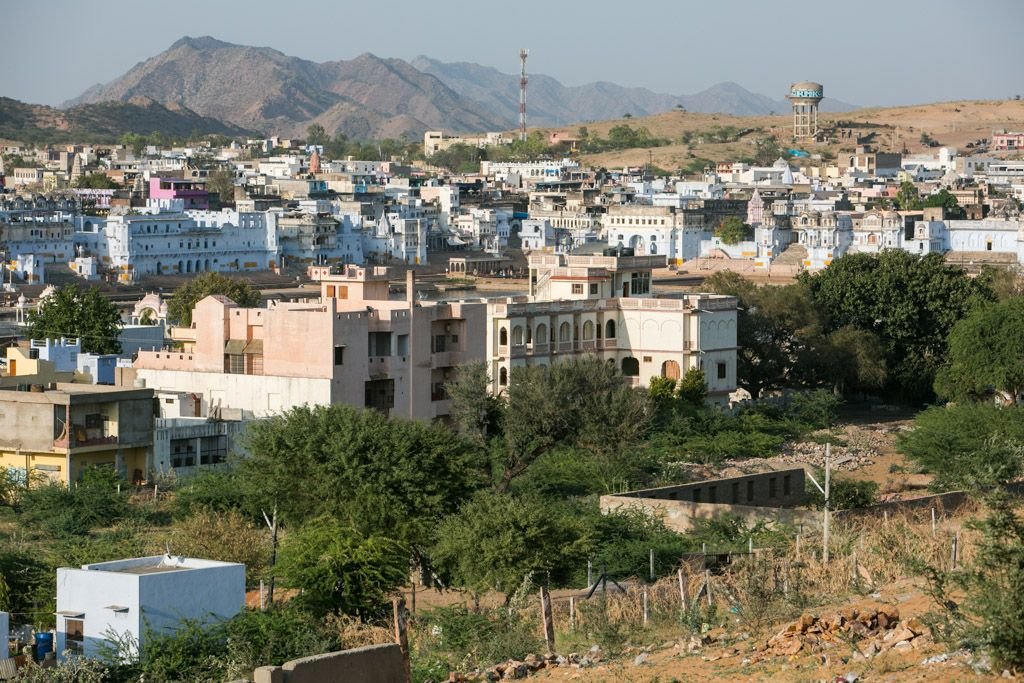 Initially, I traipsed right through the hoard of children and to a pretty decent lookout point that yielded a view of the lake and town. But I had to go back through the mass of kids in order to return to the main road. I humored a few of them by answering a couple of questions they bombarded me with and kept on walking. Just beyond, I noticed an older woman beckoning me to come toward her house. On impulse, I walked over to her, and she ushered me into her backyard. One of the boys from the herd (apparently her son) followed me in. Though I hadn't thought this through, I figured a toothless middle-aged woman and a mild-mannered boy were essentially harmless.
We all sat on their back deck and introduced ourselves. The mother lit a fire right on the deck and started making me some tea. Though I wasn't the least bit hungry, I also accepted a piece of homemade chapati. We chatted through broken English and they played with every accessory I had with me: my scarf, my ring, my sunglasses. They were most excited about my fancy camera, which I showed them how to use. A photoshoot ensued: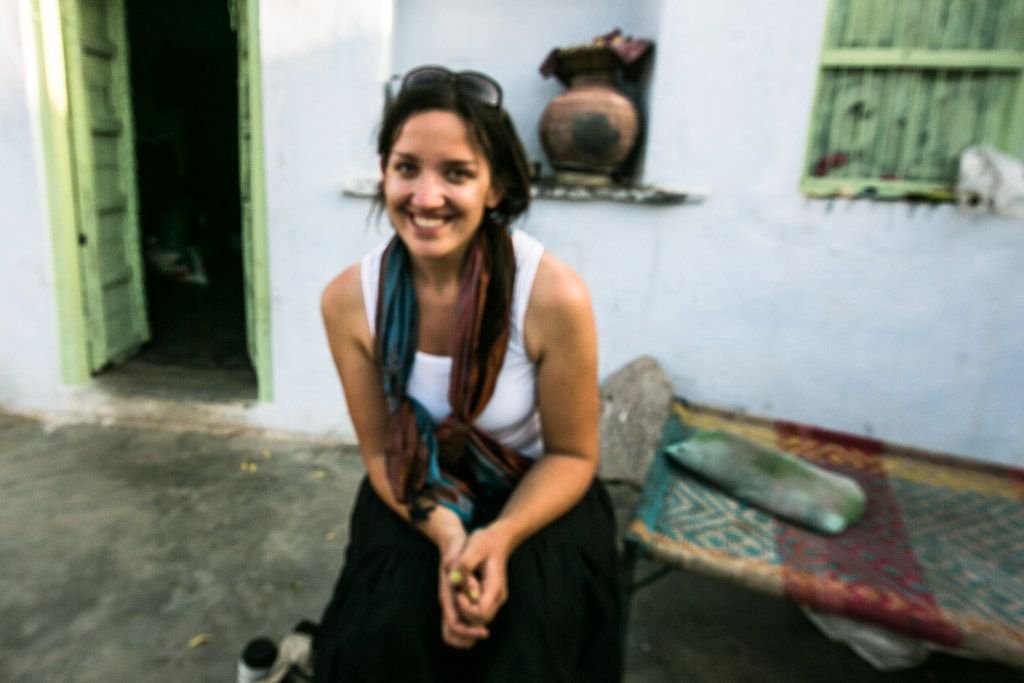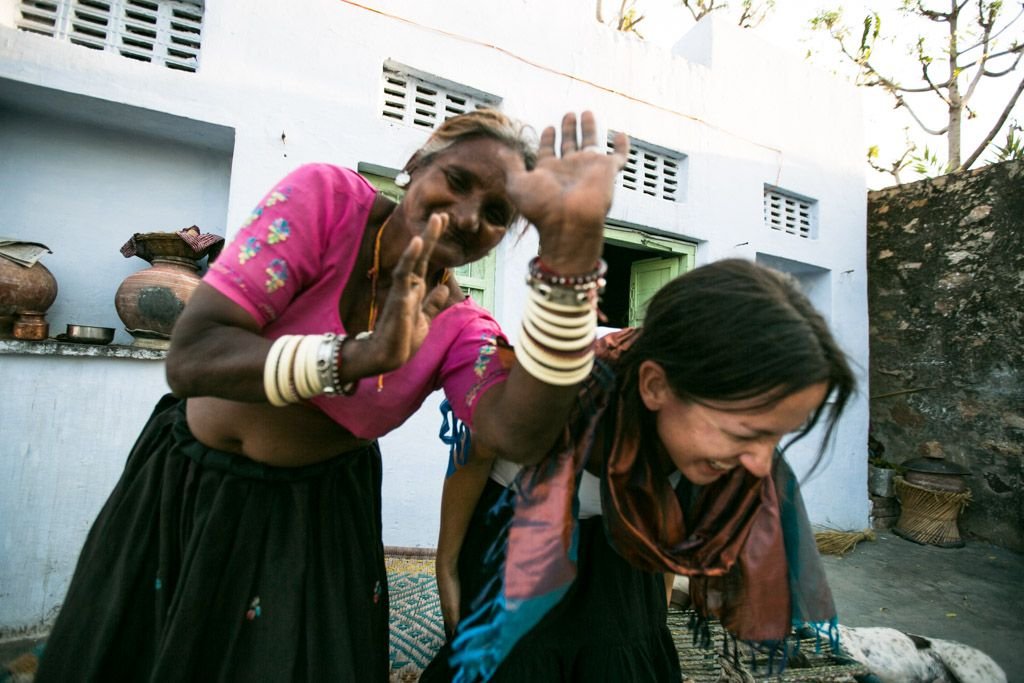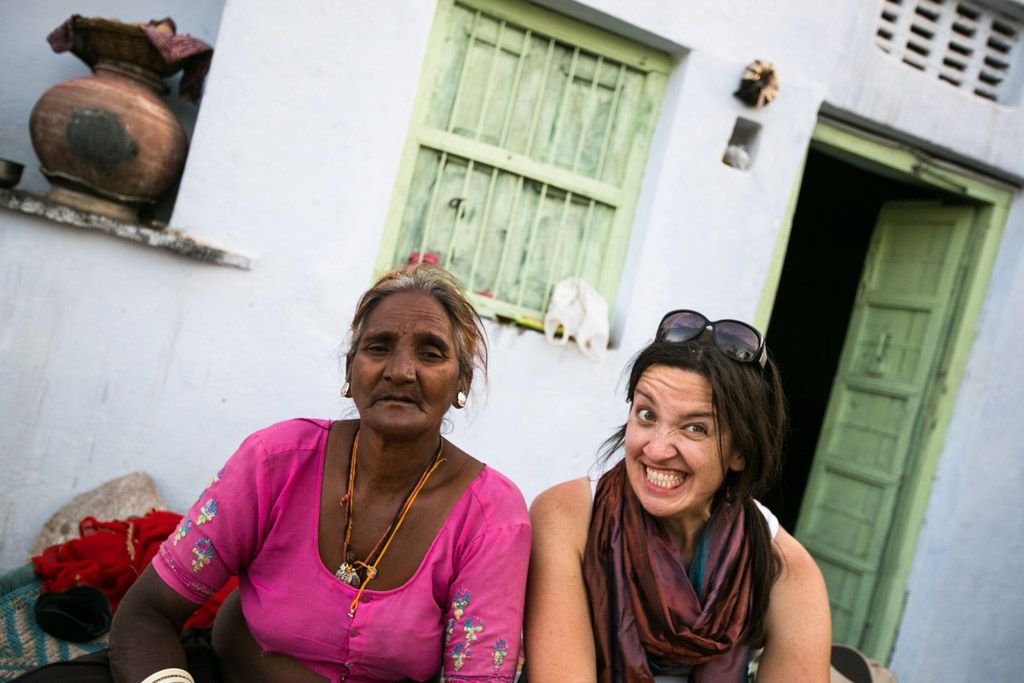 It was completely ridiculous, and something I would totally do at home with friends (ok, let's be real – I DO do this at home with friends, quite often in fact!). Doing it with strangers was a way to bond and bridge cultural gaps. The mother thought it was crazy-cool that I didn't have "man power" – I'd say "I don't need a man!" (imagine that said with girl power twang) and she would howl with laughter. She kept referring to me as her "sister" and told me she didn't have any family aside from her husband and kids.
I had such a wonderful time with the Pushkar locals that I didn't want to leave, but walking back to town after dark was not on my agenda so I bid them farewell and promised to mail them some photos. And then at the very end, the mother asked me for some rupees. I was so disappointed – I didn't want my theory that Indian people always want something from me to be further validated, especially not by her. It put a bit of a damper on the experience. Of course I couldn't turn her down, not after the kindness and hospitality she'd shown me. The money wasn't even a big deal, it was more the principle of it. Why couldn't we just have a good time, no strings (or rupees) attached?