When I first started (and then promptly forgot about) this "perfect day" blog series, I wanted to document those rare magical days where I was out in the world doing various things that bring me joy, living in the flow, and just being enveloped in bliss from start to finish.
The thing is, it's so rare that I experience this magic ALL DAY LONG when I'm traveling. Sure, I could easily plan a day with joy-sparking sights and activities that give me the best shot at having a perfect day – but that's not how it works, at least not for me.
In my world, a perfect day must be FELT, not achieved. And usually it happens when I don't have any plan at all and just follow my whims.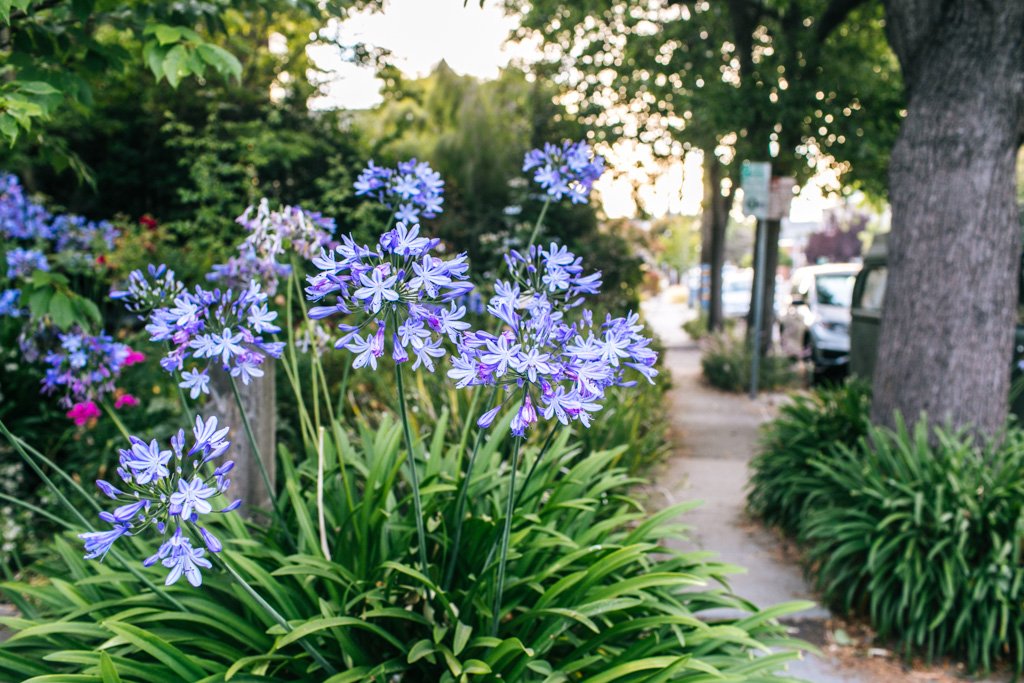 Though I haven't had many full-blown perfect days lately, I have experienced plenty of magical moments where I was fully present, blissed out, and without any concept of time. To me, that's perfection.
When I think back to the week I recently spent in San Francisco, three very clear instances come to mind that, if they'd all occurred on the same day, would have constituted a "perfect day". So you know what, let's throw 'em all together and have a heart-eyed emoji party because WHY NOT.
Even if you don't get the same feeling I got when I did these things, I'm pretty sure you'll at least have an enjoyable day in San Francisco if you strive to recreate this perfect day. Here goes!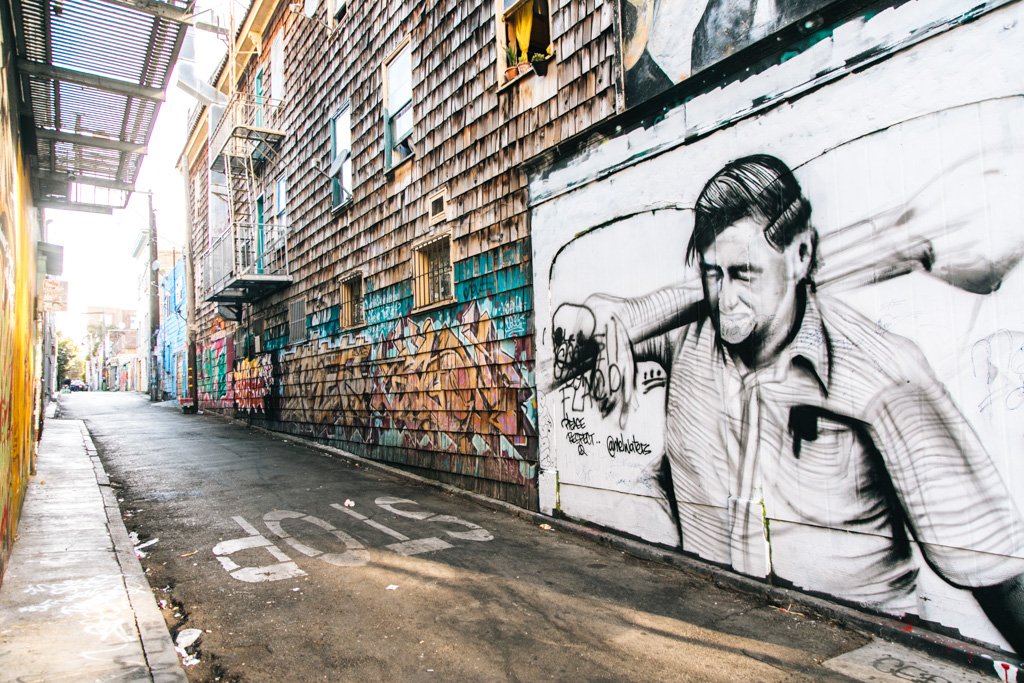 Morning Stroll Around Berkeley
This'll work best if you're staying in or near Berkeley like I did. Or you could always take the BART train out there from the city to Ashby station, which is a quick 20 minute ride.
Note: in case you haven't heard, San Francisco is crazy-expensive. When I was looking at Airbnbs about a month before my trip, I couldn't find anything in the city that was affordable and not totally gross. So I started looking at places in the East Bay (Oakland area) and that's how I found my Berkeley Airbnb. Sign up with this link and get a discount on your first Airbnb stay!
So by happy accident, I ended up based in Berkeley for the week, an area I knew nothing about other than UC Berkeley, which once upon a time I entertained attending for grad school. I was staying on the south end of Berkeley, while the university is on the north side. For "perfect day" purposes, we'll stick to frolicking around south Berkeley.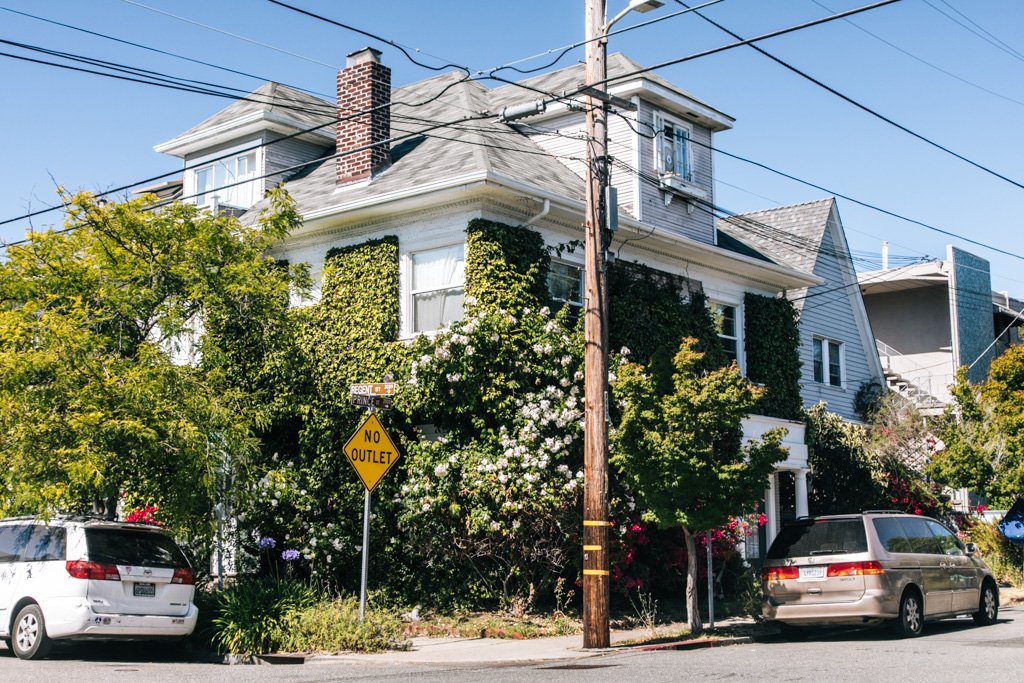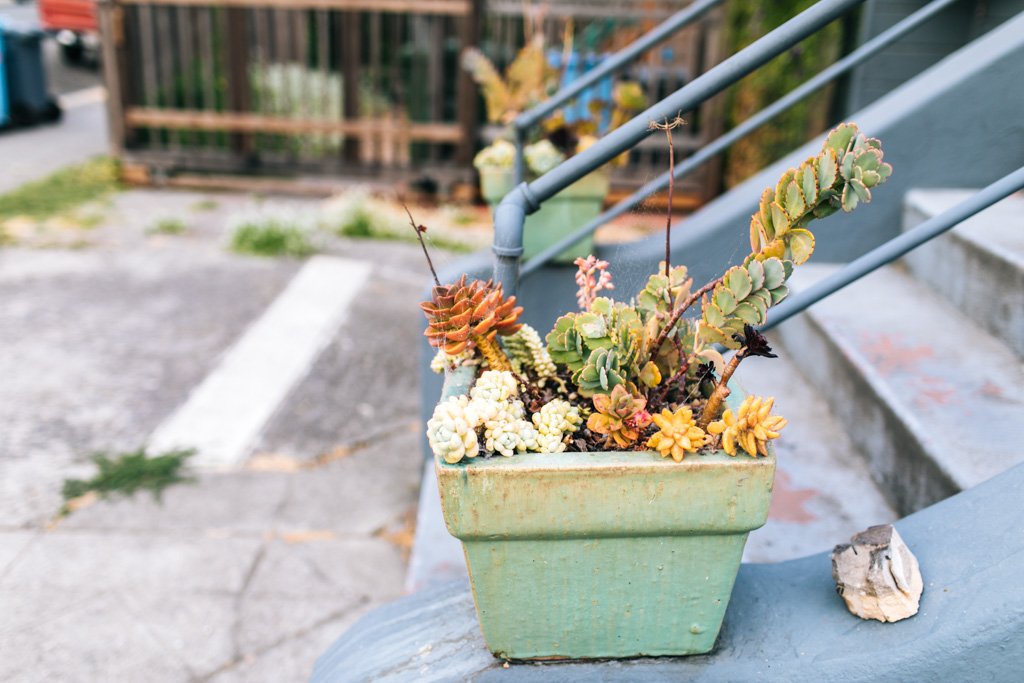 First thing's first: grab a coffee from Alchemy Collective (bonus points if you bring your KeepCup, because disposable coffee cups are not recyclable and it's #plasticfreejuly y'all). Their flat white (yes, a few cafes in America do serve this drink) is divine, and overall their coffee is some of the best I've had outside of Australia.
Coffee in hand, head east into Fairview Park (a Berkeley hood) and ogle the interesting homes and gorgeous gardens that line most of the streets. I swear to you, it's like succulent central over here. They're planted right next to the sidewalk, or they might be in pots on someone's porch or windowsill.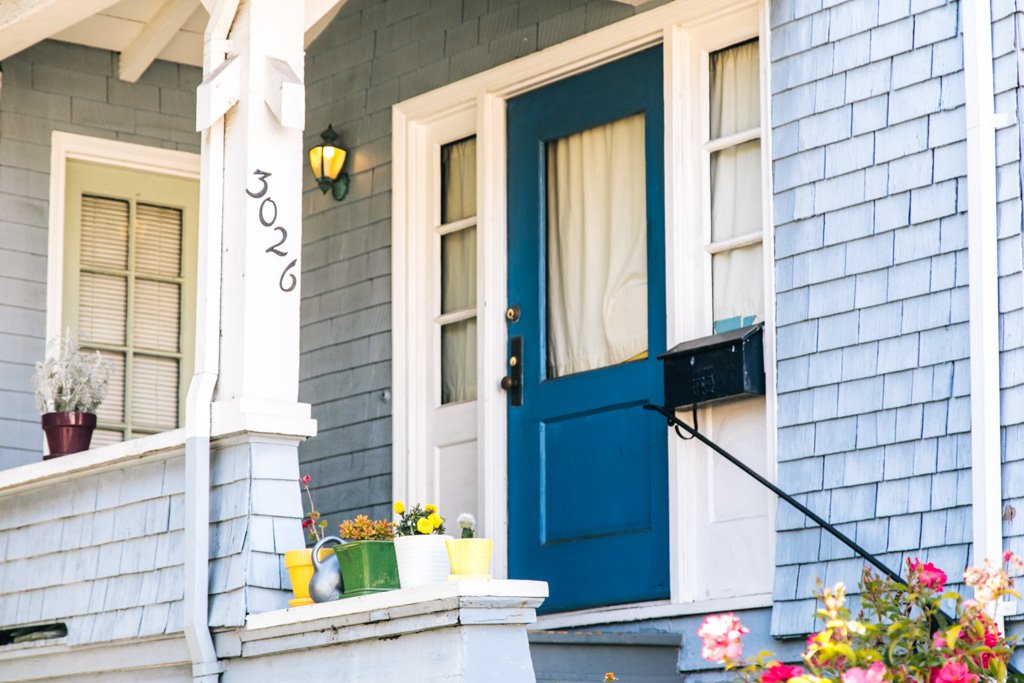 And the houses! They're not particularly fancy or large, but they're lovely to look at and a lot of them have pointed roofs.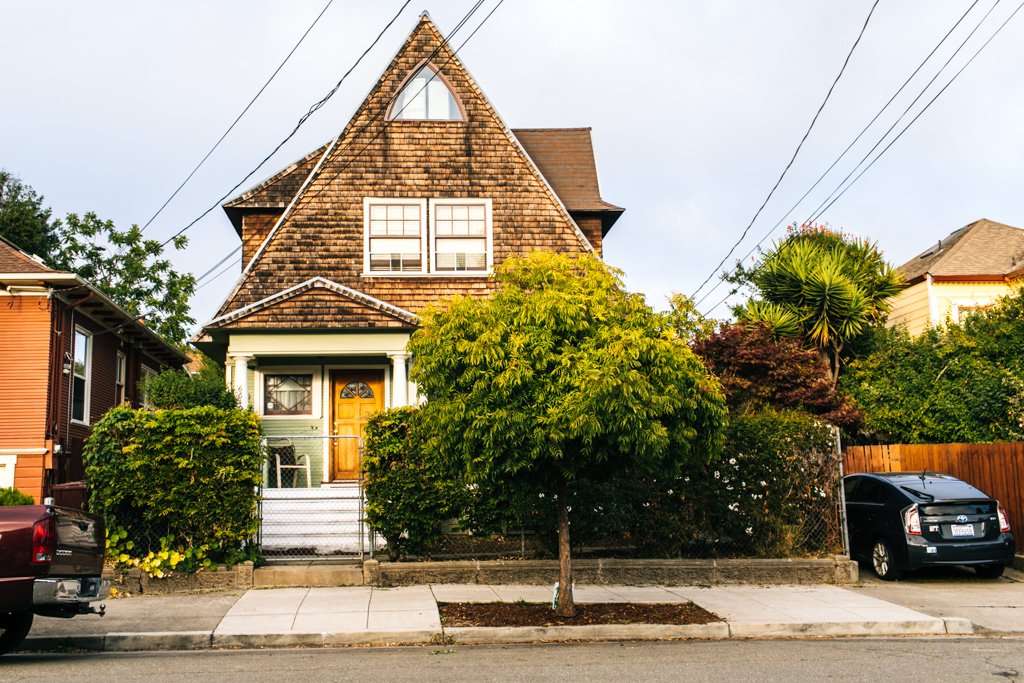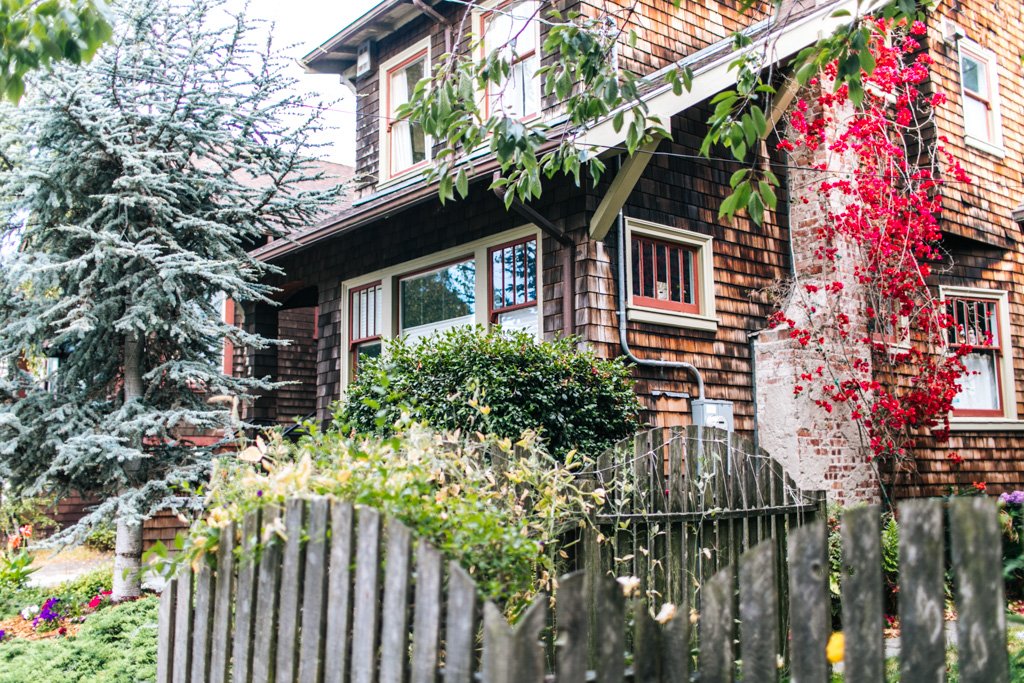 Having lived in NYC for 7 years, my mind is always semi-blown when I see houses in urban areas with yards. Berkeley's houses all seem to come with tiny front yards and nearly all of them are adorned with gardens and shrubs. When you amble down these streets it's like being in a sea of beautiful colors and scents. UGH, such bliss! I lost myself on these streets on a few different occasions, but in the best way.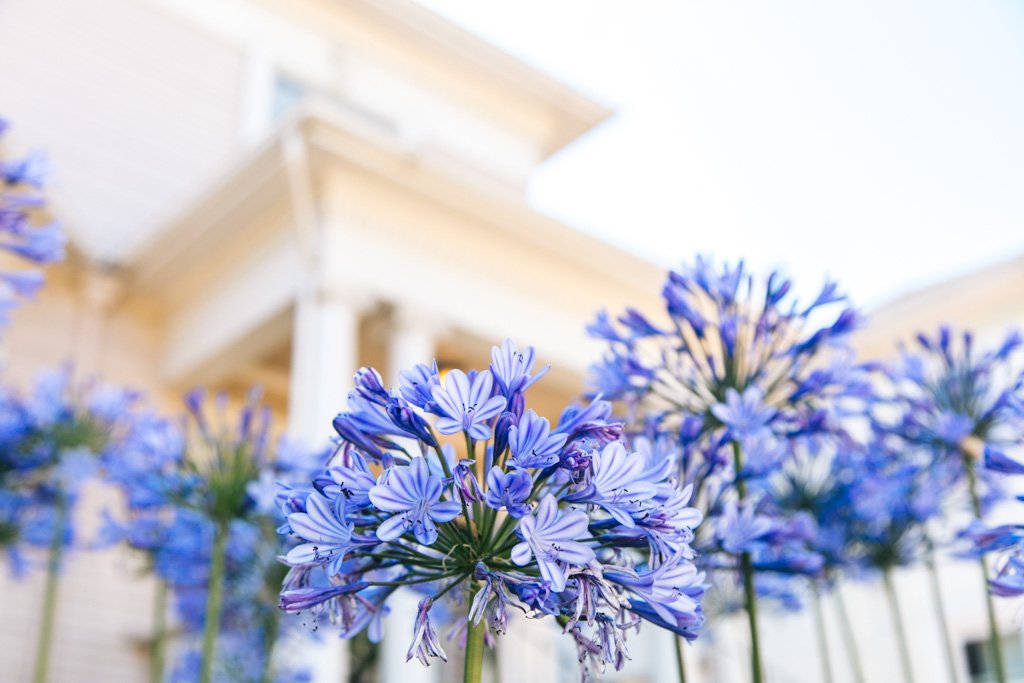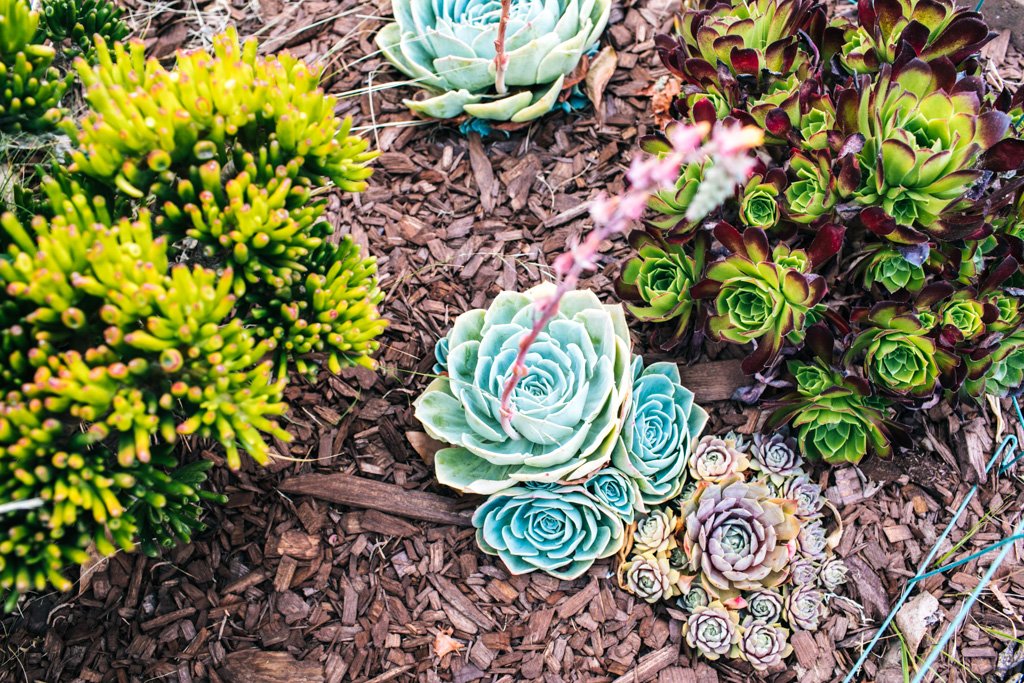 Baker Beach
By mid-to-late morning, you'll want to make your way across the city to Baker Beach. Fair warning, it's a bit of a mission to reach especially from the East Bay. Unless you go the Uber route, you'll have to take the BART train into the city and then a bus across town to Richmond, where you can walk up to the beach.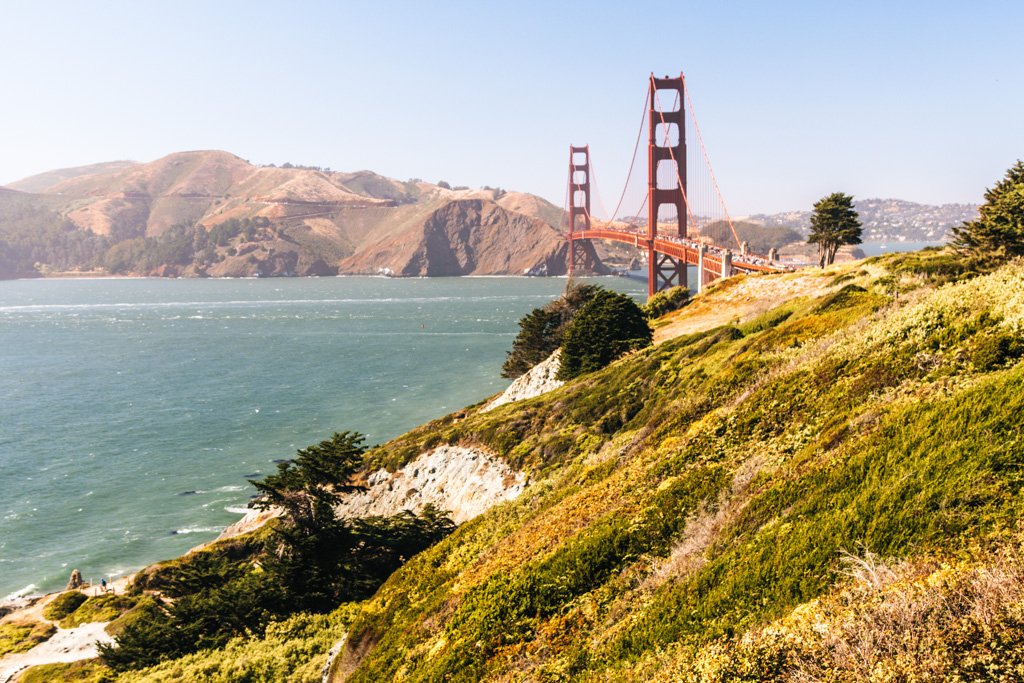 This is the beach with the Golden Gate Bridge as a backdrop. It's pretty dang scenic, I must say.
I was unaware that this is a clothing-optional beach, but very quickly clued in upon spotting multiple ding dongs hanging out. I don't really understand why nudists would choose to hang out here vs. other beaches, knowing that it's a pretty popular location for photos… but maybe they don't mind being naked in strangers' photos? One guy actually approached me, naked from the waist down, and asked if I wanted him to take my picture. Well hello to you too!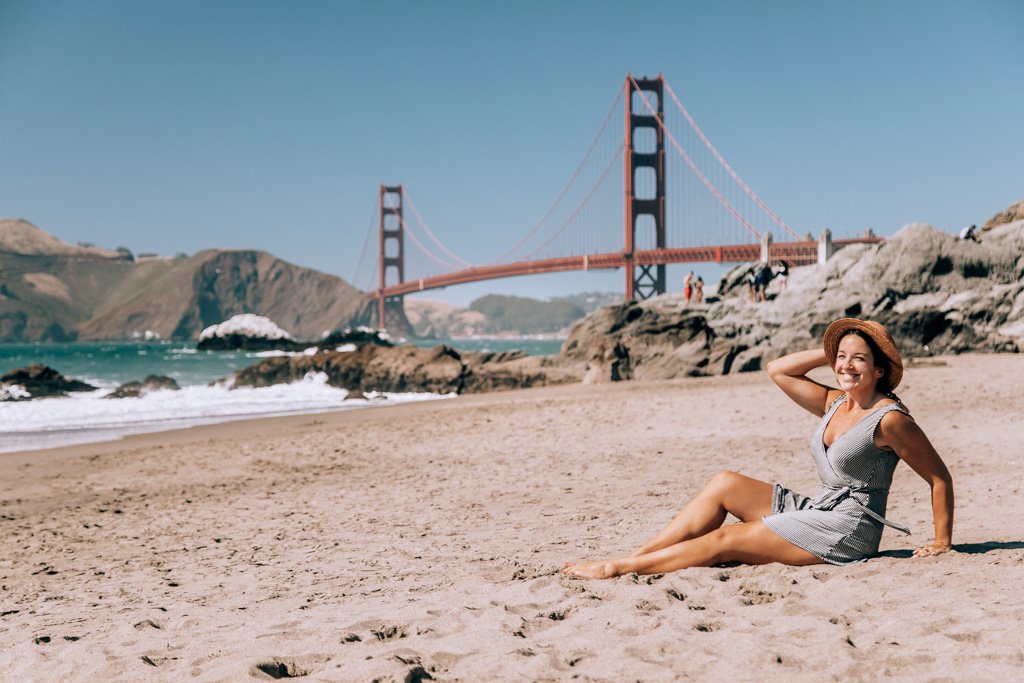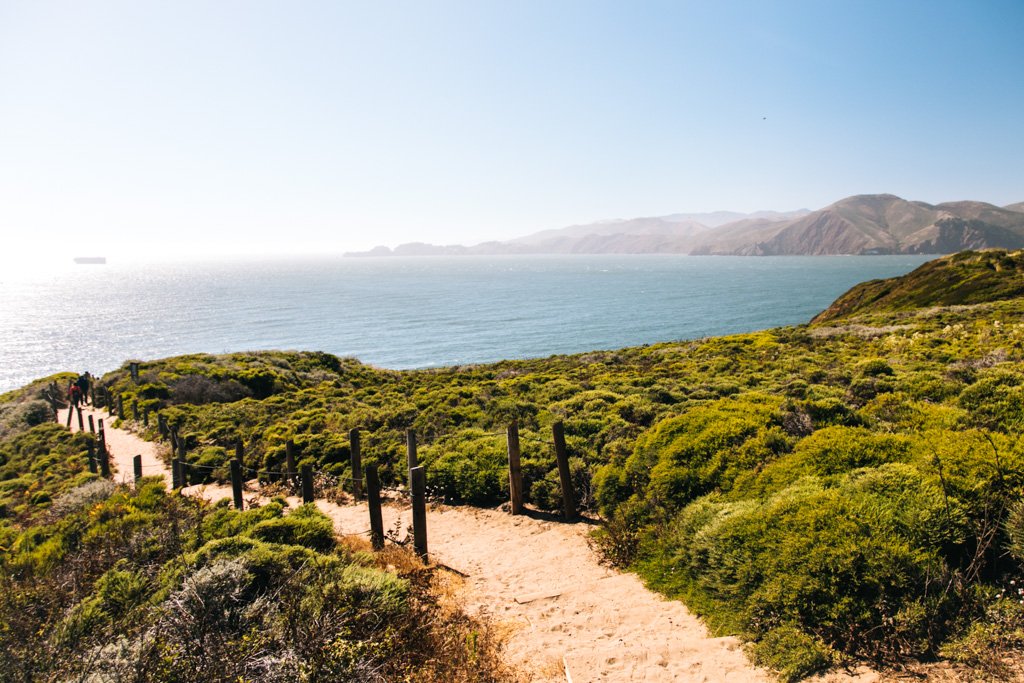 On a warm sunny day, it's very tempting to laze away the afternoon at Baker Beach. If I hadn't had plans to meet friends afterwards, that's 100% what I would have done when I was there.
You could hang at the beach, or you could opt to walk along the California Coastal Trail from Baker Beach to the Golden Gate Bridge. There are a couple of side trails (Batteries to Bluffs Trail, Golden Gate Overlook) that yield more sensational views of the bridge and the sea.
This little slice of coastline is just insanely picturesque. Highly recommend, particularly on a sunny day, if you want your hit of both bridge and beach. No wonder I had such a magical time here – those are two of my favorite things!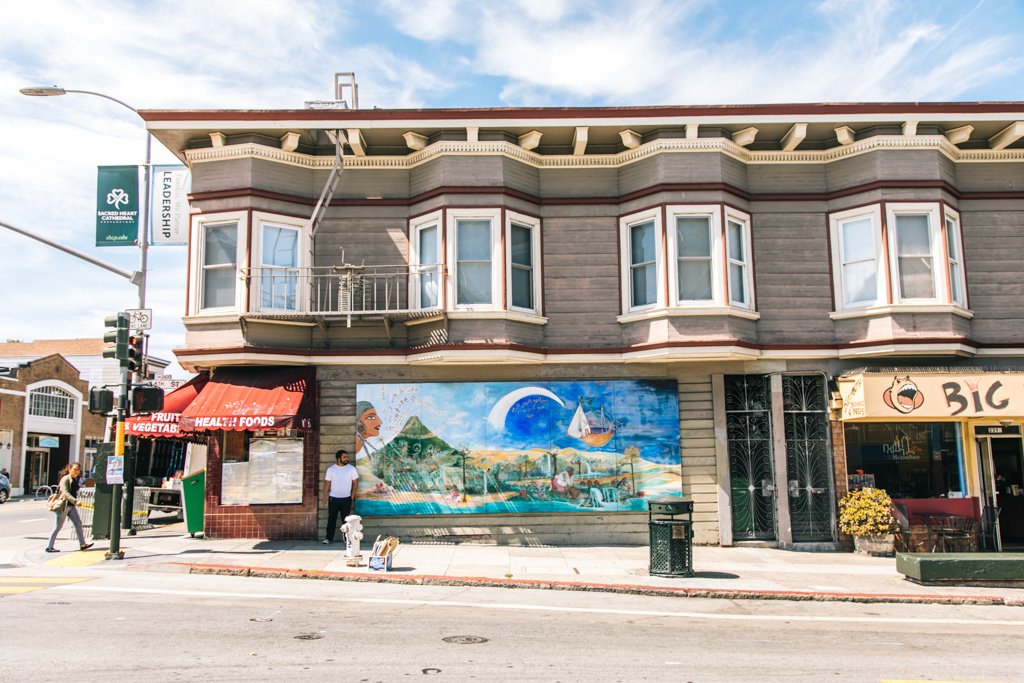 The Mission
Know what two more of my favorite things are? Street art and Mexican food. If they're yours as well, then head straight to The Mission by mid-to-late afternoon to indulge.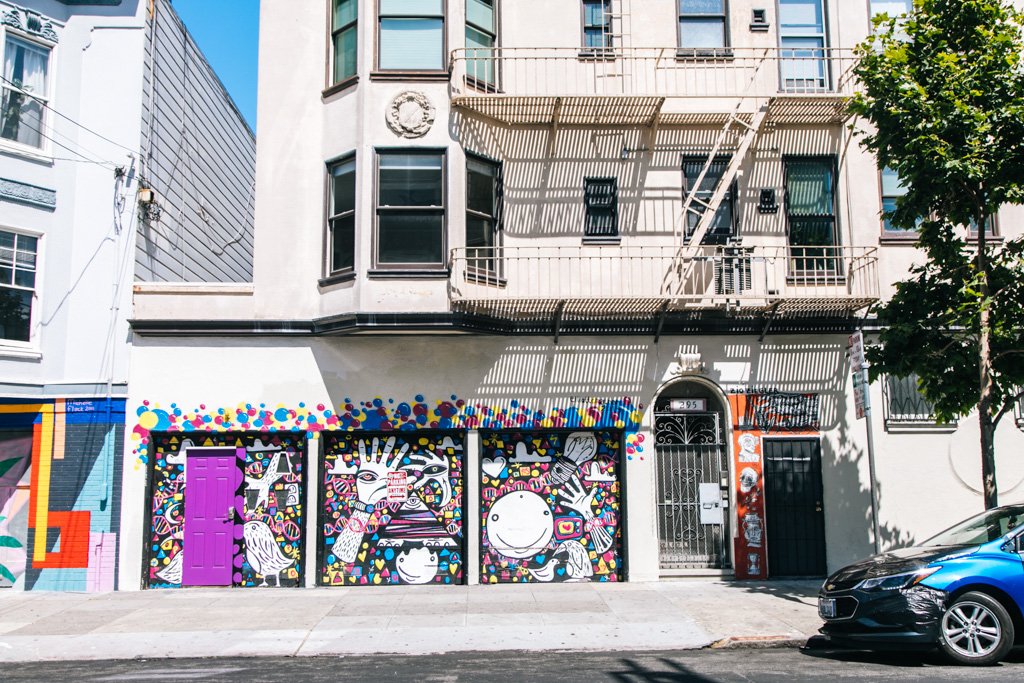 The Mission is undoubtedly one of SF's coolest neighborhoods. It's got a mix of Latino culture and young professionals, which makes it interesting and edgy but also approachable.
To illustrate: when I exited the BART station on Mission Street, I was hit with the sound of bachata and the sight of Spanish on more than a handful of signs. A few minutes later, I found myself on gentrified Valencia Street getting way too distracted by all sorts of one-of-a-kind shops and thrift stores. I spent nearly two hours alone in The Scarlet Sage sampling all of the candles and essential oils and getting a spontaneous intuitive reading done.
A few of the coolest shops I found in the Mission:
The Scarlet Sage Herb Co. – "store for organic herbal goods and spices", and they also run a healing school and offer daily in-store readings with healers
Therapy Stores – "funky boutique for apparel and housewares" (I got the b&w romper I wore in the Baker Beach photo above from their Berkeley location!)
Needles & Pens – "hip spot for clothes, gifts, books, and art"
Dog Eared Books – "new & used books in a homey bright space"
Topdrawer – "great for gifts for anyone who loves pens, notebooks, and bento box life" (I bought a journal here)
SFC San Francycle – "unique and special with SF vibe" (i.e. lots of SF and bike-themed apparel)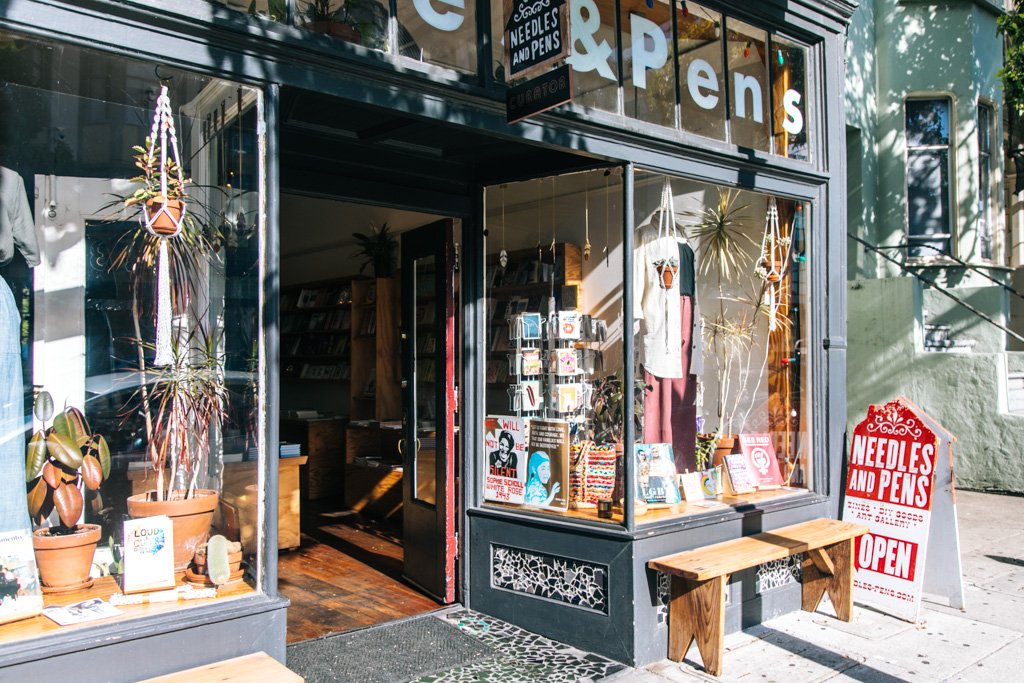 I'd be remiss if I left out a coffee stop, but don't worry – I've got ya covered. Definitely hit up Ritual Coffee Roasters on Valencia for the best damn pourover in town.
Note: Four Barrel is another cafe in The Mission with rave reviews and excellent third wave coffee that you might be tempted to try; however, one of their former owners sexually assaulted several of their employees and in light of the #metoo movement, I can't recommend this place until they've fully rebranded/restructured and distanced themselves from this horrible mess. Will update this post if/when they accomplish this!
I didn't have time to, but you should definitely take your coffee to nearby Mission Dolores Park and enjoy it with some excellent city skyline views and ample people watching ops.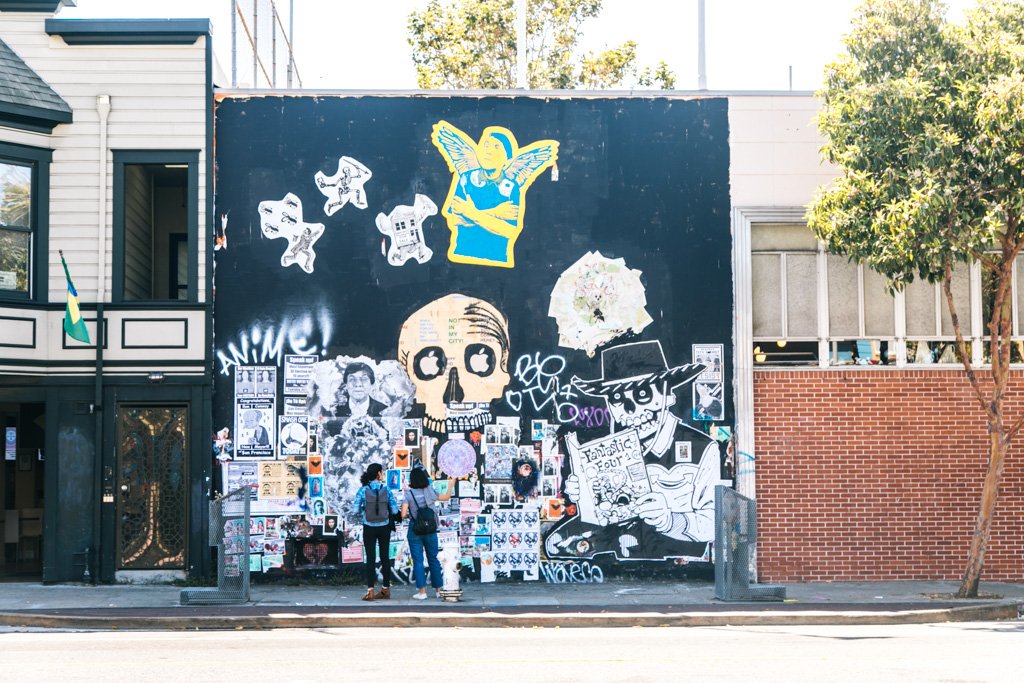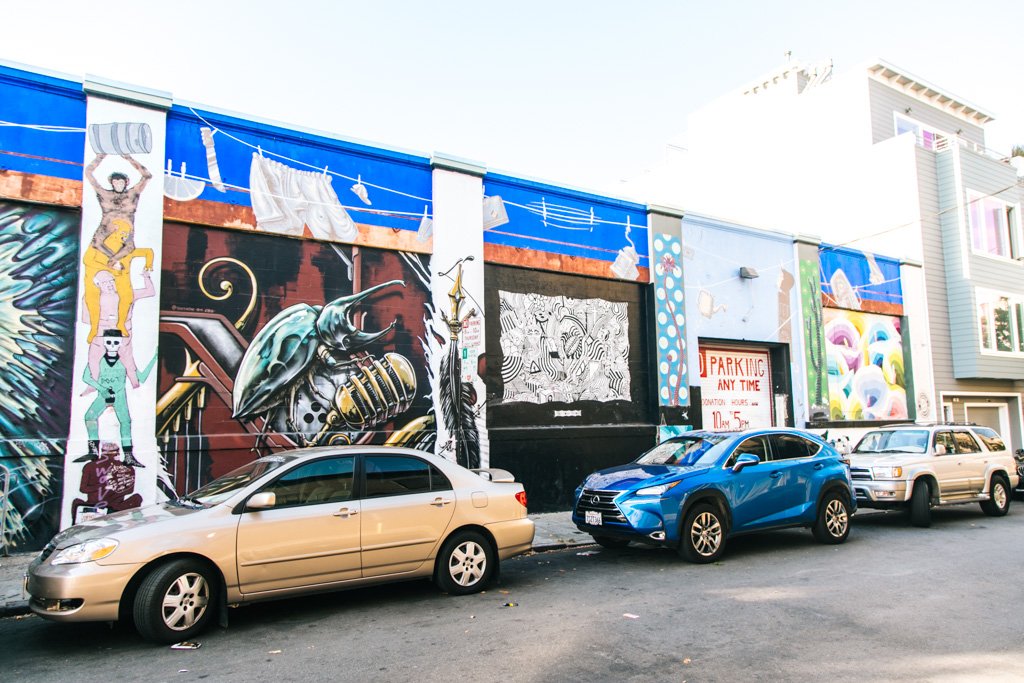 There are colorful murals scattered around the neighborhood, but if you want a big hit of street art then be sure to find Clarion Alley. It's murals upon murals all down this street, not unlike Hosier Lane in Melbourne.
I will say that when I visited (early evening on a Thursday, but still light out), I felt a little uncomfortable because there were a few questionable-looking men lurking in the shadows. One of them followed us tourists down the street continually asking for money. I didn't feel like I was in danger at all, mostly because it was still light out and there were plenty of other people around. But I did rush through the street art and felt like I didn't even see half of it, so that was a bit of a bummer.
I do think Clarion Alley is safe to visit and well worth a look, but consider stopping by earlier in the day and preferably not alone.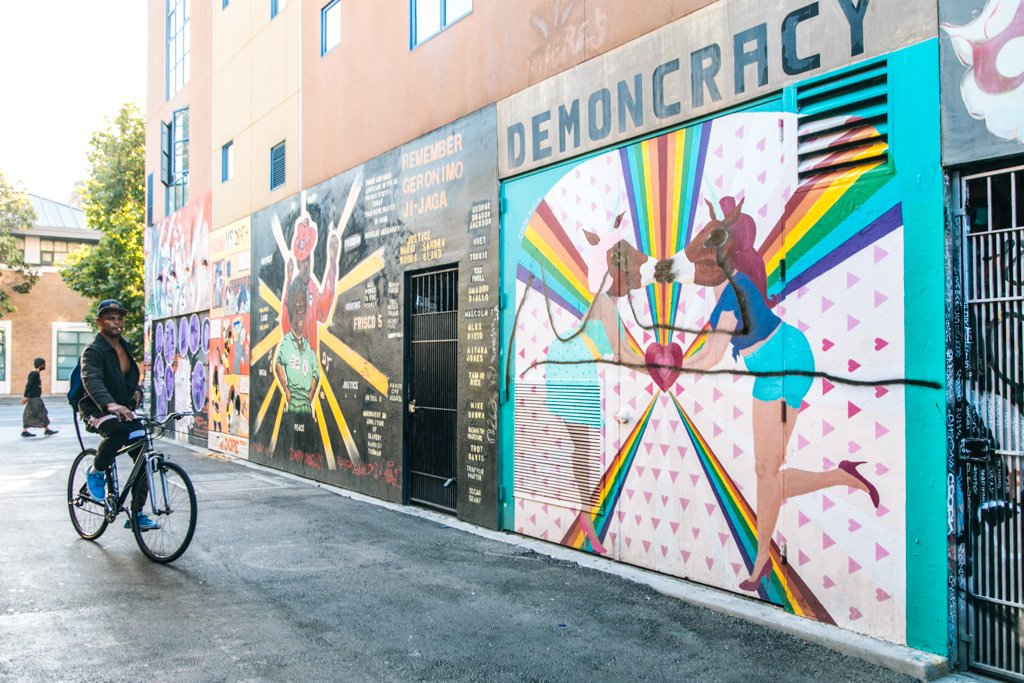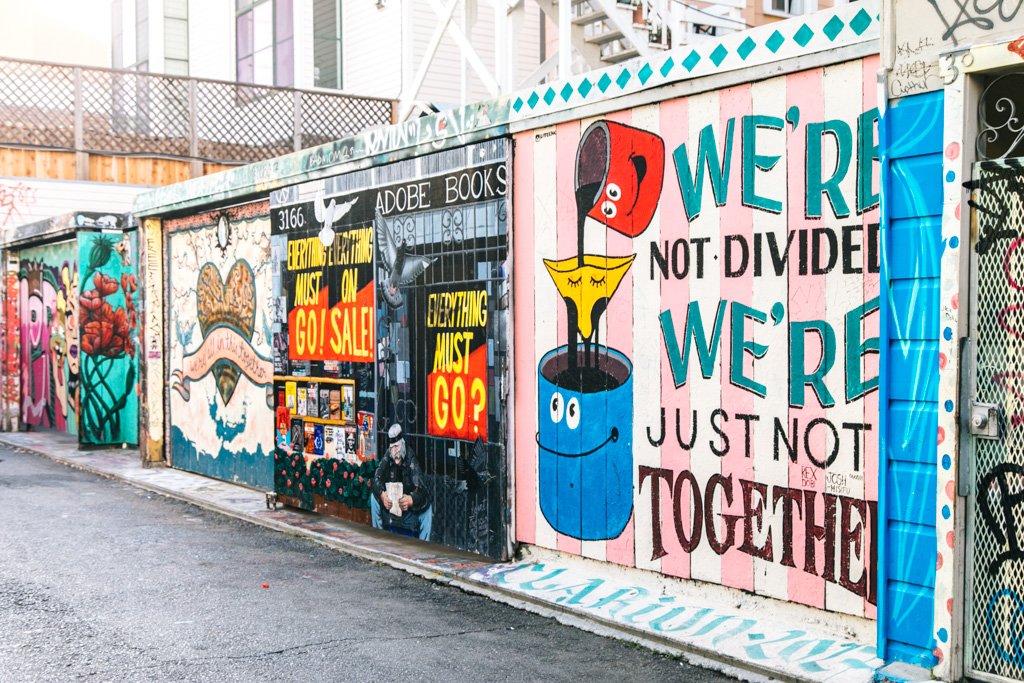 And lastly: you can't leave The Mission without trying the famous Mission Burrito! The best Mexican restaurants around here are the no-frills places where you can watch them prep your food behind the counter, grab unlimited sauce containers for topping, and chow down on a big-ass burrito for about $10. I'm not enough of a foodie to understand what they do to make the food taste so authentic and delicious, but there is a very clear difference between SF's burritos and burritos I've had around Australia (which have zero flavor).
There are too many taco joints in The Mission to mention, and I'm sure most of them are pretty amazing so you can have your pick. I ate at Pancho Villa, but Taqueria was the place recommended to me by my local foodie friend whose judgment I totally trust on this matter.
Pin it!