When you book an international flight semi-last minute and primarily because you found a good deal, you're probably not going to do extensive research to prepare for this trip.
In my case, I booked a cheap flight from Sydney to Phuket about 2 weeks in advance because it was the most inexpensive, non-NZ international flight I could find within my desired date range. And it was Thailand, a country I've already spent a cumulative 7 weeks in – it's a place I know reasonably well and absolutely adore. Pah, what research?
BUT, I will admit to briefly Googling things to do in Koh Tao that don't involve partying or diving. And that's when I stumbled across an image depicting this exact stunning view:
This is Koh Nang Yuan, a small island off the west coast of Koh Tao owned by the guy responsible for the ubiquitous Chang beer. All you really need to know is that it's absolutely beautiful and that you should allot at least a half day to visit this island while you're in Koh Tao.
But my job here is to inform and inspire, so allow me to elaborate on this Nang Yuan goodness!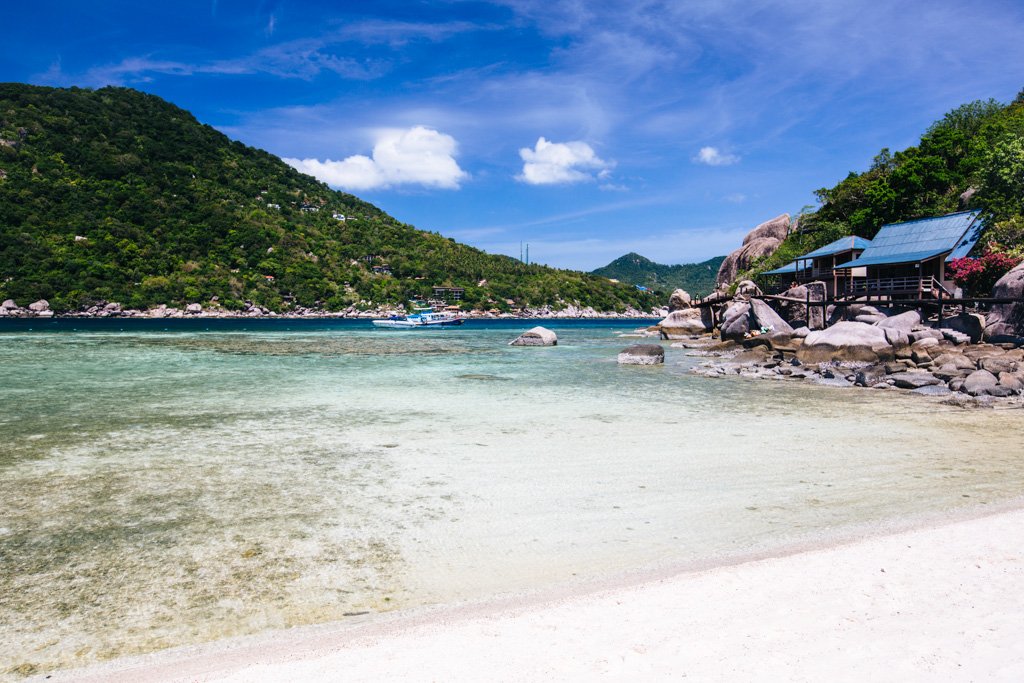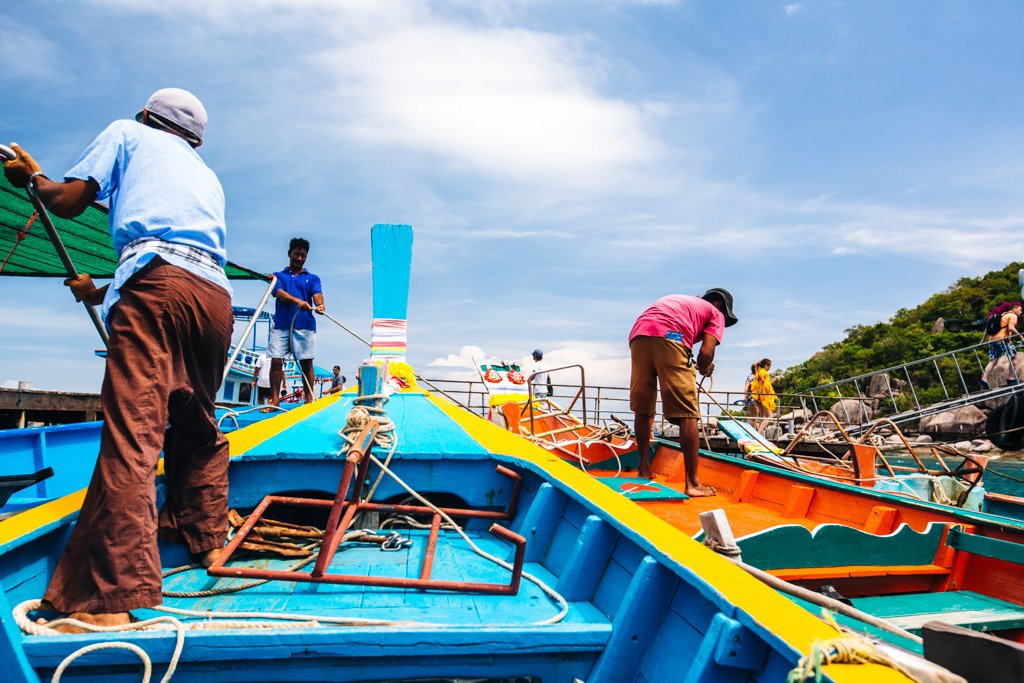 Getting to Koh Nang Yuan
You have two main options when it comes to getting to this little island:
Hop on one of the snorkel boat trips that circumnavigate Koh Tao. They will all stop at Koh Nang Yuan for an hour or two where you can snorkel or enjoy the beach. I saw signs plastered all over the island advertising the Popeye tour for 500 THB (US$14) – normally 750 THB – which is an absolute steal for a trip around the island. HOWEVER: you will have limited time at each stop, will be stuck traveling with a large group of people, and will be on Nang Yuan at its most crowded.
Hire a longtail boat. Right outside the infamous Lotus Bar on Sairee Beach you can hire a longtail boat to take you to the island for 300 THB (US$8.50) return. They may have you join another taxi boat that's already making the trip out there if you are traveling solo. Your 'driver' will ask you what time you'd like to be picked up and taken back to Koh Tao, and will tell you which number boat to look out for at the pier when you're ready to return. If you know you want to spend more than just an hour or two on the island, this is definitely your best option. Go early if you can: the snorkel boat crowds infiltrate the island from 9:30am-12pm, and from 12:30pm onwards.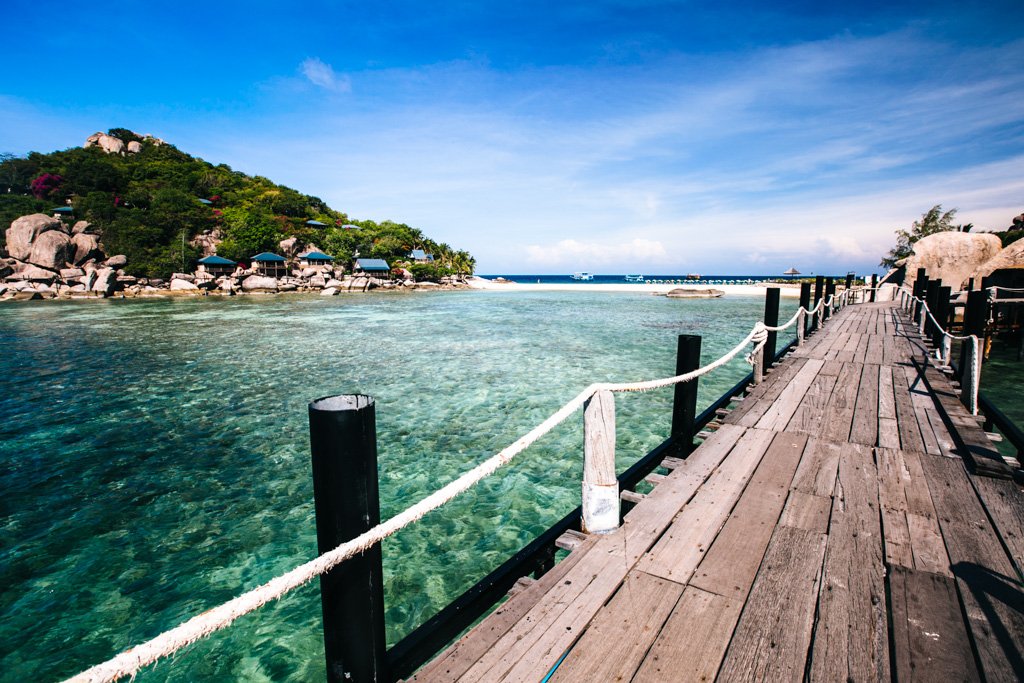 The pier at Koh Nang Yuan.
Koh Nang Yuan Viewpoint
When you disembark at the pier, you must pay the compulsory 100 THB entry fee and discard of any plastic bottles you have on you (yep, it sucked having to throw out the 1.5L of water I had!).
From the pier, you'll glimpse a hill over to your left: this is where you have to hike up to reach the viewpoint. My strategy was to do this first thing before the crowds rolled in, then plant myself on the beach for the remainder of the day.
There's a boardwalk that winds around the lagoon and deposits you at the foot of a very long set of steps leading uphill. It's a quick and easy walk, but you will be drenched in sweat by the end of it (because Thailand is humid AF).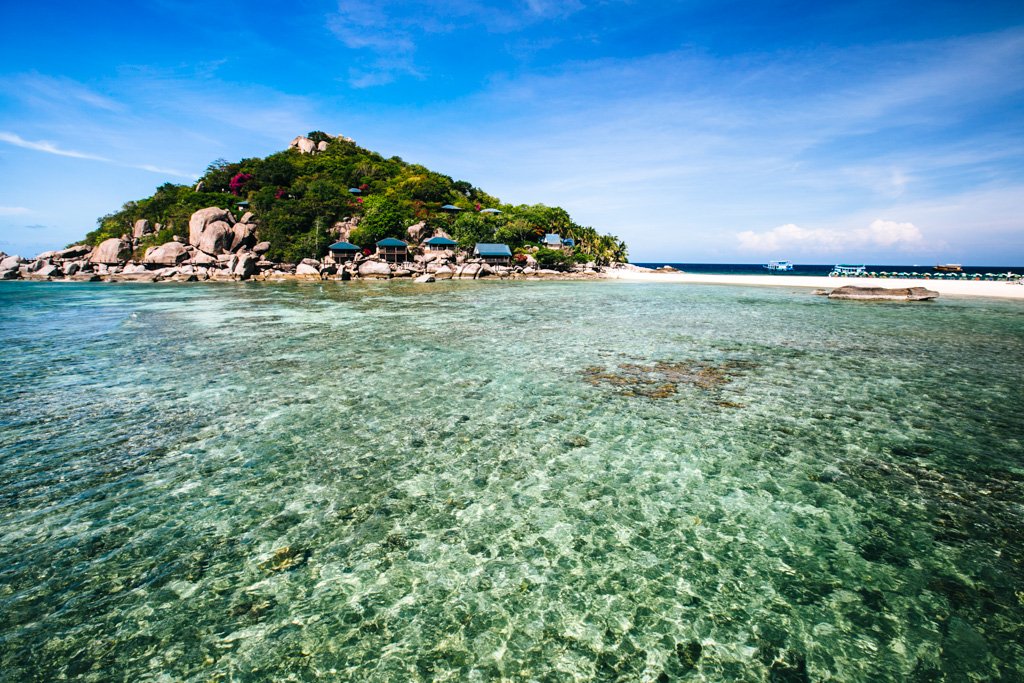 The Koh Nang Yuan viewpoint is at those boulders on the top of the hill here!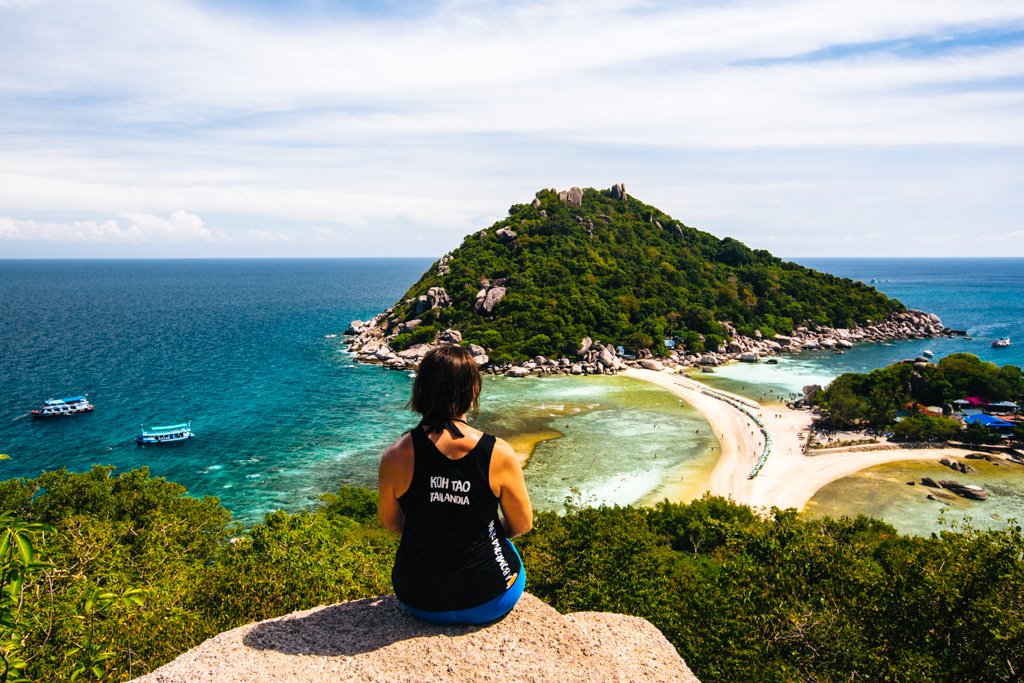 Koh Nang Yuan Beach
Nang Yuan Island has one seriously beautiful strip of white sand beach at which 3 lagoons are parked. The water here is devastatingly blue and comes in an array of shades.
It may look like fine white sand that you just want to stick your toes in, but let me tell you that walking on the beach or in the water is not the least bit comfortable. It's actually comprised of coral bits, and out in the water there are larger chunks of reef you'll need to tiptoe around. I have very sensitive feet, so for me getting out of the water required a little cringing dance accompanied by a chorus of "OW! Crap! Arghhhh!".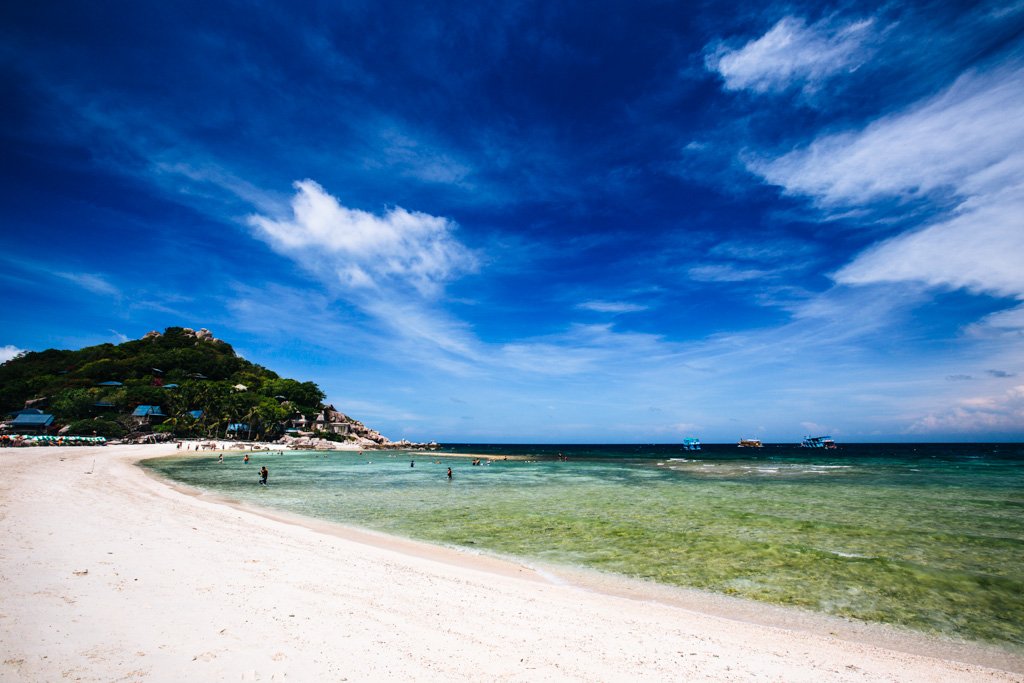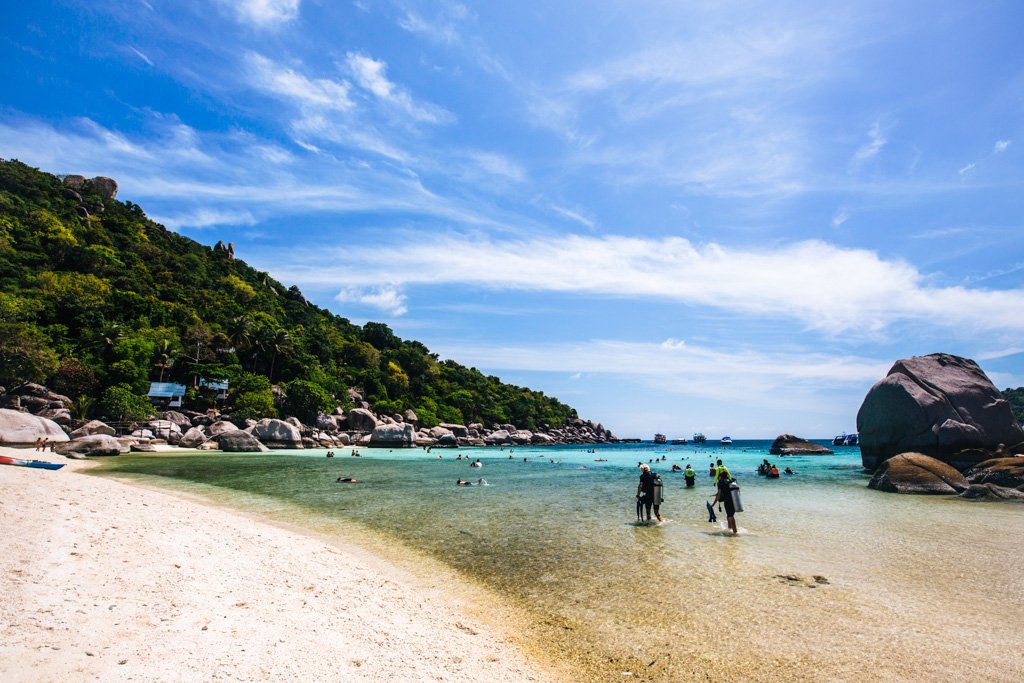 The lagoons at Koh Nang Yuan are much better suited for snorkeling, in my opinion. You can hire gear at the island dive shop.
Alternatively, there's a really fantastic dive site just offshore here called Japanese Gardens where you can get your scuba on. It's a shallow site suited well for beginners and Open Water divers. Dives, too, can be arranged at the dive shop.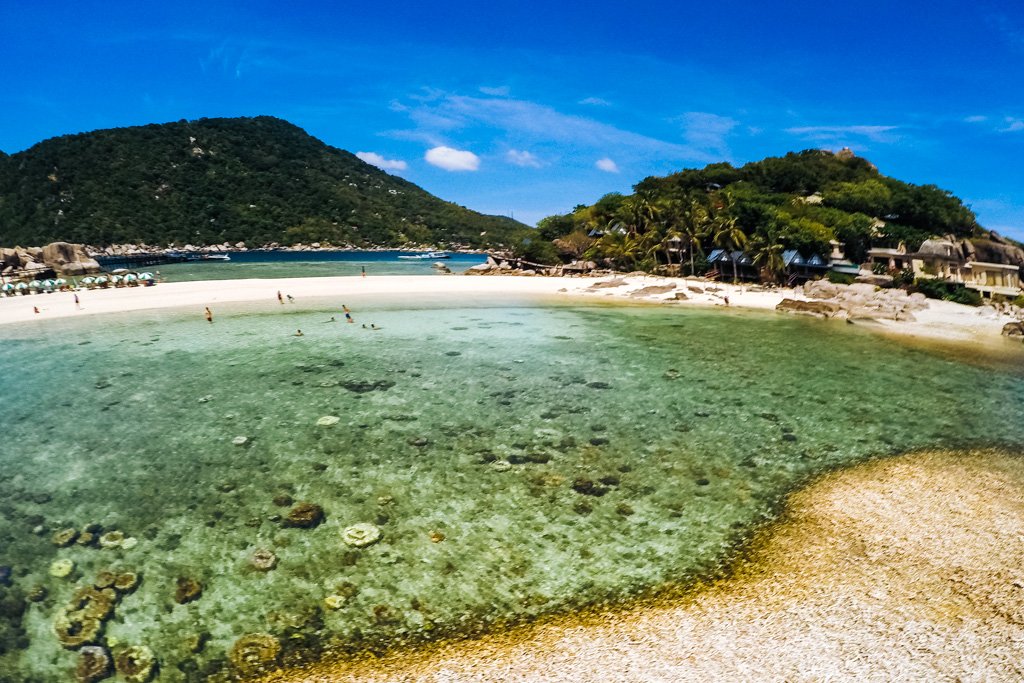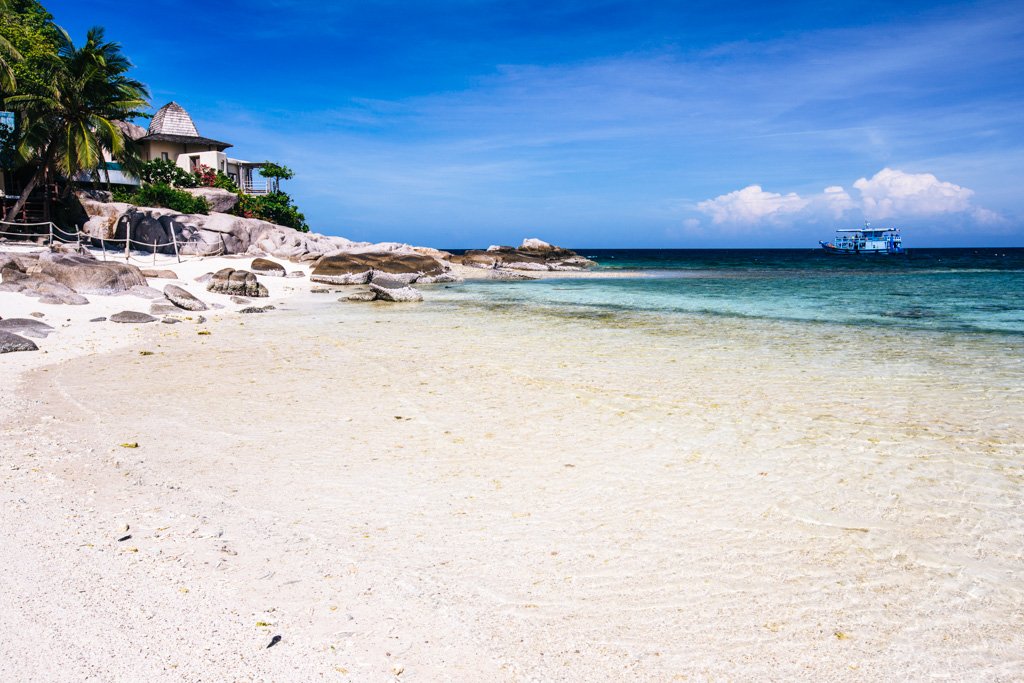 But you know what? I think you could be content just lounging on the beach at Nang Yuan. Strangely you aren't allowed to lay out your beach towels, which essentially forces you to shell out 150 THB (US$4) to rent a lounge chair and umbrella for the day. My first instinct was to hate on this rule, but later I was glad to have a patch of shade to retreat to when the sun felt too strong.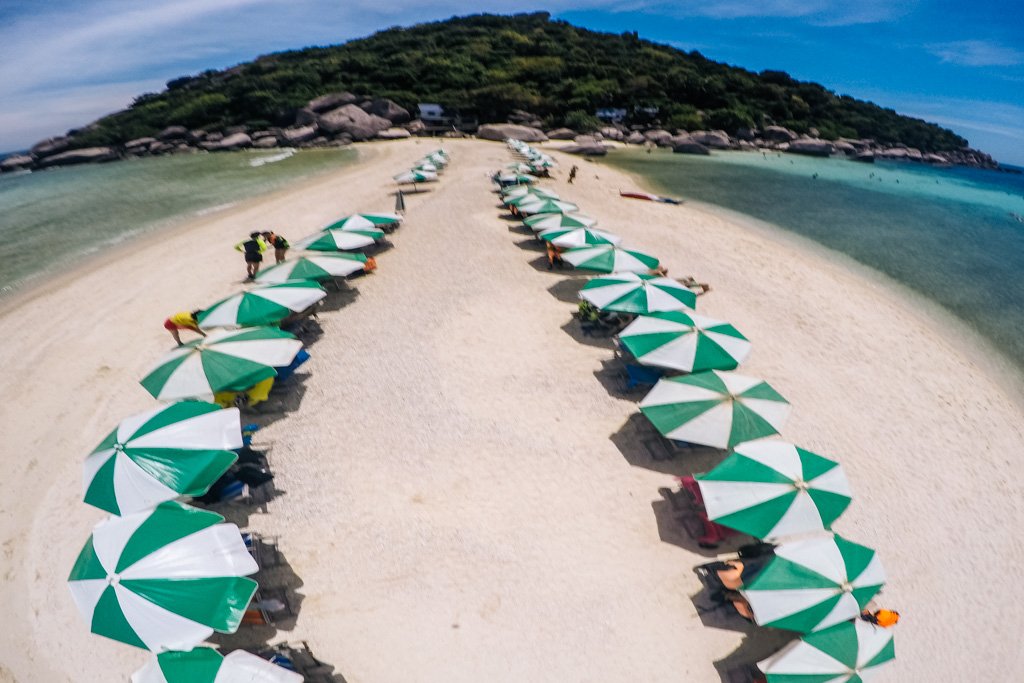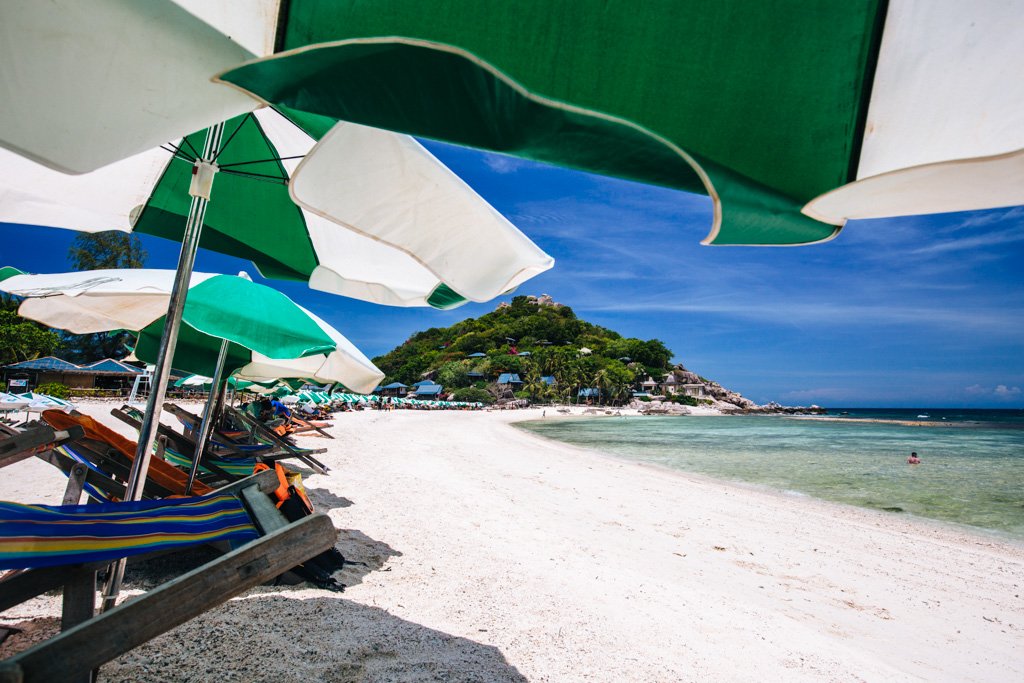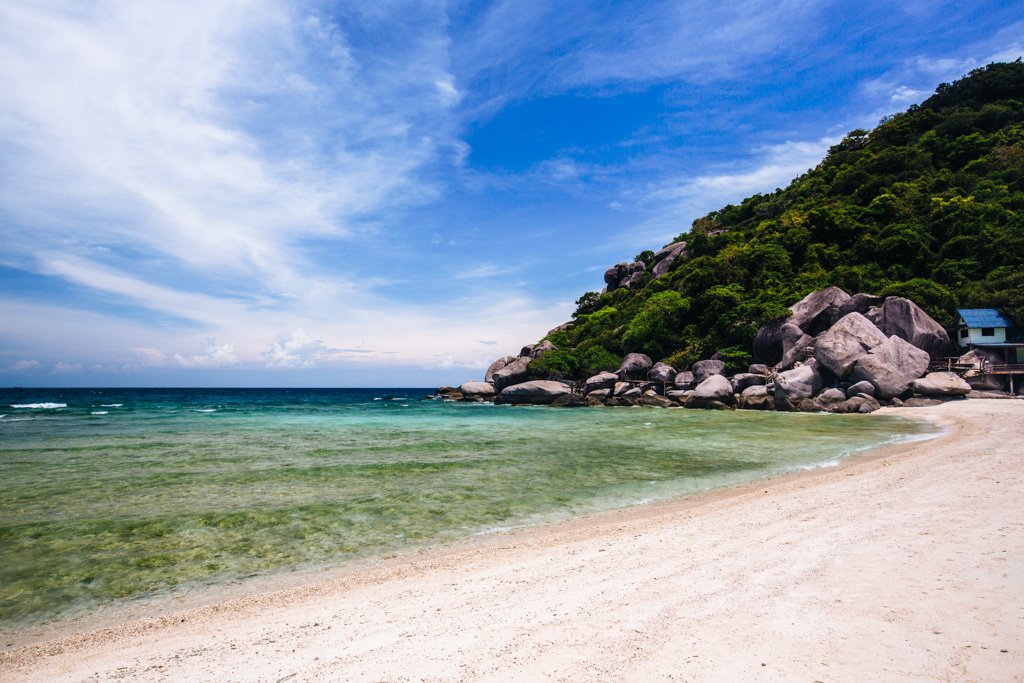 I stayed on the island from 9:15am-2pm and felt like a half day was a solid amount of time to spend at Koh Nang Yuan. A full day of sun and heat would have been just a little too much for me. Like I mentioned above, go as early as you can because come 9:30am, the island will be full of snorkel tour folks and the sea littered with life jacket-clad snorkelers. There was a lull between tour boats from 12-12:30, so I used that time to snap a few people-less photos of the water.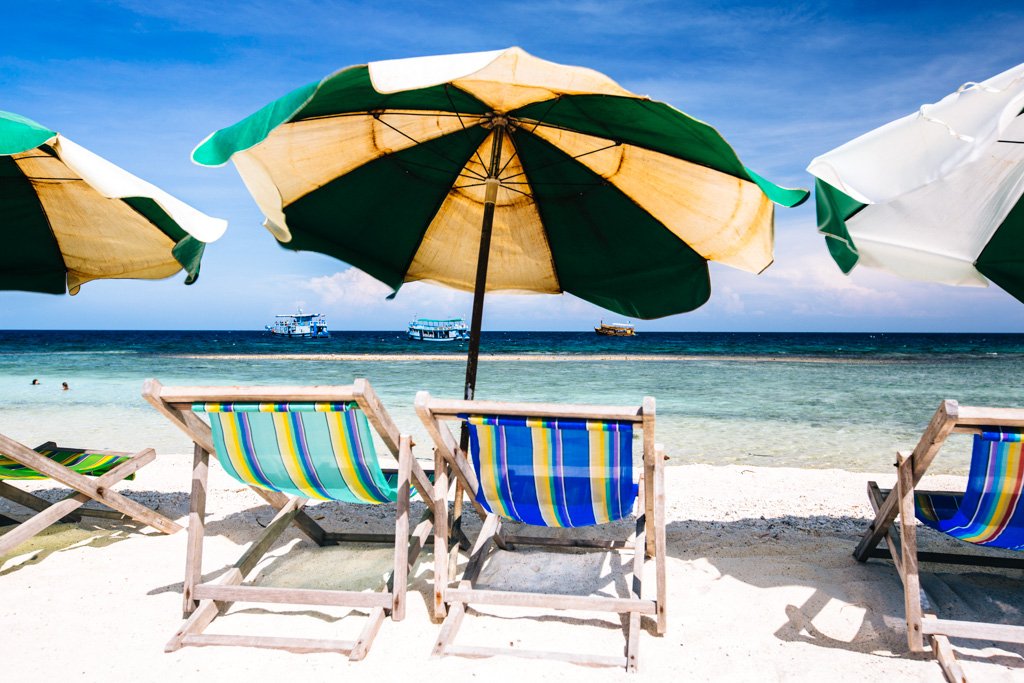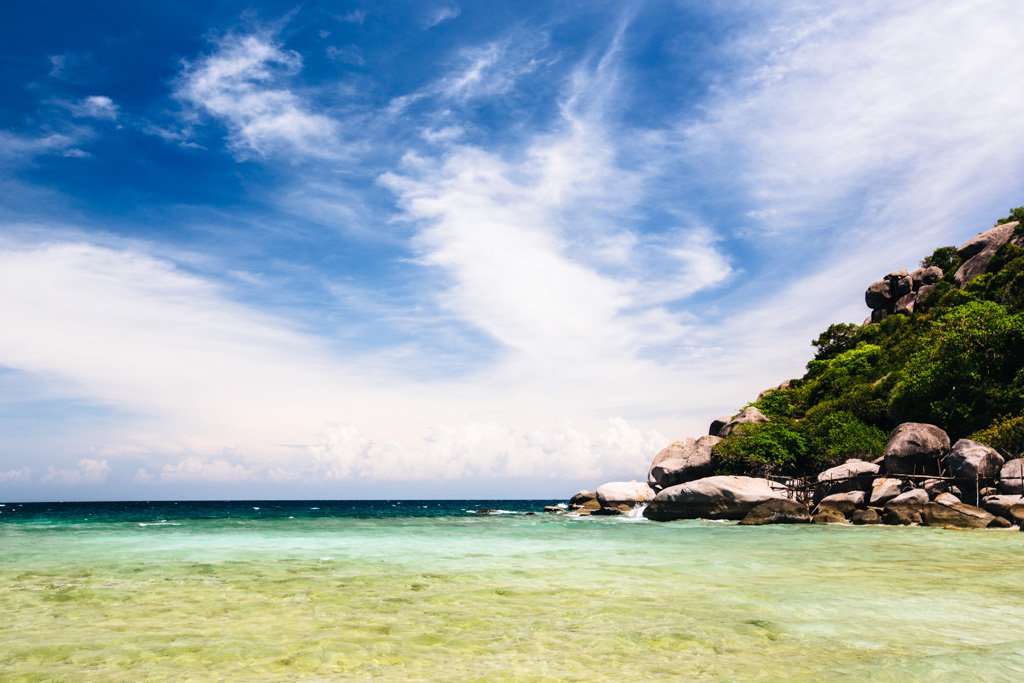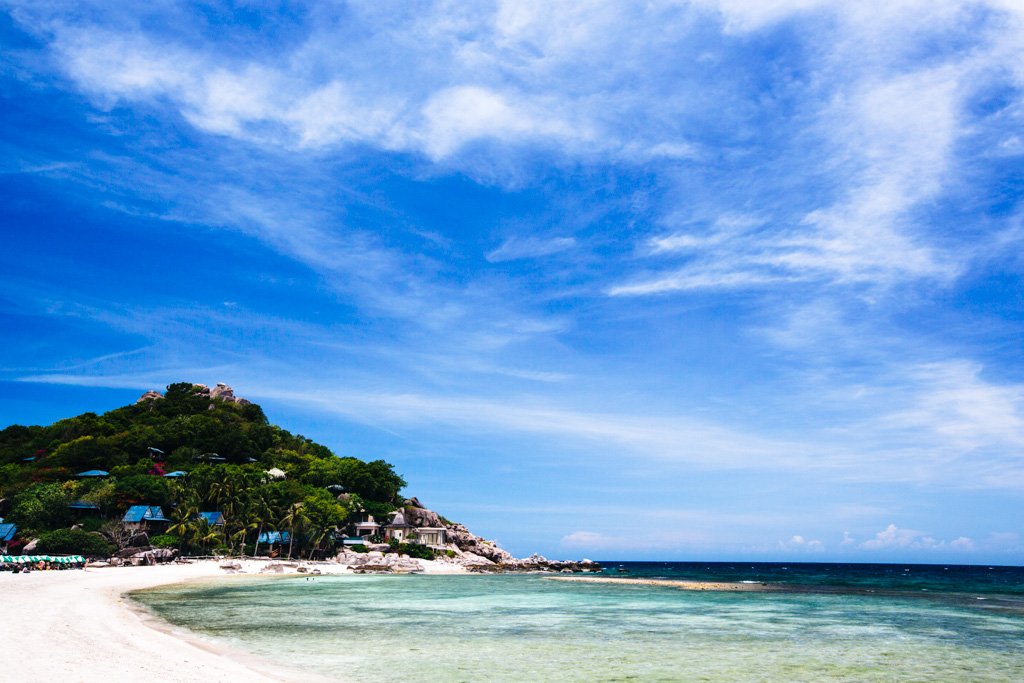 Have you ever been to Koh Tao or Koh Nang Yuan? Does this look like your kind of beach?
Pin it!