I recently embarked on my second road trip around the Hawaiian islands. Someday I will write about the epic adventures I had driving around the Big Island back in my pre-blog days (until then, this guide to trekking to Waimanu Valley will have to do).
But now, let's talk about everything I know about planning a kick-ass Kauai road trip.
First thing's first: we're going to make this a Kauai camping trip. With an island as green and gorgeous as Kauai, you're going to want to be immersed in nature as much as possible. If you are super anti-camping, you could always book Airbnbs around the island though honestly, there aren't that many and the ones that exist are pretty expensive for what they are.
So let's camp in Kauai!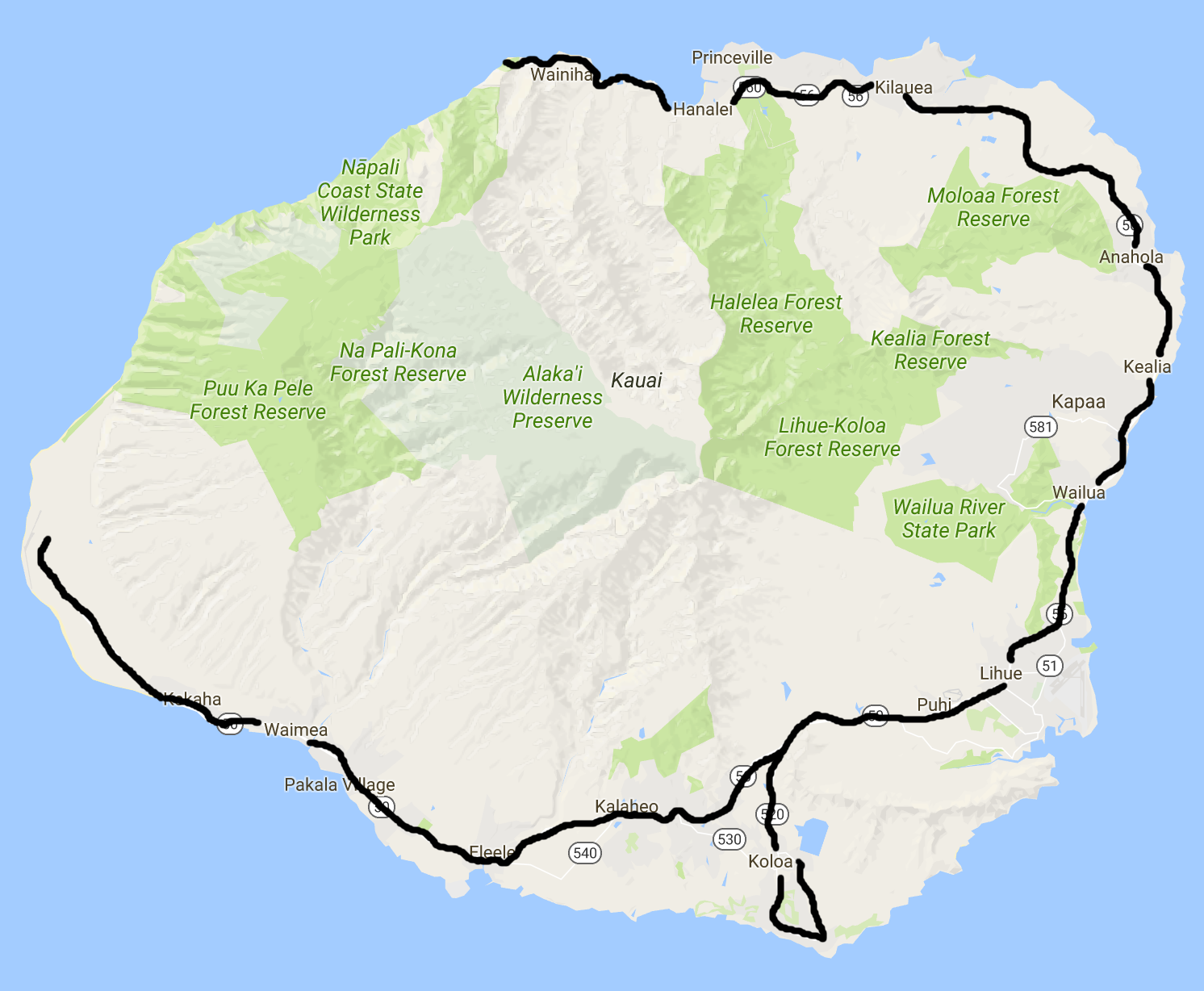 After two years of living in Australia and being used to traffic on the left side of the road, not to mention 3+ years of not driving, I was extremely nervous to get behind the wheel in Kauai. Like most things we worry about, I needn't have fretted because the driving was easy and slow-going on the island. Remember, you're on island time, and that means no rushing, ever. It takes about an hour (maybe slightly more) to drive from Lihue to the end of the road in either direction. Note that you can't drive along the west coast, so you'll have to backtrack to get between the north and south coasts.
I'd highly recommend ordering yourself a copy of The Ultimate Kauai Guide Book before your Kauai camping trip. This book will be your Bible for all Kauai adventures. I had the Big Island version of the book for my other road trip and found some really cool offbeat spots that I never would have known about otherwise, and I'm happy to report the same for the Kauai book. JUST BUY IT – trust me. You will be so glad you did.
Lastly, beware of the roosters! A friend mentioned the roosters to me before I left and I thought, uh, ok then. But then I got to Kauai and suddenly understood. Roosters are ALL OVER the island. They will wake you up before sunrise while you're camping in Kauai. They will try to hop inside your tents and steal your food. In short, they are annoying AF and there's absolutely no thing you can do but embrace it.
Alright, let's get into the nitty gritty for how to prep for your Kauai camping trip!
SEE ALSO: 12 Things You Must Add To Your Kauai Itinerary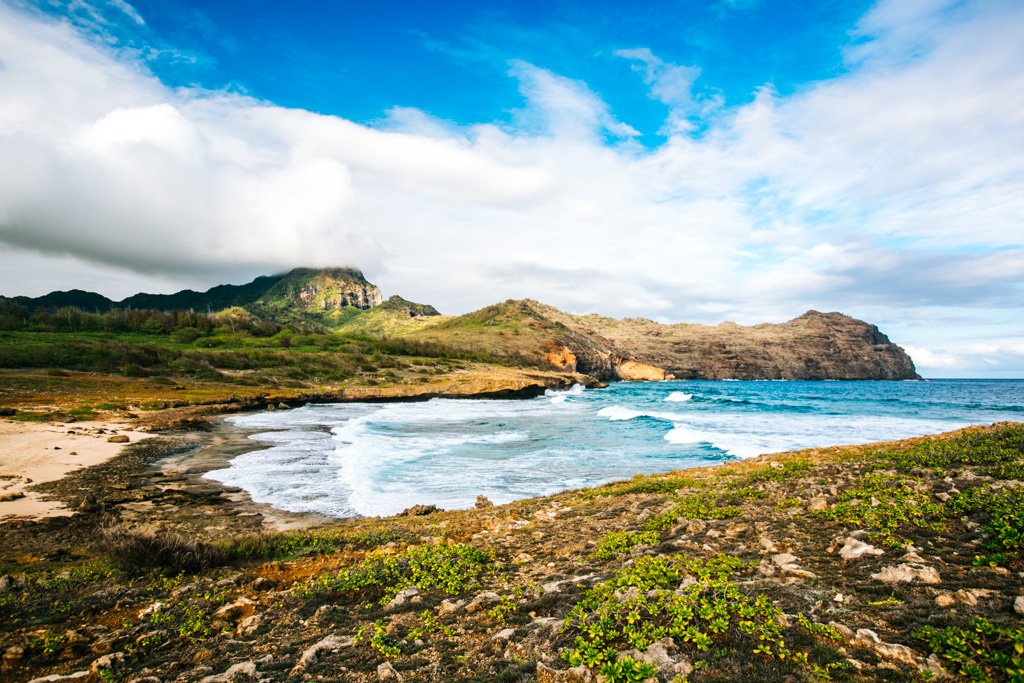 A scene from Kauai's south coast.
Car Rentals in Kauai
Campervan Kauai Rental
Unlike in other gloriously scenic places, campervans are not so much a thing in Kauai. However, if you have your heart set on getting a taste of Van Life, you can rent a VW Westfalia from Kauai Camper Rental ($155/day, cooking supplies included) or a converted camper van from Camperventures Kauai ($140/day + $40/day for cooking supplies).
Renting a camper van in Kauai is definitely pretty pricey; add on to it the fact that van camping is only allowed in two places in Kauai and this option makes even less sense. Still, it's there if you want to splurge on a cool Kauai camping trip experience.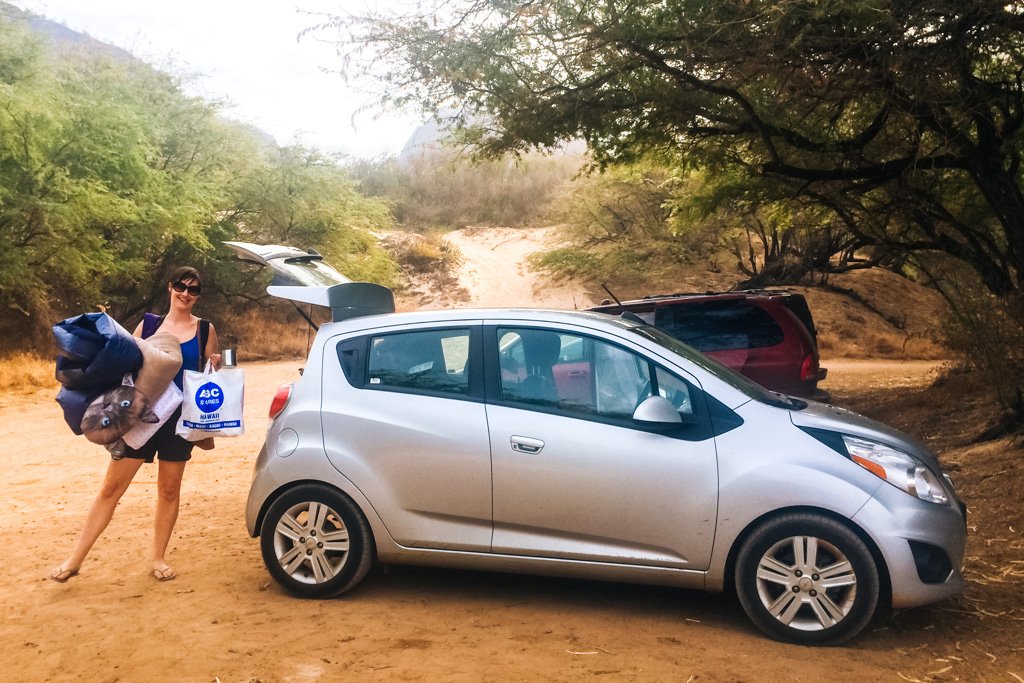 Blanket and creepy cat pillow purchased at Walmart; air mattress brought from home.
Kauai Car Rental
For most people, renting a car and sleeping in a tent will make the most logical and economical sense for their road trip. Kauai car rentals are mostly done in Lihue, near the airport. Most if not all of the car rental companies will provide a complimentary airport pickup/dropoff service to customers, which means you can go straight from baggage claim to the rental counter within minutes.
I don't have any specific recommendations for Kauai car rental companies because to me, the cars are all the same and I just wanted the cheapest option available. I searched on Kayak for car rentals in Lihue and the cheapest I found was a Chevy Spark (aka small-ass car) with Dollar at US$234 for 9 days ($26/day) without add-ons. This was the smallest and cheapest option available one month in advance and was definitely… cozy for two people and massive amounts of luggage and camping gear. If you have more than 2 people for your Kauai camping trip I'd recommend shelling out a bit more money for a roomier car. We didn't pay for any insurance add-ons because my Chase Sapphire Reserve credit card provides insurance on any car rental booked with the card.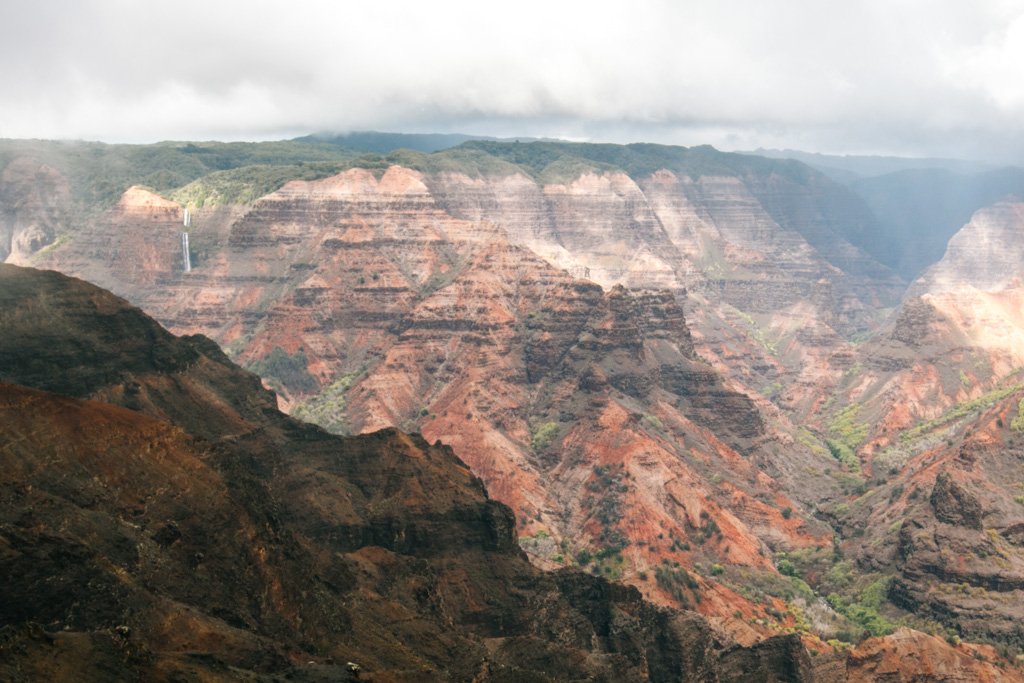 Waimea Canyon.
Camping Gear & Other Supplies
When it comes to being well equipped for your Kauai camping road trip, you'll either need to bring, buy, or rent your gear – or some combination of the three.
Buying Camping Gear
Because I'd be hiking the Kalalau Trail after my Kauai camping road trip, there were a few key camping/hiking items of mine that I definitely wanted to bring with me because I knew they a). Worked well, and b). Were easily carry-able on hikes. So I had my own tent and sleeping mat and literally nothing else I needed for camping in Kauai when I got there.
Thankfully there's a Walmart and a Kmart in Lihue where you can find most everything you'll need for road tripping and camping in Kauai, and for super cheap! Walmart had tents for $28, sleeping bags for $25, and air mattresses for $15, but note that the cheapest options may or may not actually be in stock when you do your shopping. We also sourced a decent portion of our food stuff from Walmart and supplemented it with fresh produce from the supermarket.
Pro Tip: Skip the sleeping bag and buy cheap sheets and a fleece blanket at Walmart instead. It's not cold enough at night in Kauai to need a sleeping bag (unless you're camping at Koke'e).
Renting Camping Gear
If you only have a few days for camping in Kauai, or don't want to buy any extra gear upon arrival because it won't fit in your luggage to take home and you don't want to throw it out at the end, then you may want to rent camping gear in Kauai.
Kauai Camper Rental offers tents, hammocks, sleeping pads, stoves, chairs, and other camping supplies for daily or weekly rental. Their smallest tent option, the 4-person tent, goes for $15/day or $65/week.
Kayak Kauai in Kapa'a (20min north of Lihue) has tents, stoves, sleeping bags, sleeping pads, packs, trekking poles, guidebooks, maps, kayaks, and paddleboards available for rental. Their smallest tent option, the 2-3 person tent, costs $15/day.
If you're looking for both camping and other outdoor gear, Kayak Kauai is probably your best bet; if you mostly just want all sorts of camping gear, Kauai Camper Rental has a more extensive array of options.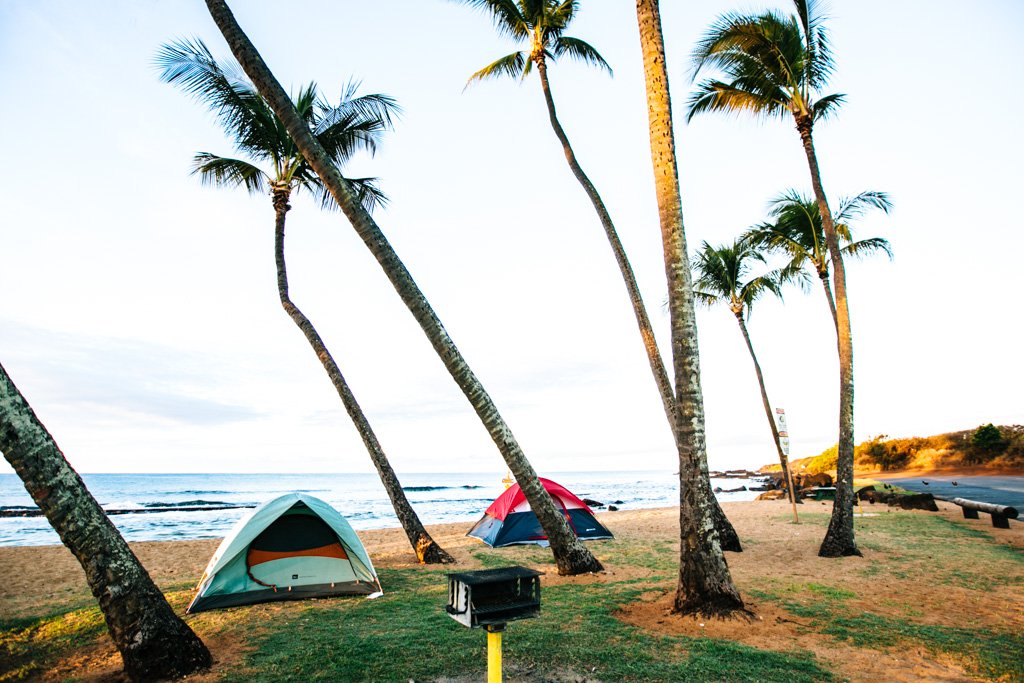 Camping at Salt Pond Beach Park in Kauai.
Where To Go Camping In Kauai
In general, there's no freedom camping in Kauai which means you must book and pay for your campsites in advance. County park campsites are cheap, right on the beach, and have basic facilities while state park campsites are a bit pricier but more remote and immersed in nature.
Camping in County Parks
Kauai County Parks offer the best value accommodation around. For just $3/night per person, you can pitch your tent on a plot of grass with a view of the beach, BBQs, and a bathroom block nearby. There are currently 7 beach parks open for camping, but each one closes on a certain day of the week to prevent people from squatting at one park for too long.
You can't book your campsites in advance online, only by regular mail with payment via check aka NOPE. But don't worry, you won't have any issues waiting until you arrive to book your campsites with cash. Check the Kauai County website to find out where you can stop in to book your camping permits. Permit locations are only open on weekdays during normal business hours.
Be sure your permit is visible inside the clear sleeve provided with them, and attach the sleeve to one of your tent poles once you pitch your tent. Park rangers routinely check permits, often at the crack of dawn, and will wake you up if they can't see that you have a valid camping permit for that night.
A Note on Safety

Kauai County Parks are open and easily accessible off of main roads, so there is a chance of crazy characters venturing into the park where they don't belong. We experienced one such character at Haena Beach Park on the North Shore, who bumbled into the camping area babbling and then shouting around the bathroom block around midnight. Another camper must have called the police because the cops came shortly after and roamed the park with flashlights searching for him. I slept through the entire thing so I can't say I was scared, but I'd advise being cautious and maybe pitching your tent near others.

Kauai camping at Polihale Beach.
Camping in Kauai State Parks
Kauai State Parks offer a few beautiful campsites that are immersed in nature and removed from the main roads:
Polihale State Park – Accessible via a very long dirt road, this campsite is well worth the bumpy drive because you get to camp right in the sand dunes and watch sunset over Kauai's west coast. (There is much discussion re: getting stuck in sand on this road and car rental companies not covering any damage or towing – personally, we were absolutely fine driving slow on the road and just avoided any sandy bits and didn't get stuck.)
Napali Coast State Wilderness Park – This is the campsite to book if you're hiking the Kalalau Trail (the permit is good for either Kalalau Beach or Hanakoa). Be sure to book as far in advance as you can because permits sell out early.
Koke'e State Park – Makes a great base for exploring nearby Waimea Canyon and the Koke'e State Park trails, but it gets significantly colder here at night due to the higher elevation.
These campsites can be booked online in advance and cost $18/night per site ($20/night for Napali Coast campsites). They include toilet blocks and possibly a seating area, but no electricity. You should probably print your permit out and have it on hand in case a ranger stops by to check, but because the state parks are so remote they aren't around every day to do this.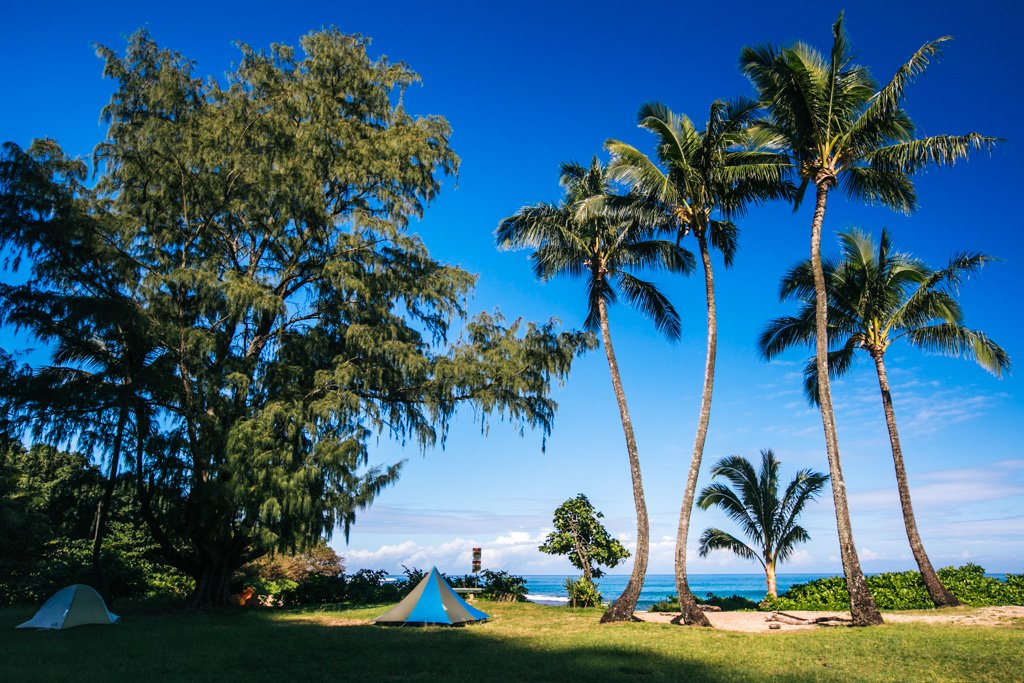 Camping at Haena Beach Park.
Other Kauai Camping Options
Well, there aren't many other options, BUT… we did accidentally come across Kumu Camp while trying to reach Anahola Beach Park after dark, thanks to a wrong turn. Their tent sites cost $20/night and are nestled in the trees behind Anahola Beach. With the fairy lights at night and the privacy of having our own campsite, it was a nice change from sharing a grass lawn with several other campers. They also have some affordable bungalows for rent.
We were able to walk in and pitch our tents without a booking, but if you know in advance that you want to book a campsite, you can do that via the Kumu Camp website.
Splurging on a Hotel
I've become a very big fan of breaking up a lengthy camping trip with a night or two in a really nice hotel. I find sleeping in a ridiculously comfy bed and indulging in other luxury comforts such a treat after several days of roughing it. Even with this splurge, you can save money compared to if you had spent every night in a budget hotel or Airbnb.
Now, you could either save the hotel splurge for the end of your trip if you can't bear the thought of downgrading to a tent again afterwards… or you could schedule it more towards the middle of your trip so that you have a chance to clean up and refresh yourself before venturing back out into the wild for your second camping stint.
We chose the latter and went all out by booking a night at the St. Regis Princeville. I'd also been looking into booking a room at the Grand Hyatt Kauai near Poipu, but ultimately we decided we wanted to luxuriate with the scenic backdrop of Hanalei Bay on the North Shore instead of the rocky south coast.
We were absolutely kicking ourselves for not booking two nights because we loved this hotel SO MUCH. But then we hit the road again and returned to the rustic comforts of our trusty tents and loved being back in nature, too. Splurging on a fancy hotel in the middle of our Kauai road trip was an excellent decision for us.

Infinity pool at the St. Regis Princeville.
Travel Insurance For Hawaii
Last but not least: don't start your Kauai camping trip without booking travel insurance! It can cover you in the case of a car accident, injury from an adventure activity, or travel/baggage delays.
As I always do, I got my travel insurance through World Nomads. I'd already had a 6-month policy from previous travels that covered me during my Hawaii trip, but I bought a 3-week extension to cover me for the remainder of my time in the US. 3 weeks of coverage costs $89, while 6 months of coverage costs $335 and is the best value policy they offer.
Use the form below to see how much travel insurance for your Hawaii trip will cost:
Pin it!