Sign #642 that you're not a winter person: Every time a snowstorm hits, you instantly think of warmer times. Of sunset bike rides, picnics in the park, island getaways, sunburnt naps on the beach, tanktops and flip flops.
Thanks to Winter Storm Janus, I'm powering through the cold, snowy weather with thoughts of Colombia and Hawaii: imagining what my upcoming inaugural trip to South America in 2014 will entail, reminiscing over a 10 day roadtrip around the Big Island in 2012.
Oh gosh, Hawaii. Bright blue waters, sand of all colors, ridiculous landscapes, and 80-degree weather. I would 100% rather be back there than trudging through snow and slush right now, but the closest I'm gonna get to that is looking through old photos, a la my Hawaii instagram.
Big Island
Mauna Kea
We flew into Hilo and made our way around the Big Island in a counterclockwise direction, our first major stop being Mauna Kea. I was interested in seeing the crazy, Mars-like landscape in the clouds; the invisible cows were an added bonus!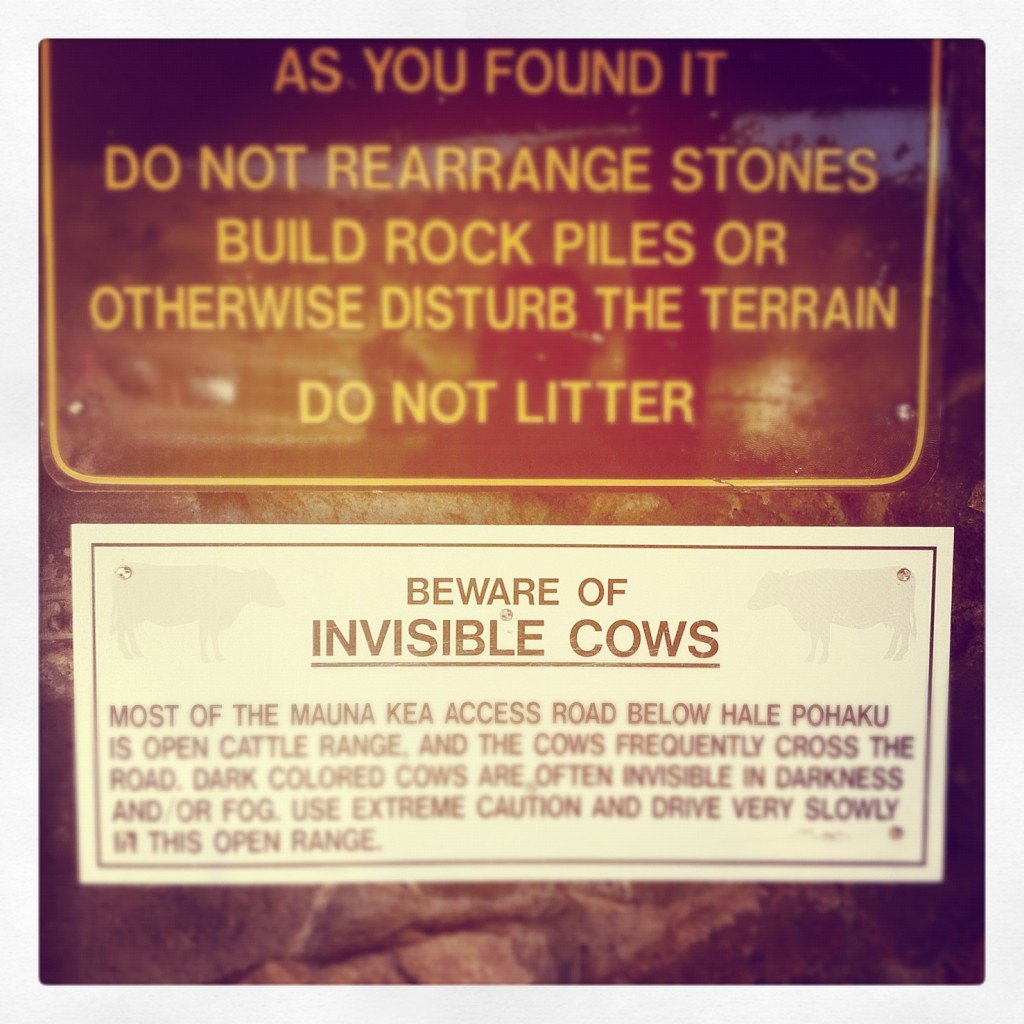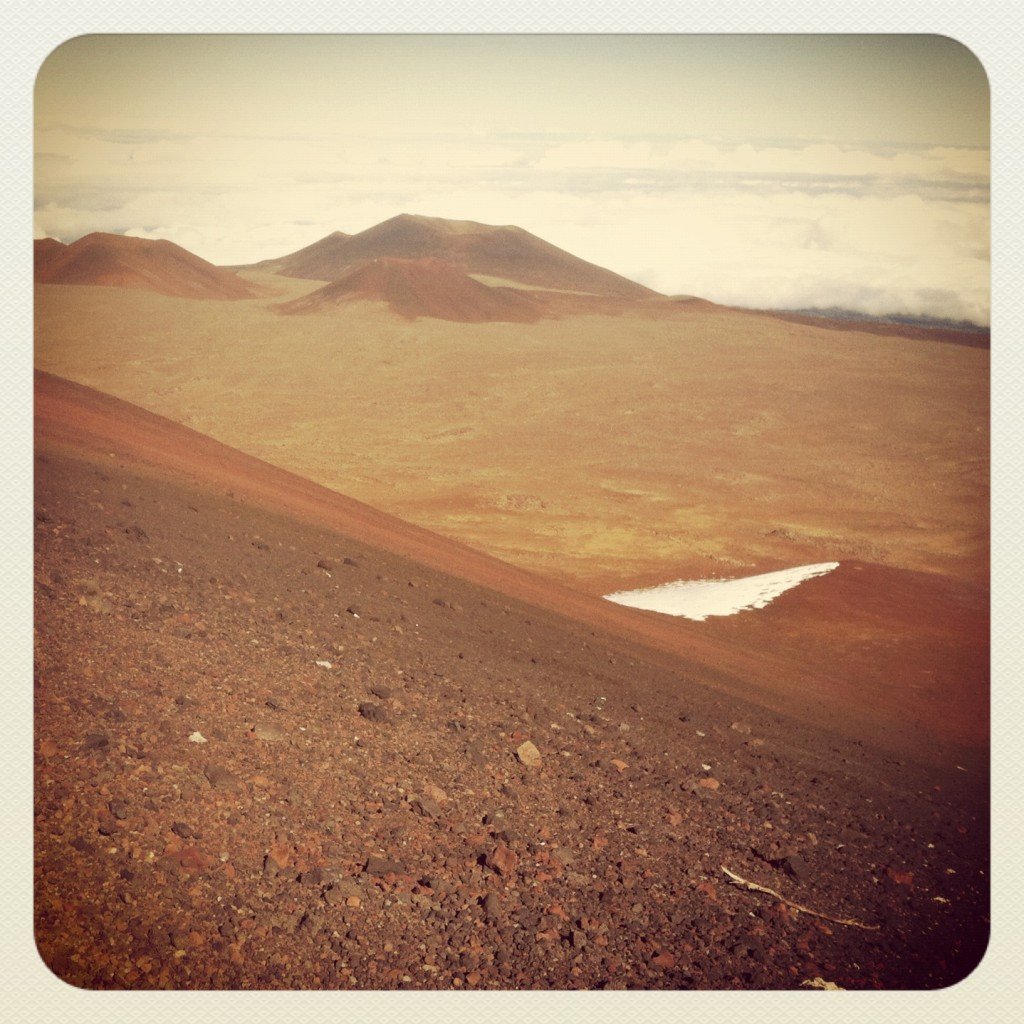 Waimanu Valley
Ah, the pièce de résistance of the trip: a 3-day hike to Waimanu Valley, only accessible by trail (and perhaps emergency helicopter). It was my first time hiking with my massive backpack, as I carried our tent, food, and a sleeping bag – and it nearly wrecked me. NEVER AGAIN, I decided, would I carry a bag that heavy on a trek – which is precisely why, a year later, I hired a porter to carry my gear on the Everest Base Camp trek.
All the blisters and shoulder scarring was worth it for what awaited us in the valley: an untouched oasis where we pitched our tent, hung our hammocks, and harvested our own coconuts. We also got hopelessly lost trying to reach a waterfall in the nearby jungle. Waimanu was undoubtedly one of my greatest adventures ever.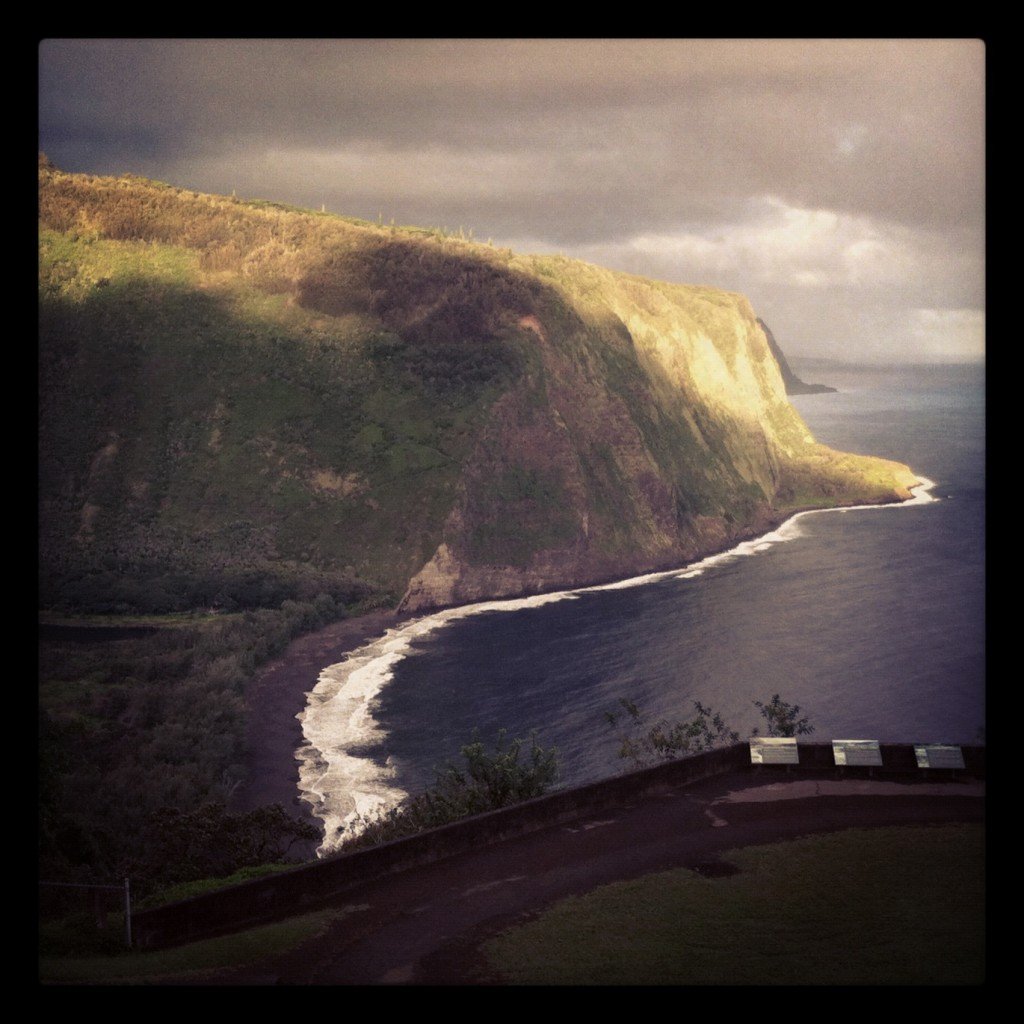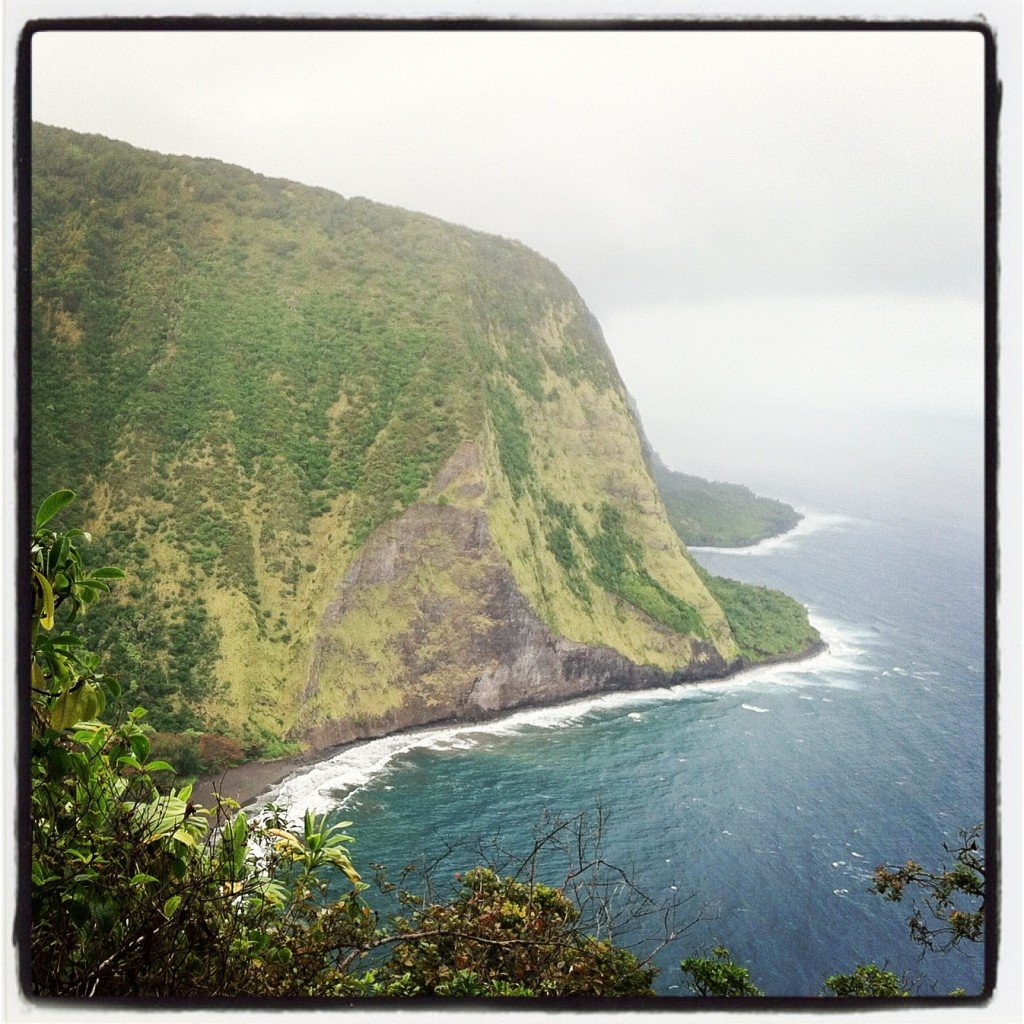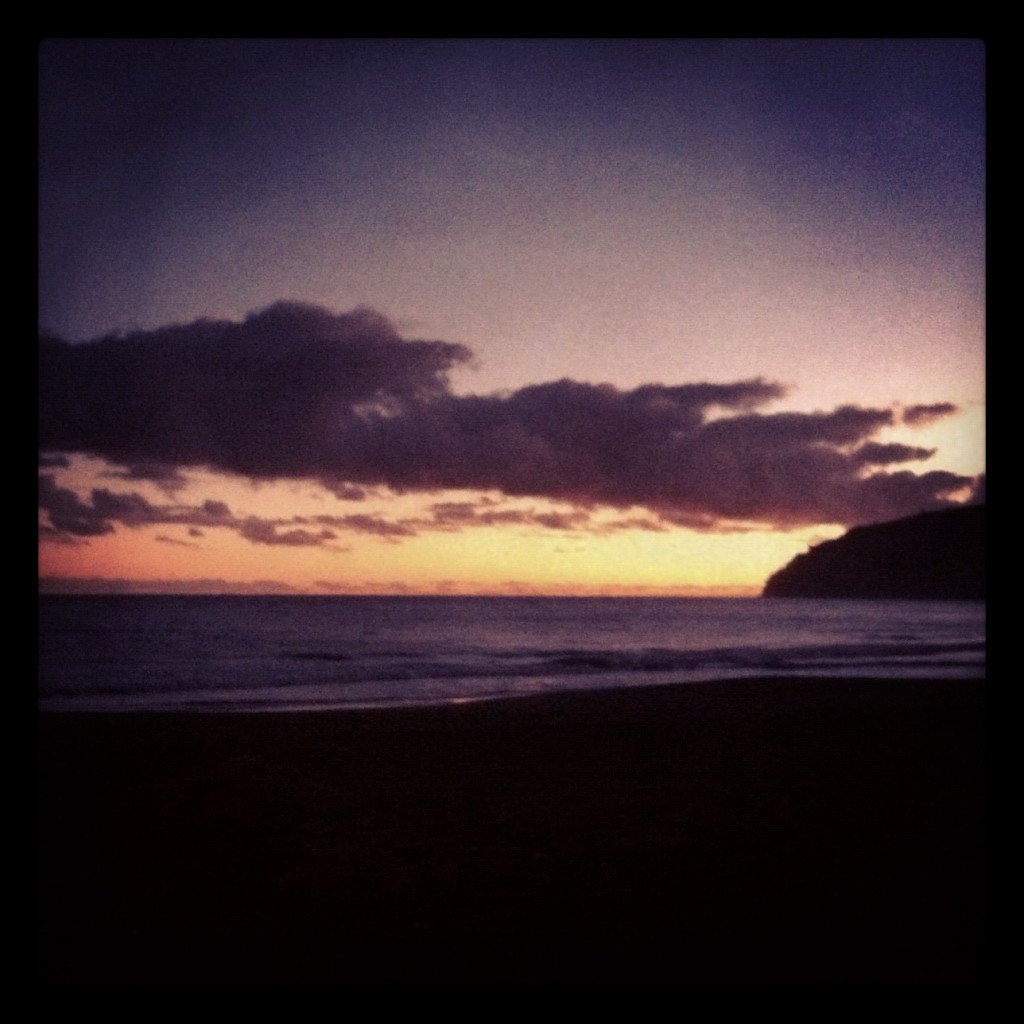 Kona Coast
You can't go wrong with the Kona coast, what with it being a dry 80 degrees every day and hosting the kind of beaches that dreams are made of. All I wanted on my 27th birthday was to eat pancakes and plop myself on a beach: the whiter the sand and the bluer the water, the better. MISSION ACCOMPLISHED, and then some! No trip to Kona is complete without a stop at a coffee farm, particularly if you're a coffee snob (who, me? NEVER).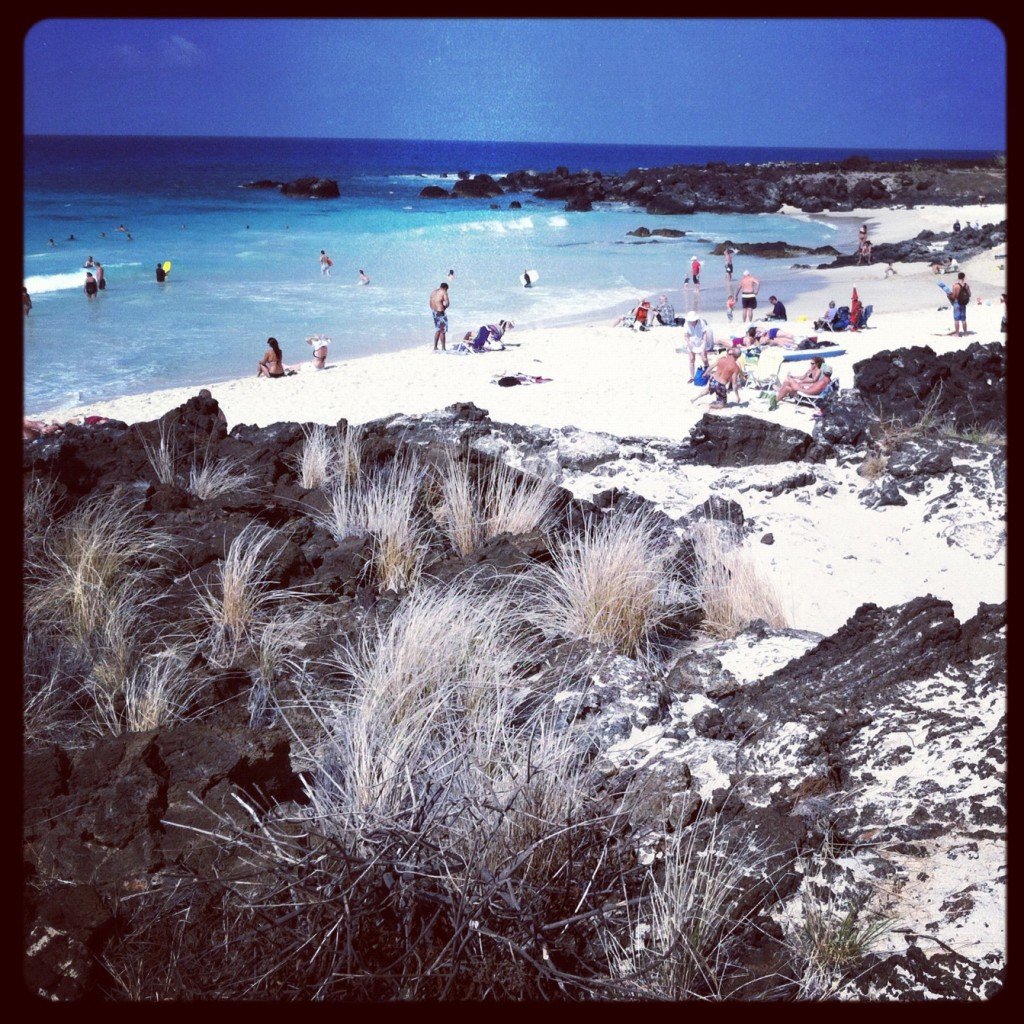 South Coast
Too much white sand? No problem; there are green sand and black sand beaches on the south coast. Personally I'll hang my hammock on any of the above, but it DID look especially snazzy over the black sand.
In between beaches, we drove down a ridiculously windy road to the southernmost point of the USA – and let the record state that both Lauren and I, uh, left our mark here… ifyaknowwhatimean. Technically she left hers ever-so-slightly further south than I did, but I say it's close enough to be a draw.
Hawaii Volcanoes National Park
To be honest, I was a little underwhelmed by Volcanoes National Park – until at night, when we were drawn from our campground toward a glow just across the street. It turned out to be LAVA glowing! The volcano wasn't erupting, but it was still crazy-bright and crazy-cool to see.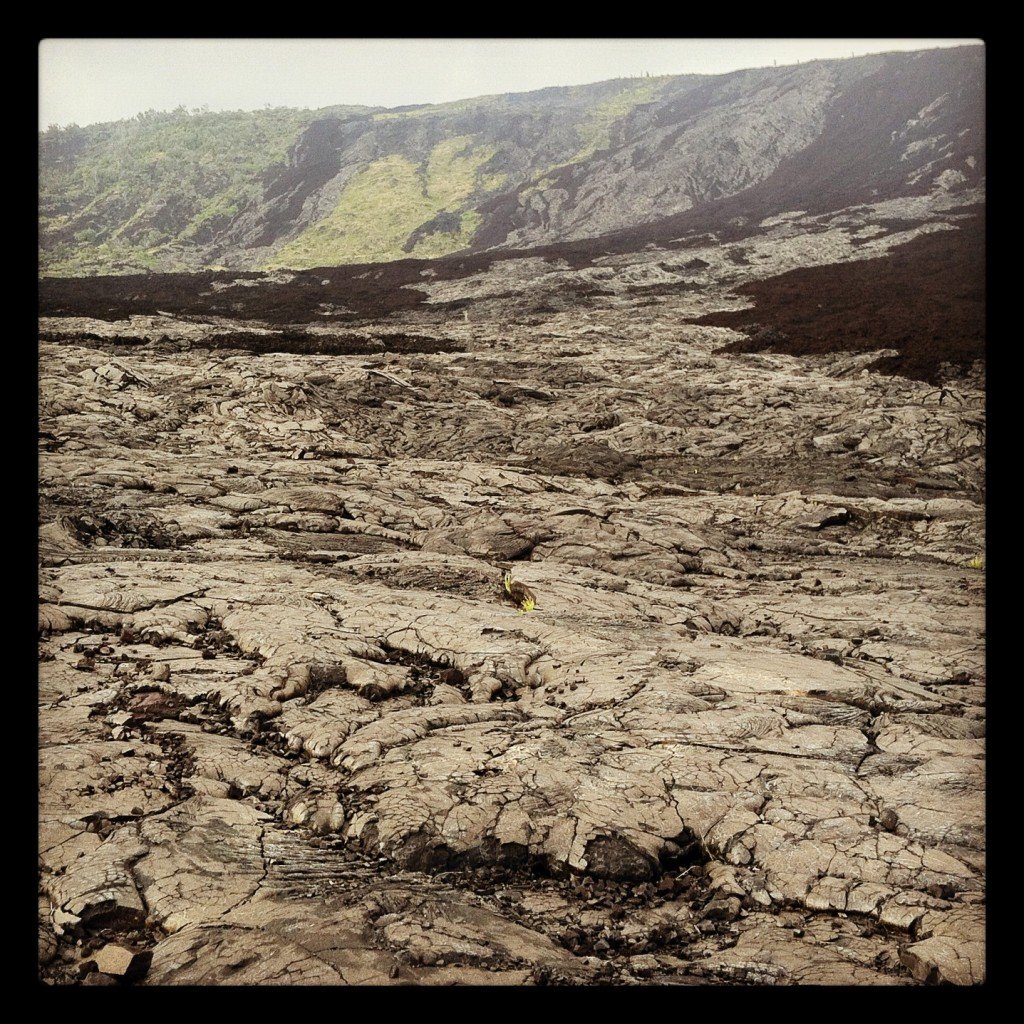 Hilo / East Coast
The east coast of the Big Island is understandably overshadowed by the rest of the island, but it holds its own with all its waterfalls and natural hot springs. My favorite part was navigating to some random milemarker, parking our car on the side of the road, and aimlessly walking into the bush in search of natural saunas. More often than not we'd approach a large rock and find it to be… well, just a rock. But we always held out hope that we'd see a bit of steam seeping through, and then we'd crawl through the opening to find a wooden bench or ladder inside that the locals had brought in to use while enjoying the sauna.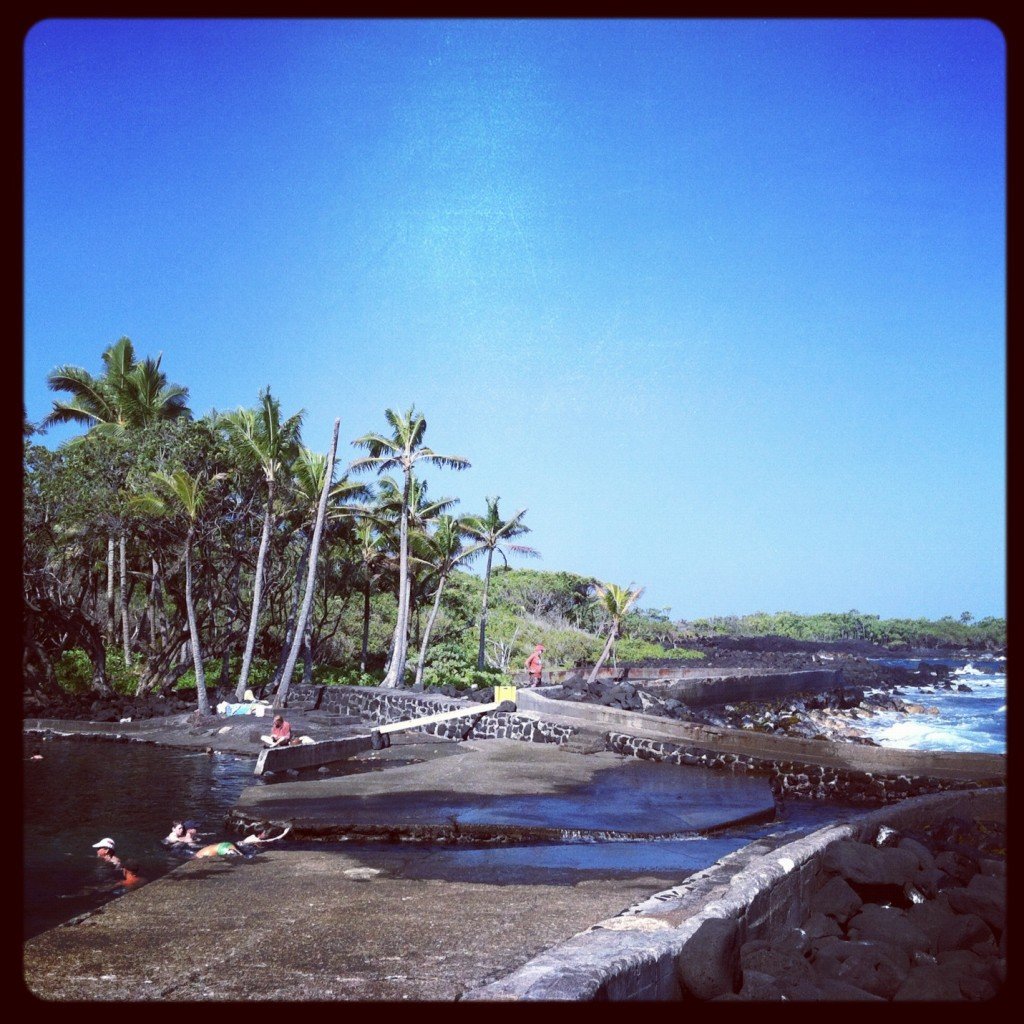 Honolulu & Waikiki Beach
When we originally booked this Hawaii trip, we thought ending it with a few days in Honolulu at the Hilton on Waikiki Beach would be a nice treat – a reward to lasting 10 straight days camping and trekking and being frugal backpackers.
But honestly? I enjoyed roughing it on the Big Island way more than the luxury and social scene we experienced back in civilization in Honolulu. I will never be a Hilton hotel kind of girl. I will never enjoy the club scene, not even when I travel. But above all – I will never lose my lust for infinity pools! (Marriot infinity pool, I will be back for Round 2!).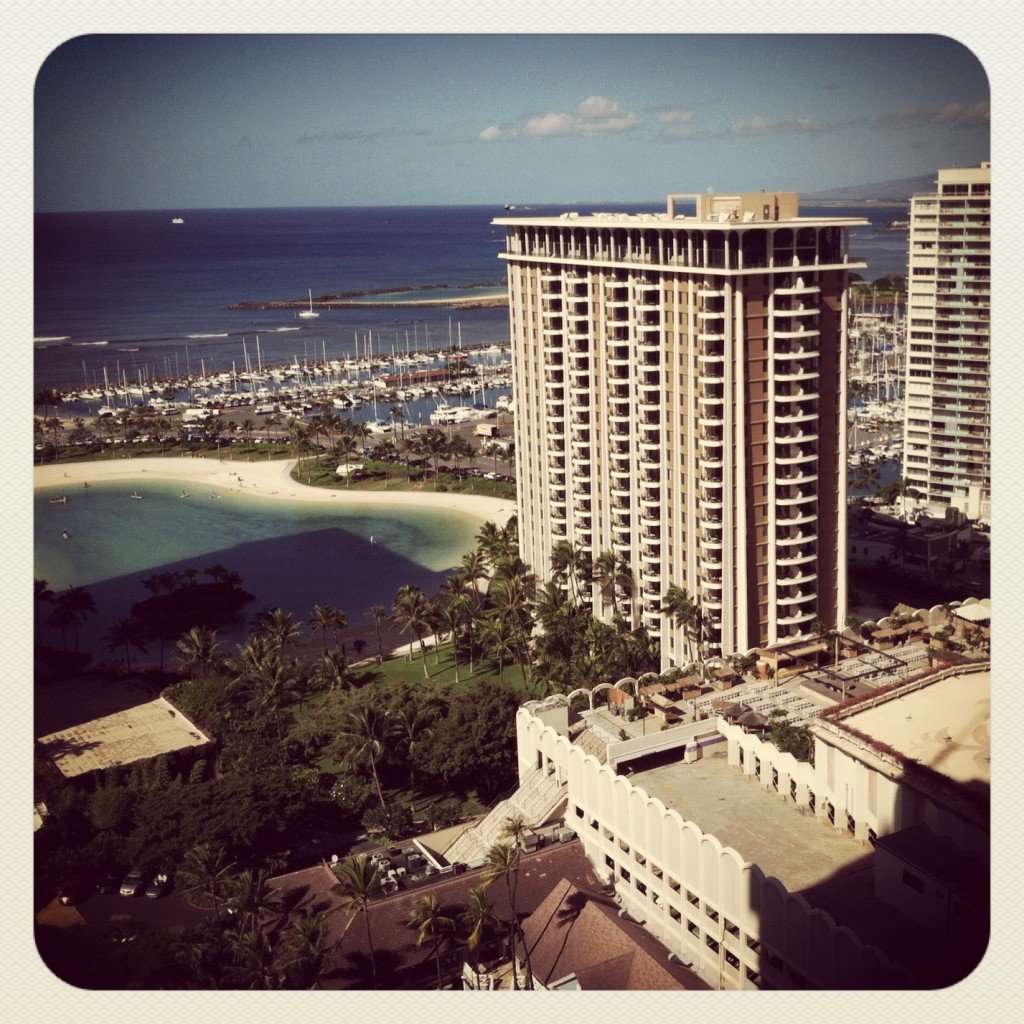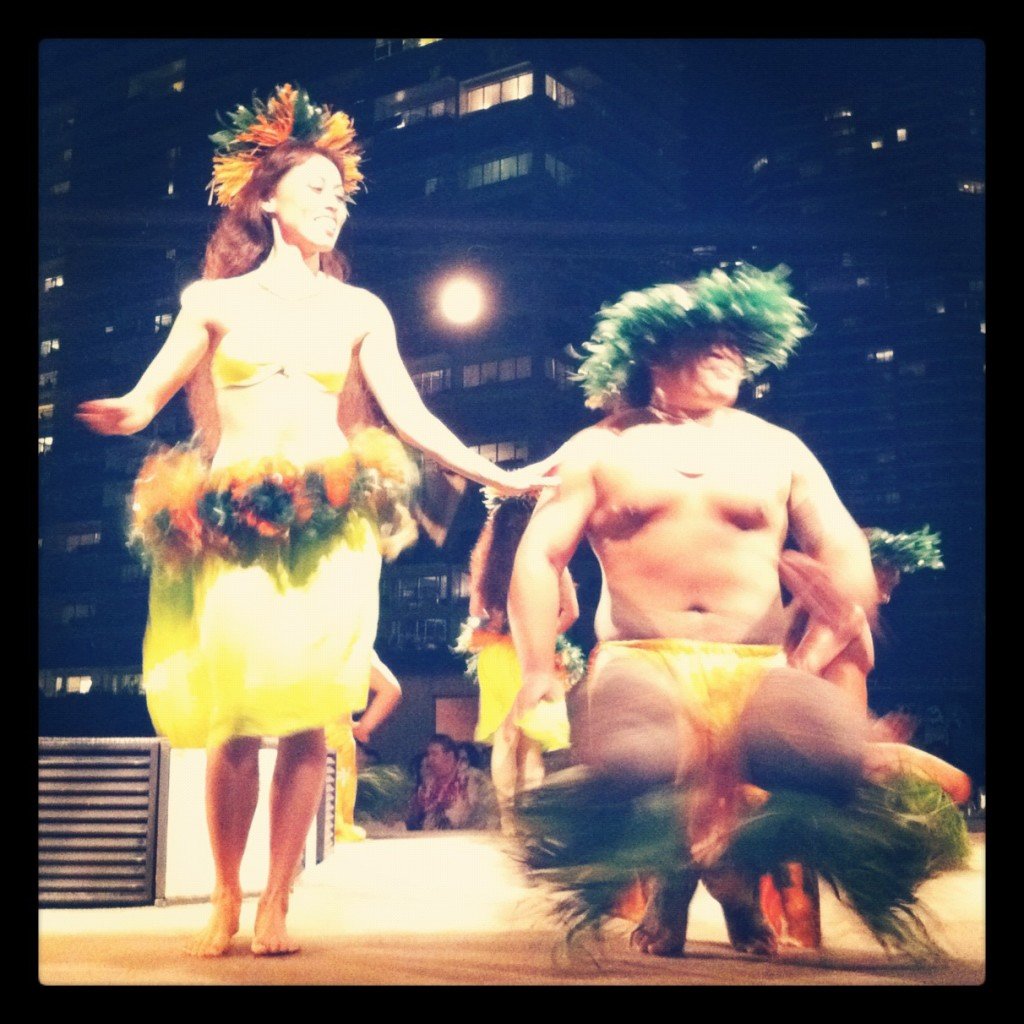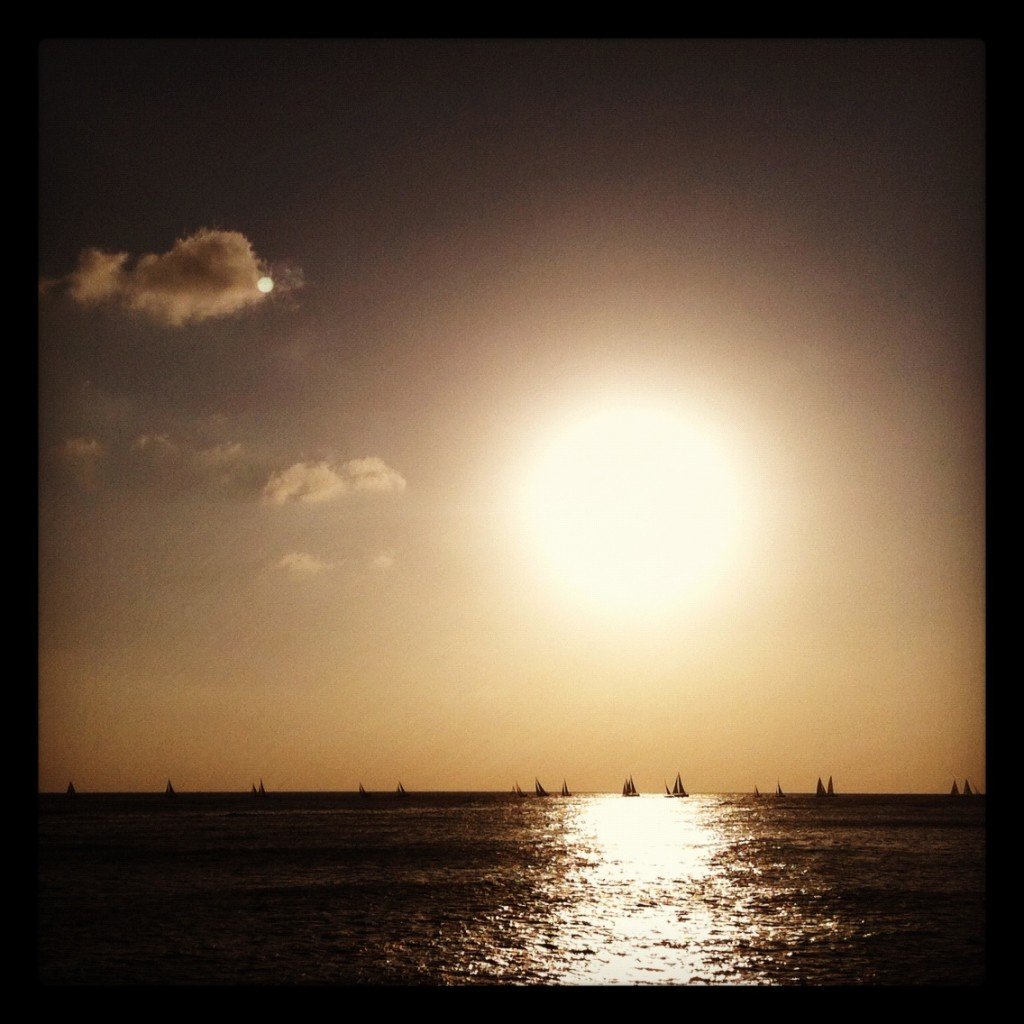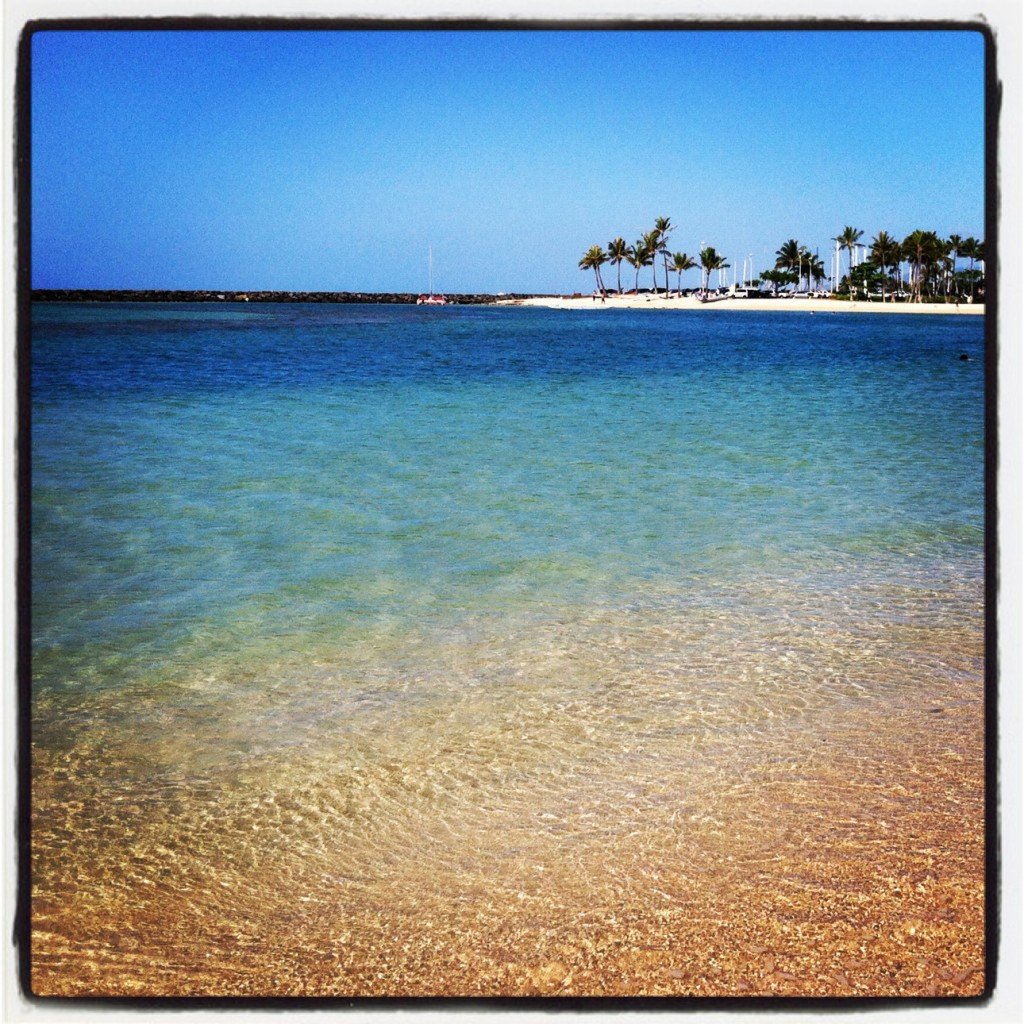 Which is your favorite Hawaii instagram photo?