When I left Australia last month bound for the US for the holidays, I had nothing planned in my life beyond the moment I stepped foot on my hometown's train platform. I figured I'd cozy up at home for a bit and soak up all of the Christmas vibes while constantly checking the United website for award flights available from New York to Sydney (oh ya, you better believe I'm flying back in business class using miles!).
Only… good luck finding flights around Christmas and New Years. I thought maybe something would pop up toward the end of the year, but the best I was able to find was a flight departing in mid-January.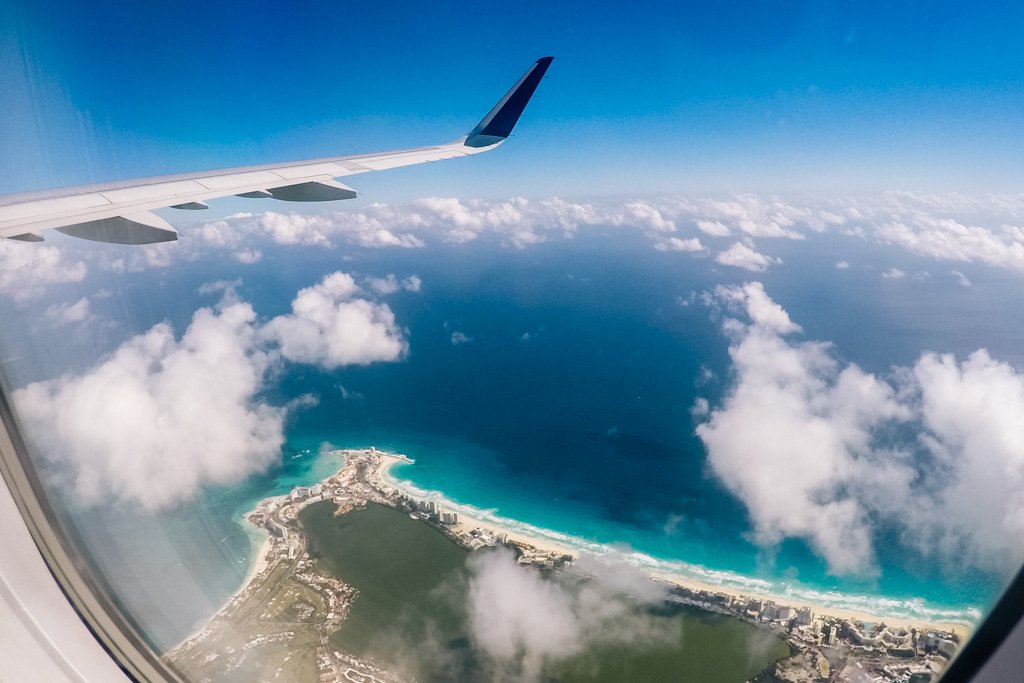 That meant I'd be spending about 6 weeks in the US in total. I wouldn't be too upset about having extra time with the family and cats and living rent-free for a bit longer (enduring freezing cold temperatures, however, not so much). But then I remembered that because of Obamacare, I'd have to pay a $700 tax penalty if I didn't have health insurance and spent over a month in the US.
NOPE. Not happening. I'm not really down for throwing that much money away, so I did the "sensible" thing and decided I'd rather spend that money on an international trip somewhere cheap, preferably warmer than Connecticut in December, and EASY. My mind instantly went to Cuba because everyone's all GO NOW, GO NOW before it gets too Americanized… but ugh, that wouldn't be an easy breezy trip. After all of my gallivanting these past two years, and especially the hectic travel I've done these last few months, I really just wanted to go somewhere and not have to worry too much about how to get around.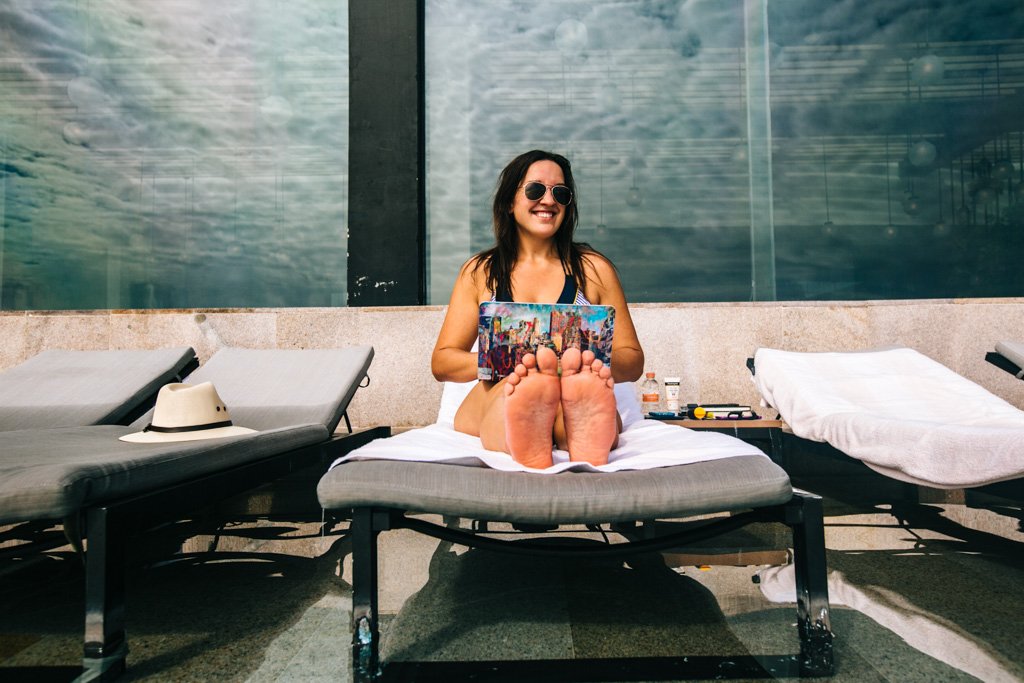 Life as a digital nomad. This trip was definitely a work + play combo.
After contemplating some flight deals that had popped up to Europe and consulting my various mileage accounts, the choice became clear. I was going to Cancun! (Sorry Europe, you're too cold right now. Also, I really want tacos). AND: my sister Jamie decided to join me for the first half of the trip!
From this point forward, plans fell into place almost effortlessly. See, Jamie likes her travels to be proper vacations (i.e. maximum relaxation and minimum plans) whereas I like to do lots of activities and frolicking. In my ongoing efforts to try to slow down and just BE, I thought it'd do me good to travel Jamie-style, at least for Week 1. And I figured it'd be much easier for me to enjoy it knowing that I had Week 2 to actually do things.
Here's how my spontaneous Mexico trip played out!
Isla Mujeres
Though our flight was to Cancun, I had less than zero desire to spend any time here. Thankfully there's a glorious place called Isla Mujeres just a 20 minute ferry ride away!
We arrived around sunset on New Years Eve and checked into Hotel Sueno Maya for 3 nights. I think this may have been the only hotel with last minute availability over New Years (at least out of hotels that are bookable online). Jamie and I were exhausted and spent the night lounging in our room, trying to stay awake for midnight like the grannies we are. I was so tired I actually managed to sleep through the all-night partying that was happening right outside (I woke up at 8am and IT WAS STILL GOING).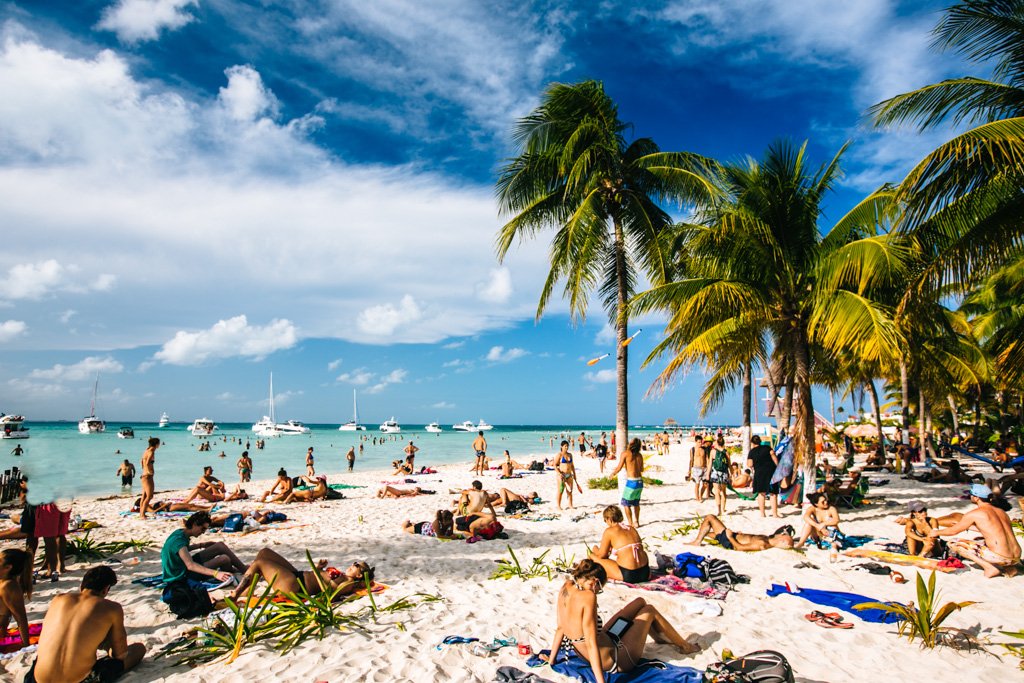 We loved our time on Isla! Playa Norte is ridiculously beautiful, with some of the bluest water I've ever seen. It's so gorgeous that I honestly forgot to be annoyed about how crazy-crowded it was. We fell into a routine of sunbathing til we couldn't take the heat anymore, then plunging into the water to cool off slash play with my GoPro which somehow I haven't managed to master yet. I also had visions of renting a stand-up paddleboard and attending a treehouse yoga class, but ultimately decided it wouldn't be in line with the theme of Week 1.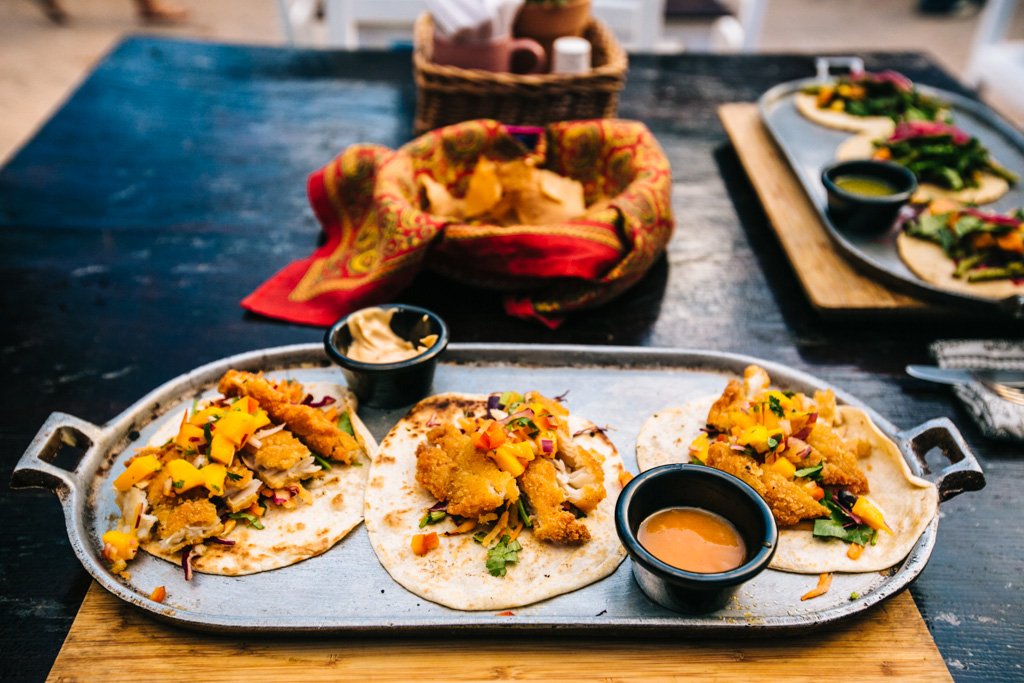 OMG fish tacos OMG.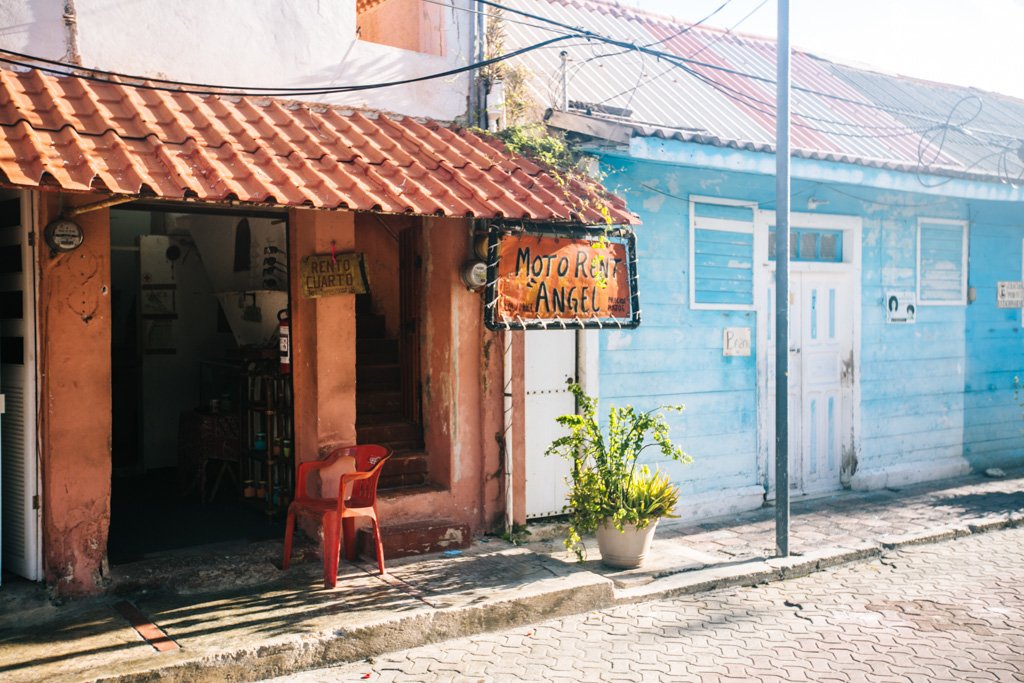 Isla Mujeres.
Isla Mujeres is pretty touristy and pricey in comparison with most of the rest of the peninsula, but I still found it charming and enjoyable. We never left the main village on the north of the island, but renting golf carts or scooters to explore the southern reaches is a popular thing to do here.
We ate nearly every meal at Lola Valentina, an organic, veg-friendly restaurant on the main drag. Everything about this place was phenomenal: bottomless coffee at breakfast, custom margaritas made from the freshest ingredients, a friendly waitstaff that chatted to us as if we were friends not patrons, cute cats that roamed the restaurant looking for scraps and pets. And oh yeah, the food was insanely good. Why bother easting anywhere else when Lola's was like an instant shot of joy?
And in true Buckley Bitches style, we had a little photoshoot on the colorful streets of Isla Mujeres.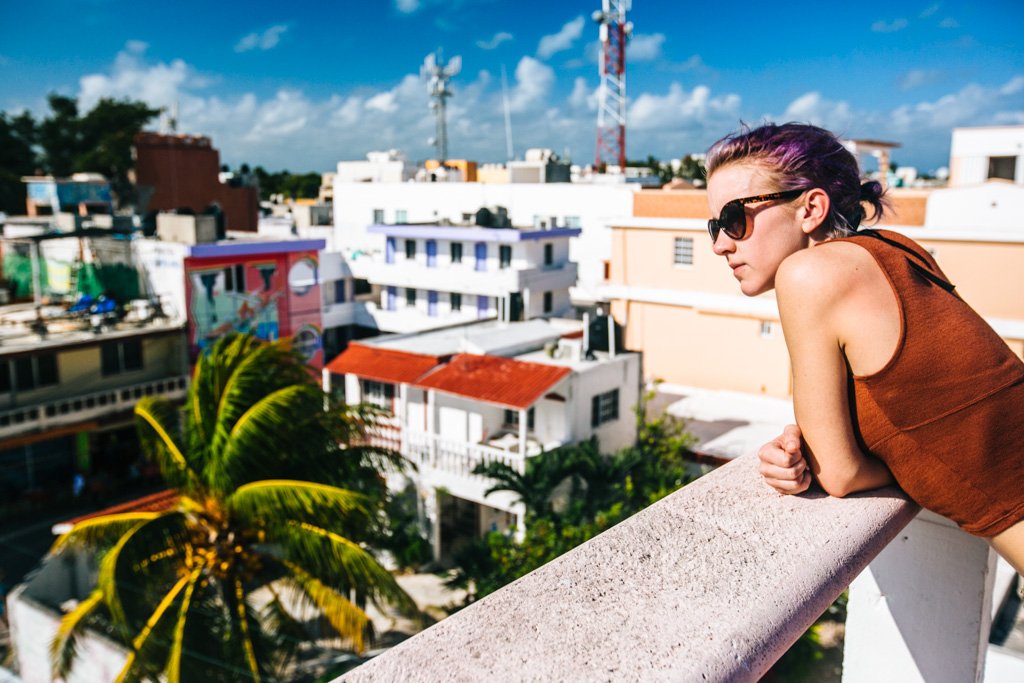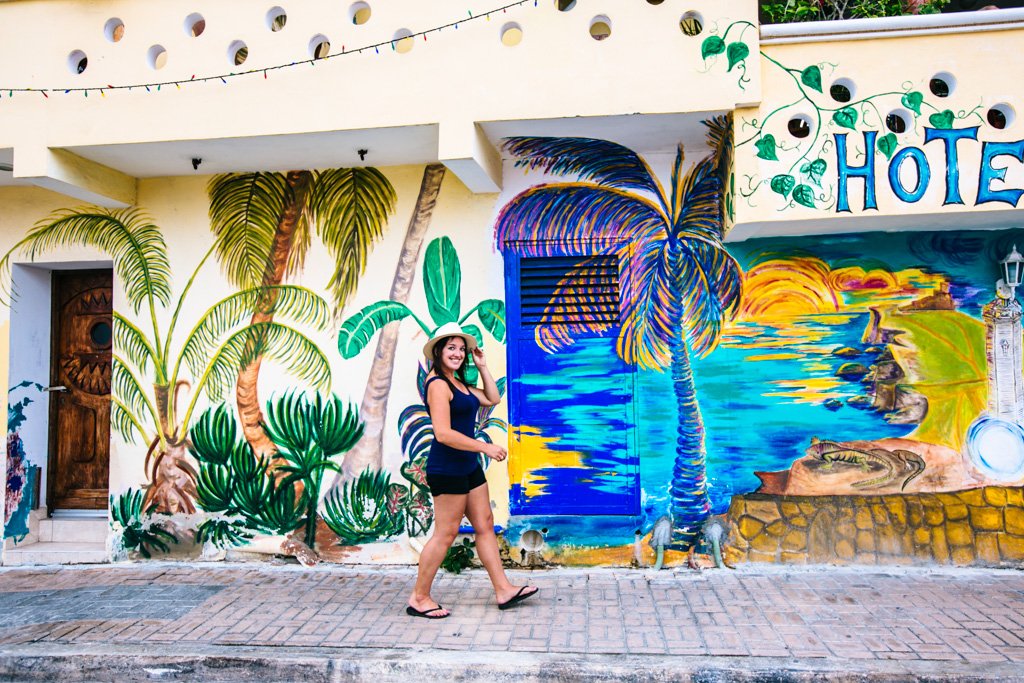 Playa del Carmen
I'm gonna be honest: Playa is not my style. It is crowded, loud, super commercialized, and full of party people. I think I would have hated my time there if it hadn't been for where we were staying.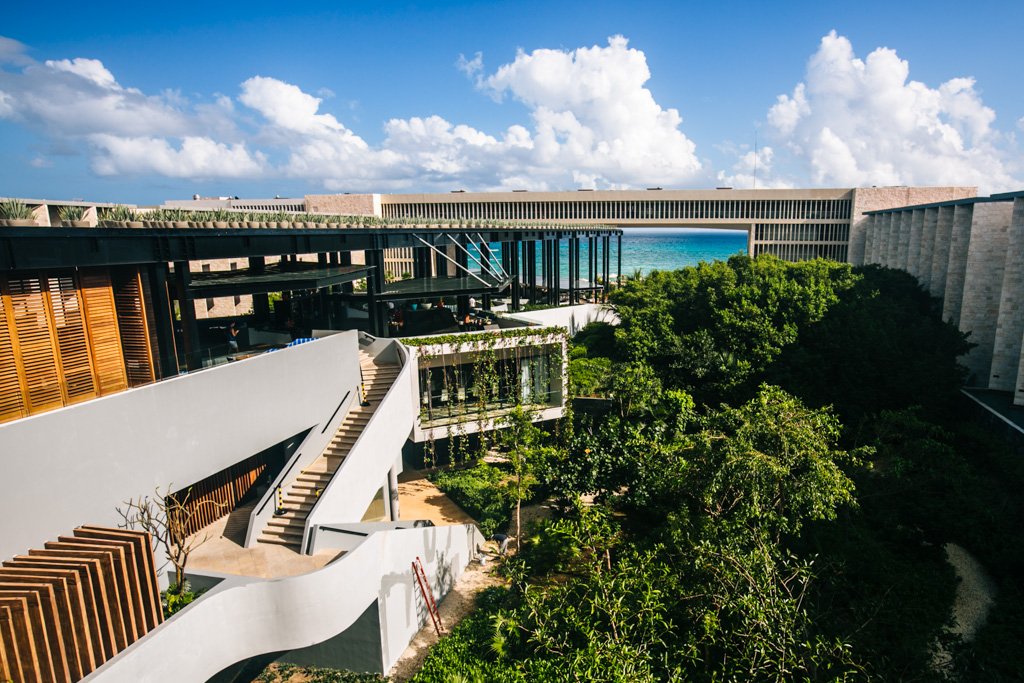 Grand Hyatt Playa del Carmen <3 <3 <3
Our mom donated some of her credit card points for us to use to book 3 nights at the Grand Hyatt Playa del Carmen, aka the most beautiful, magical, infinity pool-laden hotel I've ever stayed in. I booked using a promo code for free breakfast, which actually turned out to be club access – meaning not only did we get to enjoy breakfast, but also nightly appetizers and drinks, plus access to snacks at all hours. And we're not talking standard buffet fare that you basically only eat because it's free: the food at the Hyatt club was sensational. I went to town on their homemade granola and yogurt and scrambled eggs every morning, and indulged in tamales, tres leches cake, and red wine in the evening.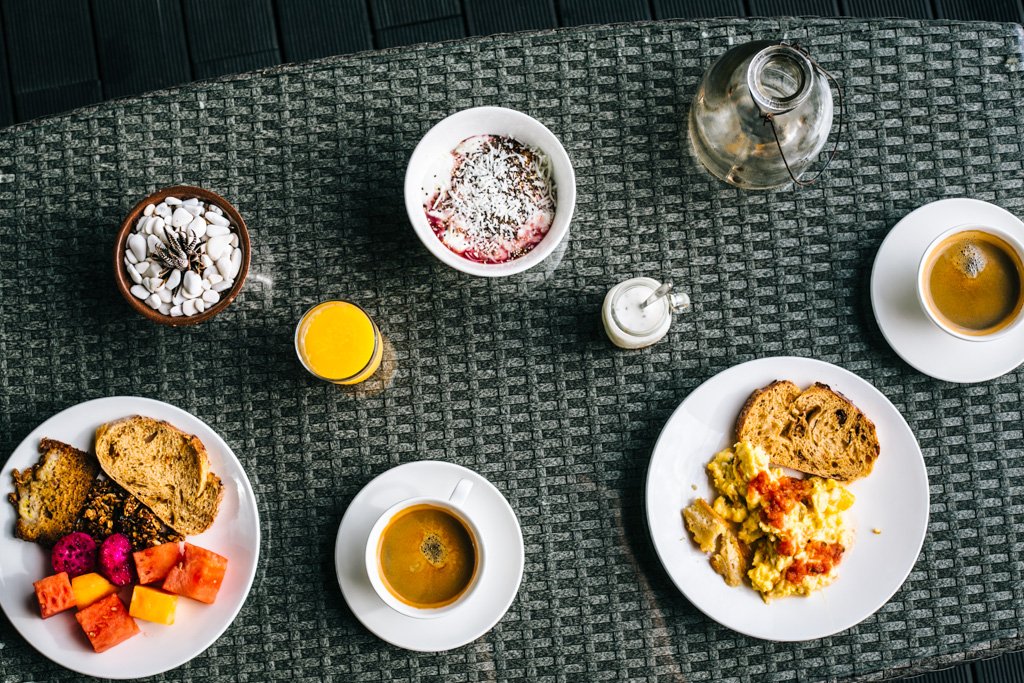 You wouldn't believe how hard it was to get a shot without cutting off any plates!
Our room was super sleek and modern: all-white everything with wooden accents, a la beach chic. Jamie lost her shit over the rain shower and took like 3 showers a day. I lost mine over our crazy-comfy king bed that I couldn't help but melt into.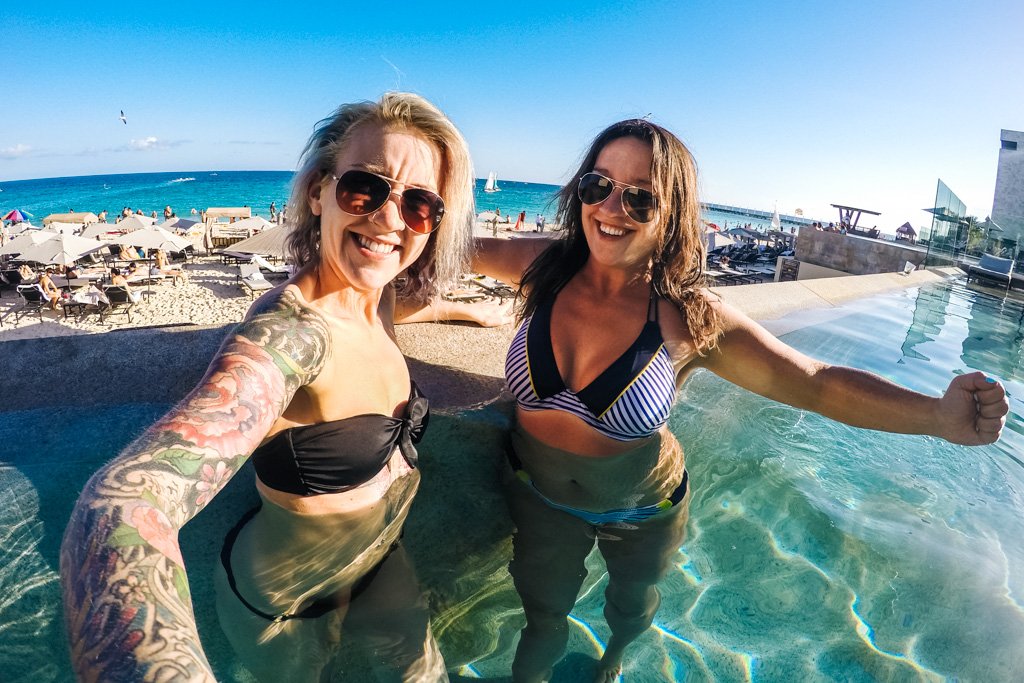 We spent 90% of our time poolside, sunbathing in loungers and GoPro-ing around the adult pool. Y'all know I'm a beach girl, but I felt like I should take advantage of the infinity pools while I could. They were just glorious.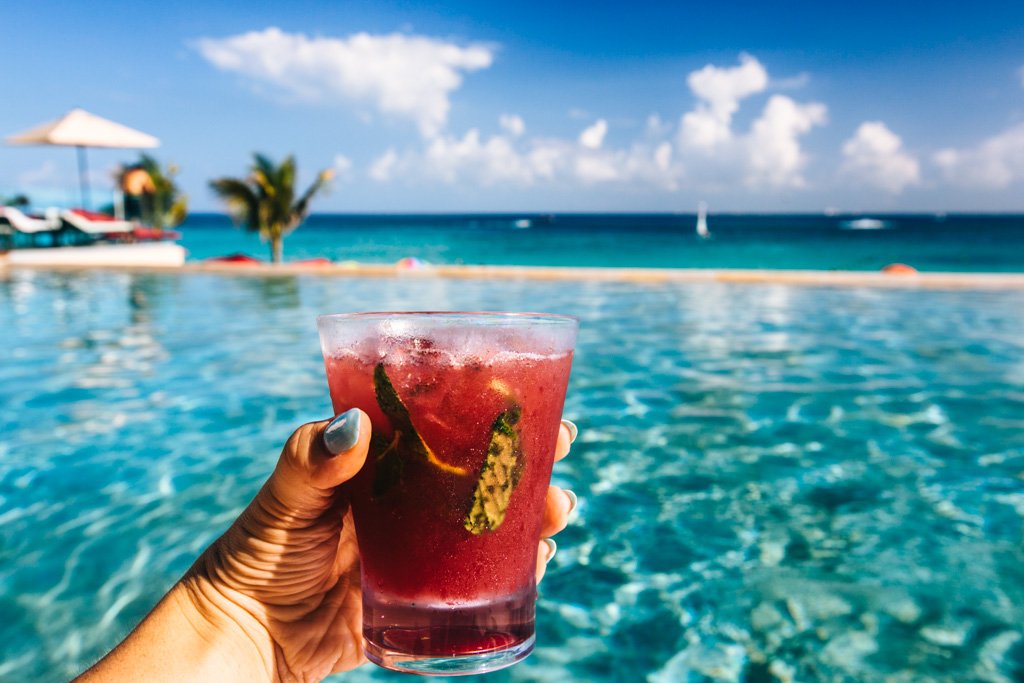 Also, the beach at Playa del Carmen was FILLED with people, including lots of overly-tanned and overly-muscular men and surgically-enhanced women. The sand just off the Hyatt looked like an offshoot to the club next door, with everyone mostly standing around with drinks in hand. I did go for a walk on the beach at one point, but got so exasperated by all the people and the never-ending strip of resorts that I dashed right back to my 5 star sanctuary. It just didn't feel the least bit like a relaxing beach environment.
That said, I am SO SO glad we stayed in an amazing hotel there. I ended up loving my time in Playa del Carmen and it was 100% because of the Grand Hyatt. Ok, maybe 98% – let's save 2% for Bio Natural, the super healthy cafe we happened upon on 10th Ave with a ridiculously extensive menu of juices, smoothies, and organic dishes. The Lola Valentina of Playa del Carmen, if you will.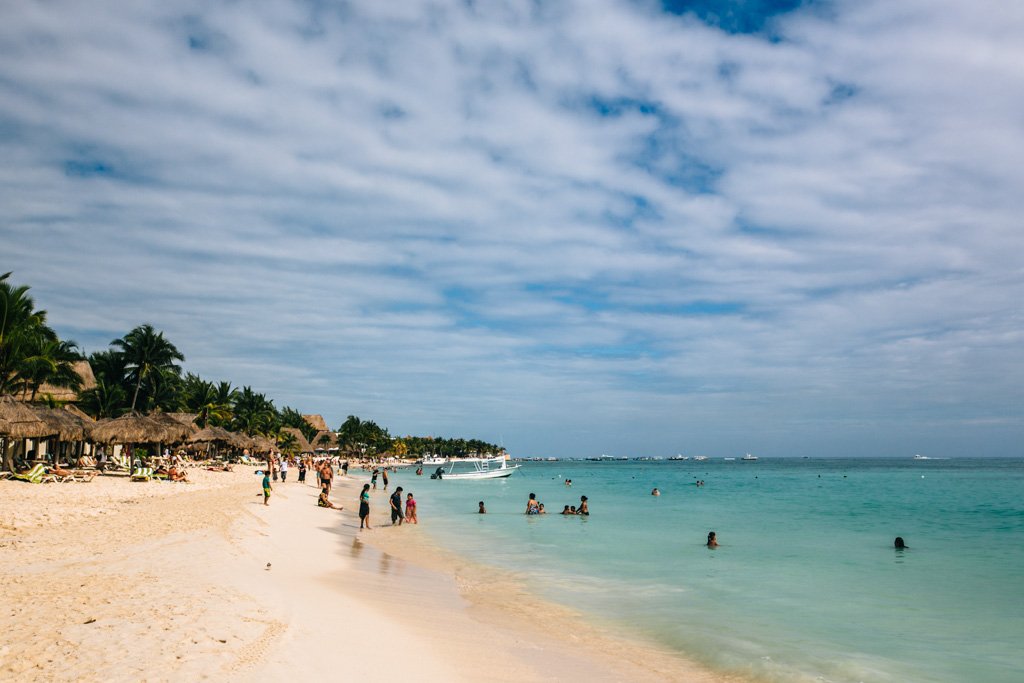 A rare glimpse of Playa without hoards of party people.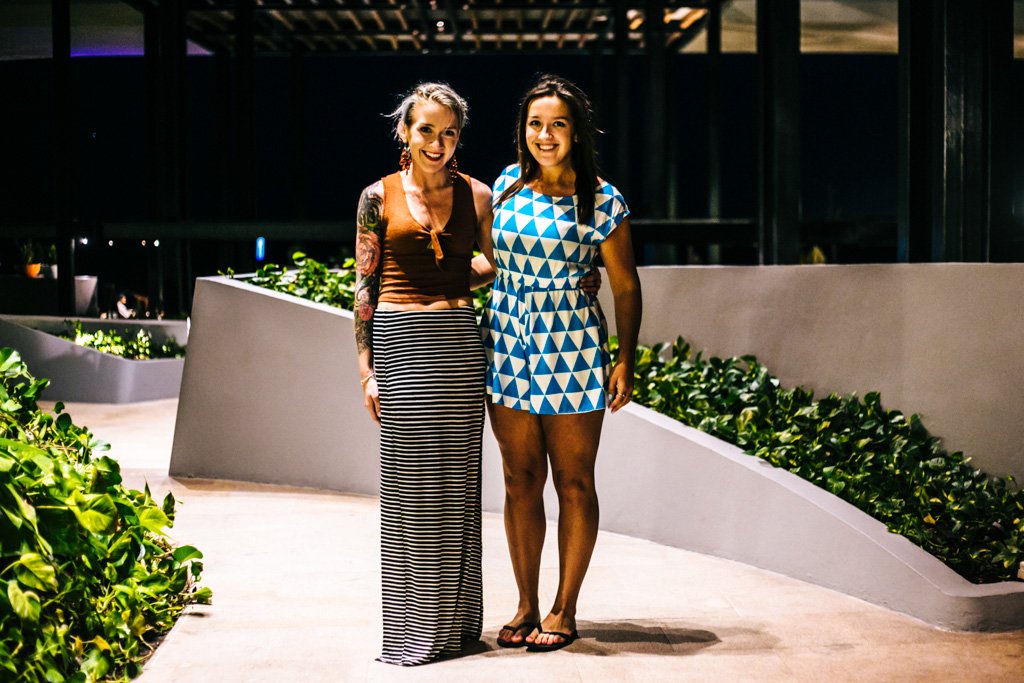 On our last day, I booked into the hotel's yoga class which came with free access to the Cenote Spa afterward – such a steal for $15. True to its name, the spa was designed to mimic the peaceful, healing vibes of a real cenote – and man, was it a stunner. I sauna-ed and hung out by the hot pool inside the mock cenote and felt zen as f*ck.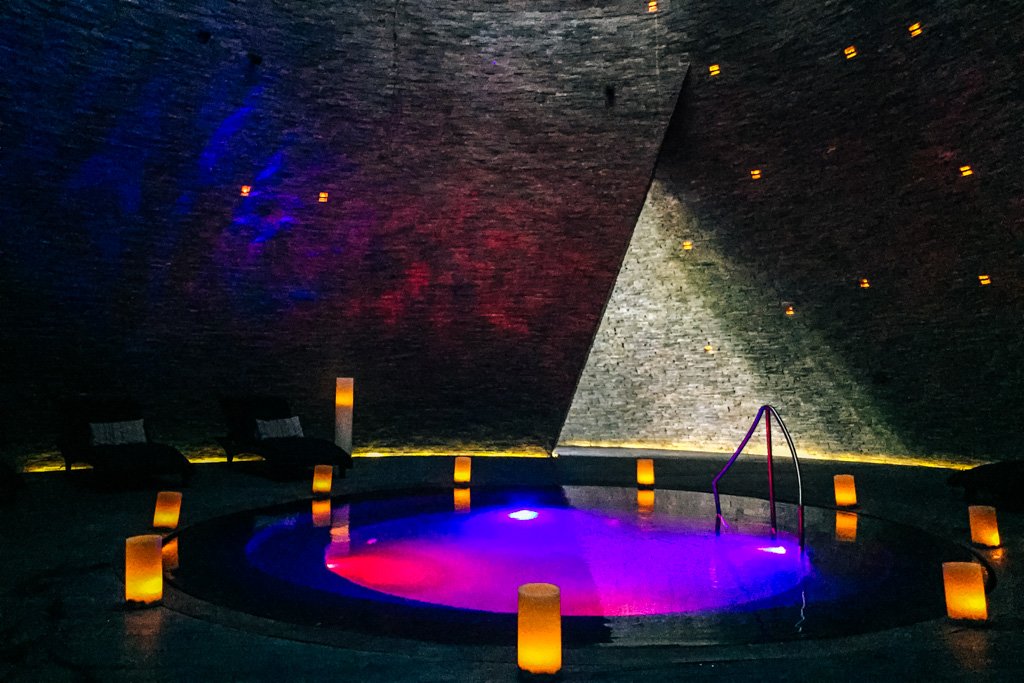 Cenote Spa at the Grand Hyatt Playa del Carmen.
Tulum
After a week in Mexican paradise, Jamie flew home and I carried on to Tulum to get my solo travel on. With just 5 days here and a million things on my to-do list (in part to make up for my week "off"), I had to get semi-serious with a game plan. I'd wake up early to check out some cenotes, ruins, or beaches, then spend the afternoon holed up working in a cafe in town. I normally prefer to wake up slowly with coffee and some laptop time, then do stuff in the afternoon – but I knew that most of Tulum's attractions are best visited first thing in the morning. And it turned out to be completely true, as these places were swarming with people and super-duper hot by 10am.
First, can I just gush about how much I love cenotes? Cenotes are natural swimming holes found underground, often inside caves and caverns, formed from collapsed limestone. There are hundreds, maybe even thousands of them around the Yucatan peninsula. When I first glimpsed the pool at Dos Ojos cenote, I nearly cried – I couldn't believe that something so cool and beautiful existed. Look at that electric blue water!
Diving inside the cenote cave system was one of the best things I've ever experienced – I swear I'm still reeling from it. With water so clear, we could admire the intricate stalagmites/tites even in the darkness. But the most amazing thing was spotting a distant patch of electric blue water where sunlight was pouring through a hole in the cavern. So freakin' gorgeous, I can't even.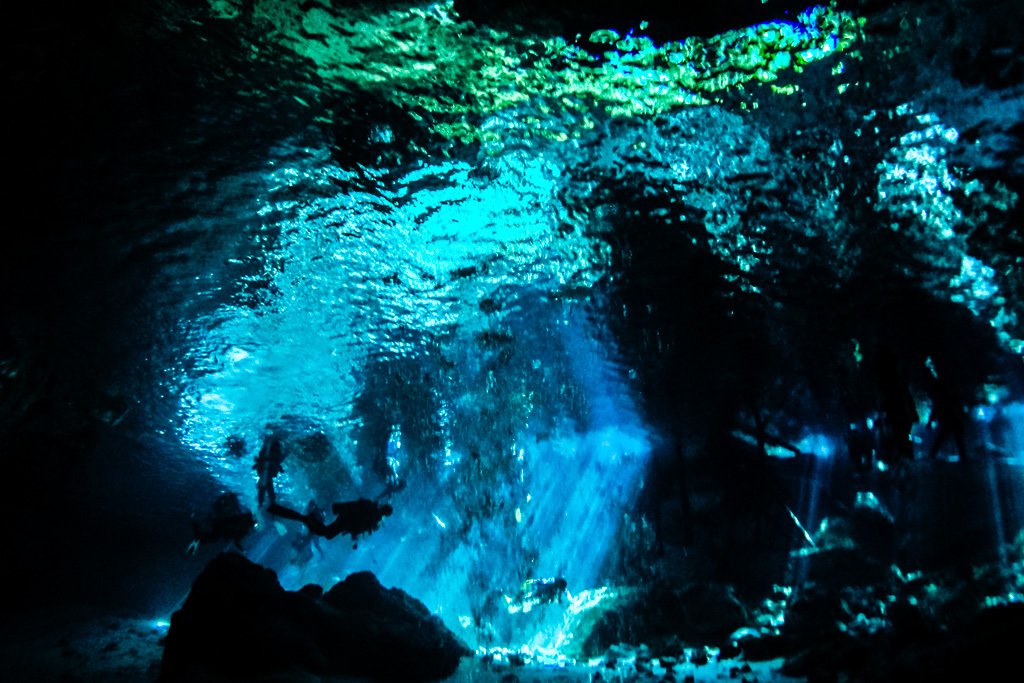 Another day, I rented a bike and cycled to a couple of cenotes just outside of Tulum. I was the very first person to arrive at Gran Cenote when it opened at 8am and had the pool to myself for all of 5 minutes. But that meant I could swim with tiny turtles before the crowds scared them off!
I then stopped at Cenote Calavera (aka Temple of Doom) and took some staged selfies before some other people arrived. This cenote you have to climb into via a ladder.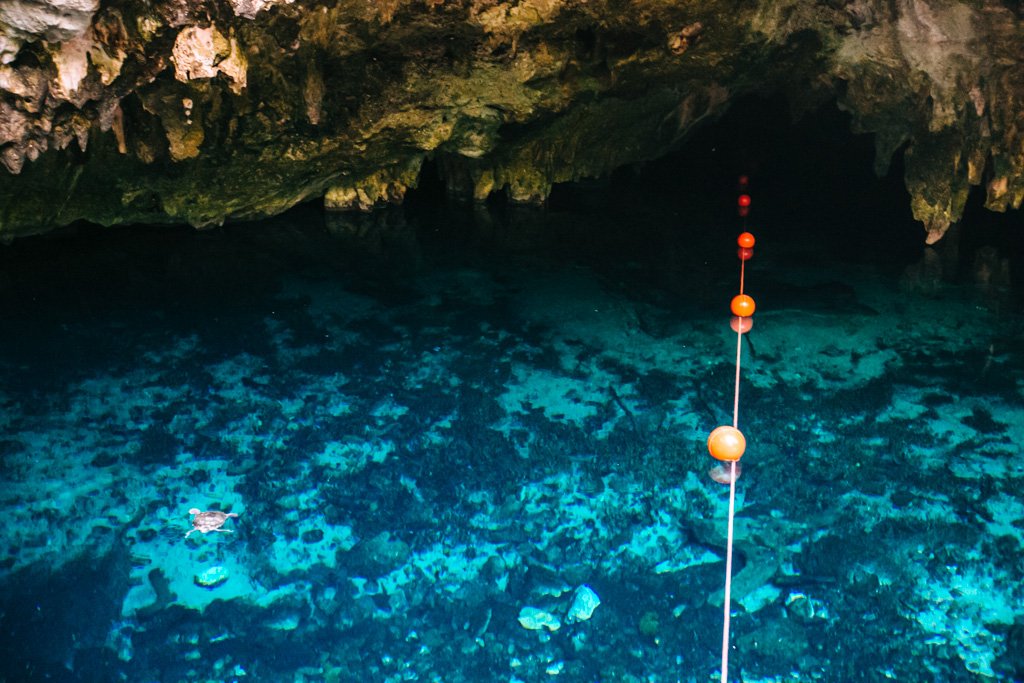 Gran Cenote. Look at that turtle!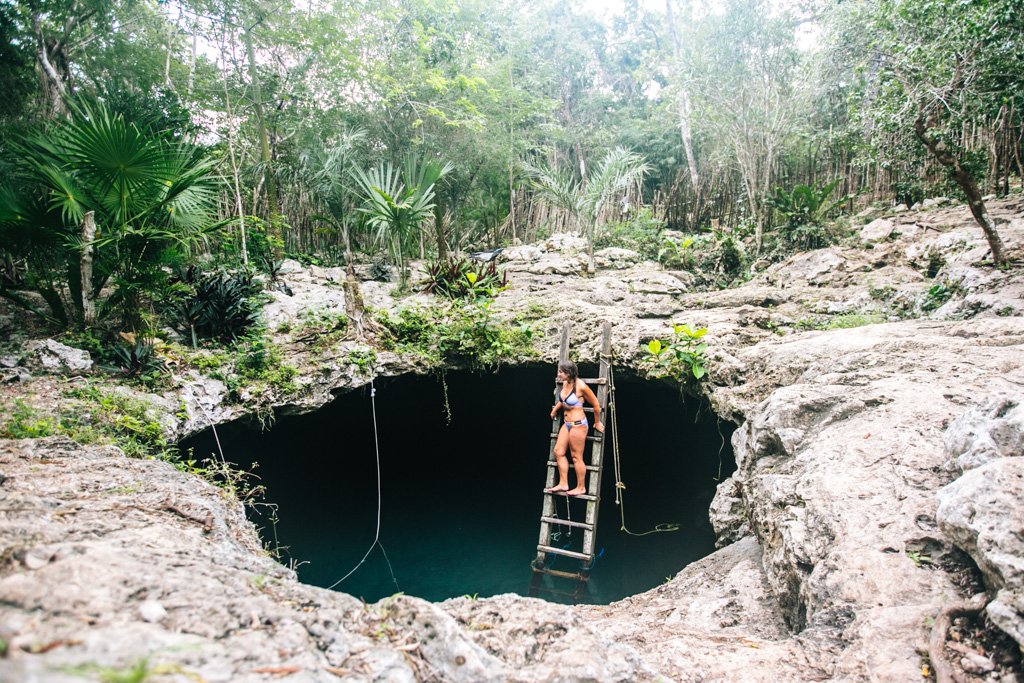 Cenote Calavera.
And of course, I just had to check out the Tulum ruins. I'm not really that into ruins, but throw in a beach backdrop and I'm oh-so-there. I arrived shortly after the 8am opening time and within an hour the beach was crawling with people – aka my cue to GTFO and head to the town beach.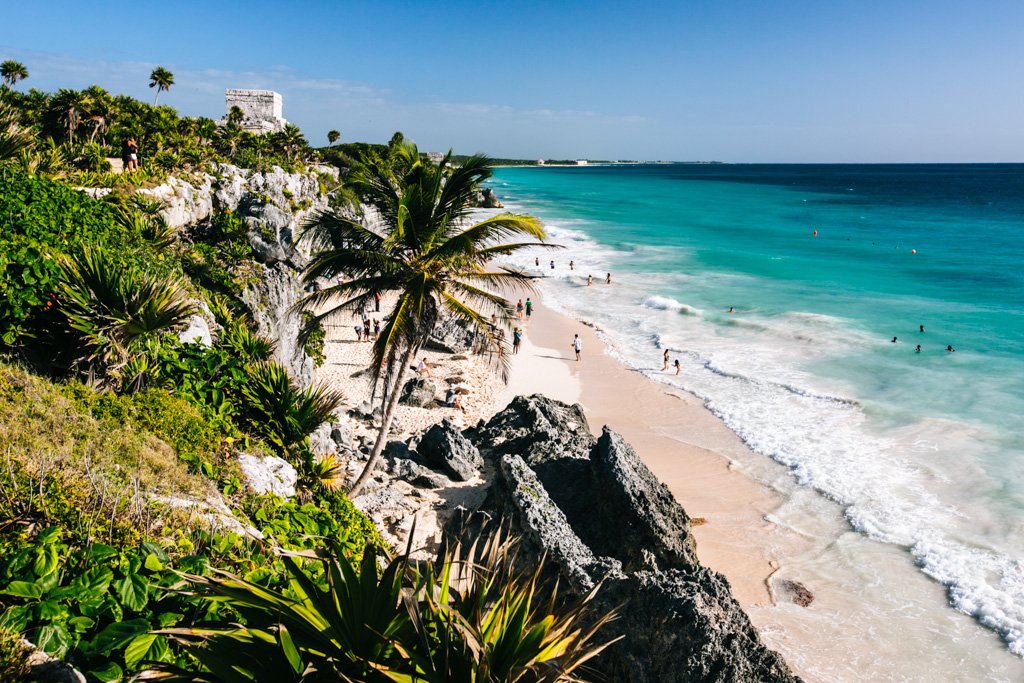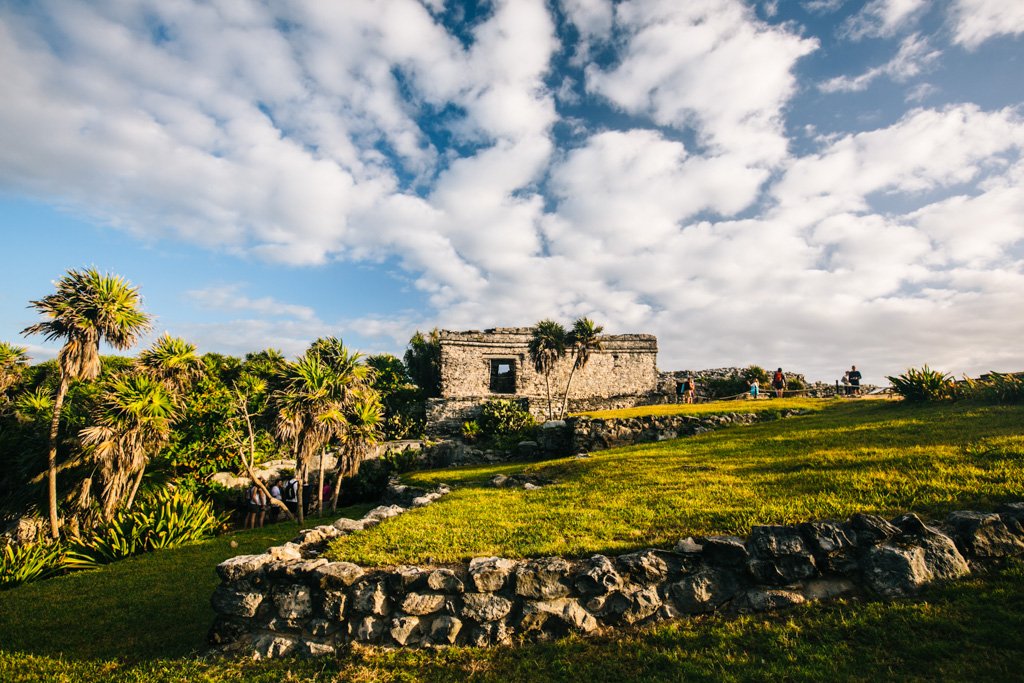 Tulum's coastline is comprised of sandy beaches interspersed with rocky outcrops. The sandy bits are glorious wide stretches of white sand, very ideal for frolicking. The main challenge is finding a way onto it without having to go through one of the pricey hotel restaurants and pay for food or drink just to access a spot on the sand. I'm not sure how kosher it is to just waltz on through without stopping, so I mostly hunted for the public entrances (of which there are few).
No matter where I made my beach entrance, I was always greeted with the token turquoise waters of the Tulum Riviera. Aside from that, the beaches were thankfully nothing like the one at Playa del Carmen. With a decidedly laidback vibe, I'd take Tulum over Playa any day, week, or year.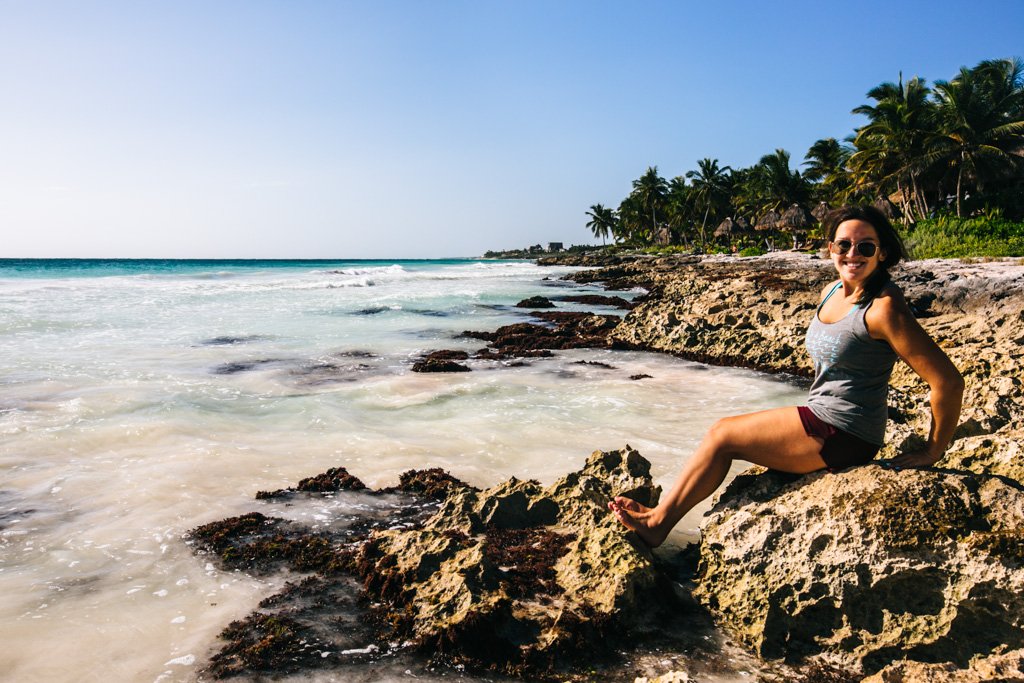 Tulum's beach road is loads nicer than the main road running through town. I took it upon myself to sample some of the so-called best tacos offered in this part of town, making calls at Charly's Vegan Tacos and Mateo's Mexican Grill. Charly's is great, but I love my meat and personally don't think there's any way a veggie taco can top a fresh fish taco. But if you don't eat meat, Charly's will for sure rock your world. And if you do, Mateo's fish tacos will have you weeping tears of bliss.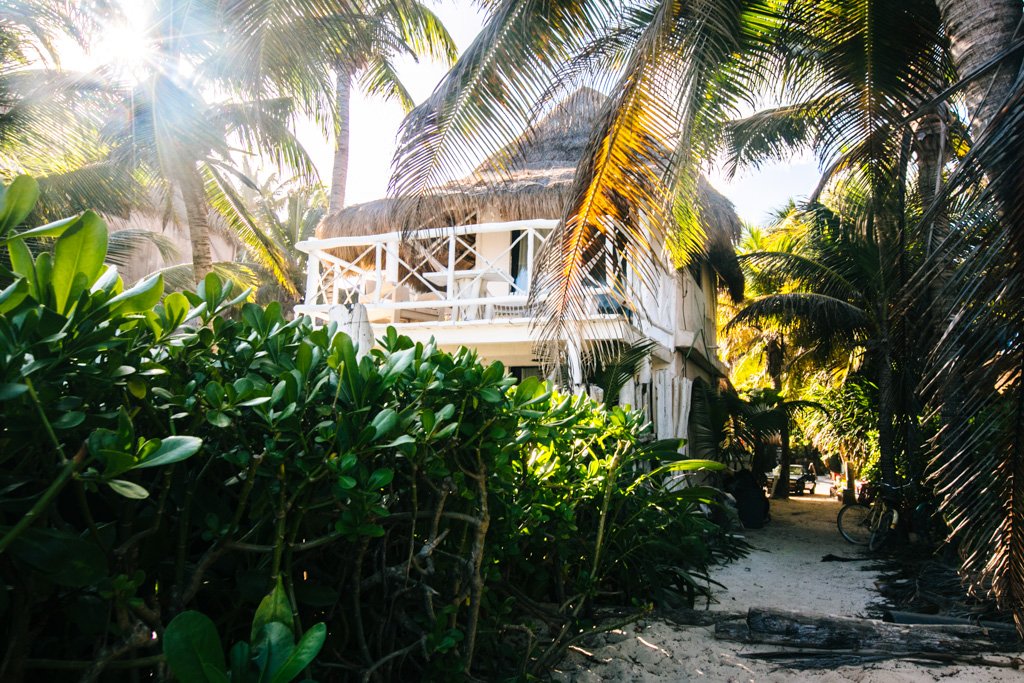 Beach-chic in Tulum.
At least half of my time in Tulum was spent cafe hopping through town, ordering way too much coffee and fruit juice in exchange for power outlets and wifi so I could catch up on work. My best recommendation for digital nomads in Tulum is Ki'bok Cafe: rarely too crowded, outlets everywhere, excellent playlist, and great work environment.
I also discovered Co.ConAmore on my last day, a lovely garden cafe with kitschy furniture and all sorts of healthy eats including smoothie bowls and matcha lattes. I loved working with my laptop in the open air, but my one gripe was the lack of outlets. Other than that, I could see this being my local hangout if I lived in Tulum.

Co.ConAmore in Tulum.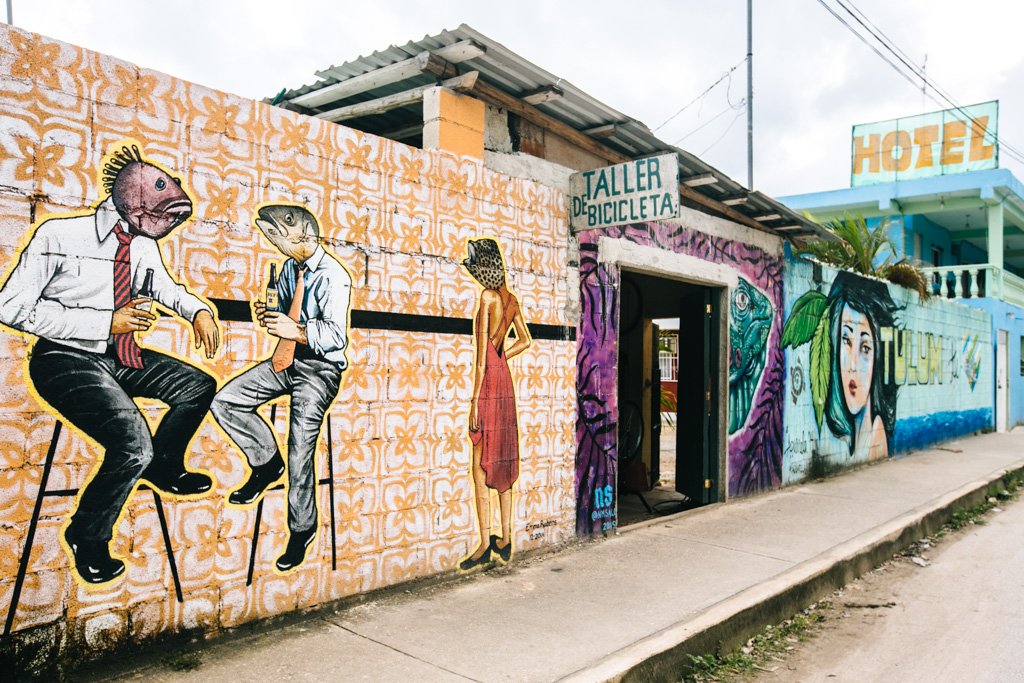 Oh and also: STREET ART & YOGA. Tulum has lots of both going on. This made me pretty happy.
I dropped into a power yoga class at Yoga Dicha one night. The class was mostly taught in Spanish with the occasional English translation and I LOVED it.
And street art, my god, it's everywhere! I could hardly walk a minute without seeing a colorful mural on a wall nearby. I loved how much Mayan designs were incorporated into the street art. Don't worry, full post on Tulum street art will be hitting the blog soon!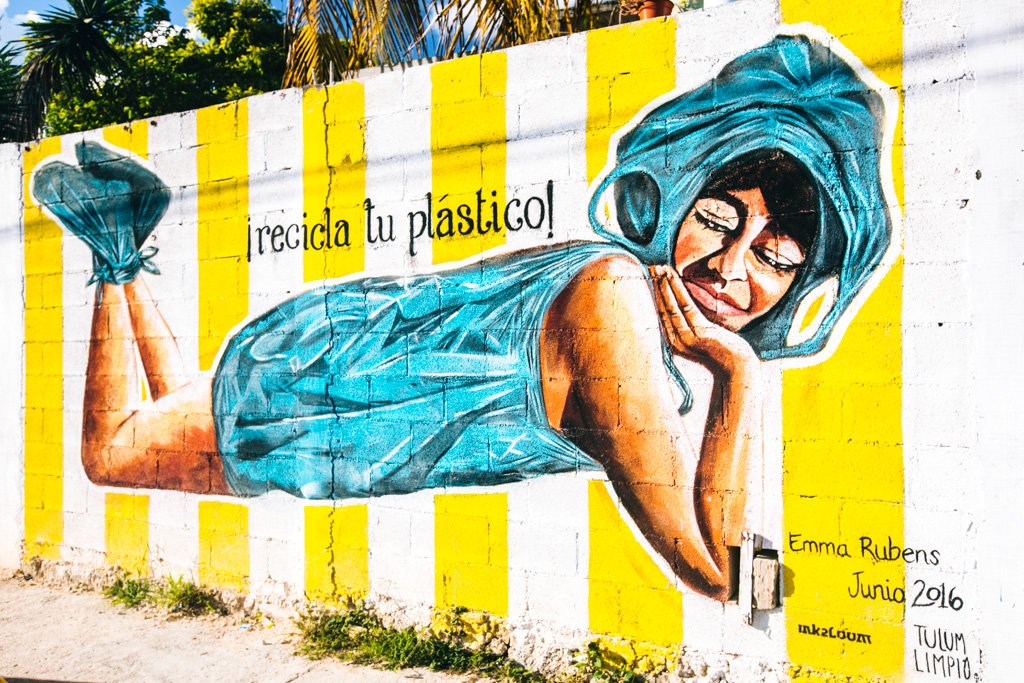 Frugal Facts
As of January 2017 —
WHERE I STAYED:
Hotel Sueno Maya – We paid about US$60/night for a private room with a double bed, kitchenette, TV, and aircon. I believe prices were inflated all over Isla Mujeres because it was around New Years.
Grand Hyatt Playa del Carmen – We spent 27,000 Chase Ultimate Rewards points per night for a king room on the club level. It was worth every single point and then some.
Hostal Pueblo Magico – I paid US$30/night for a private room which was basic but spacious. Dorm beds also available at about US$12/night.
IN TULUM:
I did 2 cenote dives at Dos Ojos with Agua Clara for US$130, all equipment and transport included.
I rented a bike from Kelly Bikes for 100 MXN per 24 hours (about US$5). They also rent snorkel gear for 50 MXN/day ($US2.50), which is much cheaper than if you rented a snorkel at each individual cenote. They're located in Tulum town on the corner of 307 & Av Coba (diagonal from Scotiabank).
Admission to Dos Ojos is 200 MXN (US$10), Gran Cenote is 150 MXN (US$8), and Cenote Calavera is 100 MXN ($US5).
Admission to the Tulum ruins is 70 MXN (US$3.50).
A drop-in yoga class at Yoga Dicha costs US$15.
Pin it!