There are over 1000 islands in Thailand. It's no wonder I agonized over which ones to visit on my 2013 Asia trip!
One of my top priorities was to get myself to a not-so-touristy beach with bright white sand and bright blue water. Several sources claimed that Koh Lanta had white sand beaches – but they were WRONG! Even though I had a nice week on Koh Lanta, it wasn't *quite* what I was looking for at that time.
Here's the thing, though: no website or guidebook could accurately tell me exactly which Thai islands met the aforementioned requirements (Seriously – do some googling, look on Travelfish, browse some images. Nada!). So I took another gamble, booked myself a spot on a snorkel boat trip around 4 islands near Koh Lanta, and hopped off on one of the islands.
This time, the gamble paid off. Let me tell you what guidebooks and other reliable sources fail to spell out:
IF YOU WANT WHITE SAND BEACHES WITH BRIGHT BLUE WATER, GO TO KOH KRADAN.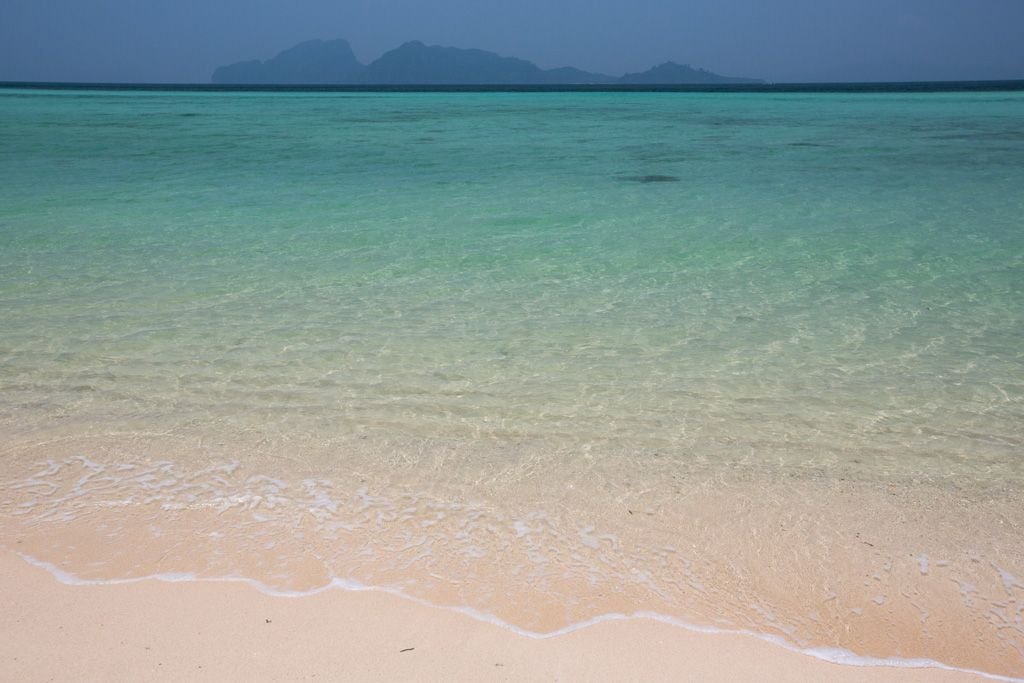 The Beach on Koh Kradan
Koh Kradan is a small secluded island, considered part of the Trang islands near Malaysia. It has one main beach with a couple of resorts. A small section is used for docking the snorkel boats for daytrippers that storm the beach between 11am and 3pm daily. Not surprisingly, most people on these tours don't bother to stray far from the boats, so they tend to stay in this one area. But no worries – if you walk 5-10 minutes down the beach, you won't be able to see or hear them.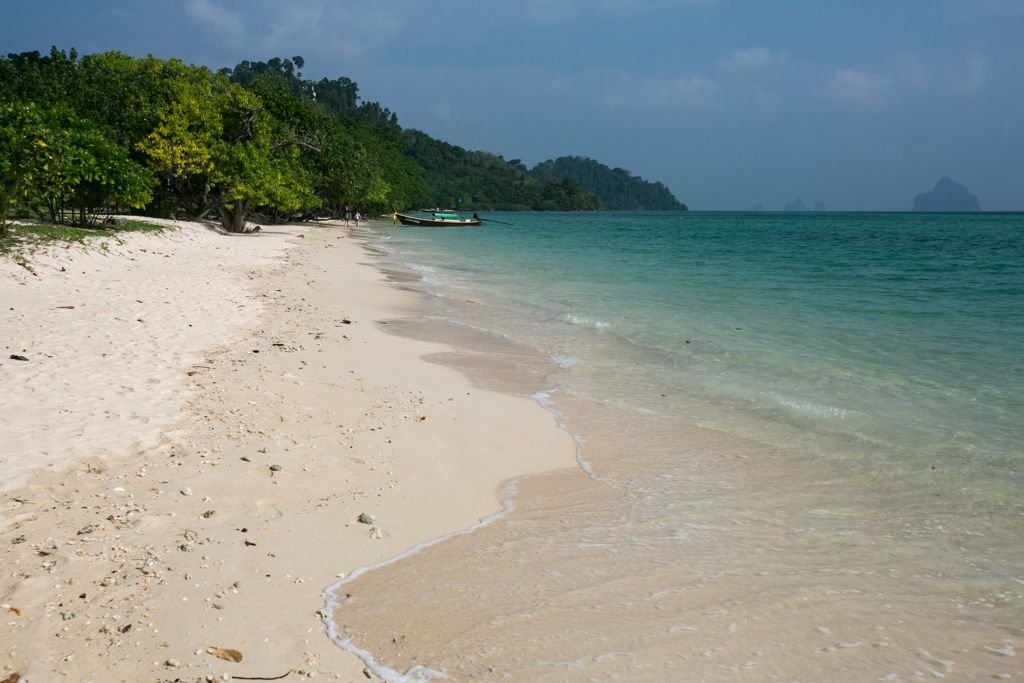 My favorite hideout from the daytripping crowd was on possibly the most uncomfortable hammock ever, with the most beautiful view ever. I had nothing but that bright white sand and bright blue water stretched out in front of me – hardly anyone ever entered my line of sight. A couple of islands nearby framed the scene. Man, if I could bottle up this view and replay it on loop back home, I would.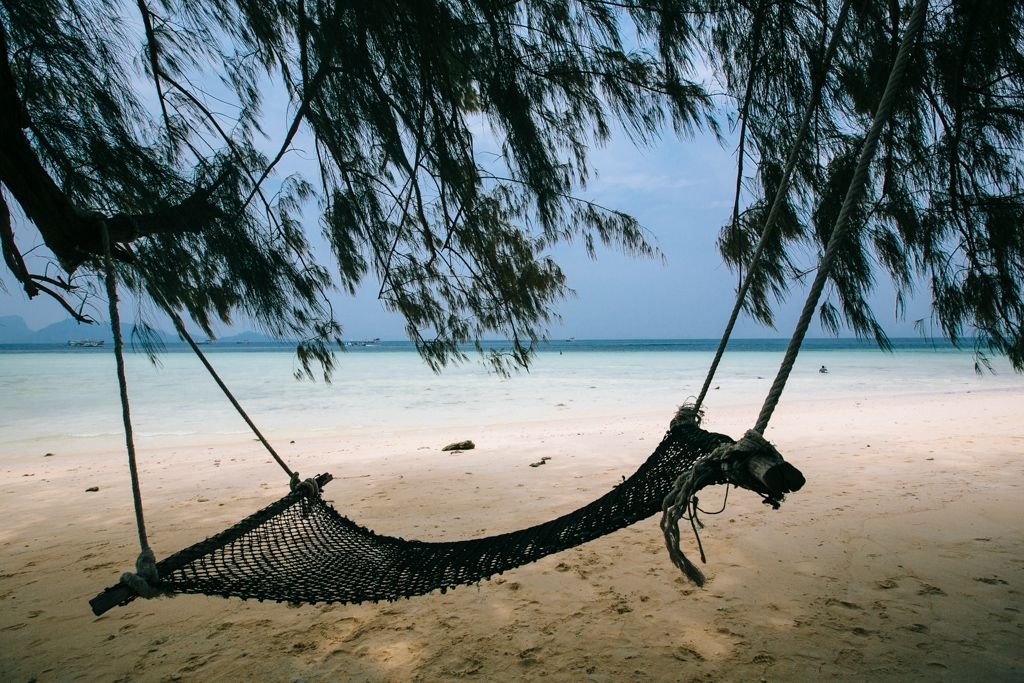 And at low tide, it gets even better! The tide goes way out, allowing you to frolic far out on the smooth wet sand. Note that low tide is probably NOT the best time to go for a swim, as you'll have to go quite far out for deeper water.
Paradise Lost & Sunset Beach
I stayed at Paradise Lost, the lone budget resort on Koh Kradan located 5 minutes inland (Note: you'll see a sign for it just to the right when you get off the ferry or snorkel boat – just follow that path into the woods). Picture a grassy patch surrounded by jungle, containing a handful of the most basic bungalows imaginable and a couple of ramshackle huts for dining. It's not exactly a place you'd want to hang out at during the day, but its restaurant supposedly serves up the best food on the island. Everything I had was great, and the portion sizes were HUGE. I had on omelet the size of a small pizza, and a bowl of curry so big that I couldn't even finish it! (and I ALWAYS clear my plate at meals, so that's saying something!)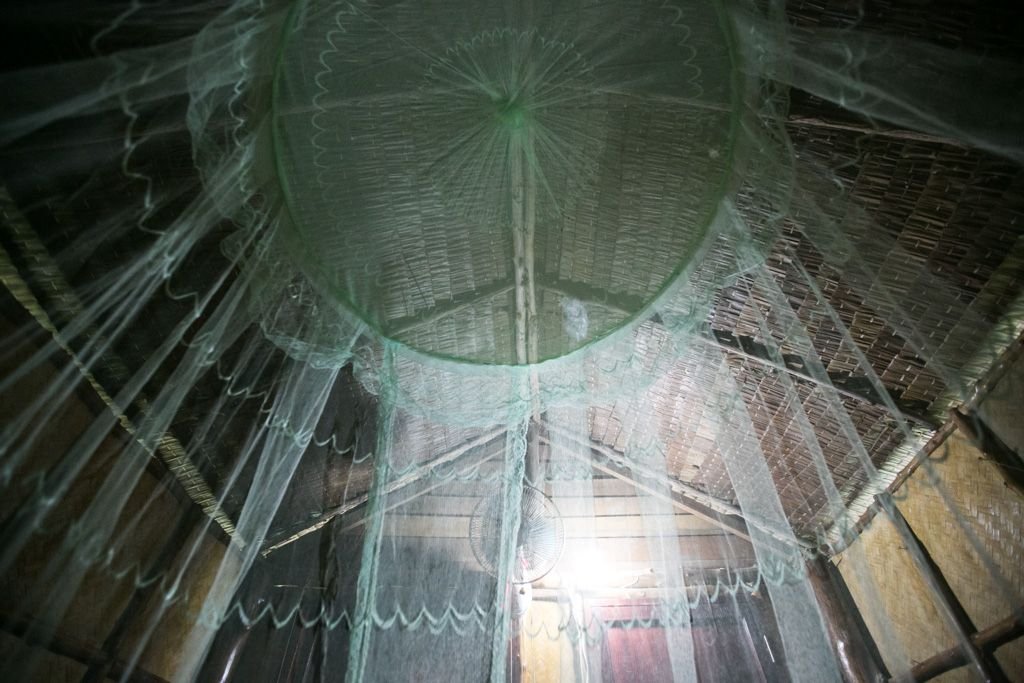 If you continue walking along the path past Paradise Lost for another 5 minutes, you'll reach Sunset Beach. It's very rocky with rough surf – definitely not meant for swimming, but ideal for catching the sunset. The sunset was a wash both nights I was on the island, yet somehow my camera managed to work its magic and capture the sky like this: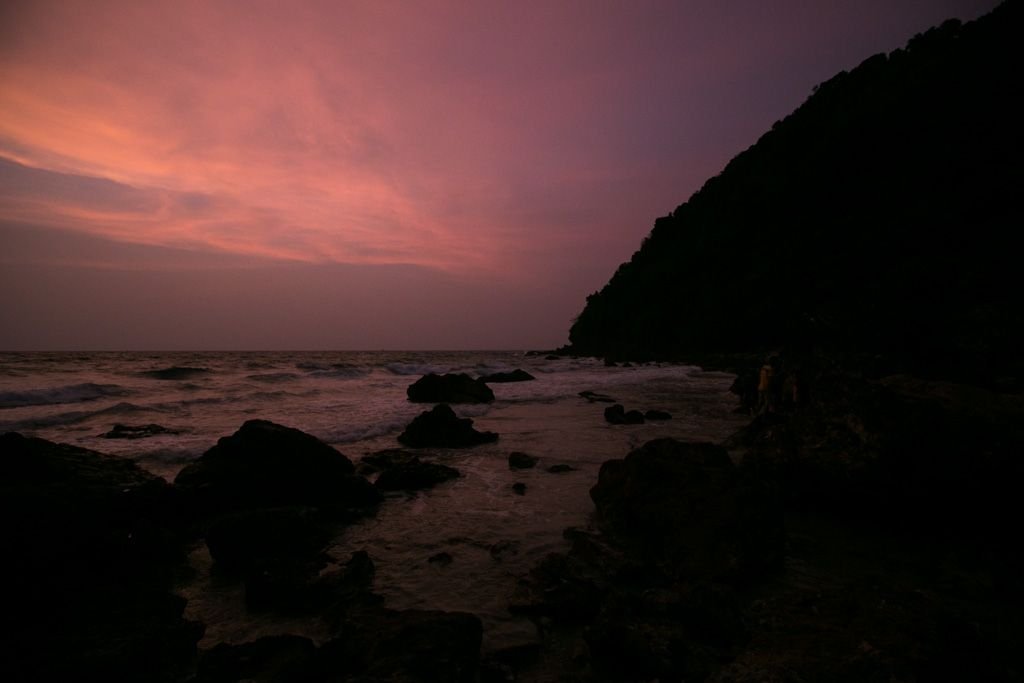 Snorkelling at Koh Kradan
I'm very skeptical of snorkeling trips – the idea of being herded from island to island with 20 other people, many of whom will stand on the reef and/or furiously kick at the surface and scare away the fish just does not appeal. But the snorkel boat I caught back to Koh Lanta made a quick stop at the reef on the other side of Koh Kradan before heading to Koh Lanta, so I felt obliged to see how Koh Kradan's snorkeling stacked up. It was actually pretty good out there! Definitely no competition for the Great Barrier Reef, but so far it's the best reef I've seen outside of Australia.
Frugal Facts
As of April 2013 —
Accommodation: Bungalow at Paradise Lost – 600 baht/night ($20 US)
Breakfast: 100 baht ($3 US)
Lunch/Dinner: 150-200 baht ($5-7 US)
4 Islands Snorkel Boat Shuttle: 550 baht ($18 US)