About 12 years ago, I was just finishing up my first semester of college with a killer lineup of classes: math, mystery writing, psych 101, and – how's this for fitting? – Introduction to Southeast Asia.
Now, keep in mind this was 18-year-old Lindsay: I'd hardly traveled at all before starting my Cornell degree, and from Day 1 I was fixated on studying abroad in Australia. With my Aussie tunnel vision and lack of travels, I don't think Asia was even on my radar at that time. But I came upon this class in the course catalogue and couldn't get over how exotic it sounded.
Sadly, I don't remember much from my Intro to SEA class (or any of my classes, if I'm honest), with the exception of one thing: Borobudur, the world's largest Buddhist temple. I remember looking at pictures of those majestic stupas and bas reliefs in my textbook, thinking: I have GOT to see this for myself someday.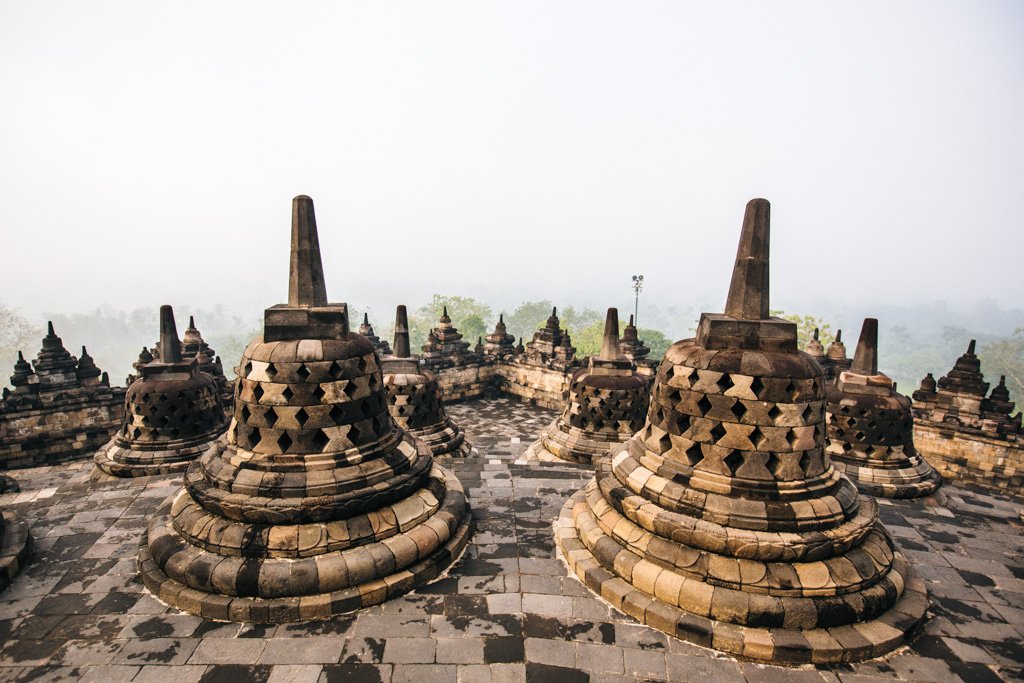 I'd hoped to work Borobudur into my 2013 Asia trip, but I ended up not making it to Indonesia until my recent trip to Bali some 2.5 years later. I was the closest I'd ever been to the temple, and even then I found myself wondering if it'd be worth the effort of getting there. It'd be infinitely easier just to linger in Ubud and keep enjoying the good life in Bali.
But dreams aren't supposed to come easy, right? I'd never see this landmark unless I put in the effort to get there. With that, I cast my poolside lounge chair and vitamin-laced smoothie aside and spent a week traversing East Java. First stop: Borobudur!
Sunrise At Borobudur
I usually prefer to wing it and rock up to a new destination without a plan, but in anticipation of all the connections I'd need to make in order to reach Borobudur by public transport, I wanted to make the journey as smooth as possible for myself and booked a room at the highly rated Efata Homestay. At $18/night it's pricier than most other homestay options, but if you want to be guaranteed a comfortable and enjoyable stay very close to the temple, it's a great choice.
I was especially appreciative of the complimentary escort to the temple: from the 4:15am wakeup call to the quick drive to the Manohara Hotel to purchase sunrise tickets, to the hike up to the exact spot where I'd stand and wait for the sun to rise. I know it would have been an extremely rough commute had I had to do any thinking for myself at that ungodly hour. (Does anyone else feel nauseous when trying to function in the middle of the night? My body just DOES NOT want to cooperate before 7am.)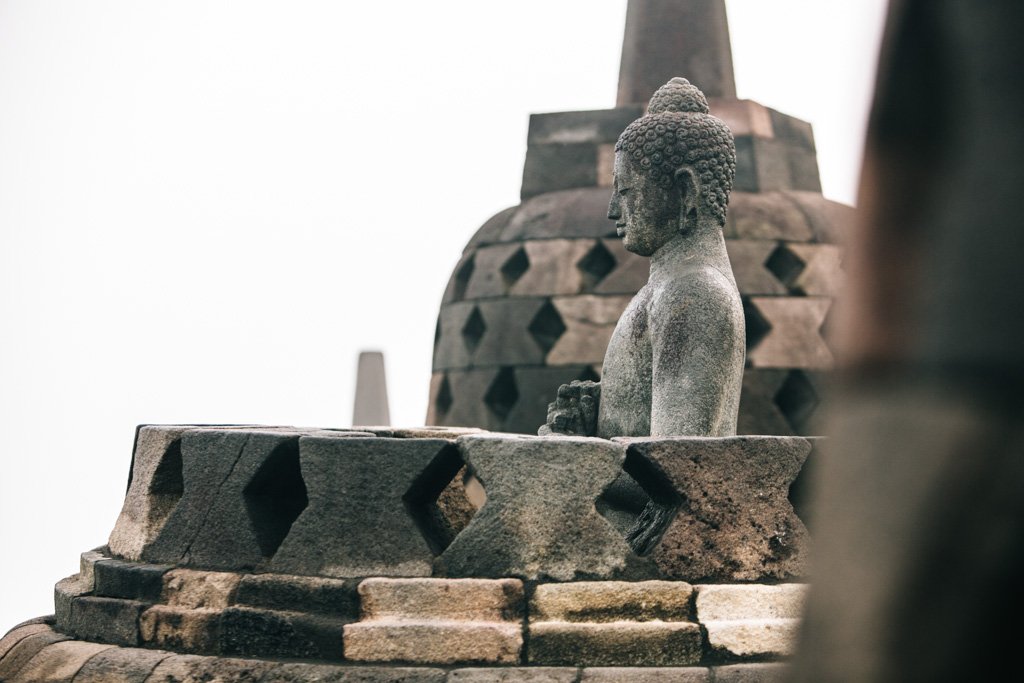 We arrived around 4:30am, about an hour before sunrise. While the dark and foggy surroundings weren't ideal for taking pictures, I loved just absorbing the quiet and calm and having some time to process the fact that I was actually here, standing on this magnificent temple that I'd studied in school 12 years ago.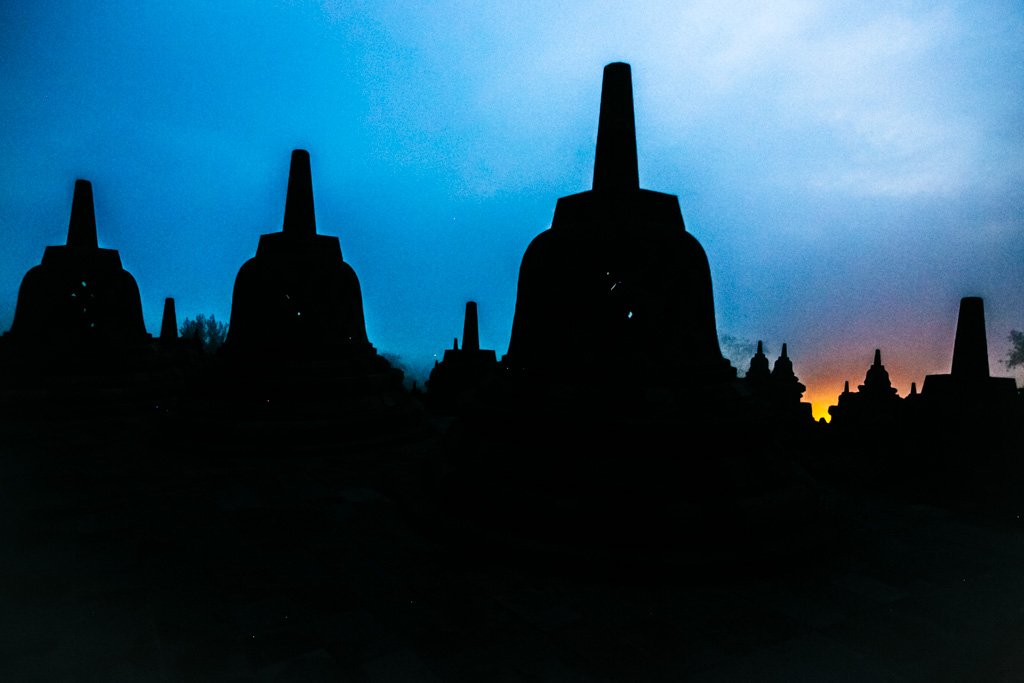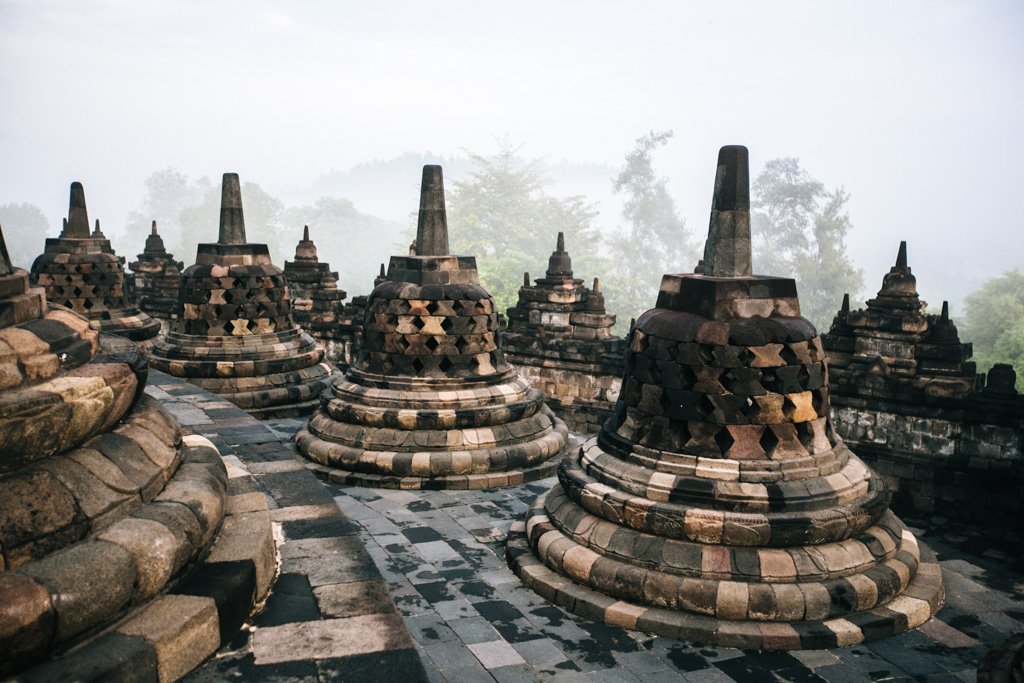 The actual sunrise wasn't as spectacular as I might have hoped (it photographed better than it looked!). If I were to do sunrise at Borobudur again, I'd wait it out on the bottom-most level of stupas so that I could snag an unobstructed photo of the Buddha statue in the foreground. I was perched just above it on the next level up, but there were several selfie stick-equipped tourists below me hovering around the Buddha that ruined my shot of it.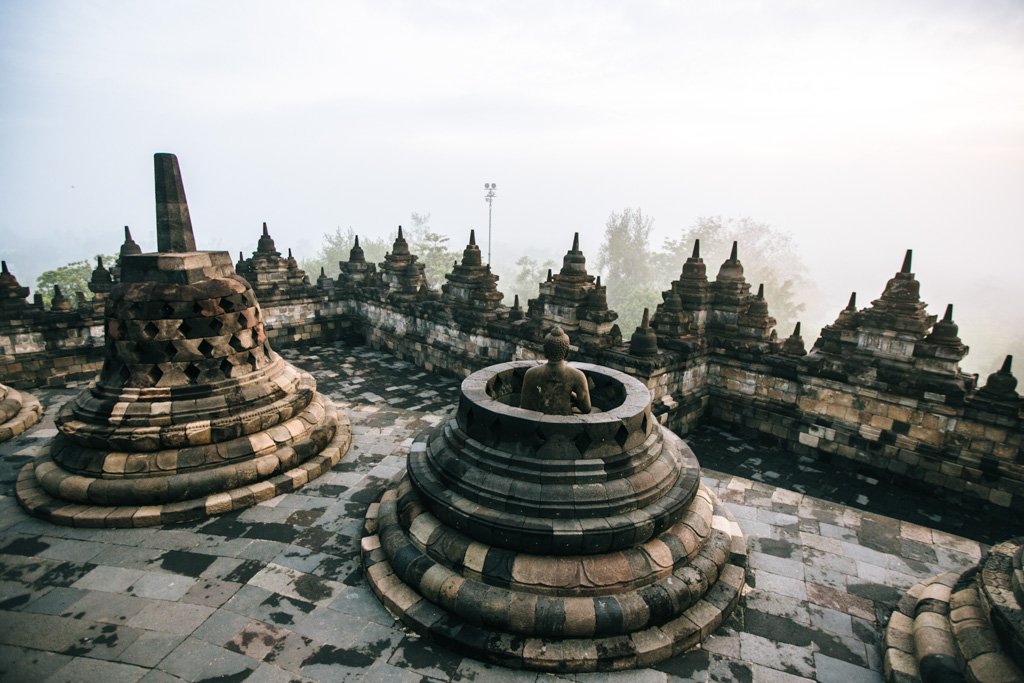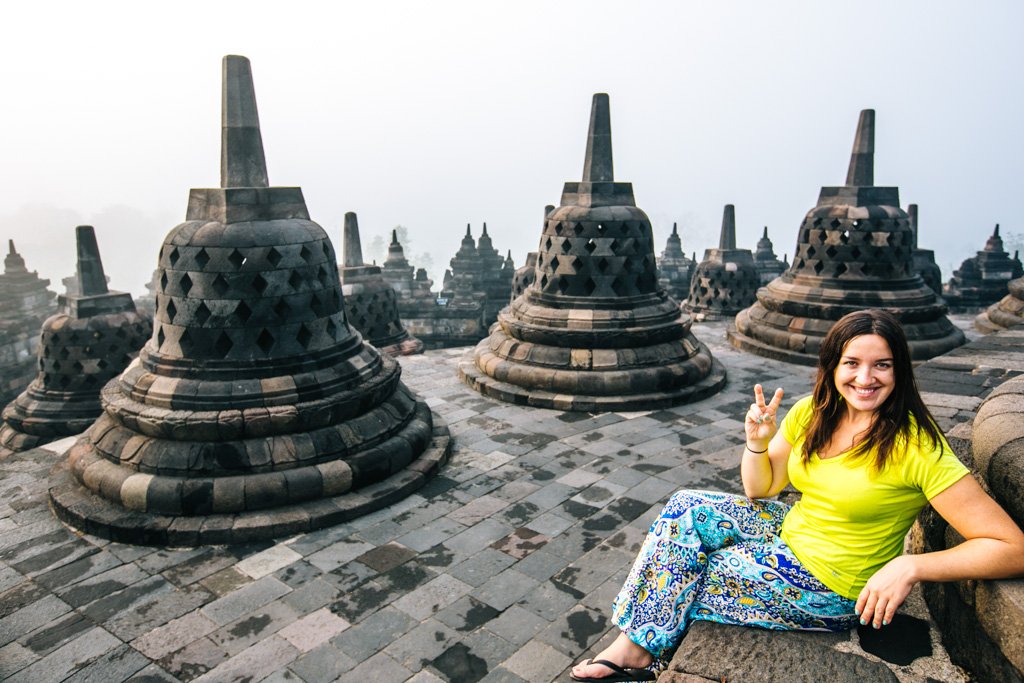 Golden Hour At Borobudur
The highlight of my time at Borobudur was the hour after sunrise: golden hour, in photography-nerd terms. Much of the crowd dispersed after the sun came up, and non-sunrise ticket holders aren't allowed in til after 6am, which meant I could roam around the temple without bumping into too many other tourists.
Even better, the light at this time was just magical and perfect for photography. I loved capturing the glowing stupas as the fog began to lift.
I think this is one of those times where words do little-to-no justice to what you've seen, so I'll shut up and let my photos take it from here!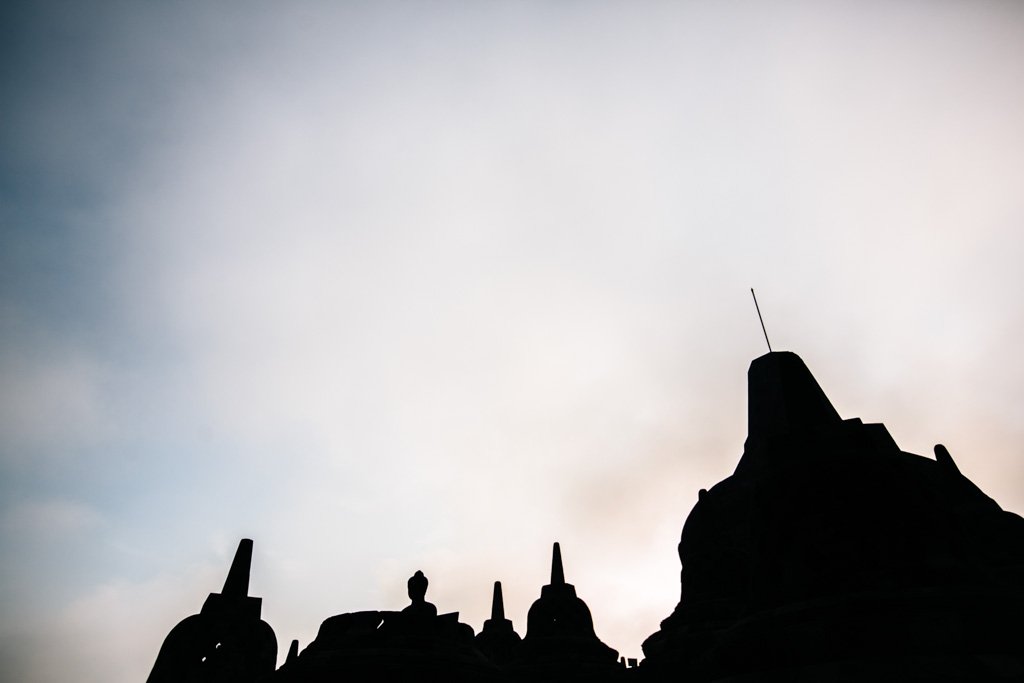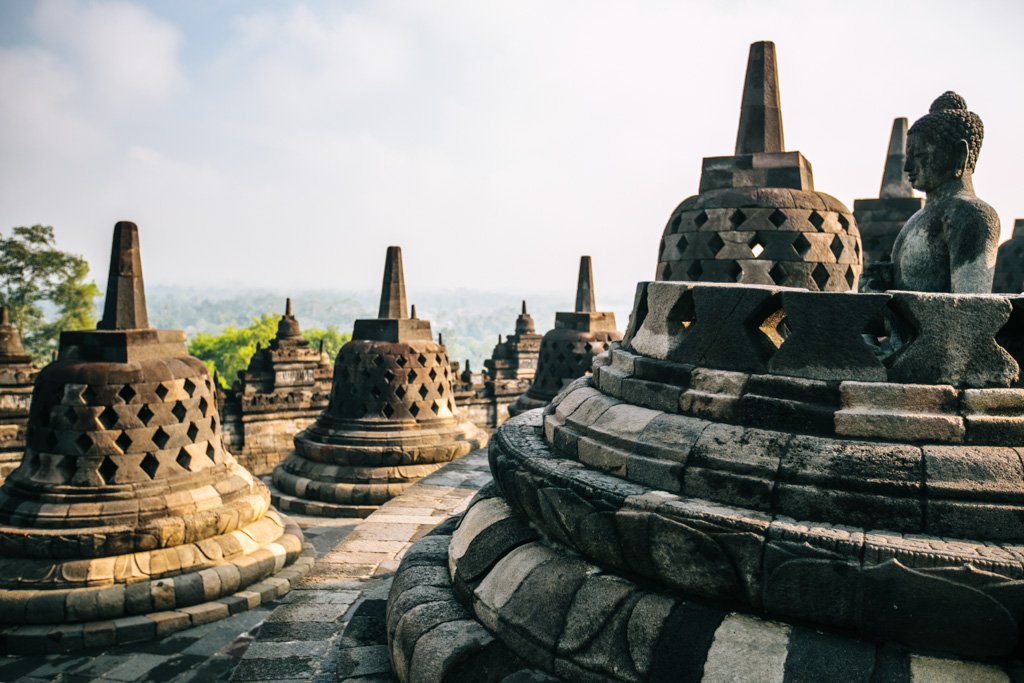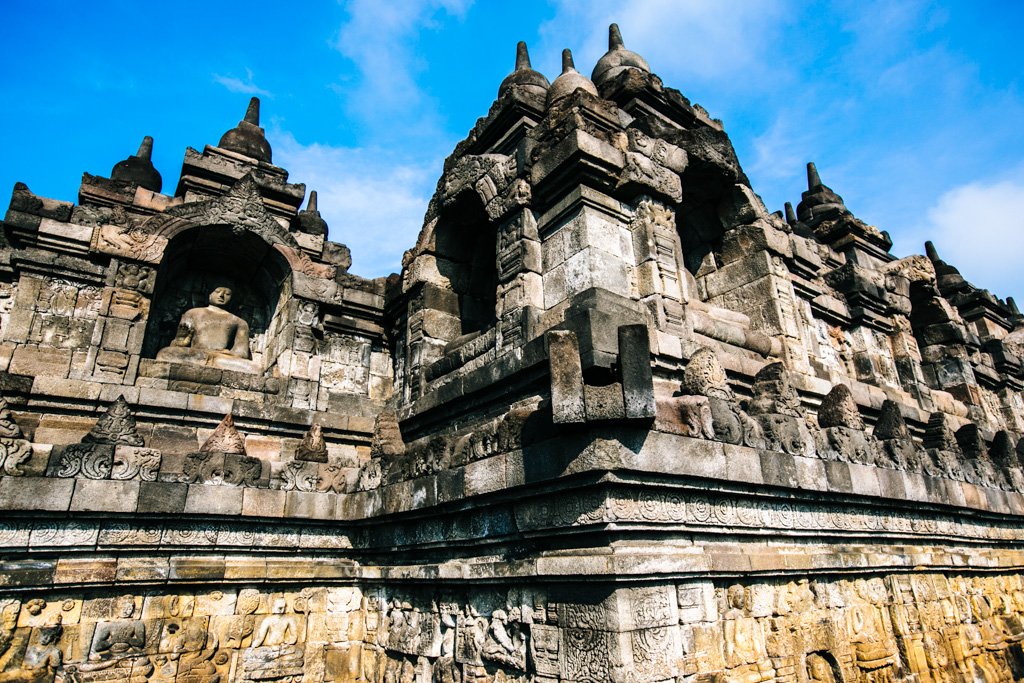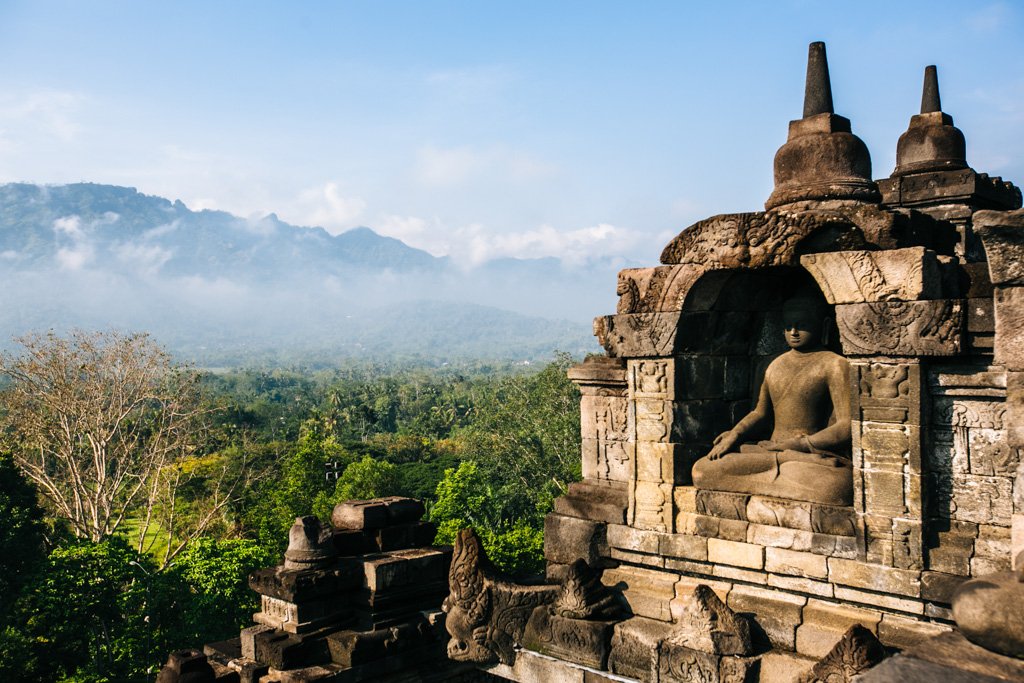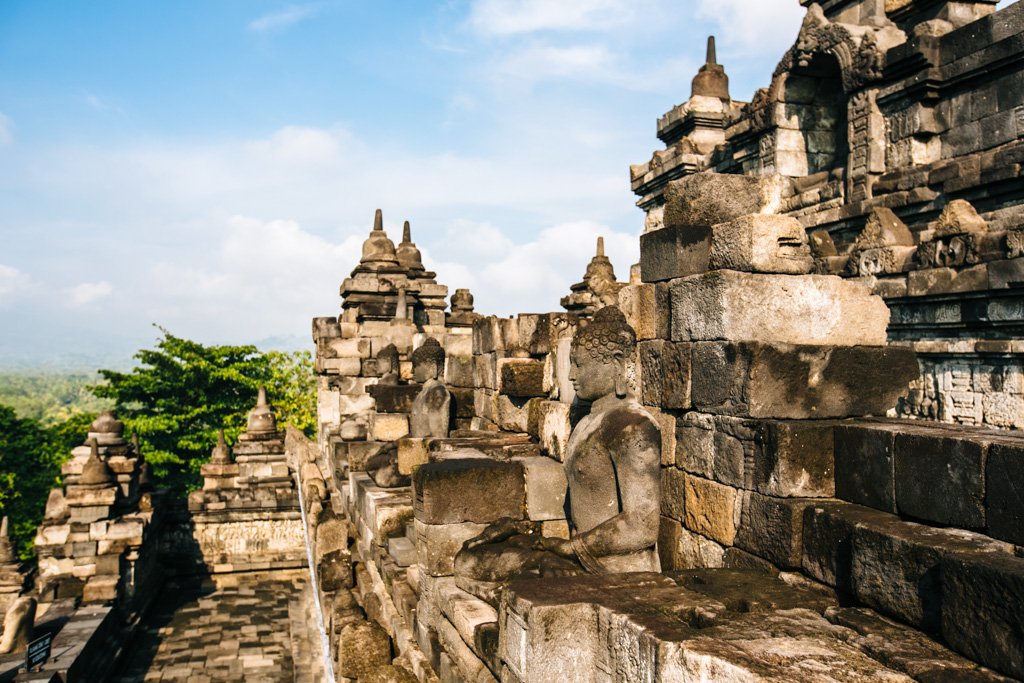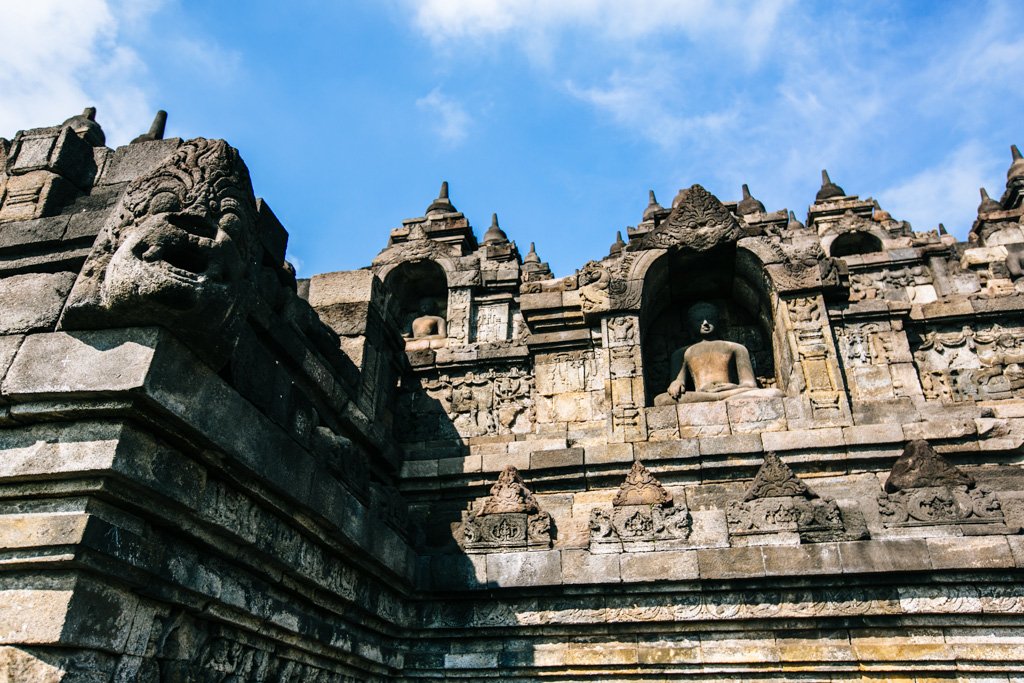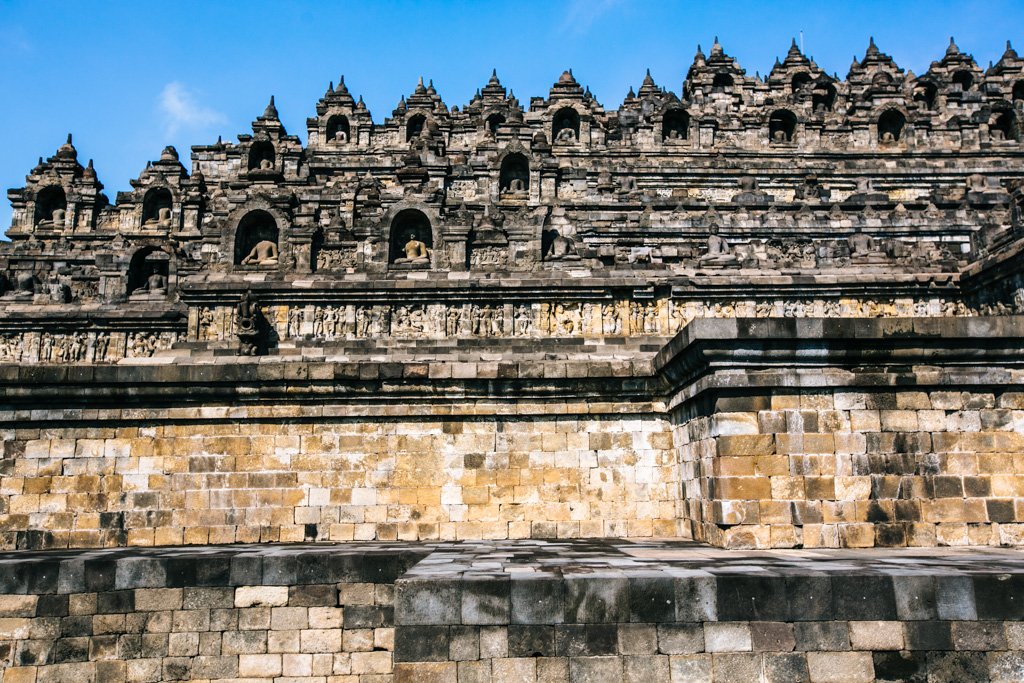 How To Avoid The Crowds At Borobudur
By 6:30am, hoards of school children and eager tourists had ascended the temple. It was like being woken up from the most pleasant of dreams. Once it became near-impossible to take a photo without another person in the frame, I started making my exit.
Then some school groups started stalking me! They must have sniffed out a white girl on her own and counted me as prime prey to pounce on.  The first time it happened, they inquired oh-so-sweetly in broken English if they could ask me a few questions. By the third time, it was clear that all of these school groups had an agenda: to interview tourists with the same basic questions, prompted by cue cards, while capturing it on video with their phones. Oh, and let's not forget about the follow-up photos with each kid posing individually with me.
It was cute the first time, but by the end I was feeling like a jaded celebrity. If the ever-growing crowd wasn't enough to scare me off from Borobudur, these incessant interviews may have pushed me over the edge.
Book the Borobudur Sunrise Ticket
The single best piece of advice I have for you is to book the Borobudur sunrise ticket at the Manohara Hotel. For not even $8 more than the price of the normal Borobudur admission, you get to enter the temple ahead of the crowd. And, ok sure, you get to see sunrise from the temple, too.
But honestly, I'd pay just for the privilege of exploring Borobudur without the crowd no matter what time of day. For me, it lost most of its magic as soon as the golden light faded and people started swarming every stupa. You're not going to get any people-less photos unless you go to see Borobudur at sunrise.
Frugal Facts
As of December 2015 —
Regular admission Borobudur tickets cost US$20. They allow entry starting at 6am and can be purchased from any temple entrance.
Borobudur sunrise tickets can only be purchased at the Manohara Hotel. They cost 380,000 IDR (US$27.75) and grant you early entry starting at 4:30am, a flashlight so you can find your way up in the dark, and coffee/tea and biscuits at the hotel afterwards. You can just show up at the Manohara around 4:30am and buy your sunrise ticket on the spot.
Pin it!