From budget to luxury, here are some of the best hotels in NYC:
Bentley Hotel

Photo via The Bentley Hotel
The Bentley Hotel is located on the far east side of Manhattan on 62nd Street. Bloomingdale's is just a 15 minute walk west, while the eastern entrance to Central Park is another 15 minutes beyond that. Though it's a fair distance away from the subway, its East River location makes for a quiet retreat from frenetic Midtown. Some rooms yield close-up views of the nearby Queensboro Bridge, and all guests can enjoy 360-degree views of Manhattan from the rooftop restaurant, Prime at the Bentley.
Rooms and suites are the Bentley Hotel are modern, with premium bedding, designer toiletries, and marble bathrooms. Wi-Fi and in-room movies are available at an additional cost. At the Lobby Cafe and Bar, guests can enjoy their morning coffee in an outdoor garden setting and their evening drinks in the lobby.
Club Quarters Midtown – Times Square

Photo via Club Quarters
If you're seeking a hotel smack in the middle of NYC, look no further than the hip Club Quarters Hotel in Midtown. It's just steps away from Times Square and Bryant Park, and a quick walk from Rockefeller Center and the Theatre District. Most all other points of interest can be accessed by the multitude of subway lines that run nearby.
Featuring a club-like atmosphere, guests get to enjoy cool perks such as free Wi-Fi and unlimited chilled water bottles, complimentary Keurig coffee, use of iPads, and in-room yoga kits. All rooms include an ergonomic-minded work station and are kitted out with air purifiers and ambient sound machines to ensure a good night's sleep. Club members have access to the private club living room, fit for meeting, socializing, or working, as well as an on-site fitness center and a locally-sourced restaurant.
Hotel Belleclaire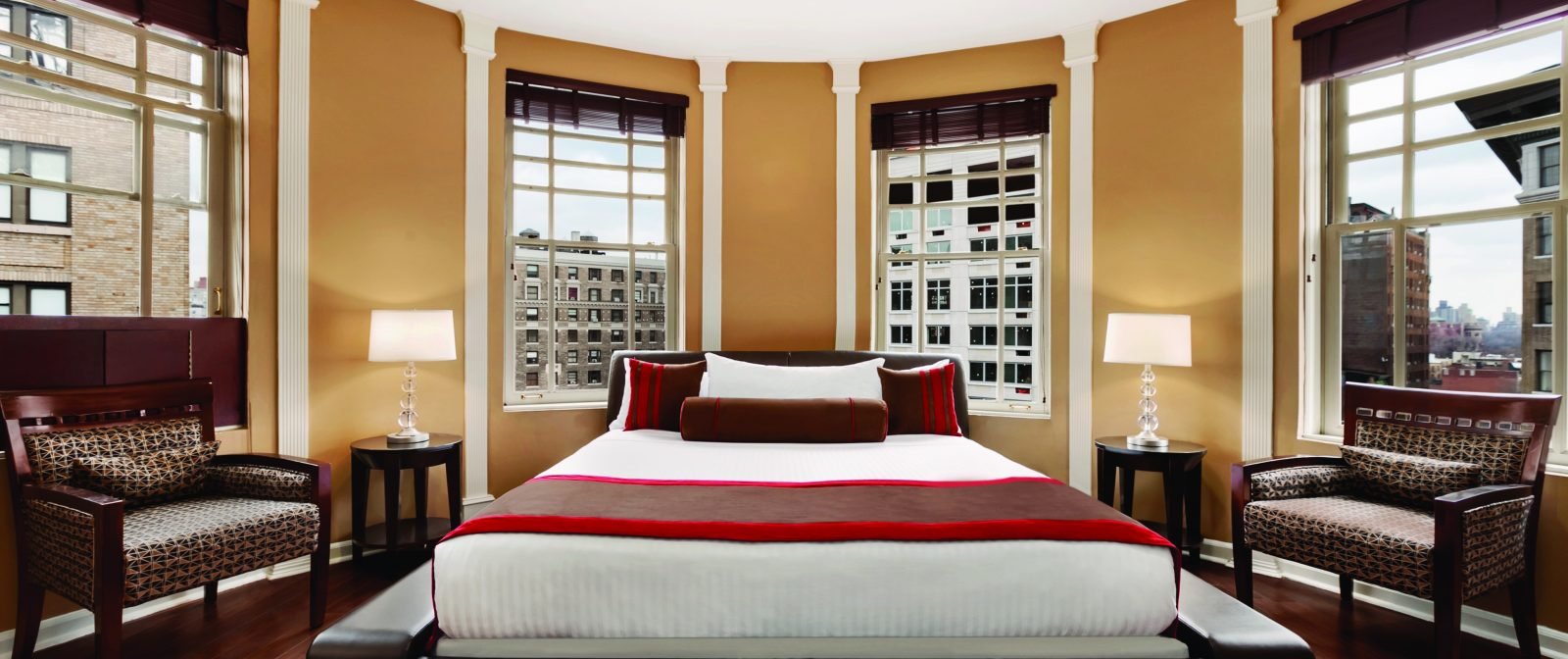 Photo via Hotel Belleclaire
Ever wanted to stay in a castle? Technically you won't find one in NYC, but the turreted beaux arts Hotel Belleclaire comes close. This historic Upper West Side hotel once hosted Babe Ruth, and has since honored him with a baseball-themed Babe Ruth suite. Other rooms are decorated in earth tones and include wood floors, flatscreen TVs, and free Wi-Fi. The hotel has a 24-hour fitness center as well as a media lounge equipped with arcade games and computers.
Hotel Belleclaire is about a block from Riverside Park, and short walk from the American Museum of Natural History and Central Park. The subway is just outside the door, which will get you to Times Square in under 15 minutes.
Dumont NYC by Affinia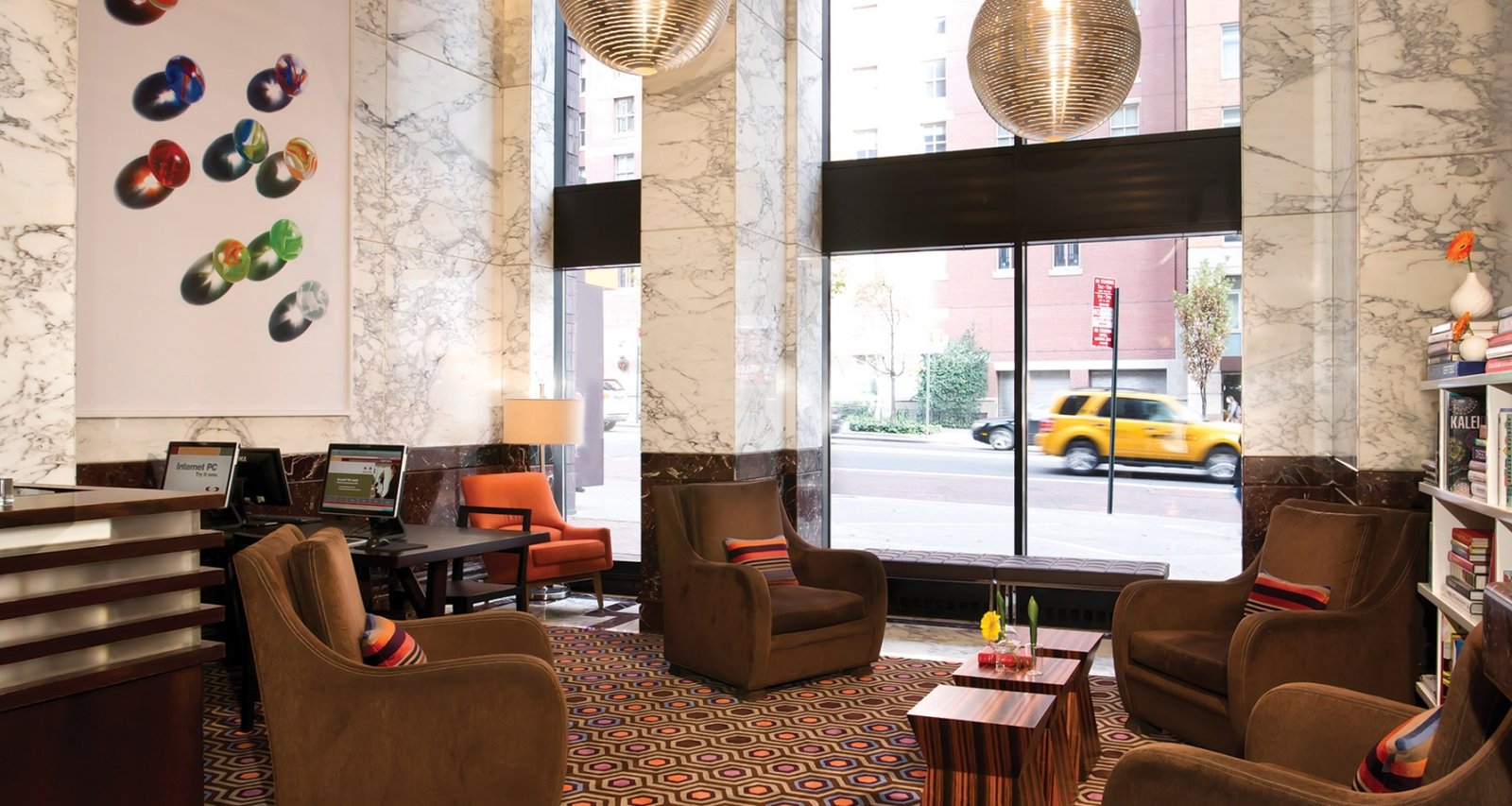 Photo via Affinia
Dumont NYC provides a residential atmosphere for visitors in a convenient location on 34th Street. Guests can book a studio, junior, one bedroom, or skyline suite: these spacious suites all include a dedicated workspace, flatscreen HDTVs, and eco-friendly toiletries. Most suites are also equipped with a modern kitchen, which can be stocked with groceries via FreshDirect delivery upon request. Alternatively, in-room dining from nearby restaurants is available for guests who don't want to prepare their own meals.
This hotel offers a few unique perks, such as free drinks at their nightly "wine hour", complimentary bike rental, and use of telescopes to view New York from high. For an extra fee, guests can snag a summer picnic kit or sign up for the VIPaws pet program to have their pet taken care of for the duration of their stay.
Shelburne NYC by Affinia

Photo via Affinia
The Shelburne is blessed with a top-notch location for tourists, just a few blocks from the Empire State Building and Grand Central Terminal. Its stylish modern rooms all boast granite pantries, work desks, and flat screen TVs, while suites also include a kitchenette. Like with the Dumont NYC, this Affinia hotel also offers a complimentary "wine hour" and bike rentals, FreshDirect grocery delivery, and the VIPaws pet program.
One thing that makes the Shelburne stand apart is the Rare View rooftop bar, providing awesome views of Murray Hill and the surrounding cityscape while fostering a laidback vibe.