Traveling to New York City? Check out these great NYC hotels for all budgets:
Pod 39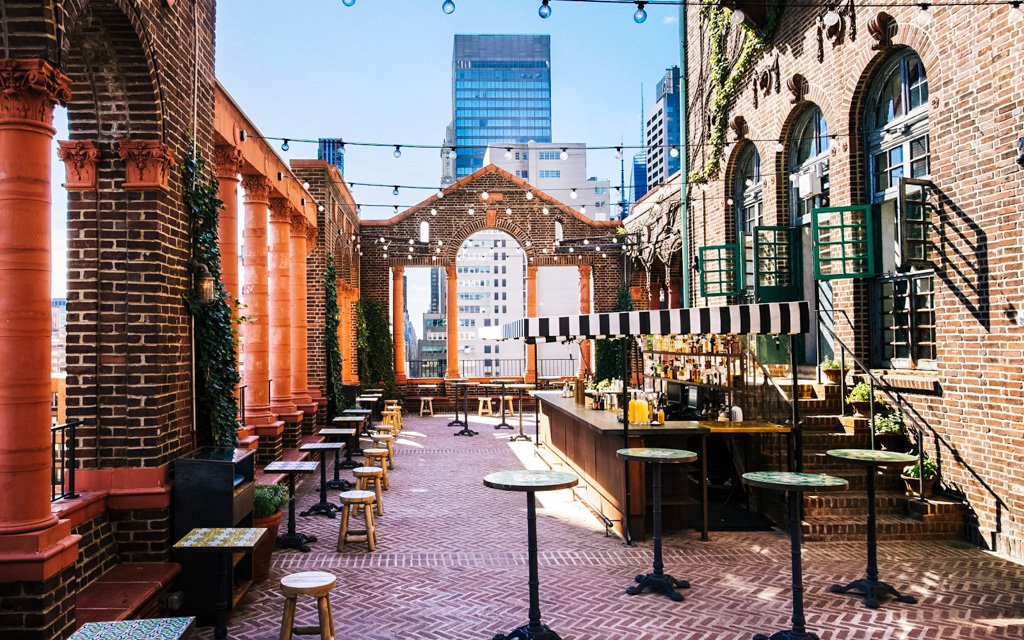 Photo via Travel and Leisure
This hotel is a budget traveler's dream, ideal for those who are over the hostel scene, seeking a great value accommodation in the heart of New York. Located on 39th Street just a couple blocks from Grand Central Terminal, Pod 39 boasts small, efficient rooms that maximize every inch of space and still manage to provide key amenities like a flat screen TV and free Wi-Fi. Rooms are equipped with a wide array of bed combinations, many including single or double bunk beds either alone or with a queen bed.
If you find your room a bit too tight, get yourself up to the Pod 39 rooftop bar for drinks with a fabulous view of the Midtown Manhattan skyline. It's open to the public, so you might even find yourself mingling with some hip local New Yorkers. Or if you're hungry, hit up the hotel restaurant Salvation Taco, serving tacos for breakfast, lunch, and dinner.
YOTEL New York at Times Square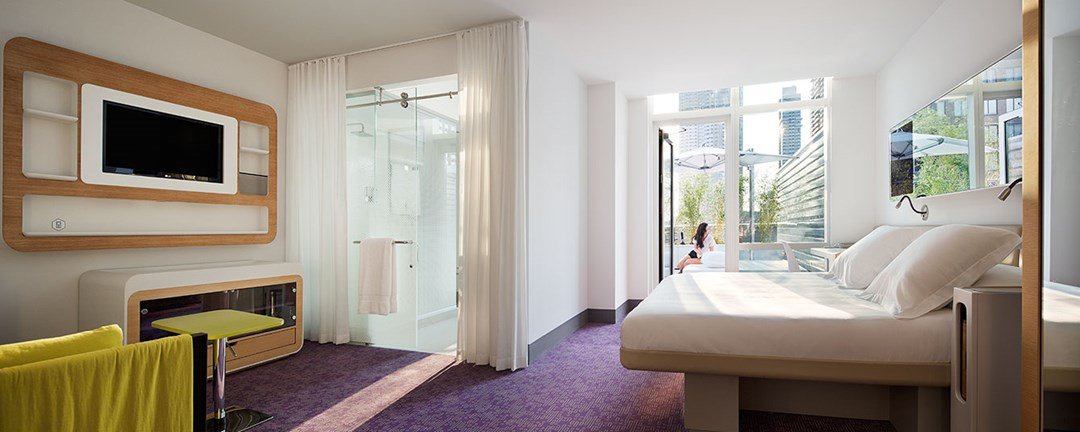 Photo via YOTEL
Despite its name, the YOTEL New York at Times Square is actually located a fair bit west of Times Square, in Hells Kitchen. Nevertheless, it's still close enough to all the Midtown action. The YOTEL is a modern, sleek-looking hotel with white decor throughout and a plethora of amenities to boot: an on-site restaurant, gym, and the city's largest hotel terrace (complete with city views!). They even offer bike rentals for guests to explore the city on two wheels, something that most other NYC hotels don't provide.
Travelers of all budgets can enjoy a stay at the YOTEL New York at Times Square, with rooms ranging from budget-minded cabins with bunk beds to luxurious suites with a bathtub-equipped terrace. All guests can enjoy free breakfast and Wi-Fi.
The Manhattan at Times Square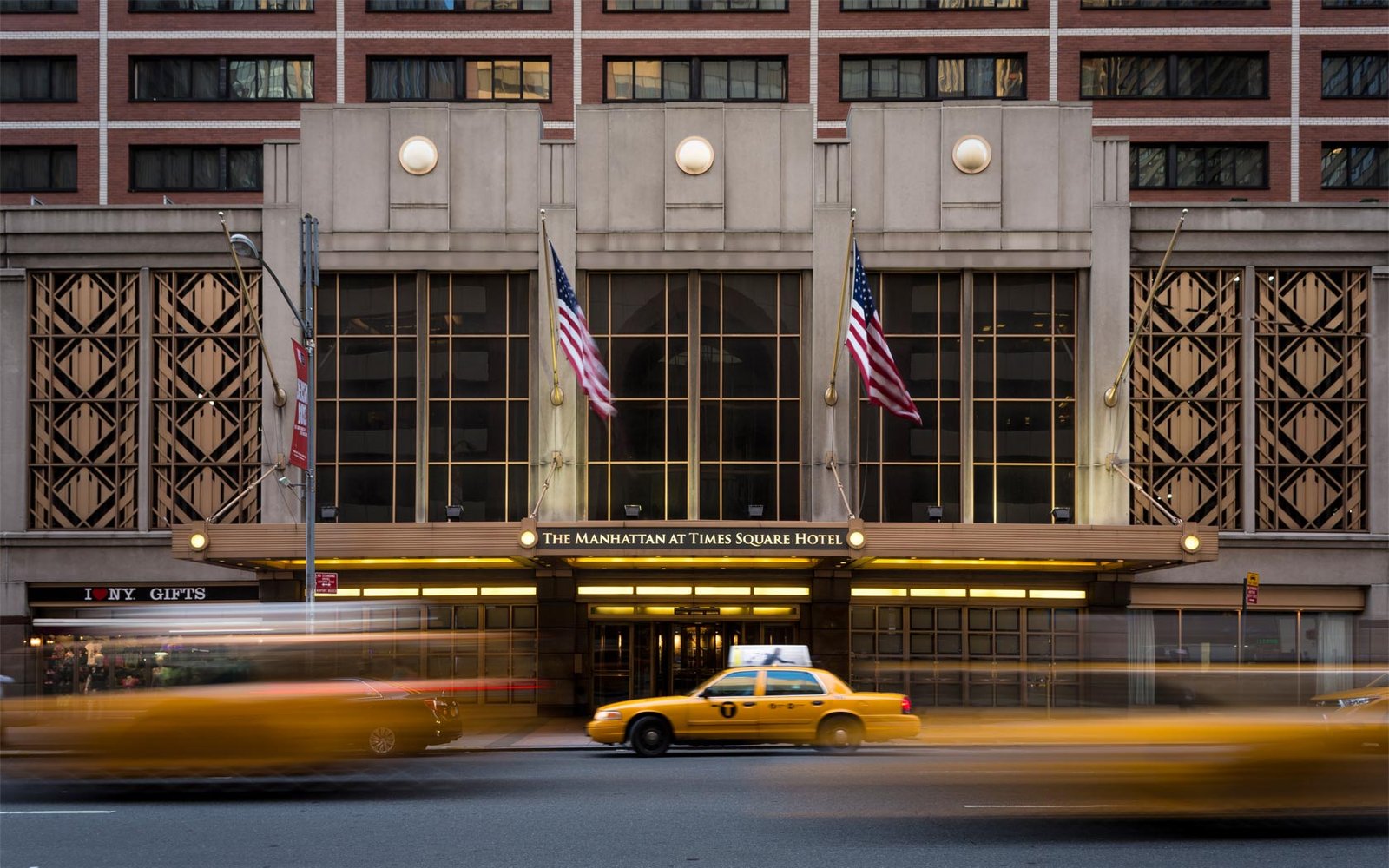 Photo via Manhattan Hotel Times Square
If you're looking to stay smack in the middle of all that glorious NYC action, look no further than The Manhattan at Times Square. Its namesake landmark is just minutes away from the hotel's front door, with many Broadway theaters even more closeby.
Rooms at this hotel are modern and comfortable, equipped with pillow-top mattresses, plasma TVs, and free Wi-Fi. There's a 24-hour fitness center onsite that's free for all guests to use.
Martha Washington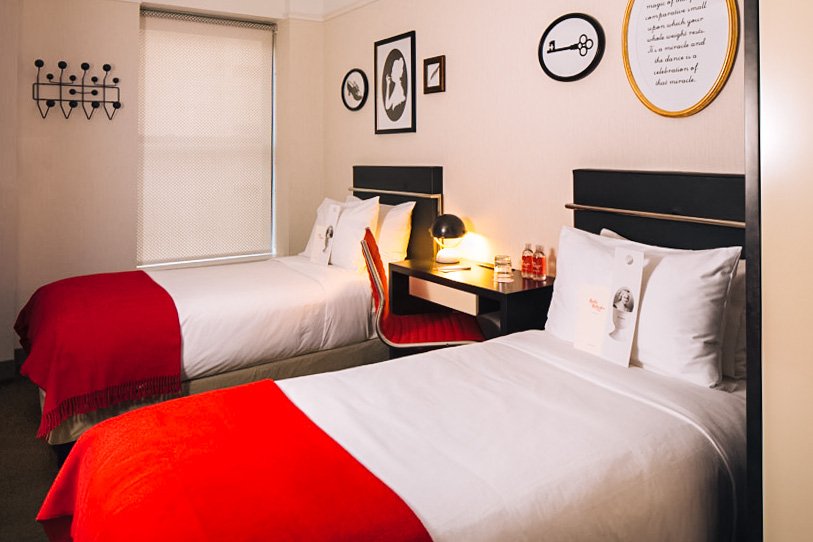 Photo via Martha Washington
The Martha Washington is "exclusively for everyone", as the slogan on its front door informs all incoming guests. This boutique hotel is technically located in NoMad (north of Madison Square), but from there it's a quick walk to the Empire State Building and the rest of Midtown. It's a little more upscale that the other hotels mentioned above, with room rates starting in the $300 range. For the higher price, guests will enjoy staying in modern rooms accented with subtle vintage decor and equipped with Wi-Fi and a dedicated workspace.
This beautiful historic Manhattan building is blessed with high ceilings and ample natural light in its restaurant, lobby bar, and other common areas. There is also a 24-hour fitness center free for all guests to use.
Omni Berkshire Place

Photo via Omni Berkshire Place
For a holiday splurge, consider booking a room at the Omni Berkshire Place. Being just around the corner from all the 5th Avenue shopping goodness and a 5-10 minute walk from Central Park, St. Patrick's Cathedral, and Rockefeller Center, this luxury hotel is especially suited for travel during the Christmas season.
Rooms and suites at the Omni Berkshire Place retain the "Upper East Side residential townhouse feel" as well as the price, with spacious rooms starting at $550/night. You'll get your money's worth with a whole slew of amenities, including 24-hour dining, twice daily housekeeping, and a 24-hour gym with a sundeck. In addition, guests can book personal training sessions and in-room massages through the concierge.