Planning a trip to the Pacific Northwest? Consider basing yourself at a hotel in the Seattle-Tacoma area:
On The Waterfront: Woodmark Hotel and Still Spa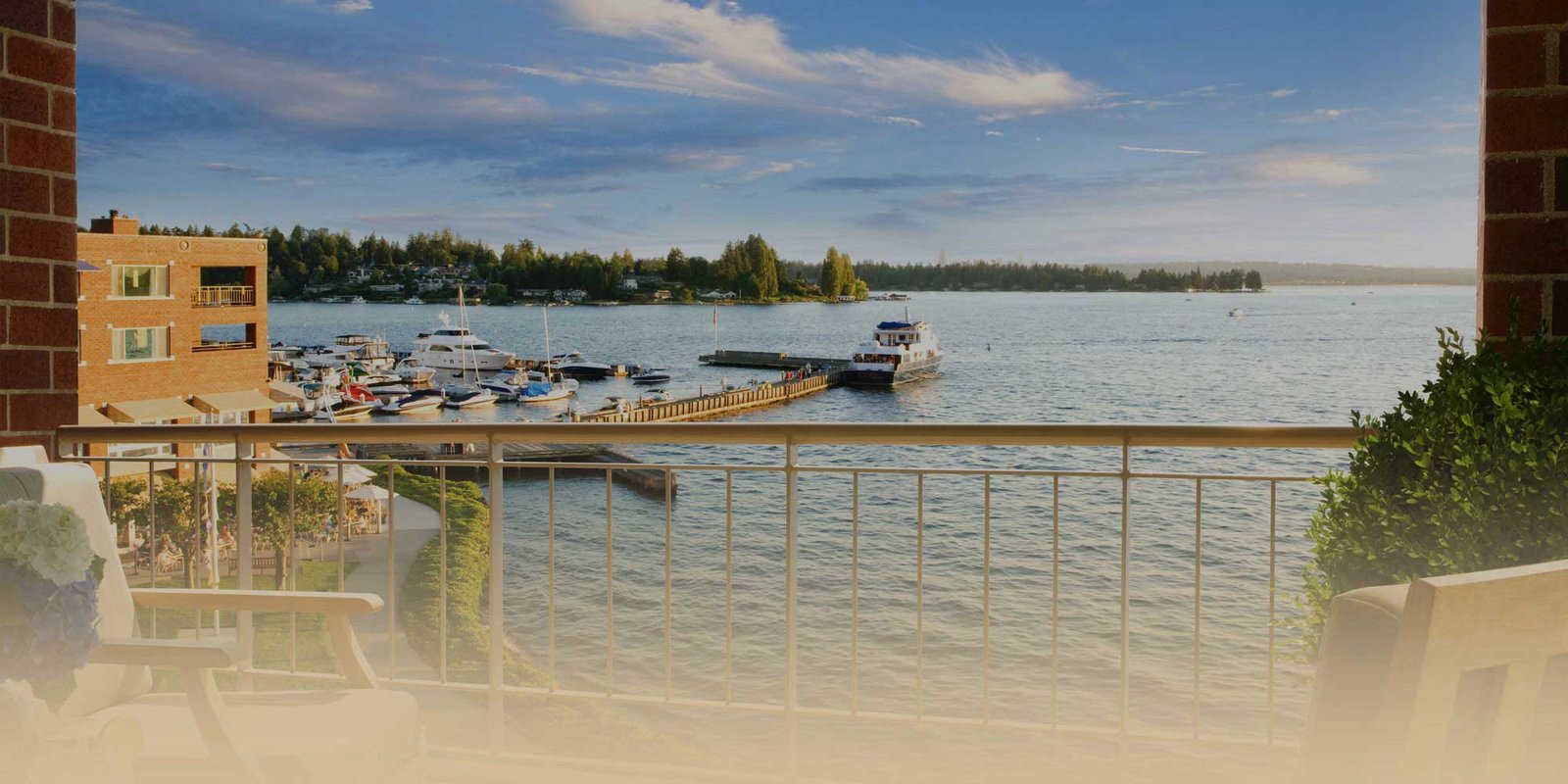 Photo via The Woodmark
The Woodmark Hotel and Spa is a boutique waterfront hotel in Kirkland, just 15 minutes east of Seattle. It boasts a picturesque location right on Lake Washington, ideal for romantic getaways, weddings, and corporate retreats alike. All guests can take advantage of unique perks like courtesy SUV transport, complimentary late-night snacks, and free use of kayaks and bicycles. Outdoor adventurers will enjoy the plethora of lakeside activities available here, including walking trails, kayaking, paddle boarding, and cycling. And for those opting for a more relaxed stay, the hotel's full-service Still Spa beckons with various massages, salon services, and body treatments. The Woodmark also has two onsite restaurants that utilize fresh locally sourced ingredients.
Living Green: DoubleTree by Hilton Seattle Airport
This DoubleTree by Hilton hotel is located within a mile of Seattle-Tacoma International Airport. Upon checking in, guests are offered a signature freshly baked chocolate chip cookie and shown to their rooms, all of which include a balcony, work station, and deep soaking tub. Some guest rooms offer incredible views over Seattle. As far as amenities go, the hotel is well equipped with a business center, gym, outdoor pool, Coffee Garden Restaurant, and SeaPorts Lounge. And, bonus: this hotel was recently dubbed a TripAdvisor GreenLeader for its commitment to green and sustainable living, promoting recycling and energy saving across the property.
On The Wetlands: Cedarbrook Lodge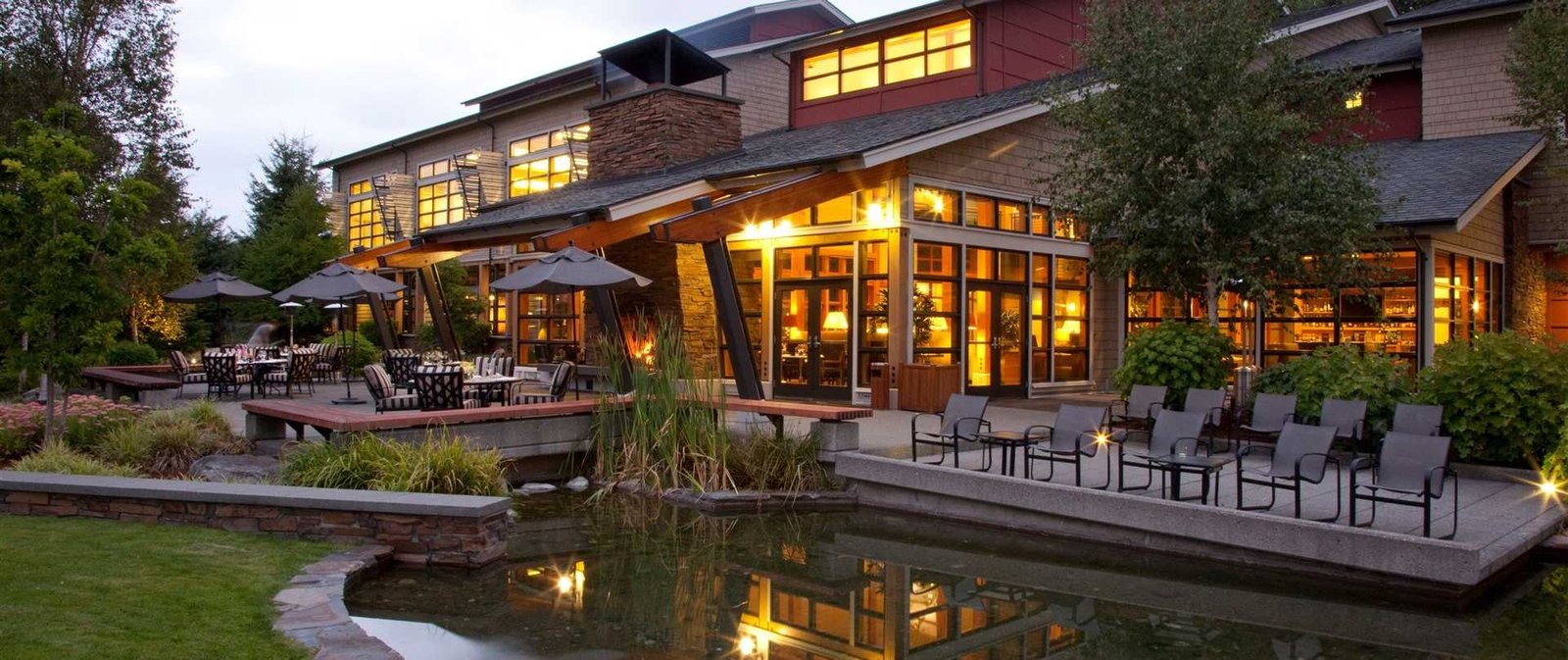 Photo via Cedarbrook Lodge
The Cedarbrook Lodge spans 18 acres of wetlands in the greater Seattle area. Its modern guest rooms have a distinctly Northwest-inspired style, with framed local photographs, plush pillow top bedding, walk-in showers, a Keurig coffee maker with Starbucks coffee, and a functional work space. Some rooms may also have a balcony. Active guests will be pleased to know that the Cedarbrook Lodge has a fitness center that's open 24 hours a day, a myriad of walking trails around the property, and complimentary use of recreational equipment like bocce balls, horseshoes, and a bandminton set. If you stay at Cedarbrook, don't miss the free locally sourced Northwest-inspired breakfast on offer!
For Business: Seattle Airport Marriott
Guests at the Seattle Airport Marriott will feel instantly at home with a stone fireplace and two-story wood beamed lobby to lounge in. Guest rooms include luxurious bedding, work desks with ergonomic chairs, and TV with premium movie channels. Guests staying in the Concierge Tower enjoy additional perks like a free hot breakfast and hors d'oeuvres, access to business services, and Concierge lounge access. The Seattle Airport Marriott also offers plenty in the activity department, including an indoor atrium pool, whirlpool, sauna, and 24-hour fitness center. Its Aqua Terra Restaurant is considered one of the trendiest spots in Seattle, serving meals prepared with local Pacific Northwest ingredients.
Convenience: Coast Gateway Hotel


Photo via Coast Hotels
The Coast Gateway Hotel prides itself on making travel easy for its guests, from allowing pets to stay to providing free parking and continental breakfast to offering a flight check-in system. It is the closest hotel to Seattle-Tacoma International Airport and offers easy access to the city. The onsite restaurant, The Roaster & Ale House, boasts hearty fare coupled with over 500 spirits and 26 beers on draft. Guests can also utilize the business center and fitness center within the hotel.